Rear Extension Cost
Want to know how much a rear extension will cost? In this article we breakdown the prices for materials and labour, so that anyone can calculate the cost of a new rear extension for their home.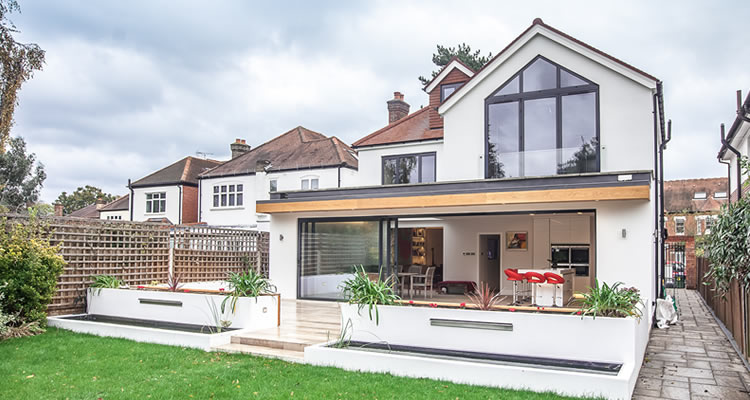 Average cost of building a rear extension
This type of project will typically take around 12 weeks
£31,000
How Much for a Rear Extension?
Building an extension will improve any home by creating extra living space, which will also add value to the property and make it easier to sell. If your existing home no longer meets your needs, building an extension is almost always a wise investment and great way of gaining the extra space you need.
There are many reasons why people decide to add an extension, but the most popular is simply the growth of the family requiring additional bedrooms and living space. The lounge, kitchen and main bedroom are the most popular rooms to extend, particularly if they have a rear facing outer wall which can easily be knocked down and a new wall can be erected further into the rear garden. If you need more than one room then a multi-room or even double storey extension can add a considerable amount of space for growing families.
If you are considering building an extension, then you should always discuss your ideas with a professional, as they can help you to develop sound plans. However, reputable builders are always in high demand, so you need to book one in for the job as soon as you find one!
You should also start looking well in advance, as decent builders will always have other jobs they need to complete before they can get around to yours. Personal recommendation is a great way to find a reputable builder, but sometimes you may not have any friends or acquaintances in your area that have used a builder recently.
The next best thing is to use this website to find a tradesman by completing one simple online form, then having builders get in touch with you to provide more information and quotations. However you find prospective builders, always get a written quote from each of them before choosing. Plus before they start work, make you have a written quote that includes a fixed time-frame for the work to be completed, along with a payment schedule.
Rear Extension Prices
| Job Description | Duration | Material Cost | Labour Cost |
| --- | --- | --- | --- |
| Average two storey rear extension | 15 weeks | £15000 | £32000 |
| Typical single storey rear extension | 11 weeks | £11000 | £21000 |
| Average extension cost per square metre | NA | £500 | £1000 |
Things to consider when building a rear extension
For the building of a traditional extension to the rear of your property, you will need a reputable builder who has experience in building extensions and can work to the plans that you, or your architect, have drawn up.
You should consider using an architect if possible to draw up the plans as they can also assist with any planning permission applications required for your extension and advise you on how best to approach the extension. Even if you do not require a planning permission application for your extension project, don't start work without talking to your neighbours.
In most cases, if you apologise in advance for any mess or noise, then you are much less likely to be involved in a dispute. With any building project, there are often foreseen expenses involved, so it's always a good idea to have contingency funds available of at least 15% of the expected build cost.
Before you decide to go ahead with an extension, make sure to let your insurance company know about the changes being made, such as adding rooms and any work that involves walls being knocked down, floors being taken up or electrics being changed. If your insurer isn't told in advance about your plans, the home insurance policy may be invalidated.
Be prudent when spending on an extension. Even though most extensions add value to the property, it doesn't necessarily mean you'll always get it back. The actual value added depends on where you are in the country, it's always worth speaking to a local estate agent to a local estate agent to get a rough valuation of how much value they think an extension will add. Be careful that you do not spend so much money that you overshoot the price ceiling in your area.
Doing it Yourself
Be very careful about tackling a rear extension as a DIY project. But if you have the necessary skills and experience, plus the time required, then doing at least some of the work yourself can save a lot of money and can even be fun. Unless you are a builder, you will probably want to stick with the "wet trades" work (digging foundations, mixing and laying concrete etc) as these are the easier jobs.
It is best in most cases to leave the laying bricks and blocks, plus building in the windows and doors to the professionals. The lintels and cavity trays and perhaps tiling the roof may be too much for most amateurs too. But once the walls and roof are up, cutting joists, laying decking and fixing plasterboard is pretty straightforward. Even most modern plumbing is fairly easy if using plastic push-fit systems, so minor plumbing work like adding a new sink can be done by the average DIY enthusiast.
The decoration is another area where the DIY person can save money, but plastering is probably best left to the professional's unless you have previous experience and are sure you can achieve a good finish.
One area which you should definitely hand over to skilled tradesmen is the electrics. Unless the works are very minor and do not require a new circuit, then home electrical work must be done by a competent person able to issue a self-certification certificate.
Rear extension Checklist
Many councils allow for extensions under what is called permitted development
Architects can help you with the design and technical drawings of your extension
All extensions will have to adhere to strict Building Regulations, which are completely separate from Planning Permission
You should be prepared for a significant amount of disruption including dust and noise during the extension process
FAQ's
Do I need planning permission for a rear extension?
This all depends on the size, location and construction type of the extension. An extension is normally considered permitted development so a planning permission application is not usually required. However, when considering any home extension, you should always submit drawings to your local planning authority for written confirmation of your rights before any work begins and contact your local authority to check to see if planning permission is required.
If I need planning permission, how long will it take?
This depends on your local planning authority, but in most cases expect a delay of around 2 to 3 months in total. The planning permission itself normally takes 6 to 8 weeks, then on top of that you have the design process and building regulations approval, so the entire process should take a few months from start to finish - assuming there are no major issues. Once permissions are granted, then unless otherwise stated, you have three years to begin work, then a new planning application.
How much will my rear extension cost?
This, of course, depends mainly on the size of the extension and the building materials chosen. There are a number of other factors that can also affect the price, particularly the location (prices vary greatly around the UK, with the highest prices being in London and the South East). It is best practice, in any case, to get a few quotes from different companies, ensuring you are comparing like for like. That being said, with major building works, it would not be prudent to choose just on price.
Do I need special home insurance?
Almost definitely, when a property is empty or is undergoing building work, most home insurance policies are void. So you will need to arrange specialist renovation insurance to cover the property while work is in progress. This type of "all risks" policy covers the entire project and when employing contractors, don't make the mistake of assuming their insurance will cover your property.
Last updated by MyJobQuote on 6th May 2020.