Cost of Installing a New Boiler
Boiler replacement tips and prices.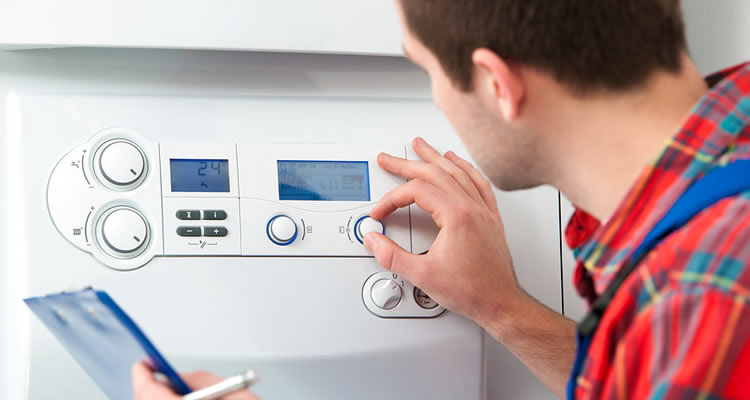 Average cost of replacing a boiler is around
This job normally takes around 2 days
£1500
Most boilers are replaced due to problems as they simply don't work anymore! But some are replaced for better energy efficiency, as if you replace an old boiler with no controls, with a top-rated high-efficiency condensing boiler and modern heating controls, you can reduce your home's energy bills by as much as £300 a year. When it comes to replacement boilers, the prices vary considerably depending on the type of boiler (for example gas, oil, condensing, electric etc) and as a result of the build quality and after-sales support. As a general rule, cheap boilers have shorter life spans and warranties, with reduced customer support and increased problems.
They may be cheap to install, but they are expensive to maintain and more expensive in the long run. Replacing a boiler is not a DIY job and with gas boilers in particular, there are stringent safety regulations in place regarding their maintenance and replacement. Essentially, in the UK you need a competent engineer that is on the gas safe register to carry out most maintenance work on gas boilers. You can choose from well known national companies which offer a boiler maintenance and replacement service nationwide (such as Homeserve or British Gas Homecare), or local engineers. Smaller local companies tend to be cheaper, plus the reviews from many independent online services are quite scathing regarding the level of care offered by many well known national brands! To get up to three quotes from local professional engineers in your area, simply fill in the short online form and let us do all the work!
Typical Boiler Replacement Costs
| Job Description | Duration | Material Cost | Labour Cost |
| --- | --- | --- | --- |
| Replacing a back boiler and hot water tank with a new budget combi boiler | 2 days | £1000 | £500 |
| Supply and fit a new top of the range boiler using existing gas pipe and boiler flue in the same place | 2 days | £1200 | £600 |
| New oil boiler average installation cost | 2 days | £2000 | £600 |
| Supply and fit a new central heating pump for gas boiler with no other modifications needed | 1-2 hours | £90 | £75 |
Things to consider when replacing a boiler
The most common type of gas boiler in the UK for both new installations and replacements, is the combination or combi boiler. With regular boilers they only provide the heating and a cylinder will provide hot water. But combination boilers provide heating and hot water with no cylinder. But of course, not all homes are connected to the mains gas grid, so a conventional gas boiler is not an option.
The next most common type of boiler is either oil fire or LPG, neither of which are quite as economical as mains gas at the time of writing, but both are cheaper to run than traditional solid fuel boilers burning wood or coal. Both domestic heating oil and LPG are delivered by road using tankers and are stored in a tank on your premises. Oil and LPG fired central heating work in the same way as mains gas central heating. The fuel is burned to heat water, which is then supplied to your radiators for heating and your taps to give you hot water.
The cost of the actual boiler should not vary much with the fuel type, as they all work in pretty much the same way, but oil and electric boilers are much more expensive as they are much less common. Also, LPG and oil boilers will need a tank and pipework to supply the fuel from the tank to your boiler, so there will be increased costs in terms of installation. There can also be extra costs when installing a modern combi boiler if the existing gas pipe is undersized or if the system requires a condensate pipe or needs to be sealed (some older gas systems still have expansion tanks in the loft). A new flue can also increase the installation costs as will any building works required to brick up an older, larger flue hole.
Doing it Yourself
If you are installing a gas boiler, then there is no DIY option, you need a competent engineer that is on the Gas Safe Register. In fact, even though the regulations with other types of fuels are less strict, it is not recommended that any form of central-heating boiler is installed as a DIY project. While it may not be actually illegal to install your own boiler, you will not be able to sell or rent out your property until the installation is checked by a competent engineer and brought up to standard if required. In addition, the consequences of a poor installation can be fatal! Boilers should be installed by fitters that are capable of measuring flow and pressure before the boiler is commissioned and again afterwards to ensure there are no leaks or potential dangers to the homeowner or other occupants
. If considering having an oil or LPG boiler installed, it may be possible to save some money by installing the tank in your garden as a DIY project, but even this project would be subject to Approved Document J of the building regulations regarding where the tank can be placed and how they should be separated from the boiler by an automatic shut off valve to prevent a boiler fire spreading to the tank. Modern oil tanks are made of plastic and above-ground tanks are relatively easy to install and maintain, but there are some rules that have to be adhered to in terms of the base, which has to be substantial, flat and level, and at least 300mm larger on all sides than the tank.
Even installing an exterior oil/LPG tank has safety implications, so it is highly recommended that you simply hire a professional to do the installation and safety checks on any boiler installation. That means a Gas Safe engineer for gas boiler installation, an electrician to put in your electrical boiler to British Standards 7671, an OFTEC registered engineer to safely install your oil boiler and a HETAS registered engineer to install a solid fuel burning boiler.
Boiler Checklist
A condensing boiler will generate more heat from the same amount of fuel, saving you money
The right boiler will depend on your individual requirements and circumstances
A new boiler can be expensive, but along with improved comfort there are also financial benefits
Electric boilers are compact and economical to run being highly efficient
FAQ's
What are the advantages of a combi boiler?
Combi boilers are compact in size an require no loft space and provide constant hot water. There is also less pipework needed so the installation is usually cheaper.

Which boilers are most reliable?
All the top boiler manufacturers offer quality products with good after-sales service, just choose any of the following brands: Vaillant, Ideal, Glow-Worm, Intergas, Worcester Bosch, Viessmann, Baxi or Vokera.

Should I repair or replace my boiler?
Before you decide to replace your old boiler, it's worth getting a Gas Safe registered engineer to check it for you and see if it can be repaired. Even if your boiler can't be repaired, the engineer will be able to help you by recommending the best type of boiler to replace it with, taking into consideration the existing pipework, property size and your budget.

Will a new boiler add value to my property?
Installing a new boiler can add value to your property and will also affect on the EPC (Energy Performance Certificate) rating, making it more attractive to buyers.

Should I consider a system boiler?
System boilers or water boilers are great for homes with more than one bathroom as they offer a constant supply of hot water to any number of taps. In addition, they don't require a loft tank which saves space. However, if you don't need to supply multiple taps with hot water at the same time, they will cost more than a standard combi boiler.
Last updated by MyJobQuote on 26th October 2017.