Floor Tiling Costs
Trying to find out how much it will cost to tile a floor? Whether it be a kitchen, bathroom or any other room, calculating tiling costs is fairly easy.
In this article we breakdown the prices of different tiling materials, and the costs for labour making it easy for anyone to determine how much a new tiled floor will cost them.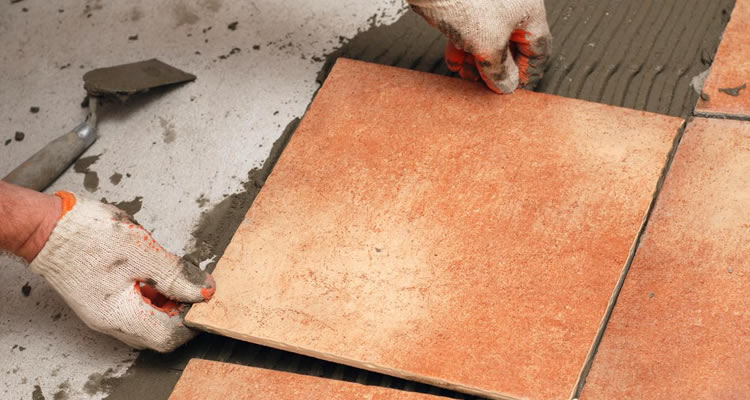 Average Cost of Tiling a Floor:
Depending on the complexity of the job, it usually takes: 1-2 days
£700
How Much Does Tiling a Floor Cost?
Floor tiles are a great flooring option for your kitchen or bathroom. They look great, are easy to clean and are resistant to water. Ceramic floor tiles, in particular, are very popular nowadays and are larger and more robust than wall tiles so they can withstand a lot of foot traffic.
Tiles come in many different materials, shapes and sizes, but if you are working on a smaller budget, then simple square tiles are your best option.
In addition to being cheaper to buy, simple square tiles are also easier and quicker to lay so cost less if you are hiring someone to complete the job for you. There is a huge variety of floor tiles available with the costs depending on the type and quality. Popular tile types include Ceramic, Mosaic and Porcelain tiles.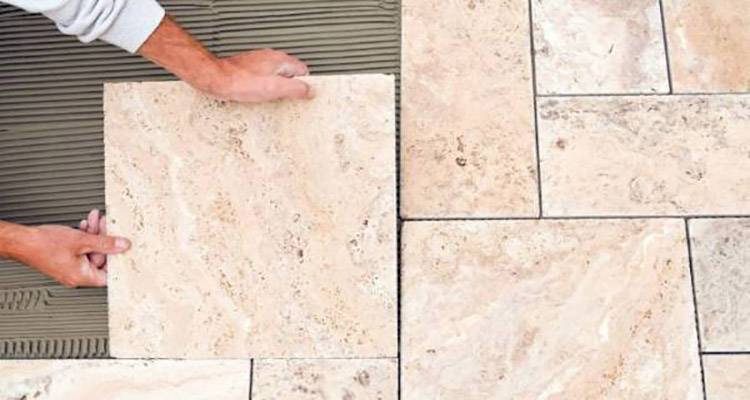 The cost of laying floor tiles will depend on the type of tile that you choose and the size of the room. As an example, an 8 square meter room will cost around £400-£500 to tile and the job can usually be completed within a day.
In contrast, the average cost to lay tiling in a 30 square meter room is around £900-£1000, and this will usually take approximately 1-2 days to complete. These prices are based on an average priced type of floor tile. The prices may vary depending on the costs of the tiles that you choose to have installed.
Floor Tiling Prices
Below are the estimated costs for hiring a tradesperson to fit mid-range (£25/m2) floor tiles in different sized rooms.
| Room Size | Floor Tiling Cost | Duration |
| --- | --- | --- |
| 8 sq. metres | £400-£500 | 1 day |
| 12 sq. metres | £500-£600 | 1-1.5 days |
| 20 sq. metres | £700-£800 | 1-2 days |
| 25 sq. metres | £800-£900 | 1-2 days |
| 30 sq. metres | £900-£1000 | 1-2 days |
The tiling costs per square metre can vary depending on the type of tile you are using, your location, and the overall size of the room.
Supply Only Costs
Below are the average costs per square metre for different types of floor tile.
| Type of Floor Tile | Average Cost per sq Metre |
| --- | --- |
| Ceramic | £15-£25 |
| Porcelain | £15-£30 |
| Cement | £20-£30 |
| Marble | £40-£50 |
| Mosaic | £25-£35 |
| Limestone | £30-£40 |
Additional Costs
There are several additional costs that you may need to think about when it comes to tiling a floor. Below is a list of additional expenses that you may need to be aware of before committing to the job:
Labour Costs and Timescales
The average cost you can expect to pay a contractor to tile your floor is around £150-£200 per day. This can be affected by the complexity of the job or your location.
If the job is more complex, then you can expect it to take longer than your average job. This means that you will end up paying more overall for the extra hours of labour.
Also, your location can affect the overall cost of labour for the job. Those based in London can expect to pay around £50-£100 more per day for the cost of labour than those based in the North or other parts of the UK.
Cost Factors of Tiling a Floor
Several factors may affect the overall cost of a floor tiling job. Below is a list of the cost factors that may arise for this type of job:
Type of Tile
The type of tile that you choose for your flooring can affect the cost as different types of tile have a different price point.
For example, you will pay somewhere around £15-£25 per square metre for a ceramic tile, whereas you will pay around £40-£50 per square metre for a marble tile.
Size of Floor
The size of your floor will affect the cost of the job as a larger floor will require more tiles. A larger floor will also take much longer to tile, so you can expect the labour costs for larger floors to be higher as well.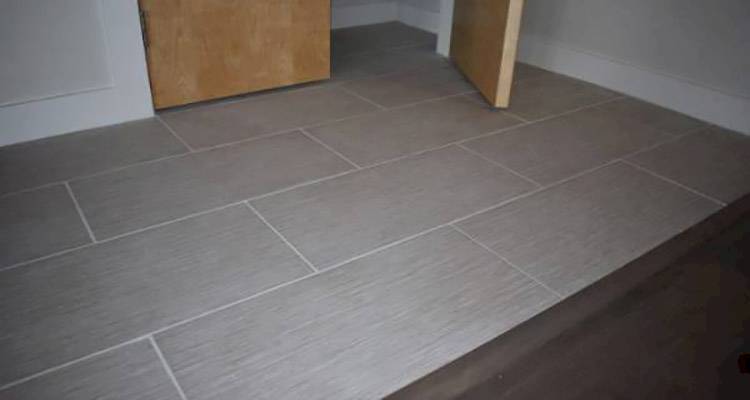 Location of Property
The location of your property can affect the cost of labour. Those based in London can expect to pay around £50-£100 more per day for the cost of labour than those based in the North or other parts of the UK.
What's Involved in Tiling a Floor?
Below is a step by step guide on how to tile a floor:
Prepare the surface – Before you begin the tiling process, you will need to make sure your surface is smooth, clean, and dry in order to get the best results. You will need to ensure that you repair any damaged or uneven areas. Be sure to check that the surface is structurally sound. You will then need to remove any trim, appliances, or mouldings that may interfere with the tiling process.
Start the layout – Begin by marking the centre point of each of the walls and then make chalk lines between the centre points of each opposite wall so that you can pinpoint the centre of the room. Make all of the necessary adjustments to ensure your intersection creates perfect squares.
Advance your layout – Starting at the centre point, lay out a row of tiles loosely along the centre lines. Use tile spacers as you go to ensure you get evenly fit joints. When you reach the walls, cut the tiles to the correct size for a tight fit.
Apply adhesive – You should only mix as much adhesive as can be used within 30 minutes. Use the flat side of a trowel and spread a quarter-inch coat on the surface of one of the grid areas without covering your guide lines. Then, hold the trowel at a 45-degree angle and use the notched side to spread adhesive to the standing ridges.
Cut your tiles as needed – Mark the cuts needed carefully with a pencil on the tile surface and then use a tile cutter to make the relevant cuts. Once you've made all of the relevant cuts, smooth out any sharp edges to give it a soft finish.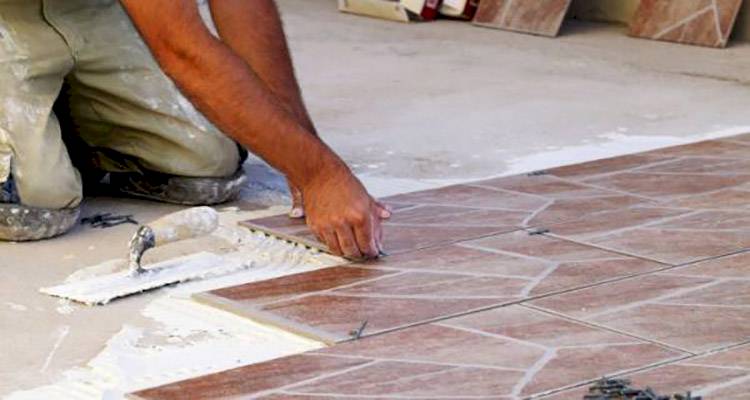 Set the tiles – Now that you have fully prepared, you can begin adequately installing the tiles. Begin tiling in the centre of the room one grid at a time. Finish each grid before moving on to the next one. It is helpful if you use spacers when laying the tiles so that you get even spaces between each one. Once a grid is completely installed, tap all of the tiles in using a rubber mallet and wood block to ensure they are fully bonded. Remove any excess adhesive from the joints to prevent it from looking uneven.
Leave it to set – You will need to leave the tiles to set before you can walk on it. Leave it for around 24hrs so that it is completely dry and ready for the next step.
Grout the joints – Make enough grout to last 30 minutes. Remove all of the tile spacers and spread grout on the tile surface. Make sure you force it into the joints using a rubber grout float. Remove any excess grout immediately from the surface.
Allow the grout to set slightly for around 20 minutes and then use a damp cloth to clean away any residue on the surface and smooth out the grout I the joints.
The final steps – Leave your grout to fully dry and then give your tiles a good cleaning with a damp cloth. Be sure to leave your newly laid tiles for around 72 hours before any heavy use.
Can I Tile a Floor Myself?
If you want to save money on the job, you can tile a floor as a DIY job. This would work out much cheaper as you wouldn't have to pay the costs of labour.
However, if you want your floor to look as good as it possibly can, it's probably best to leave it to the professionals. Also, if you're limited on time, it may be better to hire professionals to do the work for you so that you don't have to worry about the time it takes to get the work done.
If you have never tiled a floor yourself before, it might be quite a difficult job. This is especially true if the room that you are tiling is quite large.
Building Regulations & Planning Permission for Tiling a Floor
You don't need planning permission or to follow any building regulations to tile a floor provided it is a floor that is already existing in the home.
Choosing Floor Tiles
Below is a list of the different type of floor tiles and the pros and cons of each of the different types:
Ceramic Floor Tiles
This is one of the most common types of tile. It is very durable and goes well in many different types of room. It's also easy to install, easy to keep clean, and comes in many different styles and colours.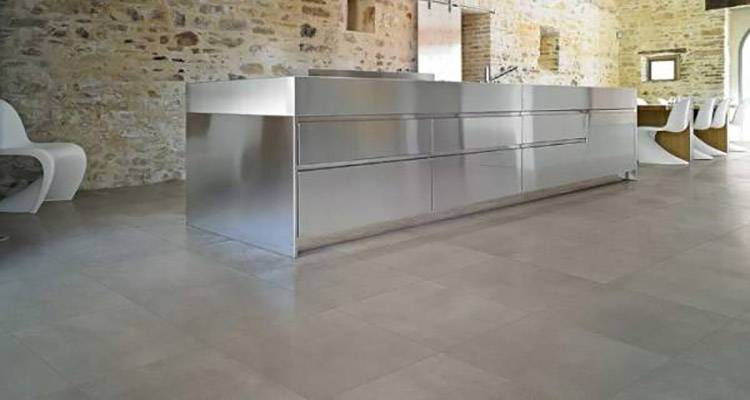 Pros
✔ Durable
✔ Comes in many styles
✔ Comes in many colours
✔ Easy to install
✔ Easy to keep clean
✔ Budget-friendly
Cons
✖ Doesn't look as natural as some other tile types
Porcelain Floor Tiles
This is another common type of tile for in the home; however, this one has more of a natural look. These tiles come in a variety of colours and styles to match your home. They're also easy to maintain and keep clean.
Pros
✔ Comes in many colours
✔ Comes in many styles
✔ Easy to maintain
✔ Look natural
Cons
✖ Can be challenging to install
Cement Floor Tiles
Cement tiles are very versatile and can create some great patterns and colours. Despite looking great, cement tiles are quite hard to lay and are very difficult to maintain as they need to be resealed once a month to maintain their true beauty.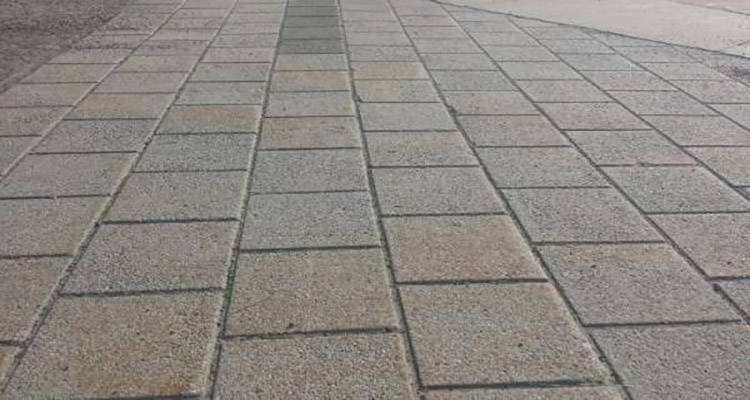 Pros
✔ Come in many patterns and styles
Cons
✖ Difficult to install
✖ Hard to maintain
Marble Floor Tiles
Marble adds a touch of elegance to the home. Marble tiles come in a variety of colours and patterns; however, it requires quite a bit of upkeep. It is also susceptible to scratches and stains if not properly cared for.
Pros
✔ Elegant and beautiful
✔ Comes in many patterns and styles
Cons
✖ Easily scratches or stains
✖ High price tag
Mosaic Floor Tiles
Mosaic tiles allow you to add a creative flair to your flooring as the designs come in many different colours, shapes, and sizes. You need to be careful about the designs becoming outdated quickly, though.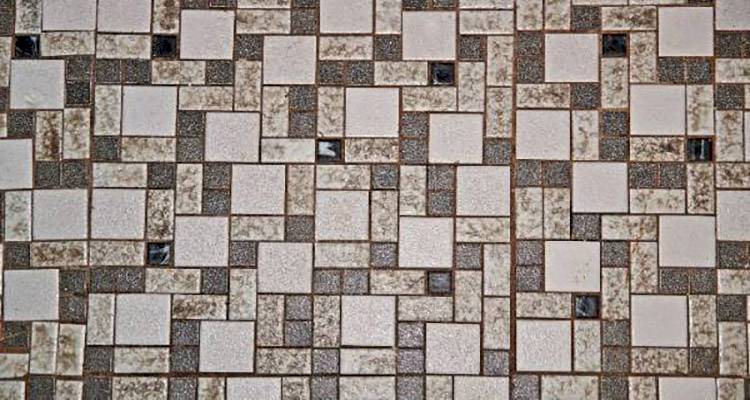 Pros
✔ Come in many different styles and colours
✔ Allows you to get creative with designs
Cons
✖ Can look outdated quickly
✖ Can be difficult to install
Limestone Floor Tiles
These natural tiles allow you to create a rustic style. It is easy to cut and shape, so this allows for easy installation. However, you need to ensure that it is properly sealed as it is a porous type of rock that can ruin if it comes into contact with too much water.
Pros
✔ Stylish
✔ Easy to install
Cons
✖ Needs to be sealed regularly
✖ Difficult to clean
Cost of Removing Floor Tiles
If you are planning on having new flooring put in, you may have to remove old tiles before you can put in the new flooring.
Removing old floor tiles is quite a complicated job that can take a while to complete, especially if the room you're renovating is quite large. In some cases, it can take days to completely remove all of the tiles and grout ready for new flooring.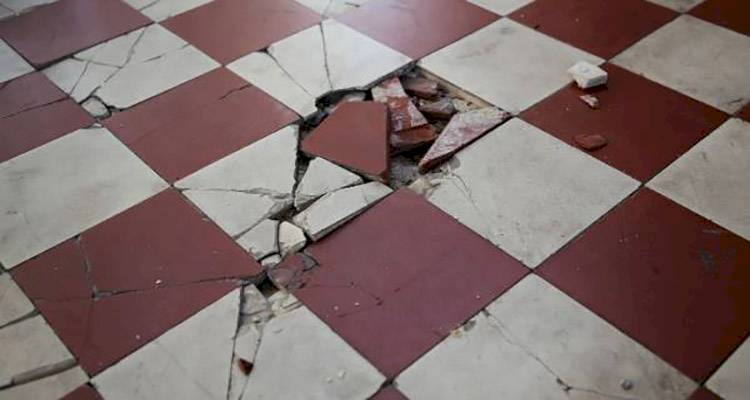 A contractor will usually charge somewhere between £15-£20 per hour to remove your old floor tiles; however, this may be a little bit more in the London area. The length of time that it takes to remove your old floor tiles will depend on the size of the room and the difficulty of the job.
Hiring Contractors to Tile Floors Checklist
There are a few things you will need to consider before hiring someone to install a new wet room for you. Below is a list of some of the main things that you should consider when looking for the right contractor for the job:
Does the contractor offer any guarantees with their work?
How much is the work to complete? – Ask for a breakdown of costs so you can ensure you are paying a reasonable price for each element of the job.
What type of tiles and fittings does the company offer?
Do you need to supply any materials yourself, or is it all included in the overall price for the job?
Is the contractor experienced in fitting the type of flooring that you are purchasing?
How many years' worth of experience does the contractor have in fitting new flooring?
How many contractors will carry out the job?
Will the contractor fix any issues that may arise?
Will the contractor take care of any relevant waste removal?
FAQs
How thick can I lay floor tile adhesive?
As a general rule, you should apply around 1.5mm of adhesive for tiling; however, different types and sizes of tile will have various recommendations. For the best results, look at the manufacturer's suggestions on how much adhesive should be sued for your particular type of tiles.
Can I use wall tiles for my floor?
You should not use wall tiles for the floor unless they specifically say that they can be used on a floor. Floor tiles are usually thicker than wall tiles to withstand the necessary weight. Using wall tiles on the floor will usually result in a lot of broken tiles after a while.
Do I need planning permission to put new tiling down?
No, you don't need planning permission to tile your floors.
What are the advantages of tiling floors?
Tiled floors are easy to maintain and look very neat. They are great for areas that may need more cleaning than others, such as the porch area where you're walking in with dirty shoes or the kitchen area that may be susceptible to spills.
What is the most common type of floor tile?
Ceramic tiles tend to be the most commonly used floor tiles in the UK as they are easy to maintain, and they come in a wide variety of colours and styles. They are also easy to install and on the cheaper end of the scale of tiles.
Sources
https://www.diy.com/ideas-advice/how-to-lay-floor-tiles/CC_npci_100035.art
https://www.mohawkflooring.com/tile/guides/tile-installation
https://www.realsimple.com/home-organizing/decorating/types-of-tiles

Last updated by MyJobQuote on 14th January 2021.