Tiling a Floor Cost
Floor tiling prices and advice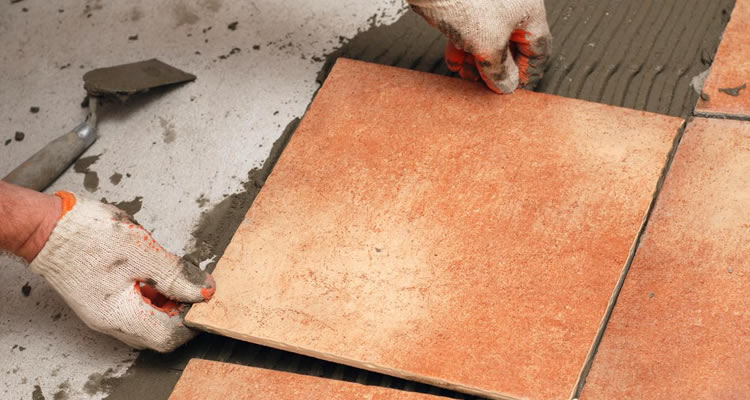 Average price for tiling a floor is around
This type of job normally takes around 2-3 days to complete
£1200
Floor tiles are a great flooring option for your kitchen or bathroom, they look great, are easy to clean and are resistant to water. Ceramic floor tiles, in particular, are very popular nowadays and are larger and more robust than wall tiles so they can withstand a lot of foot traffic. Tiles come in many different materials, shapes and sizes, but if you are working on a smaller budget then simple square and rectangular vinyl or even porcelain tiles are the best options.
In addition to being cheaper to buy, they are also easier and quicker to lay so cost less if you are hiring someone. There is a huge variety of floor tiles available with the costs depending on the type and quality. Vinyl tiles are probably the cheapest options and are easily cut yet will be waterproof if properly sealed. But other popular tile types include Ceramic, Quarry, Mosaic and Porcelain tiles.
Finding a good tradesman you can rely on to tile your kitchen or bathroom to a high standard can be a real challenge. However, on MyJobQuote.co.uk you can get for quotations from tradesmen rated by homeowners just like you by simply filling in a short form, you can receive up to three quotes and also review the tradesmen feedback from previous customers making your search for a tiling professional quick and easy.
Typical floor tiling costs
| Job Description | Duration | Material Cost | Labour Cost |
| --- | --- | --- | --- |
| Laying ceramic glazed floor tiles in a 3 metre square kitchen customer to supply tiles | 2 days | £60 | £220 |
| Laying rustic, natural stone floor tiles in a 6m x 4m conservatory customer to supply tiles | 2-3 days | £80 | £820 |
| Supply and lay mid-range quality tiles in a 5 metre square kitchen | 2-3 days | £200 | £500 |
| Supply and lay top-range natural stone tiles in a 5 metre square kitchen | 2-3 days | £480 | £500 |
Things to consider when tiling floors
It's important to remember that the cost of a tiling job will vary greatly depending on your chosen tiles. For most tiling projects in the UK, homeowners will typically buy their preferred tiles and then ask a tradesman to quote for fitting. This is not necessarily the best way to go about things! Better to ask a tradesman to quote for the supply and fit of the type of tiles you prefer, then shop around for tile prices. An installation only quote may still work out cheaper, but often local tradesmen can get much better prices on tiles than you can!
Tiling costs for floors will obviously depend on the size of the room and the type/quality of tiles chosen. Your location will also have an impact on the prices as there are large price variations across the different regions of the UK, with London and the South East being by far the most expensive. The existing floor surface will also make a difference to the prices you get quoted. For example, if old tiles have to removed and a new waterproof boarding has to be installed then this takes more time so will push up the prices due to the extra surface preparation.
When choosing bathroom, and to a lesser extent kitchen, floor tiles, remember to pick non-slip tile materials to prevent dangerous falls when wet. Plus always ensure the floor base is sufficiently waterproof. Finally, remember that if you are purchasing the tiles yourself, once you have measured up, allow for an extra 25% for breakages in transit and for mistakes when the tiles are being cut down to size.
Doing it Yourself
One of the ways you can save money with tiling is to buy and collect the tiles yourself, along with the grout and anything else you will need, then prepare the floor surface ready for the tiler just to come n and get started. Alternatively, if you are handy at DIY, you could save a lot of money by doing the tiling as a DIY project. But you need to be sure you have the necessary skills and patience before attempting this, as tiling is a skilled job! If you are not 100% sure you can do this job and achieve a professional finish- then do not even attempt it as it will end up costing you even more money than just getting a professional in to do it in the first place!
But if you are confident, start by making sure the surface you're tiling is clean, dry and flat (and waterproof if bathroom). You need to carefully set out the tiles in a clear grid pattern formed by the joints between the tiles by centring rather than your grid starting in a corner. When you start laying the tiles, it's important that the faces are level as if any of them are uneven it will completely spoil the effect. Corners are hardly ever straight so don't cut all the edge tiles the same size, you need to measure up for each edge tile separately. Use plastic corner trims to get a neat finish on any external corners and to help protect the edges from chipping.
Related Articles
Floor tiling checklist
Tiles are the floor covering of choice in the modern bathroom, but small bathrooms need small tiles
It can be a challenge to select the right type, style, finish and colour of tile for your requirements
Tiling is not always as easy as it looks and involves skill which takes a lot of practice to acquire
Finding a good tiler is never easy as the best ones always seem to be busy
Hiring a Tradesman Checklist
Always get at least 2 quotes before hiring.
Never pay the full amount upfront.
Get the quote in writing.
For any payment you make, always get a receipt.
On more expensive jobs, ask for references.
Check if the tradesman is a member of any trades associations.
Make sure the tradesman has public liability insurance.
FAQ's
What different types of tiles are there?
There are ceramic tiles which can be glazed or unglazed, quarry and terracotta tiles made from natural clay, Porcelain tiles (ceramic tiles with a very low absorbency), mosaics (fancy word for very small tiles which can be made from porcelain, ceramic, glass or natural stone), limestone, marble, granite and slate tiles.
What are the advantages of tiled floors?
Tiled floors are practical and look neat too. Floors in the UK get a lot of punishment thanks to our weather, with people going in and out of your house with dirty wet feet, tiling the floors is often a good idea. Tiled kitchen floors, for example, are hygienic and easy to clean, whereas an entrance hall or porch with a tiled floor will be fine with dripping brollies and coats, or muddy dogs.

What does the CE Mark on a box of tiles mean?
The Construction Products Directive 2013, states that on all ceramic and natural stone tiles, adhesives and other related products where there is an EC Directive, they have to carry the CE Mark. The CE Mark confirms the verification by the manufacturer that these products meet required EU safety, health and environmental requirements. CE marking does not mean the product was made in the EU, just that it was assessed and satisfies the EU legislative requirements.
How do I choose bathroom tiles?
You could start by taking advice from a decent tile supplier, but remember it is not just the tiles, it's also important to get the right adhesives, profiles, and waterproofing or sealing products. A dedicated retailer should be able to provide all the information you need.
What tiles are best for bathroom floors?
For wet areas, it is important to fix the tiles onto an already water-resistant surface such as cement, concrete or water resistant tile board. Plaster, plasterboard, MDF and timber are absorbent materials and need to be made waterproof using a sealant or tanking system.
Recent Jobs
We want to install tiles for our 4 bathrooms. I'm open to quotes both for tiles+work or only for work (and I'll buy the tiles myself). Thanks
Submitted by Antonios
Need 20 square meters in my kitchen. Thanks.
Submitted by Bogdan
I want tiles replaced in my bathroom. The room requires 10 square metres . I have the tiles and simply want cost of labour and materials required for wooden sub floor (chipboard), adhesive, grout etc. I will dispose of any waste myself.
Submitted by Pete
Replace two floor tiles 60x60.
Submitted by Geoff
Tiling living room & skirting materials provided, tiles ordered. The job is required as soon as possible.
Submitted by David