Single Storey Extension Costs
Trying to find out how much a new single storey extension costs to build? In this article we investigate the prices of different types of extension as well as the cost of hiring a builder to carry out the work.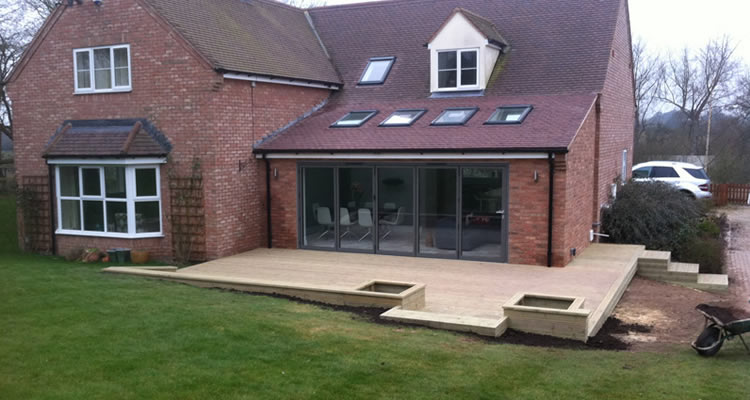 Average Cost of a single storey extension
This job will typically take round 10 weeks to complete
£35,000
How Much is a Single Storey Extension?
Extending your home is becoming an increasingly popular choice with those looking for more living space but trying to avoid the expense and hassle of moving. Though adding an extension is often also done as an investment prior to moving. Home extensions can take many forms and the most popular and simple is a single storey extension used for a utility room, bigger kitchen, or additional living & dining room space.
Single storey extensions are simply an extension built onto a house where one side adjoins the property and there is only the ground floor plus perhaps a basement built to it. When planning an extension you should consider the impact upon neighbours and also how it will work with the existing building. In many cases, planning permission will not be required for single storey extensions, however, Building control permission will definitely be required.
Building an extension is beyond most of us a DIY project, so a builder and probably an architect will be required. When hiring tradesmen always try to get at least three detailed quotes for the project which describe all stages of the works and include a timescale and payment terms. Before hiring check previous work and speak to previous customers. Once you have decided on a builder you should always draw up a written contract to avoid any disputes down the line when differences of opinion occur.
Finding a reputable builder is easy with Myjobquote, just fill out the quick form online and you can have up to three builders getting in touch with you to quote for the job. In addition, you can read reviews on these builders written by other clients so you can avoid any cowboys!
Average Single Storey Extension Prices
| Job Description | Duration | Material Cost | Labour Cost |
| --- | --- | --- | --- |
| Victorian conservatory extension with five large windows | 10 days | £5000 | £2500 |
| Average single storey extension | 10 weeks | £21000 | £11000 |
| Average cost per square metre for single storey building | NA | £1000 | £500 |
| Average single storey extension plus new kitchen | 12 weeks | £27000 | £13000 |
Things to consider with building extensions
When you have outgrown your home, extending can work out much cheaper than moving in the long run as there are considerable costs involved with moving, estate agents and stamp duty alone fees can add up to £20,000 or more these days (which would almost pay for a small extension), then you have the removals, decorating, solicitors fees and other expenses to budget for. But perhaps the main factor to consider when weighing up the advantages of extending versus moving, is whether you like your home and the existing area. if you love everything about the area you are living, if it's close to work, great for schools, near your favourite friends and has everything you need, except some extra space – then you may struggle to find a new larger property in such an ideal location, so moving may not be the best option. On the other hand, if your existing location is less than ideal and you are not happy with your existing commute and are looking to change schools – then moving could well be a good idea even if it is more expensive. Moving house can be an exciting prospect or it can be the world's biggest nuisance, depending on your situation.
Of course sometimes extending simply is not an option, adding an extension is obviously dependent on whether or not you have the available space to extend into. If not available, then an extension may simply not be a viable option, though there are expensive options such as basement conversions (extending down rather than out) which may be viable. The costs of adding a house extension, even a small single storey type, can be considerable. Plus if planning is required, then the entire process could easily take several months, but that will still be much quicker than moving. Whether you decide to buy a new home or extend your existing property, is entirely dependent on your individual situation and preferences.
Doing it Yourself
With any big DIY project, there are going to be some headaches. When it comes to building a major project like an extension, there are a lot of factors that need to be considered before any work can begin. The initial design and planning applications, budgeting & costing materials, all add up to some serious work before a single brick has even been laid. Even if you plan to do most of the work yourself, an initial consultation with a good architect could save you a lot of money in the long run! You also need to remember that during the initial planning process (even if a planning application is not required), neighbours should still be consulted and given a chance to air any misgivings regarding your proposed works. Getting neighbours involved in the early stages can save a lot of time and hassle further down the line. Even if you have planning permission and the neighbours are not happy about your design, it may be worth compromising rather than making potentially life-long enemies of your next door neighbours!
Building Regulations approval is an extremely important process with your extension to ensure that it is safe and complies with all the latest Building Regulations, if doing the work yourself, you need to submit full and detailed plans of the proposed extension project and let their surveyors examine the plans and approve the project. You must then notify the council when you start building work and at various stages of the project so inspections can be made to ensure that work is carried out to standard. A final inspection will be made upon completion of the extension, and a certificate of completion will be issued if everything has been done correctly. If you do not have the right skills and experience, the council surveyors may not approve your work, or they may ask you to redo certain parts of the project correctly. This can substantially add to the overall cost of the project and seriously eat into any savings that could have been made by not hiring a builder and/or architect! So if in doubt, hire professionals to do the work on your behalf.
Building an extension checklist
It is important to bear in mind the style of the existing property when designing an extension
Even if planning is not required, discuss the project with your neighbours beforehand to avoid disputes
Consult with an architect for advice on what is feasible with the available space and to make the most of it
Building Regulations approval is a separate process from planning permission and it is extremely important to ensure that the extension complies with Building Regulations
FAQ's
Is planning permission required for an extension?
Planning Permission is not required for many extension projects but there are certain qualifying criteria to be exempt from planning. The main ones being, that the extension must not be higher than the existing property roofline and the materials used are similar to the existing house. You should always consult the local planning department regarding all planned building works as early as possible - do not rely on information gleaned from websites or from builders looking to get hired.
Do I need to apply for Building Regulations?
Yes, regardless whether you needed to get planning permission for your extension or not, you will then need to apply for Building Regulations. Planning Permission and Building Regulations Approval are completely separate requirements and if you require planning permission you should secure this first. Then check which building regulations apply prior to starting work. Building Regulations are essentially a set of minimum building standards and they are the responsibility of the local council.
Should I use an architect?
You don't have to, but if you have looked through the Planning Permission and Building Regulations process you will probably realise that there is a lot of work involved even before any building has started. This is why many people considering adding an extension will approach a suitably qualified professional architect or chartered building surveyor. professional consultants can provide advice on what the best options are with regards meeting your building regulations and planning requirements.
Last updated by MyJobQuote on 5th May 2020.