New Kitchen Cost
Wondering how much a new kitchen costs?
The costs of a new kitchen are split into two parts: the kitchen itself, and the installation.
Both of these costs can vary dramatically depending on the size, complexity and quality of kitchen you choose to purchase.
Similarly, your location can play a significant part in how much the fitting of the kitchen will cost.
So, what about the kitchen materials cost?
For kitchen units and worktops the prices can range from £1000 for a small, budget kitchen suite, all the way up to £25,000 for a top of the range large kitchen.
Next, kitchen fitting costs...
...For a small kitchen you can expect to pay around £500 to install. As for a large kitchen, you could pay £800-£1000.
Looking for a kitchen fitter quote?
If you already know what kitchen you want, we can connect you with kitchen fitters in your area so that you can start getting quotes immediately.
Also...
...See here about having just your kitchen units or your kitchen worktops replaced.
If you're looking for an ultimate breakdown of new kitchen costs, the guide below covers everything you need to know!
Why not have a read?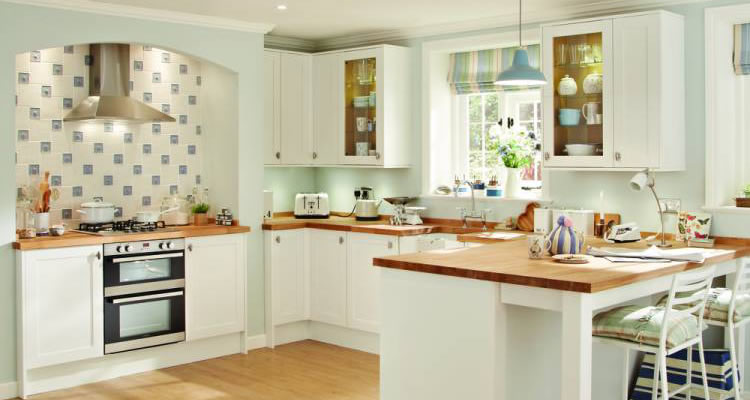 Average Cost to Remodel a Kitchen:
Depending on the complexity of the job, it usually takes: 4 days
£5000
How Much Does a New Kitchen Cost?
What do kitchen remodel costs depend on?
Well, average costs can vary depending on the size of your space, the type of units, and quality of equipment chosen to install.
Labour costs will also affect the final budget required; however this varies with the length of time the installation takes, as methods for installation can vary depending on the chosen design.
How much does a small kitchen cost?
The price for a small kitchen (measuring approximately 3m by 3m) would begin at around £2,500 and can increase to £4,000.
This price does include material and labour costs.
What can you expect to pay for a medium sized kitchen?
For a medium sized kitchen (of around 15m²) the prices begin at around £4,000 and increase to just over £6,500.
For a large kitchen...
...you should pay between £6,000 to £10,000 on average.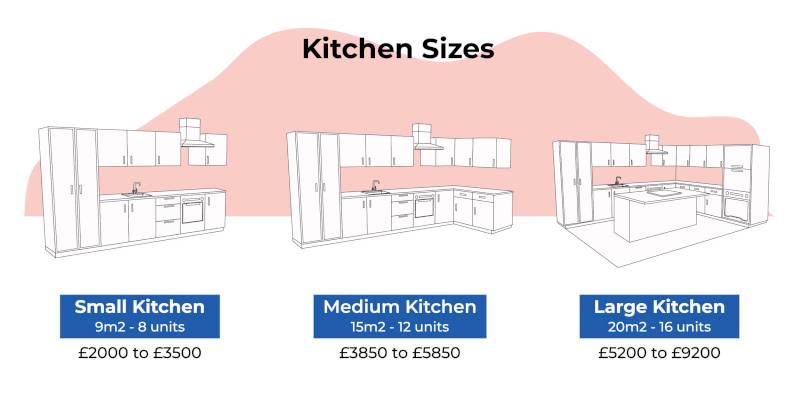 New Kitchen Prices
Below in the table you'll find the average costs of different sized and quality of kitchen:
| Kitchen Tyoe | Duration | Material costs | Labour costs | Total costs |
| --- | --- | --- | --- | --- |
| Small Kitchen (9m²) with Basic Quality Fixtures | 4 days | £2,000 | £500 | £2,500 |
| Small Kitchen (9m²) with Medium Quality Fixtures | 4 days | £2,500 | £500 | £3,000 |
| Small Kitchen (9m²) with Premium Quality Fixtures | 4 days | £3,500 | £500 | £4,000 |
| Medium Kitchen (15m²) with Basic Quality Fixtures | 5 days | £3,350 | £650 | £4,000 |
| Medium Kitchen (15m²) with Medium Quality Fixtures | 5 days | £4,350 | £650 | £5,000 |
| Medium Kitchen (15m²) with Premium Quality Fixtures | 5 days | £5,850 | £650 | £6,500 |
| Large Kitchen (20m²) with Basic Quality Fixtures | 6 days | £5,200 | £800 | £6,000 |
| Large Kitchen (20m²) with Medium Quality Fixtures | 6 days | £7,200 | £800 | £8,000 |
| Large Kitchen (20m²) with Premium Quality Fixtures | 6 days | £9,200 | £800 | £10,000 |
Cost Based on Kitchen Quality
Here is an overview of the costs of a kitchen depending on the quality you choose:
Basic Kitchen Cost
Are you on a fixed-budget?
The basic quality of fixtures and fitting are the cheapest and most cost effective choice.
Starting prices for basic quality fixtures for a complete kitchen begin as low as £400 if you shop around.
However...
...On average you can expect to pay around £2000-£5000 for brand new basic kitchen materials. This does depend on the size of your kitchen, how many units you need, and how large the worktop is.
Medium Quality Kitchen Cost
Did you know...
...The most commonly chosen quality level for kitchens nationally is medium quality?
But how much do they cost?
The price for medium quality begins at around £1,000 and increases to around £2,500.
For example:
A standard UK medium sized kitchen measuring approximately 15m², including fitting, would cost around £2,500-£5,800 for the materials, and increase to around £3,000-£8,000 with labour costs.
Premium Quality Kitchen Cost
Premium is one of the best quality and long lasting styles of kitchen available on the market.
Why choose premium quality?
It provides an extremely high quality aesthetic and great feel, premium quality is the recommended choice for the very best look and longevity.
How much is a premium quality kitchen going to cost you?
Premium quality prices begin at around £3,500 for a small kitchen, then increase to around £9,000+ for a larger kitchen.
Labour Costs & Timescales
The following will show you the all the labour costs and also the durations of the fitting:
Costs of Hiring Tradesmen to Fit a New Kitchen
When hiring any tradesman for interior construction work, you need to consider what specific jobs are actually required, as not all tradesmen can handle the same types of work.
Fitting the kitchen would often be undertaken by a single kitchen fitter.
However a general builder could also be considered for the job, as their skills are often relatable.
Also when considering remodelling your kitchen, you may need to consider what tradesmen will be needed for the additional work; this can include electricians, plumbers, carpet/flooring specialists, and even decorators.
Kitchen Fitter Costs
A Kitchen Fitter is usually the first choice when remodelling a kitchen.
From cupboards, drawers, and units, to appliance systems such as stoves and fridge freezers, a kitchen fitter would often be able to assist in the installation of multiple kitchen upgrades.
The average required time to hire a Kitchen Fitter would be for around 5 to 7 days, depending on the amount of work required.
The day rate for a Kitchen Fitter often starts at around £115 per day, depending on their qualifications and specialties.
General Builder Costs
A general builder can also be used, often instead of a kitchen fitter, to lead the remodelling project.
They can hire and control subcontractors such as electricians, plumbers, and carpenters in order to complete the work.
Also if fitting a large kitchen, a general builder is often the best choice due to the robust nature of their experience and labour price which can be offered.
A general builder will usually cost around £100 to £150 per day to hire, depending on the level of job required, the skills they possess, and the amount of experience.
Carpenter Costs
These tradesmen can be hired when you decide to include any custom construction out of wood; including any customised cupboards, worktop fitting, and even wood flooring.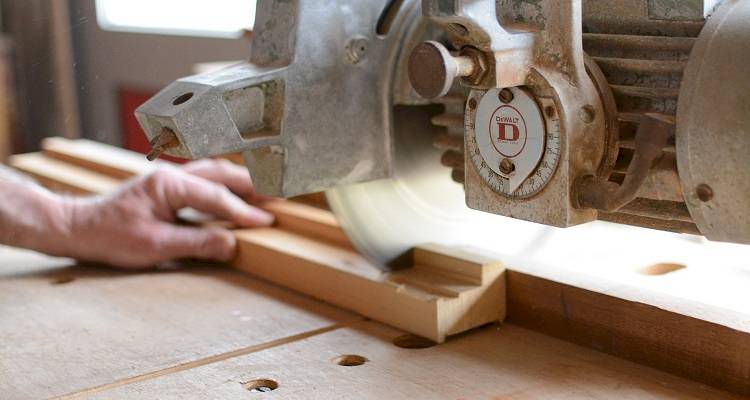 They will often be able to undertake large parts of the job themselves without the need for further tradesmen, although this will depend on the skills of the Carpenter chosen.
A Carpenter will usually cost you around £125 per day.
Carpet Fitter Costs
Fitting flooring to your kitchen can be as simple as fitting a carpet, unless you require lino or wood style flooring.
Therefore a commonly used tradesman in a kitchen remodel, are Carpet Fitters.
The Carpet Fitter will first measure the area in which the new floor is to be fitted, provide the sizing for the required flooring style, and then once purchased will be able to lay the covering down.
A Carpet Fitter will usually cost around £90 to £100 per day to hire, depending on experience and level of skill.
Electrician Costs
An electrician is usually required around the end of the remodelling process, if an electrical supply is required.
From lighting, electrical heating, and plug sockets to appliances and smart systems, an electrician would often be able to assist in the installation of multiple kitchen upgrades.
The average required time to hire an electrician for would be for around 2 to 5 days, depending on the amount of work required.
The day rate for an electrician often starts at around £125 per day, depending on their qualifications and specialties.
Plumber Costs
A Plumber is usually required both during and at the end of the remodelling process.
From water pipes, central heating, and radiators to taps, sinks, and waste disposal, a plumber would often be able to assist in the installation of multiple kitchen upgrades.
The average required time to hire a plumber would be for around 2 to 4 days, depending on the amount of work required.
The day rate for a plumber often starts at around £125 per day, depending on their qualifications and specialties.
Labourer Costs
The most inexpensive form of tradesman, a labourer, should not be over looked when costing a remodelling job. Usually a specialist will provide their own personal labourer; however, even so you should be mindful of the costs to hire them.
The day rate of a simple labourer will usually be £50 to £60 per day. They are used for all the heavy lifting work, moving materials, and jobs, which do not require a specific skill.
Timescales
One of the most important factors when deciding if you are going to remodel your kitchen within your home is obviously going to be timescale. How long a job is going to actually takes to complete will affect the final cost of the work.
Timescale is one of the most important factors in planning a construction job, as the longer a job takes, the longer you will be required to pay your selected tradesman.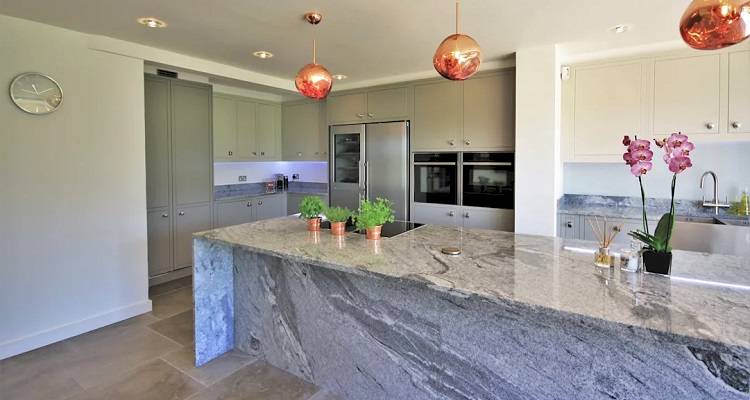 There are a few simple factors, which will affect the timescale of remodelling a kitchen.
The most obvious being the size of the space in which the kitchen is to be fitted, the current condition of the space (i.e. is it currently clear or has an old kitchen already in place), and if there are complications encountered while fitting the kitchen.
Remodelling the average medium sized UK kitchen (15m²) will take longer than a smaller kitchen (9m²), at around 5 days compared to 3 - 4 days.
A larger 20m² Kitchen will take longer than a medium kitchen, at around 5 days for a medium compared to 5 - 7 days for the larger more complex kitchen.
However, these factors will also depend on the condition of the space which the kitchen is to be fitted, the skills the tradesman chosen possesses, and any additional complications (such as water and electrics) are encountered.
| Tradesman | Time Needed (days) | Cost per Day | Total Labour Cost |
| --- | --- | --- | --- |
| Kitchen Fitter | 3 - 7 days | £115 | £345 - £820 |
| General Builder | 3 - 7 days | £110 | £330 - £770 |
| Carpenter | 3 - 5 days | £125 | £375 - £600 |
| Electrician | 1 - 3 days | £125 | £125 - £375 |
| Plumber | 1 - 3 days | £125 | £125 - £375 |
| Carpet Fitter | 1 - 2 days | £100 | £100 - £200 |
| Labourer | 3 - 7 days | £50 | £50 - £250 |
Additional Costs
The supplies cost for laying artificial grass in a garden will vary slightly depending on your choices of grass style.
Beyond the obvious grass layer, the fixture method, weed membrane, bottom layer, and any specialist care equipment can also affect the price.
Appliances
Stoves, fridges, ovens, and dishwashers are just a few various appliances, which could be added to a new kitchen.
There are practically a limitless number of different levels of equipment that when added to your new kitchen can change it from a simple room where food is prepared, to a useful kitchen space.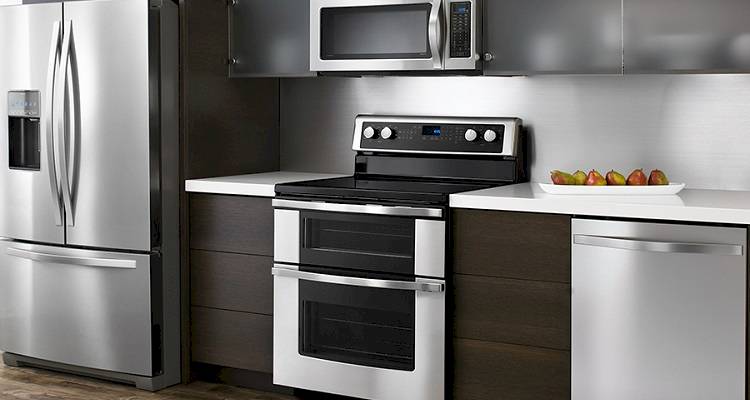 Due to the amount of appliances there are to choose from, there is no set or approximate costing, which can be predicted without a budget in mind.
For example ovens come in prices from £150 for a basic style all the way up to £5,000+ for computerised "smart" self-cleaning varieties.
Lights and Power
Every Kitchen will require power and lighting in order to be habitable. Lighting price can vary depending on the size of the kitchen, existing fittings, and the design of the new light fittings chosen.
For example for standard incandescent lighting for a small 5m x 4m Kitchen space, fitted from scratch, it will cost around £75 for the materials (without fitting).
For a power circuit extension within the same sized space will cost around £150, if added to the existing consumer unit of the property.
The price of this will increase to around £250 - £375, when fitting costs are added, as an electrician will be required to complete the installation.
Smart Systems
A "Smart-System" kitchen is now becoming an increasingly popular choice when fitting a completely new kitchen. The system is run on a computer style interface, which connects all your smart appliances together.
From linking your lighting, fridges which order your food for you, to cookers that can clean themselves, and boilers that are controlled from your smart phone, a "Smart-System" is only limited by your budget.
For example if you are replacing your kitchen appliances with smart equipped systems, you it will cost around £3,500 for the basic package. This package would include a smart over (£500), fridge freezer (£1,000), coffee machine (£250), lighting (£500), and heating/hot water system (£1,000).
Windows
For comfort and natural lighting, it is often a good idea to have windows in a kitchen.
Therefore if your current space, where the new kitchen is to be fitted, does not have windows, it may be a good idea to fit some. The most common form of windows in modern kitchens, are the UPVC style.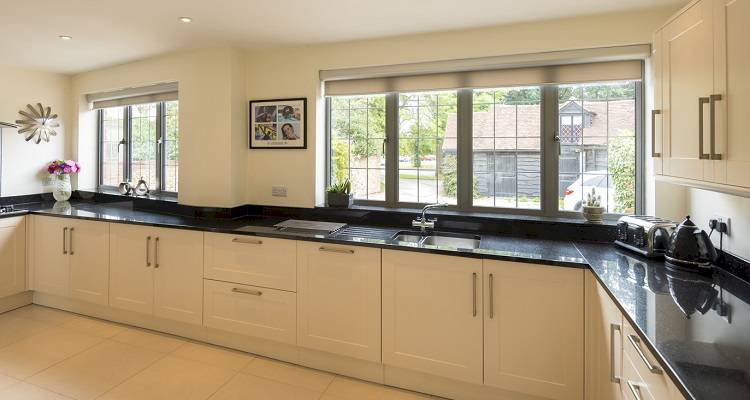 These windows are constructed of a plastic material frame and can be bought as a matching set with any existing UPVC doors and windows within the property.
For a set of UPVC windows (two large windows) prices will usually start at around £500 and if including a new door can often be found for around £600.
Cost Factors of Installing a New Kitchen
The cost of materials and appliances usually takes the largest chunk out of your kitchen remodelling budget. The cost of new kitchen appliances will vastly outweigh any other costs during the project.
Additional materials such as electrics, flooring, decorations, and labour will often only take up a fraction of the budget in comparison. The appliances costs easily surpass the price of labour, when higher quality styles are selected for the installation.
When deciding on the components, the choices available are extremely wide ranging, with a choice of style including; colour, shape, material, and even finish.
The desired final look will determine many of these factors; however, it is always best to keep a strict budget in mind before beginning preparations and shop around for the best priced materials.
Kitchen Quality
Quality of the final appearance, level of technology, and usability of the space factor into the final cost of a new kitchen greatly.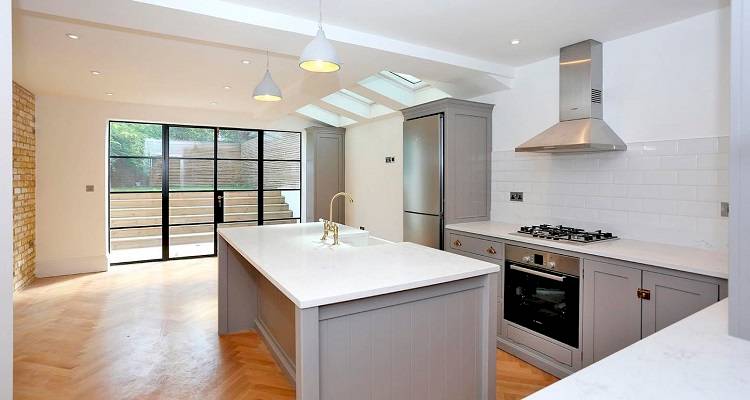 For a medium kitchen (15m²) with a full new cupboard, appliances, and work surfaces completed, if basic quality non smart appliances are used, costs will begin at around £2,500 - £4,000.
However, for the same property, yet with premium quality kitchen with smart appliances (such as a smart oven at £1,000) it would increase the price to around £8,000.
Waste Removal Cost
Another cost to account for is the disposal of waste during the installation process. Waste disposal will usually consist of simply hiring a skip. A skip is a large metal container used like a bin, for the disposal of building waste.
Skip hire begins at around £150 for a single skip hired for a week. Included in the price of the hire, is usually the cost of collection and disposal of the waste.
Finally flooring and decoration is a very important consideration, which should not be overlooked within the planning stages of a project.
Decoration
Once the kitchen has been fitted, it will often require some form of decoration to be carried out. Decorations such a tiled wall coverings, paint, and stone, lino, or tile flooring will increase the build time considerably, increasing not only the labour costs, but also the construction time required in general.
Often, when a kitchen is fitted it will be required to paint or decorate the space to fit the desired design, or aesthetic look required.
What's Involved in Installing a New Kitchen?
Budgeting
The first step is going to be planning a budget. This is a very important step, as there is no point starting a project you cannot afford to complete it. Factors such as materials, labour, and additional expenses need to be calculated at this stage.
Planning
In the planning stages, you will need to decide which style of kitchen you are going to construct, the level of quality you want, and the types of tradesmen you will have to hire.
After you have made these decisions, you may have to hire a specialist to draw up a plan for the project, if not using a prefabricated kitchen. This plan will allow you to see an approximate cost for the materials, the tradesmen required, and any potential problems in the construction.
Quotes
Quotes are vital to any construction project, as not all tradesmen charge the same rates for the same job. It is always best to get at least three quotes from three different companies, in order to ensure you are getting the very best for your money.
Preparing the Space
Now the actual work begins. Firstly, if there is already an old kitchen in place, the site will need to be cleared. Then the area in which the cupboards are to be install will need measuring correctly.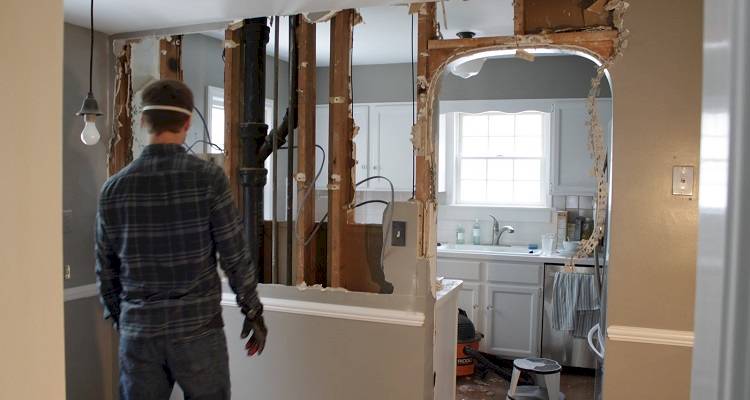 Next surfaces will need to be cleaned and prepared for the installation of the cupboards, worktops, and any other fitted fixture. If removing the old kitchen, it is important to remove all the debris and dispose of it; often within a skip.
Construction
The construction stage will vary drastically depending on your chosen style of kitchen.
If a simple pre-built kit has been planned, this will be when the kitchen units will be installed, any new pipes fitted, and and if new electrics required; the wires chased into their spaces.
Worktops
With the cupboards now installed, it is time to install your chosen kitchen worktops. This step can vary depending on the style the style of worktops, but generally will follow the same steps.
Firstly the area to be fitted is measured, then the worktops cut (if needed), the sinks, hob tops, and any through appliances have their spaces cut out, and finally the worktops are either screwed or glued into place.
Further to the fitting, it is often a good common practise to seal the seal around the edges of the worktops with a silicone sealer (£5 per tube), as this will stop any spilled liquids running down the backs of the lower cupboards.
Fitting the Appliances
Cookers, hobs, ovens, fridges, washing machines, dishwashers, additional lights, and any plumbing (such as a sink and taps) will now all need to be installed as required.
The oven and hobs are just as important as the sink and taps; however most ovens and hobs will be able to be fitted by a qualified gas plumber (if gas) or electrician (if electric) in just a single day.
Lights and other electrical devices will require an electrician to install, and the sink and taps will require a plumber to fit them.
Decoration
The next step in the process is the aesthetics. Laying any flooring, such as lino, wood, or tilling.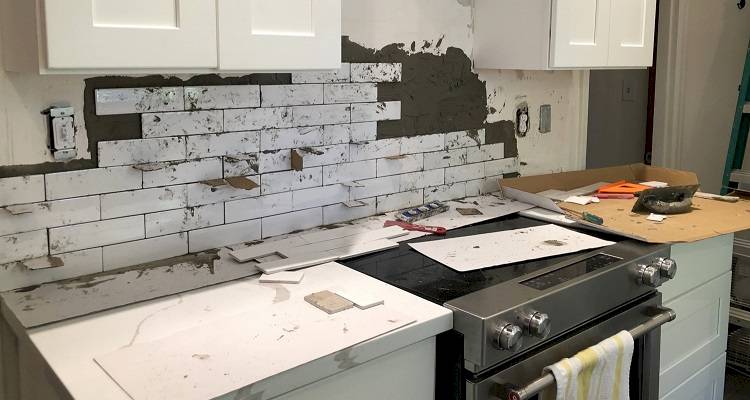 The the walls will need to be painted or tiled (as required), the cupboards painted or stained (if required), and any finishing touches to make the new kitchen have the desired appearance which you have desired.
Enjoying Your New Kitchen
The final step of constructing your new kitchen is to actually enjoy it.
Whether it was constructed to improve your old drab looking kitchen, add additional space when cooking, or just as a place to become the master chef you know you are, just like Jamie Oliver or Gordon Ramsey; you should not forget to enjoy the new space you have taken the time and a reasonable some of money to complete.
What Are the Benefits of Fitting a New Kitchen?
"The home is where the heart is" and "the heart is where the hearth is". Therefore the kitchen is one of the most important rooms in any property. Often the first image which comes to mind when dreaming of your dream home is a beautiful kitchen.
From classic farm style wood burning ovens, tweed curtains and duck tiles, to ultra modern worktops, self cleaning smart-ovens, and computerised fridges, a dream kitchen can vary wildly depending on the person dreaming of it.
Regardless of your chosen style there is a universal list of benefits, which remodelling a kitchen can bring to any household.
Improved Practicality and Function
It's sad to say, but an awful lot of kitchens do not have a great deal of function. They can often be soulless, out-dated, and most likely just aimed are just preparing food. However, when planning a new kitchen a person is able to change these issues quite easily.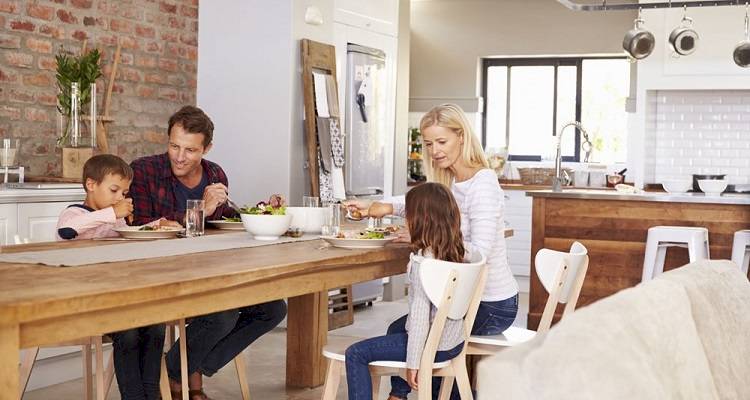 It is possible to increase the functionality of the kitchen, making it into much more than just another room in your home. Firstly the kitchen is often the most used room within any home, therefore it is important to keep this in mind when designing a remodel.
Do you wish to have a homely feel, a place you can sit and just read a book, or would you prefer something more akin to a commercial kitchen; full to the brim with gadgets. The choice is yours; however it should be carefully thought out and planned before the construction begins.
Modernising or Updating
As previously mentioned a kitchen can quickly become outdated and in much need of modernisation. Depending on your chosen preferred style, this may just involve the need to new appliances and a touch of paint.
However, if you wish to take the ultra modern approach, by installing smart appliances, you must give a little thought to future-proofing.
"Future-proofing" is the practise of buying an item or appliance that is in the top end of the technology market, this will mean the appliance will not likely be replaced by a better newer model any time soon, making your new appliance obsolete.
This can be difficult depending on your budget; however, there is no perfect way to go about this other than extensive research into the available appliances and possible future advancements.
Reducing Energy Consumption
Whether it's to save money, or with the environment in mind, reducing your energy consumption can be a great benefit to updating and remodelling a kitchen.
Most modern appliances will use less energy than their older counterparts, due to an increase in the technology. However, this is not always the case and should be checked before purchasing the newest fancy oven/fridge freezer.
Creating More Space/Storage
The final and most obvious benefit, which is often overlooked, is the ability to create more storage with your new kitchen.
From adding larger cupboards, hidden spaces, or just reducing the sizing of your older over sized appliances, creating new space within your kitchen is often an easy task.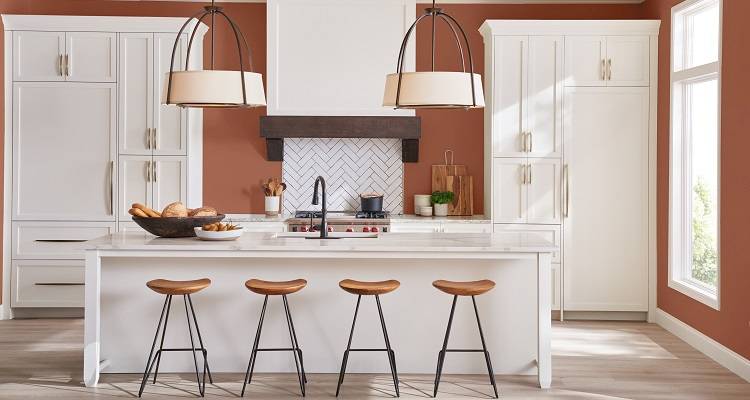 This in turn can transform the space from an average room, used mainly to prepare food, into a perfect dream kitchen, used for a multitude of tasks.
Will a New Kitchen Add Value to My Home?
A well designed and carefully constructed kitchen will often actually increase the value of a property.
Adding new updated appliances or increasing the overall aesthetic appeal will, more often than not, help to increase the value and appeal of the property when it comes time to put it on the market.
A simple modernised kitchen space, can add as much as 10% to the overall price. This would mean for a property valued at £150,000 with an old kitchen, could increase to around £165,000 meaning a return on the investment of around £15,000 easily covering the cost of the project.
On the other hand a poorly planned kitchen remodel can actually reduce the overall value of the property. This is why it is always important to properly plan the project, use the correct recommended materials, and hire qualified, skilled tradesmen to complete the work.
Can I Fit a New Kitchen Myself?
DIY is not always an option. A basic prebuilt kitchen can be self-installed; however this is not a simple undertaking and will require many new skills to be learnt.
From carpentry, accurate measuring, and plumbing, to tiling, decorating, and floor laying; unless you are the type of person that just has to do it yourself, it will be cheaper to simply hire qualified and skilled tradesman.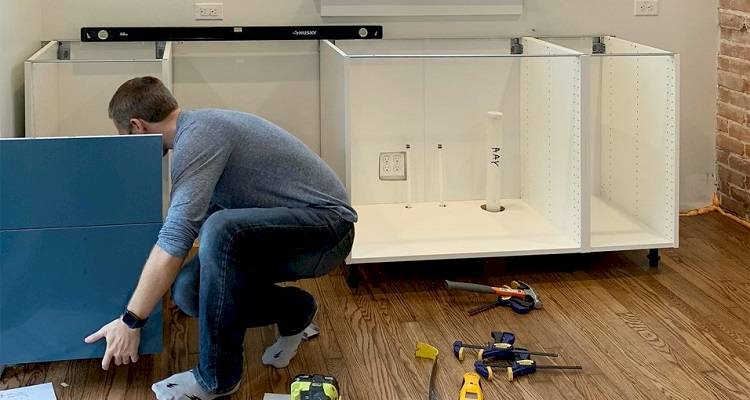 Hiring a tradesman to remodel a kitchen does not mean you cannot attempt various simple jobs yourself. Painting the cupboards, Sealing the worktops, and even helping out the hired tradesman all things you could try installing once the difficult parts are completed.
However one feature that you should never try to undertake yourself (without qualifications), is electrical and gas work.
Electrical and gas work are extremely dangerous, both during installation and afterwards, therefore always hire a qualified electrician to install electrical equipment and gas plumber to install gas equipment.
Do I Need an Architect to Design a New Kitchen?
When planning a kitchen remodel, building plans or drawings may need to be created. Usually a specialist designer or architect can create these plans; in order to make sure the correct materials, the correct style is used, and you get the results you are wanting.
Bear in mind this will however take up a large section of the overall labour budget, considering it will be one of the smaller jobs involved. The cost to hire an Architect or specialist designer usually is around £200 per day.
However, they would usually charge by a completed job rather than per day. This would be around £1,000 to £2,500 for a completed design, drawing, and technical specifications.
Alternatively, you could ask your carpenter (if hired), to draw up the plans for your cupboards and worktops. This process can also be performed by your general builder or kitchen fitted (depending on your choice of hire), obviously dependant on their skill set.
In turn to have your already hired tradesmen create the plans they have to work to, will allow a great level of ease for them to install, and save you a reasonable some of money in the long run.
Can I Have an Open Plan Kitchen?
So you have decided to have a new kitchen installed, but now you are wondering what style to chose. Well an extremely common style of kitchen in the modern age is an open plan type.
An open plan kitchen is often a space which leads from your dining room (or living room on occasion) directly into the kitchen area. This open space is often a direct result of removing walls or creating an extension.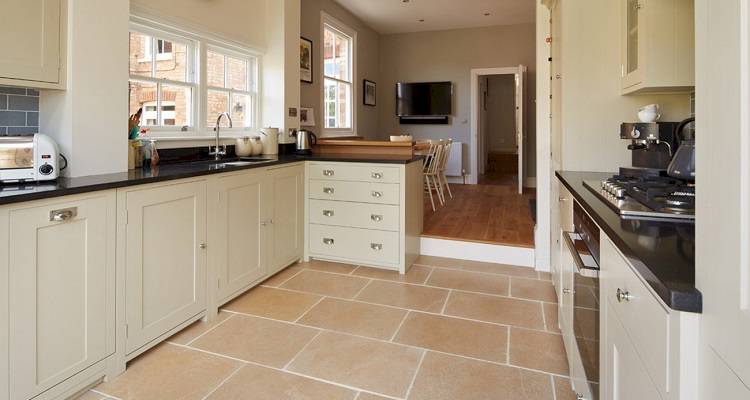 This open style can increase the cost of the overall project if the space is not currently available. Removing a wall can increase the build time by at least 5 days increasing the costs by a minimum of £2,000.
Furthermore if an extension to the house is required this is a new construction project on its own, with a very high cost price, when compared to just remodelling the kitchen alone. The average cheapest extension will cost around £5,000 to complete and take around 3 weeks.
Kitchen Unit Costs
There are three main materials, which are used to make kitchen cupboards. Depending on your desired finish, ease of installation, or budget limitations, there are multiple styles of kitchen cupboards to choose from.
Chipboard
Chipboard is constructed from small wood particles mixed with epoxy resin, which are pressed together under intense heat and pressure to produce a rigid board. This is the cheapest, most budget friendly material used in the creation of kitchen cupboards.
For example for a double floor level cupboard, prices begin at around £66 and will increase to around £150 for a basic full length larder sized cupboard. Over counter cupboards can be purchased for around £50 for a single unit and increase to around £75 for more complex double varieties.
MDF
Medium density fibre board, also known as MDF is also a budget friendly material that is often used in the construction of kitchen cupboards. However if not properly painted and looked after it is the not as hard-wearing as other materials and thus will not last as long.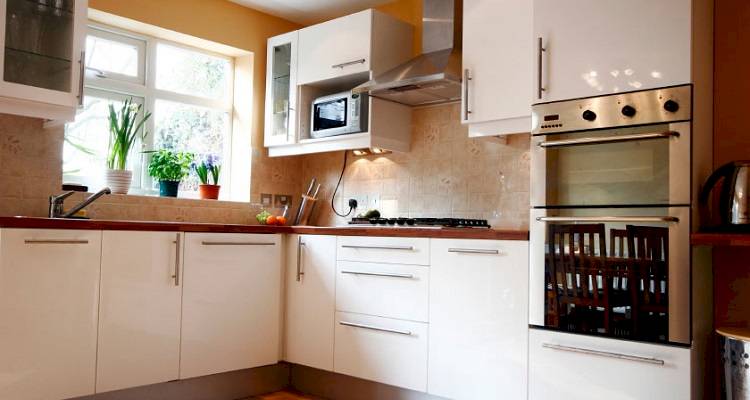 Gaining in popularity in recent years MDF prices begin are around £70 for a floor standing double unit, increasing to around £250 for the largest larder varieties. Over the counter cupboards can often be found for as little as £45 for single styles, and increase to around £80 for the double more fancy styles.
Solid Wood
By far the most expensive material for cupboard making, solid wood is also the hardest-wearing and longest lasting. A good quality solid wood cupboard, if properly stained (or painted) and maintained, can last for up to 20+ years.
Depending on the type of wood used to build the cupboards the price can drastically change. For example for soft wood (Pine) cupboards prices will often begin at around £150 for a floor standing double cupboard and increase to around £750 for the largest of larder styles.
However for a hardwood (Oak) cupboard, prices will usually begin at around £250 for the smallest single unit over counter cupboards, £500 for double standing cupboards, and up to £2,000 for the free standing large larder styles.
Cupboard Material Costs
| Cupboard style | Chipboard | MDF | Solid Wood |
| --- | --- | --- | --- |
| Single Floor Unit | £65 - £75 | £70 - £90 | £150 - £300 |
| Double Floor Unit | £75 - £90 | £90 - £120 | £175 - £400 |
| Single Over Counter Unit | £50 - £65 | £45 - £70 | £175- £250 |
| Double Over Counter Unit | £75 - £90 | £60 - £90 | £200 - £350 |
| Free Standing Single Larder | £150 - £200 | £175 - £250 | £750 - £1,500 |
| Free Standing Double Larder | £200 - £275 | £200 - £280 | £900 - £2,000 |
Kitchen Worktop Costs
When deciding on which worktop to choose for your new kitchen there are six main materials used in construction. Depending on the finished look you require and your budget restraints, there are multiple varying styles of kitchen worktops to choose from.
Laminated Chipboard Worktop Cost
Laminated chipboard is by far the cheapest variety and most common style of worktop on the market today. Much like the chipboard used in creating kitchen cupboards it is made up of small particles of wood fused together under heat and pressure, with resins.
The difference in that laminated chipboard is that it is then covered in a thin plastic layer, which increases its durability and makes it waterproof.
The lamination layer can come in multiple finishes and also can often be used to mimic other more expensive materials such as stone, granite, or even solid wood.
Then average sizes these work tops come in are 3m lengths with an average width of 600mm. Larger sizes are available; however these are classed as more of a specialist order and therefore will have an increase price.
For example for a 3m x 600mm x 38mm average sized laminated chipboard worktop, prices begin at around £80 and will increase to around £150 for a more fancy style (such as faux granite or marble).
Solid Wood Worktop Cost
Unlike kitchen cupboards solid wood is not the most expensive material used for kitchen worktops. Also it is not a good idea to use a softwood in the construction, therefore Oak is the most common wood used in the construction.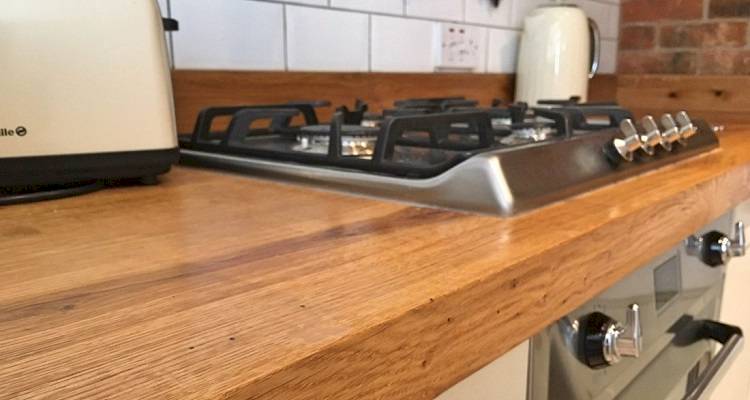 Also unlike chipboard solid wood worktops can come in almost any size required; only really limited by the size of trees available, and the budget you have at your disposal.
There is as always a common size which is widely available and the most popular sold; 2m, 3m, and 4m lengths. These lengths then come in a variety of widths; 620mm, 720mm, and 960mm. The thickness however is often standardised to around 40mm.
The price for an Oak worktop will often begin at around £150 for a smaller sized piece (2m x 620mm x 40mm) and increase to around £500 for the largest of sizes (4m x 960mm x 40mm).
However custom cut variety and sizes are available, though this is increase the price drastically. For a custom cut hand selected piece of Oak measuring 6m x 960mm x 40mm can be found for £750.
Corian Worktop Cost
Invented by the company DuPont, Corian is an acrylic polymer and alumina trihydrate derived from bauxite ore. Corian is known for its strength and versatility as a worktop material.
It also has an extremely wide range of finishes boasting around 100 different colours of finish. If fitted correctly Corian can be joined together to create inconspicuous seams and a sleek, hygienic, non-porous surface.
The futuristic nature of the product and 10 year guarantee does however increase the cost price considerably. For example for a 3m x 620mm x 32mm single worktop will cost around £1,200 for the basic colours and increase to around £1,500 of the sparkly varieties.
Granite and Marble Worktop Costs
By far the most luxurious, and therefore expensive, styles of worktops on the market are granite and marble. Granite and marble are cut and milled directly from natural stone, usually mined from a quarry using specialist equipment.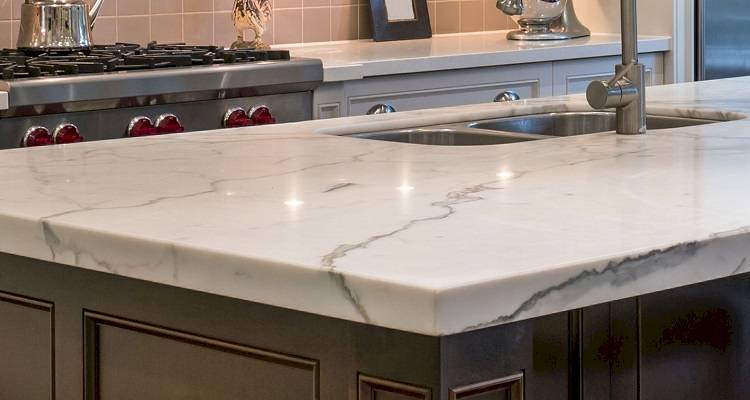 Marble and granite are both porous materials and therefore will need to be sealed periodically. This sealing will need to be performed every five years or so, in order to make the surface waterproof.
If the proper sealing is not performed correctly then the surface can likely become stained from spillages.
Granite is harder and more resilient than marble; however, marble tends to be a little more decorative. As a result marble is often associated with decadence and rich expensive kitchens.
For example the price of a standard sized (3m x 620mm x 32mm) piece of marble will begin at around £250 increasing up to around £1,500 for a more specialised style or colouring. Granite will often begin at around £450 and will increase to around £2,500 for the same sized piece. This price difference is due to the increased durability of granite, as the harder the material the harder it is to work with and thus the more it costs to manufacture.
| Sizes | Laminated Chipboard | Solid Wood | Corian | Granite and Marble |
| --- | --- | --- | --- | --- |
| 2m x 620mm x 40mm | £80 | £150 | £750 | £200 |
| 2m x 720mm x 40mm | £95 | £190 | £800 | £230 - £300 |
| 2m x 960mm x 40mm | £110 | £250 | £1,000 | £245 - £350 |
| 3m x 620mm x 40mm | £150 | £300 | £1,200 | £250 - £450 |
| 3m x 720mm x 40mm | £210 | £375 | £1,600 | £350 - £650 |
| 3m x 960mm x 40mm | £260 | £425 | £1,750 | £425 - £700 |
| 4m x 620mm x 40mm | £300 | £500 | £2,000 | £500 - £750 |
| 4m x 720mm x 40mm | £350 | £625 | £2,450 | £750 - £1,000 |
| 4m x 960mm x 40mm | £400 | £750 | £2,750 | £1,500 - £2,000 |
Kitchen Flooring Cost
When deciding on which floor to install in your new kitchen, there are four common materials used. Depending on the finished look you require and your budget restraints, there are multiple varying styles of kitchen floor to choose.
Laminate Flooring Cost
Laminate flooring is a covering often a composite material pressed and finished to look like solid wood flooring.
Often created with a "tongue and groove" fixture method, water resistant, cost effective, and easy to find, laminate floor is one of the most common styles of flooring to use in a kitchen built with a fixed budget.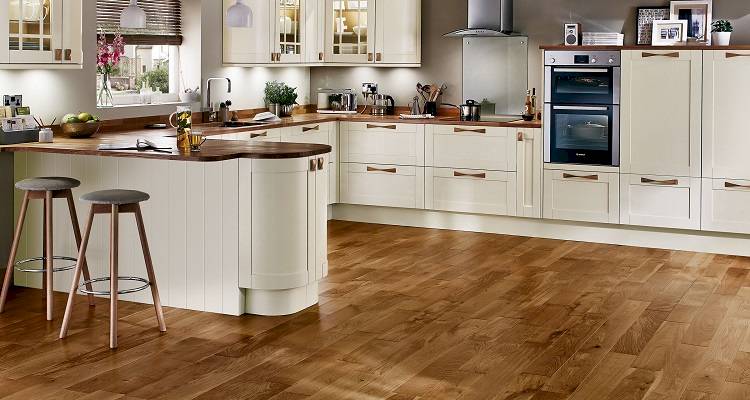 Depending on the style of finish you choose, the costs of laminate flooring will begin at around £12 per m² and can increase to around £45 per m² for a higher quality finish.
The downside to laminate flooring is it does not tend to last as long as the solid wood flooring it is mimicking, with the average life expectancy of laminate being around 10 - 15 years if maintained properly.
Tile Flooring Cost
The most common form of kitchen floor is the tile floor. Tiles are made from a variety of materials, from ceramic, stone, or clay, to composite, marble, or even concrete.
When using tiles to cover a floor the installation is not as easy as laminate flooring; however, tile will on average last 20 - 30 years if taken care of properly.
The average costs of tiles will begin at around £10 per m² for the tiles alone, and increase to £25 per m² installed. For a nicer set of tiles, such as marble or composite, prices will often begin at around £30 per m² and increase to £70 per m² installed.
Vinyl Flooring Cost
Being the simplest form of flooring to fit to a kitchen, vinyl flooringis the least hard wearing of the varieties available. Similar to carpet, vinyl is sold on a roll, spread onto the floor, and then glued into place.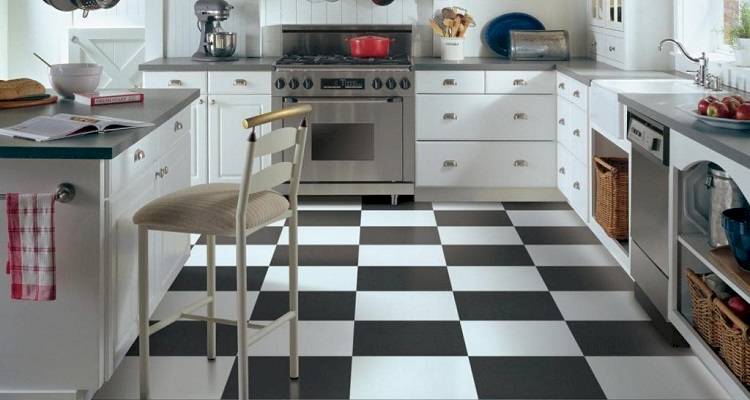 The advantages of vinyl flooring are it is instantly waterproof, can be fitted within a few hours (even using a DIY method), is available in a multiple of styles and finishes, and is the cheapest flooring option available for kitchens.
The price for vinyl flooring will begin at around £9 per m² and will increase to around £25 per m² for more elaborate popular patterns, such as faux wood, and chequer boards.
Solid Wood Flooring Cost
By far one of the most expensive flooring styles is solid wood. Solid wood flooring is made of planks of wood (like floorboards), laid and fitted to the floor, very similar to laminated flooring.
The difference between solid wood and laminated flooring, other than price, is the hardwearing nature of solid wood. While laminate will on average last around 10 - 15 years, solid wood will on average last 25 - 35+ years, if maintained correctly.
The price of a solid wood floor will begin at around £30 per m² and can increase to over £100 per m² depending on your choice of wood used. For example an Oak wood solid floor will cost around £40 per m², where as a rosewood will begin at around £75 per m².
| Style of Flooring | Price per m² | Estimated Lifespan | Fitting Time per 10m² |
| --- | --- | --- | --- |
| Laminate | £12 - £45 | 10 - 15 years | 1 day |
| Tile | £10 - £75 | 30 - 50 years | 2 days |
| Vinyl | £9 - £25 | 5 - 10 years | 1 hour |
| Solid Wood | £30 - £100 | 25 - 35+ years | 3 days |
Kitchen Appliance Costs
Fridges, freezers, ovens, and dishwashers are just a few of the appliances that will probably be needed in a new kitchen.
There is however almost a limitless number of different equipment, that when installed to your new kitchen will help to change it from a simple room, to the useful fully working kitchen space of your dreams.
Fridges and Freezers
Two of the most important appliances to have in a modern home are the fridge and freezer. They are such a common appliance that they will often come together as a single unit, called a fridge freezer.
With prices starting at around £100 for a smaller unit and increasing to over £3,000 for a super deluxe smart fridge, the choices of different styles of fridge freezer are vast.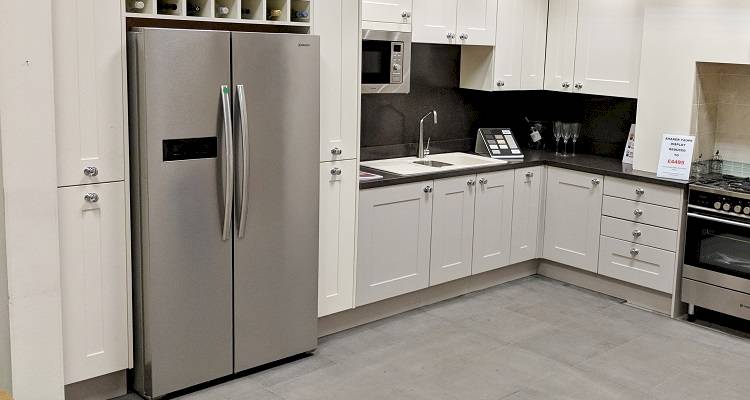 If you wanted to separate them however, a fridge on its own will cost around £60 - £750 depending on the size and features you require. Features such as an ice-maker, smart sensors, or even a built in virtual assistant such as amazons Alexa, will increase the overall price.
For a separate freezer you have two main options, either a free-standing upright freezer, or a chest freezer. Prices for an upright will begin at around £60 and increase to around £700 depending on the features requires.
Chest freezers however are a little more expensive, due to their increase capacity. For example a standard sized chest freezer will begin at around £150 and increase in price to around £750 depending on the make and features required.
Ovens and Hobs
The oven, is the arguably the most important feature of any kitchen, as having the ability to cook food is paramount for a kitchen to be considered a kitchen.
A combined oven and hob set-up is often called a cooker, available is gas and electric styles, these cookers are the most widely available appliance fitted to a kitchen.
Modern kitchens however, have begun to fit these appliances separated, with the oven often being built into a cupboard and the hob built into the worktop. This is obviously down to your own personal preference and budget constraints.
Gas cookers begin at around £150 for a basic oven and hob combination, and increase to around £750 for the higher quality separated varieties. In the more modern kitchens gas is being phased out and replaced with electric versions.
With smart self-cleaning cookers being sold, electric ovens and hobs are often available with a much higher number of features.
An electric oven and hob combination will often start at around £150 for the most basic styles; however this can increase to around £5,000 for the self cleaning feature packed induction varieties.
Dishwashers
No one likes to wash dishes, and this is why the dishwasher was invented. Much like a washing machine, the dishwasher has become an extremely popular addition to the average kitchen.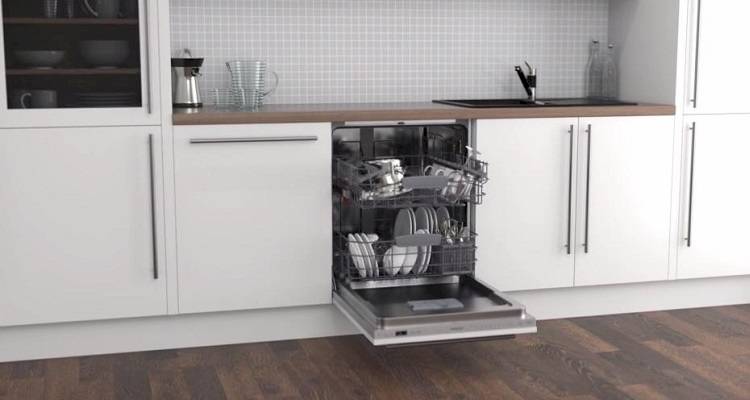 Once an appliance for only the rich, the cost of a dishwasher has fallen sharply over the last ten years. Beginning at around £100 for a basic small model and increasing to around £750 for a deluxe smart double version, there is a style and size of dishwasher to suit nearly all modern household budgets.
Washing Machines and Dryers
The washing machine is not always something a person may consider a kitchen appliance; however it is becoming increasingly popular to install them into a kitchen.
This is often a decision made to save space, where the creation of a utility room is not an option.
Washing machines begin at around £150 for a modern 9kg sized version and can increase to around £900 for a smart self setting 25kg model. Many different features and setting are available to choose from, including the overall colour and look of the washing machine itself. Some modern washing machines also include a dryer function to save you having to purchase a dryer separately.
If you do need to buy a dryer, costs begin at around £150 for a basic 3kg dryer and increase to around £500 for a self setting model full of features such as "auto-dry" functions.
Building Regulations for New Kitchens
When remodelling a kitchen with new appliances, units, flooring, and worktops, it will not generally require the approval of building regulations. Only if the room did not originally have a kitchen fitted within it will the building regulations need to be consulted for approval.
This is to make sure the space has the correct drainage and ventilation as require by law.
Electrical and fire safety are also a concern when creating a kitchen in a room that did not originally have a kitchen fitted within it.
If you have any concerns as to whether or not your remodel will require building approval it is always a good idea to contact your local authority as they can advise you on your responsibilities.
How to Keep Your New Kitchen Costs Down
The budget of a kitchen is a very important factor of the remodelling process.
Saving money is important regardless on the size of the budget available; however those on a fixed or limited budget will benefit the most from certain cost saving actions.
Reuse or Sell
The chances are you will already have a kitchen present (at least in some form), at the beginning of your remodel. This is a great opportunity to save some money in the process by either reusing the existing appliances or selling them to offset the cost of new ones.
For example a second hand fridge can fetch around £75 and a cooker around £60 if sold online or in the newspaper.
Selling your old appliances can on average offset around 50% of the new appliance costs, if sold for a reasonable price.
Cost Saving Selections
Saving money can also come in the form of which items you select for your new kitchen. By shopping around to find the time you desire, there is a chance you will be able to find it cheaper.
Not all shops price there items the same; a fixture costing £50 in one shop may only be £35 in another. Therefore it is always worth looking in a variety of shops before deciding on the item you wish to buy.
Stick to the Plan
Plans are made for a reason, and when considering the plan of a budget it was made to save you money and allow you enough funds to complete the project.
If you fail to stick to the budget plan, you may end up with a half finished kitchen and a lack of funds to complete it how you desire.
It may be a good idea to write down the exact items you wish to purchase, find the cheapest prices available for them, and then add up the list to find out exactly what you will be expected to spend on them. This way, before you even make your first purchase you can be fully aware of how much everything is going to cost, and if it will be within your budget as a whole.
Sales
Never overlook the possibility and usefulness of a sale. Sales for kitchen fixtures, appliances, and even fittings come up all the time. From internet searches with a website such as Google, to heading to your local appliance stores and just asking directly, a sale is likely to be just round the corner.
Buying appliances and fixtures in a kitchen sale will often save you up to around 50% off the original price. This could mean saving money or even being able to upgrade your original choice of appliance to a newer, higher standard, feature full model.
Though, the important factor to consider in a sale is not to overspend on your budget. Just because there is up to 50% off, does not mean you should go and purchase items you do not require and have not calculated within your current budget.
Maintaining and Repairing a Kitchen
The maintenance of a kitchen is much like any other room within your home, with a few exceptions.
Much like the bathroom the plumbing needs to be checked annually for leaks and corrosion, then the electrical/gas appliances need to be kept clean, and the cupboards will need a good clean at least bi-annually (twice a year).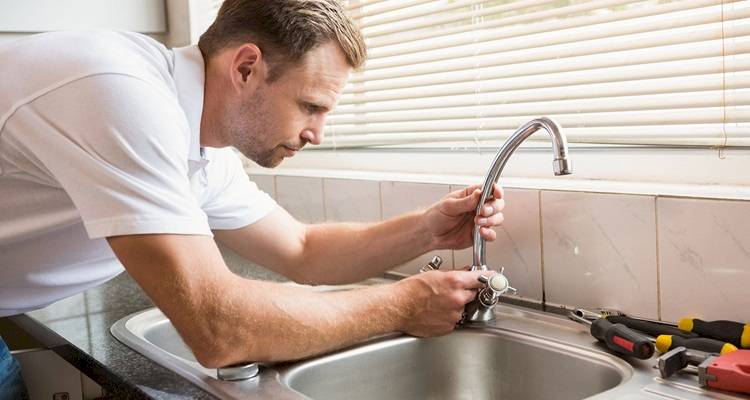 This maintenance work can all be performed by the homeowner. Firstly checking for leaks and corrosion is a simple task. You will just need to visually inspect the joints and fixtures for signs of water dripping.
If none is found then there is no issue. If you do find a leak then a plumber may be required to stop it by replacing the joint or fixture.
Faults with appliances do not often come up, however if they do you should consult the manual that came with the appliance when it was purchased. Often fridges, freezers, cookers, etc, all come with guarantees, therefore if they do develop a fault you may be able to have if fixed or replaced for free under the guarantee in place.
How Do You Clean Units and Worktops?
Cleaning is an essential part of day to day life. From scrubbing the surfaces, washing up the dinner plates, to vacuuming and dusting, owning a home is a never ending cycle of cleaning.
Kitchens are no exception to this cleaning cycle. Cupboards, appliances, worktops and even the floors will need cleaning from time to time, not only to enhance the hygiene, but also to prolong the specific areas lifespan.
Cupboards and Worktops
Cleaning a cupboard, worktop, or unit can be as simple as getting a warm soapy cloth/sponge and scrubbing the internal and external area until the present dirt has been removed.
Then after applying the soapy water, rinse the cloth or sponge in clean water and re-wipe the unit until all the soap has been removed.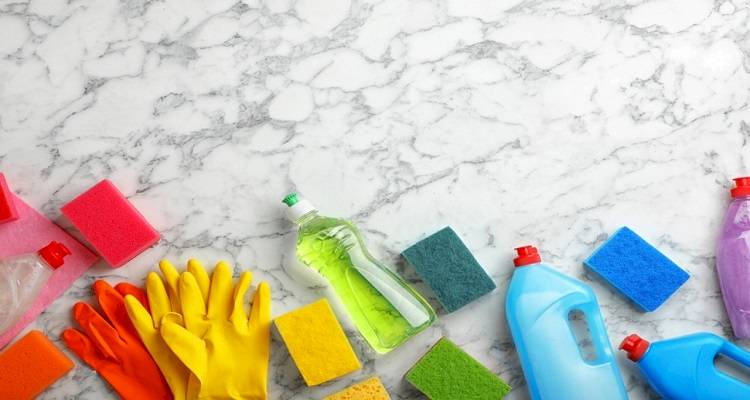 If there are stains or excessive levels of dirt, you could use a scrubbing sponge, or a "Scotchbrite" green scrubbing pad (£2 a pack of six). These are designed to remove heavy dirt, but you must be careful as these can easily damage a surface if used to roughly.
Appliances
Though appliances will such as hobs or ovens will suffer from a higher level of use and therefore are subjected to a larger degree of dirt, a "Scotchbrite" pad should be avoided. These will lightly scratch and scuff your appliance and can even remove paint.
Therefore is heavy levels of dirt and grime (often grease) are present, it's probably best to try a commercially available cleaner. Many brands names are available at differing prices, specialties, and appliance specific formulas. So it is always best to have in mind which specific job you require the cleaner to undertake.
For example for a dirty heavily greased oven, then you may look to purchase an oven cleaning spray. These sprays cost around £5 per bottle for a brand name variety and around £2 per bottle for the supermarket own brand.
Most will simple need to be sprayed onto the dirt and left to break it down. After a set amount of time (shown on the bottle instructions) you will then most likely need to wipe it away with warm water.
Cost of Removing a Kitchen
The removal of a kitchen is a thing which may need to be considered before you remodel. If you have an old dilapidated kitchen already on your property you may wish to replace it with a newer, nicer looking build.
Units from a simple small kitchen (12m²) can usually be torn out by almost anyone, however a larger kitchen with pipes and electrics which may need removing, is by far, more complex. Either size will require a few basic elements, such as a skip or waste removal, labour, and basic cleaning supplies. Skip hire will usually cost around £200 for a single skip, hired for a week, with pick up and disposal. This may not be large enough for a large kitchen.
Often when removing a larger kitchen you will be best served in hiring a tradesman such as a general builder. They can usually provide all the tools needed and even dispose of the waste produced.
An average builder will be able to complete an old kitchen removal within 3 days. This means it would cost you an average of £500, including the skip hire costs and labour.
Hiring a Kitchen Fitter Checklist
Depending on the tradesman hired, these can be in the form of CSCS certification, City and Guild levels, or even college gained qualifications such as HNC's.
The most important consideration when hiring any tradesman is the insurance. Make sure they possess, at the least, third party liability, which covers building work. At best, you want to find a tradesman, which has personal injury, property damage, and work guarantee cover.
Evidence of previous work is also a good consideration when hiring any tradesman. If they have references from previous clients, photos, or a portfolio of their work, it will prove they are proud of the level of skill they can provide.
Does the tradesman offer any form of guarantee for the work they are going to undertake? Most will offer in some form or another to make sure you are happy with the job before they finish. However, it can be worth looking for a tradesman which offers a five year guarantee or greater. Then if any problems arise in the future, due to any faults in the building process, you are covered and they will fix their mistakes at no expense to you.
FAQs
Do I need to have design ideas before I start the renovation process?
Not really, it all depends on your budget and who you are looking to hire to complete the work. A qualified kitchen fitter will likely be able to point you in the right direction for designs and plans of what your kitchen could become.
What is the average cost to remodel a kitchen?
There is no real "average" kitchen, however for a medium sized kitchen (around 15m²) the average costs would begin at around £5,000 for all the units, appliances, flooring, decoration, and fitting to be installed into your home.
How long will my new kitchen last?
Depending heavily on what materials you have chosen to complete the project, and the quality of the materials and appliances chosen, the average new kitchen will last around 15 - 25 years. This time can obviously increase if the correct maintenance is performed and the kitchen is looked after carefully.
What is the most expensive part of a kitchen remodel?
On average, the units and worktops are going to be the most expensive part of any kitchen remodel. Unless you are choosing to install all new high tech smart appliances, the cost of basic high quality cabinets will easily surpass the price of any standard kitchen equipment.
How long will it take to remodel an average kitchen?
Depending on the size of the space and planned kitchen design, it will often take around 4 weeks from the planning, purchasing, and hiring stages to the installation, decorations, and completion stages. The actually remodelling of the kitchen can often be performed within a single week, once all the equipment, fixtures, and fittings have been chosen and purchased.
Sources
https://www.cotswoldco.com/kitchen-furniture/
https://www.wickes.co.uk/Products/Kitchens/Kitchen-Cabinets/c/1060008
https://www.magnet.co.uk/kitchens/cabinet-finishes/
https://onestopworktops.co.uk/product-category/laminate-kitchen-worktops/
https://www.factory-direct-flooring.co.uk/vinyl-flooring/kitchen
https://www.currys.co.uk/gbuk/household-appliances-35-u.html
https://forums.moneysavingexpert.com/search?Search=kitchen+remodel
https://forums.egullet.org/topic/101656-kitchen-remodeling/

Last updated by MyJobQuote on 9th July 2022.