Cost to Remodel a Kitchen
Kitchen refurbishment prices and tips.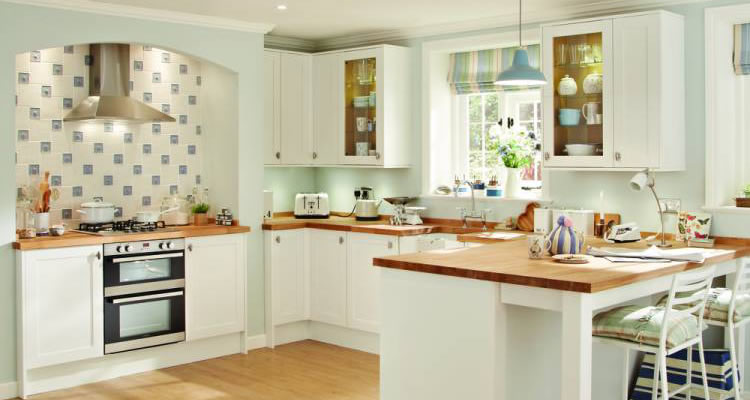 Typical kitchen remodeling cost
Remodeling a kitchen will typically take around 4 days
£5000
If you're thinking of having a new kitchen installed, you will probably be shocked at the expense. The actual cost of a new kitchen depends on the brands and appliances, the size and number of cabinets, and the shape of your kitchen. Fitted kitchen prices are high, even a budget kitchen remodel project will cost a few thousand pounds. But you probably don't want a budget job, you will want designer brands and shiny appliances, which are likely to cost at least double!
But the good news is a professionally new kitchen can be a great investment and you may get most of your money back at a later date when you sell the property. A typical kitchen remodel job will include new units and worktop, new sink, new oven and hob, new dishwasher and fridge/freezer, new floor and wall tiles, and the removal and disposal of the old kitchen. Of course, depending on the state of the kitchen, you don't have to do everything at once. Plus you can save on renovation costs by choosing standard kitchen cabinets rather than custom sized cabinets.
Though it is possible to remodel a kitchen yourself if you are very handy with tools, most of us will need a professional to come and do the installation. Finding a good kitchen fitter is not always easy if you have to resort to the Yellow pages or local directories, so why not use the free service on this website to have up to three local fitters get in touch with you to offer quotations and further advice with your kitchen project.
Kitchen cost examples
| Job Description | Duration | Material Cost | Labour Cost |
| --- | --- | --- | --- |
| Small kitchen 6 double units and worktops no decorating or tiling | 2-3 days | £2500 | £750 |
| Medium sized kitchen 8 double units and worktops no decorating or tiling | 3-5 days | £4000 | £1050 |
| Large Kitchen 12 double units and worktops no decorating or tiling | 4-6 days | £5000 | £1500 |
Things to consider with a kitchen remodel
Having a clear budget is one of the most important things to do if you're considering remodelling your kitchen. Set up a firm budget before you even start looking at kitchens and appliances to avoid falling in love with expensive appliances or costly custom cabinets. Knowing how much you can really afford will help you make rational instead of emotional choices. But even though it's important not to start kitchen shopping before you've set a budget, it's a good idea to know what sort of kitchen you'd like.
Research is essential when it comes to keeping kitchen costs down, as worktops, cabinets and appliances can vary considerably in price. A marble worktop may look gorgeous, but it can easily cost £1000, whereas a laminate faux marble finish worktop can cost as little as £100! Try and avoid fancy accessories if you are on a tight budget, extras like some fancy taps and top of the range soft-close drawers can easily bust your budget without even trying!
One area that many overlook, is the flooring. Kitchen remodelling is not complete without flooring to match your new cabinets and worktops! But if you're trying to save money, go for laminate wooden flooring or vinyl tiles. Though this might sound cheap and tacky, modern plastic products have come a long way and look very realistic, and it may be hard to tell the difference once the flooring is installed.
Doing it Yourself
DIY is often a good way to save money, and when it comes to kitchen remodelling, taking out the old kitchen cabinets and worktops yourself could help to make you considerable savings. In fact, if you are careful removing the old cabinets you can even sell them to people who are on a really tight budget! Though when it comes to gas appliances don't be tempted to remove those, as you shouldn't be removing gas appliances without a professional, but you can get rid of electrical appliances by selling them or by taking them to the local recycling facility.
However, installing a new kitchen is much trickier than removing the old one! Unless you are very experienced and confident with your carpentry skills, then get a professional to install your new kitchen cabinets and worktops to ensure a good finish. But if you do decide to tackle this project on your own, then remember to plan and measure carefully to avoid expensive mistakes.
Also, a kitchen can be a dangerous place with all those wires, so if moving sockets or appliances, make sure you get a qualified electrician in to do any re-wiring that is required, along with a gas safe registered fitter to install the gas oven and hob. If the kitchen is really old you may not have a residual current device (RCD), but having a RCD was made compulsory in 2008, so your electrician will insist on one which will increase costs.
Kitchen remodel checklist
Making changes to a kitchen requires meticulous planning
Lack of thought and preparation in new kitchen design can produce disastrous results
Using a local fitter instead of the one offered by your kitchen supplier is often cheaper
Disposing of the waste yourself at the local council tip can save money
FAQ's
How much should I budget for my new kitchen?
No two kitchens are alike, so the cost will depend on a number of factors such as how big your kitchen is, the quality of the materials and the appliance brands you choose. It can be really easy to get carried away with costs when planning a new kitchen, so make a budget and stick to it! Make a detailed plan of exactly how much everything will cost including labour and any painting or decorating that may be required.

What can I do to make a kitchen remodel less expensive?
Almost half of a typical remodel budget is spent on the kitchen cabinets, so choosing cheaper cabinets can make a big difference to the overall cost. The quality of worktops can also be a huge influence on the price, with natural materials like granite costing up to five times more than budget laminate worktops. Any bespoke materials or custom-made designs will always cost more than standard items, so always bear this in mind.
How long will the whole kitchen remodeling process take?
The time it takes will depend on exactly how much work you're having done. It could take anything from a week to a few months for a major kitchen project. If you're doing some of this project yourself, then it may take even longer, so if timescales are important then best if you hire a professional.
How much value will be added to my home with a new kitchen?
The kitchen is probably one of the main selling points for prospective buyers, so a remodelled kitchen can be a real asset when selling a home. But the amount of value added to a home will depend a lot on the location and the current house value. You will have more chance of getting the money invested in a kitchen back if your property is worth over £200,000 and in a desirable area. But if you spend £30,000 on a kitchen for an ex-council house on an estate, that will add little to any value.
What about appliances, how do I choose?
The appliances you choose will depend on which appliances need upgrading. It's generally worth spending a bit extra on appliances that will get good use. But kitchen appliances are expensive so make sure you do your research before buying. Read online reviews and choose appliances that match the look of your kitchen styling, always opting for the most energy-efficient appliances wherever possible.

Last updated by MyJobQuote on 7th May 2019.