House Extension Cost
Trying to find out how much a house extension costs? In this article we breakdown extension prices for all the different types including rear, lean-to, side, side return, wrap-around, porches, garages and even conservatories.
Whether you're after a single or double storey extension, finding out how much it will cost has never been easier.
By providing the cost of an extension per square metre we've made it simple for any homeowner to calculate how much their extension will cost them.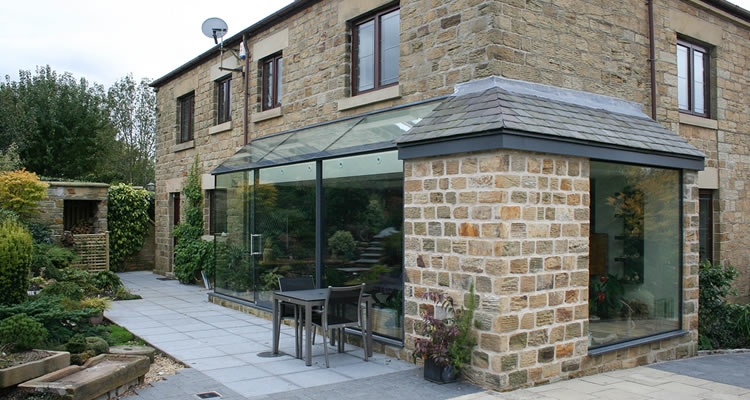 Average cost for an extension
Typically a home extension will take around 10 weeks to build
£27,000
How Much Does an Extension Cost?
Extending your home is becoming a very popular way to gain additional living space in the UK without having to move. When you look at the costs involved with moving, the removal firm, the conveyancing, the estate agents fees, stamp duty etc, it can often work out cheaper to build an extension (plus the total cost of the extension, or more, can usually be recouped in terms of added property value if you ever do decide to move).
Extensions will vary in cost enormously depending on the size, soil type, whether single or two stories, the amount and type of glazing, and of course the builder! For most of us, a house extension is definitely not going to be a DIY job, so a local builder or building company will be required.
But it can be difficult to find the right builder, good recommendations from people you trust are always helpful, as is talking to previous clients of any builder before you hire them. You should also ensure that anyone you hire to work in/on your home carries all the necessary insurance.
If you cannot find a local builder through personal recommendations, then Myjobquote.co.uk can provide the next best thing! Myjobquote.co.uk helps homeowners connect with local and reputable reliable tradesmen by completing one simple online form. The system is quick and easy to use, simply enter contact details with a brief description of the project that needs doing.
Then suitable tradesman will get in contact to provide more information about their services and you can invite tradesman or specialist companies to visit and provide a quotation if you feel comfortable with them.
House Extension Prices
| Job Description | Duration | Material Cost | Labour Cost |
| --- | --- | --- | --- |
| Single brick garage with a flat roof and up and over door | 8 days | £1500 | £3000 |
| Victorian conservatory with five large windows | 10 days | £2500 | £5000 |
| Average single storey rear extension | 10 weeks | £11000 | £21000 |
| Average two storey rear extension | 13 weeks | £15000 | £32000 |
Things to consider when building an extension
You still have to put a lot of thought into even the smallest extension to be sure of improving the property value.
Plus there are also practical issues to consider such as access and parking if you are creating extra rooms (one of the main reasons for planning refusal is lack of off-street parking).
Other practical and important aspects to consider before you start getting plans drawn are the existing services (where are they located and are they up to the job), the site soil conditions, history of flooding in the area, any trees near to the proposed extension, plus any right of way issues.
Whether your new extension requires planning permission or not, it will need Building Regulations Approval. These regulations are laid down to ensure certain design and construction standards are achieved in all new building. These standards cover many different aspects but are particularly concerned with safety, energy efficiency, drainage and access.
To comply with Building Regulations you can either submit a full plan and have the building inspector visit the site at regular intervals to inspects the work as it proceeds. Or you can simply submit a Building Notice to inform the council that you will be complying with the regulations and give the building control department 48 hours notice before starting any work.
This notice method is more risky as you do not have the benefit of an approved plan to work to and the building control surveyor cannot warn you in advance of any pitfalls, he may only notice after you have contravened a regulatory requirement, which could prove expensive.
Before you start work on any extension you need to assess your heating requirements and check that the existing boiler system can cope with the extra rooms. If your boiler does not have sufficient capacity you can add a second heating system or upgrade the original system by replacing the boiler. It may be cheaper long term to use electric heating via radiators or an under-floor system, rather than paying for a new boiler.
Doing it Yourself
Many people design their own extensions, using structural engineers or architects for advice and help with the planning. Others use their own design and employ builders who can take on the project.
But it is unusual for homeowners to build an extension on their own as a complete DIY project. There are numerous advantages to hiring a professional to at least do the design work, plus of course, certain aspects of the project will need to be completed by a tradesman authorised under the competent person's scheme, such as the wiring.
But building a home extension needn't be overly difficult for anyone that is physically fit and has some DIY experience, however, if tackling this yourself you will need dedication and perseverance as due to Sods Law there will be upsets, delays and problems no matter how well you planned the project.
Conservatories are a relatively easy to extend as kits can be bought cheaply with detailed instructions, but you need to make sure you choose a conservatory that fits the look of the house to be sure it will add value when it comes to selling.
But even with a conservatory kit, there is still an awful lot of work to do, with the foundations/groundwork's being particularly hard physical labour. Connecting plumbing for heating and doing electrics will not be a DIY task in most cases, however.
Building a home extension from scratch without a kit isn't as difficult as many think. But there is a lot of experience required when it comes to choosing the right materials and knowing when and where to use them.
If you are a competent DIY enthusiast, then most of the work will be straightforward enough, but having an expert available to offer advice could be invaluable. Therefore, even when self-building, it is highly recommended that you at least pay for the services of an experienced architect.
Remember that if self-building a home extension then you need to make sure the insurance will cover you during the project. you will likely have to update your household and contents insurance plus cover yourself for possible damage to other people or their property while the project is in progress. This will usually require a separate "all risks" type policy in addition to the existing home insurance, though some insurers may be able to simply upgrade the existing cover temporarily.
Building an extension checklist
Before you do anything sit down and decide exactly on your budget
For some extensions you may not need planning permission, but you should check all local planning regulations and requirements before making any plans
Bigger projects are not simple DIY jobs and you will need the services of an expert
An architect can be a worthwhile investment and can help you to explore your building options
FAQ's
Will I Need Planning Permission for my Extension?
Planning consent may or may not be required depending on the proposed extension. Under Permitted Development Rights, many home extensions can be built without the need for a planning permission application. Under Permitted Development Rights you can extend a property up to 8m to the rear if single storey or 3m if double storey. But single storey extensions must not be higher than 4m in height, and the ridge heights of any extension must not be higher than the existing property.
Do I need to move out while extending?
It is not essential, but highly recommended! Alternatively, if the work can be confined to one area and you can seal yourselves off as far as possible for the duration, then this could work out. But not all builders will be happy to do this, particularly if there are children in the property. So it is often best to simply move out for a few months. A cheap and popular option is a caravan in the garden.
How long does it take for my plans to be approved for my extension?
Usually, it takes around 8 weeks for plans to be approved through the planning permission process. But, not all extension projects will require planning permission.
Last updated by MyJobQuote on 7th May 2020.