Cost to Replace a Fuse Box or Consumer Unit
Typical prices quoted for fitting new consumer unit.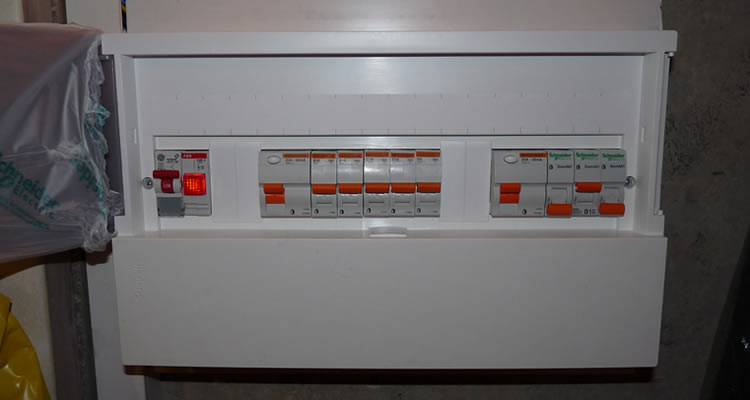 Average cost of supplying and fitting new fusebox is around
This job will typically take around 3-5 hours
£500
If you are looking to replace a fuse box and want to know how much it should cost and what would be a fair price for an electrician. Then we can help as we have gathered fuse box/consumer unit replacement quotes from several electricians around the UK to find the average cost of a new fuse box. The quotes displayed are based on real prices collected from real companies and local tradespeople, so you can use them to budget for repairs and to avoid being overcharged.
The next step is to get a detailed quote using our site which only takes a few minutes and is 100% free! You can post details of your job with no obligation and check reviews from past customers on any tradesmen or companies before hiring them. Consumer units are replaced for a number of reasons including if the existing unit does not meet the requirements of BS 7671, or there is no RCD protection, no spare capacity for additional circuit, or that replacing the unit has been recommended following a periodic inspection.
Average Cost Of Replacing A Fuse Box Or Consumer Unit
| Job Description | Duration | Material Cost | Labour Cost |
| --- | --- | --- | --- |
| New consumer unit 6 circuits | 3-4 hours | £100 | £275 |
| New consumer unit 10 circuits | 4-5 hours | £100 | £350 |
| New consumer unit 12 circuits | 5-6hours | £100 | £400 |
Things To Consider With Consumer Units
The electrician will test the earth/bonding for the property before any work. If any issues are identified then the work will be postponed until it's fixed. The existing wiring will also need testing after the installation of the consumer unit. This electrical testing is the most important part of the entire installation and one of the main reasons why even though replacing a consumer unit seems like an easy job, the testing involved is complex and potentially life-saving and can also prevent nuisance issues such as frequent tripping of breakers.
The Part "P" regulations are very strict with consumer units so it's essential that the electrician adheres to the rules 100% and issues certificates of both the electrical installation and Part "P" compliance after completion. A good electrician will identify RCDs that are overly sensitive and separate the circuits to prevent any issues. 
The actual price for your installation could be more expensive if the electrician finds that the existing wiring isn't quite long enough to reach inside the new consumer unit, this will obviously involve more work so a bigger bill. Sometimes there are problems which are not immediately obvious and it's only when the unit is being installed that problems can arise and additional work is required.
Doing It Yourself
The DIY section for installing or replacing consumer units is pretty short – you should never attempt to do this work as a DIY project! All cables and connections to the consumer unit must be checked and tested by a qualified electricians only. Do not attempt to install or replace a consume runit unless you are you are qualified to Part P regulation standards.
Consumer unit checklist
The technical term for a fusebox is a consumer unit
A new consumer unit may also need new wiring in older properties
Only qualified electricians should replace consumer units
You will need full Electrical Installation Condition Report (E.I.C.R.) before getting a new fusebox
FAQ's
What is an RCD?
An RCD is a Residual Current Device, which is a much quicker way of detecting a power surge or imbalance when compared to fuse wire. RCDs are now compulsory for all new electrical work and the certificate must be issued by the individual that carries out the work.
What does a consumer unit do?
The Consumer Unit protects the cables and appliances from overload which can cause a fire and protects humans from electric shocks.
What types of consumer unit are available?
There are four main types of consumer unit: Main Switch Consumer Unit, Dual RCD Consumer Unit and RCD Incomer Consumer Unit. The main switch consumer unit type is most popular with electricians as each circuit is protected from overload and earth leakage individually.
Can I save money by doing this job myself?
You could, but you will also be exposing yourself and your family to fire and electric shock risks, while at the same time invalidating your insurance and making your home impossible to sell or let!
Do I need an Electrical Installation Condition Report
It is not a legal requirement to get an EICR before installing a consumer unit, but it is recommended and best practice in the industry. So any decent electrician will likely insist that you have one before he fits the new consumer unit. This allows for any faults or defects to be highlighted and remedial work to be planned and carried out as part of the consumer unit installation.
Last updated by MyJobQuote on 7th May 2019.