Laminate Flooring Installation Cost
Want to know how much it costs to lay laminate flooring? In this article we provide a breakdown of laminate floor fitting prices for different rooms, floor spaces and types of laminate.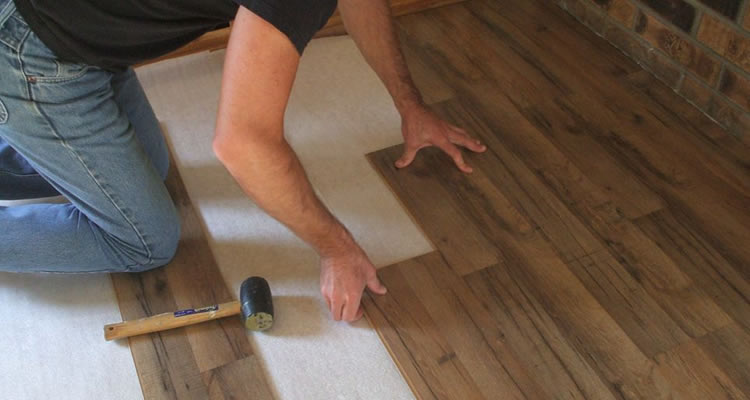 Average Cost Laying Laminate Flooring:
Depending on the complexity of the job, it usually takes: 2 days
£1,000
How Much Does Laying Laminate Flooring Cost?
How much does it cost to lay laminate flooring in your home? Well, the average cost can vary depending on the size of your space, the material, and quality of laminate chosen to install. The price for a small room (measuring approximately 4m by 3m) would begin at around £500 and can increase to £1,500. This price does include material and labour costs.
For a medium-sized room (of around 20m²) the prices begin at around £1,000 and increase to just over £2,500. The size of your space, quality of materials chosen, style of laminate, and the supplier of materials chosen will all affect the final price. Labour costs will also affect the final budget required; however, this varies with the length of time for the installation.
When deciding on which style of laminate floor to install in your home, there are three main styles of laminate available. Depending on the finished look you require and your budget restraints, there are multiple varying types within the styles of floor to choose.
Cost by Materials
Faux Wood Laminate Flooring Cost
By far one of the most common laminate flooring styles is faux wood. Faux wood flooring mimics a real solid wood floor. With modern advances in laminate flooring the difference between solid wood and laminated flooring can be hard to tell.
The price of faux wood laminate flooring will begin at around £9.99 per m² and can increase to over £45 per m² depending on the style of wood chosen to mimic. For example, Oak faux wood flooring will cost around £25 per m², whereas a Brazilian rosewood will begin at around £45 per m².
Faux Tile Cost
Another very common style of laminate flooring is the faux tile floor. Tiles are usually made from a variety of materials, from ceramic to stone, or even concrete. However, a faux tile laminate floor is made from more cost-effective materials (often pressed wood or composite); allowing for a great reduction in the overall price. When using faux tile flooring the installation is as easy as faux wood laminate flooring, with a very similar (if not identical) method.
The average costs of faux tiles will begin at around £9.99 per m² and increase to £25 per m² for more elaborate designs. For a luxury faux tiled floor, such as mimic marble or stone feel, prices will often begin at around £25 per m² and increase to £35 per m² installed.
Costs by Size
Small (Single Room)
If you are planning on laying laminate into a single room, unless a very large room (over 25m²), this work would often be considered a small job. This is due to it only taking on average a single day to complete.
Prices for a small job begin as low as £250 for a cheap faux wood laminate. This price can increase to £1,000 for more elaborate styles of laminate, dependant on the final look and dimensions of the floor required.
As a result, for a standard small room measuring around 15m², with installation and finishing costs, would amount to around £300 - £1,000. Installation of the flooring within a small 15m² space should take around one day to complete.
Medium (Large Single Room or Multiple Small Rooms)
Installing laminate flooring into a large room, or multiple small rooms (over 25m²), would normally be classed as a medium job. This is due to it taking on average two - three days to complete.
Prices for a medium job begin as low as £500 for a cost-effective lower quality faux wood laminate. This price will increase to around £2,000 for more elaborate luxury styles of laminate (such as faux stone), dependant on the final look and specific sizing of the floors in question.
As a result, for a standard large space measuring around 30m², with installation and finishing costs, would amount to around £600 - £2,500. Installation of the flooring within a large 30m² space should take around two - three day to complete for a qualified tradesman.
Large (Entire Single Floor of a House)
Having laminate flooring fitted into an entire floor within a house is a big job. Providing an extremely high-quality aesthetic and great feel, Premium quality laminates would be the recommended choice for the very best look and longevity of this type of installation. Premium quality flooring prices begin at around only £2,500 for a 40m² space, then increase to around £4,500+ for larger spaces up to 100m².
This pricing is heavily dependent on the design of the laminate flooring chosen, dimensions of the floor, supplier of the laminate, and chosen contractor undertaking the work.
For example, installing a premium style of laminate flooring in a standard medium sized house (ground floor 45m²), the materials alone will cost around £2,000 - £3,000 and once added the cost fittings and the installation and finishing, the price will usually be £3,500 - £5,000.
The average time for the installation will usually be around 4 days; however, this is very dependent on the skills of your hired tradesman.
Laminate Flooring Prices
| Job Description | Duration | Material costs | Labour costs | Total costs |
| --- | --- | --- | --- | --- |
| Small Room (15m²) with Faux Wood Laminate (Oak) | 1 day | £250 | £200 | £450 |
| Small Room (15m²) with Faux Tile Laminate (Ceramic) | 1 day | £170 | £200 | £370 |
| Medium Room (25m²) with Faux Wood Laminate (Oak) | 3 day | £400 | £600 | £1,000 |
| Medium Room (25m²) with Faux Wood Laminate (Walnut) | 3 days | £440 | £600 | £1,040 |
| Medium Room (25m²) with Faux Tile Laminate (Ceramic) | 3 days | £260 | £600 | £860 |
| Medium Room (25m²) with Faux Tile Laminate (Stone) | 3 days | £400 | £600 | £1,000 |
| Large Room (40m²) with Faux Wood Laminate (Walnut) | 4 days | £730 | £800 | £1,530 |
| Large Room (40m²) with Faux Tile Laminate (Stone) | 4 days | £650 | £800 | £1,450 |
| Large Room (40m²) with Faux Tile Laminate (Marble & Granite) | 4 days | £800 | £800 | £1,600 |
Labour Costs and Timescales
Timescale is one of the most important factors in planning a construction job, as the longer, a job takes, the longer you will be required to pay your selected tradesman:
| Tradesman | Time Needed (days) | Cost per Day | Total Labour Cost |
| --- | --- | --- | --- |
| Floor Specialist | 1 - 4 days | £200 | £200 - £800 |
| General Builder | 1 - 4 days | £110 | £110 - £440 |
| Carpenter | 1 - 4 days | £125 | £125 - £500 |
| Carpet Fitter | 1 - 4 days | £100 | £100 - £400 |
| Labourer | 1 - 4 days | £50 | £50 - £200 |
Supply Only Costs
Supply costs with laying a laminate floor will be varied depending on your choices. Beyond hiring a professional, the differing styles of laminate, quality of material, and even the chosen supplier can also affect the price.
Faux Wood Laminate Flooring Costs
Oak Laminate Flooring Costs
A faux Oak laminate floor is one of the most popular styles sold in the UK. This is because the price difference between a real solid Oak floor and a laminate Oak floor are substantial. Usually a solid Oak floor (measuring 15m²) can cost into the £1,000+ bracket; However, for a laminate equivalent, prices will often begin at around £250 for the flooring materials. This means the price per m² can begin as low as £16. Although, depending on the quality of the brand chosen, this price can increase to around £25 per m².
Walnut Laminate Flooring Costs
Also being an expensive wood, like Oak, Walnut laminate floors are very popular choices. Prices for the flooring alone start at around £17 per m² and increasing to around £30 per m², depending on the chosen brand and supplier. Therefore, for a small 15m² room it will cost around £255 to £450 for the laminate flooring.
Hickory and Chestnut Laminate Flooring Costs
Hickory and Chestnut are two of the other most popular styles of laminate flooring, and much like the price for the real wood; they are almost the same price as each other for the laminate varieties. The price of them start at around £16 per m² and increase to around £35 per m², depending heavily on which brand you choose to purchase. This means for a 15m² floor it will cost around £240 to £525 for the materials alone.
Exotic Wood Laminate Flooring Costs
As with solid wood flooring there are "Exotic Faux Woods" available to buy for your laminate flooring. However, much like the real thing, they come at a much higher price than standard laminate. For example, for Brazilian Cherry wood prices begin at around £27 per m² for the laminate and can increase to around £50 per m² for more expensive brands. This means for a 15m² floor Brazilian Cherry wood will cost around £405 to £750 for just the laminate flooring materials.
Faux Tiles
Ceramic Tile Costs
Ceramic tiles can be very expensive and difficult to fit, hence why it is becoming increasing popular to use laminate flooring instead. Faux ceramic laminate come in a multitude of colours, sizes, and even shapes. Depending on your choice of style, colour, and design prices begin at around £9.99 per m² and increase up to £25 per m² for higher quality designs. This means for a small room measuring 15m² it will cost around £150 to £375 for just the materials.
Stone Tile Costs
Stone tiles being one of the most expensive, and sort after floors are also very popular to mimic with laminate. Faux stone laminate, like Ceramic, come in a multitude of colours, sizes, and even shapes. Depending on your choice of style, colour, and design prices begin at around £15 per m² and increase up to £35 per m² for much higher quality brands and elaborate designs. This means for a small room measuring 15m² it will cost around £225 to £525 for just the flooring materials.
Marble and Granite Tile Costs
The final very popular style of laminate comes in the form of faux Marble and Granite. These styles are extremely similar in price and are at the top end of faux tile laminate flooring choices. The cost price for Marble or Granite laminate flooring begins at around £19 per m² and increases to around £55 per m² dependant on the styles and brand chosen. As a result, for a small room measuring only 15m² prices start at £285 and increase to £825 for just the laminate flooring.
Additional Costs
Underlay Costs
An important consideration, which may get overlooked, is an adequate underlay. This often comes in the form of a closed cell foam sheet around 5mm - 15mm thick that is designed to insulate the flooring and reduce vibrations. Sold on the roll, prices for around 20m² of underlay material begin at around £19.99 for the basic types. However, if a higher quality more advanced underlay is wanted the price can increase up to £50 per roll.
Beading and Skirting Boards Costs
Finishing the flooring is not just a matter of laying and fixing it to the desired surface. Edges will also need to be hidden and decorated. This is usually done with a small strip of wood called "Beading"; however skirting board can also be used if a more traditional look is desired.
Beading being the cheapest option costs around £2 - £6 per 2.4m strip. Skirting boards being substantially larger cost more at around £7 - £20 per 2.4m strip. Therefore, for a small 15m² room it would take around four strips. This would mean for beading it would cost around £8 - £24 and for skirting board would cost around £28 - £80, depending on the styles chosen.
Glues & Fixtures Costs
Laminate Flooring is often not gluing directly to the surface it is placed on. However, the joints of the board (often called tongue and groove due to their shape) are often glued to created long lasting bonds. This in turn will turn the floor from a selection of boards to one solid piece. The glue used in this process is normally standard wood glue, although specialist glues are available at a higher price. Wood glue prices vary wildly depending on which brand you choose to purchase.
For example, for standard "own brand" wood glue, prices usually begin at around £2 - £5, and for the "name brand" versions the price can increase to well over £10 a bottle.
Under Floor Heating Costs
When deciding to fit any style of flooring, it's a good time to consider under-floor heating. Once only an option for the wealthy, more homes are starting to fit this style of heating due to advancements in technology driving the price down.
Often able to be fitted by your floor specialist, under-floor heating may not be as expensive as expected. Prices start at around £59 per m². This means for a 15m² it would cost around £900.
Although a floor fitting specialist may be able to lay your under-floor heating, it is always best to have a qualified electrician to connect it up to your homes electrical system. This will often cost around £150 - £250, so should be budgeted for in the plans if under-floor heating is desired.
Cost Factors of Laying Laminate Flooring
The cost of materials will usually take the largest chunk out of your laminate flooring budget. The additional costs of materials such as beading, glues, decorations, and skirting boards will still need to be budgeted for in the pricing phase. The labour costs will often surpass the price of materials, unless higher priced luxury laminate is chosen for the project.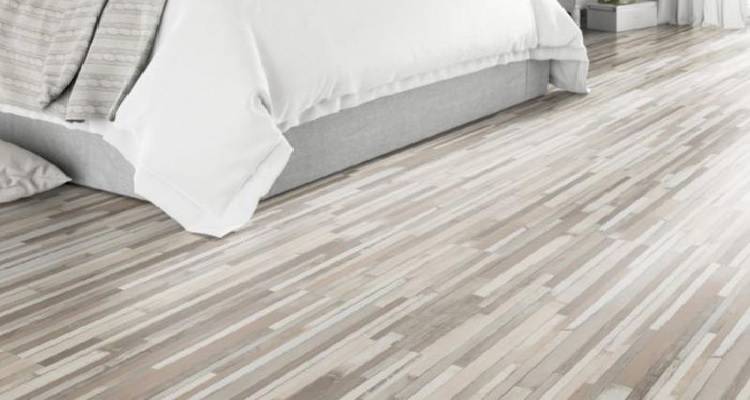 When deciding on the style of flooring to go with, the choices available are extremely wide ranging, with a choice of style including; colour, shape, material, and even finish.
The desired final look will determine many of these factors; however, it is always best to keep a strict budget in mind before beginning preparations and shop around for the best priced materials.
The overall quality of the final appearance, finish, and size of the space, heavily factor into the final cost of a brand-new laminate floor. For a small sized room (15m²) with a faux wood Oak finish, with medium quality laminate installed, costs will begin at around £450 - £600.
However, for the same property, yet with the highest quality faux wood in a Walnut style, it would increase the price to around £600 - £1,000.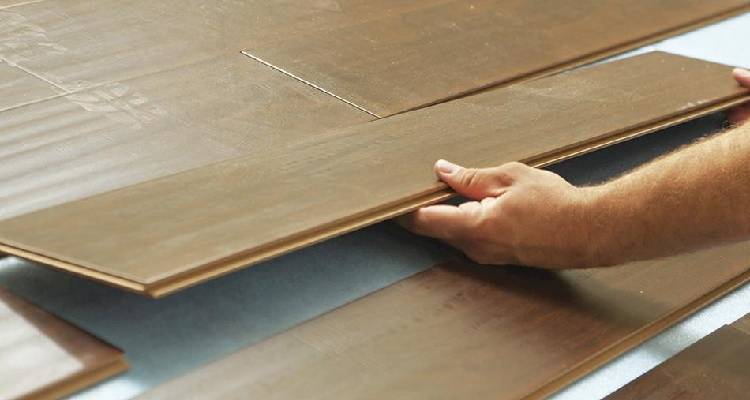 Another cost to account for is the disposal of waste during the installation process. Waste disposal will usually consist of simply hiring a skip. A skip is a large metal container used like a bin, for the disposal of building waste. Skip hire begins at around £150 for a single skip hired for a week. Included in the price of the hire, is usually the cost of collection and disposal of the waste.
Finally finish and decoration is a very important consideration, which should not be overlooked within the planning stages of a project.
Finish and Decoration
Once the floor has been fitted, it will often require edging decoration to be carried out. Decorations such an edge beading strip or even a skirting board tile will not really increase the build time considerably. Often, when laminate floor is fitted it will be required to finish the edges the edges decorated to match the room in which it is fitter.
How to Lay Laminate Flooring
If you want to discover how to lay laminate flooring, check out our in-depth how-to guide, which will show you exactly how to fit a laminate floor correctly and what tools and safety equipment you'll need.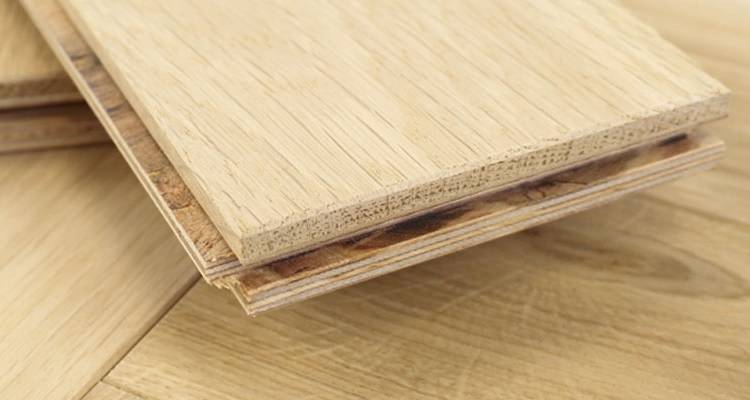 What is Laminate Flooring?
Laminate flooring is a man-made, durable, composite flooring material, designed to look like wood or stone. Created to be resilient, hardwearing, and easy to clean, laminate flooring is a great choice for anyone looking for an easy to install, cost effective, alternative for wood or stone.
Laminate floor in constructed of four layers, the first being a hardwearing resin topcoat. On more expensive laminate the topcoat can be textured to make it look more similar to the material it mimics.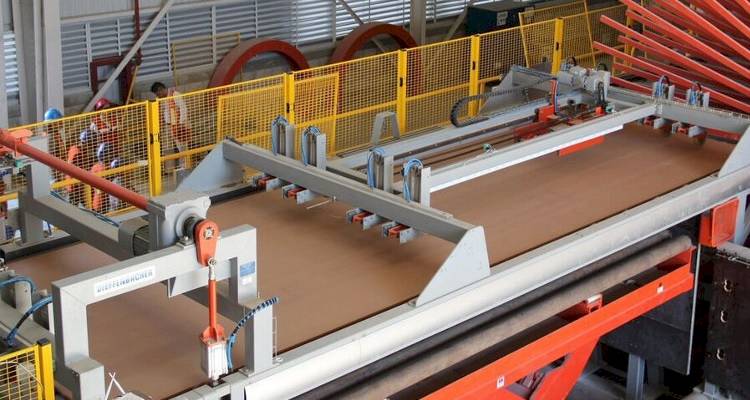 Next is a printed decor layer featuring a high definition digital reproduction of the wood or stone. Underneath the decor layer is a strong and stable HDF (high density fibreboard) core. This core is available in a multitude of thicknesses depending on the quality of the laminate.
Finally, the base layer of the laminate is made of the same resin from the top layer. This forms a strong and resilient foundation for the laminate to sit upon, helping to reduce the possible damage to the floor while fitting.
Explain what laminate flooring is. What is laminate flooring made from? How is laminate flooring made? How long has laminate flooring been around?
What Are the Benefits of Laminate Flooring?
Here are a list of benefits of laminate flooring:
Life Expectancy
Laminate flooring has a life expectancy of 10 - 30 years. This will depend largely on whether the floor has been maintained properly, installed correctly, received high traffic, and is of a high-quality brand. The standard life span of laminate is often around the 20-year mark, however if proper care if taken it is possible to have it last up to 30 years.
Easy Installation
Another benefit of laminate flooring is how easy it is to install, especially compared to other flooring such as solid wood or tile. Often it can be performed within a DIY setting, with zero specialist skills or training. The tools required to install laminate floor can be as simple as a wooden block, hammer, and a wood saw.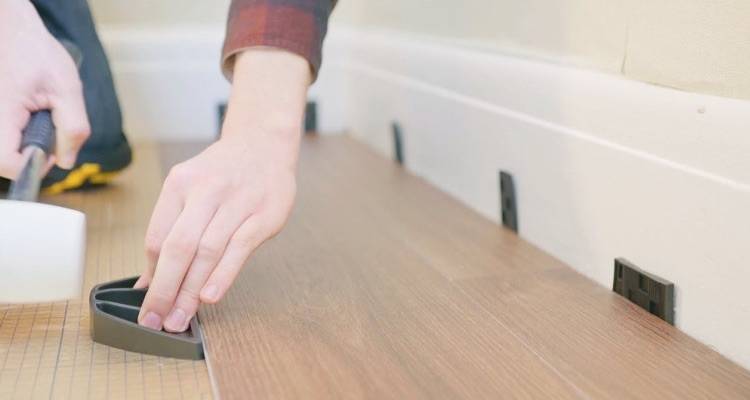 Resilient
Being constructed of a high-density fibreboard core, coated in a UV stable resin, laminate flooring is UV stable. This means it will not become faded from sunlight, nor will it change colour over time. As a result of the resin top layer, laminate flooring will not only retain it aesthetic appeal over a long period of time, but it will also be protected to a high standard from knocks and chips.
Cost Efficiency
When comparing the prices of solid wood, or even tile, taking into account the labour costs for installation, you cannot beat the cost savings of using laminate. On average laminate is around 50% the price of the solid wood alternative, and if not installed with the DIY route tile laminate is up to 70% cheaper than real tiles.
Can I Lay Laminate Flooring Myself?
Is it possible to DIY a laminate floor? Well in short yes, it is. In fact, it's extremely common and cost effective to attempt going the DIY route.
Tools
Using only simple tools such are a tape measure (£5), a hammer (£10), a wood saw (£6), and a scrap piece of wood (free), installing laminate flooring yourself is entirely possible. The main concern that you need to bear in mind is that your measurements need to be precise.
Safety Concerns
There are very few safety concerns when dealing with laminate flooring. Mainly if you wear correct working clothing, a strong pair of shoes (to protect your toes), and maybe even get hold of safety goggles and a mask, there isn't much that can go wrong.
Obviously cutting wood can be dangerous is not performed carefully. Measuring also needs to be done carefully and you do not want to waste flooring planks.
DIY Savings
The saving you will likely make by taking the DIY route can often be substantial. For example, for a 15m² flooring space, if you take two days to fit in (a normal weekend), then you could look at saving £200 - £400 in labour costs. Taking into account the price of the tools, you will likely save around £150 - £350.
Do I Need Underlay?
Though it is not a necessity, underlay is a very good idea when fitting laminate flooring. Underlay has three main purposes, with the first being increasing the life span of the flooring. By creating a layer between the concrete under floor and the laminate flooring, if any small stones, sand or other material gets in the gap it does not create bumps and lumps in the floor.
The next purpose is to reduce any creaking, squeaking, or noises coming from the laminate hitting the concrete. Overtime this will become a bigger concern if an underlay in not installed. The acoustic reduction can be as high a 20 dlb drop.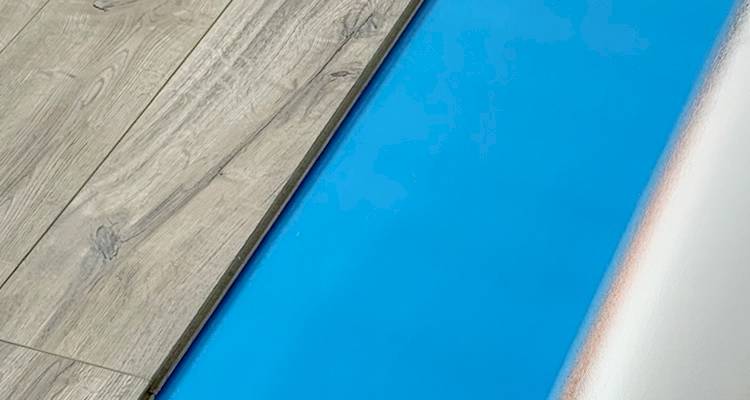 The final concern is the insulation property of the laminate. Being made with high density fibreboard, laminate does not retain heat very well. As a result, the cold from a concrete floor can easily penetrate the laminate flooring layer if an underlay is not installed.
Laminate flooring underlay is a closed cell foam sheet around 5mm - 15mm. Sold on rolls around 2m long and up to an average of 10m long. Prices for around 20m² of underlay will often start around £19.99 for the basic types. However, if a higher quality more advanced underlay is wanted the price can increase up to £50 per roll.
Laminate Plank Edging Cost
When it comes to laminate flooring there are three main options for the edges of the planks. The edge style will make the final aesthetic differ from style to style.
Square Edge Laminate
A square edge laminate board has flat edges of each board, these then meet cleanly to create a smooth, near invisible finish. This in turn helps the edges blend away and create a floor surface which can appear to be one solid piece. This is the most common form of laminate flooring as gives a very hardwearing and upmarket final look.
Bevelled Edge Laminate
If you chose laminate floor has bevelled edges it will help to show off each individual plank. This in turn gives a very traditional feel, much like floorboards or solid wood flooring. This bevelled look is created with a very deep v-groove, between the boards when fitted. If you desire a more country feel, or just want to hide some tiny gaps, bevelled edge laminate is often the right way to go.
Micro-bevelled Edge Laminate
Micro-bevelled Edge Laminate, much like bevelled edge laminate, have a v-groove between boards when fitted. However, in micro-bevelled the groove is much smaller. This size reduction was originally created due to a lot of people finding bevelled edges to be dust and dirt traps. Also, just the bevelled edges, it will help to show off the edges of the boards, however with micro-bevelled laminate this difference will be a lot smaller.
Price Differences
Between the bevelled and square varieties of laminate there are very few differences in price. Most often than not the edge style is just a choice in final finishes. Although with the micro-bevelled edges, due to the newer nature of the choice the price can increase compared to the standard two other edges.
For example, for standard square edges, or bevelled edges, the standard faux Oak laminate will cost around £15 per m², yet with the micro-bevelled edges will increase to £19 per m².
Laminate Finishes Cost
Due to laminate flooring being constructed of a clear resin top layer, it is possible to offer a variety of surface finishes. These finishes come in three main options. Often used to either recreate the natural register of the wood or surface it is mimicking, the surface finish can be more than just aesthetic, it can also help to increase the durability of the laminate.
Embossed Cost
If you are looking for a realistic feel to the laminate, mainly when mimicking real wood, then an embossed finish may be the surface you require. This will allow you to feel the grain of the wood under your feet, however it should be noted the grain is unlikely to match with the pattern of the laminate itself.
Embossed is the most common form of finishes to have on faux wood laminate, after smooth unfinished styles. Therefore, as a result it will often not increase the overall price of the laminate by any noticeable amount.
Registered Embossed Cost
The next step in quality and realism for texture is a registered embossed finish. This style of finish is much like the embossed style; however, the texture will normally follow along with the pattern on the laminate. This in turn will make the entire floor feel more authentic and can help to mimic even tile and stone to a higher level of quality.
This option will, unlike embossing, increase the over price of your flooring. As a good rule of thumb, it is always best to expect a 10 - 15% increase in the price. For example, for a floor measuring 15m², which will normally cost around £240, will cost around £270 when using registered emboss finishes.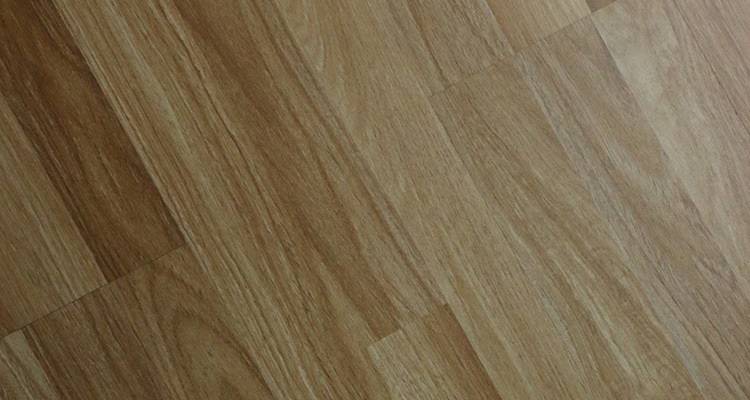 Hand Scraped Cost
For a more traditional, country feel, there is always the option of purchasing laminate with a "hand scraped" finish. By far the most expensive option for finishes, hand scraping has increased in popularity in recent years. This is mainly due to the process of construction becoming more refined, allowing for a greater quality and realism in the final product. Many people say that the underfoot feel is indistinguishable from an old distressed hard wood floor.
This realism comes are a cost, however. The price will increase sharply depending on the style of laminate you are purchasing and also the brand which you choose. For example, for a basic style of faux Oak laminate, instead of £240 for a 15m² room, you will be looking at a cost of at least £300 when choosing a hand scraped finish.
Maintaining and Repairing Laminate Flooring Cost
The maintenance of laminate flooring is much like any other floor within your home, with a few exceptions.
Faults with laminate are not actually all that common; as long as it was fitted correctly it should last for years with no issues. Laminate can however be susceptible to scratches if not treated correctly, or a lower quality brand was purchased. If you therefore spot a scratch, there is a remedy for the issue.
Firstly, you will need to clean the area with a damp cloth and then leave it to dry thoroughly. Then using a specialist "laminate crayon" (£5 for a pack of three), colour in the crack, split, or scratch. This will in turn leave the scratch unnoticeable. The specialist wax laminate crayons are widely available from most stockists of laminate flooring, and even in some hardware stores.
How Do You Clean Laminate Flooring?
The way laminate flooring is cleaned is actually the reason most people will opt for it in the first place, being one of the easiest floor styles to clean.
Much like a varnished wood floor, laminate can be mopped and washed. It is always a good idea to use a Hoover or vacuum cleaner on the floor before mopping, to pick up any small dirt or grit that may scratch the floor.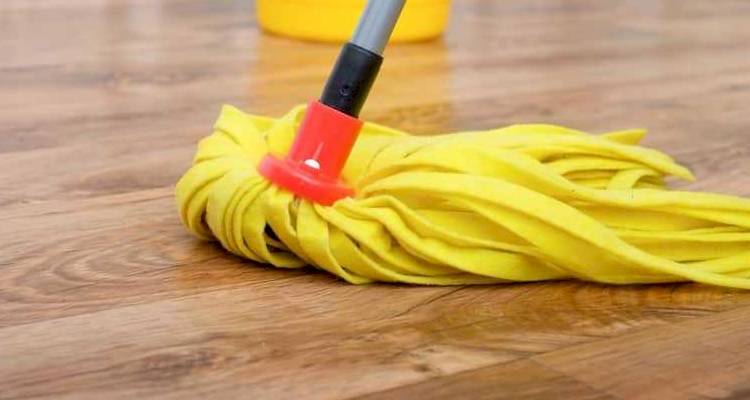 It is not a good idea to use any harsh or corrosive chemicals on the laminate flooring, and if in doubt should consider consulting the manufacturer (or supplier), of your specific floor. A good rule of thumb is to only just washing up liquids or mild liquid soap when mopping. Then once the area has been thoroughly mopped with soap, can be rinsed and left to dry.
Removing Laminate Flooring Cost
The removal of laminate flooring is not often a necessary consideration before you have it installed. However, if you have an old laminate floor already in the room you may wish to replace it with a newer, nicer looking piece.
Normally when removing laminate flooring, unless the joints are glued, it is a very simple and straight forward process. Start by removing the edging beading (or skirting boards), then beginning with the end boards pull up and lever out. This is then repeated for the entire floor. Unless you are looking to salvage the old flooring, this process can be done with little care and maybe even used to relieve a little tension.

Depending on the size of the room in which the laminate has been removed, you may be able to load a car and take the old pieces to the local recycling centre. Remember though these planks are not constructed of plain wood and due to the resin layer should not be burned in your garden as the fumes produced can often be toxic.
Hiring a Flooring Installation Specialist Checklist
Depending on the tradesman hired, these can be in the form of CSCS certification, City and Guild levels, or even college gained qualifications such as HNC's.
The most important consideration when hiring any tradesman is the insurance. Make sure they possess, at the least, third party liability, which covers building work. At best, you want to find a tradesman, which has personal injury, property damage, and work guarantee cover.
Evidence of previous work is also a good consideration when hiring any tradesman. If they have references from previous clients, photos, or a portfolio of their work, it will prove they are proud of the level of skill they can provide.
Does the tradesman offer any form of guarantee for the work they are going to undertake? Most will offer in some form or another to make sure you are happy with the job before they finish. However, it can be worth looking for a tradesman which offers a five-year guarantee or greater. Then if any problems arise in the future, due to any faults in the building process, you are covered, and they will fix their mistakes at no expense to you.
FAQs
What is the best laminate flooring?
To put it simply there is no "one best" laminate flooring option available. As the decision of which flooring to choose is often an aesthetic choice. Obviously the higher the quality, the better the results will be able to be achieved. However, there is always the restriction of budget to consider. It is always best to just purchase the highest quality in your price range.
Can I walk on my laminate flooring after it has been installed?
As with any style of flooring, it is always best to leave the flooring for a minimum of 24 hours before you first begin to walk on it and move items of furniture back into the room. This is due to the drying time of the glued joints (if glued), but also it allows the flooring to settle.
Can I put heavy furniture onto the laminate without damaging it?
It is extremely rare for laminate flooring to be shifted or damaged by heavy furniture. As long as the furniture is moved correctly and handled with care. If, however the heavy load is dragged haphazardly across the floor, as with most flooring, it will likely get scratched, chipper, or even dented.
Can a rug really scratch or damage my new laminate?
Laminate flooring is susceptible to scratches and staining from rough fibres and prolonged exposure to certain dyes. This should be taken into account when buying a rug for the area. It may be a good idea to look for a specific type of rug which is designed to go onto laminate flooring. The other option is to find a rug with a soft, un-dyed, and often rubber backing to it.
I wish to use my laminate floor in a bathroom or a kitchen, can it be waterproofed?
In short yes it can. Much like a wooden floor, if you were to cover it with a polyurethane varnish, it would create a very waterproof finish. Polyurethane is an extremely hardwearing and waterproof resin, which not only will waterproof your floor but also increase its durability greatly.
Sources
https://www.flooringsuperstore.com/luxury-vinyl-tiles
https://www.factory-direct-flooring.co.uk/vinyl-flooring
https://www.woodfloorwarehouse.co.uk/laminate-flooring/tile-effect
https://www.moneysavingexpert.com/search/#stq=laminate%20flooring
https://theflooringforum.com/threads/advice-needed-laminate-flooring.16350/
https://forum.buildhub.org.uk/forum/145-wood-laminate-flooring/

Last updated by MyJobQuote on 26th October 2020.