Laminate Flooring Installation Cost
Want to know how much it costs to lay laminate flooring? In this article we provide a breakdown of laminate floor fitting prices for different rooms, floor spaces and types of laminate.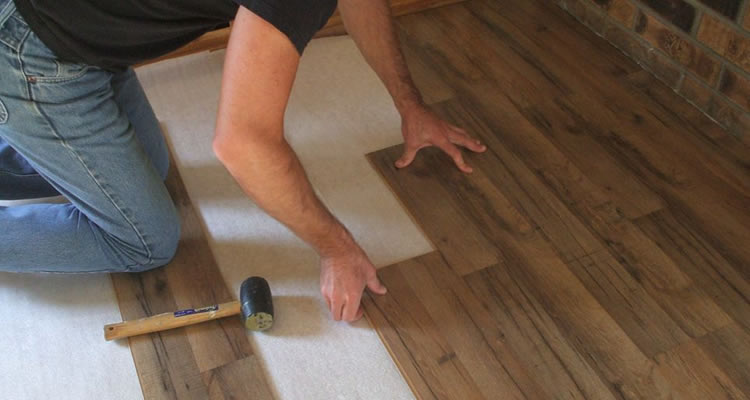 Average cost to supply and fit laminate flooring
This job normally takes around 1.5 days to complete
£1,000
How Much Does It Cost to Install Laminate Flooring?
Laminate flooring is a cheap and versatile flooring material that can be laid on top of almost any surface as long as it is dry, firm and level (so not carpet). You can buy laminate flooring planks in packs from any major DIY store in a range of different style options such as stone, natural wood and ceramic.
Laminate flooring is easy to clean and you can just wipe spillage off the surface. This type of flooring is quick to install too, usually just slotted together with a click and groove system so you can fit laminate yourself as a DIY job without necessarily having to hire a professional. Laminate flooring can be used in most areas of the house, with the exception of the kitchen or bathroom (as damp can damage the laminate over time).
Though you can fit laminate flooring DIY, many simply do not have the time or patience, so will hire a local tradesman to do the job. Use the free "post a job" function on this website to simply choose the type of tradesman you are looking for, then enter brief contact details along with a description of the job you need doing. You can then start receiving quotes to compare prices and choose the best tradesman for the job. There is no need to contact multiple tradesmen, just fill in one form and we'll do the rest. The tradesmen on this website are also reviewed by homeowners like yourself for peace of mind.
Laminate Flooring Prices
When you are looking at getting laminate installed you need to look at all of the different styles and types as this can effect the price dramatically. The average cost of getting your laminate fitted is between £8 to £10 per square metre. You will then need to factor in the cost of the laminate itself.
| Job Description | Duration | Material Cost | Labour Cost |
| --- | --- | --- | --- |
| laminate wood flooring, supplied and installed. The old carpet will be removed, and the underfloor prepared as required | 1.5 days | £750 | £250 |
| Standard fitting cost for a laminate per square metre | NA | NA | £10 |
| Fitters daily rate | 1 day | NA | £150 |
| Typical flooring specialist hourly rate to lay your laminate floor | per hour | NA | £25 |
Things to consider when fitting laminate flooring
Laminate flooring is versatile, easy to fit and extremely durable. It's n wonder this type of flooring has become incredibly popular over the last 20 years in the UK – there is a lot to like about laminate flooring. This flooring is available in a wide range of colours and designs, but there are also different types to choose from. Hand-scraped laminate is designed to look and feel just like real wood but doesn't fade in the sunlight, textured laminate features a textured surface which mimics the appearance of solid wood flooring and often uses a thin layer of solid timber which is bonded to the surface, so it can be very difficult to tell the difference between solid wood and textured laminate once the boards are fitted. Smooth laminate is the most common type as it is very affordable and pretty scratch resistant, this smooth laminate flooring comes in a range of different colours and nice wood-effect finishes.
Laminate flooring comes in packs of floorboards with each individual board having interlocking grooves which form a secure seal when the boards are slotted together. Modern laminate flooring is really quick and easy to install without the need for the glue or adhesive required in older laminate flooring systems. Laminate flooring is a particularly good choice for high-traffic areas in the home such as hallways and living areas, but you should avoid fitting laminate in areas that are prone to damp or moisture, though you can buy specialist laminate flooring that's designed for use in damp or humid areas. Textured laminate is the better option for high-traffic areas as it has a durable and scratch resistant finish (so also great for homes with pets).
When choosing laminate flooring, the main things to consider are the type of locking mechanism, the materials and the thickness. The thickness of the laminate boards, in particular, has a major impact on the durability, comfort, sound insulation and the lifespan of the flooring. Laminate flooring should never be installed directly on top of the sub-floor. A layer of insulation should be put down first which is normally poly-foam, combined underlay or wood fibre board. Wood-fibre board is best used when you need extra noise insulation such as in upstairs bedrooms or flats.
Doing it Yourself
Fitting laminate flooring boards is a relatively simple job, but some care and patience are still required, as is a degree of mobility and physical fitness as you will spend a lot of time working on your knees. When fitting laminate flooring, you need to remember that the floor will expand and contract naturally so you need to leave some space around the edges of the room. Around 10 mm between the laminate boards and the skirting boards is sufficient. The boards should be laid lengthways toward the light source in the room and the next board should be laid end-on to the first board making sure that the tongues lock together securely. Continue until you reach the end of the row then cut the last board to fit the remaining space (don't forget the extra 10mm around the edges). Then place the leftover cut end of that board as the first board in the next row to stagger the joins.
If you are very lucky the last row will fit the remaining gap, but this is rarely the case, so you will have to cut the boards on the final row to fit, then ease it into position. After you have laid the laminate flooring, you need to cover the expansion gap with laminate flooring trim fixed to the skirting to match the floor. A mitre saw will come in handy when cutting this trim to fit the corners of the room, as this part of the job is actually much more tricky than the actual flooring! If you intend to paint the trim white along with the skirting, then less than perfect joints in the corners can be concealed by using a silicone filler in any gaps then simply painting over them.
Fitting Laminate Flooring Checklist
You can install laminate flooring in almost any room, but it can be susceptible to moisture damage over time, so avoid bathrooms and laundry rooms
Laminate flooring can be laid directly over most existing flooring materials except carpet
When buying laminate flooring put all the packages into the room in which it will be used and leave for 48 hours so the flooring will stabilize to the ambient humidity in the room
Even the best laminate flooring can be harsh-sounding when walked on - so perhaps not a great choice in upstairs flats or bedrooms
FAQ's
Where can I install laminate flooring?
Laminate flooring can be installed in almost any type of room over a variety of flooring including wood, concrete, linoleum and vinyl tiles, as long as the surface is firm and flat. But laminate flooring is not recommended for wet areas such as bathrooms and laundry rooms.
Any disadvantages to laminate flooring?
Laminate flooring can swell or warp in damp areas or with high levels of humidity. Also, they can be damaged by heavy use and get chipped or scratched over time. Unfortunately, damaged laminate floors cannot be sanded or refinished like real wood, as the surface coating that gives the flooring its realistic stone or wood-like appearance, is only skin deep. So once a section of laminate flooring is damaged, the only option is to replace it.
Does it make a difference what direction I install laminate flooring?
Laminate flooring manufacturers always recommend that you begin your laminate flooring on the longest wall and lay the laminate planks so that they run parallel with light coming in from windows or glass doors.
What is laminate flooring made of?
Laminate flooring is made from several layers of different materials that are pressed together under high pressure to produce an extremely durable flooring material. Typically, these layers include a moisture barrier on the bottom, a layer of high-density fibreboard sandwiched in the middle, then the top layer is a very durable layer of resin-coated cellulose.
Last updated by MyJobQuote on 30th April 2020.