New Bathroom Cost
Trying to find out how much a new bathroom costs? If you're looking to refurbish your bathroom then you've come to the right place.
In this article we breakdown prices of new bathrooms of different sizes and finishes so that anyone can calculate how much it will cost them to hire a bathroom fitter to install a new bathroom.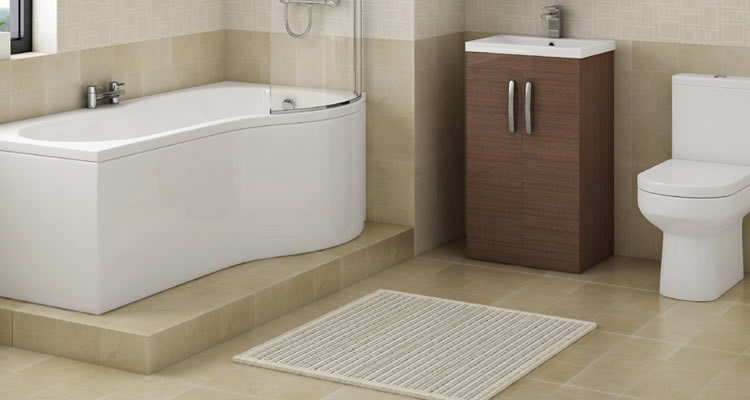 Average Cost of Bathroom Refurbishment:
Depending on the complexity of the job, it usually takes: 6 to 8 days
£7,000
How Much for a New Bathroom?
The size of your bathroom and the quality of the finish you are after will have a significant impact on the overall cost of your bathroom refurbishment. Obviously, the larger your bathroom, the more work will be required, but if you have a bathroom that is awkward in its layout, this will require more work too. Though the fittings themselves will take a large quantity of your budget, the labour costs can be the highest cost of a new bathroom.
The average cost of a small bathroom is around £5,000, a medium bathroom is £7,000, and a large bathroom can be £10,000 and upwards. The average cost of a basic finish is estimated at £2,750, an average finish is £6,500, and a premium finish can be £7,000 or more.
Other main factors that can influence the cost of a full bathroom refurbishment can include if you need to have your bathroom redesigned if you need to change the use of your bathroom, if you are changing the shape or size of your bathroom, or if you are making a room that was not a bathroom previously into an additional bathroom for your home. All of these factors will increase the overall cost of new bathroom.
New Bathroom Prices
To help you get a rough idea of the differences in cost for different sizes of bathrooms and for different finishes, see the comparison tables below.
A table depicting how the size of a bathroom would alter the cost of the refurbishment:
| Bathroom Size | Average Cost |
| --- | --- |
| Small | £5,000-£6,000 |
| Medium | £7,000-£8,500 |
| Large | £10,000+ |
This table shows how the finish quality affects the cost of a bathroom refurbishment:
| Quality of Finish | Average Cost |
| --- | --- |
| Basic | £2,750-£3,000 |
| Average | £6,500-£7,000 |
| Premium | £7,000+ |
Labour Costs and Time Scales
The type of bathroom refurbishment project you want to take on will have a direct impact on the labour costs and the timescale of your project. If you want to have a loft converted and a new bathroom installed in your attic, you will have to ensure that the appropriate time and costs are in place.
It can cost anywhere between £20,000 and £60,000+ to have a loft conversion completed, with the size and the finishing's of your attic bathroom and overall conversion taken into consideration.
For you to be able to complete your full bathroom refurbishment, you will need to have the following tradesmen in to help you get the finish you are after.
These will include a plumber, plasterer, tiler, floor fitter and can also require a heating technician or electrician (if underfloor heating is required or you wish to move sockets), a graphic designer or architect (if you want to redesign your bathroom or reconfigure a space) and you may also need a builder (if you need to move walls or knock through previous divides to create a larger bathroom space).
The size of your bathroom will have more of an impact on the timescale for completing your full bathroom refurb than the level of finish. The finish is more swayed by the tiles you choose, your fixtures and fittings.
As this will not alter the length of time taken for them to be applied, generally, you need to think more about the timescale with regards to the size and the difficulty of the space. With the average bathroom taking 6 to 8 days to complete, this is a good figure to use as a ballpark guide.
Factors that could increase the length of time it takes to complete the full bathroom refurbishment, and the cost of the overall process can include delays with deliveries which need fitting, any custom built items, issues found on the job where new solutions need to be found, bespoke tiles or flooring options, but the weather is commonly the most problematic, with bad weather not only delaying contractors but also deliveries, manufacturing and any outdoor work required (such as the loft conversion process prior to the new bathroom being fitted).
Supply Costs
The supply costs will differ depending on the different choices you make, so if you are looking to stick to a budget, then this is a good way thing to keep in mind.
Here is a table showing the average costs of the regular objects required in a household bathroom refurbishment that will help you to see whether you are being estimated a good price:
| Bathroom Object | Average Cost |
| --- | --- |
| Bath – wall fitted (standard) | £125-£250 |
| Bath - freestanding | £500-£700 |
| Shower – basic slide rail shower head | £60-£100 |
| Shower – stainless steel, thermostatic tower shower panel | £250-£300 |
| Sink – 550mm white sink with storage unit below | £92-£150 |
| Sink – 1240mm his and hers sinks with two draws and extra storage facilities | £550-£650 |
| Tiles – blue glazed wall tiles | £1-£3 per m² |
| Tiles – flat, gloss, white, rectangular tiles | £32-£40 per m² |
| Taps – waterfall mini basin tap | £40-£50 |
| Taps – bath taps with shower head alternator | £150-£250 |
| Toilet – basic, freestanding unit in white | £120-£220 |
| Toilet – wall hung, premium, 5 in 1 bundle | £360-£400 |
| Mirror – with vanity unit attached for safe storage | £100-£150 |
| Mirror – LED, ambient changing mirror | £250-£300 |
| Shower enclosure - single unit | £220-£270 |
| Shower enclosure - double unit with sliding doors | £420-£500 |
| Towel rail – chrome, three-tiered, small towel rack | £70-£200 |
| Towel rail – Anthracite, designer heated shelf with rails | £250-£350 |
| Lighting – chrome bathroom downlights IP65 rated | £4-£6 per downlight |
| Lighting – single bathroom LED flush bulkhead | £26-£40 |
Additional Costs
There are many other things that people choose to have as optional extras in their bathrooms and the best time to have these added to your bathroom is during the time when you have a full bathroom refurb.
This prevents any extra costs from being incurred in case of damages and ensures that you are getting the most out of your money so that your contractors do not have to come back and do more work at a later date.
If you wish to create a more premium end bathroom, you may want to consider having the following installed for the average prices as follows:
| Additional Bathroom Object | Average Cost |
| --- | --- |
| Underfloor heating – electric heat mats | £60-£70 per m² |
| Underfloor heating – wet underfloor heating | £2,000+ for entire bathroom |
| Radiator – Double flat white panelled horizontal | £175-£220 |
| Radiator – traditional, cast iron, dual column, anthracite | £210-£300 |
| Bathroom cabinet – white vanity cabinet with two drawers and three cupboards | £120-£200 |
| Bathroom cabinet – high gloss, white vanity unit with soft close drawers | £250-£300 |
| Bathroom cabinet – Designer, floor standing, slate matte grey, triple door, handle-less unit | £650-£750 |
| Extractor fan – single speed, basic white unit, easy to install | £9-£12 |
| Extractor fan – silent extraction system on a timer to remove humidity on a timer | £38-£50 |
| Waterproof TV – 19 inch | £300-£350 |
| Waterproof TV – 32 inch, Smart TV, mirror and LED-lit | £1,000-£1,500 |
| New boiler system - Gas combi boiler with comfort+ and remote controller system | £900-£1,500 |
| New boiler system – Electromax combined flow boiler | £2,000-£2,500 |
Cost Factors of Installing a New Bathroom
There are many things that can affect the overall cost of having a full bathroom refurbishment completed, though the average cost of a new bathroom is £7,000. There are some more obvious factors, such as the size of your bathroom and the ease of the shape of the bathroom that contractors may need to work with.
Also, if you are looking for a more premium finish, you are going to be paying more to be able to obtain this higeh-end look. Spending time researching and comparing the pros and cons of your new bathroom suite options can also help you to find the best choices for you.
Sometimes, there is more sense is spending more money in the original outgoings, then opting for a cheap initial option which may need to be replaced over and over again during the lifetime of a busy bathroom. But what are the links between your bathroom and the different cost factors and how can these affect you directly?
Bathroom Size and Shape
The size and shape will affect your bathroom refurb price. The larger your bathroom, the more money it will generally cost, although this is not always the case. For bathrooms which are odd in their shape or difficult to work in and therefore require specialist work, are labour intensive or need bespoke made bathroom units, this will increase the price.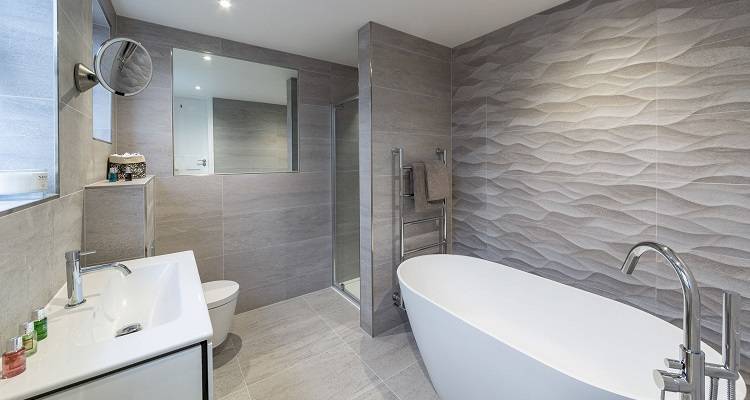 So, your bathroom may not be the largest in terms of square metres, but it may require a more unique approach which will result in your bathroom refurb cost being higher than a larger, but more straightforwardly shaped bathroom.
What will hugely increase your cost of having a new bathroom installed is if you are having a bathroom put into an area where you have not had a bathroom previously. This will include more work and skill, such as laying pipes and electric cables. If you are having a loft conversion with a new bathroom, this can be costly.
Quality of Finish
You can determine the cost of your bathroom replacement cost by the quality of the overall finish you are looking to achieve. The more basic the items you are looking to include in your new bathroom, the lower the overall cost will be, but you will have to take in to account the quality and how long these items will last.
You may think that you are getting a good deal by buying the cheapest toilet seat or extractor fan, but if they do not work properly, break frequently or do not do the job they are intended for, the fact that you will have to fork out and replace them could see you spending more money than if you had gone for a better quality item in the first place.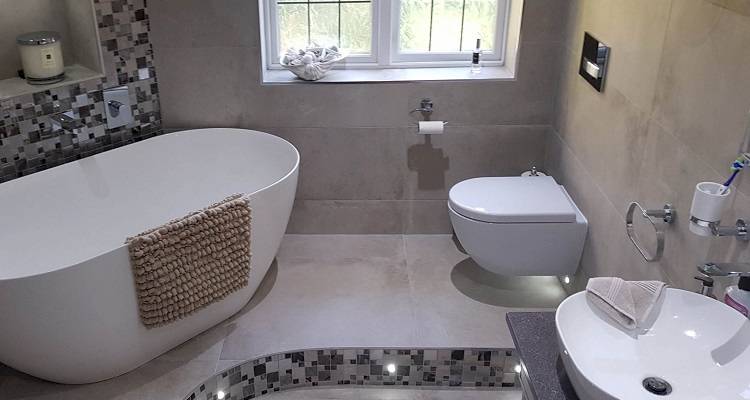 Many people like to spend a great deal of money on their bathrooms as they want to gain a luxurious finish. We spend times of vulnerability in our bathrooms, and over the years are unclothed in there for hours, so we want a place where we feel safe, happy and welcomed. No one wants to dread going into their bathrooms, and often, they are places where relaxation occurs, such as a long, hot bath.
So for many people, having the option to make this room of the house a place to enjoy more than it being a purely functional space, is ideal. For these people, adding extras such as underfloor heating, LED mood lighting, and waterproof TVs can really increase the premium quality of a bathroom refurb, although this, obviously does come at a price.
Quality of Bathroom Suite
There are thousands of bathrooms suites on the market, which is great news as there is something for everyone, but how specific do you want to be? For some people, price is more important than the style, aesthetic or extra functions that a suite may have. For people short on space, they often want every piece to be as multi-functional as possible and are willing to pay more for this option.
Having a clear plan of what you are wanting is the best way to start your research into bathroom suites.
There are single unit showers or double units, some with sliding doors or concertina doors, or there are walk-in showers, and even wet rooms, example. There are not just many different options for shower units, but for toilet seats, like self-closing, soft close, or Hi-tech toilets; baths, such as corner, Jacuzzi, free standing or wall fitted; and sinks, like wall-mounted, unit mounted with storage underneath, and his and hers sinks, too.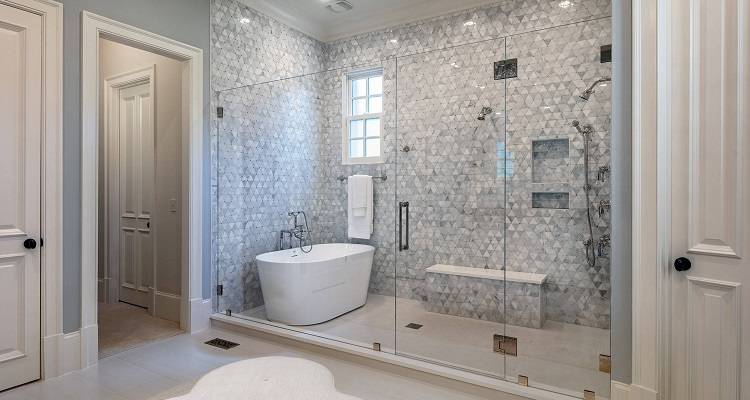 Think of all of the pet peeves you have regarding your current bathroom and then aim to try and eradicate them. For example, if there's always a queue for teeth brushing in the morning before school and work, try having two sinks to half the waiting time each morning. Are you fed up of getting woken up in the middle of the night with people dropping the toilet seat? Find a soft close one. If there's never anywhere to put those wet towels, let's get a larger towel rail.
What's Involved in a New Bathroom Installation?
Work out what you want from your bathroom.
Find a specialist bathroom fitter who you like, understands what you are looking for, and who you think you will find it easy to work with.
Agree on a price and timeframe with your bathroom fitter. They may need other tradesmen, such as plumbers and electricians, but this will have been discussed and included in the price.
Before your bathroom installation team arrive, your bathroom needs emptying of everything that is personal to you.
A skip will usually arrive now if your tradesmen think it necessary.
On arrival, your central heating is turned off and drained.
If you have any electrical connections, these will be turned off, too.
Small items are removed from your bathroom by your tradesmen, such as your toilet roll holder, blinds or curtains, etc.
Your old bathroom suite will now be removed completely with your bath being taken out last so that water or waste from any other part of your suite can be drained through it.
Every waste pipe in your bathroom will be removed and replaced.
If you have tiles on the walls of your old bathroom, they will be removed, and whatever is lurking behind will then be assessed. The same applies to the floor if it is tiled too.
The electrics are now fixed, or new electrics are installed if necessary by a certified electrician.
If you are opting for underfloor heating, then a switched fused spur and a single black box will be fitted now.
The electrician will also sort out the positioning of shaving sockets, lighting and the extractor fan, as well as a towel rail if you have chosen to have one.
The walls of your bathroom will now be re-boarded to ensure a flat and even surface for your tradesman to lay new tiles on to.
Holes are made in the new wallboards so that the hot and cold pipes can be accessed for the shower, bath, sink, and toilet. The same applies if you have a radiator.
New pipework is now fitted, including waste pipes.
Your bath and shower are installed now so that they can be made fully watertight.
When all pipework has been tested, the floor can be laid.
All pipework is now secured into place.
Walls are tiled first, and then the window reveals.
If you have opted to have your floor tiled too, your floor will now be prepared for this, before the walls are completed down to the floor.
If you have opted for underfloor heating, this is the time when the cable will be laid and tested to ensure that it actually works.
Your floor will now be tiled, and the last of your wall tiles can be completed too.
Grouting can occur once all tile adhesive has cured fully.
Any corners are silicon sealed now.
Now it's time for your electricals to be put into places, such as the thermostat for your underfloor heating, lights, light switch or cord, shaver socket, extractor fan and isolator.
Any necessary joinery is now undertaken.
Your remaining bathroom units are now fitted and plumbed in, such as the shower itself, cistern for the toilet, basin, taps, bath screen, and any other extras you have chosen to have in your newly-refurbished bathroom.
The last thing that the bathroom fitters will do is replace the small items they removed when they started, like your curtains or blinds, and your toilet roll holder, etc.
Now you can see your new bathroom, clean it as you see fit and stock it with all of your favourite things!
Can I Install a New Bathroom Myself?
You can fit a new bathroom or undertake a bathroom refurb, yourself as a DIY project if you are experienced in the necessary areas. But it advised that you use professional tradesmen to undertake the task. Electricals are dangerous, and when combined with water, the risk is huge.
Getting things wrong when attempting to complete a DIY bathroom refurb may not only be dangerous but also hugely costly, as they often end up with professionals coming in to put right all of the issues that a DIY fanatic has accidentally done incorrectly.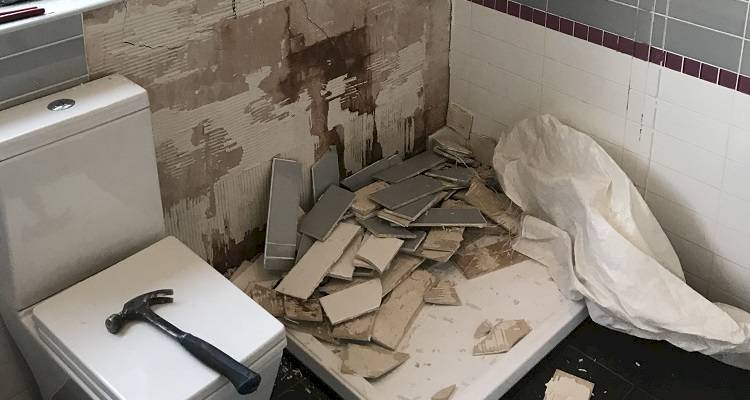 There are, however, some areas of your bathroom refurb that are much easier, safer and often rather fun for you to take on as a project of your own. The more popular DIY job to be done by amateurs is that of tiling, grouting and sealing the walls of a bathroom. It's fairly simple to do, once the walls have been made flat and even with the wallboards, and is a very repetitive job, so once you have been shown what to do, you can soon speed up.
Depending on the size of your bathroom, this can easily remove a significant amount of labour time and costs of your tradesmen if you feel you want to have a go.
You can decrease the new bathroom quote by:
Being your own project manager.
Doing any of the labour-intensive jobs yourself, as long as you feel competent enough to undertake them. Tiling is the most popular.
Choose and collect your new bathroom suite to avoid delivery costs.
Opt for cheaper bathroom suites which can be found for as little as around £200.
Do plenty of research to find budget accessories.
Compare prices for materials before agreeing to the first quote.
You may be able to save over 60% of the overall cost of having a full bathroom refurbishment if you fit your new bathroom yourself, but do you have the skills, the knowledge and the time?
Building Permission Needed for a New Bathroom
With the majority of full bathroom refurbishments, no planning permission is required. But there are some occasions when planning permission is necessary, and these can include the following:
Undertaking a full bathroom refurb in a listed building;
Adding a new bathroom where there was not previously a bathroom at all.
When adding a new bathroom into your home which may previously have been used as a storage facility, spare bedroom or maybe a new addition, such as part of your new loft conversion, you will need some or all of the following installed:
Alterations to the structure of your home, such as the removal of walls or chimney breasts;
Additional new drainage;
New ventilation options;
Electrical work may need to be undertaken;
If you need a new boiler, you could need gas fitting;
Or alternatively, you may need a new hot water cylinder to be installed.
Who Approves Alterations?
When adding a bathroom in a place where there was not one residing previously, you will need to apply for the approval of building regulations.
Not all alterations have to be approved officially, but they do all have to be checked by someone who knows what they are doing. The table below shows the main jobs most commonly undertaken in a bathroom refurbishment and who needs to approve them:
| Alteration | Approval by |
| --- | --- |
| Structural alterations | Building Control |
| New drainage | Building Control |
| New ventilation | Building Control |
| Electrical work | An approved installer can self-certify this |
| New boiler / gas fitting | An approved installer can self-certify this |
| Hot water cylinder installation | An approved installer can self-certify this |
Contacting the BCB
At the time you are thinking about undertaking a bathroom refurb when you are having the work done in a place where there was no previously existing bathroom, you will need to contact the BCB. This is the Building Control Body who will help you to check which building regulations apply to you and help you to apply for approval when you need it.
Though the rules for this are different in England to that of Scotland and Northern Ireland, England has two different ways for you to apply to the BCB so you have the Local Authority option or you can apply privately. As the work involved by the BCB is so specific to that of each individual application, there is not one specific price. But the more you need from the BCB during your application, then the fees that you will have to pay will be higher, and this will include if the BCB need to undertake a site inspection.
Benefits of a New Bathroom
There are many great benefits to undertaking a full bathroom refurb. Some of them are small or personal to you as a couple or family; others are more significant overall and can contribute to the overall cost of your home. Take a look at the most popular benefits to having a bathroom refurb:
Add Value to your Home
It is a common known fact that adding value to your property can be done by refurbishing your bathroom. Spending money in the first place to refurb your bathroom can enable you to accrue an impressive 3-5 to five percent increase of the value of your home on top of what you would ordinarily have received for the selling of your home. When people come to view your home, you will also feel hugely proud of what you have on offer, and potential buyers will not be put off putting an offer in on your property at the thought of having to start making alterations to the bathroom as soon as they move in.
Improve the Aesthetics
Increasing the overall look of your bathroom for you, your partner or your family to enjoy, will make a huge difference to you mentally. Having a bathroom that you look forward to being in, using and spending time looking after, will not only make you more proud of it but will also make you want to look after it more, pay closer attention to the smaller details and it can become somewhat of a sanctuary for many busy people.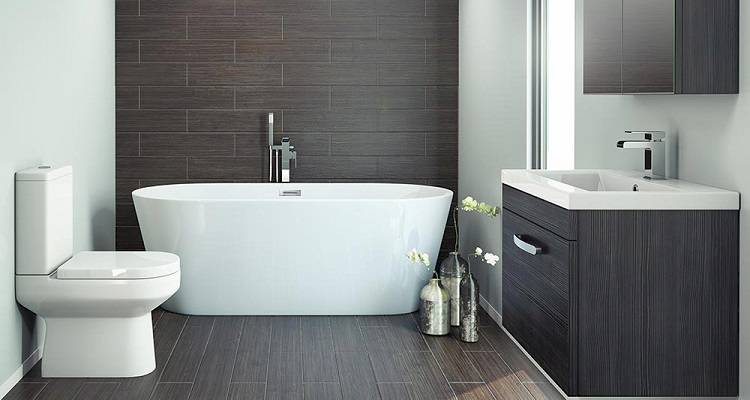 For some people, this can be done with something as simple as a fresh like of paint, a deep clean or the addition of some suitable pot plants. For other people, they want to change the fixtures in their pre-existing bathroom to make them more modern, more in touch with their character or lives, or even create a new style.
Correct any Faults
Every room of the home needs attention, but with the bathroom being one of the rooms that sees the largest amount of foot traffic, faults can occur more often than we potentially realise. Spending a little time addressing any faults, issues or challenges of your bathroom can really change how you feel about this room and stop you from feeling so resentful.
There are different types of issues, such as storage issues or replacing leaking shower pipes which are fairly simple to remedy. Other jobs may require you to get in contact with a professional, such as a leaking toilet may need a plumber, a faulty light or broken extractor fan may need an electrician.
Other jobs can be done yourself, or you can seek out a general handyman, such as replacing and fixing a new toilet roll holder or attaching a new blind. You will be surprised what a lift making the necessary alterations to your bathroom has on your mood every time you step inside this family favourite room.
Make Better Use of Bathroom Space
Many bathrooms can be awkward shapes, with the most common being those that are in listed buildings, ensuite bathrooms or bathrooms in attics that have been created as part of a loft conversion project. They are great because they have given you another area in which you can use to bathe, but they may not always be the best use of space in the layout that they are.
Sometimes, this is not something that we realise until we are living with them and realise the issues of how they enable or disable proper function in daily life. The most common things that people want to look for in their bathrooms is that of space-saving storage devices.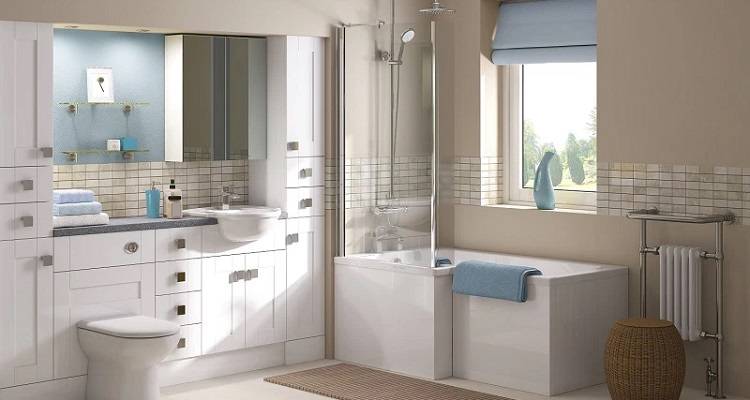 Sometimes these can be under the basin, but there are shelving options and even mirrored cabinets that are equally as effective for storage and do not decrease the physical floor space. Having multi-functional ways to increase the space in your bathroom is always helpful with most people trying to ensure that any object they have in their bathroom does more than one thing to help with their routine.
For example, they may have a shower radio, but is it a clock too, and can a flannel or loofah be hung off it to enable the air to circulate around it so that it can dry without going mouldy? Does your toilet roll holder have the capacity to store an extra toilet roll and does it have the helpful function of having a phone shelf on it to avoid anyone dropping their beloved phone down the toilet accidentally?
Increase the Energy Efficiency of your Bathroom
With water and electricity both costing a small fortune over the course of a year, it is becoming more and more common for people, especially within larger households to look for ways to become more energy-efficient bathroom users. This can be something simple as opting to take a shower over having a bath, as the cost of the average shower is approximately a third of the price of a bath. But there are other things that you can do too.
You can lower the shower temperature, make sure that your tap is off when you are brushing your teeth, don't leave the extractor fan on when it is not necessary. You can also make some physical alterations to your bathroom to help improve its efficiency, such as installing a water-saving showerhead, replacing your regular toilet for a low flow toilet, and get LED lighting installed.
You may save only a matter of pence on each use of the bathroom, but when the bathroom is always in such high demand, this will save you a tonne of money over the course of the year if you make as many energy-efficient changes as possible.
How to Plan your New Bathroom
When you are planning your new bathroom refurbishment, you should have a clear plan of what you want your overall new outcome to be. Are their items in your current bathroom that you and your families never use and are just taking up valuable space?
The most common item for this is the bath, with many family opting to have showers for time efficiency and energy efficiency too. If a bath is not necessary, you do not need to plan to have one in your new bathroom, and this is just taking up space which can be much more useful for something else, like a bigger shower perhaps or his and hers basins.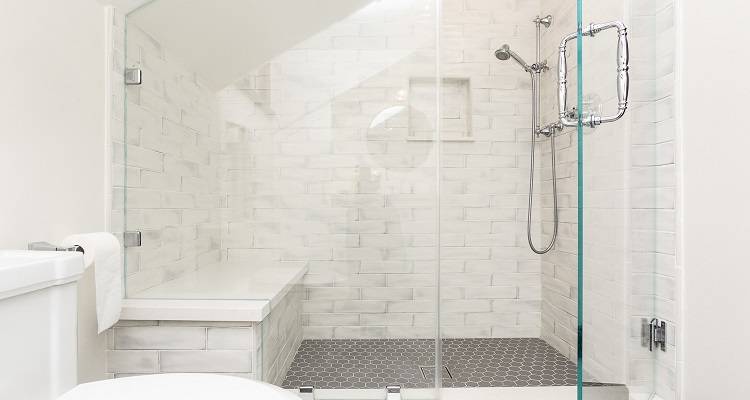 The best way to plan your new bathroom is to take as many key elements into consideration. It is not all about aesthetics, but equally, you will want it to be an inviting place for people to feel able to use easily.
Getting the balance between style and substance is vital. To do so, there are some questions that you need to ask yourself which should help you to plan the ideal bathroom and enable your bathroom refurb to be as smooth as possible. You can raise queries with yourself and your family, such as:
What does our bathroom need?
What do we have in our current bathroom that we never use?
Is there a bathroom that we all know of that we like the layout of? This can be a family member or friends' bathroom that you could easily take inspiration from.
How much space do we have?
What can we do with the space that we have?
Can we find some clever and useful space-saving storage ideas?
What type of lighting is safe, energy-efficient, but fully illuminating?
What surface types are waterproof?
What is easy to clean?
How much money can we afford to spend on our new bathroom?
Answering these questions and any more that are more subjective to you and your family will help you to highlight the most important requirements of your new bathroom before your refurbishment begins. You will be able to create a bathroom that suits everyone in the household and will utilise all of the available space.
This can actually be a very family-inclusive activity, especially if everyone finds pictures or does research as to what they want, like or need for the potential new bathroom and create a board with all of the ideas together.
Know the Main Use of your New Bathroom
Knowing what your main bathroom function is going to before you start your planning is often forgotten about and isn't as obvious as you may initially think. Is your bathroom a family bathroom that has a long queue in the mornings and evenings, have beauty items scattered everywhere, and an obsolete bath? This can be solved by removing the bath, adding more storage facilities and including his and hers sinks to reduce the tooth brushing queue twice a day.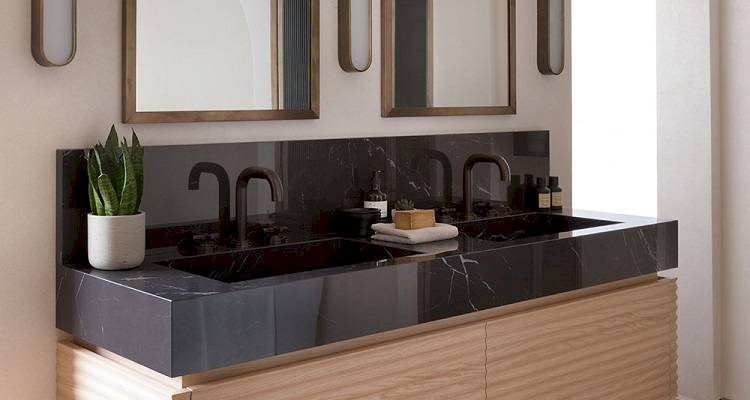 A bathroom for a couple could benefit from having his and hers basins so that there is not always one person ready and waiting for the other every time the couple wants to go out. A guest bathroom could benefit from increased storage or wall shelving as visitors will not have a great deal of room to store the items that they have brought to stay with you but will need to be able to access them easily and readily.
Alternative Bathroom Planning
Alternatively, if you are not the type of person who is comfortable with planning your own bathroom, then you can hire someone to plan your bathroom, or you can even try and use a 3D bathroom planner, which is an online app.
Will a New Bathroom Increase my House Value?
Yes, if you go through with having a full bathroom refurb and it is to a good standard, then you can expect to see a return of anywhere between three and five percent of your property value increase. There is not one specific figure as to how much you will see a house increased by because this is all dependent on how much your house is worth in the first place, so it is worked out as a percentage instead.
Your newly refurbished bathroom will add value to your home because it will increase the attractiveness of your property to any potential buyer. This is because it will be an area of your home that they will spend a great deal of time in and will want to be as modern, clean and new as possible.
If new buyers can avoid having to spend time, money and effort renovating the two most important areas of the home, the kitchen and the bathroom, then they will aim to do so. Even if they have their sights set on another house if your home has a newly refurbished bathroom, but the competing house does not, your house will usually win their attentions!
The ROI of a New Bathroom
The ROI, or Return on Investment, refers to the amount of money you spend on a new bathroom price in comparison to the amount of money you will see returned when you sell your home.
Bathrooms, along with kitchens, see an ROI of approximately 48 or 49% on average. This is because new and fully functioning bathrooms are always in demand and do not change with the times – we always need them!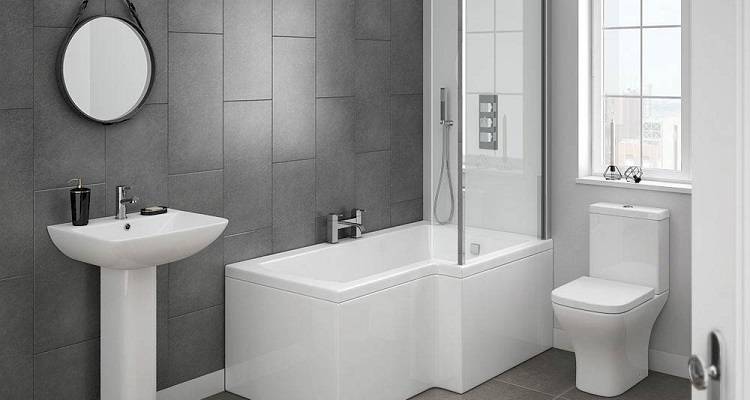 Having a bathroom which is well received by prospective buyers will have a large impact on the number of people wanting to put in offers on your perspective property and will lead to a bidding war, which can only end in your favour! But to get the best return for your investment when you are undertaking a bathroom refurb, you want to aim to keep things relatively simple if the only reason you are undertaking this challenge is to be able to sell your home more easily.
This is because it can actually have an adverse effect on your ability to sell your property if your bathroom is too personalised to you and the needs of your family, so aim to keep it neutral and plain.
How to Keep Down Costs of a New Bathroom
You have multiple different options when it comes to finding ways in which you can decrease the overall bathroom replacement cost. Ranging from the simple and obvious, to the downright ingenious, there is something in this list that can assist anyone looking to refurb their bathroom for a better price.
Contractor Quote Breakdown
Getting the contractors and suppliers to write down their specific quotes for every element of the jobs they are going to undertake enables you to see exactly where your money is going. This will give you the ability to see if you can make some financial changes and get some better options to help save you money.
It will also help to prevent any last-minute additions from contractors or suppliers from appearing on your bill at the last minute and bumping up the cost of your bathroom refurbishment when it's too late to make any alterations.
Self-Manage your Project
Not only will this help you to stay on top of your project, but it will also prevent you from having to spend money on hiring someone else to be your project manager which can be hugely costly.
Obviously, if you work long hours, work away from home or do not feel competent enough to be able to do so then this is not the ideal option for everyone, but it can be a great way for many people to save money.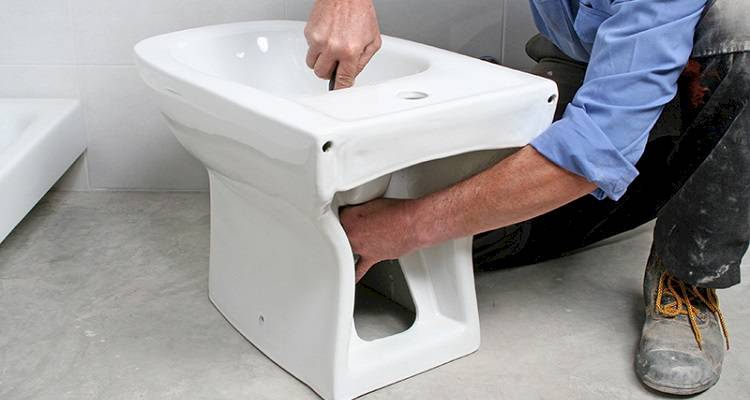 It also leaves you in full control of who is where, doing what and the speed at which you project is happening at, so if you are on a budget with your labourers and need to stay on deadline, this is a good solution.
Early Sign-Off
The earlier plans and planning approval are signed off, the fewer hold-ups you will have along the way, and this will prevent any extra unwanted costs from accruing, which, most commonly, are labour costs when projects are delayed.
This will also stop any unwanted and often more expensive additions being thrown into the mix by a project manager or labourer. If keeping to a tight budget is imperative to you, then signing off early is the imperative factor!
Buy Basic
If you are looking to keep the cost of your full bathroom refurb down, then you should try to opt for the most basic bathroom suite. You need to focus more on function than style here, and you can add more personal touches with your finishing, which will be a considerable amount cheaper than buying an expensive bathroom suite.
Find Cheaper Alternatives
There are many ways in which you can find cheaper alternatives when it comes to tiles, and not just with the tiles themselves but with the places you choose to tile as well.
To cut around 40% of the tile price, you can choose to tile on the areas that you need to be made splash-proof, so this would be around the bath, shower and basin. But this will mean that you need to spend more money on paint and panelling.
There are many different tile variations for you to look in to, including ceramic, terracotta, vinyl, stone, wood, linoleum, cork, glass, metal, cement-bodied, slate, porcelain, pebble, and even recycled tiles. With huge price differences, it is important that you work out the cost of the tiles you need in spare metres as a comparison before you make your final decision. It could be helpful to be aware that recycled and vinyl tiles are the cheapest options.
Cost of Removing a Bathroom
There are two main reasons as to why people choose to remove their bathrooms to undertake a new bathroom refurb and these are either because they are looking to add value to their home as they want to sell it, or because they have realised that their bathroom has decreased in its function and they require it to work better for them.
The cost for removing a bathroom is going to be the waste removal and labour cost. A skip will cost between £180 and £300 on average. You will then have to pay labour costs of around £100-£150 a day for someone to remove your batrhoom. This does depend on size and finish though and how much you may be willing to do yourself if you are capable of doing so.
Can You Remove Your Own Bathroom?
You can undertake some of the work of refurbishing a bathroom yourself, but it is advised that you employ professionals to do so. This is because there are electricals and water being worked with closely together, which can be hugely dangerous and should be done so with care.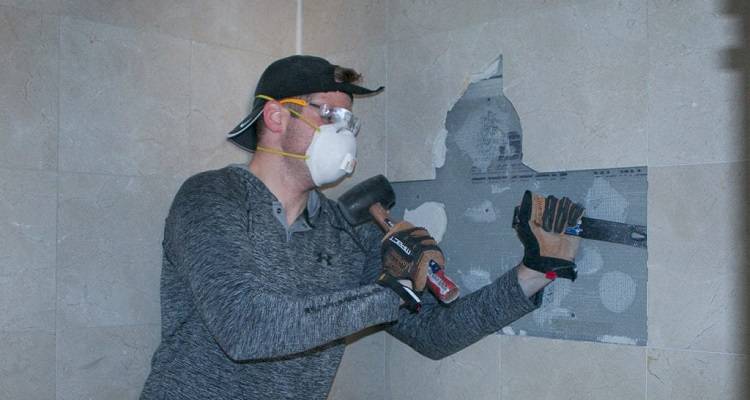 There are also certain elements of a new bathroom which need to be approved by a self-certified installer or by the Building Control Authority. To avoid hold up and prevent any additional costs, having professional labourers undertaking the work for you can make this job much faster, cheaper, and overall give you a more aesthetically pleasing finish. However, the most common thing for DIY enthusiasts to undertake themselves is the removal of wall tiles.
DIY Bathroom Removal
Before you remove your bathroom, you will need to empty it of everything that can be removed easily, including all of your furnishings, personal items and stereotypical bathroom essentials. You will also need to hire a skip.
When you are ready to begin the process of removing your bathroom, you must turn off your central heating and drain the system. If there are any electrical connections in your bathroom, turn these off too. Now remove the old bathroom suite, leaving the bath until last as water and waste from any other parts of your bathroom suite will need to be drained into your bath.
The majority of people put their old bathroom suit straight into the skip, but some do put elements of it on to eBay. Once all of your suite has been removed, you need to remove and replace all waste pipes in your bathroom. Your final job to remove all traces of your old bathroom is to remove the tiles from your walls and floor before you assess the damage and start creating your newly-refurbished bathroom.
DIY Necessities
To remove your pre-existing bathroom yourself as a DIY project, you will need the following:
Chisel
Face Mask
Hammer
Old clothes
Pry Bars
Scraper
Screwdriver
Tap Spanner
Tile Removing Chisel
Wrenches
Hiring Bathroom Refurbishment Contractors Checklist
When looking to hire a bathroom refurbishment contractor, you need to consider the following:
Have you compared prices and timeframes of different contractors?
Have you seen examples of their previous work and is it what you are looking for?
Do they understand specifically what you are after?
Could you have them in your home for eight days?
Do they work as part of a team, along with a plumber, electrician, plasterer, tiler, etc.?
What qualifications do they have?
Are they accredited?
Are they an "approved" installer?
Can they self-certify specific potential elements of your refurb, such as electrical work, gas fitting, new boiler installation or hot water cylinder installation?
Have you read any reviews about them, their business or their work?
Have they been recommended to you?
Can you go and see some of their previous or recently completed work?
Will they keep to a fixed budget?
Do you like them?
FAQs
How do you protect new sockets in a bathroom?
The only sockets allowed in a UK bathroom are those of shaver sockets. Lights should be enclosed where possible, and no hanging lights should be used.

You can get waterproof sockets for a bathroom, similar to those that can be used outdoors, but it is ill-advised to use any electrical appliance around water and therefore in a bathroom, which is one of the most dangerous rooms of the house because the two should never mix.
How much does it cost to redo a bathroom?
The average new bathroom cost is in the region of £7,000.
What is the last piece of bathroom suite to be removed, and why?
The bath is always last to be removed because the water and waste from all other pieces of your suite are drained into it.
What do you do with your old bathroom suite?
The majority of people simply throw their old bathroom suite into a skip, but some people opt to put certain items on to selling sites, such as eBay. They may not gain thousands of pounds back from this, but in a costly refurb such as a bathroom, every little helps!
How long does it take for a new bathroom to be fitted?
On average, it takes 8 to 10 days to fit a new bathroom, but this may vary depending on the size, difficultly of the job and the quality of the overall job required.
Sources
https://www.bigbathroomshop.co.uk/info/blog/bathroom-installation-cost-guide/
https://ukbathroomguru.com/typical-bathroom-installation-costs/
https://www.victorianplumbing.co.uk/baths
https://hoa.org.uk/advice/guides-for-homeowners/i-am-improving/bathroom-refurbishment-where-do-i-start/
https://www.soakology.co.uk/how-to-bathroom/the-bathroom-renovation-cheat-sheet-infographic/
https://www.warwickdc.gov.uk/info/20375/building_regulations/1140/renovating_your_home/7
https://www.planningportal.co.uk/info/200130/common_projects/34/kitchens_and_bathrooms/3
https://www.gov.uk/building-regulations-approval/how-to-apply
https://www.propertypriceadvice.co.uk/home-improvements/ten-of-the-best-ways-to-add-value-to-your-home
https://www.idealhome.co.uk/bathroom/bathroom-advice/planning-a-bathroom-190893
https://www.pettyson.co.uk/about-us/our-blog/268-9-high-roi-home-improvements
https://www.homestratosphere.com/bathroom-tile-types/
https://www.electricalsafetyfirst.org.uk/guidance/safety-around-the-home/bathroom-safety/

Last updated by MyJobQuote on 24th June 2021.