Full Bathroom Refurbishment Cost
This guide covers everything you need to know about the cost of a full bathroom refurbishment..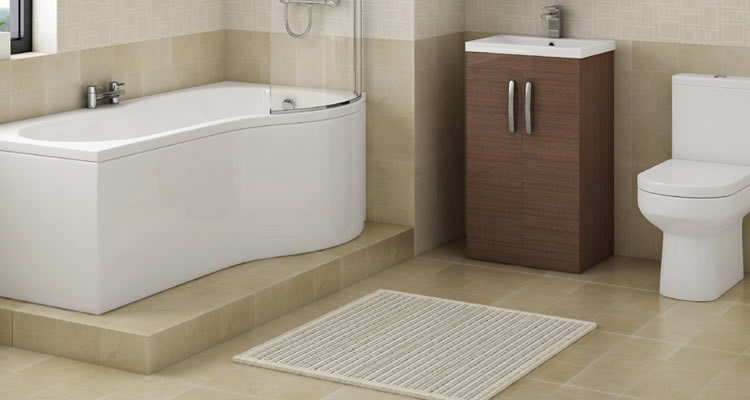 Average Cost of Full Bathroom Refurbishment
Depending on the complexity of the job, it usually takes 3-7 days
£4500
In general the average cost of a new bathroom is £4,500 in the UK and this includes furniture and installation. If you select a basic bathroom suite and fittings, the price will range from about £2500 to around £6000. If you decide to opt for the luxury of a high-end bathroom refurbishment then you will be looking at a financial layout of over £7000.

Many people these days are deciding to upgrade and add value to their homes instead of spending money and time moving to a new property. One of the major ways in which it is possible to add value to your existing home is to replace and/or upgrade your bathroom/s. There are many specialist bathroom installation companies available now so the stress of having to find a plumber, carpenter, electrician and tiler etc is removed and you can get a quote from a company that will do all of this for you.

It will take a lot of time and effort if you attempted to refurbish your bathroom yourself. A professional will have many years of experience in refurbishing bathrooms and will save you a lot of stress along the way. This article will highlight the cost of refurbishing a bathroom as well as some things to consider.

When you're thinking of having a new bathroom, you will want to save time and money with your search for a qualified builder. Simply fill out My Job Quote's form information of your job and you'll be matched with up to 3 trusted and verified builders to help with your new bathroom. My Job Quote work with hundreds of qualified and skilled tradespeople including builders, engineers and electricians. You'll receive the best price for your full bathroom refurbishment when you get multiple quotes for the job.
Cost of Hiring a Bathroom Refurbishment Specialist
| Job Description | Duration | Material Cost | Labour Cost |
| --- | --- | --- | --- |
| Remove existing fittings | 2-3 hours | NA | £150-250+ per day depending on company |
| Re-plaster | 4-10 hours | £25-50 per m2 | £150-250+ per day depending on company and conditions |
| Install new bath | 3-5 hours | £100-800+ | £130-£220 depending on company |
| Tiling a bathroom | 1-3 days | £20-100+ per m2 | £400-£1300 depending on size of room and company |
Things to Consider With a Full Bathroom Refurbishment
There are many things to consider when planning a full bathroom refurbishment. You should take your time in selecting the company that's right for you and your needs. If you want a basic bathroom replacement, then there are companies that specialise in keeping costs to a minimum whilst providing a professional finish. If you have the cash to splash and decide to go for a high end replacement bathroom then you will need the services of a specialist luxury bathroom installation company.
Whether you are spending big or small, get at least three quotations for the work you want to have done. Ask to see examples of the company's finished work. Talk to previous customers or read testimonials. Do your research! You may not replace your bathroom for another 20 years so take your time in selecting the right bathroom installation company for you!
There are many styles and finishes to select from in today's design conscious world. If you are struggling to visualise your 'after' bathroom, some companies will supply you with a 3D plan so you can be confident you are making the right choices. You can also compile your own 'mood board' for your room with colours and textures you love and want to incorporate into the final design.
If your budget is very tight consider changing only what needs changing-can you keep the sink and change the other fittings? The finished look will depend greatly upon the final look and feel-splashing out on some high end tiles may give you the luxury feel without breaking your budget. If you are prudent and do your research and shop around then you will be able to achieve a stylish bathroom
Doing it Yourself
You may decide that you have the skills necessary to undertake your bathroom installation yourself. If you are a seasoned DIY-er then you may well have gathered the competencies needed to install a bathroom suite and do your own tiling and flooring. Don't forget though that you will need a qualified electrician to deal with all the electric details such as some showers and any light fittings you are planning on moving or installing.
You should get quotes from up to 3 professional builders to get the best price for your bathroom refurbishment. They will know exactly what they are doing from experience of carrying out hundreds of bathroom refurbishments.
We have a network of highly experienced and fully qualified builders who are more than happy to help with your full bathroom refurbishment.
Last updated by MyJobQuote on 3rd July 2019.