Underfloor Heating Cost
Want to know how much underfloor heating costs? In this article we breakdown the prices for installation underfloor heating in any room of the home and by square metre. This makes it quick and simple for any homeowner to get a quick figure in mind before hiring a tradesman.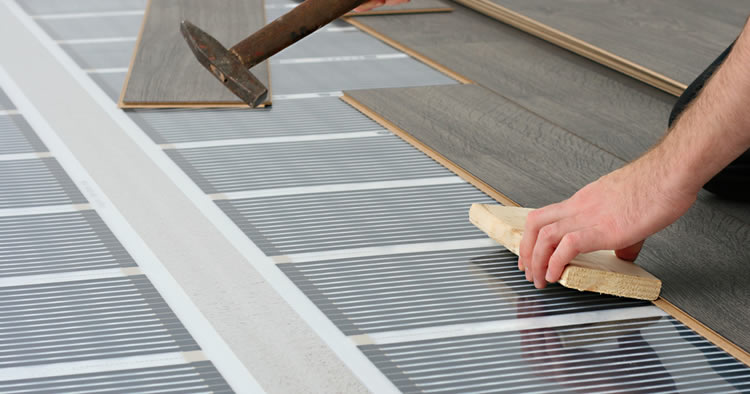 The average cost of underfloor heating:
This type of job normally takes around 1-2 days to complete
£800
How Much Does Underfloor Heating Cost?
Underfloor heating is becoming a popular alternative to conventional radiators, especially so in luxury bathroom renovations, but also popular in many new build houses as the primary source of central heating.
Underfloor heating can be installed under almost any type of floor including stone, wood, tiles and even carpets. There are two different types of underfloor heating, electric (dry system) and water (wet system).
Electric Underfloor Heating
Electric systems are cheaper as they are easier to install and can even be done as a DIY project, whereas the installation of a wet system is a lot more involved, so usually reserved for new build properties or as part of a larger renovation project. But, electric systems are by far the better choice for retrofits to existing properties.
Water (Wet) Underfloor Heating
If you are considering installing a "wet" underfloor system which will be connected to your central heating system, then you will need to find a reliable and competent local plumber.
MyJobQuote.co.uk can help with a free service which matches jobs posted by homeowners with local tradesmen. All you need to do is list your job using a simple and short online form, then you can sit back and up to three local tradesmen will be in touch to offer advice and to arrange home visits so they can then provide a written quotations.
Typical underfloor heating prices
| Job Description | Duration | Material Cost | Labour Cost |
| --- | --- | --- | --- |
| Bathroom Floor fit electric underfloor heating mats under carpet with thermostat & timer | 1.5 days | £450 | £350 |
| Kitchen concrete floor with wood laminate flooring fit electric underfloor heating mats | 2 days | £500 | £300 |
| Fit wet system to kitchen with insulation and all piped up to existing central heating system | 3 days | £300 | £900 |
| Typical three-bed semi-detached house wet underfloor heating supply and install throughout retrofit | 2 weeks | £2100 | £5600 |
Underfloor heating things to consider
Wet systems are only really suited to new-build homes or major refurbishments as they require extensive piping all around the house which has to be connected back to your central heating system.
All floors will need to be removed and the extensive labour involved will be very expensive. But when installed in a new build home, the labour cost for the installation is much less. Electric underfloor heating running costs are higher than wet underfloor heating systems, but they are much cheaper to retrofit and they do still warm the floor giving a luxurious feel, but they are not so good at heating the entire room, especially if a bigger room, but are usually fine with smaller rooms such as a bathroom.
If you have an older house with larger rooms which already tends to get cold during the winter months, then electric underfloor heating may not be able to produce enough heat to make the rooms comfortable. Wet underfloor heating systems have much more power as they are hooked up to existing boilers, so they can completely replace the radiators and still warm the rooms to a comfortable level.
Doing it Yourself
Wet underfloor heating systems are really not DIY friendly. Installing them will at the very least require some assistance from a plumber or heating engineer. With a system which is connected to your main boiler, it's simply not worth chancing it and doing it on your own, so always consult a local heating engineer or underfloor heating company to advise you before taking on this job.
A survey carried out by a professional will help you select the best underfloor heating system and ensure your boiler can support the additional heating system. But DIY electric underfloor systems using heat mats are much simpler and cheaper to install.
You will still need an electrician to connect the power up to your heating system, but for a typical bathroom, the total cost for DIY electric underfloor heating can be under £500. For those who are very confident in their skills, there are also DIY wet underfloor heating kits.
These full kits include a pump, valves, thermostats and pipework to heat around 20 square metres. If you did most of the work DIY and just hired a plumber or heating engineer for the important bits, you could have a wet underfloor heating system in your bathroom for under £1000.
Underfloor heating checklist
Underfloor heating can be one of the most cost effective ways to heat your home
Electric underfloor heating mats are simple to DIY install
Underfloor heating can offer a space-saving alternative to radiators
Underfloor heating can take longer to heat up than conventional radiators
FAQ's
How does electric underfloor heating work?
Electric underfloor heating systems use a network of wires running in a mat which is fitted under the surface of the floor. They warm the floor but are not as good at heating the room, so are best installed in smaller rooms and are popular in bathrooms.
How does wet underfloor heating work?
Wet underfloor heating systems are much more difficult to install so are best suited to larger homes as they heat rooms very well. They use a network of pipes to run hot water from the boiler which then radiates heat through the floor and into the room space. These wet underfloor systems are much more efficient than electric underfloor systems and can even be more efficient than conventional radiators.

What are the downsides to underfloor heating?
Underfloor heating can take longer to heat up than radiators and in some cases, they won't be able to heat the room comfortably, which means you will still need radiators. In addition, underfloor heating can be pricey to install when retrofitted.
Can underfloor heating be used as a whole-house heating system?
Yes, in fact, this would offer a number of benefits including reduced energy consumption and more living space without radiators. In many cases, wet underfloor heating systems can be used as the primary source of heat as long as the rooms themselves are well insulated. A heat loss calculation needs to be carried out to determine how much heating is needed and this is normally carried out by an architect or a heating engineer.
Is underfloor heating cheaper to run than radiators?
Yes, it can be, underfloor heating in some installations has proved to be up to 25% cheaper to run than radiators using a condensing boiler. But every installation is different so it is best to always get a professional survey done when considering underfloor heating systems.
Can I completely install electric underfloor heating by myself?
No, while most of the underfloor heating installation can be completed by a competent DIY enthusiast, the thermostats and other wiring require electrical work which needs to be completed by an electrician.
Last updated by MyJobQuote on 26th October 2020.