Installing Downstairs Toilet Cost
Want to know how much it will cost you to build a downstairs toilet? In this article we look at the prices for downstairs toilet installations including the cost of materials and labour.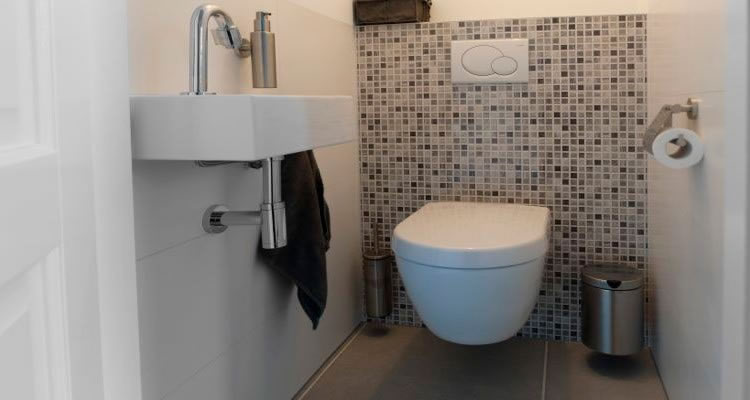 Typical cost for installing a downstairs toilet
This project would take around 2 weeks
£1,900
How Much to Build a Downstairs Toilet?
Adding a downstairs toilet can make a home much better to live in and can increase the value of the house! Ask anyone who has small children what they would most like to change about their home and chances are that they would say they would love a downstairs toilet. Although most modern homes have a downstairs loo as standard, plus some very old properties have the only bathroom on the ground level, in most houses there is no bathroom downstairs. Adding one offers much more convenience for families, but adding a downstairs toilet isn't quite as simple as you may think, as there are a number of rules and regulations to consider. The most important of which, under building regulations, are correct drainage and the proper installation of any new electrical fittings and circuits, along with the installation of an electric ventilation fan if there is not an outside window.
Although it is possible to add a downstairs toilet as part of a DIY project, most of us will have to hire a tradesman to do the job for us! A good tradesman will be happy to advise you on which toilet model you require and dealing with other building regulations issues. The easiest way to get a quotation for installing a new downstairs toilet is to post a job for free using the service on this website and then you will receive up to 3 quotes from bathroom specialists in your area.

Downstairs Toilet Installation Prices
| Job Description | Duration | Material Cost | Labour Cost |
| --- | --- | --- | --- |
| Small understairs bathroom with toilet and basin with cold water | 6 days | £500 | £145 |
| Fit a new double glazed window into new bathroom | 1 day | £100 | £125 |
| Add a hanging basin with mixer tap and hot & cold water | 1 day | £175 | £220 |
| Fit an extractor fan | 0.5 day | £65 | £140 |
Things to consider when adding downstairs toilet
There are general building regulations which apply to most work but every home is different so if you are planning to install a downstairs toilet never assume that just because someone else has done a similar project that the rules will be the same, regulations do change over time and what was permitted in previous years maynot be allowed today. Before doing anything speak to your local Council's Building Control department and invite an officer round to discuss your plans, or work with an architect who can do this on your behalf.
One of the main things people ar surprised with when installing a downstairs loo is that nowadays many councils insist that any toilet installed on the ground floor is fully accessible for wheelchair use. The door frame has to be wide for a wheelchair and there needs to be enough floor space to park and manoeuvre a wheelchair around. Althoug you can find many downstairs toilets crammed into what used to be the understairs cupboard area on older houses, in most cases with modern regulations there is simply not enough room to do this anymore. Though the "two door" rule regarding toilets opening onto living rooms or kitchens has now been relaxed as long as the new bathroom has a sink for hand washing. The building control officer will want to check the drainage however, to ensure that you have connected the waste from your new loo and sink into a drain which can cope with the increased flow.
Doing it Yourself
Adding a bathroom downstairs does add value to the home and doing the work yourself will save you a significant amount of money, but you do have to understand how to install a toilet and be aware of all the current building regulations. When space is at a premium, for example, if converting the understairs cupboard, then compact fixtures and fittings such as wall mounted toilets and sinks with smaller projections can help to maximise the limited space and accessibility. But do take into account the new rules regarding accessibility, many understairs areas will be too small to meet current regulations.
In addition to having the know-how and ability to install the toilet and sink, you will also need to be comfortable with the other work that will probably be required. The installation of a downstairs cloakroom will often involve removing or building new walls, windows and doorways. If this is the case, then the walls and ceiling will need plastering, skirting boards will need to be fitted and a door will need to be hung. You will also likely need a qualified electrician to wire in new lighting and possibly fit an extractor fan. The new cloakroom will then require a radiator or heated towel rail, plus new floorings such as lino or tiles. Finally, the decorating is a major part of the job: the walls, ceiling, skirting boards and door will all need to be painted/stained to give your cloakroom a professional finish. Adding a downstairs cloakroom is not a major job, but it is labour intensive, with carpentry, plumbing, plastering and decorating skills required. Plus you will still need to hire an electrician to add a circuit for the lighting and maybe an extractor fan.
Checklist for adding downstairs cloakroom
Making a downstairs loo out of the available space in your home is a surefire way to improve your home life and add value
If you need heating in the bathroom this can be done with an electrical heater or towel rail
You should not need planning permission for a downstairs W.C. unless your home is a listed building
Making sure the downstairs toilet is wheelchair accessible or disability-friendly will increase the selling power of the home
FAQ's
Do I need planning permission to add a downstairs bathroom?
Planning permission is not usually required to add a bathroom as long as it is not part of an extension. The rules are different for listed buildings and those within a conservation area. The golden rule when it comes to any sort of alterations or building work, is that if in doubt, check with your local authority! Building Regulations, however, will most definitely apply when adding a downstairs toilet and the plumbing, drainage and ventilation will have to meet current building regulations.
Does the new toilet have to be wheelchair accessible?
Many councils will insist that any toilet installed on the ground floor is fully accessible for people who use wheelchairs. The doorway has to be wide enough to get a wheelchair through, and there needs to be enough floor space in the bathroom to park and manoeuvre a wheelchair. Check with the local authority before making any plans.
Will installing a downstairs toilet increase my house resale value?
A second bathroom can add up to 5% to the value of your property according to the Nationwide House Price Index. However, this assumes the second bathroom does not come at the expense of another room in the house. Converting an existing small room into a bathroom will likely not increase the value much, if at all. However, converting unused space under the stairs into a bathroom will almost definitely increase the resale value.
Last updated by MyJobQuote on 5th May 2020.