Double Storey Extension Cost
Costs and advice on building a two storey house extension.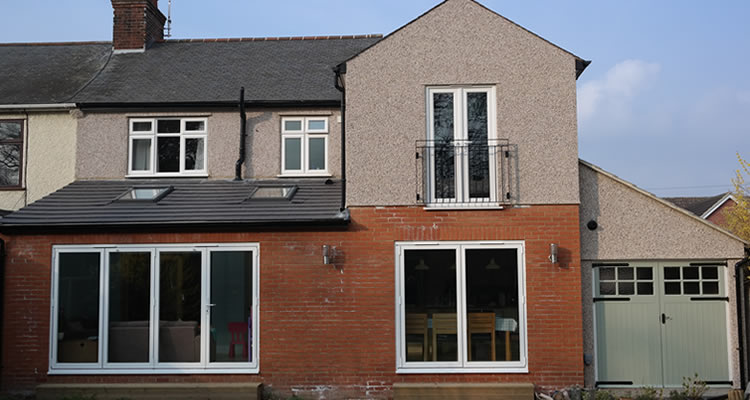 The typical cost for two storey extension starts from around
A two storey extension will take roughly 15 weeks
£25,000
A two storey extension is probably the best way of increasing living space and bedroom accommodation at the same time. If you find that your home is far too small then a double storey extension could be the right solution as long as you have the exterior space required. The cost of adding a double extension will vary hugely depending on exactly what you want. Obviously, the bigger and more complex the extension, the more expensive it will be. Your location plays an important role in the costs too. If you live anywhere near London, your extension will probably cost a lot more. A two-storey extension not only gives you more space, it is more cost-effective than moving house and cheaper per square metre than a single storey extension. If both storeys in an extension are the same size, then a double storey extension will cost around 50% more than a single storey extension (this is mostly due to the fact that a two storey extension spreads the cost of the foundations and the roof).
When considering adding an extension, you should always find a designer, architect or builder that you feel comfortable with that has plenty of experience. You should gather at least three written quotes and then compare them carefully. You should also ask to see examples of their previous work and speak to previous customers. Most architects and builders can manage the project for you for an additional fee and ensure that all materials and trades are on site when they are supposed to be, and managing the timescale and budget on your behalf. You can do this role yourself but it is very time consuming and often stressful. To find a reputable builder or architect, please use the free "Find a Tradesman" service on this website. Simply fill in one short online form, then have interested companies get in touch with you to offer more information and provide quotations if required.
Example Costs for Two Storey Extensions
The cost of a double storey extension depends on whether you are adding an extra bathroom, kitchen or bedroom. The average cost of a two storey extension can range from £20,000 to £30,000 depending on the specification you are looking for and the size of the extension.
| Job Description | Duration | Material Cost | Labour Cost |
| --- | --- | --- | --- |
| For double extension with kitchen | 15 weeks | £4800 | £5200 |
| For double extension with bathroom | 13 weeks | £3300 | £3700 |
| For double extension with a shower room | 14 weeks | £4700 | £4300 |
| Priced per square metre on average | NA | £30 | £30 |
Things to consider when planning a double storey extension
While many house extensions can be built under permitted development rights, without the need for any planning permission application, there are a number of restrictions to bear in mind when designing the project. First of all, the new extension cannot be taller than the highest part of the existing roof and must no extend beyond the existing rear wall by more than 3m. The extension also has to be at least 7m from the property boundary and has to be constructed using materials which match the original structure. However, all extensions over one storey will need planning permission. So bear this in mind when considering a single storey extension versus a two storey build. You'll also need to get Building Regulations approval for your two storey extension to show that the build meets certain minimum standards in terms of health and safety, energy-efficiency and sustainability. Each local authority has their own table of charges and the overall size of the extension will dictate the fees for building regulations approval.
Note that if any neighbours share a boundary wall with your property get them to consent formally to the extension, otherwise you will need a Party Wall settlement which will typically cost around £800 per neighbour. Failing to observe the party wall act means your neighbours can take civil action against you and stop further work, delaying your project and increasing your costs. Neighbours can also seek compensation and even require the removal of any work already carried out.
The rear of a property is usually the best position to add a two storey extension and will have the best chance of planning approval, though if there is a large outdoor area such as on a corner plot, there may be the potential for a side two-storey extension which will be looked upon favourably. A "one and a half" storey extension is another option to get around roof height restrictions, by extending into the roof space, or alternatively digging down into the ground and build a two-storey extension with a basement level without breaking height restrictions.
When designing the extension, remember that the style, size and building materials may be limited by your local authority planners. This is where a local and experienced architect will be well worth their professional fees as they can advise what you can and can't do right from the start.
Doing it Yourself
A two storey extension is a huge project and will be beyond the scope for even the most experienced DIY enthusiasts. However, there is nothing stopping anyone doing the build themselves, as long as they can satisfy the planning department and the building regulations. At the very least an architect is recommended to assist with the design and planning stage, plus of course an electrician will be required for the addition wiring work.
The actual job begins with the labour intensive process of digging out the foundations and pouring the concrete. Then the external walls can be built, followed by the internal structures then the roof. A carpenter will be very handy at this stage to build the roof structure. Windows and doors would typically be installed next along with the first fix electrics and plumbing now the building is watertight. Finally, you can now break through from the existing house (this is the time to move out if you have not already done so), put steel supports in place and make the joins good. Then comes the plastering which should be left for at least a week to dry out before the decorating takes place. Next comes the second fix, electrics, plumbing and flooring, followed by kitchen/bathroom units installation as applicable.
This entire process will take a professional team around 14 weeks, if you are not an experienced project manager and are doing most of the work yourself, expect it to take much longer, particularly if you also have a day job to attend!
Adding a double storey extension bullet points
Even if planning permission is approved, apply for a certificate of lawful development from your local authority in any case
A two storey extension is only around 50% more expensive than a single storey, but offers 100% more space
Two storey extensions often have more impact on neighbours so be very careful with the design and planning
Getting planning permission for a two storey extension can be more difficult when compared to a single storey extension
FAQ's
Will adding a two storey extension increase the value of my property?
In most cases yes, but there tends to be a price ceiling in most areas so you should look at local houses with a similar footprint your home after the planned extension and check those prices. In some cases adding an extension may cost more than the value it will add to the property, at least in the short-term. But it still may be cheaper than the cost of moving to a larger property when you factor in estate agency fees, stamp duty, legal fees removal costs.
Should I do a single or double storey extension?
It can be difficult to choose, two storey extensions have a greater possibility of being a nuisance towards your neighbours so are more difficult to get approved, but they do offer much more space and are in fact cheaper than single storey extensions on a price per square metre basis.
Should I move out while extending?
If the builders need to have access to every room (or even most rooms) the best way to preserve your sanity and stick to timescales is to move out for a few months. Some builders and conversion companies will simply not do the work in an occupied house in any case. A caravan in the garden is a popular option, though a hotel or short term let on another property is much quieter and more comfortable, though also more expensive. In any case you should always factor in the cost of temporary accommodation.
Last updated by MyJobQuote on 18th May 2018.