Double Storey Extension Cost
Want to find out how much building a two storey extension will cost?
In this price guide we summarise all of the potential costs a homeowner may have to pay when they carry out a double storey extension.
This includes material prices, the cost of labour, and considers additional costs such as kitchens and bathrooms.
Check out below for more information!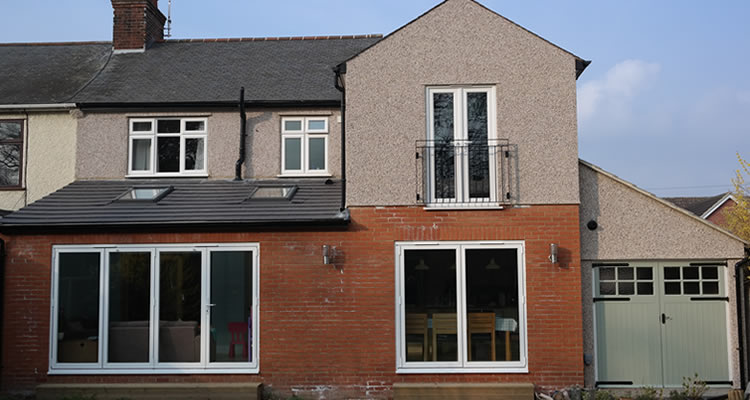 Average Cost of Building a Double Storey Extension:
Depending on the complexity of the job, it usually takes: 10-12 weeks
£40,000
How Much Does a Double-Storey Extension Cost?
If you find that your home has become too small, then a double storey extension could be the right solution. The cost of adding a double-storey extension will vary hugely – the size, complexity and location all play a huge part.
A two-storey extension not only gives you more space, but it is more cost-effective than moving house and cheaper per square metre than a single storey extension. If both storeys in an extension are the same size, then a double storey extension will cost around 50%-75% more than a single storey extension.
The typical cost of building a two-storey extension starts at around £40,000, but this will increase if you are planning to use some of the space as a kitchen or bathroom.
To start your budget, you should work on a square metre price of between £1,000 and £1,750. This is for your basic building materials including foundations, walls, roofing, plumbing, electrics and finishing. Once you have your rough square meterage price, you'll need to add £5,000-£15,000 for an average-sized fitted kitchen, and a further £1,500-£7,500 for a standard family bathroom.
The lower price is for a basic specification – the no-frills essentials – and the top-end price is for the highest quality goods and services, with some custom-made pieces such as large windows, bespoke stairs or hardwood floors.
Double Storey Extension Prices
The price you pay for your double storey extension will depend on multiple factors, these include the finish you choose, location and what your extension will consist of.
The below tables shows some average costs for extensions in the UK, including the average price per m² and what you can expect to pay if you are adding a kitchen or bathroom to your home.
*30m² would be classed as a small extension; 60m² as medium, and 100m²+ as large.
| Expense | Basic Specification | Average | High Specification |
| --- | --- | --- | --- |
| 30m² extension* | £40,000 | £47,000 | £55,000 |
| Cost per M² | £1,333 | £1,566 | £1,833 |
| Fitted kitchen | £8,000 | £10,000 | £15,000 |
| Bathroom | £4,500 | £7,000 | £9,000 |
| Total | £52,500 | £64,000 | £79,000 |
| | | | |
| --- | --- | --- | --- |
| 60m² extension* | £65,000 | £70,000 | £75,000 |
| Cost per M² | £1,083 | £1,167 | £1,250 |
| Fitted kitchen | £8,000 | £10,000 | £15,000 |
| Bathroom | £4,500 | £7,000 | £9,000 |
| Total | £77,500 | £87,000 | £99,000 |
| | | | |
| --- | --- | --- | --- |
| 100m² extension* | £90,000 | £95,000 | £100,000 |
| Cost per M² | £1,083 | £1,167 | £1,250 |
| Fitted kitchen | £8,000 | £10,000 | £15,000 |
| Bathroom | £4,500 | £7,000 | £9,000 |
| Total | £102,500 | £112,000 | £124,000 |
The below table shows the difference in costs based on your extension size and the specification of finish that you choose.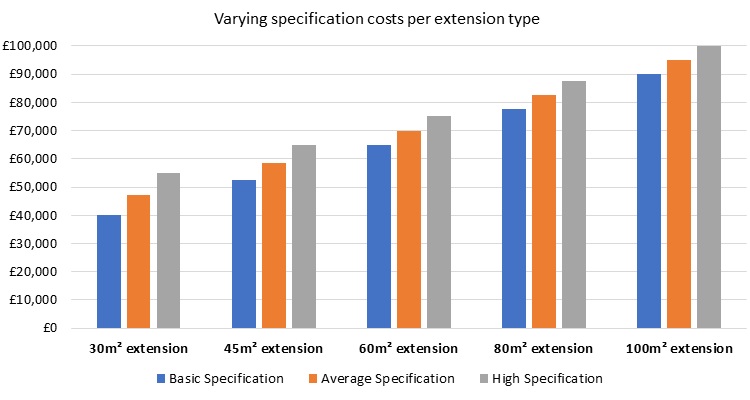 Labour Costs and Timescales
You should obtain at least 3 quotes for the building work, and, if possible, view some work previously completed by the contractor. You will usually find that a cheaper contractor is less skilled, although this isn't always the case.
When budgeting for building costs, below are the rough charges for one day's labour by the various work types. For a double storey extension you're going to need to hire a variety of tradesman or a company which specialises in extensions and covers all areas.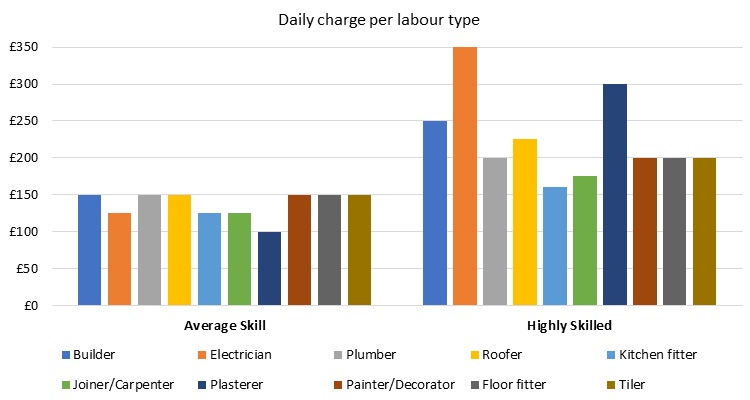 You can break your total extension costs into three constituent parts – the cost of labour, materials, and site clearance/tidy – and gauge roughly long the building project should take.
| | Average 30m2 extension | Average 60m2 extension | Average 100m2 extension |
| --- | --- | --- | --- |
| Materials | £16,450 | £24,500 | £33,250 |
| Labour | £28,200 | £42,000 | £57,000 |
| Site Tidy | £2,350 | £3,500 | £4,750 |
| Total | £47,000 | £70,000 | £95,000 |
| Build Time* | 8 – 10 weeks | 10 – 12 weeks | 12 – 14 weeks |
The build time is contingent on efficiency of labour, weather conditions and scheduling of multiple work types simultaneously. You should also factor in extra time for complex additions and a larger extension size.
If you need to get planning permission, go to an architect, or gain a Party Wall agreement, you will need to add the relevant time on before the building work begins.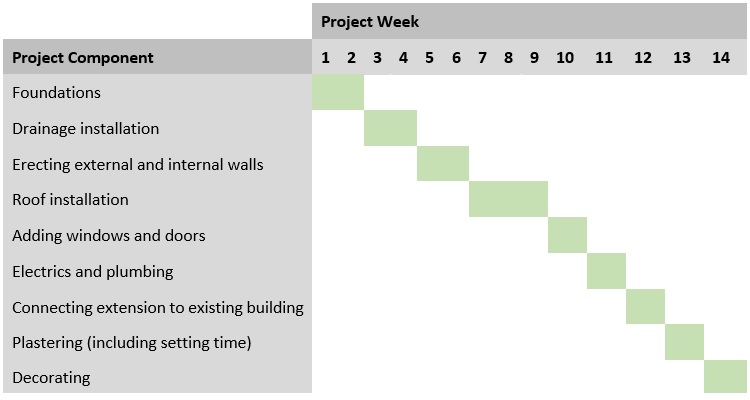 Additional Two-Storey Extension Costs
When building a double extension, there may be some additional costs that'll be worth budgeting for just in case you need any. Here are some average additional costs you might come across:
| Type of Additional Cost | Average Cost |
| --- | --- |
| Underfloor heating | £1,500-£2,500 |
| New boiler system | £1,500-£2,000 |
| Architect fees | £800-£2,500 |
| Surveyor's fees | £500-£2,000 |
| Certificate of lawful development | £100 |
| Party wall agreement | £500-£1,000 |
| Planning fees | £200 |
Cost Factors of a Double Storey Extension
To work out a reasonably accurate budget for your extension, there are lots of factors to consider. You should always round up any potential costs, and add around 10% as a buffer; otherwise, any unexpected costs can blow your budget.
Planning Stage
This includes every aspect which needs consideration prior to the build.
This includes the design of the extension and creation of full plans, any planning permission or site visits/surveys, project management (whether by an architect or building firm), party wall considerations/approval, and attendance by a structural engineer, including any work he or she deems necessary.
You should budget around £13,000 for the complete planning stage.
As a note, hiring an architect isn't a legal requirement, but they have been fully trained in all aspects of building design including how best to make use of space, ensuring access, adhering to regulations, and managing the project if required, so if you want your project to go as smoothly as possible, an architect is a good use of your money.
Initial Building Work
This is the stage where you start having contractors on site, and the build begins. By the end of this stage, you will have a basic shell which then needs work on the interior.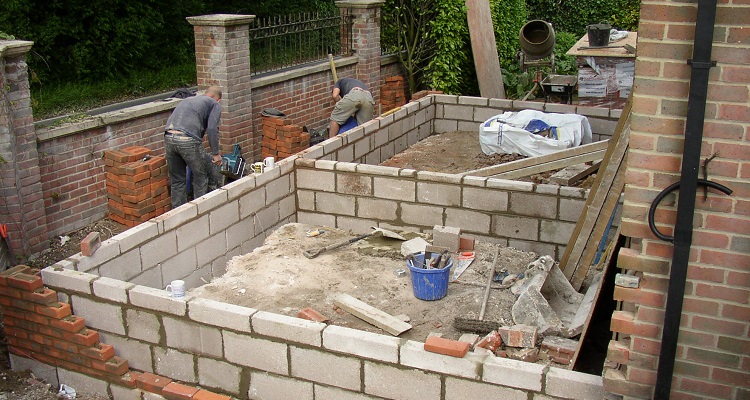 Foundations – Whether you go for a deep strip foundation or a trench fill, you are looking at around £6,000 to make sure your extension is going onto a solid structure. Often the builder will provide a quote based on an average width, depth and load-bearing ability, but this will change once the ground can be fully assessed.
Framing – There are four main types of framing with their own positives and negatives. Timber framing works out the most expensive as it is custom-built; however, brick and block framing, flat pack/modular, and rapid masonry construction all have their own benefits. Budget around £5,000.
Exterior finishing – Prices can vary wildly under this category. A natural stone finish will cost you around £350 per square metre, as opposed to £40 per square metre for standard cement. An average facing or rendered brick exterior will cost around £3,500 in total.
Roofing – An average roof installation, using standard-sized roofing tiles, and standard shaped roof, will cost around £4,500. You will need to factor in more for inclusion of chimneys, varying pitches, gables, etc.
Secondary Building Work
At this point, you need to add your access points and any external landscaping (if required) – building work and machinery may have damaged existing green space, and the addition of the extension may have required removal of an existing patio.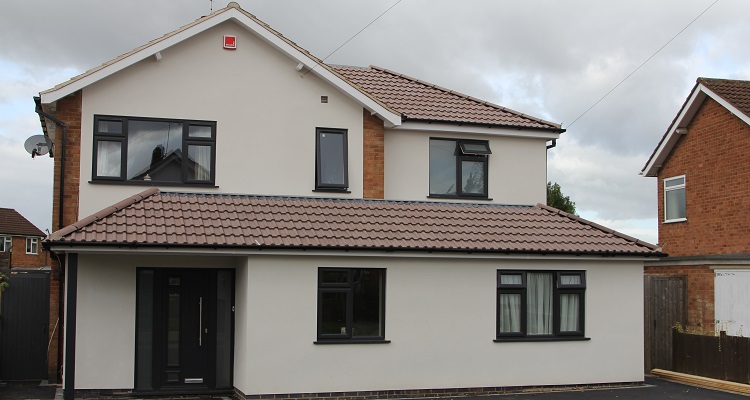 Windows – If you're looking at a standard double-glazed window installation with 'off the shelf' windows and in a standard size, this will cost you around £600. An average-sized extension may require four windows, which will total £2,400.
Doors – An average-sized composite external door will cost around £1,100, including installation. Internal doors, if required, cost from £30 for a basic door, to hundreds for a custom-designed one. On top of this, you will have to factor in the cost of hanging the doors and the fixings.
Landscaping – In most cases, any previously existing patio will have been removed to make way for a rear extension. If you want to have a new patio laid while your extension is being built, you will need to hire a landscape gardener. An average patio will cost around £1,800 for both the materials and labour, but you can calculate the cost for your specific sized patio if you use a basic charge of £100 per m², which should cover both the labour and your materials.
Interior Work
This is the final stage of the build. Your contractors are now looking to wire your extension, complete plumbing work, extend your heating and install your bathroom and kitchen if required.
You will need to have your new walls plastered, and you may then wish to bring in a decorator to add the finishing touches to your new rooms.
Installation of a new kitchen – A small basic specification kitchen and a large high specification kitchen will vary in price by many thousands, but a guide price for a medium-sized average specification kitchen is £10,000. This will include all of your appliances, the plumbing, electrics, tiling, painting, worktops and all of your cupboards/units, as well as fitting. See here to find out more about the costs of a new kitchen.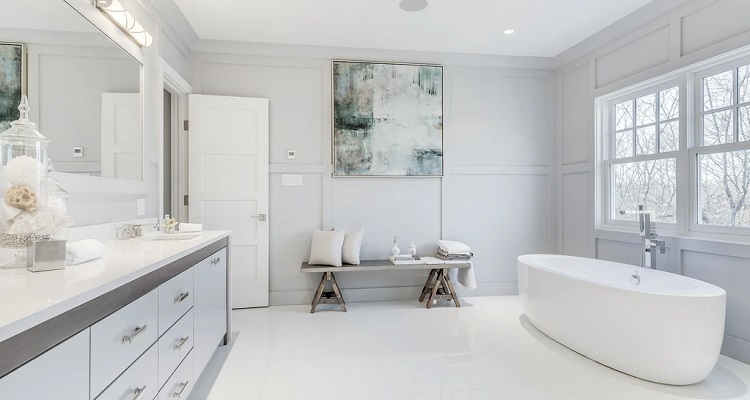 Installation of a new bathroom – As with the installation of a new kitchen, how much you pay can change hugely depending on size and finish. A standard bathroom will cost you around £7,000, which will include your bathroom suite, plumbing, heating, electrics, tiling, painting, and installation. See here to find out more about the costs of new bathroom.
Electrics – Most electricians will charge a day rate, on average around £230, but the cost will then rise as you decide which fixtures and fittings you want. A basic single socket will cost far less than a double socket with chrome finish and USB ports. The electrician will need to do a basic wire of the extension, and it may require your fuse box to be upgraded or replaced. If you have an electric boiler, this too will need to be assessed to see whether it has the capacity to heat the extra rooms or satisfy the additional hot water requirements.
Plastering, painting and decorating – A plasterer will likely quote for the entire job if all rooms need doing, which will be in the region of £700 for a double extension. A painter and decorator will charge around £400 per room; however, if multiple rooms need decorating how much you pay may drop as the labourer can work on multiple rooms concurrently. You also need to factor in the cost of the paint, so decorating a double extension may end up costing around £1,500.
What Is Involved in Building a Double Storey Extension?
Planning
Take a look at where your extension will be located and research whether you'll need to consider the Party Wall Act (1996). This sets out a framework to ensure neighbours sharing any wall are given notice of the prospective build and have a formalised method of putting forward any disagreements.
Then consider how deliveries and equipment will be able to reach the work area, any rights of way and whether your current buildings insurance will cover you while the work is done (if not, you can purchase extension insurance).
Planning permission is a further area to investigate – this will depend on the size and location of your extension, as well as how it fits in with your locale and any implications exerted by the existing building (e.g. if it is a listed building).
Next, the extension needs designing. Choosing and hiring an architect requires the same amount of research as the hire of any other worker, and your architect will then complete all the plans.
If you decide to draw up the design yourself, you may need a draftsperson to help you put your plans into a format suitable for submission to your Local Planning Authority. You may also need a structural engineer to produce information for consideration of a Building Regulations Inspector.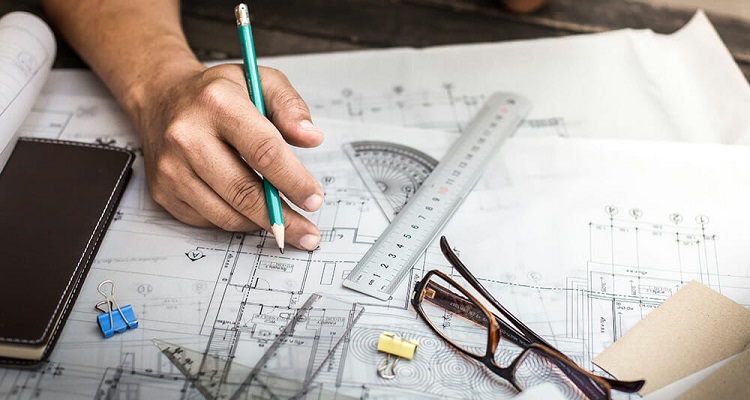 Finally, you will need to consider who will be completing the work. You will need to hire either a main contractor to complete the whole job or subcontractors should you wish to manage the project yourself.
Builders, like with any other hired contractor, should be thoroughly researched. You will need to communicate with your builder throughout the project and trust that they will complete the work to the standard you wish.
It is also worth considering whether your building contractor can do multiple types of work (e.g. plumbing, electrics, brickwork) so it is easier to ensure each piece of work is done at the right time.
If you have researched your project and are able to provide your builder with enough information, they should be able to give you a fixed quote for the work, including a full breakdown of prices.
Once you're happy with your contractors, have your finance in place, and are ready to commence work, the final thing to consider is that of building regulations. These are in place to make sure your property is fire safe, ventilated properly, has appropriate waste/drainage disposal etc.
A Building Inspector from your Local Authority will visit your building site at different stages of the build to check whether there are any problems which may require fixing.
Groundwork
The contractors will attend the site to measure out the foundations, and then a structural engineer will assess the ground and make any recommendations to the builders based on their findings.
A Buildings Inspector will visit at this point and make their recommendations, and the architect may also visit to communicate any clarifications to the contractors.
At this stage, the builders will finalise their plans for the foundations, incorporating the recommendations by the structural engineer and Buildings Inspector, and also taking into account any pipes, drainage etc. which has been unearthed.
Main Build
Once your foundations have been laid and any drainage issues resolved, the contractors will start work on the external structure. The builders will begin by erecting the external walls and joining the extension to the existing property.
Then the structural supports such as beams and columns will go up, followed by the laying of the ground-floor base and upstairs suspended floor. Finally, the roof will be built, including any dormer windows or chimneys, and the extension's main windows and any external doors will be installed.
It's at this stage that the extension is considered waterproof. At this point that you may wish to consider landscaping – all heavy machinery, external workmen and scaffolding should now be offsite, so the landscapers can commence their work without risk of damage by the other contractors.
Once your building is watertight, the internal work can begin. The original external wall can now be knocked through into the extension, and a structural engineer will determine what support will be required to reinforce the exposed structure.
A carpenter/joiner will build the internal frame of the rooms, including door frames and walls. It is at this point that you'll begin to see the layout and size of your extension, and what each room will look like. Your joiner may, at this stage, also do any custom-building work such as staircases and fitted cupboards.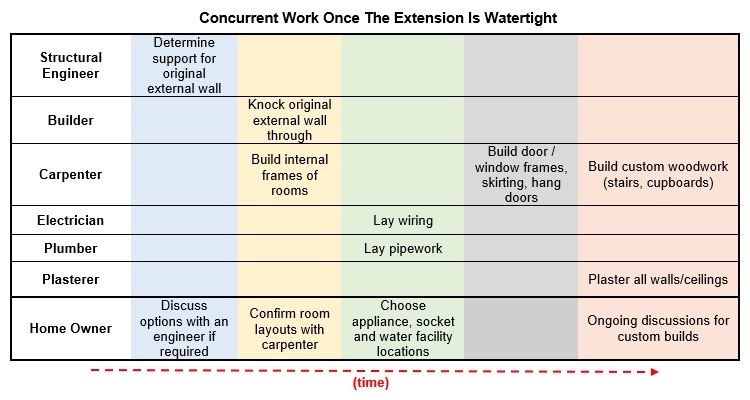 Once this is done, your electrician and plumber can start laying their pipes and wires into the wooden framework. If you are getting a kitchen, bathroom or en-suite installed, the plumber will route your pipework to where you want your sinks, toilets and showers, and your electrician will ask you where you want your light switches, wall sockets and appliances.
If you are having a gas oven or hob, a gas engineer should also attend at this point to install their pipework. After the pipes and wiring have been installed, the plasterer can begin work, and once the plaster is completely dry, the final decorative and installation work can begin.
A joiner will likely need to return at this point to build door frames, skirting boards, window ledges, and hang internal doors.
When you get to this stage, it's important to think about how your new living area(s) will connect to your existing property. An 18th-century farmhouse may look odd with a new futuristic-looking chrome kitchen, and an exposed-brick rustic bathroom will not suit a super modern house.
To ensure your new extension adds value to, and complements, your existing property, the look and feel of your fixtures, fittings, white goods, paintwork, cupboards and flooring should all sit happily alongside the existing décor.
Once you're sure of your internal design items, your kitchen and bathroom white goods and cupboards can start being installed, your tiling, painting and decorating can begin, and specialists will lay down flooring and carpets.
The Finishing Touches
It's now that you'll be adding your light fittings, radiators, curtain rails, and other permanent features. At the end of this stage, the Buildings Inspector will return and check that all the work has been completed in alignment with policy and regulations – they will sign-off the work and provide a completion certificate. The workmen will now all leave, and you can look forward to putting your feet up in your new living space.
Benefits of a Double-Storey Extension
As with any project, large or small, there will always be many pros and cons, and after much consideration, these are often boiled down into two: cost, and duration.
So, ignoring those two factors, which are somewhat controlled by the homeowner and circumstance, what are the other reasons why a two-storey extension is a good idea?
Space: Adding an extension onto your home is a great way to have a bigger home without having to move to a different area. In that respect, there is additional money-saving as you don't have the expense of estate agent fees, solicitors' fees and stamp duty.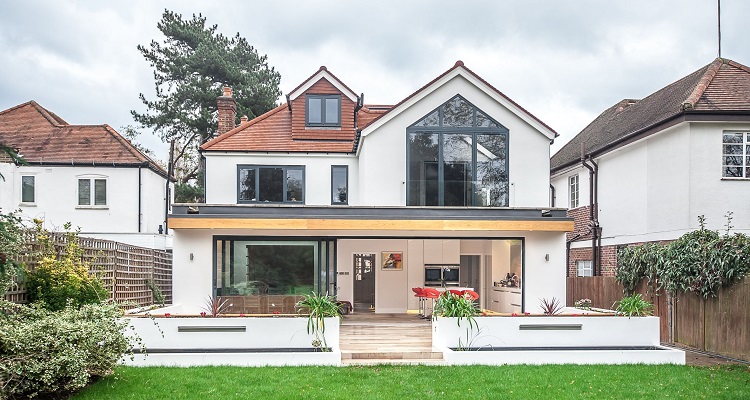 Purpose: Adding your own extension, instead of buying a bigger house, allows you to choose the type and size of rooms which will fit your purpose. If you have someone with mobility issues, you can get a downstairs wet room; if you're having a child, another bedroom will be useful; and if you're starting up your own home business, you can build yourself an office. And if you don't need any extra rooms, your extension can be used to make existing rooms bigger – your middle bedroom could be expanded and turned into your main bedroom complete with en-suite, or your compact kitchen could become a kitchen diner with utility area.
Pro-rata cost: Whilst adding a single storey extension will give you extra space, it costs pro-rata less to add an extra level. Because you are building the foundations and roof for either a one or two-storey extension, your additional storey will only require the internal walls, external finishing and interior finishing.
Types of Double Storey Extension
You can choose from various types of double storey extension, depending on where or what you want to extend in your home:
Double Storey Front
This type of two-storey extension is most probably the least common. The reason for this is a front extension has the most impact on the look of a property, and there are stricter building regulations to adhere to.
Double Storey Side Return
This type of extension is built at the side of the property, without jeopardising the garden area. This extension can be implemented in a detached or semi-detached property.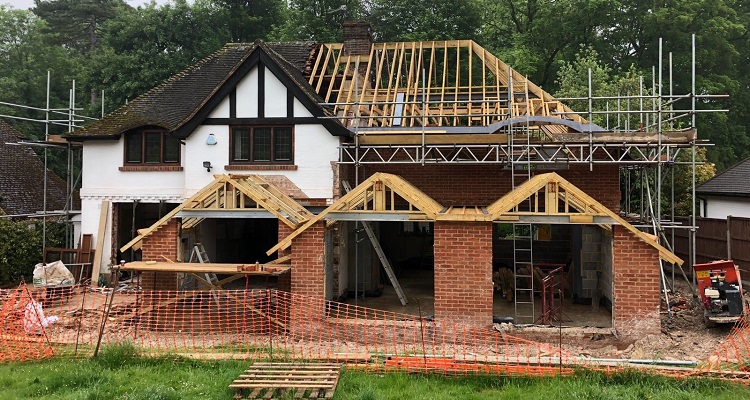 Double Storey Rear
This extends the rear of a property, usually, by extending into garden space. This type of extension is a good choice for semi-detached and detached properties. A terraced that has enough back-garden space could also have a rear extension too.
Double Storey Wrap Around
This type of extension is a mixture of a side extension and a rear extension. If the main reason for you wanting an extension is extra space, then a wrap around extension can add a lot of space to a property and is the best solution. It's achievable for both detached and semi-detached properties.
Which Direction Should I Extend My House?
When deciding on what direction you should extend your house, you'll have to take a few aspects into consideration.
The simplest option is extending to the rear of the house, but you'll need enough back-garden space to do so. If you don't have enough back-garden space, maybe a side extension is right for you instead, especially if the neighbour doesn't have any overlooking windows.
If you want an eco-friendly extension, working out what direction your garden and house faces can help you make a decision. Try to build an extension facing south if possible, this way it will be warmer and have more light flooding in through the windows.
What you want the space for is also another factor to consider. If you want to extend the kitchen, where does your current kitchen sit within the house? At the back, to the side? What do you want to extend on the second floor? Add another bedroom? All of this will determine what direction you should extend your house.
Adding or Extending a Bathroom
Many families choose to add a new bathroom, refurbish an existing an existing one, or add an en-suite when building an extension. Some also add a WC to their downstairs too, as extra washroom facilities will always add value to a house.
The more bedrooms a house has, the more bathrooms are needed so a potential buyer will likely pass on a 4-bedroom house which only has one bathroom, and no WC or en-suite.
A new bathroom, including the suite and installation, will cost between £4,500 and £9,000.
The new suite on its own (bath, toilet, sink) can be bought for less than £500, but your labour costs, cupboards, tiling, decorating, shower, heated towel rail, bidet etc. are what bump up the price. An alternative to a traditional bathroom is a wet room – this is a great option when you need to wash younger children, bath pets, or if you have mobility issues.
These are more expensive than a standard bathroom as the flooring requires plumbing and fully tiling, but they are a modern alternative to a bathroom and worth considering.
| Item | Lowest cost | Highest specification |
| --- | --- | --- |
| Toilet | £47 | £405 |
| Sink | £35 | £220 |
| Bath | £80 | £650 |
| Walk-in bath | £1,900 | £2,000 |
| Shower | £40 | £680 |
| Shower cubicle & tray | £170 | £500 |
| Bidet | £65 | £200 |
Adding or Extending a Kitchen
A new kitchen, extension to an old one, or a kitchen remodelling is one of the most popular uses of extra downstairs space, with many families now opting to eat in a kitchen diner rather than a traditional dining room.
A new kitchen can cost anywhere between £8,000 and £15,000, and you could go far higher with enough space and requirements.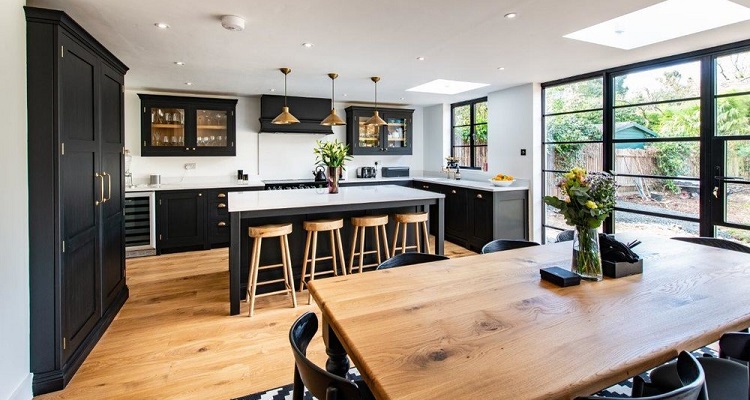 If you are extending an existing kitchen, it may be worth replacing any old white goods, so they sit well with new ones, as well as being more energy-efficient and streamlined. The cost of white goods varies as with anything, but below is a rough guide:
| Item | Lowest cost | Highest specification |
| --- | --- | --- |
| Refrigerator | £100 | £2,500 |
| Freezer | £110 | £1,750 |
| American-style fridge-freezer | £350 | £5,500 |
| Dishwasher | £180 | £1,500 |
| Hob – gas | £90 | £1,100 |
| Hob – induction | £170 | £2,600 |
| Hob – ceramic | £100 | £850 |
| Hob – solid plate | £80 | £1,500 |
| Oven – single gas | £350 | £550 |
| Oven – single electric | £120 | £2,200 |
| Washing Machine | £180 | £1,700 |
| Tumble dryer – condenser | £190 | £1,000 |
| Tumble dryer – vented | £180 | £850 |
| Washer dryer | £300 | £1,800 |
Extension Rules and Regulations
When choosing whether or not to extend your house, first you need to consider all the various regulations that you must follow in this process.
Planning permission (and whether you need it or not), building regulations and party wall considerations are the three areas which will need thoroughly researching before you commence your project.
Planning Permission
Under certain criteria, you don't need to apply for planning permission – this is called 'permitted development rights.' According to the official government website, there are three categories that usually have permitted development rights (with some caveats and limits) – these are industrial premises/warehouses, outdoor signs/advertisements, and demolition.
Unless your extension falls into one of the above criteria, you will have to decide for yourself whether to apply for planning permission or not. The general guidelines are as follows:
If you live in a national park, the Broads, an Area of Outstanding Natural Beauty, a conservation area or World Heritage Site you are not permitted to build an extension of more than one storey.
All extensions (prospective and previously completed) must not comprise more than half the total area (including sheds and outhouses) of land around the original house (e.g. before ANY extensions).
The eaves and ridge height must not exceed the height of the existing house, and the eaves themselves must not be higher than three metres if the extension is within two metres of a boundary.
Double or triple storey extensions must not be more than three metres deeper than the original house or be within seven metres of the opposing boundary.
Roof pitch extensions should match that of the existing house where possible.
The extension's external materials should closely match those of the existing property.
Upper floor/roof windows must not be transparent (translucent is ok) and or able to be opened unless the part to open is 1.7m+ above the floor in that room.
You are not permitted to add a balcony or veranda to a double storey extension.
When you apply for planning permission, it will currently cost you £206, which you will be required to pay to your local planning authority at the time you submit your application.
Building Regulations
you must check if you need approval prior to commencing your build and should not confuse this with planning permission – you may need both. If the person doing the work doesn't apply for or comply with Building Regulations, they may be prosecuted and fined, and it will also impact on the future sale of the property if the extension doesn't comply.
You will likely need to submit a Full Plans application when seeking Building Regulations approval for your build. A decision based on your application should be provided within 5 weeks, and a completion certificate (once the building complies with all the regulations) will be received within 8 weeks of the extension being completed.
To ensure the extension conforms to the regulations, an Inspector will do on-site visits periodically to view the work, provide guidance and sign-off approval.
The cost of submitting a full plans application is around £180, but there will be an additional cost for the subsequent inspections – this could vary from £200 – £550.
Party Wall Considerations
If there is a wall on your property that stands on both your and your neighbour's land and is part of a building, or if there is a garden wall standing on both pieces of land, or a wall that is used to separate two buildings, this is considered a party wall.
You will need to review the Party Wall Act if you are doing work to an existing party wall, building on or at the boundary of two properties, or are excavating near to or below the foundation level of neighbouring buildings.
There is no cost for reviewing and discussing the party wall process with your neighbours, but there can be costs as a result of those discussions, e.g. if there is damage or defect to the existing party wall, your neighbour may have to meet a share of the cost of repair work.
If your neighbour doesn't agree with the proposed work, you and your neighbour must appoint a surveyor (together or separately). The surveyors will then agree on a party wall award, which is a legal document stating the work that should happen, when and how it will be carried out, and who will pay for each part and how much they'll be required to pay, including the surveyor's fees.
Surveyors can charge between £90 and £450 per hour depending on where you live.
Can I Build a Double-Storey Extension Myself?
In short, no. You'll definitely need to hire relevant tradespeople for certain tasks during the double storey extension build. For example, any electrical jobs will need to be signed off by a professional electrician, especially when keeping in-line with building regulations. This will go for any gas, plumbing, and structural work too.
But you can complete some jobs DIY, like painting and decorating, if you don't mind not having a professional finish. By doing odd jobs DIY, you can save some money or spend it elsewhere.
Cost of Removing a Double-Storey Extension
If you have a dilapidated double storey extension attached to your home, you may need it removing. Firstly, you'll need to hire labourers to demolish the extension. How much this will cost will depend on what size the extension is and how long it takes to demolish.
On average, demolishing a standard sized double storey extension will cost at least £2,500.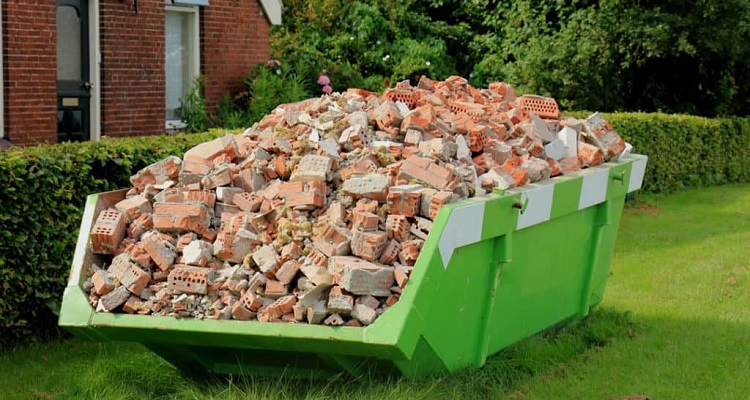 The cost of removing rubble and waste can cost the same, or even more than the demolition itself. You can hire skips (£250 per week, on average) or hire a grab truck to come and collect the waste for around £150-£200. Some demolition companies will offer to take the waste and include it in their overall charge.
Hiring a Double-Storey Extension Builder Checklist
A double storey extension is a huge job! Before you hire someone there are some things you should consider. Below is a checklist for you to follow when you're searching for double storey extension builder.
Check for any relevant qualifications that you'd expect from that trade.
Ask whether they have liability insurance. Liability insurance would protect you if anything were to go wrong while the work is happening.
Discuss their previous experience. Ask if they have ever completed a job similar to what you're requesting. Ask if they have any proof or a portfolio of their work.
Do they offer any guarantees? So, if any problems arise in the future, you'll be covered by a guarantee, and won't have to fork out even more money.
Enquire if they have knowledge on the planning permission and building regulations regarding double storey extensions.
FAQs
How Can I Reduce The Cost Of Building My Double Storey Extension?
A complex design will likely require more specialist/skilled workers, longer to build, pricier materials and longer design time by an architect. If you keep your plan simple, you will save both money and time, though it is important that you still keep this design in keeping with the remainder of your property.

Another way to save money is to manage the project yourself – this will dramatically reduce your spend, but will take a lot of time and patience on your part. A further way to reduce costs is to do as much of the pre- and post-build work as you can. This includes preparing the site before the build, sourcing and purchasing materials, and doing the clean-up afterwards. Just be sure to speak to your contractors before doing the preparation to make sure that your preparation won't complicate or hinder their work.
How Do I Choose The Right Contractors?
The first way is to get quotes from a number of labourers – the way these quotes are provided and how you are dealt with will give you a good idea of the company's professionalism, and the varying quotes will give you an idea of cost. There are review websites which highlight previous customer satisfaction, and you can also ask to see a portfolio of the labourer's previous work. If you are unsure, a decent and reliable company will answer any queries you have, and in the example of constructors, they will do a site visit before providing a quote to speak to you and assess the area.
Is A Single, Double or Three-Storey Extension Best?
The short answer is… it depends. All three have advantages and disadvantages, and which you choose will depend on your specific circumstances. A double storey extension will allow you to add space to your upstairs and downstairs, but there are limitations on the depth of a double storey as opposed to a single storey extension (while a single storey extension can extend up to 4 metres from the edge of your existing property, a double storey can only extend up to 3m).

In a double storey extension, although the final cost of your build will be larger than for a single storey, the average cost of your build will go down – the foundations and cost of the roofing will be no different, so you are only paying for the additional internal structure, plastering, finishing etc. So, if you're considering having both storeys done in the future, it will work out cheaper to get them both done at the same time.

A third storey, or loft conversion, is another way to add further space while you're getting your double storey extension built. You can have the loft of your existing property converted and connected to the loft of the new extension while all labourers are on-site, meaning you will have all the work (and mess) for only one period of time. It will also reduce costs as you will have no additional call-out charges, machinery hire etc. and the existing waste management (e.g. skips) may cover the additional work.
Will Building A Double Storey Extension Cause Me Any Problems?
With a set of detailed plans drawn up by an architect, an experienced project manager, and well researched and competent labourers, the problems with your project should be minor. There will always be issues that may arise during the build, such as ground issues (slopes, drainage, uncovered pipes), weather conditions, and sourcing of materials/equipment, but experienced project managers and labourers will be able to offer alternative solutions or prioritise different areas of the build as required.

Other issues that arise are more often than not caused by the homeowner wanting to cut corners, either by doing the work themselves, hiring cheap labour, or sourcing cheap materials. Additionally, if the homeowner changes their mind partway through the build, or has not fully conveyed their vision to the architect, then alterations mid-build will cause issues. If you have extension insurance in place, any problems caused by, and not remediated by; your contractors may be covered – you should check your policy documents in this situation. While your building work is in progress, an additional issue could be your neighbours – noise, disruption, mess, heavy goods vehicles, foot traffic, deliveries, privacy etc. can all be challenging, so it is good to discuss this with your neighbours in the beginning and keep them informed as the work progresses.
Should I Move Out While Extending?
If the builders need to have access to every room (or even most rooms) the best way to preserve your sanity and stick to timescales is to move out for a few months. Some builders and conversion companies will simply not do the work in an occupied house in any case. A caravan in the garden is a popular option, though a hotel or short term let on another property is much quieter and more comfortable, though also more expensive. In any case you should always factor in the cost of temporary accommodation.
Will My Extension Raise My House's Future Sale Price?
There is no fixed answer to this. The value of your house will almost certainly increase – the appeal of more living space is always a draw to potential buyers. However, the sale price may or may not increase due to the appeal of the neighbourhood and the value of local properties. Increasing your house's value to £300,000 won't guarantee selling it at that price if all the neighbouring properties are selling for £200,000.
Sources
https://www.gov.uk/party-walls-building-works
https://www.gov.uk/planning-permission-england-wales
https://www.gov.uk/guidance/when-is-permission-required#What-are-permitted-development-rights
http://www.extensionbuild.co.uk/

Last updated by MyJobQuote on 7th February 2022.