Cost of Tree Trimming and Pruning
Want to know how much it costs to trim or prune trees? In this article we breakdown tree trimming and pruning prices so that anyone can get a ball park figure before they hire a gardener.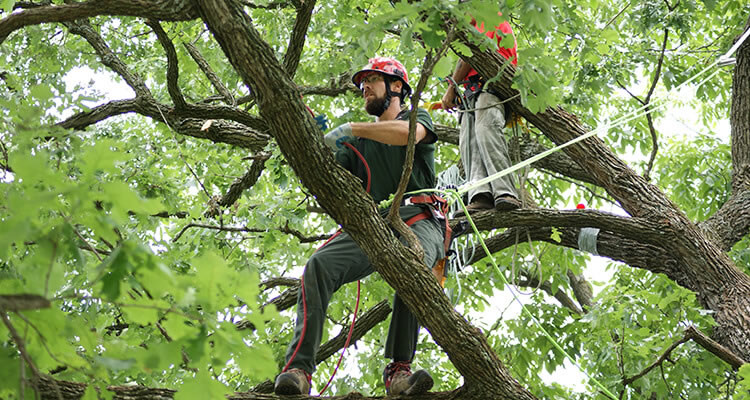 Average costs for having trees trimmed or pruned
This job will normally take around 1 day to complete
£400-£700
How Much to Trim or Prune Trees?
Trees are generally trimmed for aesthetics, safety or health reasons. Pruning a tree can certainly help to maintain its appearance, while removing dead or broken branches can prevent them falling off and creating a serious safety hazard. It is also sometimes necessary to prune an infected tree to save it. Strategically pruning away affected branches and limbs can often save a tree which would otherwise have to be removed. The cost of tree trimming or pruning depends on a number of factors, but is especially important you hire a professional when dealing with tree health or safety issues, rather than trying to do it yourself.

Trees and shrubs can be impacted by pests and diseases so often need maintenance to keep them healthy, most trees need to be trimmed and pruned on a regular basis and even though some tree owners might be enthusiasts with sufficient knowledge that who know how and when to prune and trim, most do not and it is easy to accidentally prune branches too much and cause serious problems. That's why it is important to hire a professional tree trimming service to help.

However, it's really easy for someone to buy some equipment and then simply advertise themselves as a tree cutting professional with zero training or experience. You should always stick with established tradesman or companies with a proven track record, check references and make sure that they are licensed and insured. There are plenty of reputable and experienced tradesman out there, but there are also plenty of cowboys too. The free service provided by Myjobquote.co.uk makes it a lot easier to find reputable local tradesmen or specialist companies in your area. just fill out the simple online form and you will soon have local, recommended companies getting in touch with you to provide additional information and prices for your project.
Tree Trimming and Pruning Prices
| Job Description | Duration | Material Cost | Labour Cost |
| --- | --- | --- | --- |
| To trim/prune an Oak tree | 1 day | £0 | £625 |
| Crown reduction (single tree): | 0.5 day | £0 | £180 |
| Tree survey & evaluation | 1 day | £0 | £425 |
| Tree reductions / pollarding small trees | 0.5 day | £0 | £130 |
Things to consider when trimming trees
For most mature trees it is normally best to prune them during its dormant season, you can technically prune some trees at any time, but it is better to do it when the tree is dormant. But obviously, if parts of a tree are becoming a safety hazard then they need to be trimmed immediately. If in doubt, you should always consult a professional as you can seriously damage or even kill a tree by over pruning. The thicker the tree branch, the more difficult it is for the tree to recover if trimmed, branches which are less than 1 cm can be trimmed without problems as long as you do not prune too many at one time. But once you start getting to branches of 5 cm or more, you should really try to avoid cutting if at all possible, but definitely hire an arborist if you have a good reason to remove larger branches. If you need to thin the crown of a tree, you should keep lateral branches evenly spaced and prune away branches that cross other branches, but not removing more than quarter of the crown at any one time. If more needs to be removed, you should do it in stages over 2-3 years to keep the tree healthy.
Deciduous trees are usually pruned in autumn and winter when less leaves are in the way and the arborist can more easily inspect them. But some trees are best pruned in summer to give them a better chance to heal, whereas trees that are prone to silver leaf disease are best pruned in spring or early summer when the disease spores are not on the wind. Some trees will bleed sap if pruned in the winter or early spring and this is unsightly and could seriously weaken the tree. That being said, most healthy trees will tolerate very minor pruning throughout the year, but it is recommended that you consult a professional for advice if you are planning on doing the pruning yourself. Evergreens seldom need any pruning with the exception of removing any dead and diseased branches, which is best done in late summer.
Doing it Yourself
If you intend to prune trees yourself, you must ensure that prior to beginning any work, you find out if a Tree Preservation Order is in place or if the tree is in a Conservation Area, as the penalties for breaching the TPO legislation can be severe. Once you have established there is no TPO, or you have gained permission, the next thing to consider is safety. Safety is of paramount importance when working on trees, so before you start make an honest appraisal of your capabilities in terms of skills and fitness, thoroughly assess the area in which you or any branches could fall, then if necessary erect warning signs or barricades. If this all seems like too much work or you are in any doubt about your capabilities, then you should hire a professionally qualified tree surgeon or arboriculturist.
If you ar determined to do the job yourself, then remember to work with the natural habit of the tree and start by removing damaged, dead or diseased shoots. If cleaning diseased branches, always clean your pruning tools with disinfectant between cuts to minimise the spread of the disease and safely bag up all trimmed material and dispose of it properly.
Tree trimming/Pruning Tips
Taking care of your trees is a god investment, well cared for mature trees can add value to your property
Different trees lend themselves to being cut at different times of the year
Pruning trees when young can reduce the need for major pruning in later years for mature trees
It might be worth considering the removal of trees that need frequent major pruning
All trees will react to pruning and extreme cutting can cause it to die, so if in doubt, consult a tree surgeon!
FAQ's
What is a Tree Preservation Order (aka TPO)?
A Tree Preservation Order (aka TPO) is an order made by the local Council which makes it an offence to prune, cut or undertake any other works on a tree without the planning authority's permission. Tree Preservation Orders are made to protect trees and to find out if a tree is subject to a TPO you need to contact the local Council Arboricultural Officer, visit the Council's offices to view the Tree Preservation Orders in person.
My neighbour's tree is overhanging my property and the tree is protected, can I trim it?
If the tree is protected then you cannot do any work on the tree without permission from the local Council. However, anyone can make an application to the seeking consent to work on a protected tree, you do not have to be the owner. But if you are not the tree owner, it is obviously good manners to ask permission from your neighbour first. If the tree is not protected, then the Council does not get involved with these issues unless the trees are situated within a conservation area.
What is the best time of year to prune my trees?
Much will depend on the type of trees and how old they are. Although most trees can be pruned year-round, if pruned carefully by a professional. Winter can often be a good time for an arborist to prune trees as it is easier to see the entire tree architecture without leaves so they can check for changes in branch colour, look for fungus growth and easily find and inspect any cracks.
Last updated by MyJobQuote on 1st May 2020.