Cost of Installing an RSJ
Want to know how much it costs to install an RSJ? In this article we look at steel beam prices for different sizes and grades of RSJ, including the costs of hiring a builder to install the beam.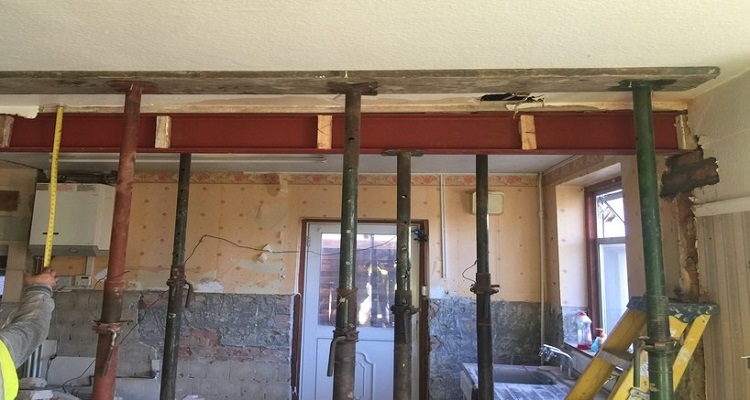 Average Cost of Installing an RSJ:
Typically this job will take 1 to 2 days
£900
An RSJ is a rolled steel joist, steel beam, steel girder or steel lintel. There are several types of RSJ available, but the most common one by far is the "I" beam. These joists are used to support structures, their most common use being when building extensions or renovating buildings by knocking down walls. Installing an RSJ may be possible for DIY enthisiasts, but the calculations required to work out the support required are not!
Building regulations require joists to be sitting on the wall that will bear the load of any structure sitting on top of the joist. It has to be sitting on a strong concrete block to distribute the weight uniformly. Any quote to install an RSJ should include calculations done by a structural engineer and Building Control approval.
To find reputable builders and structural engineers or surveyors, you can post your job on this site for free and have up to 3 local firms getting in touch with you to provide quotes with no obligation.
Typical RSJ Installation Prices
These prices include removing the section of wall, supplying the RSJ (including delivery), and installing the RSJ.
| Job Description | Duration | Material Cost | Labour Cost |
| --- | --- | --- | --- |
| Single doorway 1m RSJ | 1-1.5 days | £200 | £400 |
| Double doorway 2m RSJ | 1.5-2 days | £300 | £600 |
| Large open plan 4m RSJ | 2-3 days | £500 | £800 |
Things To Consider When Installing An RSJ
Before getting a quote for an RSJ installation, you need to remember that part of installing an RSJ is the expert calculations required by a structural engineer, then you need a skilled builder to carry out the work properly to the engineer's calculations. Note also that this type of work will always create a huge mess no matter how careful the builders are! This mess will not only require a lot of cleaning but usually also some re-plastering and re-decorating. Most of the work can be carried out by an experienced local builder, but you will also need a  structural engineer and possibly an electrician and a plumber. Most people handle the final decorating work themselves but some will also need the services of a painter & decorator. There are also a number of additional jobs which may be necessary and will increase the price of the job: installing or relocating a radiator, moving a light switch and/or power socket, perhaps new carpets or flooring, plus party wall agreement legal costs if applicable.
Doing it Yourself
This really is not a DIY project. Installing an RSJ should not even be attempted without hiring a structural engineer for the necessary calculations to determine the correct size of steel beam required. A structural engineer will be a requirement for building regulations approval and then the actual installation should be done by an experienced builder as if there are any mistakes or corners cut, this could compromise the structural integrity of the property. In other words, forget trying to do this job on the cheap and get the professionals in!
RSJ checklist
Installing an RSJ is not a DIY project!
RSJ's are most often used when knocking down walls for support
A structural engineer will be able to work out the correct size of RSJ required
Installing an RSJ will require Building Control approval
FAQ's
Is installing a rolled steel joist a simple DIY project?
Definitely not! This job will require a structural engineer and/or architect as an absolute minimum but a professional builder is also highly recommended! When it comes to structural jobs that have major safety implications then forget about trying to save money by going the DIY route! You can however cut costs by doing the redecorating yourself.
Do I need building regulations approval for an RSJ installation?
Yes, you need building regulations approval if you are extending or structurally altering a building, so installing a rolled steel joist will definitely require building regulations approval, but not necessarily planning permission, though this may also be needed. The calculations and plans done by the structural engineer will need to be provided to the Building Control Officer to get approval.
Will I need planning permission to install an RSJ?
Interior renovations don't normally concern the planning department unless you live in a listed building. However, before making any sort of structural alteration you should complete a Building Regulations application and check with the planning department before you begin any building project as planning rules and regulations do change over time.
What if I need to install an RSJ on a party wall?
If the RSJ will rest on the party wall then it's advisable to contact a specialist surveyor and solicitor to ensure compliance with the relevant Party Wall legislation. In many cases, some sort of legal agreement will be required before commencing any work on a shared wall.
How do I identify a walls which are load-bearing?
Load bearing walls are fundamental to the structure of the building, whereas other walls simply divide up interior space so can be removed without any structural issues. Internal walls are built of either masonry, timber stud or metal frames. Most, stud walls are not load bearing, but this is not a hard and fast rule. Solid masonry walls are also not always load bearing, so unless you have alot of experience in the construction industry it is best to consult an expert before taking down any wall!
Last updated by MyJobQuote on 30th April 2020.