Installing a Skylight or Velux Window Cost
Want to find out the cost of fitting a skylight or Velux window?
Adding a Velux window to your home turns an otherwise darker space into a light and airy vibe. It adds value to your property – even with cheap roof windows, providing a natural ventilation system as long as you install a window that opens
Prices can range from £655 for a small window, including labour costs for 6-8 hours work.
For the larger balcony option, prices can increase to £3470 for 1-2 days' work – if the contractor needs third party scaffolding, expect to pay a further £500.
For even an even more detailed cost breakdown, check out the complete guide below!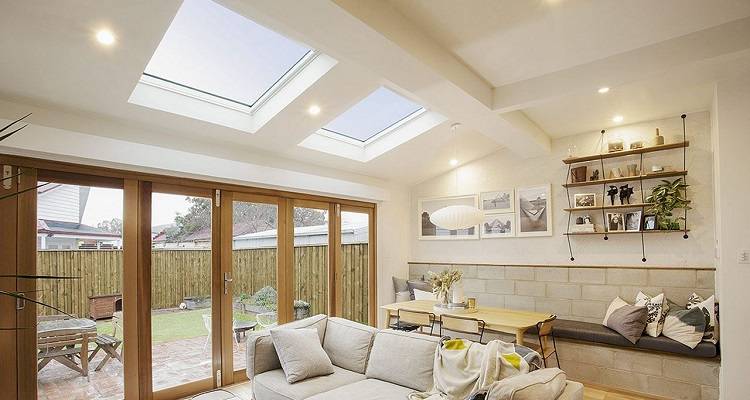 Average Cost of Installing Velux Window or Skylight:
Depending on the complexity of the job, it usually takes: 6-8 hours
£1100
How Much are Velux Windows?
The overall cost of Velux windows can depend on a multitude of factors from the number of windows you have installed and their size, the materials used, labour costs based on your location, among others that will be included in this article.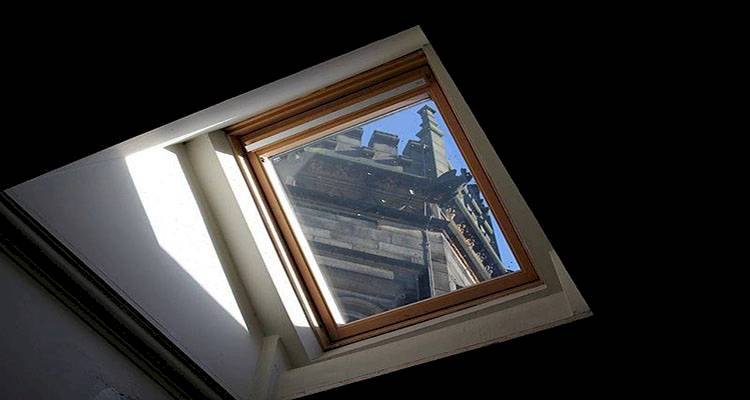 Velux is synonymous with the style, but it the brand name of the company rather than the window as Tannoy is to public announcement system or Hoover for vacuum.
Velux is arguably the most popular choice as it comes in a variety of styles and prices suited to your budget. Choices include:
Roof terrace
Electric top-hung
Balcony
Centre pivot
Top-hung
Electric
Solar powered roof windows
These windows are available in a wide range of finishes – both in terms of interior surfaces; painted wood, wood finish and white polyurethane and exterior finishes; aluminium, copper, titanium zinc and coloured aluminium. Choose from:
Safety glazing
Noise reduction
Energy efficient
Enhanced noise reduction
Premium opaque coating
Finally, there are the operation methods which consist of manual, electric and solar powered. As there are so many choices, let's take a look at a more thorough breakdown of the prices you can expect to pay.
Velux Window Prices
Do note that the variables are incredibly high; you could opt for a centre pivot window with manual control, white painted finish with standard glass, which costs £330. Change the glass to extra noise reduction and the price increases to £630.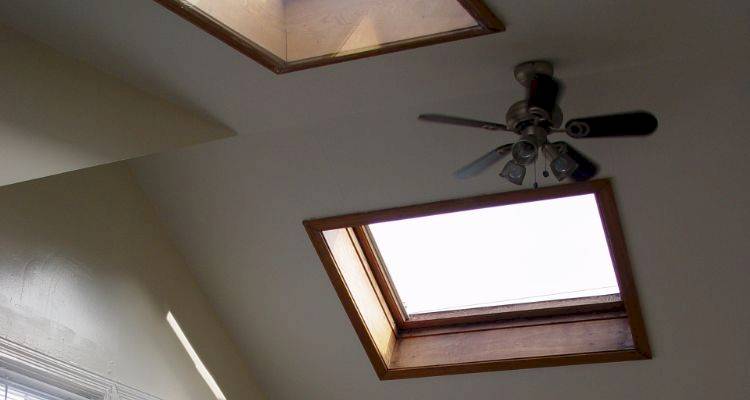 The following tables give a selection using the most common sizes: a small window measuring 66cm x 98cm (the VELUX FK04), and a larger window with the dimensions 134cm x 160cm (the VELUX UK10). *note that not all sizes are available with each method and alternatives are listed*
Velux Window Example Setup
Small
Large
Top-hung, manual control with white painted interior/exterior and standard safety glass.
£755
*smaller size 55x98cm*
£995
Top-hung, manual control with a pine finish interior/exterior and extra low energy glass.
£955
£1195
Centre pivot, manual control with white painted interior/exterior and standard safety glass.
£655
£815
Centre pivot, solar powered control with white polyurethane interior/exterior and extra low energy glass.
£1155
*Only available with standard safety glass*
£1555
Balcony, manual control with white painted interior/exterior, side units, triple glazing with anti-dew coating and flashings.
£3050
*smallest size 78x252cm*
£3470
*larger size 114x252cm*
Labour Costs and Timescales
The previous section includes the average price for supplies and labour, but as a general rule of thumb, the install price will be £325 a day for the work to be completed (expect prices to increase for London and South East areas).
£200 is the daily cost for a skilled tradesperson.
£100-£125 is the average daily cost for a labouring assistant.
As long at the property has ease of access and no additional work is required such as moving furniture out of the way or ensuring that the space is safe to work in, these costs tend not to escalate and usually a controlled job.
With two people completing the job, the timescale you're looking at averages 6-8 hours to complete. That time can differ if the following occurs:
The room isn't ready, i.e. furniture hasn't been moved, and the contractors are unable to gain access internally.
If the roof doesn't appear strong enough, they may need to reinforce the rafters or even use smaller windows than planned.
Balcony setups are a larger job and are unlikely to be completed in 6-8 hours, more likely 1.5 days or more.
Additionally, windows will add to the time, but all the work can be completed at the same time so will not add too much time to the project – unless installing two balcony windows!
The size of the window will affect the job in two scenarios: whether there is enough space to install one or more, or whether the roof can structurally support it.
One other area worth noting is that in order to stay within the permitted planning permissions, builders need to adhere to the rules. Consulting the Planning Portal online will verify the requirements.
Most jobs are done internally, but larger operations or hard to reach places may need scaffolding. Unless the contractor provides this service, it could cost around £500 from a third party, though work can usually be completed within the day.
Supply Costs
Velux window sizes and prices are quite overwhelming. The cost of the supplies will be purely down to the size of the window(s) you require and the finishes that are applied.
In comparison, a small Velux FK04 centre pivot with standard options and manual operation will cost around £330.
The very same setup with a solar option being the only amendment will cost £750.
Factor in an average of £325 for a tradesperson and labour assistant and the price adds up.
Below is confirmation of the prices you can expect to pay without the costs of labour. Following this list includes the additional costs you can come to expect.
Velux Window Example Setup
Small
Large
Top-hung, manual control with white painted interior/exterior and standard safety glass.
£430
*smaller size 55x98cm*
£670
Top-hung, manual control with a pine finish interior/exterior and extra low energy glass.
£630
£870
Centre pivot, manual control with white painted interior/exterior and standard safety glass.
£330
£490
Centre pivot, solar powered control with white polyurethane interior/exterior and extra low energy glass.
£830
*Only available with standard safety glass*
£1230
Balcony, manual control with white painted interior/exterior, side units, triple glazing with anti-dew coating and flashings.
£2400
*smallest size 78x252cm*
£2820
*larger size 114x252cm*
Additional Costs
There's a surprising amount of additional materials required for installing a Velux window – most of them being a paramount addition to the job. Below is a non-exhaustive list of other costs you may encounter to the window and labour costs.
| Additional Material | Cost |
| --- | --- |
| Scaffolding (not typically required) | £500 a day for aluminium towers |
| Flashing kit | £100-150 |
| Individual tiles | 60p-£1 per tile |
| Blinds | £80-140 |
| Telescopic pole to open the window | £20 |
| Solar conversion kit | £180 |
| Vapour barriers to prevent condensation | £54 per 37.5m2 |
| Roofing felt 50m x1.5m | £75 |
| Sealant to make waterproof | £3-£6 |
| Roller shutter | £330-£520 |
Cost Factors of Installing Velux Windows
Many factors affect cost. From your location (London and the South East being more expensive), the size of the materials, whether accessible and the time involved, there are specifics that affect the installation of a Velux window.
Size of window
There is a lot of options to choose from when it comes to the size of the window. The smallest Velux window, most suitable for a smaller room, starts at 47x55cm, whereas the balcony option exceeds to 238x252cm.
The latter is expensive but offers more light and dramatically increases the value of the property as you are essentially adding a balcony to the property. Smaller windows are arguably better suited for ventilation and saving on energy costs more than for aesthetic reasons.
Type of window
As mentioned above, due to the sheer size of that these windows can increase to, the form factor changes. In the balcony option, it is exactly that, and the windows unfold to create a pseudo space for your home.
The most common type is the centre pivot. The window sits in the centre of the frame, effectively opening the top and parts of the window and is the cheapest option. The second is the top-hung; slightly more expensive as the window opens from the top allowing the window to open fully, operating as an emergency escape point too.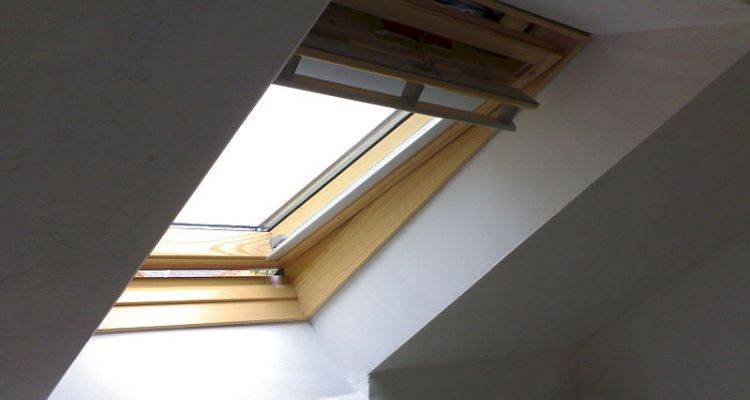 Ease of access
Fitting Velux windows shouldn't be a complicated procedure as almost all of the work is completed internally. Still, if the workers can't gain access to certain parts of the roof, there may be the need to install scaffolding.
This will allow better access to the outer part of the property, make transporting the new windows and removing the existing ones, if applicable, both easier and much safer. As has been reiterated, most contractors can provide these in their fees, but third-party options usually come in at £500 per day.
Number of windows
Sometimes it is more efficient to add two smaller windows instead of one larger. The primary reason for this is the structure itself needs to be able to support the weight of the window.
Interestingly, while this creates more work as two areas need to be prepared instead of one, it doesn't add too much time to the job – potentially 3-4 hours is a reasonable ask. As most contractors charge at a daily rate, the labour costs don't cost any extra, but you will need to purchase another window and the supplies that go with it.
Waste disposal
Most quotes will include the disposal of an older window if you are having it replaced (ensure that you get this in writing upfront). Bear in mind that a lot of these windows can be salvaged so you could always sell on an online auction site, or locally Prices can stem from £30-£220 depending on the model and condition.
You can expect to pay £10-£20 extra on average to take to the local refuse point, along with any additional refuse from the refit if the price isn't in your quote. Alternatively, you can arrange the local authority to collect on the next refuse collection – prices vary according to region, but some will take for free.
What's Involved in Installing Velux Windows?
Velux windows installation is more time consuming than complicated, though that shouldn't undermine the works as it's imperative to maintain the strength in the existing structures and following Building Regulations. That said, the following lists the steps:
Removal of existing felt/membranes and tiles
An area needs to be marked out where the window will be installed. It begins with marking on the rafters the outline of the frame, then the centre point and cutting through the existing roof membrane to the tiles.
Slowly removing each roof tile until the battens are exposed, the battens are cut alongside the rafters, allowing further access to the outside area and to create the space where the frame will be affixed. Tiles are moved past the cut-out area, allowing for the flashing to be installed.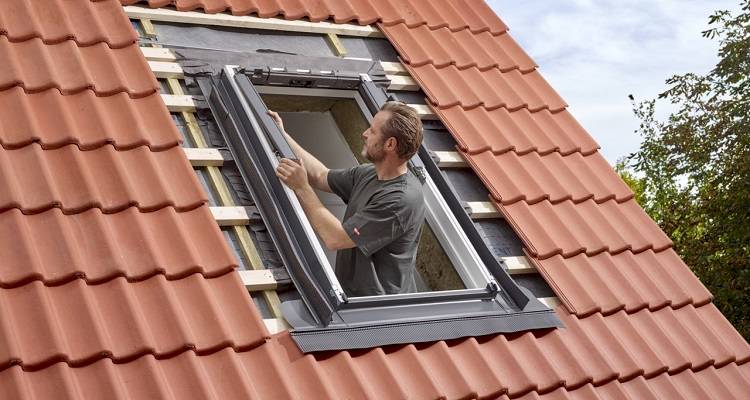 Installing the frame
Trimmings are installed around the openings, infilling around the rafters to ensure that the area is squared off so that the frame can sit flush. Removing the sash, the opening part of the window that pivots, the remaining part of the frame is secured to the battens so that it sits on top, then firmly screwed into place.
Once in place, the flashing is installed around the frame and blended in with the remaining tiles. The lower section is installed first, working up to the top. Any additional work on the tiles can be completed at this stage as the next step is to reinstall the sash.
Affixing the sash and making good
The final steps include reinstalling the sash and attaching to the pivot mechanism and lining everything back up. Depending on the setup inside, lay new membranes if necessary and making good any other work that needs completing.
Two windows can be connected next to each other, but in most situations, they are separated, allowing more light in and they don't put added pressure on the roof.
What Are the Benefits of a Velux Windows?
Installing a Velux window or two into your property will mostly add natural light to a room and is cost-effective when it comes to energy bills. However, that's not the only benefit as it can also add value to your property, among other benefits.
Add natural light into the property
Natural lighting is visually appealing. Depending on where the window is located, you could end up with more light than anticipated, but it's a brightness that's welcomed over the glare of a lightbulb!
Better ventilation
Letting in the summer breezes instead of a desktop fan circulating old air, that makes a whirring sound is much more desirable. Extra ventilation will help change the stale air of a room, equally making it much more efficient in terms of energy in particular seasons.
Save on energy bills
While it's not commonplace to have air conditioning in domestic buildings in the UK, so many households rely on fans to keep cool and circulate the air; obviously using electricity.
Simply opening a window cuts that costs – the same as it does for having so many lights on at the same time.
A Velux window or similar skylight window is positioned at an angle maintaining your privacy so there will be many occasions where you can rely on the light of the moon and stars rather than a light bulb to light the room.
Looks good
On the outside of the property, these windows are also aesthetically pleasing as it breaks up the monotony of tiles or dull, uninspired roof tops. Installing Velux or another type of skylight will also add value to your property.
Get rid of mould/mildew
In addition to a fresh supply of air into a room, the likelihood of condensation also drops – linking to the energy efficiency of these windows.
In turn, this will help get rid of mould and mildew and require less maintenance.
While extractor fans have their uses, opening a window after a shower or cooking will help prevent mould and mildew.
Can I Install My Own Velux Windows & Skylights?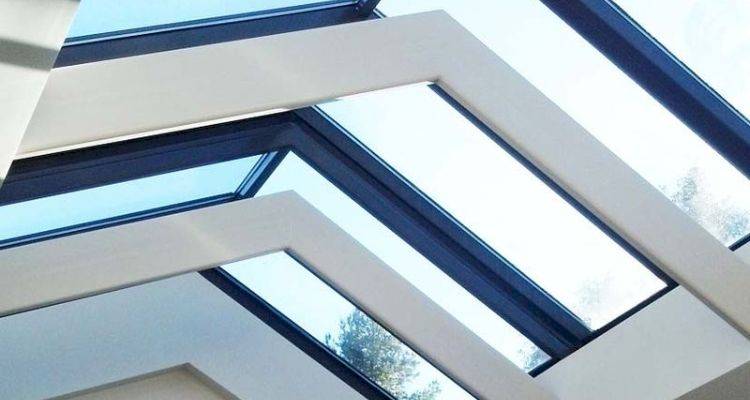 There will be a degree of what you can DIY and what needs to be completed by a professional. Unless you have ample experience and the tools required to do so, it is highly advised to hire someone to complete the work.
Factors to consider when installing a skylight include, but not limited to:
The required tools to cut into the structure.
A circular saw – various blades may be needed if cutting through metal and wood.
A drill to secure all fittings.
Safety equipment such as gloves, goggles and a mask for when cutting.
Noting the location of the sun's path; this can increase the heat in a room.
You may require a light shaft to direct the light into the room.
Ensure that the frame is watertight.
You may need to install new drywall, in turn that creates the job of plastering then making good.
The simpler part of the task would be the making good, i.e. decorating the area once complete as all other aspects of the job, while straightforward on paper, can be a very complex task due to the structural risks.
Installing a Velux window or skylight can be undertaken under permitted development, but do note that Buildings Regulations apply if the window:
Protrudes more than 15cm of the roof's plane.
Makes changes to the chimney, vent pipes, flue and/or solar panels.
Exceeds the roof ridge or is higher than the roof's highest point.
Is over 1.7m above the ground.
It must be obscure glazed.
Cannot be opened.
If none of this applies and you have the skills and experience to carry out the work, then you could save on the labour costs averaging at £325 per day. While you save on the labour, you increase the time it will take and raise the risk that you could potentially damage your home and injure yourself.
Types of Skylight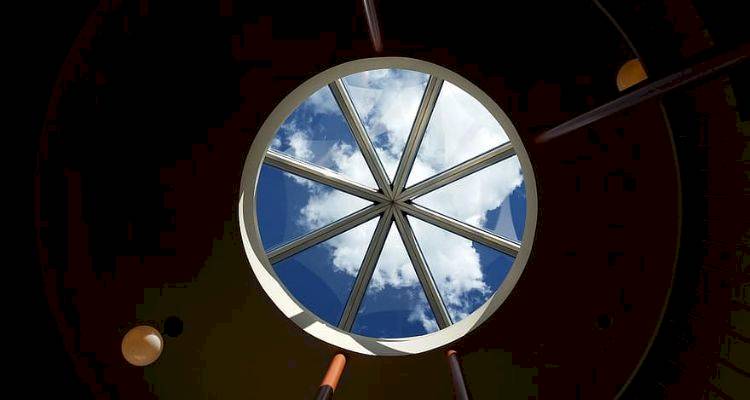 There's quite the selection when it comes to skylights in general, and below we look at the main types, listing their advantages and disadvantages.
Roof Terrace
Roof terraces resemble the Velux balcony option, though rather opening out like a concertina effect, the windows follow the contours of the room and open up liked a large hinged doorway.
Pros
✔ Really floods the room with natural light.
✔ Easy access to the balcony.
Cons
✖ If inadequate blinds are installed, the light can be blinding.
✖ Lack of privacy.
✖ High costs.
✖ Requires an enormous amount of space.
Electric top-hung
Operated either with a remote control or fix a switch, these options are exactly the same as a standard top-hung but with the benefit of being able to be controlled electrically and without using a pole.
Pros
✔ Convenient and doesn't require manual operation.
✔ The window opens completely.
✔ An additional escape route in the event of a fire.
✔ Unobstructed views.
Cons
✖ Highlights a safety issue as children may be able to fall out.
✖ The weight of the window is placed on one pivot.
✖ Unless blinds are installed, the light can be blinding at times.
✖ Harder to clean than a centre pivot.
✖ Unable to operate in a power cut.
✖ When fully extended, vulnerable to strong winds.
Balcony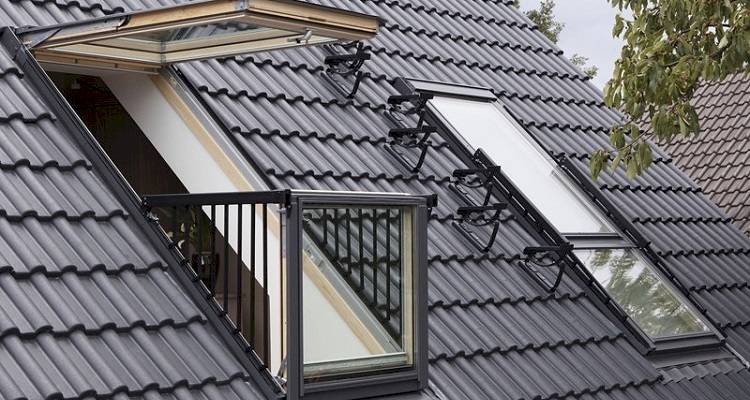 The balcony setup can be a little more involved than a simple pivot window as the balcony can comprise of fixed frames and pivoted panes.
Pros
✔ Allows plenty of light into a room.
✔ Added space where limited.
Cons
✖ Temporary space; not an affixed, permanent space.
✖ Very costly.
✖ Requires adequate space and secure structure.
Centre pivot
This is one of the most popular models where the pivot sits in the middle of the frame, allowing the window to be tilted allowing ventilation through the top and bottom.
Pros
✔ Most cost-effective option.
✔ Easy to clean and maintain.
✔ Easy to install (for a professional).
✔ Better security as difficult for people intruders to get in.
Cons
✖ Can't be considered an escape point as doesn't open fully.
✖ Can amplify outside noises such as the rain.
✖ Unless blinds are installed, the light can be blinding at times.
✖ Manual operation.
✖ Roof leaks if not closed correctly.
Top-hung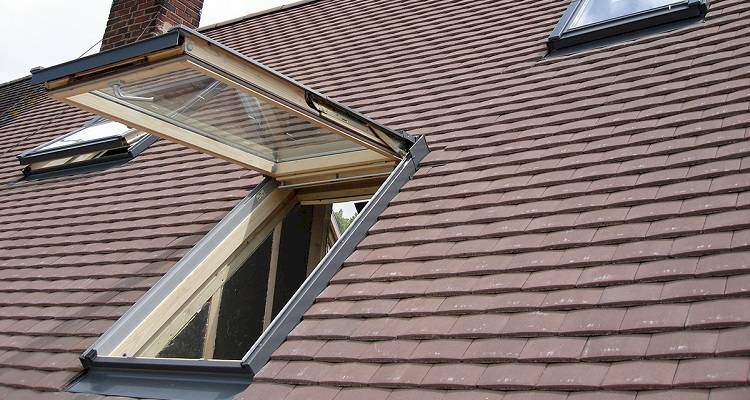 Similar to the centre pivot in every way, only the window opens up from the top hinge, meaning the window opens completely. This has an added benefit of an escape location in the event of a fire.
Pros
✔ The window opens completely.
✔ An additional escape route in the event of a fire.
✔ Unobstructed views.
Cons
✖ Highlights a safety issue as children may be able to fall out.
✖ The weight of the window is placed on one pivot.
✖ Unless blinds are installed, the light can be blinding at times.
✖ Harder to clean than a centre pivot.
✖ Manual operation.
✖ When fully extended, vulnerable to strong winds.
Electric
Electric applies to most of the options and is more a luxury as all the windows can be operated manually. However, this can be a nuisance and also risks the user getting hurt if they are accessing at an elevated height. Best for convenience, if the budget allows it.
Pros
✔ Convenient and easy to use.
✔ Can be set up with smart home apps.
Cons
✖ Adds to energy consumption.
✖ Expensive to install.
Solar powered roof windows
Similar to the electric option, but the most expensive, solar powered roof windows save money on energy costs long term and are better for the environment. The panels themselves are quite subtle and many would argue that they look good too.
Pros
✔ Cost-effective long term.
✔ Reduces energy costs.
✔ Discreet and environmentally friendly.
✔ Best location for solar energy!
✔ Can be set up with smart home apps.
Cons
✖ Expensive initial costs.
✖ The UK doesn't get that much sun.
Types of Glass for Velux Window & Skylights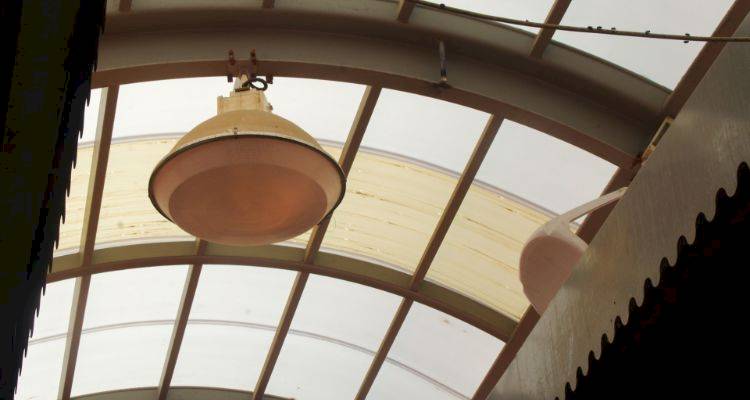 Continuing with the many available options for your new Velux window is the type of glass available. By default, all Velux loft windows have a standard safety glass, but there are energy efficient choices too, among others.
Safety glazing
The standard glazing installed in all Velux installations by default is the safety glazing. It's a cheap option, not the most energy efficient, but perfectly adequate for most households.
Pros
✔ The standard option and therefore the most cost-effective.
✔ Easy to maintain.
Cons
✖ Doesn't cancel outside noises.
✖ Least energy efficient.
Noise reduction
Due to the positioning of most skylights, due to the angle they sit at, they amplify outside noises that perhaps may have been ignored before – notably the wind and rain.
Pros
✔ Actively reduces outside noises.
✔ Usually triple glazed
✔ Energy efficiency
✔ More secure
Cons
✖ The price.
✖ No guarantee that it will cancel all sounds out.
Energy efficient
Energy efficient windows will save you money in the long run. By default, Velux windows offer this, but the panes used in these windows protect against loss of heat in the winter months and protect again overheating in the summer months. You can see more in the Velux window price list.
Pros
✔ Cost-effective long term.
✔ Reduces condensation.
✔ May offer some reduction in noise.
Cons
✖ Expensive.
✖ Other areas of the home may still be energy inefficient such as poor loft insulation, making these windows redundant.
Enhanced noise reduction
Additional layers are used in this method to further cancel out noises. It has the added benefits of being energy efficient and offers another layer of security, but noise leakage can still get through other parts of the house.
Pros
✔ Further layers of glass cancel out sound.
✔ Improvement to energy usage.
✔ Reduces condensation.
Cons
✖ More expense.
✖ Not guaranteed to cancel out all noise.
Premium opaque coating
Pros
✔ Offers an additional layer of privacy.
✔ Energy efficient.
✔ Protects against harmful UV light.
Cons
✖ Less sunlight in the winter months.
✖ Will impact your view of outside.
Interior Finishes for Velux Window & Skylights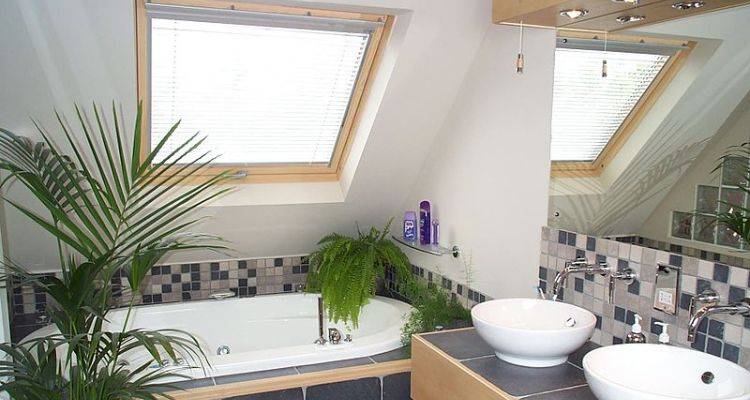 By default, Velux window interiors are often constructed in wood, but they are usually painted. There is of course the option to have natural wood to make it more visually pleasing and sometimes it's easier to maintain.
For those with the added budget, polyurethane is much harder and may be the better option.
Interior
Comes as standard with all Velux window prices, offering a pleasant appearance, but does require touch up work overtime.
Pros
✔ Usually white but can be colour coded to match the room.
✔ Standard option and the lowest price.
Cons
✖ Requires a fresh coat of paint over time.
✖ Vulnerable to rotting and damp.
Wood finish
Similar in price to painted wood and usually available in the more affordable pine, a wood finish can be aesthetically appealing to most, but doesn't handle damp or rot very well.
Pros
✔ Visually pleasing.
✔ Doesn't rust.
✔ Default material is pine, but available in other options.
Cons
✖ Requires treatment to maintain finish.
✖ Prone to rot and damp problems.
✖ Certain woods can be expensive.
White polyurethane
Common in most double glazing due to its many resistances and energy efficiency. Polyurethane can't be easily customised so is available as standard in white and also has a weakness to warping.
Pros
✔ Energy efficient as included insulation.
✔ Easy to maintain.
✔ Non-corrosive and UV resistant.
✔ Prevents condensation.
Cons
✖ Cannot be coloured.
✖ Possible expansion in extreme heat.
✖ Prone to warping.
Exterior Finish for Velux Windows & Skylights & Skylights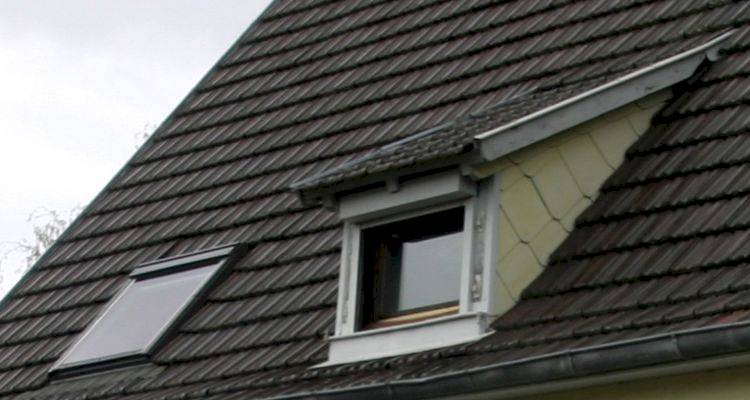 Opting for a cosmetic solution isn't always a priority as often you are unable to see the windows from ground level, but that doesn't restrict the many options available. On a more practical note, certain materials do offer better resistance and have more durable.
Grey aluminium
Pros
✔ An alternative to standard aluminium, which can be dull to some.
✔ Cheaper than other metals.
✔ Not great with saltwater
✔ Doesn't warp.
Cons
✖ Not great with saltwater
✖ Can appear a little bland on some properties.
✖ Not very energy efficient.
Copper
Copper is on the higher end of materials and can quickly add to the bill. Visually it is one of the most appealing and sought-after options, doesn't suffer with warping, great with condensation and energy efficient.
Pros
✔ Makes a bold statement on appearance.
✔ Doesn't have issues with warping.
✔ Relatively low maintenance.
✔ Excellent with moisture.
✔ Energy efficient.
Cons
✖ Very expensive.
✖ Can be an acquired taste when it comes to matching the rest of the home.
Titanium zinc
Not such a common material but it is growing in popularity. The price on titanium zinc varies, depending on demand, so can be a little inconsistent when pricing up. However, it is very eco-friendly, works well with moisture and has low maintenance.
Pros
✔ Low maintenance.
✔ Resistant to corrosion.
✔ Works well with moisture.
✔ Eco friendly.
Cons
✖ The price can fluctuate depending on demand.
✖ Not as attractive as copper.
Coloured aluminium
Relatively easy to maintain and cheaper than other metals, coloured aluminium is ideal for those looking for more customisable options but with less of a budget than copper.
Pros
✔ Many colour options that are anodized onto the metal.
✔ Cheaper than other metals.
✔ Relatively thin and looks stylish.
✔ Doesn't suffer with warping.
Cons
✖ Easily corroded by saltwater if you live close to the sea.
✖ Is the least energy efficient metal as loses heat and quick to get cold.
✖ Prone to condensation.
Manual, Electric or Solar Powered Velux Window & Skylights?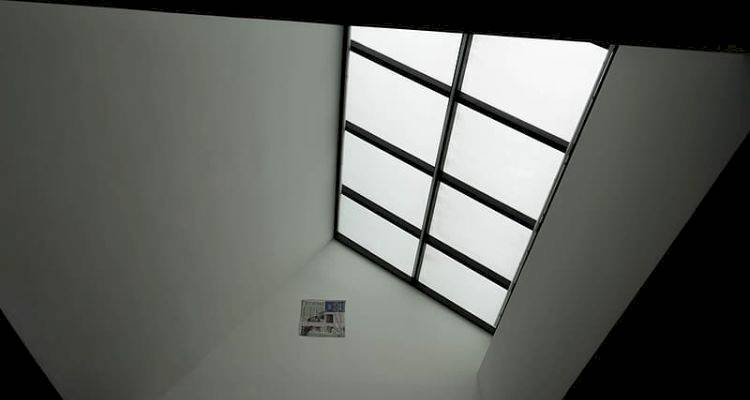 The electric and solar options are mostly convenient so that you can use a remote to operate the window, with the latter saving on energy in the long term. Fundamentally, all the windows still operate the same way.
Manual Powered Velux Window & Skylights
The standard and cheapest option does have the exact same effect as the other options, though it is the least elegant and a little inconvenient unless you have a pole.
Pros
✔ Cheapest option.
✔ No reduction in function.
✔ Easy to install.
Cons
✖ Safety risks when it comes to standing on object to reach the handle.
✖ Time consuming.
Electric Powered Velux Window & Skylights
More expensive than the manual option, but significantly more convenient. Users can open the window with a remote control, or a switch affixed to the wall.
Pros
✔ Convenient.
✔ Reduces risk of injury.
✔ Aesthetically pleasing.
Cons
✖ Adds to the costs of energy.
✖ Expensive to install.
✖ If it breaks, difficult to open the window manually.
Solar Powered Velux Window & Skylights
The most expensive option but better for the environment, saving money in the long term when it comes to energy bills.
Pros
✔ Convenient.
✔ Also reduces the risk of injury.
✔ Good for the environment.
✔ Can be operated with a remote or switch on the wall.
Cons
✖ Very expensive.
✖ Relies on sun energy which isn't the most effective in the UK.
✖ Difficulty in operating when there is no power.
Window Window Sizes: What Size Velux Window Do I Need?
Velux windows are available in a wide range of sizes, with the smallest window starting at 47x55cm at around £300-670 – the latter being a top specification, with the much larger scale roof terraces that go up to 238x245cm and cost £7405 for the high-end options, not inclusive of installation.
Determining which size to go for depends on the usage. For ventilation of an ensuite or kitchen, a smaller window should be fine – either a top-hung or centre pivot would work. For adding more light to a room, a larger option would be the UK10. Bear in mind that if the space and existing structure allows it, having two smaller windows can be equally beneficial.
The most common of the smaller sizes is the VELUX FK04 at 66x98cm, with prices starting at £330 for the unit.
The UK10 measure at 134cmx160cm at the starting options are £815.
Of course, if you have a truss-framed roof, you may already be limited to windows that do not exceed 60cm.
Can I Have a Velux Window Installed?
Velux windows are designed for a variety of homes in terms of opening mechanisms and sizes. For most scenarios, the standard option will be more than suitable but will always depend on whether your existing roof will support it.
A truss-framed roof isn't designed to be cut after construction so if you have this style of construction in your home, a Velux window might not be the ideal option and usually restricted to the widths between the rafters – in this case up to 60cm.
A Velux window can still be installed, but up to the 60cm width. The smallest option is the CK01 measuring at 55x70cm and with the standard options will cost on average £615, including fitting.
An alternative to a Velux window could be a non-opening vented window. For a 55cm x 118cm window, expect to pay around £635, inclusive of labour costs.
Further options can include a sun tunnel – a metal tube that connects to a skylight above, offering natural lighting, with prices averaging around £260 plus installation costs. While these are a cheap option and an alternative to a Velux window, they do not serve any ventilation purposes and are purely for lighting only.
Do You Need Planning to Install Velux Roof Windows?
You do not necessarily need planning to install a Velux roof window as there is a certain amount allowed under permitted planning. However, if your proposed work exceeds this, you will need to seek planning permission.
Factors that require planning permission:
If the window protrudes more than 15cm of the roof's plane.
The project requires changes to the chimney, vent pipes, flue and/or solar panels.
The window exceeds the roof ridge or is higher than the roof's highest point.
If the window is over 1.7m above the ground:

It must be obscure glazed.
Cannot be opened.
Generally speaking, the above won't apply to most jobs but in the event that you need to apply for planning permission, expect to pay around £206 for an application, which would fall under an application for extensions and garden buildings. For further information, it's worth reviewing the Planning Portal website.
Building Regulations for Rooflights
As installing a rooflight will be affecting the structure of your roof, it is inevitable that this applies to Building Control. Thankfully Velux windows adhere to Building Regulations, so you simply make the application and ensure that it follows the requirements. Application costs vary depending on your local Building Control office.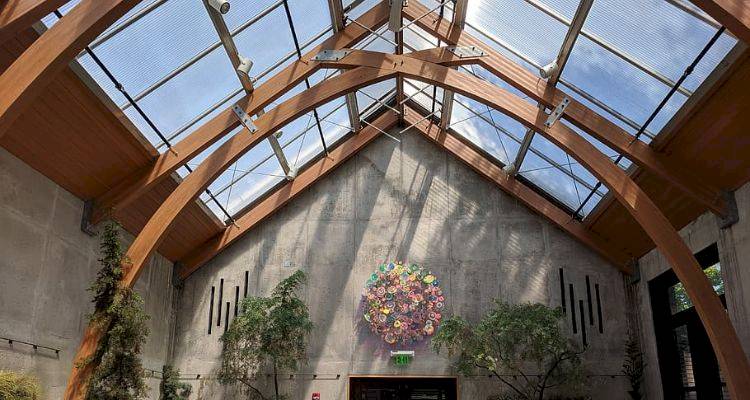 If a structural engineer is required to inspect the property independently, expect to pay an hourly rate of £50-£90.
Please also bear in mind that while a rooflight will affect the structural part of a home, it's important to remember that you will need to consider fire regulations as well as thermal insulation. This is another reason why it's important to have a professional to carry out the work as through their experience, they will be able to advise on the appropriate steps.
How to Open a Velux Window
Having a section on opening a Velux window seems counterintuitive, but it's important not to dismiss the hazards it can pose. Due to the nature of the design, the vast majority of these windows are installed out of reach so often it requires standing on a chair to access the handle – which is usually a bar that is pulled, similar to a fire door.
This might not be a suitable option for you long term, plus there's the risks of falling and hurting yourself. The first cost effective way is to use a Velux window pole. These poles, telescopic in design, range within the £20 region and hook onto the bar so you can open with ease.
Should budgets allow, you can choose an electric operation that can be perform by pressing a switch. Velux extensions cost from £200-400 – the price being determined by the size. For energy efficient solutions, the solar powered window is more expensive, averaging around £600 for a unit, but saves in the long term based on energy usage.
How to Clean Velux Window & Skylight
Velux windows don't require a specific cleaning routine; that is, they are just the same as any other household window for the actual cleaning process, but it's the accessibility that poses the challenge.
Balcony windows and centre pivots are the easiest to clean and also the safest, as they can be cleaned through manoeuvring the windows accordingly, with minimal risk. However, clearing top-hung windows require access to the outside and other than manually disassembling each time you wish to clean, it's advised to hire a professional window cleaner.
Each window requires a different process, but the general consensus is that gaining access to the outside roof is dangerous if you don't know what you're doing. With the average cost being within the £40 region and only taking 1-2 hours, it's recommended that you hire someone to do the job for you. For further details on this option, you can read more on professional window cleaning cost.
Skylight Repair Cost
Repairing a skylight varies in price as it varies in the task. In most scenarios, the process involves replacing the window, but it may also mean updating additional materials like inner membranes of flashing kits (on average, the latter costs around £100).
The average cost of replacing a small skylight will cost around £500, whereas a Velux of the same size will be slightly more at £550. Both options can be completed in around 4-6 hours.
If replacing a large skylight, the price increases to £700 and a Velux window more likely to be £800. Again, the process is more or less the same so you can expect the work to be completed in 6-8 hours.
In addition, you could be looking at replacing additional roof tiles at 60p-£1 per tile as well as the roof lining if it has been exposed. Of course, reinstalling the window would mean ensuring it was watertight so using a sealant would assist that – expect to pay £3-£6.
Most professionals will quote for the job as a whole, but if the contractor was to expose a problem such as weakened timbers, you may have to pay for additional hours. The average hourly rate is going to be around, taking into account this may spike if you live in the London or South East areas.
Cost of Removing a Velux Window
There a range of reasons why you would remove a Velux window, but the most common are through upgrades or for aesthetic purposes. For the latter, there are so many options available that when you first had the windows installed, maybe only a plastic finish was on offer, but now there are other options such as coloured aluminium.
Alternatively, perhaps you will replace one window with a larger one or being swapped out for two. It's rare to hire someone to just remove the windows as they will need to be replaced like-for-like, or if they are no longer required, the empty space needs to be filled and the professionals removing these for you are likely to complete that work anyway, including the cost in the overall quote.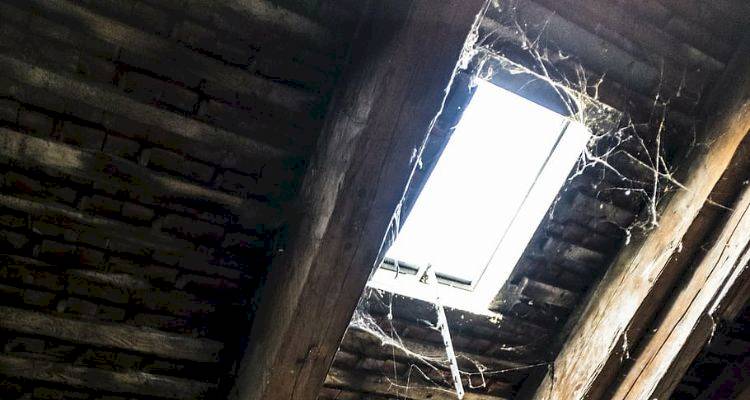 As covered earlier in this guide, there are no special requirements for the disposal of these windows, and pending they are in good condition, it might be worth selling them online or locally for a profit.
You could take them to the tip if you are able but if you want to hire someone to dispose of your old windows this will be in the region of £30-£75 and it's unlikely that you would need to hire a skip. Even better, some local authorities can offer a free collection or charge a minimal fee, but this can vary depending on your location, so check with them first.
Hiring a Velux Window Fitter Checklist
The same applies to most checklists when you hire a professional, but there are a number of elements that apply when a profession will fit your Velux window.
Get a minimum of two quotes from at least two different providers.
Get the quotes in writing and ask about any additional charge or day rates if the work exceeds the estimated timescale.
Discuss with the contractor what options are available and how they will specifically benefit your property, i.e. would it be structurally suitable for one large window or two smaller ones?
Other than aesthetics, ensure that you are aware of the benefits of the materials used such as the type of glazing.
View previous work the contractor has completed and seek out real testimonials.
Check out their qualifications. While there aren't specific qualifications needed for Velux window installers, they need to be familiar with the criteria in the Buildings Regulations so that you aren't left with additional work once the job is completed. That said, it would be beneficial if they are a member of the Glass and Glazing Federation, and possibly a bonus if they're listed under the Velux Certified Installer registry.
FAQs
What size Velux window do I need?
There is a great deal of Velux windows available for each scenario, but they generally range from small to large. Sometimes a large window will be sufficient when it comes to light, but you need to ensure that the structure can support it.

In these cases, two smaller windows may be better, and it's recommended to have someone look at the property first. The size can also depend on the function as you may want a larger window for your balcony to peer out, or something more discreet that lets out any build-up of condensation in an en-suite.
What is a Velux window?
A Velux window is a brand name that has been adopted for most skylights throughout the UK. There are other popular brands such as Roto, but they usually offer the same benefits of making a space feel larger by letting in more natural light, cutting costs on energy bills and providing better ventilation, and in some respects, they can offer an additional evacuation point in the case of a fire.
How to remove a caravan skylight?
A caravan skylight is different to those installed in the conventional home and the manufacture and structure can differ greatly. Thankfully, the process is much easier than a Velux window. Most setups require a Torx screwdriver and can easily be completed by a DIY enthusiast.

Ensure that you have a safe environment to work in as you would need to remove from an elevated position. The construction is more like a loft hatch, so you can access all parts such as the frame, usually made out of acrylic, with limited tools.
Is a Velux window safe for my children?
While a top-hung Velux window opens fully, allowing a larger intake and potential exit point, this poses a massive safety aspect if your child attempts to open or climb out.

With most windows, they're out of reach, but for balcony-based windows, there are numerous methods such as locking devices and the method of installation that make these as safe to have in your home as any other option.
Can a Velux window add value to my home?
Absolutely. While it won't increase the value as much as a loft conversion my offer, the benefit of additional light, ventilation and an improvement on energy bills will have a long-term impact and will appeal to homebuyers. Arguably more important, skylights make a property more enticing and are visually pleasing!.
Sources
https://www.roofwindows4you.co.uk/news/skylights-roof-window-planning-permission
https://www.planningportal.co.uk/info/200130/common_projects/47/roof/5
https://www.roofblinds.co.uk/catalog/other-products/accessories?gclid=Cj0KCQjwm9D0BRCMARIsAIfvfIaDuDaYtW5_VJ8gJrIpJ54DNXZ6wqbrob99WTYScwKJGKHVmJDaieIaAmcqEALw_wcB
https://www.velux.co.uk/roof-window-configurator

Last updated by MyJobQuote on 18th March 2022.