Cost of installing Velux Window or Skylight
Roof window installation and price guide.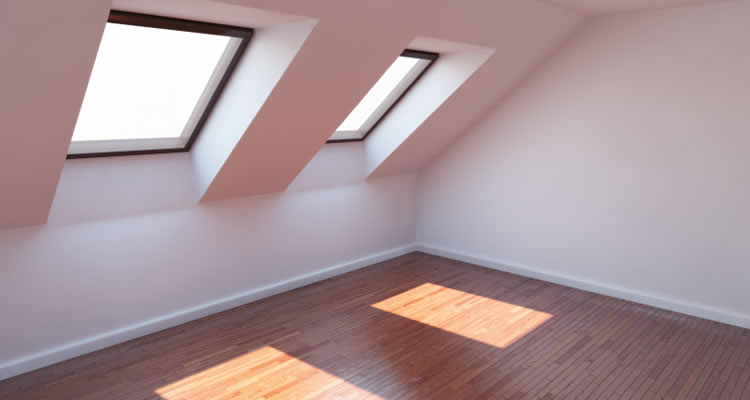 Typical price for a Velux window instalaltion
This type of job normally takes around 1 day
£665
Table of Contents
A roof window is a fantastic way to bring more light into a room as they allow the sunlight to transform those dark and dingy areas of your home and can add value of your property too. Roof windows are often called Velux windows, even though Velux is actually a brand name for a particular roof window manufacturer. Roof windows or sky lights come in a variety of forms, shapes and brands, with Velux being just one of the more popular manufacturers.
There are a large variety of styles and designs to suit all types of property too plus numerous features to choose from including locking options and even remote opening mechanisms. Having a roof window fitted is not cheap, on top of the window cost itself, the labour required can be expensive as roof timbers will need to be cut and you may also need some extra roof supports and even some plastering after the job is completed.
This is not really a good project for a DIY enthusiast, so you will have to find a good tradesman to fit the window for you. If you do not know of any reputable contractors locally, you can use the free "find a tradesman" system on this website. Simply enter a few brief details about the job and how tog et in touch with you, then let us contact up to three local tradesmen so that they can contact you and provide quotes!
Example roof window prices
| Job Description | Duration | Material Cost | Labour Cost |
| --- | --- | --- | --- |
| Install small Velux window for a bathroom | 1 day | £750 | £300 |
| Larger roof window install for stairwell or loft conversion | 1 day | £900 | £350 |
| Small Velux window replacement if you've already got a roof window | 0.5 days | £750 | £150 |
Points to consider
There are a number of factors which you need to be aware of with roof window installations, all of which can increase the price. For example, scaffolding if required can easily add a few hundred pounds to the price, although you'll not normally need scaffolding if you're just having a simple Velux window installed, sometimes access is difficult so scaffolding will be required at extra cost.
Vapour barriers will also need to be added to prevent condensation on all new roof window installations, and extra features such as remote opening, security or tinted glass, opening rods and blinds or shutters can all cause the costs to spiral out of control if you are not careful. To keep the costs down, you can opt for a simpler roof window rather than a Velux window, and be careful with the special features.
Though adding a roof window of any type is not cheap, it will often add value to your property and may not be as expensive as you think. Pay particular attention to ventilation when fitting a roof window to a bathroom. Velux and other roof windows now offer variable ventilation settings which are essential in bathrooms where moisture and condensation can build up.
Doing it Yourself
Normally Velux and other roof windows can be fitted entirely from the inside, so there is no need to access the roof or hire scaffolding. The windows also come with detailed installation instructions, however, installing a roof window is not really a suitable job for a DIY enthusiast, as not only will you need to cut into the roof cutting through support rafters, you will also need to observe Building Regulations and Planning Permission laws, so will need to talk to the building control department of your local council.
If the window(s) is part of a full loft conversion for habitable use, you will need at least one window in each space created with at least 0.33 square metres of slope opening, plus an escape or MOE window installed no more than 1.7m from the roof eaves which can be accessed from inside easily and at the same time be reached from an outside ladder. But if installing a roof window in a space just used for occasional storage, then you can install pretty much any size of window in any sensible location as long as you do not weaken the roof support structure in any way. To make the opening, remove tiles or slates from the area by cutting away the felt from underneath then cutting away the battens from underneath to slide a tile out and into the roof space.
Then you will be able to cut away the roof timbers to make the size of opening required as per the window instructions. You will, of course, need some additional timbers to strengthen the roof and to make the new framework for the window. Then fit the new window frame into the opening using fixing brackets supplied and fit the roof flashing to the new window frame and roof watertight. Then lay tiles or slates into position around the new window frame and finally fit the sash (opening section) of the window into the frame. You are now ready to make good and redecorate inside.
Roof window checklist
If converting a loft then you may need a secondary means of escape such as a Velux escape window
Roof windows are traditionally centre-pivot or top-hung opening windows
Not all roof windows are Velux windows, though Velux is a well respected manufacturer
Roof window frames are available in timber or uPVC
FAQ's
What's the difference between a roof window, a skylight and a roof-light?
Roof windows are installed on a pitched roof, the most popular brand being Velux windows, whereas roof-lights are installed in flat roofs and skylights add natural light and ventilation to uninhabited spaces like storage lofts and stables.
What roof window size qualifies as a means of escape?
For a roof window to be used as an emergency escape exit it has to be no less than 45cm in width or height and needs to be a top-hung window with a free space area of 0.33m. In addition, the sash must be able to be fixed in the open position so both hands can be kept free.

How long will a roof window last before needing replaced?
A roof window properly installed should have a long life if normal maintenance is undertaken at regular intervals. A quality roof window such as a Velux window should last at least 10 years as a minimum.
Are the flashings essential?
Yes. Flashings enable the window to fit into your roof with a weathertight seal to protect both the roof and your home. Buying the right flashing is really important, so if ordering the window yourself, make sure you get the correct flashing kit for your window.
I have heard roof windows are bad for leaking, can a roof window leak?
Like all windows, if they are incorrectly installed and/or of poor quality, then yes roof windows can leak. But if good quality windows and correctly installed with the right waterproof flashing, your roof window will not leak and should last for many years.
Last updated by MyJobQuote on 9th February 2020.