Cost of Installing a New Staircase
prices for the manufacture and install of staircases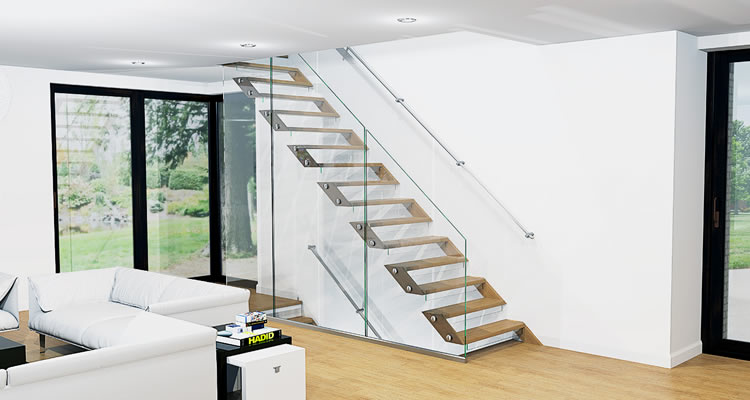 Typical cost to supply and fit a staircase
This type of job normally takes around 2-3 days to complete
£1100
Whether you are replacing existing stairs or adding a new staircase as part of a bigger renovation or building project, this is a substantial job both structurally and visually. The stairway construction must be strong enough to hold our weight while allowing comfortable access to the upper floor(s). In addition, on entering many homes the staircase is immediately visible, so needs to look great too! Staircases are available in a huge variety of shapes, sizes, materials and designs.
When it comes to costs, the materials used, the craftsmanship and the design are hugely significant. A basic straight staircase cost from as low as £250 plus fitting. But bespoke staircase designs can start from £3000 whereas radical designs can cost as much as £30,000! The sky really is the limit with designer staircase prices, but average staircase costs with typical designs and materials, are actually pretty reasonable. To easily find a joiner to install your new staircase, please enter your postcode along with a brief description of the job you want doing, so we can begin having up to three local tradesmen get in touch with you to provide written quotes for the job.
Example Staircase Costs
| Job Description | Duration | Material Cost | Labour Cost |
| --- | --- | --- | --- |
| Straight one-storey softwood staircase | 2 days | £400 | £350 |
| Double winding staircase in Oak | 2-3 days | £1700 | £500 |
| Straight one-storey softwood staircase with half landing | 2-3 days | £500 | £500 |
| Spiral metal staircase | 3 days | £1200 | £600 |
hings to consider with new staircases
If you are hiring someone to build and install a staircase, you need to remember that there are specific building regulations in place regarding staircases. These guidelines cover a range of technical specifications, but are mainly concerned with safety and comfort for users. If you're fitting a like-for-like replacement staircase, then you're unlikely to run into many problems as the design and dimensions should be very similar. But for new staircases required for loft conversions or extensions, you are making significant changes to the building so will have to ensure you abide by the building regulations. The key regulations include a minimum depth of step 220mm, height of each step 190mm to 220mm, recommended width 850mm (but this one is not compulsory), headroom on landing of at least 200mm (reduced to 190mm for loft conversions), and the pitch of the stairs should not be greater than 42 degrees.
Full details of all the UK building regulations for staircases are available online, but any professional tradesmen or architects should already be conversant with these guidelines. But you must contact your local building authority to come and review the work then sign it off for a charge of around £200. Check that this fee is included in any quotations you receive. If you have any questions about this process, then free assistance is available from your local building authority over the phone. Note that architect plans will take a lot of time, allow for 10 weeks or so be on the safe side, whereas a local carpenter could build and install a straight single staircase in less than a week.
When considering a new staircase, you need to think about the materials you like and the style you wish to achieve. Traditional wooden staircases are always warm, look great in almost any home, plus can be painted or stained to suit. But there are also many modern steel and glass designs for those looking for a more contemporary look. When choosing the materials, it really all comes down to your available budget and personal preference. Whatever material you choose, it will have to comply with current Building Regulations if you are having a new staircase rather than simply replacing an existing one. Always get in touch with the planning department at your local authority before carrying out any work as they will provide you with free advice and all the appropriate forms you require. But note that there will be a fee to pay if you need to have a Building Inspector come and visit your home to give advice and check the works comply with regulations.
Doing it Yourself
If you plan to install the staircase yourself, then the basic measurements which are required so that the staircase can be manufactured, need to be very accurate. If you mess up the measurements there is nothing you can do once the staircase arrives and you find that it does not fit! But if you are confident in your skills and feel you can measure and install a staircase, then simply supply the manufacturer or local carpenter with your measurements and choose the style you prefer. Considerable savings can be made if you can install your own staircase, but this is a time-consuming job so bear this in mind.
Before commencing the work, it is recommended that you seek the advice of a local authority Building Inspector to check your plans will comply with regulations, often this can be done over the phone and is free of charge. Another DIY route that is becoming more popular is to simply buy modular flat pack wooden staircase products that use templates to make it possible for DIY enthusiasts to build their own staircase on site to fit almost any situation. If you go this route there is no need to place an order weeks in advance, you can purchase the kits directly off the shelf the same day and build as needed. Most good builders merchants will stock flat packed staircase kits can be assembled and fitted in just a few hours!
New Staircase Checklist
Costs for building a staircase can vary tremendously with the material and style
Traditional timber staircases are elegant but require maintenance
There is a set of specific building regulations regarding staircases
The staircase size and material will be the most significant cost factors
Hiring a Tradesman Checklist
Always get at least 2 quotes before hiring.
Never pay the full amount upfront.
Get the quote in writing.
For any payment you make, always get a receipt.
On more expensive jobs, ask for references.
Check if the tradesman is a member of any trades associations.
Make sure the tradesman has public liability insurance.
FAQ's
How long will it take to have my stairs made and fitted?
Bespoke design staircases need accurate plans drawn up by an architect which can take 4-8 weeks, then the actual build of the staircase may take another 2 weeks. But standard made-to-measure staircases will only need basic floor-to-floor measurements which can easily be done by a local tradesmen. Once you have confirmed your measurements, a replacement staircase can be ready within a week.

What woods are available for staircases?
Staircases are made using a number of different types of timbers, including Pine, Oak, Ash, Black Walnut, Sapele Hardwood and Beech. Currently, the most popular hardwood used for staircases in the UK is Oak, but other woods such as Black walnut are growing in popularity.
How much room do I need to fit a spiral staircase?
As a minimum, you need a square or circular opening that is 100mm larger than the diameter of the staircase you are considering.
Which is best for a spiral staircase, metal and glass or wood?
Well, metal staircases rate highly for durability and long life as they aren't easily dented or damaged, but they generally cost more than wooden ones. On the other hand, wooden staircases add a naturally warm look and feel indoors, plus they are much cheaper and tend to be quieter too! It really comes down to personal preference, unless space is very tight, in which case a metal design would be better as you can build a stronger staircase with smaller dimensions.
Recent Jobs
Hi, l was looking to get a small staircase to my left, so it wouldn't be full size. Thank you.
Submitted by Jean
REPLACE 14 RISE WOOD, STRAIGHT STAIRCASE.
Submitted by Wally
Looking for someone to build a floating staircase in a new building project.
Submitted by Mary
I want to get carpet runners for my first-floor stairs, however, the old carpets which I've removed have shown the staircase to be damaged. I need the staircase to be sanded down properly so it can be painted and have a sleek finish. I also require someone who would be able to fit it some stair ro...
Submitted by Samiya
WANT TO MOVE A STAIRCASE TO A LOFT ROOM FROM1 SIDE OF AWALL TO ANOTHER USE SAME LOFT ACCESS
Submitted by Jennifer