New Staircase Cost
Want to know the cost of a new staircase?
The average new staircase cost is roughly £1500, which will include the removal of your old staircase and the full installation of the new one. There are additional costs such as painting, varnishing and laying flooring.
This guide covers the overall cost of installing a new staircase, which includes different staircase prices for various materials and designs, as well as labour costs.
It explores the costs of oak stairs, a floating staircase, a modern staircase and much more!
Why not check it out below?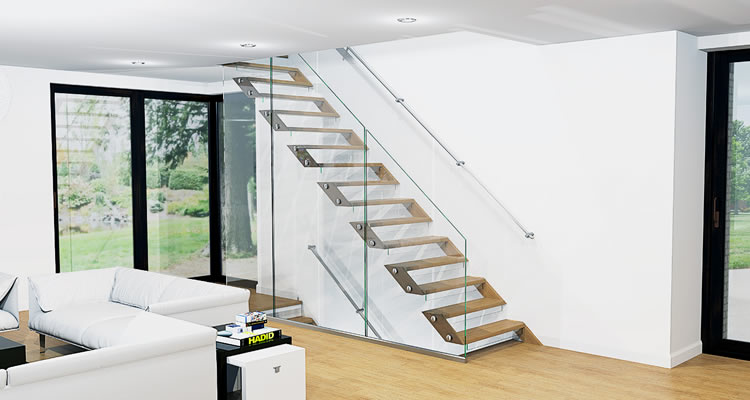 Average Cost of a new staircase:
Depending on the complexity of the job, it usually takes: 2-3 days to complete
£1550
How Much Does a New Staircase Cost?
How much does it cost to build a staircase? Well, average staircase prices can range from £750 to £2,000.
If you get a bespoke staircase, this cost could go up drastically. This includes labour costs and the price of materials. The specific type of staircase, size of the installation, and choice of materials will be the main factors that make up the final price.
Staircasing Prices
| Job Description | Duration | Material costs | Labour costs | Total Cost |
| --- | --- | --- | --- | --- |
| Straight one-storey softwood staircase | 2 days | £400 | £550 | £950 |
| Straight one-storey hardwood staircase | 2 days | £900 | £550 | £1,450 |
| Straight one-storey softwood staircase with half landing | 2-3 days | £800 | £750 | £1,550 |
| Straight one-storey hardwood staircase with half landing | 2-3 days | £1,200 | £750 | £1,950 |
| Double winding staircase in softwood | 2-3 days | £1,100 | £1,200 | £2,300 |
| Double winding staircase in hardwood | 2-3 days | £2,300 | £1,200 | £3,500 |
| Spiral wooden staircase | 3 days | £1,650 | £1,000 | £2,650 |
| Spiral metal staircase | 3 days | £1,200 | £1,000 | £2,200 |
Straight Staircase Prices
The simplest and most common form of single-storey staircases is the straight softwood style. This is a single level staircase popular in the majority of homes today. Whether connecting the ground floor or built as part of an attic extension.
This type of staircase is the most cost-effective method for connecting two floors with a straightforward design. Crafted from pine or other softwood, the cost of these staircases usually begins around £750, and can double in price to £1,400 when constructed of hardwoods such as oak.
Winding Staircase Prices
Not all properties have the space for a straight fit staircase; also, the owner may desire a modern aesthetically pleasing design. This is when a winding staircase is probably the best choice. A winding staircase is similar to a straight staircase except it often features a 90-degree bend at the bottom, forming an L shape.
A single-storey, winding staircase, constructed from softwood, will usually begin at around £1,100 and increase to around £3,000 if made out of a hardwood.
Half Landing or U Shaped Staircase Prices
Consisting of two parallel flights of stairs, which are connected with a landing area, Half-landing staircases usually have a 180-degree turn. Also known as, switchback stairs, or a half-turn, this style of staircase offers a unique look and space-saving design.
Half-landing staircases often start around £1,000 and increase to £3,000, depending on the complexity of design and materials used.
Spiral Staircase Prices
Metal spiral staircases are the most common form of spiral staircases installed. There are options available constructed of wood; however, this will raise the prices of not just materials but also the labour costs with the increased complexity of the design. A spiral staircase is most commonly used when space is at a premium, as they possess the smallest footprint of all staircase designs.
Fitted through a single, often round hole between the floors, a spiral staircase has a complex design, when compared to the simpler straight stairs. The price of a spiral staircase begins at £1,800 and increase to around £5,000 depending on size, the complexity of design and materials used in construction.
Cost to Hire a Staircase Fitter
When hiring any tradesman for building work, you need to consider what specific jobs actually need doing, as not all tradesmen can handle the same types of work. A Carpenter or a General Builder will usually be hired when building a staircase, depending on the materials chosen.
The most obvious place to start is staircase specialists; however, this will depend on what style of staircase you have chosen the complexity of the design, and the materials used. Below is a list of various tradesmen you may require and the jobs they will be undertaking.
Architect or Designer
When planning a staircase, building designs or drawings will sometimes need to be created. Often a specialist designer or architect creates the plans; in order to make sure the correct choice of materials, the correct style is used, and you get the results you are wanting. This will take up a large percentage of the labour costs, considering it will be one of the smaller jobs involved.
The cost to hire an Architect or specialist designer usually is around £200 per day. However, they would typically charge by a completed job rather than per day. This would be around £200 to £1,000 for a completed design, drawing, and technical specifications.
Carpenter
These tradesmen are hired if you decide to build your staircase out of wood. They will often be able to undertake the job themselves without the need for further tradesmen, although this will depend on the skills of the Carpenter chosen. A carpenter will usually cost you around £125 per day. This will depend on the skills and experience of the tradesman.
Generally, this work will take around two days to complete for a single standard straight staircase. This can increase to up to 4 days for a more complex design, such as a spiral staircase.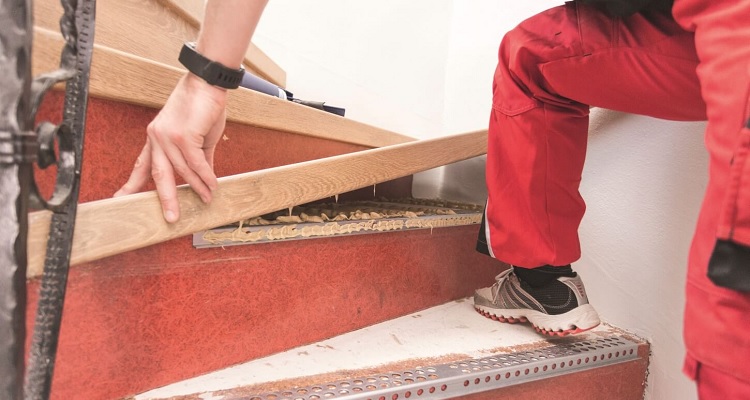 General Builder
A general builder is often used to lead the entire project. They can hire and control subcontractors such as carpenters and labourers in order to complete the work. Also, if building a metal design, a general builder is often the best choice due to the robust nature of their experience and labour price, which can be offered.
A general builder will usually cost around £100 to £150 per day to hire, depending on the level of job required, the skills they possess, and the amount of experience.
Carpet Fitter
After fitting a new staircase, it is common for new flooring to be laid on top. This usually will consist of carpet or laminate/hardwood flooring. Fitting a carpet on a flight of stairs can be a difficult process, and it is usually best to hire a carpet fitter to do this.
The carpet fitter will first measure the area in which the new carpet is to be fitted, provide the sizing for the required new carpet, and then once purchased will be able to lay the covering to the newly built staircase. A carpet fitter will usually cost around £100 to £120 per day to hire, depending on experience and level of skill.
Labourers
The most inexpensive form of tradesman, a labourer, should not be overlooked when costing the job. Usually, a specialist will provide their own personal labourer; however, even so, you should be mindful of the costs to hire them.
The day rate of a simple labourer will usually be £60 to £80 per day. They are used for all the heavy lifting work, moving materials, and jobs that do not require a specific skill.
| Tradesman | Duration | Daily Cost | Total costs |
| --- | --- | --- | --- |
| Carpenter | 2-4 days | £125 | £375 |
| General Builder | 2-3 days | £100 | £300 |
| Carpet Fitter | 1 day | £100 | £100 |
| Labourer | 2-3 days | £65 | £130 |
How Long Does it Take to Install a Staircase?
There are multiple factors, which can affect how long a new staircase can take to install. The most obvious being the complexity of the project, the size of the build, and the final quality of the staircase.
Choosing to build a complex U-shaped staircase will take almost twice as long as a single straight design, at around 3-4 days compared to 2 days. A spiral staircase will take longer than a single straight design, at around 2 days for the straight compared to 3 days for the spiral.
However, these factors will also depend on the level of complexity in the plan, the skills the tradesman possess, and the number of tradesmen working on the project.
New Staircase Material Costs
The prices of materials are often a large consideration when planning a staircase. If you wish to undertake the project on your own, you could save around £500 to £1,000 from labour.
This does not account for the time you personally will lose, and due to the nature of the stairs being an important safety concern, it is always advisable that you seek the advice of a qualified tradesman in order to fit them for you.
However, if you do wish to fit the staircase yourself, there are options to just buy the materials or even a pre-made kit.
Softwood Staircase Costs
The most common material used in the construction of a staircase is softwood. This is due to its workability, cost-effective pricing, and wide availability on the market. Being the lowest priced option for most staircase designs, it is not as durable and long-lasting as other materials.
However, due to its wide-ranging availability, it is often the best choice for simple designs and those on a budget. The cost of materials to build a softwood staircase would start at around £400 for a standard straight staircase, and increase up to £2,000 for a spiral or curved design.
Hardwood Staircase Costs
Wood such as oak comes under the category of hardwood. This means they are more durable and longer-lasting than their softwood alternatives. However, as such, they are often priced higher, can be harder to acquire, and are not as easily worked with, than softwoods such as pine.
Hardwood may be a better option for a staircase with a complex or open design. An Oak staircase cost would start around £800 for a standard straight staircase, and increase up to £4,000 for a highly complex curved or spiral design.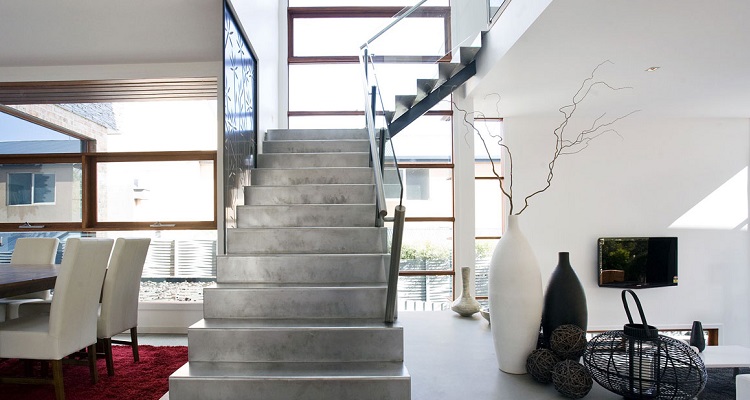 Metal Staircase Costs
For a spiral staircase, metal is the most popular choice. This is due to its robust and hardwearing nature, allowing it to be constructed in more elaborate and intricate designs.
Metal is by far the least cost-effective option when building a standard staircase, however when considering a spiral design will often cost equal, if not less, than the hardwood alternative.
Metal also has the downside of a less aesthetic appeal than wood and may require a specialist to fit. The cost of materials to build a metal staircase would start around £1,200 for a spiral design, however, would increase to around £3,000 for a more complex straight design.
Other Materials
Stone, glass, and concrete are a few materials, which may be combined with a wooden or metal staircase to increase the aesthetic value. Often glass will be used along the sides to improve the visual appeal.
Concrete and stone are often used in place of the steps in order to increase the durability of the staircase. However, these options will substantially increase the final price.
For example, to fit a straight hardwood staircase with stone laid steps, it will increase the materials price from £800 to around £1,600. A glass staircase cost would begin at £2,600, just for a single straight design.
| Materials | Price |
| --- | --- |
| Softwood | £400 - £2,000 |
| Hardwood | £800 - £4,000 |
| Metal | £1,200 - £3,000 |
| Other (Glass & Composite) | £800 - £2,600 |
Staircase Finishing Costs
Once your new staircase has been installed you then have to consider how you're going to finish you staircase. Do you want carpet laying, do you want the wood staining and so on.
Staircase Flooring Costs
Firstly the most obvious choice of aesthetics would be the floor covering. Do you want the stairs to match with the existing floor covering, such as carpet? It is doubtful you will have the same style of carpet on both of the floors, which the stairs will connect.
As a result, you may want your stairs to match the lower floors covering in order to blend in when viewed from the bottom level, as this is the view, which will catch the eye.
Tiles and laminate are also a common option for the flooring of a staircase. Tiles can vary drastically in colour, design, and materials. For a standard style ceramic tile the price would begin at around £40 for a pack of 50 tiles, this would obviously increase up to around £100 as the material quality increased.
Laminate flooring, being the second most common staircase flooring after carpet, begins at around £30 per m² and will increase to around £70 per m² for higher quality hardwood laminate.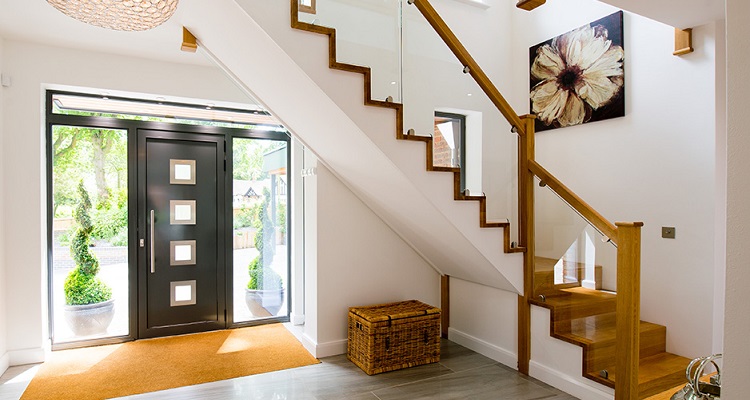 Handrails, Bannisters, and Glass Balustrades
Handrails, or bannisters, are the length of wood or metal running along the side of the staircase. Often used as an aid when travelling up or down the staircase, they also function as a safety feature to stop someone from falling over the sides.
Handrails not only hold a safety function but also form a large part of the final aesthetic of the staircase. A wooden handrail for a standard straight staircase will usually start at around £40 for softwood, £90 for hardwood, and around £120 for metal or composite varieties.
Balustrades are a row of columns or pillars, which are topped by a handrail; often constructed of metal, with a glass panel positioned in between the column. The prices of Balustrades vary, largely dependent on the materials chosen. However, the prices can start as low as £30 per metre and often increase to upwards of £150 when custom glass is used.
Cost of Painting your New Staircase
Paints and wood stains are the final expense to consider while planning the costs of fitting a new staircase. Paint will vary in cost depending on the colour, type, and brand of paint chosen. The price of paint starts at £20 for 2 litres, and increase to around £60 for 2 litres of brand name colour mixed paint.
Wood stain is often the most cost-effective option for those on a fixed budget. Not only is it a more budget-friendly, cheap choice, but also has the added advantage of retaining the aesthetic character of the wood chosen for construction. Wood stain will often start at around £10 for 2 litres and increase up to £40 for 2-litre brand name varieties.
| Additional Materials | Material costs |
| --- | --- |
| Flooring | £10 - £45 per m² |
| Handrails | £40 - £150 per rail |
| Paints | £20 - £60 per tin |
| Wood stain | £10 - £40 per tin |
Cost Factors of Installing a New Staircase
The considerations when costing the price of constructing a new staircase, are: access, scale and size of the project, and the complexity of your design. Each factor can either increase or reduce the overall cost of the project. Therefore, planning for these is essential when deciding on how to proceed with the build.
Access
When planning the construction of a staircase between floors, the ability to access the construction for your tradesmen is a serious factor. The ease in which materials are able to be carried to the site, through doors and around corners of halls should not be overlooked.
Secondly, when planning access, it is always important to consider how the staircase will be used. This should be considered while in the design phase of the project and usually will help to decide on the style of staircase chosen for the project.
Scale
The chosen scale will help to determine the overall cost of your staircase installation. Scale means the length and width of each step, how many steps are there, and how high the staircase will be from the lower level. This is all decided during the design phase of the construction and will have a large effect on the cost of the project.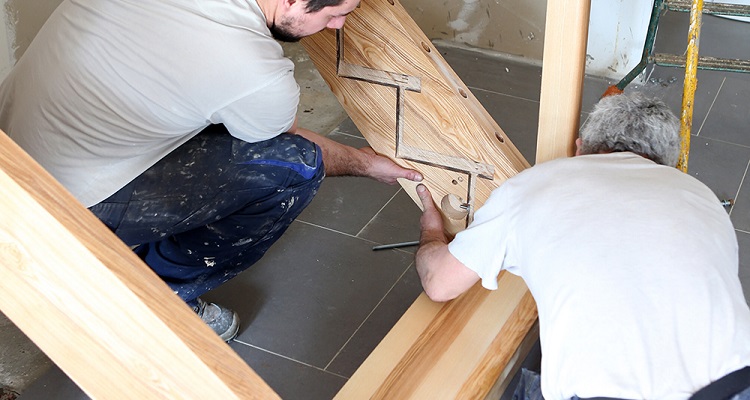 Complexity
The complexity of a staircase can vary depending on the desired final design, materials chosen, and even the skills of the tradesmen hired to build it. The more complex a staircase design is the longer time, higher skill and more money it will take to finish.
For example, a straight staircase will take less time to construct than a U-shaped, or Half-landing staircase. In addition, spiral staircase designs will take a greater amount of time and skill than a simple curved design staircase.
Decoration
Once the staircase has been built, it will often require some form of decoration to be carried out. Decorations such a Glass Balustrades and stone or tile floor coverings will increase the build time considerably, increasing not only the labour costs but also the construction time required in general.
Often, when a staircase is placed against a wall, re-plastering may be needed. Furthermore, it is common to paint or stain the staircase to fit the desired design or aesthetic look required.
What's Involved in Installing a New Staircase?
Budgeting
The first step of any project is always to plan a budget. This is a very important step, as there is no point in starting a project if you cannot afford to complete it. Factors such as materials, labour, and additional expenses need to be calculated at this stage. However, the budgeting stage may need to be revisited after the planning stage, when the design of the staircase has been chosen.
Planning
The planning stage is a vital part of the process when deciding to fit a staircase. The design you are going to construct and the types of tradesmen you will have to hire will be chosen during this phase. After you have made these decisions, you will often have to hire a specialist designer/architect to design the staircase and provide the drawings.
The design drawings for the project will allow you to see an approximate cost for the materials, the tradesmen required.
Quotes
Quotes are vital to any construction project, as not all tradesmen charge the same rates for the same job. It is always best to get at least three quotes from three different companies, in order to ensure you are getting the very best for your money.
Purchasing materials
The materials for the project will often be purchased through, or by, the tradesmen hired to carry out the work. Whether you have decided on a bespoke wood staircase built by a carpenter, or a pre-built kit assembled by a general builder, you will need to understand what materials you require for the project.
The specific materials required will be defined within the drawings/plans for the staircase, and if purchased through the tradesman, will often be the simplest and cost-effective option. It is possible to source the materials yourself.
However, this can prove to be a more expensive choice, due in part to the tradesmen having contacts and accounts within the construction industry and often receiving a discounted rate from the supplier.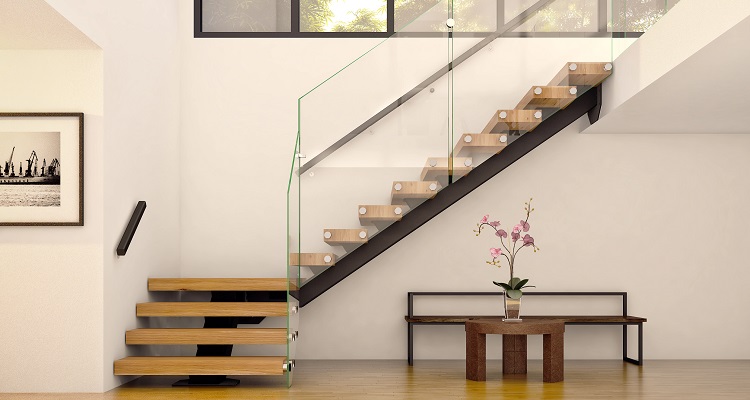 Construction
The construction stage will vary drastically depending on your chosen style of staircase. A simple factory created kit will need to be cut-in, laid out and constructed, much like a giant flat-pack piece of furniture. However, if a more bespoke custom-built staircase has been planned this will be when the carpenter will cut and process the materials, the flooring removed opening the space for it to be fitted, and any internal specialist dimensions are constructed.
Next, the staircase itself will be fitted to the space, and any re-plastering or decoration performed.
Floor Laying
With the staircase now complete, it is time to fix a floor covering to the build (if desired) in order to match the desired aesthetic. This step can vary depending on the style of flooring chosen.
A carpeted floor covering will need to be measured, purchased, and cut to size. This work is usually best performed by a carpet or flooring specialist. This stage will usually take around 1 day; however, this is very dependent on the style of flooring, availability of materials, and the tradesman chosen.
Decoration
To finalise the project, it is common to stain, paint, or decorate the newly fitted staircase. Paints and wood stains are designed to protect the timber frame allowing for a longer life span.
Your choice of paints will vary depending on your required design, and usually would be chosen based on your existing decoration within the location of the new staircase. Various combinations of paint can be used to achieve the desired effect, and it is often the most cost-effective choice to undertake this simple stage yourself.
Cost of Updating Existing Staircase
If you do not fit a completely new staircase, and instead are looking for a replacement staircase, then you may want to consider just updating the existing one. Depending on the age, wear, and construction of the staircase, you may be able to just remove the old paint, sand back the wooden surfaces and repaint/re-stain them, instead of paying the entire staircase renovation cost.
However, if there is excessive wear or damage present, such as broken or cracked timber, you would want to replace the broken pieces. Timber costs for softwood replacement part are low, starting at around £20 per length of wood. These pieces can be easily cut to size and shaped, by either yourself or a carpenter.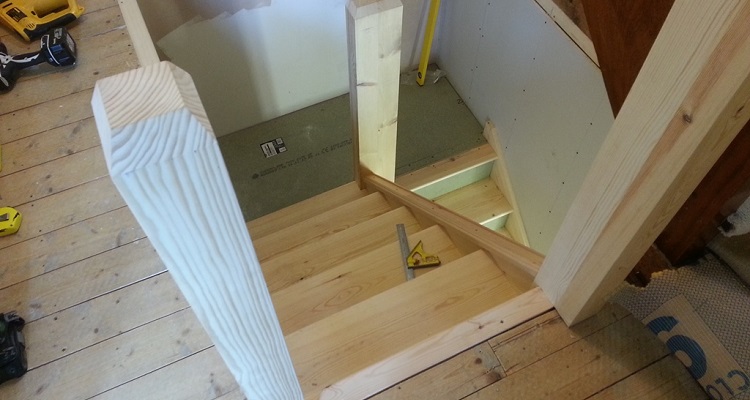 Updating an existing staircase will save a lot of money, especially when compared to the cost of a new staircase. The cheapest style of straight staircase will cost you around £750, whereas the staircase refurbishment cost will usually begin around £400. This is broken down into £300 for labour and £100 for materials.
If you wish to change the existing staircase features such as removing an under stairs cupboard, this will likely increase the price by the complexity of the job required.
For example, removing an under stairs cupboard, fixing a couple of broken steps and replacing a damaged bannister will usually cost around £400. This is broken down into 2 days of labour at £250, materials at around £150.
Things to Consider When Installing a New Staircase
If you are hiring someone to build and install a staircase, you need to remember that there are specific building regulations in place regarding staircases. These guidelines cover a range of technical specifications but are mainly concerned with safety and comfort for users.
If you fit a like-for-like replacement staircase, then you're unlikely to run into many problems as the design and dimensions should be very similar. However, for new staircases required for loft conversions or extensions, you are making significant changes to the building so will have to ensure you abide by the building regulations.
When considering a new staircase, you need to think about the materials you like and the style you wish to achieve. Traditional wooden staircases are always warm, look great in almost any home, plus can be painted or stained to suit.
However, there are also many modern steel and glass designs for those looking for a more contemporary look. When choosing the materials, it really all comes down to your available budget and personal preference.
Building Regulations for a New Staircase
The key regulations include a minimum depth of step 220mm, height of each step 190mm to 220mm, recommended width 850mm (but this one is not compulsory), headroom on landing of at least 200mm (reduced to 190mm for loft conversions), and the pitch of the stairs should not be greater than 42 degrees.
Full details of all staircase regulations UK are available online, but any professional tradesmen or architects should already be conversant with these guidelines. However, you must contact your local building authority to come and review the work then sign it off for a charge of around £200. Check that this fee is included in any quotations you receive. If you have any questions about this process, then free assistance is available from your local building authority over the phone.
Note that architect plans will take a lot of time, allow for 10 weeks or so be on the safe side, whereas a local carpenter could build and install a straight single open staircase in less than a week.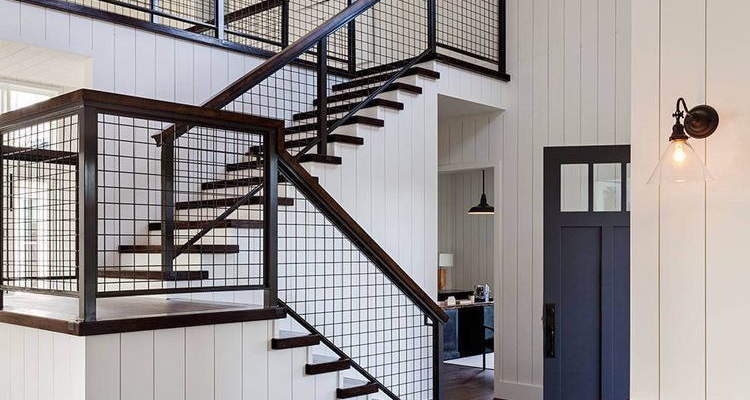 Whatever material you choose, it will have to comply with current Building Regulations if you have a new staircase rather than simply replacing an existing one. Always get in touch with the planning department at your local authority before carrying out any work, as they will provide you with free advice and all the appropriate forms you require.
Also, note that there will be a fee to pay, should you require a Building Inspector visit to give advice and check the works comply with regulations.
How to Install a New Staircase Myself?
When installing a staircase yourself, the accuracy of the measurements is extremely important. This is not only the case for when installing the staircase, but also for the manufacturing stage. It is advised that you at least hire a professional tradesman to do the measuring for you.
However, if you are confident in your abilities, feel you can accurately measure, and then install a staircase, you will have to supply the manufacturer with your measurements and choose the type decided.
You may be able to save a reasonable amount of money when taking on the job yourself. However, if you take into account the amount of time taken for labour and the risk of doing the job incorrectly, it may be a better idea to hire a tradesman to do the work for you.
However, if you do decide to undertake the job yourself, you must consider that you will require the building instructor to check your plans to comply with all regulations. This can often be simply checked over the phone and may even be done free of charge.
It is also possible to purchase a modular flat-pack kit, which is created in order to allow DIY enthusiasts to take on building a staircase themselves with ease. This type of kit can be purchased directly "off the shelf" and as a result, you do not need to order them in advance.
Most suppliers will stock a few different models, most of which will be able to be put together and fitted within a single day. The cost of these kits will usually begin at around £250 for a single straight style and increase to around £700 for a winding type.
Cost of Removing a Staircase Removal
When you no longer require the use of a staircase, you will need to remove them. In addition, if you have an old, dilapidated staircase, you may wish to replace it with a newer, nicer looking safer build.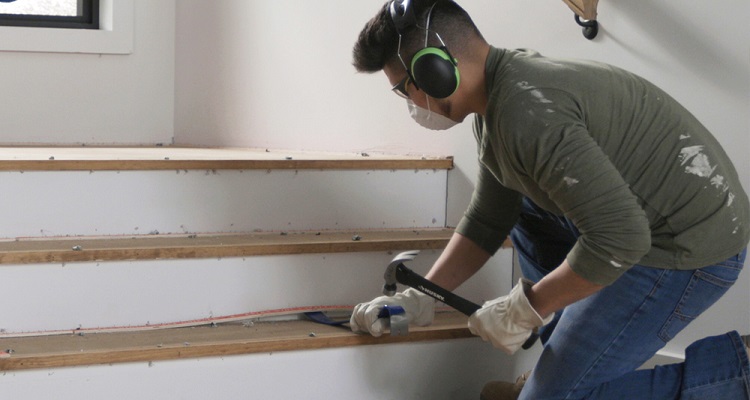 Removal of a staircase is a fairly simple process requiring a few basic elements, such as a skip or waste removal, some simple tools and a general labourer. Skip hire will usually cost around £80-£150 for a single skip, and a labourer for a day around £100. The most important thing with removing a staircase is to be safe about it, and not to cause any damage.
Usually, when demolishing a staircase, for safety reasons, you will probably be best served in hiring a tradesman such as a general builder. They can usually provide all the tools needed and even dispose of the waste produced.
An average builder will be able to complete a staircase removal within a day. This means it would cost you an average of £250, including the skip hire costs and labour.
Hiring a Staircase Installer Checklist
Before you choose your staircase installer, there are a few things to consider. We have created a checklist of some important things to look our for when looking for a staircase specialist.
Qualifications – Depending on the tradesman hired, these can be in the form of CSCS certification, City and Guild levels, or even college gained qualifications such as HNC's.
Insurance – The most important consideration when hiring any tradesman is insurance. Make sure they possess, at the least, third party liability, which covers building work. At best, you want to find a tradesman, which has personal injury, property damage, and work guarantee cover.
Previous experience – Evidence of previous work is also a good consideration when hiring any tradesman. If they have references from previous clients, photos, or a portfolio of their work, it will prove they are proud of the level of skill they can provide.
Guarantees – Does the tradesman offer any form of guarantee for the work they are going to undertake? Most will offer in some form or another to make sure you are happy with the job before they finish. However, it can be worth looking for a tradesman who offers a five-year guarantee or greater. Then if any problems arise in the future, due to any faults in the building process, you are covered, and they will fix their mistakes at no expense to you.
FAQs
How Much Does A Staircase Cost?
This will depend on the style of staircase chosen. For a simple self-build staircase kit, you would be looking at around £300 for the basic straight models. For a more elaborate design, often requiring a tradesman to construct it can increase up to around £1,500. Spiral staircase, winding, and half-landing varieties will again increase in cost. These styles will usually begin at around £1,500 and increase to £5,000 depending on the quality, style, and chosen method of installation.
How Much Space Do I Need To Fit A Spiral Staircase?
When fitting any staircase, it is normal to have an opening, which is 100mm larger than the actual diameter of your chosen design. This is no different for a spiral staircase.
What Are The Varieties Of Wood Used To Build Staircases?
The most common variety of wood used for staircases is pine for softwood and oak for hardwood. However, other timber types such as cedar, ash, cherry, walnut, and beech are also quite common within the industry.
Is There Any Showrooms, Where I Could See What The Different Styles Of Staircase May Look Like?
Yes, there are many staircase-manufacturing companies, which do have showrooms in various national locations. Most are open during standard business hours during the week; however, to visit them on a weekend, an appointment is often required.
How Do I Know Whether My Staircase Will Comply With Building Regulations?
It is always best practice to contact the local building inspector, as they will be able to accurately inform you as to the requirements in your area. This can usually be done over the phone; however, it may require a visit to your property.
Sources
https://hoa.org.uk/advice/guides-for-homeowners/i-am-improving/do-i-need-planning-permission/
https://forums.moneysavingexpert.com/
https://www.angloinfo.com/
https://www.britishsc.co.uk/
https://www.pearstairs.co.uk/
https://www.stairbox.com/

Last updated by MyJobQuote on 16th February 2022.