Cost of Rewiring a House
Guide to the complete rewiring of a house with typical costs and useful tips.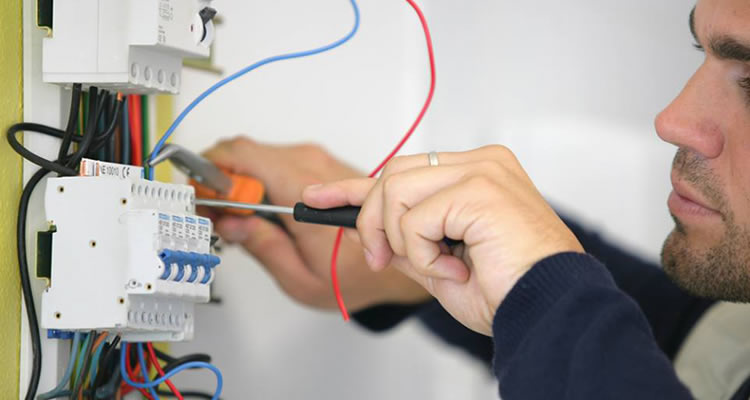 Average cost to rewire a house
A complete rewire will usually take roughly a week
£4,000
The cost of having your house rewired by an electrician can vary considerably depending on the fittings you require, the size of the property and ease of access. It is possible to give a rough idea of the prices you can expect when gathering quotes for rewiring, which you will find below, but for an accurate price, you will need to have an electrician survey the property and provide a written quote. If you are having a new house built you will need to have it connected to the electricity grid, this can cost from as little as £500 up to £10k or more depending on the circumstances. Re-wiring jobs include the replacement of the consumer unit (aka the fuse box), the main switch and RCD (often be included in the consumer unit itself, all the lights and switches, plus some possibly some miscellaneous items such as smoke detectors, extractor fans, shower units, central heating circuits, shaver points, burglar alarms and TV/Internet sockets.
Finding reliable electricians for rewiring projects is now easier than ever, as you use this website to receive competitive quotes from professional and reputable electricians by simply completing one short form online. In addition, you will be able to go check each electrician's job history and read the reviews from their previous customers.
Average costs for rewiring
| Job Description | Duration | Material Cost | Labour Cost |
| --- | --- | --- | --- |
| Total rewire of a two-bed terraced house | 5 days | £800 | £1700 |
| Total rewire of a 3-bed semi-detached house | 1 week | £1000 | £2500 |
| Total rewire of a detached house with four bedrooms | 9 days | £1200 | £3300 |
| Costs for an electrical installation condition report | 3 hours | £0 | £150 |
Things to consider when rewiring a house
Many UK homes have very old electrical wiring and getting your home rewired is not only good for safety, it will add value to the property. Electrical rewiring costs will vary depending on the size of your house, whether or not the home is occupied during the rewiring job, the type of fittings and fixtures you choose, the number of sockets and outlets required, plus any accessories such as burglar alarms, Ethernet cabling or outside lighting. Where you live in the UK will also have an impact on price due to variances in the cost of living and therefore contractor rate costs across the country.
Rewiring jobs need to be approached with care, as like all electrical installation work, this is subject to regulation and legislation (specifically Part P of the Buildings Regulations which covers electrical safety in in UK homes. Homes which have not been rewired for over 30 years will often require attention, partly because the old wiring could be potentially dangerous, but also because older wiring was not designed to cope with the demands of modern living.
Rewiring a property is messy and disruptive work. If possible, remove or protect furniture and other items then move out for the duration of the job (up to 10 days). Electricians will usually quote a cheaper price for rewiring if the house is empty. You should also plan the job carefully, consider features such as mood lighting, smoke and heat alarms, external RCD safety sockets in the garden, cabling for Internet access and speakers throughout the home and of course external security lights.
It is possible to do the rewiring yourself if you know what you're doing. But this will involve a Building Regulations application, then having your work inspected before and after by a qualified electrician to get the safety certificate required. Finding an electrician that sign off on someone else's installation is not always easy, so if going that route make sure you have someone lined up before proceeding!
Doing it Yourself
DIY electrical installations are covered by the Building Regulations Part P: Electrical Safety. You are allowed to undertake minor works or simple alterations to existing circuits (for example adding a new socket or light fitting), as long as it is not in a kitchen or bathroom, outdoors, or connected directly into the consumer unit. You can still undertake major rewiring work yourself too, but you must make a Building Regulations application and arrange to have the work inspected both before and after completion by a qualified electrician registered with one of the government competent persons schemes. But not all electricians will offer this service and many are not prepared to certify someone else's work as being safe. Once the job is finished there is no way for the electrician to know if you have hidden any shoddy work out of sight, so issuing a safety certificate is risky for their reputation and your safety.
Building control will come and inspect your work as you progress so they can be sure all work is done safely and in accordance with Building Regulations, but you need to make an application in advance giving them notice. The fee payable varies but is usually around £300-£400. This is actually good value as not only will they perform site visits and inspections, they will also advise exactly what is required to keep them happy! But do not go ahead and carry out the rewiring work yourself then expect someone else to certify it as being safe once the job is finished!
If you do go ahead and do the job yourself, remember that the wiring regulations require all cables buried in walls to run either vertically or horizontally from sockets. This really helps the follow-on trades who may be screwing fixings into walls for curtain rails, radiators, shelving or kitchen units. Some amateurs run cable at angles across walls in order to save a little cable without realising the potential danger this may cause.
Rewiring a House Checklist
Approach electrical work with care, rewiring is subject to regulation and legislation
A full re-wire is one of the most disruptive jobs you can do, expect lots of dust and mess!
You don't have to vacate the property, though it will make things much easier and quicker for the electrician if you do!
Think about future-proofing and consider having Ethernet cable to every room
FAQ's
When do I need a rewire?
There are no fixed guidelines on when homes should be rewired. Old wiring does not necessarily mean unsafe wiring as there are many factors can affect an electrical installation, such as the materials used and how the property has been used. In any case, a periodic inspection should be carried out at least every 10 years (every five years in rented accommodation) to check whether the electrics in a property are safe. Most rewires happen on homes being renovated or extended.
When rewiring a house does all redundant wiring have to be removed?
It does not have to be, but it is good practice to remove redundant wiring. If this is not done, any redundant wiring must be permanently disconnected from the electrical supply so there is no potential risks.
What should I do before the rewiring starts?
You first of all need to decide which fixtures and fittings you want to be replaced or changed. Plus you should pack away your fragile and precious items as rewiring is a dirty and dusty job, so a significant amount of dust will be distributed throughout the home which can take days to settle.
How do you find out when a house was last rewired?
You can normally tell if a house has been rewired recently just by looking at the wiring, switches, fuse box (consumer unit) and sockets. If the rewiring was done professionally by a reputable company then there will be a notice on the fuse box detailing when it was last tested. If you see a mix of socket types and styles at different heights then it is likely that a rewire has not been carried out and the electrical system had just been upgraded/extended over time.
Last updated by MyJobQuote on 18th May 2018.