Cost for Rewiring a House
Want to know how much it costs to rewire a house?
Rewiring is a necessary expense when your wiring becomes dated, dangerous or non-functional.
What can you expect to pay on average then?
To rewire your house you'll pay between £2,000-£10,000
What does house rewiring costs depend on?
House rewiring prices depend on the state of your current system, size of your house, location and standard of new fittings and fixtures.
How will this guide help you?
Our guide breaks down all the costs you can expect and answers frequently asked questions by those looking to rewire their property.
We can also help you get a quote from local electricians!
So, take a look below!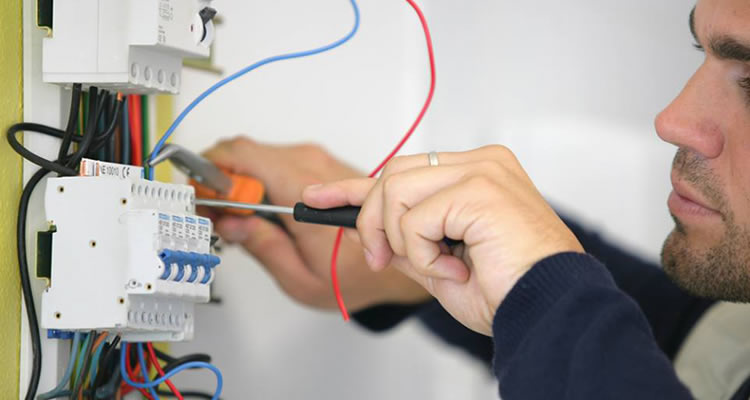 Average Cost of a Rewiring a House:
A complete rewire will usually take: 7 days
£4,000
How Much to Rewire a House?
How much does it cost to rewire a house?
Well, the average cost of rewiring a house can vary from £2,000 to £10,000. This price does include material and labour costs.
But certain factors will affect the overall cost...
The type of your property, the quality of existing wiring, and the complexity of the installation will all affect the final price.
Labour costs, and the qualification of the electrician, will also largely affect the final budget required.
House Rewiring Prices
| Job description | Duration | House rewire cost |
| --- | --- | --- |
| Total rewire of a one-bed flat | 3 days | £2,800 |
| Total rewire of a two-bed maisonette | 4 days | £3,400 |
| Total rewire of a two-bed terraced house | 5 days | £4,400 |
| Total rewire of a three-bed semi-detached house | 7 days | £5,500 |
| Total rewire of a detached house with four bedrooms | 9 days | £7,500 |
| Costs for an electrical installation condition report | 3 hours | £225 |
Rewiring a Flat or Maisonette Cost
Being the smallest type of property, a flat or maisonette is the cheapest property to rewire.
So, why are smaller properties cheaper to rewire?
This is down to requiring fewer materials and a shorter time for the work to be completed.
How much do flats and maisonettes cost to rewire, then?
Starting prices for totally rewiring a flat or maisonette begin at around £2,000 and go up as far as £5,000.
Next up...
Rewiring a Small Terrace House Cost
Did you know...
...A small terrace house is the most commonly rewired property?
But how much do they cost to rewire?
The price of how much to rewire a house begins at £3,000 and increases to £5,500.
Now on to...
Rewiring a Medium Semi-detached House Cost
Now the houses are getting bigger you'll start to notice a significant difference in cost.
So, what can you expect to pay for a semi-detached house?
The cost of rewiring a 3 bed house, semi-detached, is £5,500 and increases to around £7,000.
Lastly...
Rewiring a Large Detached House Cost
The most expensive type of house to rewire is a large detached as it'll need more materials and take longer to complete.
The average cost of rewiring a 4 bedroom house, detached, begins at around £5,500 but can easily increase to around £9,000.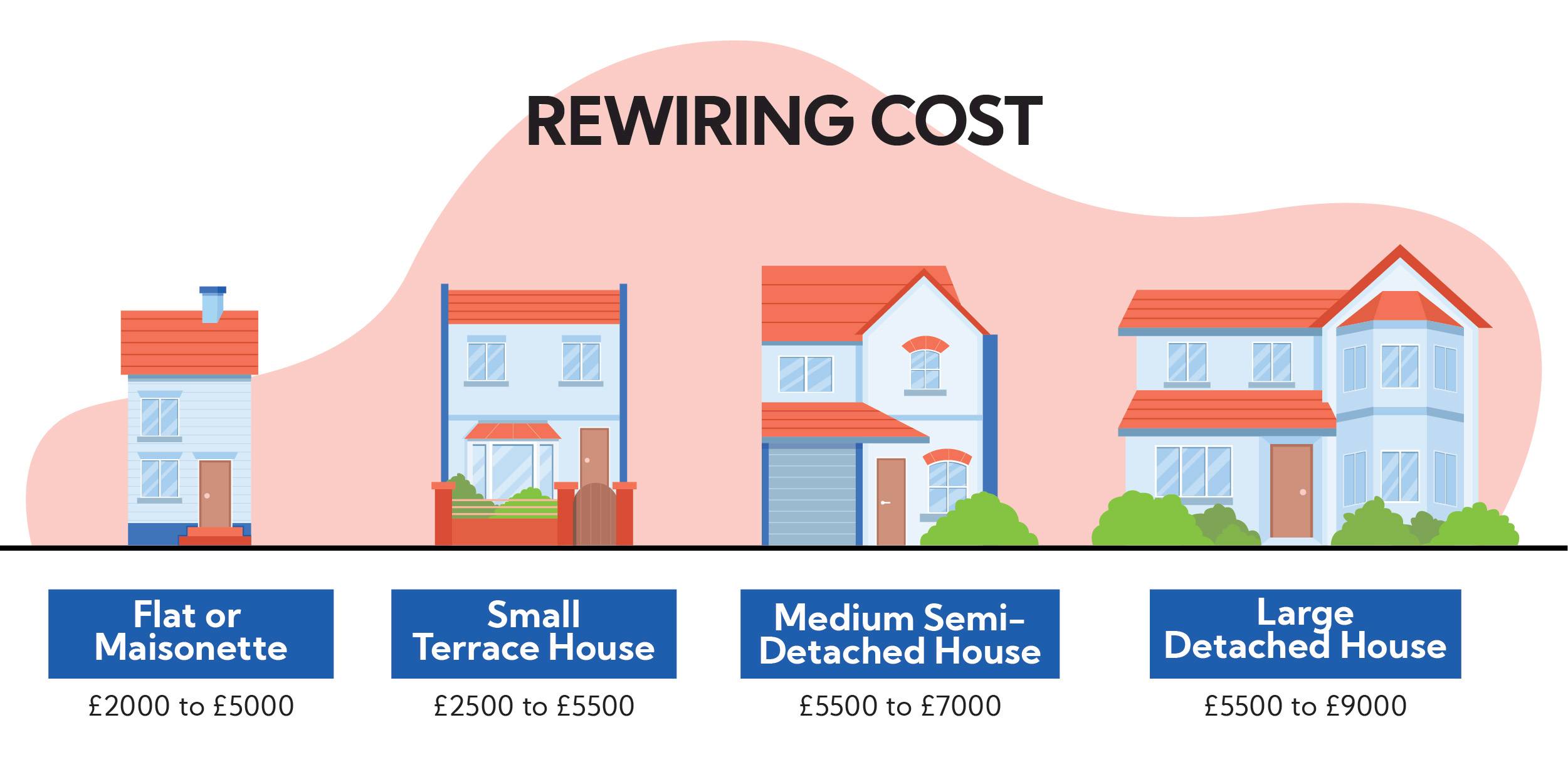 One more thing to consider is:
External Wiring Costs
Another common type of wiring, which may be required when undergoing a full rewiring, is external wiring.
What's external wiring used for mostly?
This is often for the use of security systems, external lighting, CCTV, and automated door (such as garage doors or garden gates).
And how much would external wiring cost?
The cost for external wiring would usually begin at around £250 for a simple security light set-up and can increase to £500 if used for a CCTV set-up or to extend the electrical coverage to a garage or outside building.
Supply Only Costs
The cost of the supplies for rewiring a house will vary depending on your choices of styles and types of components.
Beyond the obvious wires, the differing styles in switches, plug sockets, light fittings, and any other specialist equipment can also affect the price.
How can you make supply costs more effective?
When purchasing components for a house rewiring, it would actually be more cost-effective for the components to be purchased by the electrician hired for the work.
This is down to electricians often having a discount provided by the suppliers due to the number of components they buy on a regular basis.
However...
The importance of electrical systems should never be underestimated, and safety should never be compromised in order to save a little money.
Basic Material Costs
Here are the rewiring material costs:
Plug Sockets
Plug sockets are an important material when considering totally rewiring a property. A plug socket is one of the main components of the power ring main.
Available in a variety of styles, colours, and shapes, the price of a single plug socket will begin at around £2.50 and increase to around £15 for designer-finished styles.
For a standard, two-bed terrace house you will need approximately 12 - 14 plug sockets. Therefore the cost of 12 standard white plug sockets, including the pattresses (the holder), it will cost around £30 for the cheapest options.
Light Switches
Next up...
...is a light switch!
Every room of a house will require at least one light switch and with some rooms, such as the living room, may require two switches to be installed. Light switches are available in single, double, and triple gang varieties.
The "gangs" of a switch are the number of actual switches on the faceplate.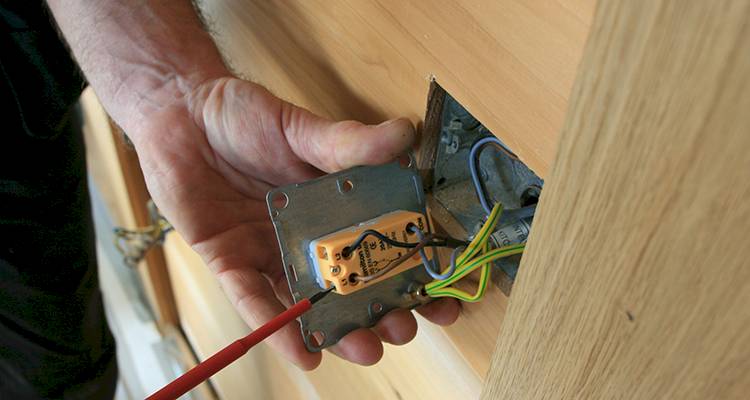 For a standard single gang switch, the cost begins at around £2 and can increase to around £8 for a designer style.
If the house has six rooms and a single light switch is required for each, it will mean a cost of around £24 for a standard white and most commonly available style switches.
Wires
There is two commonly used size of wires used in the rewiring of a house or property; these are 1.5mm and 2.5mm twin core and earth.
1.5mm or 2.5mm refers to the diameter of the copper wires themselves. 1.5mm wire is used for the lighting system, and 2.5mm is used for the power distribution.
So, what type of wire will you need and how much do they cost?
The length of wire required for a standard small property is around 50m of lighting wire and 50m of power distribution wire.
For 50m of twin core and earth at 1.5mm, it will begin at around £25 and then increase to £35 for twin core and earth at 2.5mm.
Wire Clips and Conduits
When running the wires around the property, through walls and under flooring, it may be necessary to use wire clips to hold the wires in place.
If clips are required, then a pack of 200 will normally cost around £5.
Another way to secure wires is by running them through conduits.
Conduits are just like pipes, but instead of for water, they are used for wires.
Installing conduit can make running wires behind walls and under floors easier, as the conduit is used as a guiding path to stop the wire from snagging on obstructions.
Conduit is sold in lengths, from 2m to 5m depending on the diameter.
For a 2m length of conduit costs usually begin at around £2 and for a simple use flexible conduit measuring 25m costs begin at £25.
Consumer Units
The power enters the house through a thick pair of wires known as the tails, these then feed directly into a distribution box know as a consumer unit.
A consumer unit contains various safety equipment used to protect the properties of electrical equipment and users of the house.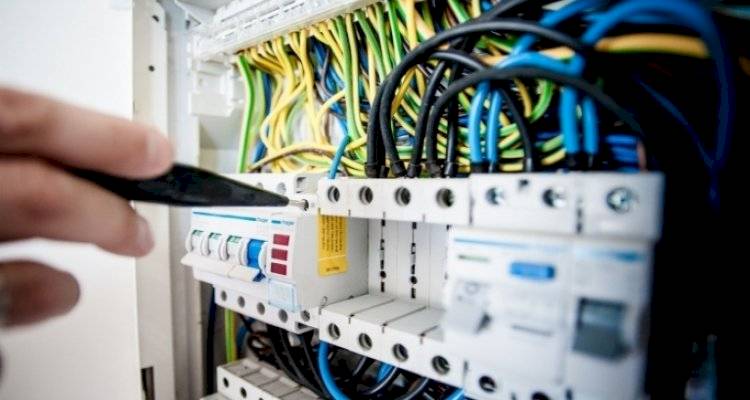 If a complete rewiring is being undertaken, there may be a need for a new consumer unit to be fitted.
How much does a new consumer unit cost?
This consumer electric unit price will begin around £50, for an up-to-date version. For a large property with a more complex electrical system, the cost of the consumer unit will increase to around £90.
Light Fittings
The second most common component of a house rewiring is the light fittings.
These are available in a variety of different styles, and shapes. From a ceiling rose to a hanging pendant style, the prices will vary depending on the styles chosen for each room.
A ceiling rose will cost on average £3 each and increase up to around £30 for a designer style light fitting.
Commonly you will require at least one light fitting per room, with some larger rooms such as the living room often requiring more.
As a result, for a small one-bed terrace house with five individual room, it will cost around £15 for the standard white plastic light fittings.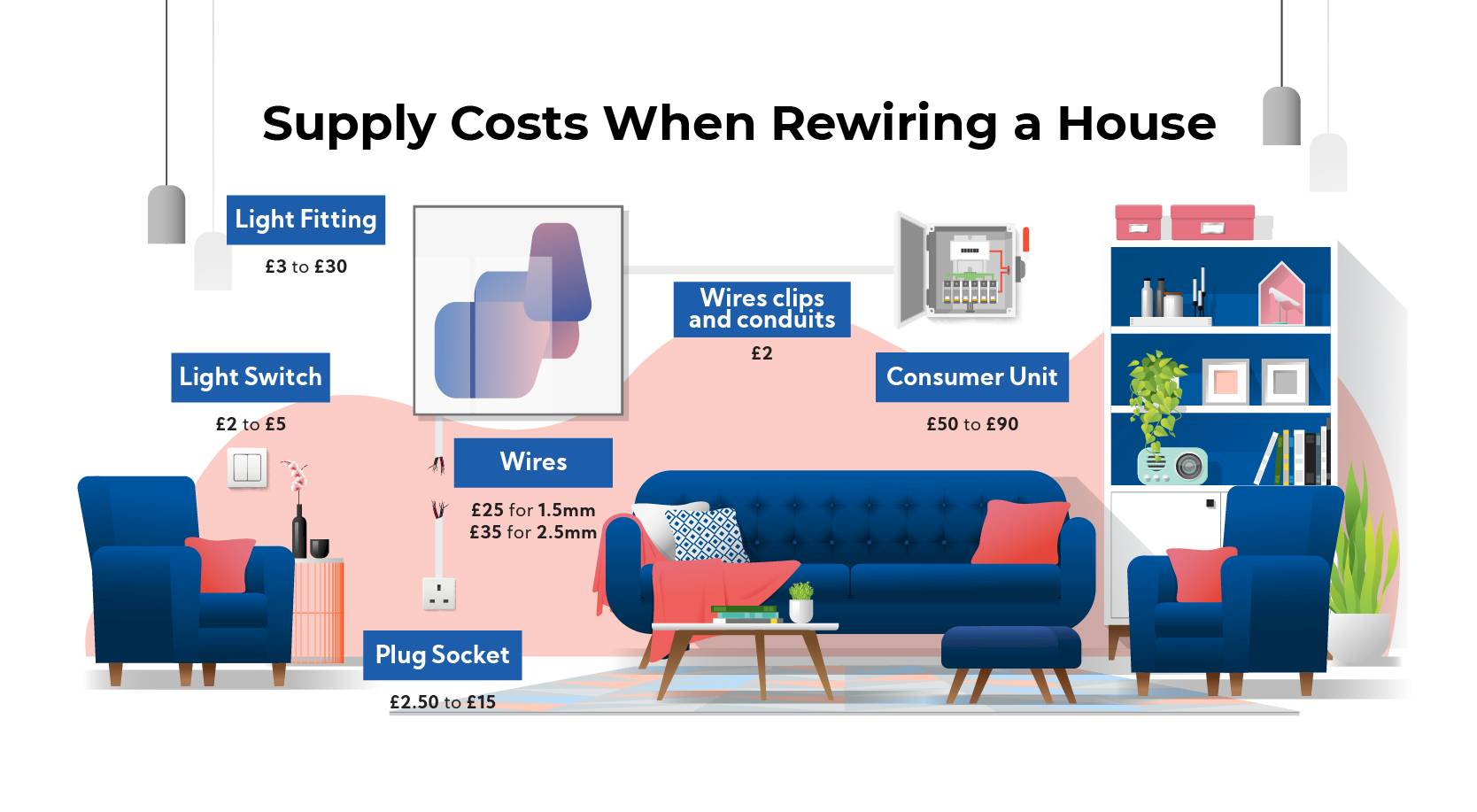 Additional Material Costs
Here are some additional material cost you may incur:
Chocolate Blocks and Terminals
In order to join wires together safely, the use of a chocolate-block or terminal is required. This is not very common when rewiring a house; however, it is always best to have some at hand encase it is necessary.
For a pack of 20 chocolate-blocks, it will cost around £5, and for terminal boxes, it will cost considerably more at around £4 per single box.
Security Lights and Cameras
A final consideration when rewiring a house is external electric components such as security lights and CCTV cameras. The price of the external components will vary drastically depending on individual requirements, can be seen as optional extras, and may not be required at all.
For a simple CCTV system, the prices will often begin at around £90, increasing to around £500 and beyond for more complex systems. Security lights begin at around £19 for a simple motion detection type light. The price will increase up to around £50 for a larger, brighter, and more high-tech variety.
Labour Costs and Timescales
When hiring any tradesman you need to consider what specific jobs actually need doing, as not all tradesmen can handle the same types of work. Rewiring a house is often undertaken by a single electrician; however, there may be a need for a few different tradesmen.
A qualified electrician is required for the rewiring of a house. From lighting, electrical heating, and plug sockets to CCTV and alarm systems, an electrician would often be able to perform the installation.
The average required time to hire an electrician for would be for around 3 to 9 days, depending on the amount of work required and the size of the property.
The day rate for an electrician often starts at around £200 per day, depending on their qualifications and specialities. This can easily reach £400 for a specialist.
If you hire an electrician on a day rate you may be able to save money compared to getting a price for the job as a whole.
Timescales
One of the most important factors when considering any building work is obviously timescale. No one wants a job that drags on indefinitely with no idea of when it will be completed.
Also, the longer a project takes to complete, the greater the final price. Timescale has a direct effect on the cost of labour, as the longer a job takes, the longer you will be required to pay your selected tradesman.
There are multiple factors, which can affect the timescale. The most obvious being the size of the property that you are rewiring, the level of rewiring you require (is the job a complete house rewire or just an update), and if there are complications encountered while installing the wiring.
Rewiring a three-bed semi-detached house will take longer than a two-bed terrace house, at around 7 days compared to 5 days. A large four-bedroom detached house will take longer than a medium semi-detached house, at around 7 days for a medium compared to 9 days+ for the large.
However, these factors will also depend on the level of complexity of the wiring, the skills the electrician possesses, and the number of additional tradesmen needed to be hired for the project.
| Tradesman | Time Needed (days) | Cost per Day | Required or Optional | Total Labour Cost |
| --- | --- | --- | --- | --- |
| Electrician | 7 days | £200 | Required | £1,400 |
| Carpet Fitter | 1 days | £100 | Optional | £100 |
| Labourer | 7 days | £70 | Optional | £490 |
Additional Costs
When undergoing any building work, there will usually be additional costs.
For example, if within the rewiring of a property you wish to have a fitted security system, such as outdoor security lights (£50), CCTV cameras (£15) and alarms (£100) it may need a specialist to fit them.
Although many security features can be fitted by the electrician, some may require a security specialist. This will often cost around £150 to £200 per day to hire, and depending on the installation requirements should take around 2 days to complete, totalling £400.
Cost Factors of Rewiring a House
The cost of labour takes the largest chunk out of your building budget. However, the other expenses, such as plug sockets, light fittings, switches, and other electrical components will also take up a large section.
Materials can easily surpass the price of labour, if only select designer style components get selected in the installation. When deciding on the components, the choices available are extremely customisable, with a choice of style including; colour, shape, material, finish, and security.
The desired final look will determine many of these factors; however, it is always best to keep a budget in mind before beginning preparations and asking the electrician to purchase the components.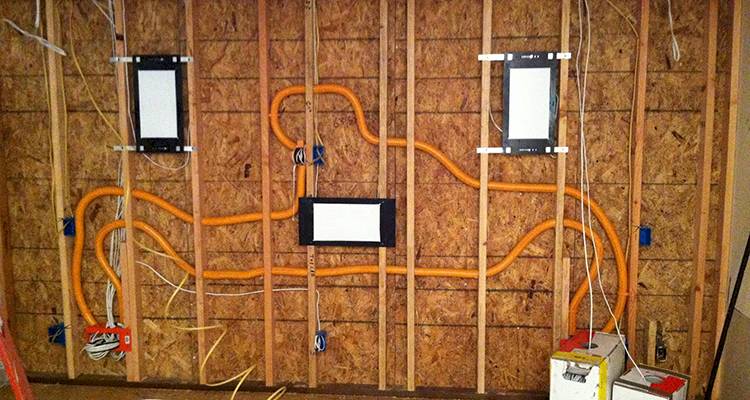 Quality of components used factors into the final cost of a house rewiring. For a two-bed medium terrace house with a full rewiring completed, if basic quality white plastic fittings are used, costs will begin at around £800.
However, for the same property, yet with premium quality components with a stylish finish (such as brushed steel), it would increase the price to £1,500 and above.
Do not forget the costs for the disposal of waste after completing the installation, should always be accounted for in the budgeting stage. Waste disposal can often consist of hiring a skip.
A skip is a large metal container used as a bin, for the disposal of building waste. Skip hire begins at around £150 for a single skip hired for a week.
Included in the price of the hire, is usually the cost of collection and disposal of the waste. For a house rewiring installation, it is rarely needed, however.
Only a small amount of waste would usually be created when a house rewire has been performed. This will usually be removed by the electrician, and if not, can be removed and placed within your property's bins.
What's Involved in Rewiring a House?
Budgeting
The first step is going to be planning a budget. This is a very important step, as there is no point starting a project you cannot afford to complete it.
Factors such as materials, labour, and additional expenses need to be calculated at this stage. This includes working out how much does it cost to rewire a house.
Planning
In the planning stages, you will need to decide what style of components you wish to have within your property. After you have made the decision of the final look you desire, you should decide on the number of lights, switches, and plug sockets you wish to have in each room.
This plan will allow you to see an approximate cost for the materials needed for the rewiring installation.
Quotes
Quotes are vital to any construction project, as not all electricians charge the same rates for the same job. It is always best to get at least three quotes from three different companies, in order to ensure you are getting the very best for your money.
If possible five to six quotes will allow you to get a great insight to the price ranges offered by electricians within your area; however, if six quotes seem too many, three should always be the minimum sort out.
Assessing the Existing Wiring and Components
Does the property really need to be rewired? Before undergoing a full rewiring, it is always advisable to undertake an electrician's survey. The survey will cost you around £150 to have it taken on your property.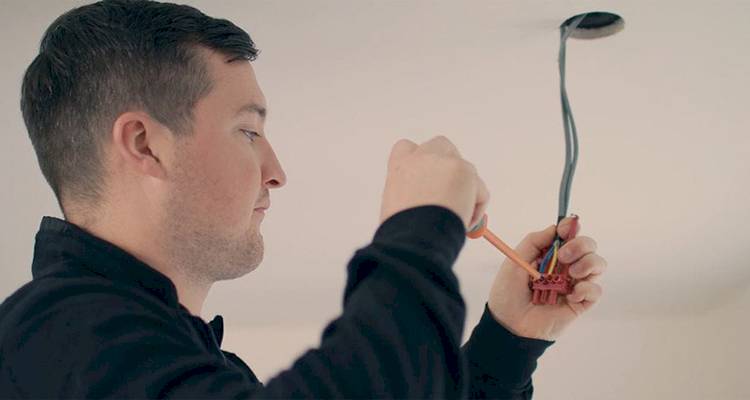 This will inform you as to the standard of the existing wiring within the property, the age of the wiring, and any damage to the installation which will need attention (or replacing).
Installation of Wires
If the survey has found the wires require replacing, this is the stage in which the electrician will remove the old wires and install the new ones.
This is done in a variety of ways, from chasing out the old cables to pulling them from the spaces they run within. The new wires are then fed through the space where the original wires were fitted.
Component Fitting
Once the new wires have been fitted, it is time to install the plug sockets, light fittings, and switches. This should be a simple process if just a matter of replacing the original pre-existing components.
However, If new components are being installed, they may be required to be cut into the walls and ceilings.
Testing The Installation
Once the main house rewiring has been performed, it will be necessary to have the installation tested. These tests can be performed by the electrician that performed the installation.
This test will take specialist equipment and result in a certificate to be kept within your records. It is an extremely import step of any rewiring installation in order to conform to building regulations.
If you fail to have the new rewiring tested, when you come to sell the house, you will be required to pay a test electrician to perform the same tests at an additional cost of around £500.
Enjoying Your New Wiring Installation
The final step of having your home rewired is to actually enjoy it. Whether having new lights fitted, extra plugs installed, or just a new look to the components; you should not forget to enjoy the new installation you have taken the time and money to have fitted.
Signs Your Home Needs a Rewire
How do you know that you may need a total rewire for your property? Well, without performing an official electrician's survey of your wiring and components, there are a few signs to look out for in your home.
Firstly, your consumer unit trip switches my trip out regularly; you may also hear a crackling or buzzing noise around your electrical components and equipment.
These problems are often down to faults within the system and are a clear sign that something is wrong with your wiring. Fuses may also blow and need replacing more often, which is also often caused by faults in the wiring.
Secondly, a visual check of your fittings will show you if they are ageing poorly, discolouring, or show signs on damage and/or burning.
If this is the case, then you will want to have them checked at the earliest convenience by a trained electrician. Flickering lights are another visual sign of needing repairs to your electrical system.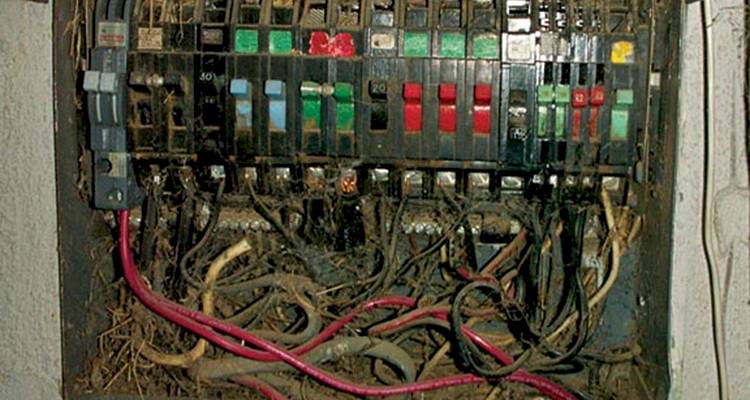 The third obvious sign that you may need to upgrade your electrical system is an out of date fuse box. This can be seen by the date of the consumer unit itself.
This will often be able to be found on the inside of the unit's door, printed onto the information label. Another sign of an installation being out of date is the installation used for the wires themselves.
Modern wires use a special PVC covering, wear as older, out of date wires are covered with rubber or a special form of woven fabric.
Reasons For a House Rewire
If your building was built before 1990 and/or has not been rewired for 25 - 50 years, then it may be a good decision to consider rewiring the property.
Also if you are planning a major renovation to your home, building an extension, or adding an external garage, it may be a good choice to include a rewiring job to the budget of the project.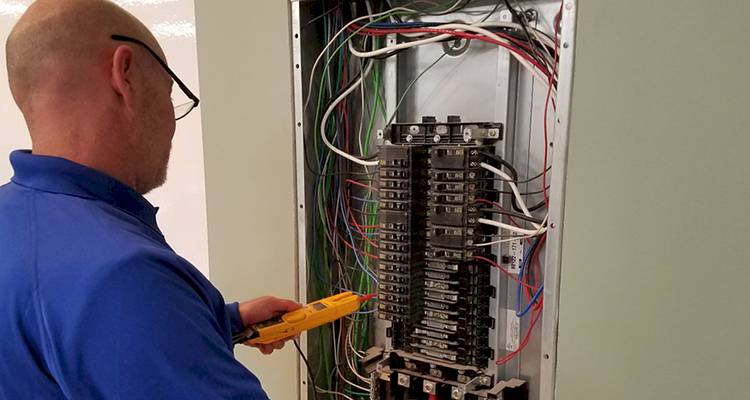 Electrical systems need to be updated every 25-50 years as if not the wiring and electrical system will likely become a safety hazard.
As a result, it is always best practice to, at least, get the system checked and surveyed every 10-15 years, for your own peace of mind.
Things to Consider When Rewiring a House
Many UK homes have very old electrical wiring and getting your home rewired is not only good for safety, but it will also add value to the property.
Electrical rewiring costs will vary depending on the size of your house, whether or not the home is occupied during the rewiring job, the type of fittings and fixtures you choose, the number of sockets and outlets required, plus any accessories such as burglar alarms, Ethernet cabling or outside lighting.
Where you live in the UK will also have an impact on price due to variances in the cost of living and therefore, contractor rate costs across the country.
Rewiring jobs need to be approached with care, as like all electrical installation work, this is subject to regulation and legislation (specifically Part P of the Buildings Regulations which covers electrical safety in UK homes.
Homes which have not been rewired for over 30 years will often require attention, partly because the old wiring could be potentially dangerous, but also because older wiring was not designed to cope with the demands of modern living.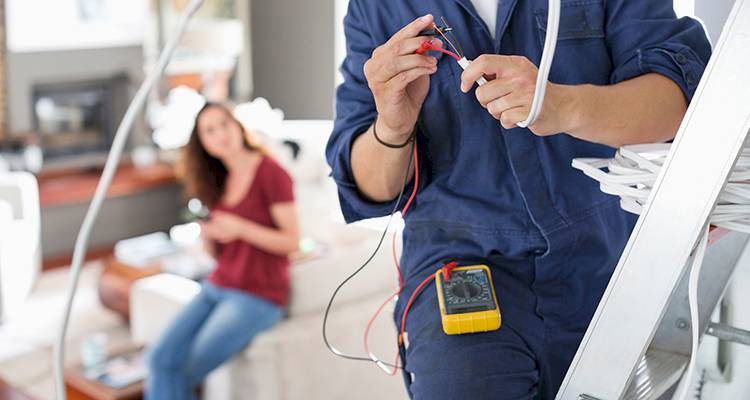 Rewiring a property is messy and disruptive work. If possible, remove or protect furniture and other items then move out for the duration of the job (up to 10 days).
Electricians will usually quote a lower price for rewiring if the house is empty.
You should also plan the job carefully, consider features such as mood lighting, smoke and heat alarms, external RCD safety sockets in the garden, cabling for Internet access and speakers throughout the home and of course external security lights.
It is possible to do the rewiring yourself if you know what you're doing. But this will involve a Building Regulations application, then having your work inspected before and after by a qualified electrician to get the safety certificate required.
Finding an electrician that sign off on someone else's installation is not always easy, so if going that route, make sure you have someone lined up before proceeding!
House Rewiring Building Regulations
Do you need planning permission to rewire your house? In short, no, you do not.
However, if you live in a listed building, there will be a requirement for you to contact your local authority before carrying out any kind of electrical work.
Any and all other building regulations concerning electrical installation within your home shall be covered by the electrician you choose to hire, as this will be part of his trade qualifications.
For example, final testing and certification of the completed work will be supplied by the electrician after the job is finished.
Can I Rewire a House Myself?
Though electrical work can be undertaken by anyone, as of part P of the building regulations; it is always recommended that you hire a trained professional to undertake extensive work.
If you do choose to go the DIY route, and do not know how to rewire a house, there is an extremely high risk or injury and death to those not qualified and aware of the dangers involved.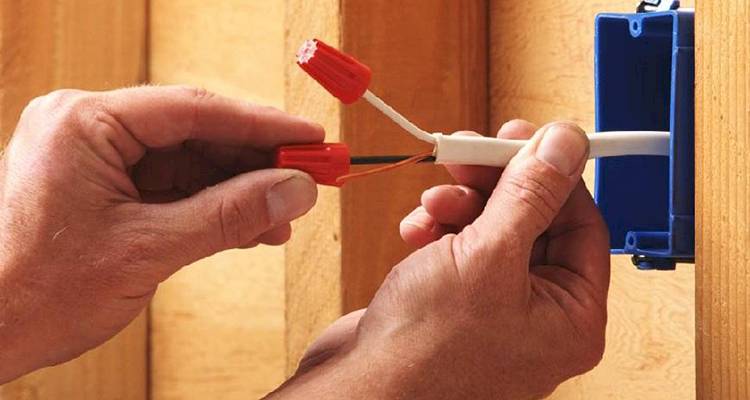 Also, on completion of the work, you will still be required to hire a qualified electrician to test and check the installation conforms to safety standards.
This will usually cost around £600-£1,000 depending on the size and complexity of the installation, meaning it will cost you nearly the same amount as if you hired them to do the job in the first place.
DIY of electrical work is extremely dangerous. Electricity should never be interfered with by anyone without the knowledge of the dangers involved, as even the smallest mistake can result in permanent damage and even death.
This is why it is always the best choice to just hire a qualified and registered electrician to undertake any and all electrical work within your property.
Hiring an Electrician to Rewire Checklist
Before you hire someone to carry out a rewiring at your property, there are a few things to consider first. Below is an easy step-by-step guide for you to follow when seeking a professional to carry out a rewire:

Look out for qualifications. You should be looking for Level 3 NVQs in Electrotechnical Services, Installing Electrotechnical Systems & Equipment or a Diploma in Electrical Installations. Most electricians will complete an apprenticeship while continuing their studies.
An important requirement for hiring an electrician is that they are registered with a government competent person scheme, such as BESCA, Blue Flame Certification Certsure, or NAPIT.
The most important consideration when hiring any tradesman is insurance. Make sure they possess, at the least, third party liability, which covers building work. At best, you want to find a tradesman, which has personal injury, property damage, and work guarantee cover.
Evidence of previous work is also a good consideration when hiring any tradesman. If they have references from previous clients, photos, or a portfolio of their work, it will prove they are proud of the level of skill they can provide.
Does the tradesman offer any form of guarantee for the work they are going to undertake? Most will offer in some form or another to make sure you are happy with the job before they finish. However, it can be worth looking for a tradesman who offers a five-year guarantee or greater. Then if any problems arise in the future, due to any faults in the building process, you are covered, and they will fix their mistakes at no expense to you.
FAQs
How often should a house be rewired?
A house should be rewired when necessary; this will usually be around every 25 - 30 years. Obviously, depending on the quality of the wiring and any damaged or out of date components, this may be a longer or shorter period
Can my house be rewired while I am still occupying it?
Yes, the occupation of the property should not cause any problems when rewiring the property. However, there will be a major consideration to take into account.

This is being the lack of power/electricity during the installation process, as the electricity will need to be shut off for the safety of the electrician working on the system, often until the work is completed.
Shall I inform my neighbours of my plans? Does the law require it?
It is always best to inform the neighbours of any plans to undertake construction projects, as construction could pose a disturbance to them and their lives. It is not usually required by law to inform your immediate neighbours, however informing them of any disruptions to the usual noise levels and foot traffic around their property is the polite thing to do.
How will I know I need my property rewired, without spending a lot of money?
An electrical survey will cost on average £150 to complete. This survey will cover the damage, wear, and need for replacements of components, within the electrical system of the house. It will also give recommendations for when replacements will need to be carried out. This may even save you the need to worry about the electrical rewire cost.
My house has been flooded, do I need to rewire?
If your electrical systems have come in contact with either clean or dirty water, it is likely that you will need to undergo at least part of a rewiring. The degree of the work that needs to be undertaken can be decided by an electrical survey costing £150.

If there is major flood damage to the electrics caused by either clean or contaminated water, then it is likely that parts of the electrical installation will need to be rewired. If you do require a rewiring of the property, then it may be a good decision to plan for any possible future flooding.

This can be done by, for example, raising the height of the consumer unit from the floor, placing sockets above the previous flood water heights, and even fitting specialist waterproof equipment.
Sources
https://hoa.org.uk/advice/guides-for-homeowners/i-am-improving/do-i-need-planning permission/
https://www.selcobw.com
https://www.travisperkins.co.uk
https://www.jewson.co.uk
https://www.napit.org.uk/
https://www.niceic.com/
https://www.elecsa.co.uk/

Last updated by MyJobQuote on 9th July 2022.