Carpet Fitting Cost
Trying to find out how much it costs to carpet a room? In this article we breakdown carpet laying prices for different rooms and sizes so that any homeowner can calculate the cost of replacing a carpet before they even get a quote.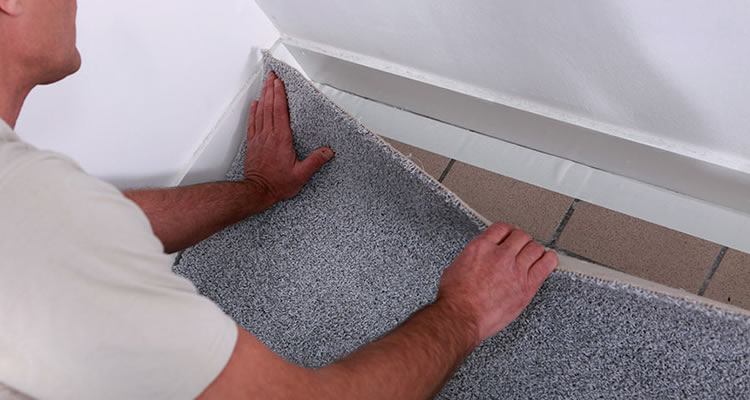 Average carpet fitting price
This type of job normally takes around 2-3 hours to complete
£400
How Much to Fit a Carpet?
Hardwood flooring and stone tiles may look great, but there's nothing quite like sinking your feet into a soft carpet when you get home from a hard day at work! But carpet can look great too, the right choice of carpet can make a room look wonderful and there is a huge variety of carpet patterns and colours to choose from nowadays! Carpets are an expensive outlay in any home so when choosing carpet you definitely don't want to get it wrong. But there is a lot to consider, everything from size to colour and texture, plus getting it within your budget!
Carpet can be difficult to get right in the home, especially at the right price, but there are ways to cut costs once you have a basic idea of what you are looking for. Always make sure you visit some carpet showrooms and also ask for samples to check out in your actual home, rather than under the flattering showroom lights. When checking out carpet retailers, don't commit to a purchase there and then, no matter what special deals are offered.
Remember also that the carpet itself is just part of the total cost, you also need to consider underlay, gripper rods, and fitting costs to fit in your budget.
Many carpet retailers will offer a fitting service but always shop around for the best fitting price. You can use the free service on this website to start receiving quotes and compare prices from multiple tradesmen by just filling in one short form and letting us do the rest. The tradesmen are all also reviewed by homeowners like yourself for extra peace of mind!
Carpet Installation Prices
| Job Description | Duration | Material Cost | Labour Cost |
| --- | --- | --- | --- |
| Supply and fit budget carpet to living room using existing underlay and gripper rods | 2 hours | £200 | £60 |
| Supply and fit budget carpet to double bedroom with new underlay and gripper rods | 2.5 hours | £300 | £90 |
| Supply and fit quality carpet to lounge with new underlay and gripper rods | 2 hours | £500 | £90 |
| As above but also to remove and replace furniture | 4 hours | £500 | £130 |
Things to consider with carpets
Carpet prices can vary considerably so it's always worthwhile taking the time to carefully consider what type and quality of carpet you need. There are many different textures, colours and pile depths on offer to suit all budgets and uses. Don't buy carpets on price alone, cheap prices usually mean thin and less hard-wearing materials, so often a mid-range carpet is the best choice. The same can be said for the underlay, there is no point buying expensive carpets with poor quality underlay material!
Once you have decided on the carpet, always get at least 3 quotes for fitting as the costs can vary greatly. Regional differences are common, with London and the South-East costing more than other areas. Some fitters may offer a cheaper price if you buy the carpet through them too, so when shopping around for carpets get quotes for both supply only and supply and fitting for carpets to get the best deals. Even though you are hiring carpet fitters, there are things you can do to lower the costs.
First of all, make sure you completely empty the room before the fitters arrive to save at least £20 extra per room in costs. In addition, take up your old carpet and dispose of it to avoid paying extra labour and disposal fees. Removing the old carpet also gives you a good opportunity to inspect the floor and replace any broken floorboards before the new carpet goes down. If getting plush carpets with a deep pile you may also have to plane a couple of centimetres off the underside of doors. This is a simple DIY job but it will cost around £15 per door if you need someone else to do it for you.
How to Lay Carpet Yourself
Laying carpet is a job best left to the professionals as carpets are expensive so mistakes can be costly, plus getting the same finish as a professional fitter is very difficult! But DIY enthusiasts will definitely want to have a go and with the right tools and skills, it is certainly possible to make a good job of it!
You will need to hire or buy a carpet knee kicker or stretcher to stretch the carpet into position and achieve a decent finish with no bubbles or creases, plus a 3-inch carpet bolster with a rounded edge as well as some knee pads as you will be spending a lot of time on your knees! Everything else required you will likely already have, such as a decent Stanley knife and some double-sided tape. Some carpets are supplied with a foam or rubber back as the underlay, but others will need to be laid on a separate underlay.
One of the most common carpet types today uses a PU Foam underlay which offers excellent durability but is quite expensive. Other types of underlay available include Rubber Crumb, Felt Wool, Felt and Rubber Combined Underlay.
Start by rolling out your carpet and cut to an extra 200mm all around making sure any pattern is square to the walls.
Now take the carpet up again and put sown down sheets of paper to the floor using double sided tape to stop the underlay or foam backing sticking to the floor. Next, fit the gripper around the outside of the room to where the carpet edge will be with the sharp points pointing towards the walls. Now lay the underlay inside the gripper and roll out the carpet on top of the underlay making sure it is square to the walls.
Push the carpet into one corner leaving a crease in the overlap where the carpet meets the skirting board then push this crease well into the joint where the carpet meets the floor before cutting vertically upwards to leave the edge on the gripper then push it down so it bites.
Repeat this process along the remaining edge of the corner so you now have one corner tight and fixed by the gripper rods. Then work along one edge of the carpet cutting it into the skirting board as you go and using the kicker to stretch the carpet diagonally across the room. Once all the carpet is in position, make sure the carpet is tight to all skirting boards and finish the edges using the carpet bolster for a lovely neat finish.
Carpet Fitting Checklist
Laying carpet is a difficult job to do well and is best left to the professionals
The easiest type of carpet to fit is one with a foam backing underlay
A plain carpet gives more flexibility and allows the use of pattern elsewhere in the room
You should always replace the underlay with the new carpet
FAQ's
I am unable to clear my furniture will the carpet fitter help with this?
Yes, most of them will by prior arrangement and at extra cost.
How can I make sure I get a good carpet fitter?
Word of mouth recommendation from neighbours, friends and family is always best. But you can also check they are registered with the National Institute of Carpet and Floor Layers and look at their reviews on MyJobQuote.co.uk.
Lots of carpet retailers offer "Free Fitting", should I just use them?
As the old saying goes, "nothing in life is free"! Companies who offer free fitting simply increase the cost of the carpets to cover fitting costs. Always shop around for best deals on the carpet and the fitting costs.
What are the different types of carpet materials available?
The popular types include Wool, Polypropylene and Nylon/Polyamide - each of which has their own advantages and disadvantages in terms of price, quality and durability.
How do you know when a carpet needs to be replaced?
Signs that your carpet needs replacing include stubborn stains, wear, wrinkling, smells and discolouring.
Last updated by MyJobQuote on 1st May 2020.