Cost of Capping Fascias and Soffits
Trying to find out how much it will cost to cap your soffits and fascias? In this article we breakdown capping prices for different house sizes so that anyone can determine how much it will cost them.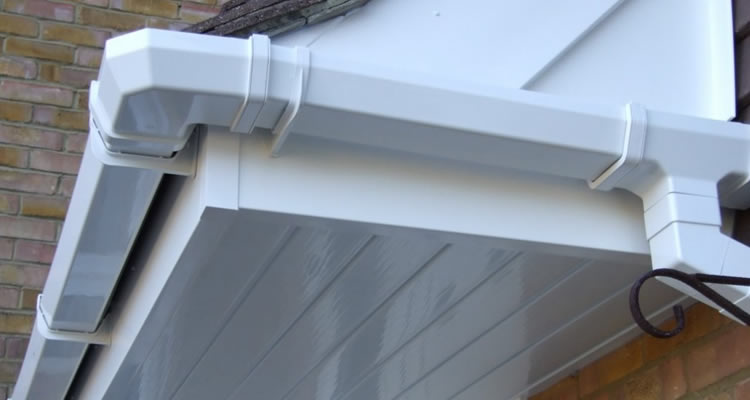 Average Cost of Capping Fascia and Soffit Boards
This type of job normally takes around 1 day to complete
£800
How Much to Cap Soffits & Fascias
Most roofs are fitted with fascia boards fixed onto the edges of rafters and soffits fitted to bridge the gap between the wall and the edge of the roofline. Soffit boards don't suffer as much from the weather as they are not as exposed, but over time they wooden soffits will still absorb moisture and start to rot and warp.
Fascia boars have a harder time as they are really exposed to the elements and even with regular maintenance will not last very long. it's no surprise that replacing timber fascias and soffits with Upvc is a common job for roofers, but this is also fairly expensive as removing all the old timber is time-consuming and will likely need scaffolding.
So an easier and cheaper way to protect the fascia and soffit boards is to cap them with Upvc boards. This is an easy way to improve the appearance of the roof edges and great if you never want to never paint your fascias and soffits again!
As long as you do it when the timber underneath is still in good condition, then capping is very viable and an excellent option that will last decades if installed properly.
Of course, full replacement fascias is always the best long-term solution, as the existing timber will start to rot eventually even when protected by Upvc boards, but if you don't plan on staying in the property for the next few decades, capping is perfectly fine.
But finding the right tradesman to work on your roofline can be challenging. Luckily, you can use the free service on this website to find tradesmen in your area just by entering brief details along with a brief description of your job - then you can sit back and they'll do the rest for you!
Soffit & Fascia Prices
| Job Description | Duration | Material Cost | Labour Cost |
| --- | --- | --- | --- |
| Typical 3 bedroom semi-detached house replacing soffits and fascia board with Upvc | 3 days | £200 | £1500 |
| Typical 3 bedroom semi-detached house capping soffits and fascia board with Upvc | 1 day | £200 | £600 |
| Capping fascia and soffit boards to just one wall 15m length | 0.5 days | £90 | £200 |
| Capping fascia and soffit boards to front and gable end wall 24m length in total | 1 day | £145 | £400 |
Things to consider when capping over roofline products
Cladding the existing timber fascia boards with Upvc boards is always the cheapest option but not always the best option. If the existing timber boards are falling apart then the Upvc cladding simply won't hold for any length of time, the only reason it MAY be worth cladding over rotten boards is if the house is for sale and you want to make it look as good as possible without spending any real money on it (though many would rightly consider this to be underhand).
Cladding is a good option for new timber fascia boards as it will help to protect them from the elements and make them last much longer, though many will not consider capping until there is a more obvious reason! If you are spending money getting your fascias and soffits capped, you might consider having other complementary work done at the same time, such as guttering replacement or repairs, or even minor repointing if required. Cement work won't be included in any quotes you receive as the original boards are being left in place so the existing cement shouldn't be disturbed by the work. However, sometimes if in very poor condition, some minor cement work will still be required.
A typical cladding job should begin with a full inspection of the roof to see if it's suitable for capping then ask for a full written quote. If someone knocks on your door and offers a price without even getting up on a ladder, then this should ring alarm bells!
Any written quote you receive should include the removal of guttering and rainwater pipes, then the pinning of thin capping fascia and soffits on top of existing boards, then the guttering and rainwater pipes reinstalled (or new ones fitted). New eaves felt should also be fitted and you should expect some sort of written guarantee for the work upon completion.
Doing it Yourself
The capping of the fascia and soffit boards can be done as a DIY job as normally scaffolding is not required and it's fairly straightforward to fix Upvc over the old timber.
Removal of guttering and rainwater pipes will always be required and you should always fit new rainwater goods unless they are in excellent condition. Always use thin capping fascia and soffits which are designed for capping and not normal Upvc boards, as the extra thickness of Upvc boards can push the guttering out too far and cause rainwater to run down the wall.
Once the thin Upvc capping boards are pinned into place on top of existing boards, it's just a matter of fitting the new guttering and rainwater pipes then installing new eaves felt. But remember that any rotten timber, including rafters, will need to be replaced before capping, otherwise the job won't last and you will find yourself up the ladder again repairing it in no time!
Finally, even though this job is quite straightforward, it will involve working at height for some time, if you are uncomfortable with this, better to get a professional in rather than suffer a dangerous fall! But if you are confident you can do the job properly and safely, you could save around £600 in labour costs, so this is a great DIY project if you have the necessary skills and experience.
Fascia and Soffit Capping Checklist
A full inspection of the roof will be needed to check it's suitable for capping
Even when capping, any rotten timber needs to be replaced
Some cement work may be needed that may not be included in the original quote
If you have a conservatory then scaffolding may be needed to cap fascia
FAQ's
Is fascia capping better than replacing it?
No, but to reduce the costs, many homeowners will opt for capping instead of full replacement. This is only viable if the fascias and soffits are still in good condition and will help to protect and preserve them. But if the timber is in poor condition and rotting, then capping over it is a waste of time and money.
How long does it take to cap over the old boards?
Capping over the original boards with Upvc is easy and will only take about one day with two workmen assuming a typical semi-detached house.
Why is full replacement so much more expensive than capping?
It costs substantially more to fully remove the old timber boards and replace them with new Upvc ones as this often involves erecting scaffold or access towers and a few courses of roof tiles will need to be removed before the existing boards can be pried off. In addition, there will almost always be some damage to the wall when old boards are removed so some cement work will also be required. It is much easier just to cap over the existing boards and this can usually be done with ladders.
Can I get a quote over the phone for capping?
Working out the average cost to replace fascias boards soffits and guttering is difficult as without an inspection, the tradesman will not know if the existing timber is rotten and needs replacing, nor can he assess a number of other variables. That being said, most roofline firms will have a standard price per metre that they may quote over the phone, but this is far from a fixed price.


Last updated by MyJobQuote on 6th May 2020.