Cost of Capping Fascias and Soffits
Trying to find out how much it will cost to cap your fascias and soffits?
In this guide, we breakdown all capping prices for different house sizes, labour fees and the cost capping boards. So that anyone can determine how much it will cost them overall.
For more information - take a look below!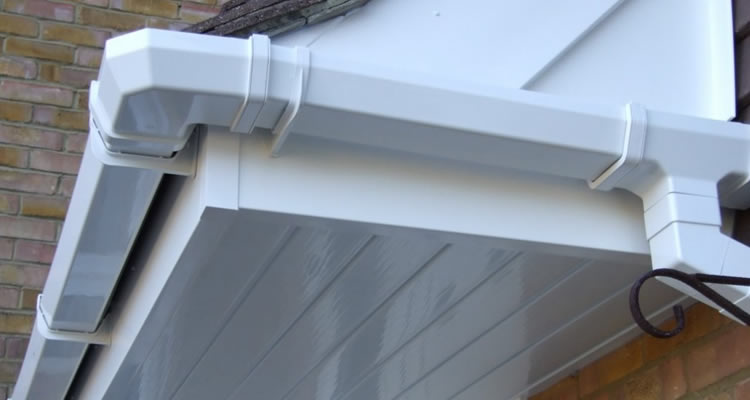 Average Cost of Capping Fascias and Soffits:
Depending on the complexity of the job, it usually takes: Approximately 1 Day
£800
How Much Does Capping Fascias and Soffits Cost?
The majority of roofs are fitted with boards called fascias onto the rafter edges and soffits that fill the gap between the fascia and the edge of the roofline. Fascias are directly exposed to the elements, whereas soffits are somewhat protected from the weather by the fascias. However, the soffits can still absorb moisture over time, causing them to soften, weaken and rot.
Fascias and soffits are traditionally made from different types of timber, which isn't the ideal material considering how exposed they are to the weather. With that in mind, more people are replacing their timber fascias and soffits for UPVC ones. With UPVC, your soffits and fascias are much more protected and require far less maintenance to prevent them weakening.
While replacing timber with UPVC is a wise investment, it can be quite costly considering the time needed to correctly remove the timber fascias and soffits, and then the cost to install completely new ones. In fact, it often requires the added cost of scaffolding just to carry out the work safely and efficiently. However, there is an excellent workaround available in this instance.
Instead of replacing your existing fascias and soffits with new ones entirely, you can cap them instead. This way, you protect the timber, improve the aesthetics of your home and remove the requirement for any painting or maintenance.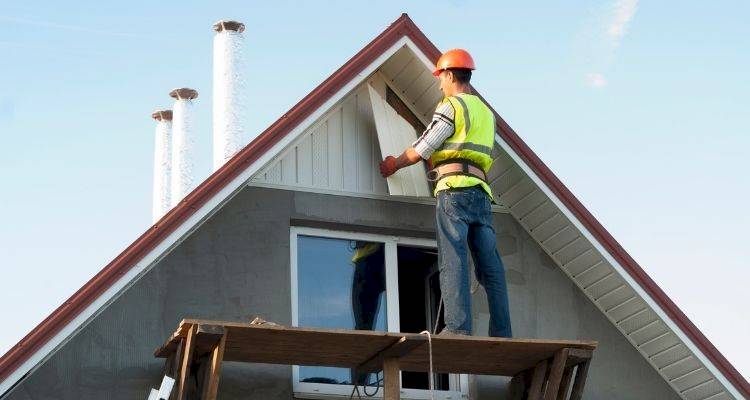 Now, the pricing to cap fascias and soffits range quite drastically depending on the specific layout and size of your home. To cap the fascias and soffits an entire 3-bedroom home will set you back around £200 for the materials and about £600 for labour, with the job taking around one day providing there aren't any complications or setbacks.
The size of the soffits also needs to be taken into account. For example, if you live in a tall home that isn't large in the sense of the surface area, you will naturally need fewer materials to cap your home. Similarly, the price will increase if the opposite is true for buildings like bungalows that tend to cover more land.
Consider how easily accessible your home is. If you don't have much access from the side of your home, for example, a contractor may struggle to reach those areas of your home. For accessibility issues, you may need to rent a scaffolding structure in order for the work to be carried out. Again, this will incur further costs.
Capping Fascias and Soffits with UPVC Prices
| Job Description | Duration | Materials Cost | Labour Cost |
| --- | --- | --- | --- |
| Capping a 2-Bedroom Terraced Home | 1 Day | £170 | £600 |
| Capping a 3-Bedroom Semi-Detached Home | 1 Day | £200 | £600 |
| Capping a 4-Bedroom Semi-Detached Home | 1.5 Days | £250 | £900 |
| Capping a 3-Bedroom Detached Home | 1.5 Days | £250 | £900 |
| Capping a 4-Bedroom Detached Home | 2 Days | £300 | £1200 |
| Bungalow | 1 Day | £200 | £600 |
| Capping a Single 15m Wall | 0.5 Day | £90 | £200 |
| Capping fascia and soffit boards to front and gable end wall 24m length in total | 1 Day | £145 | £400 |
Supply Only Costs
As you can see from the table above, a lot of the expenditure comes from the labour costs and not the actual materials used. You can buy all of these materials in your local DIY store, and you may be able to pick up some good deals by shopping for the materials yourself.
For a 4-metre length of UPVC fascia board, the average cost is around £40, and they are available in a whole host of different colours. The price can fluctuate slightly based on the thickness and width of the board you require, but £10 per metre tends to be a good estimator.
Soffits are a little cheaper, with the average cost being £20 for a 3-metre soffit.
Additional Costs
Numerous different additional costs can appear when you are having your fascias and soffits capped. For example, if the contractors discover that they are having trouble accessing your roof, it may be necessary to secure scaffolding hire.
In fact, sometimes it's beneficial to hire scaffolding even if there aren't any access issues, as it can really help speed the job up as it allows all of the contractors to work easily at height.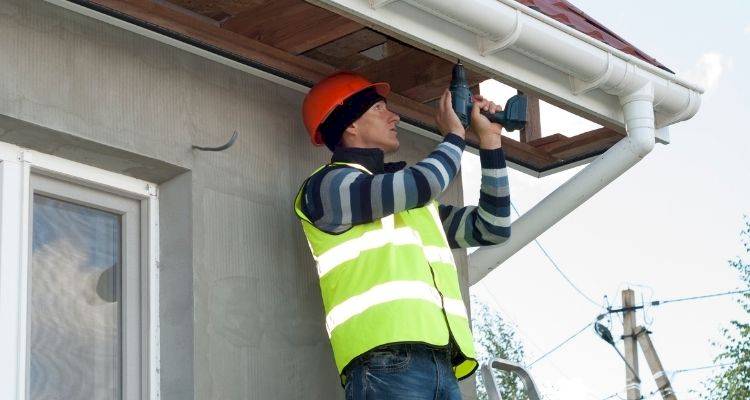 While the contractors are working atop your roof, it's easy for them to identify any issues you may have lingering that it would be beneficial to repair.
Ideally, it would help if you got someone in to do the work while you have scaffolding already erected. Jobs like replacing roof tile and roof cleaning can be quite tough to determine from the ground, so take advantage of when you have contractors working on your roof.
Labour Costs and Timescales
Labour is determined by the number of workers the contractor needs plus the amount of time the job will take. When you receive a quote, ensure that you clarify what exactly is included in the amount.
As standard, the quote will include materials and labour, but sometimes scaffold hire, waste removal and other costs are incorporated into the price.
Of course, if the job hits any unforeseen delays or setbacks, further charges could be incurred, so have a conversation with the firm that you select about these potential problems and find out how they deal with them.
Cost Factors of Capping Fascias and Soffits
The cost effecting factors of installing capping for fascias and soffits are quite varied. Of course, the main cost factor is the size of your home. It's natural that the bigger your home is, the more you can expect to spend on capping work on your home.
Some homes are shaped quite uniquely, which can result in the requirement of more lengths of fascias and soffits.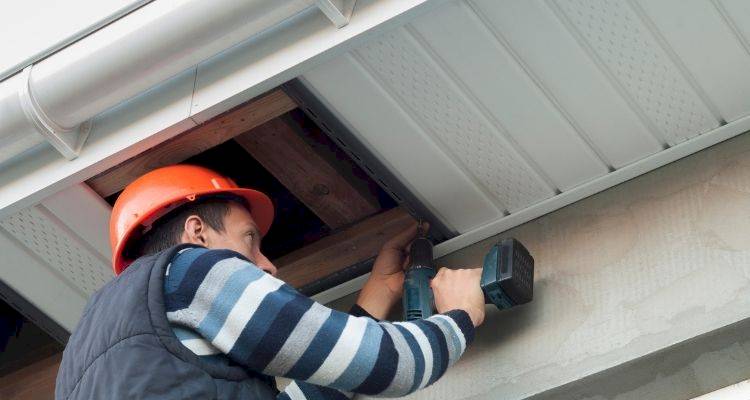 As we mentioned earlier in the article, the main issue with timber fascias and soffits, is the cost of the materials and the frequency in which they require replacing or repairing. So, the cost of capping the timber with UPVC is relatively small in contrast.
Hiring scaffolding to solve accessibility issues is one of the most common costs added to capping quotes, due to the number of homes that lack the space needed to work at height safely. However, it's a good idea to utilise scaffolding regardless of how much it will speed up the entire job.
What's Involved in Capping Fascias and Soffits?
Soffits and fascias are traditionally timber boards that protect the edges of your roof and need very frequent maintenance to keep them in any way fit for purpose.
These timber boards require paint, which also results in unsightly peeling paint is not much time at all. The issues with timber aren't just aesthetic, as the weakening fascias and soffits will eventually lead to roof decay issues, which are sincerely more costly than capping your fascias and soffits with UPVC.
A solid fix to these problems, without the need to remove and install an entirely new set of fascias and soffits, is to cap them with UPVC to extend their life massively.
The UPVC capping, or overcapping as its sometimes referred to as, will be attached over the existing fascias and soffits protecting them from rain, wind and other unsavoury weather.
It will also act as a kind of guttering system to help dispel rainwater from your roof. Here's a quick step by step guide to illustrate how capping is done.
Prepare the existing fascias and soffits.
The contractor will attach a level string line to ensure the capping is completely accurate.
The fascia and soffits are fitted with colour matching nails to ensure it looks perfect
Gutter brackets are then fitted, or refitted if required, and the gutter is fitted.
A bird comb is usually fitted to the bottom of the roof tiles to prevent birds from accessing your roof space.
Can I Cap Fascias and Soffits Myself?
Capping fascias and soffits is quite a difficult job. Not because there are too many confusing or particular steps, but because the materials can be tough to work with and the added complication of working at height can cause some severe health and safety worries.
For these reasons, we would wholeheartedly suggest that you enlist the services of trained and licensed professional.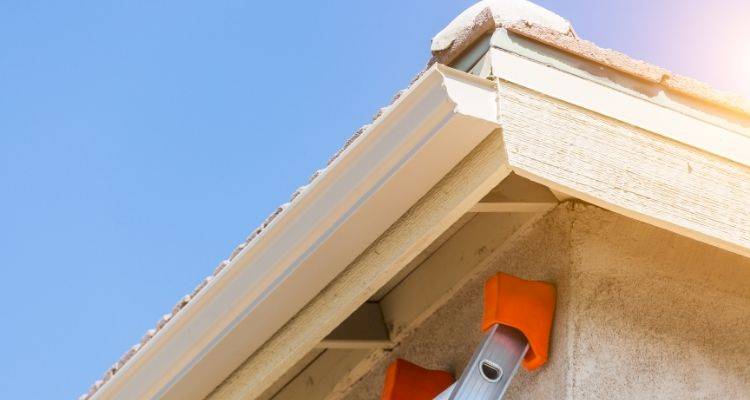 The biggest issue is with working at height. Even atop scaffolding, mistakes and missteps are amplified when working at height and a stumble or a dropped tool can become life-threatening. Trained professionals not only have the experience of working on jobs like fascia capping, but also with working safely at height.
However, there are still some aspects of the job that you can do yourself to save on costs, such as purchasing the materials yourself, shopping around for scaffolding hire and selecting the right contractors to carry out the work.
Do My Fascias and Soffits Need to be Capped?
If you have existing timber fascias and soffits, you could definitely benefit from capping, just based on the longevity of your existing materials. However, some people work out what areas of their homes are worst affect by bad weather and choose to cap just those areas.
For example, if the houses in your street and built quite close together, the sides of your home may be well protected from the elements anyway, so you'd only need to cap the front and the back.
There are some benefits to wooden soffits and fascias, mainly around their superior structural integrity when compared to UPVC. Still, again, you can expect to see visible damaging and weakening of the fascias and soffits after a short length of time.
Cost of Removing Fascias and Soffits Caps
There are numerous reasons why you could want to remove existing capping on your fascias or soffits. One example is replacing capping to be reinstalled in a different colour or style.
Another reason could be if you wanted to access the roof tiles for a repair or a refurbishment.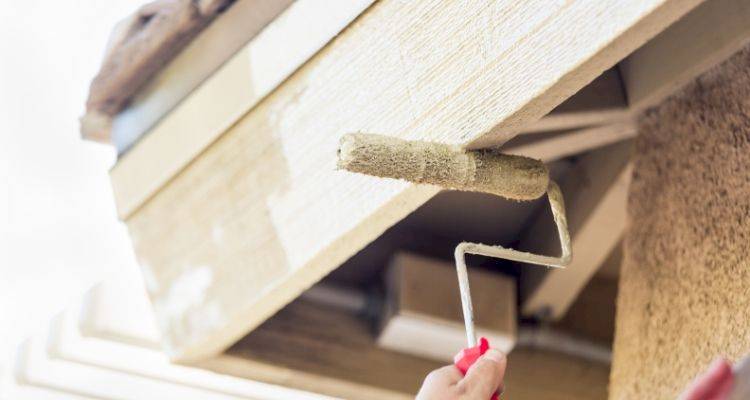 Removing capping is actually a lot more straightforward than installing them, suiting an experienced DIY enthusiast down to the ground. Usually, it just requires removing the screws and being careful to bring the capping down safely.
Once you have it on the ground, you can either give it away for free on several websites or breaking it down to take to your local recycling centre. It shouldn't require any costly removal services or skips.
Hiring Contractors for Capping Fascias and Soffits Checklist
When deciding on which tradesmen or contractor to enlist to perform capping work on your fascias and soffits, it's crucial to check them over first, before agreeing to hire them for the work:
Ask them about what experience they've had on similar jobs, and if there are any houses in the area that you could check out as an example.
You can also search for their company online to see reviews on websites like Google and Yell.
Positive customer reviews are usually the best sign that a company is legitimate and a good fit for the work.
It's also integral to question them on whether they have all the relevant and necessary qualifications and accreditations to work on your roof, along with any safety protocols that they must adhere to.
FAQs
What is the difference between replacing soffits and fascias, and having them capped instead?
Replacing soffits and fascias is far more costly than capping them. Replacing involves removing the fascias and soffits completely and replacing them with brand new materials. It's a lot more time consuming, expensive and may be a short-term resolution instead of a long-term prevention measure.
Will any trapped moisture damage the timber from the inside?
If the fascias and soffits have been capped by a trained professional, they will allow ample airflow through the capping system. This will allow any trapped moisture or dampness to dissipate without causing any damage at all.
How much is scaffolding hire for one day?
Scaffolding prices can vary from a cheap £40 per day to £250+ depending on the style and size of your home. For more information, check out our article on detailed scaffolding prices to get a better idea based on your home here.
What type of tradespeople carry out fascia and soffit capping work?
Your first point of call for this type of work would be a guttering or roofing specialist tradesmen. You want this job to be carried out correctly, so shop around for the best price with an experienced firm.
Can I cap my fascias and soffits on a budget?
There are a few ways you can try and save some money when fitting fascias and soffits. You can purchase the materials and any added requirements yourself, like scaffolding or roof tile repair. But don't try and save money on the labouring aspect of the job. This is the most critical aspect that must be completed to the best standard possible.
Sources
https://www.myfascia.co.uk/roofline-guide/replacing-fascia
https://www.wickes.co.uk/search?text=soffit
https://www.fixmyroof.co.uk/videos-and-guides/new-fascias-soffits/cap-over-or-replace-fascia/

Last updated by MyJobQuote on 9th August 2022.