Conservatory Extension Cost
Adding a Conservatory as an extension to your home.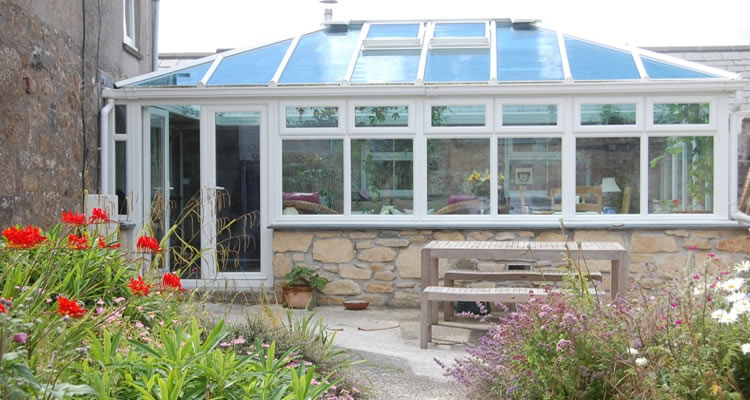 Average cost of adding a conservatory
A typical conservatory will take around 2 weeks
£10,000
With house prices on the rise again, many are stuck with their current property for the time being, despite the fact they have may have outgrown it and need more space. Homeowners are therefore choosing to extend rather than move for additional space, and a conservatory is one of the most popular ways of doing this. Even though the cost of building an extension can be significant, if done professionally it will always add value to your home. Many conservatories can be constructed without building regulation approval, but it is always best to speak with your local building control team before planning any work.
Typically, conservatories have mostly translucent walls and roofs, with an external type door separating them from the main house. They are most often constructed of uPVC but wooden conservatories are popular too, even though they will generally require more maintenance. Building a conservatory is not really a DIY job (unless you happen to be an experienced builder), so you really need to hire some quality tradesmen to do the job professionally. Myjobquote makes it easy to find reputable tradesmen in your area, just fill out a simple online form, then those tradesmen interested in the job will get in touch with you to provide a quote. The tradesman on this site are all rated based on their quality of work and reliability, which helps you to find tradesmen that you can rely on!
Typical Conservatory Costs
| Job Description | Duration | Material Cost | Labour Cost |
| --- | --- | --- | --- |
| Small lean to conservatory (aka Dwarf Wall Conservatory) | 1 week | £2000 | £3000 |
| Victorian conservatory with five large windows | 1 week | £2500 | £5000 |
| Small P-Shaped or L-shaped conservatory | 1.5 weeks | £3000 | £9000 |
| Edwardian or Georgian Conservatory labour£ | 2 weeks | £2500 | £7500 |
Things to consider when adding a conservatory
You need to be aware that neighbours may attempt to block your conservatory plans by claiming they have a legal right to light to their windows. This right does, in fact, exist in law and overrides any planning permission you might have and your permitted development rights, but it is only relevant in certain circumstances. It does not mean that your conservatory cannot reduce the amount of sunlight entering a neighbours window, as long whatever light is reasonably required for the use of the neighbour's property remains. This is a problem that generally only affects properties in city centres or other areas where buildings are very close together. If you suspect this right may be a problem with your extension plans, then you need to contact a specialist lawyer.
The legal minimum ceiling height has now been removed from Building Regulations, but there is still obviously a practical minimum height which this is especially worth thinking about in a conservatory build on a bungalow. Rooms should normally have a floor to ceiling height of at least 2.1m, in an extension with sloping ceilings, a minimum of 50% of the floor area should have this ceiling height. This can be difficult with single storey buildings due to the typical design of conservatories.
Many home insurance providers do not cover the building while you are changing the structure by building an extension or doing a renovation. Therefore, when carrying out the building works, you need to have site insurance to cover the existing structure and the conservatory until you complete the build, at which point you should notify your insurance company and ensure the existing cover is sufficient. Builders will often claim they have insurance in place but they may simply mean liability cover, which will not cover fire, flood and storm damage.
When planning a conservatory, one of the most important aspects is deciding on the most efficient and practical access to the extension, using an existing room for access rarely works out well unless the room is very large, otherwise the room used for access becomes simply a corridor and you end up sacrificing one room to gain another!
Doing it Yourself
Building your own conservatory extension can save you a significant amount of money. Most conservatory kits are fairly easy to assemble if you are a DIY enthusiast with average DIY ability. However, a poorly built conservatory will more than likely adversely affect the property value and could be dangerous and even cause problems with the existing structure if badly fitted. If you are less than confident in your DIY skills but still want to save some money, you can always ask a builder to take care of the foundations and build the base for you. You could then assemble the conservatory and get the builder to fit the conservatory to the base and connect to the existing building for you, and still save money.
If you are determined to build the conservatory as a DIY project, you first need to check that your proposed extension does not require consent or permissions. Then you need to choose a size and type of conservatory which not only works well with the available space, but is simple enough for you to build. Most conservatory kits come with all frames, roof, glazing and external sills, along with a fitting kit with sealant, masonry fixings and self-tapping screws. However, the interior finish is usually all down to you, so be sure to budget for that.
Building a conservatory does require a good level of DIY experience, or the assistance of someone with such experience. A typical conservatory will also take around 3-4 days for two men to complete (and that's assuming you know what you are doing and there are no major problems). However, once complete, you can enjoy your new extension in the knowledge that you have saved yourself many thousands of pounds!
Adding a Conservatory Checklist
The way you intend to use your conservatory will determine the correct type and size, so plan carefully
Contemporary conservatories are a highly cost effective way of adding space and value to a property
You can choose from energy efficient hardwood, uPVC or aluminium for modern conservatory and orangery systems
Buy from a reputable business that wherever possible are accredited by a UKAS affiliated scheme
FAQ's
What's the difference between planning permission and building regulations?
Building regulations set standards to ensure safety but also include requirements for energy conservation and disabled access. Whereas the planning department is more interested in the way buildings impact the general environment. For many types of building work, both will be required, but for most conservatory projects, buildings regulations approval may be needed, but planning permission probably will not be. In any case, you should always contact your local authority.
What are the benefits of constructing a conservatory DIY?
The main benefit, of course, is that this option could save you a significant amount of money. However, it will only save you money if you have the skills and experience necessary to do the job properly, a poorly designed or badly constructed conservatory will likely not add value to the property and may require completely rebuilding, so will cost much more in the long run! So if you are less than confident about your building skills, you need to find a decent builder.
How long will my conservatory last, what about guarantees?
Typically, most professional glazing companies and builders will offer a 10-year guarantee on conservatory builds. But you should expect a lifespan of 25 years or more.
Will my conservatory need planning permission?
Building a conservatory is usually seen as permitted development, and so you shouldn't need planning permission, subject to certain criteria regarding the size and situation of the conservatory. But always check with the local planning department in any case!
Do I need to obtain Building Regulations approval for my Conservatory?
Normally no, as long as your conservatory is at ground level, features enough glazing to satisfy requirements and is separated from the house by a quality exterior door, you will normally not need building regulations approval. But always check with the local authority in any case!
Last updated by MyJobQuote on 18th May 2018.