Conservatory Prices
Want to know how much a conservatory costs?
In this guide, we breakdown conservatory prices per square metre for all the different types of conservatory including lean-to, Edwardian, Victorian, P-shaped, T-shaped, L-shaped, orangeries - you name it.
So whether you're looking to replace an old conservatory, or want a new fully fitted conservatory building from scratch, we can help you with our conservatory cost calculator guide!
If you're old conservatory roof is in a bad state, you may want to consider simply replacing that, whether it be a solid roof, glass or plastic panelling, check out our cost guide for conservatory roof replacement.
For more details, carry on reading...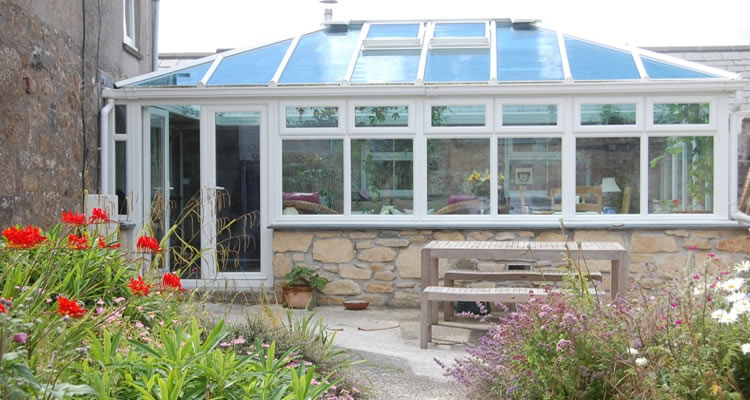 Average cost of a conservatory:
A typical conservatory will take around 12 weeks
£10,000
How Much Does a Conservatory Cost?
As with anything, you can build a conservatory on a budget or splurge on luxury – but taking into account a medium specification, your basic conservatory prices will depend on two factors: design complexity and square footage. You will then have to factor in the type of glazing you want (polycarbonate or glass) and whether you want a dwarf wall or fully glazed sides.
As a basic guide, your starting prices for the different conservatory designs are as follows:
| Design type | Minimum price |
| --- | --- |
| Lean-to | £7,500 |
| Victorian / Edwardian / Georgian / Elizabethan / Regency | £8,500 |
| Loggia / T-shape / P-shape / B-shape / U-shape | £15,000 |
Conservatory Prices
| Lean-to Design | Small (7m2) | Medium (8.5m2) | Large (10m2) |
| --- | --- | --- | --- |
| Polycarbonate w/dwarf wall | £7,500 | £8,500 | £9,500 |
| Glass w/dwarf wall | £8,000 | £9,000 | £10,000 |
| Polycarbonate fully glazed | £6,500 | £7,250 | £8,000 |
| Glass fully glazed | £7,000 | £8,250 | £8,500 |
| Edwardian Design | Small (12m2) | Medium (14m2) | Large (16m2) |
| --- | --- | --- | --- |
| Polycarbonate w/dwarf wall | £9,500 | £12,000 | £14,250 |
| Glass w/dwarf wall | £10,000 | £12,750 | £15,250 |
| Polycarbonate fully glazed | £8,250 | £10,250 | £12,250 |
| Glass fully glazed | £8,750 | £11,000 | £13,250 |
| P-Shape Design | Small (15m2) | Medium (17.5m2) | Large (20m2) |
| --- | --- | --- | --- |
| Polycarbonate | £13,250 | £14,250 | £16,500 |
| Glass | £13,375 | £14,750 | £15,750 |
The average cost of a lean-to conservatory (the lowest-cost design) is around £8,250. This will increase or decrease depending on the size of the conservatory, whether you want polycarbonate or glass roofing, and whether you want the sides fully glazed or with a dwarf wall. At the other end of the scale, a P-Shaped conservatory will cost on average £14,500, with the same variations of price dependent on specifications.
Supply Costs
Most quotes you will find online are either for the building + labour, or just the building – in which case, you are either expected to build it yourself or hire your own contractor. The supply cost will vary dependent on size and specification, as with anything, however there are some rough guides as a starting point. If you want a bespoke conservatory, with custom frames, glass, fittings etc., you would have to contact a distributor directly to request a quote.
| Type | Small (6m2) | Medium (10m2) | Large (14m2) | Extra Large (18m2) |
| --- | --- | --- | --- | --- |
| Lean-to fully glazed | £3,400 | £3,600 | £4,000 | £4,600 |
| Edwardian with dwarf wall | £2,900 | £3,500 | £4,300 | £5,300 |
| Victorian with dwarf wall | £2,400 | £3,300 | £4,200 | £5,200 |
Labour Costs and Timescales
As with any project with external contractors, get at least 3 quotes and try to view their past work if possible. Make sure you communicate your design ideas clearly, but do listen to the contractor's ideas too, as their experience will help to make your vision practical.

Additional Costs
Underfloor Heating
if you're worried about the cold in winter, a good option is to get underfloor heating. This modern conservatory addition eliminates the requirement for bulky radiators (which could block your view), and will provide an even source of heat around the room.
The only thing to consider is your floor covering; you should use tiles or laminate, as solid wood floors will likely warp over time and carpets will reduce the amount of heat getting through into your conservatory.
Lighting
We like to think we're going to get a lot of sunny days, when the conservatory will be full of bright, natural light, but there will be a lot of overcast days, and of course night times when you may want to sit with a cup of tea and a book.
A simple conservatory lighting solution is just a standard lamp or floor lamp – you get some ambience in the room, or a focused light on your book, without the glare of overhead lighting. An alternative is to install light fittings like pendant lighting, which hangs down from the ceiling, but you will need to have the correct electrical fittings installed into the ceiling first.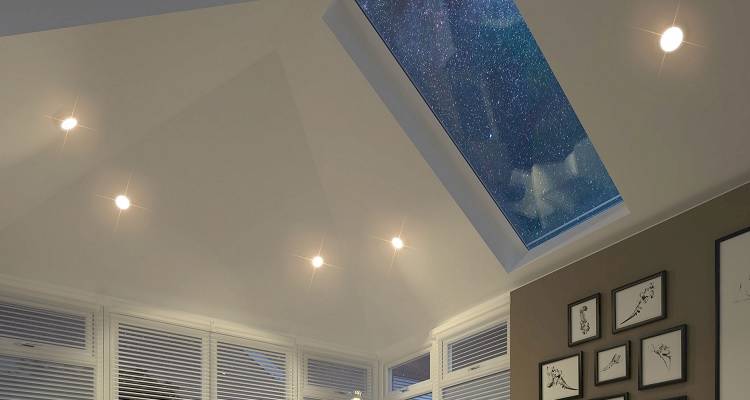 A more modern approach is spotlights or LED strips, which give a more subtle lighting solution and are much cheaper than other light sources. Again, you will need to have the relevant wiring in place for the LED option.
Flooring
If you will be frequently going from your conservatory to your garden, you're going to need both a hard wearing floor and one that's easy to clean! While a carpet or solid wood flooring can make your room feel more cosy and luxe, the inevitable condensation may play havoc with both, causing rotting and warping.
A non-scratch vinyl tile, good quality laminate/vinyl flooring, or ceramic/slate/porcelain tiling will actually hold up a lot better and still give you the same design flexibility of carpet and solid wood.
Insulation
At the expensive end, you can have a lightweight metal roof put on (fitted by a professional) with an insulating layer prior to the ceiling being added, but this isn't an option if you want a glass roof or a cheaper option.
One alternative at the other end of the budget is adding a second layer of polycarbonate/glass to create an insulating air gap – this is a magnet for condensation though, so will need to be fitted carefully. If you have any draughts, plugging those up too will really help with keeping your conservatory warm.
There are other solutions, such as attaching reflective laminate underlay to the roof panels to reflect heat, or putting heavy fabric between the rafters to cut down on the amount of heat escaping, but neither of these are particularly attractive options.
Glass Types
There is a lot of variety here and consequently, there is a big range on the cost front, so it's worth carefully weighing up the pros and cons of each before making the decision. Toughened safety glass is great if you have children who may accidentally throw a ball in the conservatory's direction – the glass is very tough, but when it breaks it does so into small pieces rather than dangerous large shards.
Laminated glass is long lasting, difficult to break (so great for security) and effective at insulating. Heat reflective glass, especially when double glazed, is strong and very effective at reducing heat loss. Self-cleaning glass uses the sun's rays to break down dirt which the rain can then wash away – this can be combined with heat reflective glass.
As well as types of glass, modern conservatories can also be glazed with curved glass panels, frosted glass (for privacy), leading and Georgian bars (both used to emulate and continue your property's traditional features).
Tiled Roofs
An alternative to the standard glazed conservatory roof is a solid, tiled roof. This adds a little more robustness to your conservatory roof and keeps a little more of that heat in during winter, and out in summer.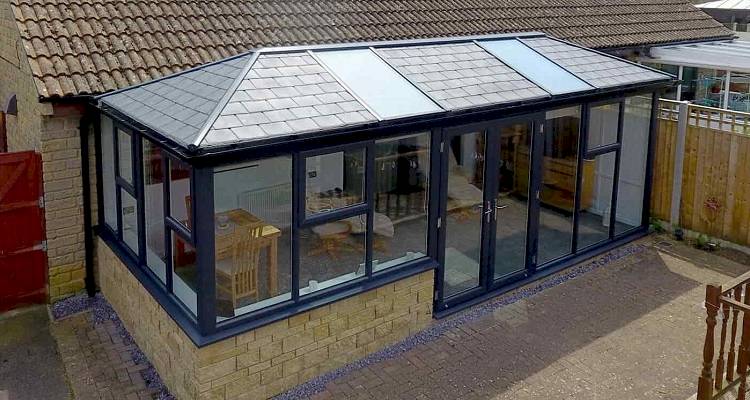 Additionally, you can choose your tile colours and finishes to add your personal style to your conservatory, and add glazed panels into the roof to let extra light in. If you want to find out more about what's involved with replacing your conservatory roof then check out our guide.
Cost Factors of a Conservatory
Complex Groundworks
Your conservatory base is very important and will be key to your conservatory looking its best and lasting well. You should get a site survey done before you even have your conservatory ordered, as it may well impact on the size and design you choose.
Your ground will need to be excavated and carefully looked at – this will allow you to see how deep the foundations need to be. You can then choose either a flat base for your conservatory, or a raised base, which is used when your ground is sloped.
You or your constructor may lay a pile foundation (with long strong cylinders pushed into the ground), a raft foundation (a large slab which rests on the soil, covering the entire footprint of your conservatory) or just a standard foundation which suits your local ground conditions.
Frame Materials
Conservatory frames tend to be built from one of three materials: uPVC, wood, or aluminium. UPVC conservatory prices are the most cost effective, and are much easier to maintain and clean than the alternatives.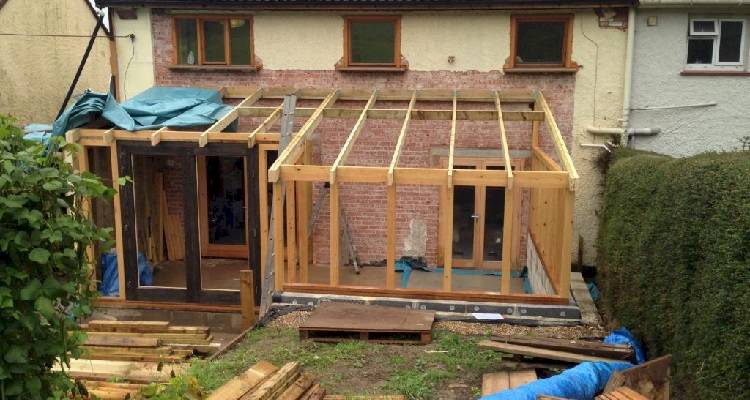 You can also choose from many different colours, including wood-effect. Wooden frames are the next best, and the next level up in cost. They are very attractive and add a cosy, rustic feel to your conservatory. However, you should get hardwood rather than softwood (for longevity), and both types of wood take a lot of maintenance and are prone to rotting.
The final option is aluminium – the most expensive but most durable option. As aluminium is really pliable, manufacturers can make the frames thinner than either wood or uPVC, meaning you get more window and less frame in your view.
Glazing Type
Polycarbonate or glass? Polycarbonate is very difficult to break, is completely weather resistant, protects against UV radiation and is also flexible and lightweight. Polycarbonate is also great at insulating, keeping your conservatory cooler in summer and warmer in the winter – this saves you money on your heating.
Finally, it's much easier to install than glass and allows curved designs, even bending a cold panel onsite. Glass, on the other hand, actually retains more heat in winter than polycarbonate, meaning you can use your conservatory for longer in the year before you have to get the heaters out – saving you money. It is also less likely to get scratched, meaning your clear view stays clearer for longer.
It is just as weather resistant as polycarbonate and can also come with a UV coating on it to protect the conservatory's occupants. For many, the choice comes down to the pricing, with polycarbonate coming in a little cheaper than glass.
Dwarf Wall
A dwarf wall on your conservatory can help to link the new building to your existing property, as there are plenty of colours and mortar choices available. A fully glazed conservatory will allow a little more sunlight in. However, this will cause temperature rises in the conservatory, meaning you will likely need more ventilation.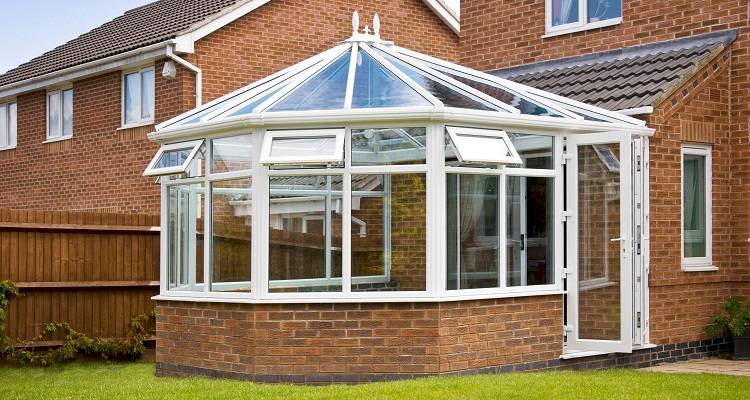 With a dwarf wall, you have less extreme temperatures, meaning it's usable for longer without heating or ventilation. Another benefit of a dwarf wall is that there is less glass, so less cleaning – and as it is the lower glass missing, any mud or dirt thrown up from the floor will not block the view out of your windows.
These walls also provide a sturdier base (especially important if you have a heavy glass or tiled roof). On the other side of the coin, a dwarf wall does reduce the view, so any low-lying garden close to the building may be obscured, and it is more expensive than full glazing; an important point when trying to build on a budget.
Roofing Style
You will need to consider how you want your roof to look, and your choice will affect the price of your end product as the complexity and amount of glazing varies between each design.
Apart from the lean-to style (which has a flat lean-to roof), most conservatory roofs are gable fronted or hip styled, but there are other variations as shown below. For instance, the cross-hipped style may work well on a P-shaped conservatory:
Double Glazing
This is less of an option and more of a necessity. Double glazing cuts heat loss and you can get further benefits if you have it installed with extra technology. Solar control glass has a light tint added to the glass which actually absorbs heat from the sun, and a metallic coat (which leaves your glass untinted) reflects the heat instead of absorbing it.
Blinds
These can be a godsend in summer if your conservatory is south-facing or overlooked. However, installation of the blinds will require the internal PVC cladding to be pierced, which could result in further issues that the conservatory manufacturer will not accept responsibility for.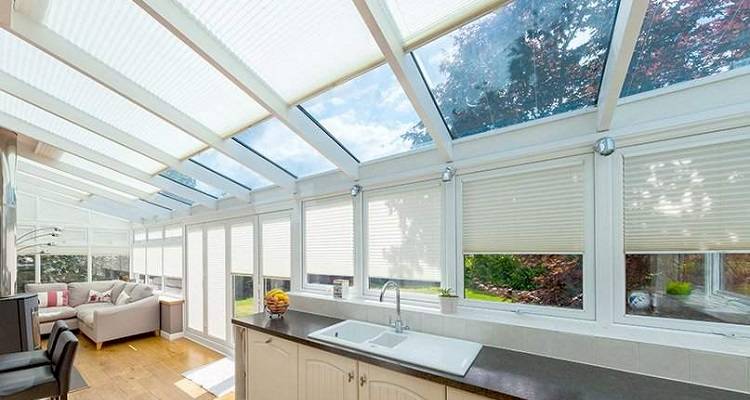 Ventilation
This is vital, as without it, your conservatory will be unable to avoid condensation. You can have a high tech solution, with thermostatically controlled roof vents and even have built in rain sensors; or you can go the low tech route, and make sure you have plenty of openable windows and, potentially, some vents in the roofing.
What's Involved in Installing a New Conservatory?
The first step is to lay a solid foundation, which will comprise a channel filled with either foundation blocks or concrete. This will then be covered with a weed-suppressing membrane to help keep a neat finish and prevent more vigorous plants from damaging the underlying structure.
After this, the base sections are placed into position and bolted together, then bolted to the house in the right location. The floor insulation sheets are inserted next, followed by a fixed floor on the base. Finally, a skirt is fixed to the base which may require extra structural support if your ground slopes. The walls will then be bolted into position and fixed to the base.
Once this is complete, the frames will be fixed together then attached to your house wall. The roof comes next, which is assembled and then fixed in place. Finally, the glass will be installed, then any decorative features (cresting/finials), followed by gutters and downpipes. Any internal trims will be added to complete the job.
Conservatory Types
A conservatory is defined as "a room with glass walls and a glass roof, usually connected to a house, used for growing plants or for relaxing in."* They were originally created in the 1500s so wealthy individuals could grow citrus fruits brought over by traders from the Mediterranean.
From there they were used as standalone teahouses, and nowadays they are attached to properties, and often referred to as sunrooms or solariums. They come in various standard shapes/styles as below:
Lean-to:
A cheap conservatory option, a lean-to conservatory is very simple and subtle. This style of conservatory is usually square or rectangular and the longest side runs along an existing wall of your house. The roof attaches to the existing property wall, angling down to meet the front of the conservatory.
Edwardian:
This type of conservatory has flat walls, and is a very simple and symmetrical design, often square or rectangular. One of the benefits of an Edwardian style conservatory is that it makes full use of the available floor space. You can have any size, as it has a pitched roof rather than one limited by the projection from the house.
Victorian:
A Victorian conservatory has a steeply pitched roof, often with highly decorative finials at the peak of the roof, and crestings along the ridge. This was the style at the time, and so this type of conservatory better suits a traditional style home.
Gable:
This is an elegant and bold style of conservatory. It has a vertical roof at the front, with the ridge running front to back, and the sloping sides left and right. Its Georgian influence perfectly suits a period property.
P-Shape:
This is a combination of a lean-to conservatory plus either an Edwardian or Victorian style part at one end, forming the loop of the 'P'. The P-Shape conservatory effectively makes two separate rooms instead of one, and you can make each room as big or as small as you like.
T-Shape:
The T-Shape conservatory works best on a larger property and has three sections, the central one of which projects out in front of the others. The T-shape conservatory can be built based on a Victorian, Gable or Edwardian style, with the central projection adding further space.
Lantern:
This is more often used as a roof for an orangery (a more substantial building than a conservatory, with fully insulated brick walls and a glass roof) or a pool house, but can suit larger house conservatories. A lantern conservatory has a two-tiered 'wedding cake' roof, creating extra height, and the extra windows allow you to add more ventilation.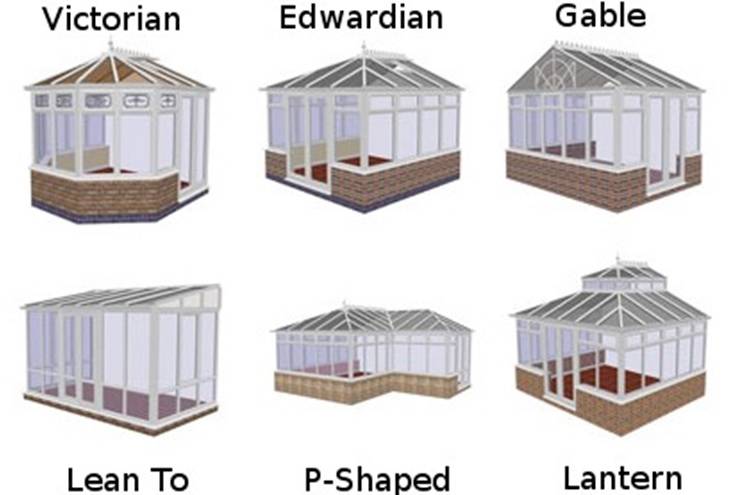 What Are the Benefits of a New Conservatory?
Many people are interested in whether conservatories add to a property's value, and the answer is usually yes. However, the amount it increases the value by will depend on the quality of the build, the amount of additional space it provides, and how much it encroaches into the property's outdoor space.
As well as a financial value boost, a conservatory has the additional benefit of allowing you to feel that you're in your garden without suffering the wind and rain. On a warm day, a conservatory with its doors open into the garden provides a wonderful link between the inside and outside spaces.
It also adds a lot of natural light into the adjoining rooms and, as such, can be the perfect place to read or do crafts.
Alongside these benefits, a conservatory will also give you some extra space in your property, which can be used as an additional sitting room or sunny kitchen extension. If you do extend your kitchen into the conservatory, make sure you consult a specialist conservatory company who will give you advice on plumbing and electrics.
A further benefit of a conservatory is its relatively cheap cost compared to a single story extension. A basic conservatory can cost as little as 10% of the cost of a similar sized extension, and there are a lot of options to choose from to customise it for your property.
Does Installing a Conservatory Increase Property Value?
On the whole, yes. A well-built, fully watertight conservatory, which adheres to all planning and building regulations, could add up to 5% to a house's value.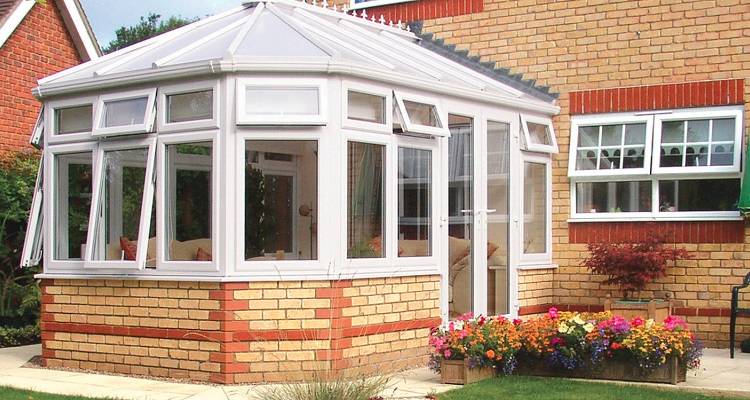 Not only that, but it can also make your house more appealing to potential buyers, as a conservatory can provide a weather-protected view into the outside space.
Can I Install a Conservatory Myself?
Yes! In fact, some companies make bespoke conservatory kits with full instructions. This will save you having to measure up exactly and have the parts manufactured, as well as saving you thousands of pounds in labour costs.
It also means you can do it at your own pace, knowing those contractor costs aren't racking up. As well as custom-made conservatory kits, you can buy basic standard conservatory frames from larger DIY shops, though the money you save will need to be weighed up against the lack of choice and specification.
If you are considering building a conservatory yourself, be aware that there could be unknown challenges which you should be prepared for. Uneven ground levels, drainage pipes under the floor surface, and a supporting wall to knock through are all possibilities.
It could be worth speaking to a structural engineer who would be able to anticipate a few issues. As with any work done by yourself, you should ensure that you have adequate safety wear, help with heavy lifting, and the right tools for the job.
Kitchen Conservatory Cost
A kitchen conservatory will provide a lot more light and space to your existing kitchen, important if you use your kitchen as a social room, as well as a practical one. An important consideration is ventilation, as your conservatory will need to allow steam and heat from cooking and appliances to escape.
You will need to ensure your view isn't blocked, and that plumbing and electrics are put in to the best places, and as such, your kitchen conservatory will require a bit more design than a normal one. A benefit of a kitchen conservatory is that it is much cheaper than building an extension, and has all the benefits of a standard conservatory, including the cost.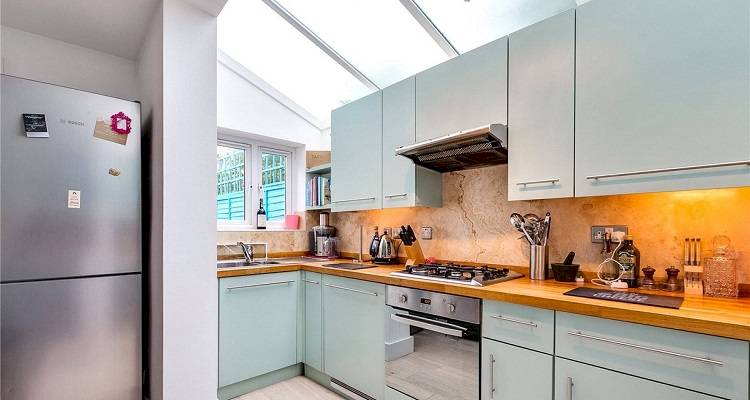 However, when budgeting, you will have to include specialist lighting, ventilation, heating, and flooring to cope with kitchen use and cleaning, as well as budgeting for the kitchen contents themselves.
A new kitchen can cost anywhere between £8,000 and £15,000, and you could go far higher with enough space and requirements. If you are extending an existing kitchen, it may be worth replacing any old white goods so they sit well with new ones, as well as being more energy efficient and streamlined. The cost of white goods varies as with anything, but below is a rough guide:
| Item | Lowest cost | Highest specification |
| --- | --- | --- |
| Refrigerator | £100 | £2,500 |
| Freezer | £110 | £1,750 |
| American-style fridge-freezer | £350 | £5,500 |
| Dishwasher | £180 | £1,500 |
| Hob – gas | £90 | £1,100 |
| Hob – induction | £170 | £2,600 |
| Hob – ceramic | £100 | £850 |
| Hob – solid plate | £80 | £1,500 |
| Oven – single gas | £350 | £550 |
| Oven – single electric | £120 | £2,200 |
| Washing Machine | £180 | £1,700 |
| Tumble dryer – condenser | £190 | £1,000 |
| Tumble dryer – vented | £180 | £850 |
| Washer dryer | £300 | £1,800 |
Bespoke Conservatories
It is very rare for people to design a conservatory from scratch and the prices for these would be on a personalised quote basis. However, many people take existing conservatory designs and personalise them to their own taste, space restrictions and requirements.
Most often, it is the P-, T- and L- shape conservatories which are personalised (the L-shape conservatory is wrapped around the corner of the building). In the case of these styles, you would alter the size of each part to fit your needs (e.g. a wide lean-to, with a small Edwardian at one end to make a P-shape conservatory).
There are a huge number of variations you can create with the differing conservatory styles, and configure each to match your property. As with any bespoke building, the cost of these would be individual. But if you want a very rough guide, you can research the costs for each and add them together.
The final result will likely be slightly over your final cost, as they will share one wall and because your builders will be available and onsite for both parts at the same time.
Planning Permission for a Conservatory
Under Planning Permission guidelines, some additions to properties count as 'permissible developments', meaning they don't need approval from the Local Planning Authority (LPA).
The majority of conservatories fall into this category, meaning no planning permission is required. However, if your conservatory is to be built facing a road or at the front of your property, has a balcony or veranda, or will be bigger than 50% of the land surrounding your house, then you will need to enquire with your LPA as to whether you'll need permission.
The same applies if your current property is a listed building or on protected land. If you need to apply for planning permission, you should budget around £200 for the application fee.
Building Regulations for a Conservatory
Conservatories tend to be exempt if they are less than 30m2 in area, when they have independent heating and when they are built with external quality walls, doors and windows.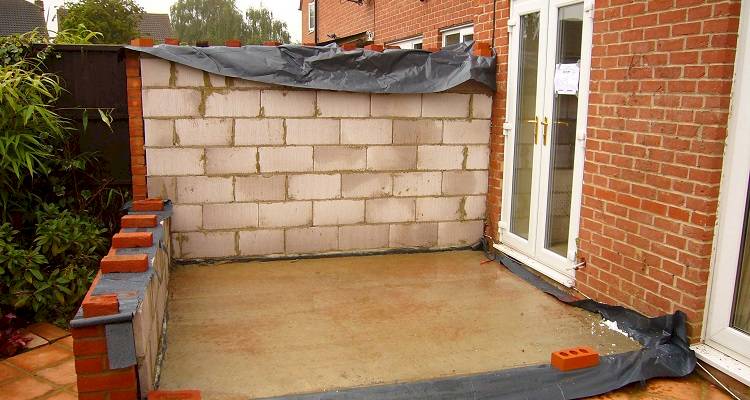 Their build and parts should be built with the same standards, electrical checks etc. as any other buildings. But other than that, the only part which will require building regulations approval is the opening where the conservatory joins the existing building.
There is no set fee for a building regulations review – local authorities will have a set fee based on their work and private companies will negotiate a fee with you up front.
How to Keep Conservatory Costs Down
Choose from one of the cheaper styles of conservatory – the more complex the design, the higher the cost, so simple is usually cheaper.
Choose a smaller conservatory over a larger one – this is obvious, but the smaller the foundations, less glazing etc., as well as less heating, lighting etc., stands to make you a big saving.
Choosing a new conservatory is most people's choice, but a second hand/used one can be a great bargain. So long as it has been taken apart carefully, and is in great condition, you will only end up paying for your foundations and assembly.
Instead of going to a conservatory specialist and paying to customise your new building, consider getting one 'off the shelf'. Some larger DIY shops now sell complete conservatory packs, and where you'll lose out on choice, you'll make up for in savings.
Ensure you have a clear purpose for the new room(s) before you begin your search. You'll need more sockets and lights for a kitchen (which will be used all day, every day). However, a crafting or reading room may only need a little heating, and space for a comfy armchair.
Do you need a large entry to your existing home? The smaller the area to knock through, the cheaper the final cost – so a large door will be considerably cheaper than opening up the full side of your house.
Making sure you get quotes may give you the ability to negotiate, either on a price reduction or the inclusion of additional features. It's also worth considering that buying your conservatory in the down season (i.e., the colder months) will likely reduce the price.
You can build the conservatory yourself, though this comes with its own pros, cons and costs. It's a worthwhile consideration though if cost is your main sticking point.
Try to do as much preparation as you can and ensure all the materials, contractors and waste disposal methods are ready and available before the project commences. This prevents short-notice hires (often more expensive) as well as extending the amount of time your labourers are on site.
Alternatives to a Conservatory
If you're looking for a bit of extra space, but aren't settled on a conservatory, there are other options. The first, and most expensive, is a single storey extension. This is a much bigger bit of work, and will require an architect, a much longer construction period, and much more disruption.
Then there is a veranda, which is like a fully-glazed lean-to conservatory, and usually has a very large door opening (often a bi-fold door) which allows the whole room to open up onto the garden, creating a seamless link into your outside space.
You could also build an orangery, which is a blend of a conservatory and an extension. It adds the extra space and additional light, often with a lantern roof to give an airy feel, but with solid walls to help it feel like more of an extension of your existing property. A final option is a pergola, which has a fully waterproof roof, but no side walls.
This is another way to link your inside and outside spaces, giving you a great view of your garden whilst protecting you from the rain. Each of these options has pros and cons, as well as a variety of prices, so are all worth consideration before you make your final decision.
Maintaining, Repairing and Cleaning a Conservatory
Here are the key factors to consider in respect of conservatory maintenance and how to manage them.
Condensation
This cannot be fully prevented, as during the cold winter months, any warm damp air which touches the cold glass will turn into water droplets. To reduce condensation build-up, regularly open the windows and vents, and you can also slightly turn up the heat to help evaporate some of the moisture.
Some conservatories have permanently open vents in the ridge and eaves, which again help to reduce condensation. You should ensure, however, that you have adequate security measures in place if you are leaving windows and doors open.
Heating
You're best maintaining some heat in the conservatory during the colder months to prevent the build up of condensation, but this could just be via a portable heater rather than more elaborate heating methods.
You can have a fan fitted into your conservatory, which helps to circulate the heat in winter, but if this needs maintaining you will need to hire a qualified electrician.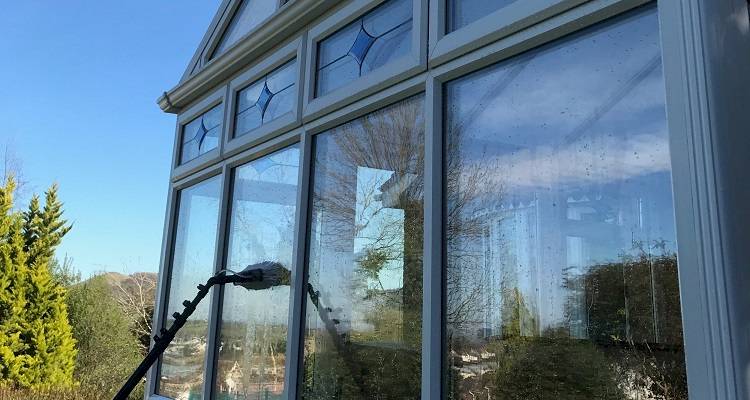 Doors/Windows
Keep the locks and handles lubricated, and likewise, keep the brass work well lacquered so it does not tarnish or peel. If you have anodised gold instead of brass, wipe the fixings and fittings with warm soapy water. With the glazing, wipe off any substantial dirt with soap and water, but any smaller areas of dirt can be cleaned with a normal household window spray cleaner.
If you have opted for self-cleaning glass (which uses rain plus the sun's ultra-violet rays to break down dirt), you will need to take care not to damage the special coating on the glass. You can rinse the glass with the hose if there is a large area of dirt; otherwise a soft clean cloth will suffice.
Walls/Roof
Clean the walls with a soft cloth and warm soapy water, both inside and out. For your roof, you are best removing as much of the moss and algae as you can by hand (or with a pressure washer), then using a telescopic brush (plus squeegee, if desired) with hot soapy water or specialist cleaning fluid.
Cost of Removing a Conservatory
If you want to remove your existing conservatory in a safe and responsible way, it will take almost as much time as erecting it in the first place. You can employ a contractor to take it apart for you, or you can do it yourself if you want to save money.
To take it apart yourself, conduct some research first to make sure you're ready for the job, including how to detach the glass panels without breaking them. Remove all the contents of the conservatory, including flooring and blinds, then take out all the panels of glazing from the roof and sides.
Detach the roof from the house wall and take it off the frame, as well as the guttering. Dismantle the frame working from the outside towards the house wall until you've removed every single item from the conservatory base.
From here, you can either replace your existing structure with a new one on the base, or you can remove the base entirely – you will likely need a professional to help you assess how to do this.
Once you've taken down the conservatory, you will need to consider how to dispose of it. You could list it for sale, and make some money whilst allowing someone else to save on their new building, or you can recycle it, taking it to a recycling centre and allowing the glass and uPVC to be put to other uses.
The final, and less planet-friendly option, is to dispose of it at landfill. To do this, you would need to hire a skip, at a cost of £75 to £300 depending on size, and then that company would take the rubbish away for you and dispose of it.
Hiring a Conservatory Installer: Checklist
Get quotes from various installers;
Check whether they have the relevant industry related qualifications;
Get references from previous customers;
Ask to see previous work;
Get a written quote (this should be free of charge);
Query their warranty and guarantee policies;
Check whether they do a deposit guarantee and whether they have insurance;
If they are members of the Double Glazing and Conservatory Ombudsman Scheme, this gives some protection to the customer when dealing with conservatory installers, as the company will be vetted on a continual basis.
FAQs
How much does a lean-to conservatory cost?
This depends on the size and the specification, but a typical conservatory cost for an 8.5m2 lean-to is about £8,250.
How much is a conservatory on average?
Conservatories range in price considerably, from £5,000 for something basic, to £40,000 for something large and luxurious. However, taking the average person's budget and requirements into account, £11,000 – £12,000 would be an average conservatory cost.
How can I moderate the temperature of my conservatory?
There are quite a few ways – choose glass with sun-absorbing/-reflecting technology, choose a tiled roof instead of fully glazed, add lots of ventilation (doors, windows, vents), install a ceiling fan, add blinds and install underfloor heating. For less permanent heating solutions, you can always put in a portable heater.
Can I change the light levels in my conservatory?
On the construction front, for more light you can choose a fully glazed or lantern conservatory, extra windows or fully glazed sides, and aluminium frames, which are thinner so let more light in. Conversely, a tiled roof, dwarf wall, and thicker frames will reduce your light levels.

If the conservatory is already built, adding blinds to your windows will block out some of the light, and if you have electricity installed into the conservatory you can have lights fitted.
How does a conservatory compare to a single storey extension?
A conservatory and an extension are hugely different, so challenging to compare. In a nutshell, a conservatory is an addition to your house, at a relatively low cost, and built to make the most of any sunshine and the views of your garden.

On the other hand, an extension is an enlargement of your existing house (rather than an addition), so tends to be built in a style in line with the rest of your property. It has fully bricked walls (though you can add larger windows and doors), and will usually have a solid roof. An extension is better at heat and light management, and it is easier to add in plumbing and heating. Finally, an extension has walls, so you can make more use of the vertical space.
Sources
https://www.britannica.com/technology/roof
https://www.dwwindows.co.uk/news/the-true-cost-of-a-conservatory
http://www.jamesconservatories.co.uk/conservatory-styles.php
https://www.clearviewhome.co.uk/inspirations/tiled-roof-conservatory/
https://www.planningportal.co.uk/info/200130/common_projects/10/conservatories/3

Last updated by MyJobQuote on 16th March 2022.