Garden Waste Removal Cost
Trying to find out how much it costs for garden waste removal?
In this complete price guide we look at all garden waste clearance costs so that anyone can estimate how much garden rubbish removal will cost them overall before they hire a gardener to carry out the work.
So, if you want to learn more - continue reading...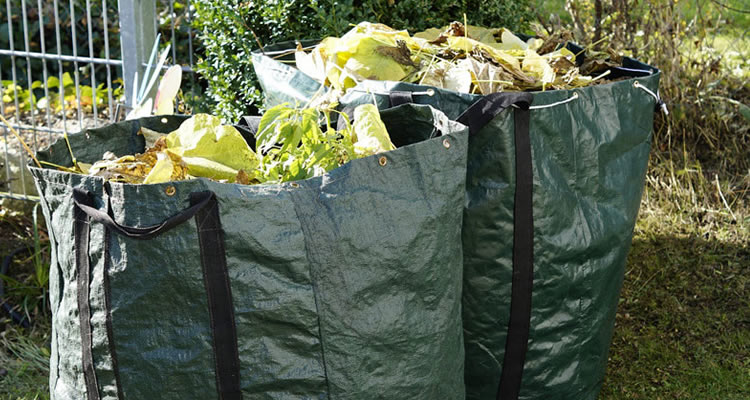 Average Cost of Garden Waste Removal:
Depending on the complexity of the job, it usually takes: 1 - 2 hours
£200
How Much Does Garden Waste Removal Cost?
Garden clearance prices depend on a few factors. These are how much waste you have, what sort of waste it is, and how you choose to get it removed.
If you decide to hire a company with a van to come and remove your garden rubbish, then it can cost between £15 - £300. The low end of this range assumes you only have a minimal amount of waste. The high end covers up to 2 tonnes of waste. This cost includes labour and disposal costs. All you have to do is watch while the company remove your waste.
Another option is to hire a skip and then fill it yourself. Skip hire costs £70-£400 depending on the size of skip you need. You can take your time over the work and can get rid of other waste at the same time if you need to.
If you need to get rid of a small amount of garden waste regularly, you can see if your council has a garden waste removal scheme. These can be free or cost around £150 - £200 per year. It all depends on your local council.
Garden Waste Removal Prices
There are a few factors that can affect the price of removing your garden waste. To help you determine your budget, here are a few prices to consider:
Skip Hire
If you decide to hire a skip to get rid of your garden waste, you will be charged based on the size of skip you need.
| Skip Size | Approximate Number of Bin Bags | Average Cost |
| --- | --- | --- |
| 2 yard | 20 | £70 - £100 |
| 3 yard | 30 | £75 - £110 |
| 4 yard | 40 | £100 - £260 |
| 6 yard | 60 | £120 - £275 |
| 8 yard | 80 | £ 160 - £370 |
| 10 yard | 100 | £180 - £400 |
| 12 yard | 120 | £220 - £440 |
| 14 yard | 140 | £230 - £450 |
Removal Costs by Weight
When you are using a company to remove your waste, they will charge you by weight for the heavy materials like soil and bricks.
| Weight | Average Cost |
| --- | --- |
| 100 kg | £14 - £16 |
| 500 kg | £70 - £80 |
| 1 tonne | £140 - £160 |
| 1.5 tonnes | £210 - £240 |
| 2 tonnes | £280 - £320 |
Removal Costs by Volume
When you are using a removal company, they will charge you based on volume for most waste. This may be given in either cubic metres or how much of the van is filled.
| Amount of Van Space | Volume in m3 | Average Cost |
| --- | --- | --- |
| One sixteenth | 0.75 | £45 - £55 |
| One eighth | 1.5 | £70 - £80 |
| One quarter | 3 | £90 - £100 |
| Three-eighths | 4.5 | £120 - £130 |
| One half | 6 | £140 - £150 |
| Five-eighths | 7.5 | £165 - £175 |
| Three quarters | 9 | £200 - £210 |
| Seven eighths | 10.5 | £220 - £230 |
| Full | 12 | £240 - £250 |
Labour Costs and Timescales
Companies will not charge for labour only for garden waste disposal. The cost of labour will be included in their whole quote as it is one of the factors used to calculate the cost. The following table gives you an idea of time scale and cost for different volumes and weights of material.
| Volume of Waste | Weight of Waste | Duration | Average Cost |
| --- | --- | --- | --- |
| 0.75 | 50 kg | 5 – 10 minutes | £45 - £55 |
| 1.5 | 100 kg | 15 – 20 minutes | £70 - £80 |
| 3 | 250 kg | 25 – 30 minutes | £90 - £100 |
| 4.5 | 300 kg | 35 – 40 minutes | £120 - £130 |
| 6 | 500 kg | 45 – 50 minutes | £140 - £150 |
| 7.5 | 600 kg | 55 – 60 minutes | £165 - £175 |
| 9 | 750 kg | 65 – 70 minutes | £200 - £210 |
| 10.5 | 800 kg | 75 – 80 minutes | £220 - £230 |
| 12 | 1 tonne | 85 – 90 minutes | £240 - £250 |
Additional Costs
When you are considering rubbish removal prices, there are a few factors that can increase the cost. It also might be a good time to consider other jobs you can get done at the same time, as they may generate more garden waste. It would, therefore, be much more economical to combine the two jobs.
High Volume
You will often be charged based on the volume of waste that needs removing. If you use a skip, this will be based on the size of skip you hire. If you are using a removal service, there may be an extra charge if the volume of waste requires more than one trip in their van. You can keep costs down by shredding as much waste as possible.
High Weight
If your waste is dense, then you may be charged based on the weight rather than the volume, which can make it more expensive. Usually, you will be charged around £150 per tonne.
Non-Organic Waste
If you have waste that is not just garden waste, then it can be more expensive to dispose of. Certain items can be especially expensive. These include electrical items, plasterboard or hazardous waste.
Longer Skip Hire
When you hire a skip, there will be a maximum time associated with the hire. If you need it for longer, you will have to pay extra. However, you can often save money by hiring your skip for a shorter time frame. It is worth discussing this with the skip hire company.
Overfilled/Incorrectly Filled Skips
If you choose to use a skip to clear your garden rubbish, then you will need to take care of how you fill it. If you put too much waste into the skip, then you can be fined by the skip company. They will also fine you if you dispose of banned items in their skip.
Garden Maintenance
If you are considering paying for regular garden maintenance or a one-off tidy up, then this can bundle in with garden waste removal. Landscapers and gardeners will often be willing to clear your garden waste for you. To get maintenance done on a garden can cost on average £200.
Replace Garden Fences
If you need to replace garden fences, then this will create more waste. It usually costs around £1,000 to replace your fences, including removing the old ones. By combining this job with clearing your garden, you might be able to make a saving on the total cost.
Lay New Turf
Laying garden turf requires removal of the old turf and often some soil removal as well. So, this can combine well with garden waste removal. The average cost of laying new turf is £1,000.
Install Garden Decking
If you want to get new garden decking or replace old decking, then you might need to clear some garden waste first. Garden decking costs around £1,500 to lay.
Cost Factors of Garden Waste Removal
When you are calculating garden clearance prices, there are a few factors to consider. The main question is how much rubbish there is. This will be considered in a few ways. The next consideration is how you are getting rid of the waste.
Type of Garden Waste
If the rubbish in your garden is just garden waste, so the rubbish made from gardening, then the costs will be relatively low. If you have other items in your garden to dispose of, such as old flowerpots, broken furniture or sheds, then the cost will be higher. You will also pay a premium to get rid of soil as it is heavy and awkward to move.
Volume of Garden Waste
The amount of space that the rubbish takes up will affect the cost. This is due to the more space it requires, the more trips will need to be made to the tip. You can control this by shredding large items, or by squashing garden waste down with heavier items.
.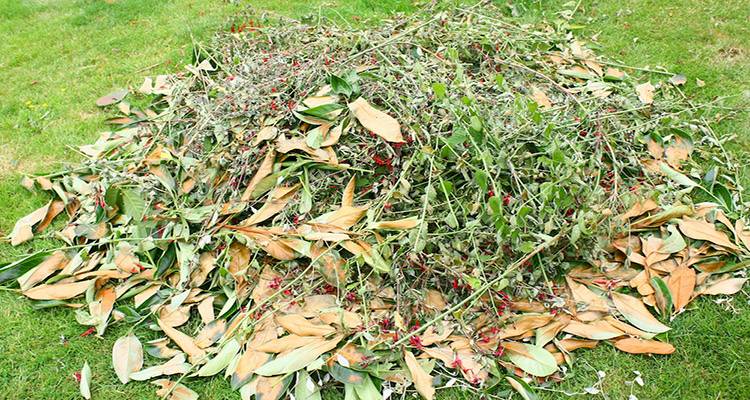 Weight of Garden Waste
If the waste is quite heavy, then you may be charged by weight instead of volume. You are usually looking at around £150 per tonne.
Removal Method
There are different costs associated with the different removal methods that you can choose. If you are not in a hurry and can wait to dispose of your garden waste a little each week, then you can select the cheap option of using council waste removal services. The more expensive options include hiring a skip or a team to remove the waste for you.
How to Remove Garden Waste
There are generally two stages involved in getting rid of garden waste. The first stage is to prepare the waste. This can involve breaking it down into manageable pieces or shredding it to reduce the volume. Some of the waste may be bagged up so that it is easier to move.
Once the waste is ready to go, it will be carried out of your garden. Either to a skip or into a van. It is just a lot of manual labour.
What is Garden Waste?
Garden waste can be an unclear term. It does not refer to any rubbish in your garden. It relates only to the organic waste that comes from maintaining your garden. This means things like old garden furniture, dog poop, and broken sheds are not considered garden waste.
Any waste that is made as a result of weeding, mowing the lawn or pruning trees and hedges is garden waste.
What Are the Benefits of Garden Waste Removal?
Leaving rubbish piled up in your garden is not a good idea. There are lots of reasons to get it removed.
Environmentally Friendly
If your garden rubbish is disposed of correctly, it can be put to work. Green waste can be composted, and other items can be recycled. Disposing of it can be kinder to the environment, especially if you have any metal items in your garden. These can corrode and leach harmful chemicals into the soil.
Safer
Any garden waste can be hazardous. Cuts and scrapes are common injuries as a result of having piles of garden waste laying around. Removing it will make your home safe and more enjoyable.
Tidier Garden
There is no point in having a garden that you can't use. By removing the waste, it will look better and be more enjoyable to use.
Lower Risk of Pests
Piles of garden waste make ideal homes for animals. If you don't clear the rubbish from your garden, it can become home to mice and rats.
Can I Do My Own Garden Waste Removal?
If you want to save on garden clearance costs, then this is a job you can DIY. There are no special skills or equipment needed. The only exception might be if you need to get rid of the remains of something like a shed, which might need to be broken down.
If you only have a small amount of garden waste, then it is not unreasonable to drive to your local tip and dispose of the waste yourself. However, garden waste can get bulky fast. If you cut down a hedge, then even if you cut it into small pieces, you could be talking about 5 -10 carloads of garden waste. At this point, it can become easier to hire a skip or someone to remove the waste for you.
.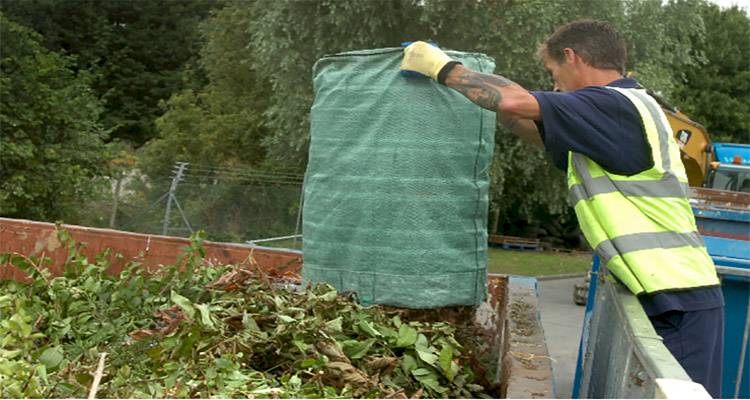 If you are trying to keep costs down while saving some time, a good option is to pre-bag the waste and to shred as much as possible. This will reduce the volume of waste you have as well as reducing the amount of time it will take to load. Both of these actions can save you up 50% of the cost of having your garden waste removed.
Types of Garden Waste Removal
There are several options for garden waste disposal. Which is best will depend on your situation. Here is a way for you to make an easy comparison:
Skip Hire Cost
You can hire a skip to be delivered to your home. You will need to fill the skip yourself and then arrange for it to be picked up by the skip company when you are done. You will need to hire the right sized skip for the amount of waste you have. You can put anything into a skip. The average cost is £70 - £400 depending on the size of the skip.
Pros
✔ Choose the right size for your needs
✔ Take your time over the clearance
Cons
✖ You have to do all the heavy lifting
✖ There are charges if the skip is overfilled
✖ If it needs to go on the street, you are limited to 8 cubic yards in size
Collection Company (Van) Cost
You can hire a company to come and clear out your garden for you. They are not gardeners, so they will not cut down any hedges or mow the lawn. What they do is garden rubbish removal. This means they will bag up and carry out any rubbish you have in your garden. This often includes play equipment, sheds, furniture and green waste. The average cost is £50 - £250 depending on the amount of waste.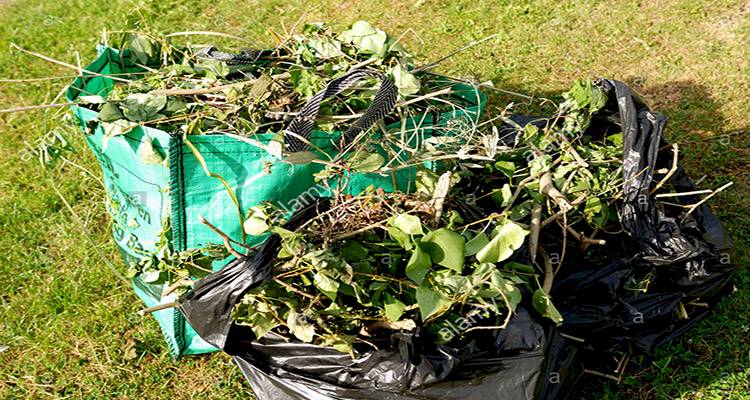 Pros
✔ They do all the packing up and manual labour
✔ Can usually clear a garden inside 24 hours
Cons
✖ They don't do any gardening
Council Garden Waste Removal Cost
Some councils offer a garden waste removal service. This is usually in the form a green wheelie bin that is picked up on a fortnightly basis. Some councils offer this service for free, whilst others have a small charge. The average annual charge is £150 - £200.
Your local council is not required to provide a garden waste removal service. This means that whether or not they do it is a bit of potluck. Some councils offer a free green waste removal service. In other places, you have to subscribe to it. In a few councils, there is currently no service at all. If you have to subscribe to the garden waste collection service, the average annual charge is £150 - £200.
Where there is a green waste removal service, you are usually provided with a green wheelie bin. Each council will have limits on what can and cannot be put into their green bins. These green wheelie bins are usually collected every two weeks. The service often does not run during the winter months.
Pros
✔ Ongoing service for regular waste
Cons
✖ Limited volume
✖ Limited service
Cost of Hiring a Landscaper
Most landscapers will be able to remove your garden waste for you. If you are getting more work done in your garden, then this can be a good option. They will often give you a good rate for garden waste disposal as part of the whole job. The cost will depend on how much waste you have and how heavy it is. The average cost is between £150 - £250.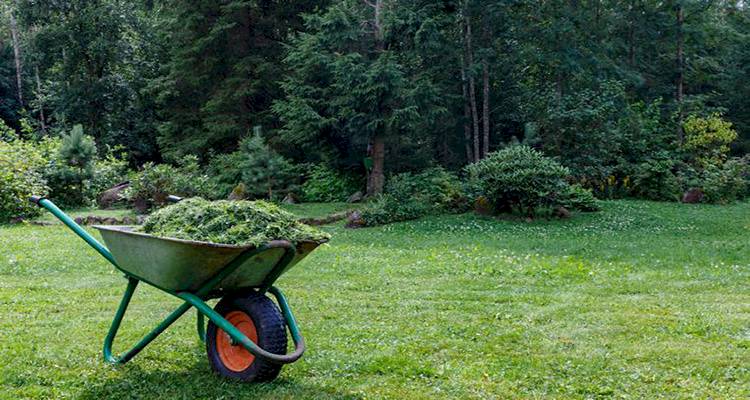 Pros
✔ They can tidy up your garden as well
Cons
✖ Often only one guy working so can take longer
✖ More expensive if you aren't having any other work done
What To Know Before Hiring a Skip
Hiring a skip can be very easy. If you have a driveway on which the skip will fit then you can hire any size skip you want with no problems.
If the skip needs to go on the road, then you will be limited. Most councils only allow skips of up to 8 cubic yards. You should speak to your local council before you hire a skip that will go on a road as you may need to get a license first.
The size of skip you need will depend on the volume of waste you have, as well as the type of waste. Some waste needs to be put in its own skip, so depending on what you are getting rid of, you might need more than one skip.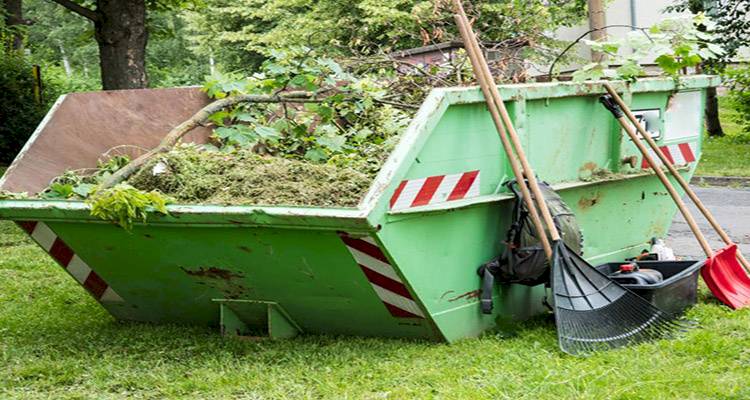 Skip Sizes
There are lots of different sizes of skip. Usually, the bigger skips are better value so it can be a good idea to get a bigger skip than you think you need.
To help estimate the size of skip you need, you can use this rule of thumb. The number of full bin bags you can fit in a skip is equal to 10x the number of cubic yards. For example, a 2-yard skip can hold 20 bags, and an 8-yard skip can hold 80 bags.
Types of Skip
Most skips will be general waste skips. You can put a mixture of materials into these as long as you avoid some restricted items, like electrical goods, or dangerous materials like asbestos.
Plasterboard needs to go in a skip on its own and will have a larger fee.
Green waste skips are available. You can only put organic waste in here, but they are available at a lower cost.
Composting
Composting is a great way to use up some of your garden waste. It will save you money from having it taken away, and it can provide you with a high quality growing medium to use in your garden. If you have done a project in your garden that has created a lot of rubbish, then it's a great time to start a compost pile.
How to Make Compost
Whether you are starting your compost pile in a bin or out in the open, you should start your pile directly on the ground. This will allow worms and bacteria to get into your pile and speed up the process. You should also choose a spot that is sheltered. If the compost pile experiences big changes in temperature, it can kill all the organisms that are going to work for you.
Start your pile with a good layer of sticks or straw. This will allow excess water to drain off and keep your pile from getting waterlogged.
Then add your compost material in thin layers. Alternate between moist and dry layers. Make sure you have a mixture of brown and green waste. To get healthy compost, you need one-third green waste and two-thirds brown waste.
Make sure your pile is moist, not wet. Then cover and turn every couple of weeks with a pitchfork or shovel.
It can take six months to 2 years for the compost to be ready. You can use the material as soon as it is ready and continue to compost the rest. If you generate a lot of garden waste, you might want to have more than one bin going at the same time.
What Can Compost be Stored in?
You have a few choices for composting. The best option for you will depend on your garden and your preferences.
If you have a large open space, you could have an open compost pile. You don't need a container; you can just cover the pile with whatever material you have handy.
You can buy a plastic compost bin. These come in a few different shapes and sizes to suit your garden, but they should all have open bottoms, to allow worms and micro-organisms to access your compost pile.
You can buy high-tech compost bins called tumblers. These will allow you to easily turn your compost. This enables the compost to breakdown for use a lot faster.
You can build a compost bin. You can make it from whatever material you have to hand. Wooden ones look more natural. You can keep it open or build a lid.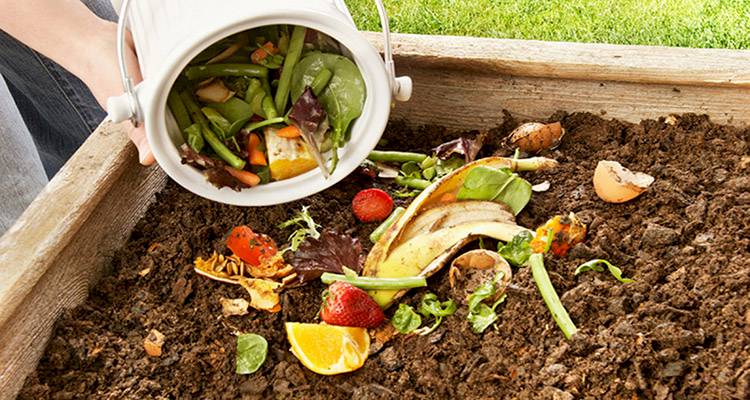 What Can be Used in Compost?
You can put quite a lot of materials into compost bins, but you should keep track of how much green and brown waste you put in. Green waste is high in nitrogen, and brown waste is high in carbon. Keeping the right balance will keep your pile healthy.
Green Waste
Green waste includes things like grass clippings, any leafy plants or weeds. Leftover fruit and vegetables and uncooked kitchen waste are good green waste options. Coffee grounds are also a good type of green waste to use in compost piles.
If you have pets that use sawdust bedding, then when it's soiled, it can be used as green waste. Manure from cows and horses can also go in.
Don't put in dog or cat waste. Only droppings from herbivores will work.
Brown Waste
Brown waste covers any garden materials that are not green and leafy. So, hedge trimmings, woodchip, plant stems, straw, and fallen leaves. You can add to your brown waste by using shredded cardboard and paper.
What Are The Benefits of Making Compost?
Composting has a lot of benefits and can be really rewarding.
Free Soil Conditioner
If you are keen to grow fruits and vegetables in your garden, then a compost pile is invaluable. It will give you a source of free soil conditioner which will increase your crop yields. Even if you just want to grow flowers or hedgerows, the compost you make will help to keep all of your plants healthy and vibrant.
Environmentally Friendly
Most garden waste that is regularly generated gets put into people's green bins. This waste does get composted by the council. However, if you do it in your own garden instead, you will be saving on the carbon impact of the fuel needed to transport the waste. So, not only do you get natural compost to use in your garden, but you also help the environment.
Less Waste Goes to Landfill
Once your compost pile is up and running, you can use it as a place to put some of your household waste. A lot of food waste can go into compost piles. This can reduce the amount of waste you send to landfill by as much as 50%.
Ongoing Garden Waste Disposal
Once you have set up a compost pile, you will be able to use it for all of your future garden waste. Every time you cut the lawn, you can throw the clippings into the compost pile and give it a turn.
Hiring a Garden Waste Remover Checklist
If you are just hiring a company to remove your garden waste, then you will want to check a few key details.
Do they have good reviews? If anyone has had a problem with them, you'll be able to find out about it.
How comprehensive is their quote? As a lot depends on the type of waste you have, you should expect them to ask a lot of questions before they give you a quote. Make sure to check if there will be any extra cost beyond the quote they give.
Do they have good communication skills? When you are hiring anyone to work for you, you need to know that you can communicate well with them. This prevents problems from arising during and after the job.
FAQs
What can I put in my garden waste bin?
Usually, you can only put waste that is the result of gardening. This means grass clippings, leaves, hedge trimmings and weeds. You should check your local council's information to be certain, as it does vary depending on where you live.
What time can you burn garden waste?
There are no laws surrounding bonfires. You can have one any time of year and any time of day. It is considered good manners not to have bonfires that are burning any later than dusk except for on Bonfire Night.
There are laws against burning any waste that can cause pollution or harm people's health. You should limit your burning to plant-based garden waste only.
Why do some councils charge for garden waste collection?
Garden waste collection is not a required service. This means that there is no funding from the government for it. So, some councils choose to charge for the service to cover the cost.
What happens to garden waste in green bins?
Garden waste is used to make compost. What happens to this compost is up to your local council. However, many of them will distribute it to local farms.
What happens to the waste put in skips?
The skip company will sort the waste. They will recycle what they can. Compost the garden waste and the rest will go to landfill.
Sources
https://www.rhs.org.uk/advice/profile?pid=444
https://www.gardenersworld.com/how-to/maintain-the-garden/how-to-make-compost/
https://www.anyjunk.co.uk/blog/guides/garden-clearance-guide/
https://www.nuneatonandbedworth.gov.uk/info/20002/household_bin_collections/10/green_bin_-_garden_and_food_waste/6

Last updated by MyJobQuote on 9th August 2022.