Garden Waste Removal Cost
Garden rubbish disposal costs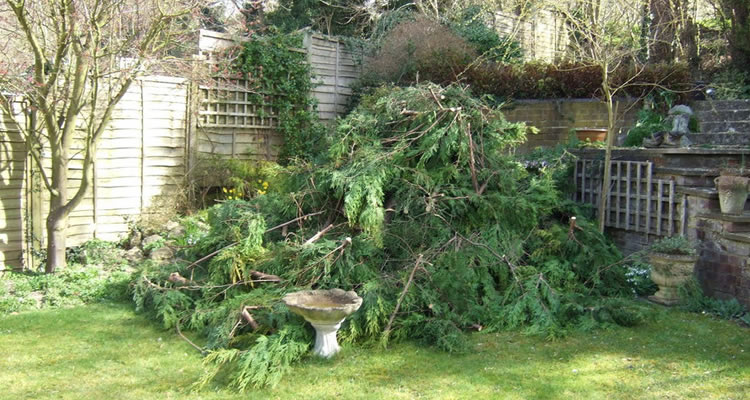 Average cost for removal of garden waste is around
This type of job normally takes around 45 minutes
£150
If you have just moved into a new house with an overgrown garden or are doing any kind of garden renovation project, you will likely be left with a lot of waste to remove at the end of the job. This waste can be organic such as old bushes and weeds, or it can be made up of concrete and earth after hard landscaping and excavation projects. Contractors will price gardening or landscaping jobs with waste removal included if you ask, but they have to pay for waste disposal whereas you can drop it off at the local recycling centre for free on most cases.
Though you have to balance this against the fuel costs and perhaps cleaning costs if using your own car for waste disposal! The other option is to use one of the many waste disposal specialists that offer fixed prices based on the number of refuse bags or the waste of the waste. To find competent and reputable local tradesmen or a waste disposal specialist companies, please use the free service offered on this website where you can get up to 3 written quotations by simply filling in a short form with details of the job you need doing plus your contact details.
Typical waste removal prices
| Job Description | Duration | Material Cost | Labour Cost |
| --- | --- | --- | --- |
| Up to 70kg or 5 bags | 10 minutes | £10 | £50 |
| Up to 300kg or 20 bags | 25 minutes | £15 | £85 |
| Up to 900kg or 60 bags | 1 hour | £25 | £200 |
All of the above costs and durations are averages only and will vary depending upon location, complexity of job, etc.
Points to consider with rubbish removal
Most of the rubbish removal companies operating in the UK provides an easy and stress-free service that can be booked over the phone or online. Once you have agreed on a price and booked a collection dates there is no need to wait in all day as most companies offer some sort of tracking and they can keep you updated on way of their trucks are.
When the truck team arrives there will generally be two individuals to remove the rubbish and nothing gets wasted as the majority of these waste disposal companies are also licensed recyclers.
Doing it Yourself
If you want to dispose of the garden waste yourself using your intovehicle than this, of course, is a cheaper option. However, you need to weigh up the costs carefully, calculating the fuel requires plus the time taken for you to collect the waste and transport it to your local recycling centre. In addition, even if you carefully bag all the waste, there is still a real possibility that your vehicle will end up needing a full valet once you have finished! You if some of the bags burst or a leak it could take many hours for you to get your vehicle looking and smelling good again.
Waste removal checklist
Rubbish removal can be done cheaply DIY but its hard work and often messy
Companies have to pay for recycling whereas you can drop it off for free
You don't have to use the local council for waste disposal any more
Specialist companies will quote fixed prices per weight or by number of standard refuse bags
Hiring a Tradesman Checklist
Always get at least 2 quotes before hiring.
Never pay the full amount upfront.
Get the quote in writing.
For any payment you make, always get a receipt.
On more expensive jobs, ask for references.
Check if the tradesman is a member of any trades associations.
Make sure the tradesman has public liability insurance.
FAQ's
What kind of waste can be cleared, are there any exclusions?
All normal garden waste can be collected for a fixed price as long as it into or otherwise contained as per agreement. Obviously, any hazardous materials such as asbestos will not be collected as part of a standard waste disposal service and you should check with the waste disposal company if you are including anything except organic garden waste materials.
Can I just take the waste to my local recycling centre?
Yes, this will be much cheaper, or at least it will seem cheaper if you do not put a cost on your time and include the fuel and any cleaning required in your vehicle afterwards.

Is the removal of waste included in landscaping and gardening jobs?
Sometimes, you need to check the small print, sometimes the waste is just removed from and placed in bags for you to dispose of. If you expect the waste to be dealt with then ensure that the quote includes removal of waste from site and recycling.
How much do private companies charge for waste removal?
This varies with the amount and sometimes the type of waste. But most companies charge per Kg or per number of refuse bags. Prices will start from around £50, so if you just have a couple of bags it is probably better to deal with them yourself.
How long does it take to get waste removed?
Private companies do not hang about and once you have the removal booked online or over the phone, they will arrive at the agreed date, usually within a day or two, and will have all the waste uploaded in minutes!