Flat Roof Replacement Cost
Want to know how much a flat roof replacement or repair will cost? In this article we look at the prices of different roof replacements and repairs per square metre, including the cost of materials and labour. This makes it easy for anyone to calculate how much replacing a roof will cost them.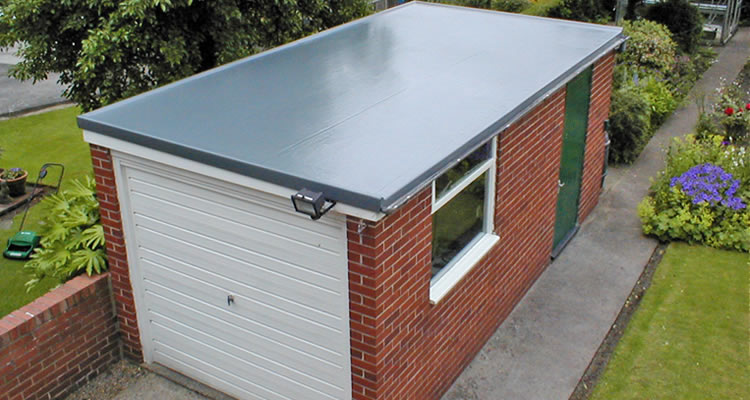 Average cost to replace a flat roof
This type of job normally takes around 2-3 days to complete
£1000
How Much Does it Cost to Replace a Flat Roof?
Constructing a flat roof is quicker and cheaper than a traditional pitched roof, flat roofs require fewer materials which they cost much less to install. they are also much simpler so are a better choice for DIY enthusiasts.
But the big disadvantage of a flat roof is the potential for water and other debris to gather which over time will cause the roofing material to degrade and eventually leak, even though they are in fact built with a slight incline. This means that flat roofs also need a lot more maintenance than a pitched roof to keep them leak free and in good condition, but even with all the maintenance, they only last around 10 to 15 years.
To be watertight flat roofs need to be covered with roll asphalt, EDPM, uPVC, ethylene, TPO, fibreglass, modified bitumen membrane or flat-seamed metal. Although repairing or replacing a flat roof could fall within the scope of an experienced DIY enthusiast, most of us will need to hire a tradesman to do the work for us.
Finding a reputable tradesman can be difficult nowadays if you do not already have a personal recommendation, but you can easily find a local tradesman on MyJobQuote.co.uk by simply entering your contact information along with contact details. One simple form and then you can have up to three local tradesmen getting in touch to provide quotes and advice.
Flat Roof Replacement Prices
| Job Description | Duration | Material Cost | Labour Cost |
| --- | --- | --- | --- |
| Double garage flat felt roof no insulation | 2 days | £700 | £500 |
| Double garage flat rubber roof | 2 days | £1100 | £500 |
| Extension flat felt roof typical size with insulation | 3 days | £800 | £700 |
| Large extension flat felt roof with insulation | 4 days | £900 | £900 |
Things to consider
With flat roofs, you really need to get a roofer out to inspect the roof before giving a quote, as it can be difficult to assess the condition of the timber underneath the felt, without getting up on the roof and physically checking it. Though some roofing contractors will be happy to give you a separate quote to replace the wooden decking over the phone so you know how much it could cost in the worst place scenario. If the wood under the felt is in good condition, then this is obviously good news as it will reduce the costs of replacing the roof. But if the wood is rotten and sagging, then fitting new felt onto a rotten base is obviously not a good idea. Another point to consider is that flat roofs should have a slight slope so that rainwater will run off the roof and into the gutter.
If the roof were actually completely flat, then water would simply pool on top of the roofing felt, which would shorten the life expectancy of the roof. So if replacing a flat roof, get your roofer to check the existing roof and consider raising one end of the roof a couple of inches higher if you have problems with standing water in the past. This will, of course, involve some additional costs, but should add many years to the life expectancy of the roof so will normally be worth the extra cost. Stones and chippings are "extras" that can be placed on the top of the felt, these used to be necessary to protect the felt from UV rays, but modern felt is somewhat UV resistant in any case, so you do not need to put stones or chippings on the roof felt, but you can if that's what you prefer.
If replacing a flat roof above a habitable part of your home then you will need to make sure the existing insulation is in good condition, actually, if the roof is very old, you should probably ask the roofer to quote for additional insulation and add it to the project.Sometimes it may be possible to repair a roof rather than replacing it. If the majority of the flat roof is in good condition but there are cracks/leaks around vulnerable areas such as where the felt joins a wall, then a repair may be possible which will obviously cost considerably less than a replacement roof. But if your roof is leaking because it's old and has multiple cracks, or if you can see rainwater pooling on the surface and the roof is sagging, then repairing it is not a long-term solution, just a temporary bodge job!
Doing it Yourself
The first signs of trouble with a flat roof are often damp patches or water dripping from the ceiling in the room directly below. But before you climb up and have a look at the roof, think about the strength of the flat roof and whether it could be rotten and dangerous. To be on the safe side, you should probably hire a professional roofer in the first instance to inspect your flat roof safely.
A professional roofer can quickly inspect the condition of the flat roof and find any tears, puddles, holes, cracks or splits. Plus not all roof leaks are due to a roofing problem, blocked guttering or downpipes around the edges of the roof can also cause roof leaks. Poor repairs to a flat roof can be dangerous and cause structural problems down the line, it is important with all roofing work that repairs are carried out correctly. While a complete flat roof replacement maybe Breydon the skills of most DIY enthusiasts, patch repairs to a flat roof are pretty straightforward.
Blisters can be eliminated by using a heat gun and some bitumen adhesive, then applying new pieces of felt overlapping the repaired area. Splits and cracks can be repaired with adhesive after being filled with bitumen compound and flashing problems can often be solved using self-adhesive repair tapes after thoroughly cleaning the surface.
Flat Roof Replacement Checklist
Flat roofs are cheaper and quicker to install
Flat roofs can be made of felt, asphalt, fibreglass, rubber or single ply membranes
Most domestic flat roofs use layers of bituminous felt for weather proofing
A professionally installed flat roof has a lifespan of over 20 years
FAQ's
How does rain run off a flat roof?
Flat roofs are not completely flat, they are built with a slight incline so that rain-water will drain into the gutters.
How do I maintain my flat roof?
You should inspect the roof twice a year, preferably after rain or snow to check that the water is draining away and not pooling. When carrying out a roof inspection avoid stepping on the roof and use a sheet Plywood or MDF to distribute your weight evenly across it.
What is the difference between a cold flat roof and a warm roof?
Insulation, for roofs on garages and sheds insulation is not required and these are referred to as cold roofs. Whereas the roofs on habitable parts of a building need to be insulated for comfort, these are called warm roofs.
My flat roof is leaking, can it be repaired instead of replaced?
If it's obvious the leak is caused by damage in just one isolated area and the rest of the roof is okay, then a minor repair will probably be okay. But if the whole roof is in poor condition, then a full replacement is the best option.
I'm building a flat roof on my new extension, will this affect my home insurance?
It's important that you inform your insurance company that the roof is flat as this can affect the cover. Insurers often associate flat roofs with a higher risk as they have a tendency to leak, particularly if not laid correctly or if they have been neglected.
How often should I get my flat roof inspected?
You should get your flat roof inspected by a professional at least every 5 years and retain proof of the inspection and any repairs carried out in the event of an insurance claim.
Last updated by MyJobQuote on 30th April 2020.