Side Extension Cost
Price guide and tips on building side extensions.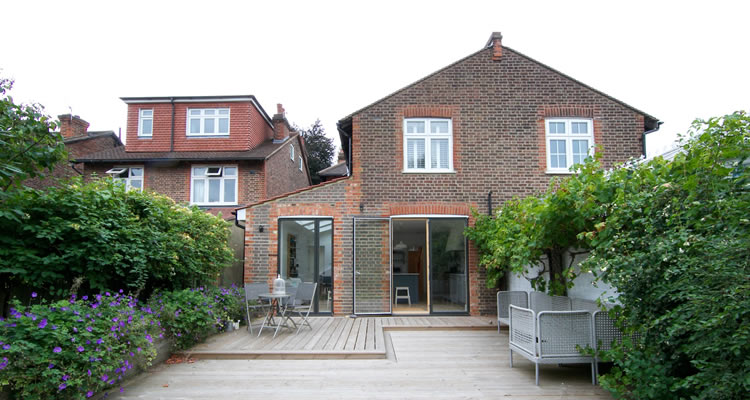 Average cost of building a side extension
This type of building project on average takes around 12 weeks
£30,000
Extensions and conversions are very common in the UK right now, with improving being more popular than moving. There are of course lots of sound reasons to extend, whether you simply need more space, or want to add value to your home. The ever increasing cost and hassle of moving makes staying put in the area you like a more attractive prospect. Luckily, most properties have plenty of untapped potential, so adding a extension can make a home more comfortable as well as adding greatly to its market value. But building a full side extension is a bit to much even for committed DIY enthusiasts, so most wil need to find a good builder, which is not always as easy as you would think. Getting a good recommendation from someone you know that has used a builder recently is obviously a great help, but often this is not the case and you are left with trawling the Yellow Pages or similar.
But Myjobquote.co.uk can take much of the hassle away when it comes to finding the right tradesmen. All you need to do is complete one very short form online, just to give brief details of the job that needs doing along with contact details, then you can have builders getting in touch with you to offer more information about their services, allowing you to arrange a full quotation if required. For additional peace of mind, the tradesmen on this site are all reviewed by customers just like you!

Average side extension costs
Side extensions are a great way of adding value to your home. At the time they might seem expensive but if done right then it could make you a lot of money in the future. The cost of a side extension depends on what work needs to be done and the standard of work you are looking to get done. If you are looking to add another bathroom or bedroom then the price will differ a lot as the work load will change. The average cost of a single storey side extension is around £30,000. Whereas a double storey extension will cost you are £45,000. If you are looking for more side extension cost calculations then I would have a look at an online calculator.
| Job Description | Duration | Material Cost | Labour Cost |
| --- | --- | --- | --- |
| small 5mx4m single storey extension | 12 weeks | £20000 | £10000 |
| as above plus fitted bathroom | 13 weeks | £23000 | £12000 |
| same extension but with kitchen | 13 weeks | £27000 | £13000 |
| small double storey extension | 15 weeks | £30000 | £15000 |
Things To think About When Considering A Side Extension
Before you begin planning your dream extension, you should talk to a local estate agent to find out the street ceiling value and also see what other types of extensions are popular. In addition, employing an architect is highly recommended. By using an architect you will get a new home that's just right for you, plus you can avoid having a badly designed extension, which can actually reduce the property value. You need to work out whether you will get back the cost of the side extension when you finally sell the house. Architects can manage the entire building process, including securing planning consent and building regulation certification. They can even help with finding a suitable builder, as they often have good relationships with reputable builders they have worked with in the past. The RIBA can provide a shortlist of architects for your project, or you can use the free service on this website.
You have to put a lot of thought into even the smallest side extension, to ensure you come out well in terms of adding property value and recovering your investment, there are also many practical issues which are not directly concerned with the building process so are easy to overlook. For example, access is a typical problem and the lack of off-street parking might be a reason for the refusal of planning permission. Once again, an experienced architect can be worth their weight in gold when it comes to these issues. Other issues which you need to consider include the site services, any trees, a history of flooding in the area, rights of way and the soil conditions on the site.
Another major consideration is whether or not you move out while the work is in progress. Adding a side extension is a messy, dusty and disruptive process and there is no getting around that! However, with side extensions, you may be lucky enough to be extending from a room that can be sealed off completely and is not used on a daily basis (such as a dining room), thereby greatly reducing the inconvenience and mess. But in most cases, it will be wise to move out for the duration if at all possible.
Doing it Yourself
Extending into the side is a popular design solution, but you should also ask your neighbours if they want to extend too because there are often savings to be had by sharing a builder on the shared party wall at the boundary of the property. However, even though a side extension is a relatively straightforward job in terms of building extensions, it is still a major job which will be beyond all but the most experienced DIY enthusiast.
If you do decide to go it alone and do the work yourself, try and make things as simple as possible. For example, avoid building over a manhole or extending near any protected trees, as this will add costs and headaches to the job. Labour costs can be as much as half of the total cost of an extension, so if you can do some of the work yourself, there are huge savings to be had. Tackling the entire job all by yourself is not recommended, but the easier tasks such as labouring, decorating, tiling and flooring can all be tackled by a decent DIY enthusiast no problem. But you should be really careful that you only take on work which you have the time and skills for, bad workmanship and wasted materials can make going the DIY route a false economy. So, unless you are an expert, hire professionals for all the skilled work such as bricklaying and plastering.
Another way in which you can save money is by effectively taking on the role of building contractor and overseeing the job yourself, liaising with your architect and building control, plus hiring and supervising all the tradespeople and supplying all of the materials. But being a project manager can be a major headache, particularly if you have no experience.
Side extension checklist
There are many things that affect the cost of an extension such as soil type, whether single or double storey and how much glazing you plan to integrate
Planning consent may not even be required for small single storey side extensions if under 4m tall
You can design your own extension, but you should consult a structural engineer or architect for advice
A side extension can mean less disruption than a front or rear extension, but moving out while the work is in progress is still a good idea
FAQ's
Do I need planning permission for a side extension?
Planning Permission will not normally be required as long as the extension is only single storey, not within 2 metres of the property boundary, under 4 metres high and no wider than half the width of the original house. In addition, the materials used must match the existing property and no more than 50% of your garden can be built upon. However, these are only rough guidelines and you should contact your local planning department before you make any firm decisions.
Do I Need Building Regulations?
Yes, whether you need planning permission or not, you will need Building Regulations to build a side extension.
Will I need an architect?
Not necessarily, but it is highly recommended. In addition, many builders that specialise in extensions will offer a complete package that includes architect services and the drawing up of plans.
How long will it take for my plans to be approved for the side extension?
Allow at least 8 weeks for planning permission. However, not all side extension projects will require planning permission.
Last updated by MyJobQuote on 18th May 2018.