Cost of Building a Summer House
Summer house installation guide and pricing.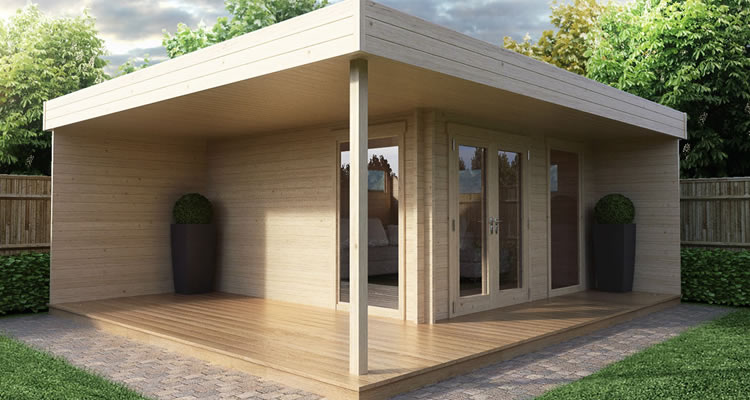 The average cost for this project is around
This job normally takes about 1-2 weeks to complete
£3000
Garden design is hugely popular in the UK thanks to various garden renovation TV programs. This, along with the rise of diy stores and garden centres selling a huge range of innovative products, has led to many people beginning to see their gardens as extensions of their homes and wanting to put them to good use for both relaxation and entertaining. Adding a summerhouse adds another dimension to the garden and can provide children with a little adventure.
Garden outbuildings can vary significantly in their style, size and specification. With many summer houses, you can build without the need for hiring a local tradesman. But almost all of these buildings, even simple prefabricated units, require at least two fit people for the installation. To easily find local tradesmen please use our free service to post your job and have up to 3 local tradespeople get in touch with you.
Average Summer House Quotes
| Job Description | Duration | Material Cost | Labour Cost |
| --- | --- | --- | --- |
| Concrete building on a new concrete foundation | 2-3 weeks | £6000 | £4000 |
| Basic timber cabin in garden | 7-10 days | £1500 | £1500 |
| Prefabricated timber summer house |  1-2 weeks | £5000 | £2500 |
| Custom timber summer house | 2-3 weeks | £15000 | £10000 |
Things to consider with summer houses
When it comes to buying a summer house the price depends on the size of the building, whether a modular or bespoke design, the building materials used, plus the cost of the finishes, fixtures and accessories you choose. Another cost consideration is whether planning permission is required. The location, size, height and intended use of your summer house will determine whether planning is required or not.
But if planning consent is required, then your neighbours will be given the opportunity to raise objections and the process will cost a few hundred pounds extra at least. But in most cases, summer houses will fall under the permitted development rules which means as long as the new building is no more than 2.5 metres high, does not take up more than half of the area of the main building and is not within two metres of your neighbours boundary – then planning consent is not required.
However, if you plan to use the summer house as accommodation with a bedroom, bathroom or kitchen – then this is a change of use and planning consent will definitely be required. But gyms, playrooms, home office and pools or spas are all considered incidental so no problems with planning.
Doing it Yourself
A DIY build for a small and basic summer house, particularly a prefabricated version, is definitely possible for the average DIY enthusiast. No specialist tools or equipment are needed, just basic, everyday tools plus a helping hand or two! The foundation is probably the only really difficult part which may require some experience outwith standard home DIY projects. But a decent concrete foundation is required for durability so it may make sense to get someone else in to do the concrete foundations, then you can easily tackle the rest yourself as a DIY project.
If doing the foundation yourself be very careful you do not rupture a water/gas main or dig up electricity cables! This can be a very costly and dangerous mistake! Most of the problems people have with outbuildings are caused simply by trying to cut costs and corners. But if you always use a proper foundation, then carefully erect the structure according to the manufacturers' instructions and have the summer house treated regularly to avoid damp and rot problems (if timber) – then major problems are unlikely.
Summer house bullet points
Most outbuildings do not need planning consent
A durable summer house requires a concrete foundation
Pre-fab outbuildings can be erecterd as a DIY project
Timber summer houses need annual painting or treatment
FAQ's
What size summerhouse should I build?
Whatever space you have will always be used, so the rule of thumb is to always buy the biggest summer house you can afford that will fit comfortably in the available space. For most of us, the size of the summer house will actually be dictated by budget rather than space!
Where should I build my summer house?
You can place the summer house anywhere as long as you have a clear space of 2 feet wide around all the sides for easy access to carry out future maintenance.
What type of base is suitable for my summer house?
All summer houses need a substantial base which in most cases will be concrete. The summer house base should be solid, flat and level for maximum stability, so paving slabs or concrete are popular. A solid concrete base is more permanent and offers a more durable base but is also more expensive. Paving slabs are cheaper and can work well for a smaller building.
I have green and black staining on my summerhouse, what is it and what can I do?
Green and black staining is usually mould, mildew or fungi growth. To remove clean the wood with a dedicated exterior wood cleaner with a fungicide to remove and kill any biological growth. For heavy soiling with a large physical build-up of moss or mould, you need to scrape off as much as possible before applying the chemical cleaner.
How can I get rid of my old outbuilding?
The easiest way is to sell it for cash with the understanding that the buyer has to dismantle and remove the building. You won't get paid very much money but you'll get rid of the building for nothing!
How should I maintain my summer house?
A wooden summer house, even if made from durable cedar or pressure treated timber, will still require regular treatment for a long life. All external timber should be treated every year to prolong the lifespan.
Last updated by MyJobQuote on 22nd April 2020.