Installing A Roof Lantern Cost
Cost of Installing a Roof Latern Price Guide.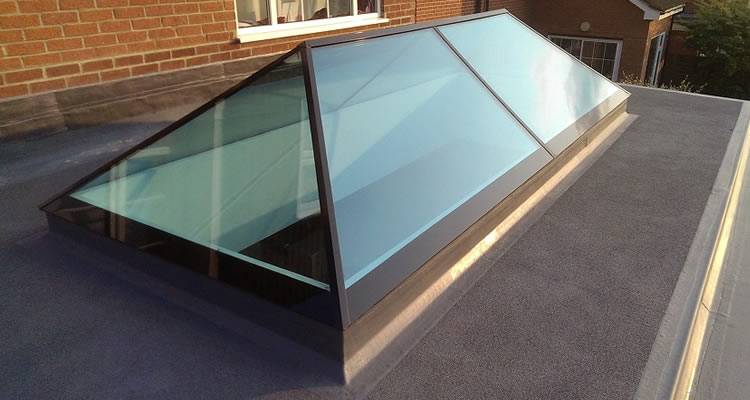 Typical cost for installing a roof lantern is
This job normally takes around 3 days to complete
£2500
The glazed roof lantern was originally developed during the Middle Ages and was used in Renaissance architecture in cathedrals. They later began to be used in orangeries, an early conservatory type structure, then in the late 19th and early 20th centuries they became popular to illuminate enclosed stairwells before finding themselves used as a feature in modern conservatories and now on flat roofs. Installing a roof lantern is a great way of improving lighting in dark spaces in your home. Roof lanterns are very much in vogue right now and are the perfect solution to add light to any space with a flat roof.
A roof lantern offers lots of light and space, so perfect for rooms which lack natural lighting. They can be installed relatively easily too, making a room feel lighter and more spacious, turning a dingy flat-roof extension into a bright garden room. Bringing the outside in, yet ventilated for hot days and double glazed to keep the heat in during the long British winters - brilliant all year round!
If you are considering adding a roof lantern and need to speak to local experts for help with the planning and design, plus to get some quotes, then you can post your job for free on MyJobQuote.co.uk in 3 Easy Steps! Just choose the type of tradesman you need, enter your contact details, add a description of the job you want the tradesmen to do, then sit back and wait for local contractors to get in touch to offer quotes and advice on your project!
Example roof lantern prices
The cost of installing a roof lantern can vary depending on the style, material, size and design you opt for. A large roof lantern including labour can range between £3000 to £4500. You will also need to factor in location as this can also effect the price you pay to get the job done. Our table below offers a rough estimate on the price of getting each roof lantern size installed.
| Job Description | Duration | Material Cost | Labour Cost |
| --- | --- | --- | --- |
| 750mm x 750mm  roof lantern | 2 days | £1200 | £500 |
| 1500mm x 1500mm basic roof lantern | 2-3 days | £2000 | £600 |
| 1500mm x 3000mm roof lantern | 3 days | £2500 | £750 |
| 3000mm x 3000mm roof lantern | 4 days | £3000 | £1000 |
Things to consider with roof lanterns
There is a wide choice of glass roof lanterns available in both uPVC and aluminium frames. Roof lantern roofs are available in a range of standard sizes but can be made to measure too in many different finishes. The windows can be completely customised to match your home and you can have standard White or choose a wood-grain effect. Additional ventilation is available in the form of opening roof vents which can be electric or manual, depending on your requirements and budget.
Modern roof lanterns allow plenty of light to flood into your interior, while offering excellent thermal performance, to keep the room cool in the Summer and cosy in the Winter. Both uPVC or aluminium roof lantern systems offer a range of benefits and both can be tailored to your specific requirements in terms of style and features. Though aluminium frames are slimmer in comparison to uPVC, they are also that little bit pricier.
But if you want more glass and less roof, then Aluminium is definitely the best option. On the other hand, if you are on a tight budget, then uPVC will fit the bill! Both uPVC and aluminium roof lantern systems are available with or without cresting and finials. In terms of energy efficiency, there is little to choose between modern uPVC and aluminium roof lantern frames.
Doing it Yourself
Roof lanterns come with a wide choice of vents, remote opening electric windows, custom ironmongery and other features, maximising light and space in your home. They are pricey, however, especially when you consider the extra labour costs of having them professionally installed. However, they are not easy to fit so don't be tempted to try and fit them yourself just to save some cash unless you have some serious DIY skills! Luckily, there are DIY Kits available which are relatively easy to install for DIY enthusiasts and are made to the same high quality as other roof lantern systems.
The DIY roof lanterns on the market are specifically designed to make installation as straightforward as possible, whether for installers looking to get the job done quickly or for those having a bash at a DIY installation. Most DIY roof lanterns will arrive in sections which you simply slide together and attach with the supplied fixings following the manufacturer's instruction manual. These DIY roof lanterns are usually purchased in standard sizes which makes them cheaper.
Some smaller roof lanterns can even be delivered in one piece to make the installation even easier. DIY roof lanterns are available in aluminium, timber or uPVC, with uPVC being the cheapest and hardwood being the most expensive, but any material you choose for your roof lantern should last for decades.
Roof lantern checklist
The market for lantern roofs has exploded over the past couple of years
A roof lantern provides natural light into the space or room below
Modern double or triple glazed roof lanterns are warm in winter
Roof lanterns come with ventilation options to keep them cool in summer
FAQ's
What size roof lantern should I have for my dining room?
This all depends on the size of the area below, your own personal preference for lighting, your budget, and the amount of additional light required. But even a small 750mm x 750mm roof lanterns will let in a surprising amount of light. As a general rule of thumb, for a medium sized room, a 1500mm x 1000mm roof lantern will offer plenty of light with the feeling of space.
What about ventilation for the summer months?
It is worthwhile considering whether additional ventilation is required, especially if the room below is south facing and gets a lot of sunlight, especially if there are no other opening windows, or if the space is a kitchen with potentially lots of heat and steam. There are three main options for ventilation: Trickle vents, opening skylights and top hung opening sashes (with either manual or electric operation).
What about maintaining the roof lantern?
Most roof lanterns are virtually maintenance fee, much like other double glazing products. Though timber-framed roof lanterns will need some painting done every few years. But uPVC and aluminium lanterns will just need checking once a year and the occasional wash with a mild detergent.
Which is better for roof lanterns, white powder coated aluminium or painted timber?
White aluminium glazing frames are stronger and therefore thinner, so they offer more glass and less frame. They are also virtually maintenance free, whereas timber will require some paintwork maintenance over the years and the frames will be somewhat chunkier in appearance.
What colours can I have my roof lantern?
If you specify timber of aluminium roof lanterns, they can be painted literally any colour you like! But uPVC frames are only really available in white or wood-grain finishes.
Last updated by MyJobQuote on 23rd January 2018.