Chimney Breast Removal Cost
Trying to find out how much it costs to remove a chimney breast? In this article we look at chimney removal prices for all types of houses and chimneys.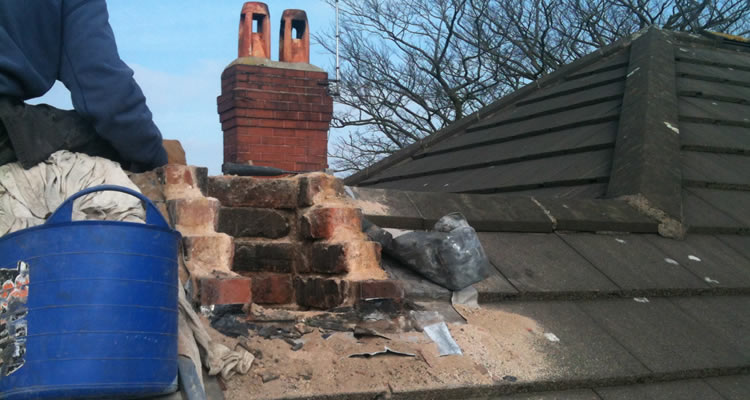 Average cost to remove a chimney breast will run between £1500-£2000
Average duration of this project runs from 2-7 days.
£1800
How Much to Remove a Chimney Breast
Removing a chimney breast is something which homeowners might want to do at any given point in time when remodeling or updating the home. It is however a large undertaking and the type of project you are going to want to hire a contractor to perform for you.
The chimney breast is just a small portion of the entire chimney. When removing a chimney breast this is likely going to be in the living room area and may also extend into the loft if you have one on the upper level of the home.
For such reasons you are going to find that hiring a contractor who has the proper equipment, extensions and knowledge of how to remove a chimney breast is essential. Depending on the size of the chimney more than one contractor may be required for projects.
If you plan on selling the home soon replacing a chimney breast is a simple way to increase resale value. Regardless of the reason for removal and replacement, these are some of the costs associated with this household improvement.
Chimney Breast Removal Prices
| Job Description | Duration | Material Cost | Labour Cost |
| --- | --- | --- | --- |
| Remove Lower Floor Breast | 2-3 days. | £400-600 | £100-£150 per labourer per day. |
| Remove Bedroom Breast | 4-5 days | £400-600 | £100-£150 per labourer per day. |
| Remove Both Chimney Breasts | 5-7 days | £800-£1000 | £100-£150 per labourer per day. |
What to consider in choosing contractors
The chimney isn't like other appliances or areas of the home. Therefore, when hiring a company to remove the chimney breast you want to choose a specialist. Hire companies which deal with this service and other chimney repair work to ensure you hire the best people.
Consider the replacement you seek. If you want to replace the chimney breast and upgrade your entire chimney this will take more time and cost more. So you do have to budget accordingly when hiring a contractor for this type of work.
Make sure you consider reviews/ratings. You don't want to hire a novice or a company which doesn't know what they are doing. Take your time to find the best specialists and understand what is included in the cost of services you are paying them.
Lastly, make sure you ask all relevant questions, prior to replacing the chimney breast. From duration to possible setbacks, to costs and additional fees. Knowing exactly what you are getting into and what to expect from a company is important so you avoid the complications and surprises along the way.
How to Remove a Chimney Breast
This is not a simple DIY task. In addition to skips, lifts and other equipment it requires a great deal of knowledge to perform this work. So, rather than attempting removal and replacement yourself you should look into hiring a tradesperson to make sure it is done correctly.
Hiring a chimney specialist
Choose companies which understand how to work on individual areas of the chimney.
Learn how the work is performed and what is included in the labour costs.
Find out if you pay additional labour costs for more than one contractor.
FAQ's
How long will it take to replace the chimney breast?
A typical length for this type of project is 1-5 days. Depending on the size, depth, and if it requires upgrade work, some jobs are going to take longer than others to complete.
Do I need to replace the entire chimney?
This is best assessed by the contractor hired. In some cases, if it is a very old chimney, and has seen extensive damage, it might be worth doing so, rather than simply repairing piece by piece.
Can I replace the breast myself?
No. Chimneys are heavy. Brickwork is difficult, and the attachment of a new flue, and other components, are complex in nature. This work is best when done by a licensed contractor, not a DIY fix-up.
Last updated by MyJobQuote on 1st May 2020.