Cost of Painting a Room
Trying to find out how much it costs to paint a room?
In this guide you can find a breakdown of room painting prices, making it easy to calculate a ball-park figure before hiring a decorator.
So, carrying on reading below...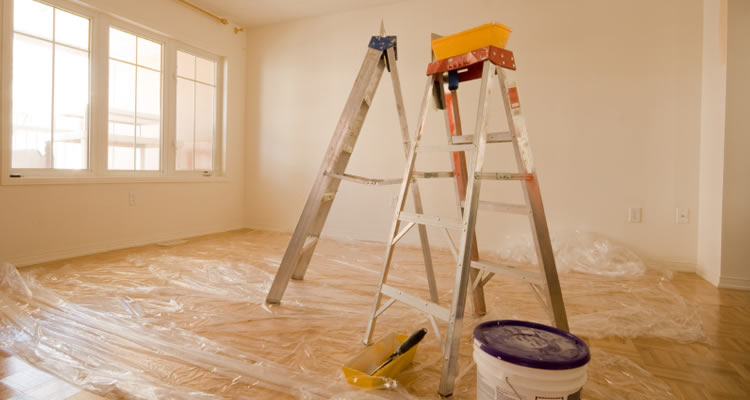 Average Cost to Paint a Room
This type of job normally takes around 1-2 days
£400
How Much to Paint a Room?
Painting a room is a fairly simple task for any painter and decorator, and is something that any DIY enthusiast can undertake. But how much does it cost, if you were to hire a professional? This of course depends almost solely on the size of the room.
A regular 4m by 3m room would take a couple of days to fully paint including woodwork and coving. With most decorators charging around £150 to £200 per day outside of London, then you're total labour cost would be roughly £300 to £400. Add another £50 for the paint itself gives us an average total cost £400.
Paint does not last forever so there will come a time when you, unfortunately, have to consider redecorating your bedroom! It may seem counter-intuitive to hire a professional painter and decorator if you are on a budget, but in reality, hiring a professional will often save you time, money, and stress.
So, even if you're worried about the cost, hiring a professional painter is often the best bet. Professional decorators will know exactly how to prepare the roof, walls and woodwork before they paint them to make sure they get a perfectly smooth finish.
Hiring a local painter and decorator is also a great way to avoiding DIY nightmares and avoid stress. When you get prices from painters be aware that they assume that you will remove all furniture from the room and there is no wallpaper to be stripped.
House painting quotes will also assume that only very minor repairs are needed to the existing wall and woodwork before painting, so small cracks in plaster or chips in woodwork are fine, but large holes or crumbling plaster are not!
As standard, professional painters will apply two coats to walls and ceiling, plus an undercoat and then gloss to woodwork. You can use the free "find a local tradesman" service on this site by simply choosing the type of tradesman you want, entering brief contact details, then adding a description of the job you need doing. Then you can receive up to three quotes without having to search the Yellow Pages or trawl through lots of websites, it's all done on MyJobQuote.co.uk in just 3 easy steps!
Room Painting Prices
| Job Description | Duration | Material Cost | Labour Cost |
| --- | --- | --- | --- |
| Paint room with 2 coats emulsion | 1 day | £50 | £350 |
| Paint room with 2 coats emulsion and remove old wallpaper | 2 days | £50 | £450 |
| Paint room with 2 coats emulsion, remove old wallpaper plus remove then replace all furniture | 3-4 days | £50 | £475 |
| As above plus remove and refit carpet when finished | 4 days | £50 | £500 |
Things to consider with interior room painting
There are a number of factors which impact painting and decorating prices. First of all, with almost all painting and decorating jobs, almost all of the cost will, in fact, be for labour costs.
This means that prices can vary considerably in different parts of the country and by the experience and quality of the painter. Quality paint is much more expensive than budget paint, but you use so little it makes hardly any difference to the overall costs. However, there are other extras which are usually not included in standard quotes yet can make a considerable difference to the price!
For example, very old and stained ceilings will likely need to be washed with sugar soap before they can be painted, peeling gloss on woodwork will need to be completely removed and if wallpaper needs removing, this will also take a long time so will add to the cost.
In addition, when the wallpaper is removed this may reveal or even cause large patches of crumbling/missing plasterwork, which again will cost extra to make good before it can be painted.
Once you've hired someone, make sure you agree a fixed price for the work rather than a daily rate, this will avoid costs quickly spiralling if problems occur and the work ends up taking longer. Also, check whether or not the quote includes VAT before comparing quotes and also make sure all quotes are for the same quality of paint.
How to Paint a Room
If you're looking for a professional finish then it's best to hire a professional! That being said, if you have the time and patience to tackle the job yourself, all you need is a few basic tools and a day or so to finish the job without hassle or spending any more money than some paint and basic materials.
You may not get the same finish as a professional, but you can get pretty close and save a lot of money! Preparation is the most important part of any painting job, so don't be tempted to skip those steps, take the time to make sure the walls are prepared properly and the painting itself will be much easier! Start by removing anything in the way, the less clutter, the faster the job will be.
Cover any furniture that is not being removed with old bed sheets and cover your floors with plastic sheeting. If your walls are dirty or dusty, wash with a sponge to remove any dirt or grime, but don't soak the walls or it will take ages to dry.
Then, use painter's tape to go around the edges of the room to create a straight edge for your paint along skirting boards, door and window frames, electric sockets and switches. If your walls have any holes or large cracks in the plaster, then these will need to be filled in first using ready-mixed filler and a scraper. Once the filler is dry, use sandpaper to smooth the area ready for painting. Now that the preparation is finished, you can start painting!
For best results use a primer or undercoat as a barrier between the old paint and the new paint, followed by two coats of your final colour. Paint the edges first using a small brush starting with the areas that you taped off, ensuring you do not go over the edge of the tape.
Once your edges are done, use a roller starting in the middle of the wall and rolling away from you in diagonal directions until the wall is fully painted. Wait the appropriate time before starting the next coat and repeat the process. When the final coat of paint has been applied, carefully remove the painter's tape before the paint is dry, then leave for 8 hours before hanging anything on the wall or moving furniture against the walls.
Room painting checklist
Most quotes will assume all furniture will be removed from the room by customer
If you want wallpaper removed then this will add extra time and money
The vast majority of the cost of painting will be labour
Most decorators will include minor repairs to the walls in any quotes
FAQ's
If I want to paint one wall a different colour, how can I choose the right wall?
The feature or accent wall will depend on the space, but the wall that comes into view opposite the entrance is in most cases works best as the feature wall.
How do I choose the best interior colour?
Light colours work best in dark rooms and make walls and ceilings appear to be further away, so small rooms feel larger. Dark colours can make a room feel more intimate and cosy. Bright colours give the room a cheerful, upbeat feel. For square rooms, make one wall a feature wall by painting it in a different colour to give the room a more dramatic, less boxy look.
How do I select the right brush size?
As a general rule, you should use the largest size brush that can be used comfortably. A 3-inch brush is great for corners that can't be reached using a roller. For narrow surfaces like door and window frames, use a brush that's slightly narrower than the width of the frames. For detail work or getting into awkward areas, use a 1 inch angled sash brush.
When painting a room, in which order should I paint the walls, ceilings, and skirting boards?
This is debatable, but generally, the ceiling and walls should be primed first, then the ceilings painted first, and then the walls. Then the skirting and door/window frames can be primed and glossed.
How much cleaning is necessary before painting?
You should regularly remove all dirt and dust from the surface to be painted using warm, soapy water. Mould and mildew should be removed using a ready-made remover or by making up a cleaning solution of 1 part bleach and 3 parts water. Once washed all surfaces need to be rinsed thoroughly and allowed to completely dry before painting.
Last updated by MyJobQuote on 21st March 2022.