Wallpaper for Bedroom Cost
Want to know how much it costs to hang wallpaper in a bedroom?
In this guide, we look at wallpapering prices and how much it costs to hire a decorator to carry out the work. We'll also look at wallpaper for bedroom walls.
Want to learn more?
Check it out below...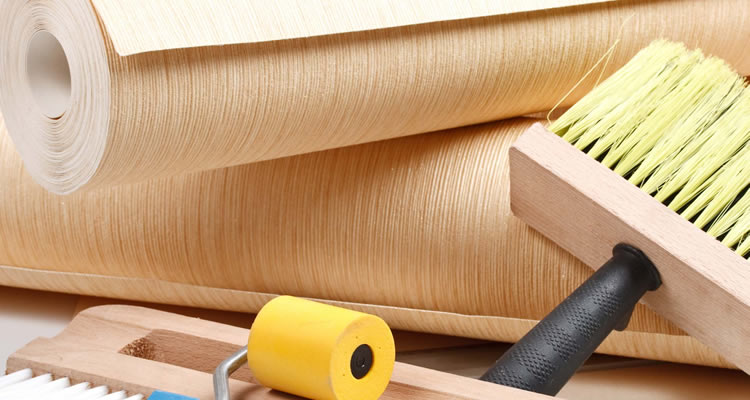 The Average Cost of Wallpapering a Bedroom
This job would nromally take 1-2 days to complete
£300
How Much to Wallpaper a Room?
Wallpapering your bedroom can really set off the room nicely but it can be expensive. The cost of the actual wallpaper can vary a great deal with everything from cheap options from your local DIY store, to hand-printed heritage designs from trendy designer outlets.
The cost of the labour involved with the job does not vary quite so much, but it will change depending on how large the bedroom is, the layout of the room, and your location. Standard square shaped rooms with no awkward corners are far quicker to wallpaper so cost less than a room with lots of complex cuts required.
Location is one of the most important factors which will affect the price when it comes to getting quotes, with those who live in the more expensive parts of the country paying as much as 50% more for labour!
Another factor which will impact the cost is the condition of the walls. If the walls are clean and smooth with no filling in required for any holes or uneven parts of the wall, then painters and decorators will offer more attractive quotes.
Getting quotes from local decorators can be complicated, some decorators charge by the roll, others by the size of the room or even by the hour.
Plus, if contacting decorators through Yellow Pages or local classifieds, how do you know if you are getting a decorating professional or a cowboy?
Finding a local tradesman with MyJobQuote.co.uk is easy, post your job by simply choosing the type of tradesman, then entering your contact details with a brief description of the job you want the tradesmen to do.
You can also check reviews of your chosen tradesman posted by other to ensure you hire someone that is both professional and reputable!
Hanging Wallpaper Prices
The cost of hiring a decorator can vary considerably depending on your location and experience. The average cost to hang wall paper in a large room is around £350. This all depends on the wallpaper you choose.
Our table below provides you with a cost breakdown. Most painters and decorators will charge you a standard day rate which can range from £100 to £150 a day.
| Job Description | Duration | Material Cost | Labour Cost |
| --- | --- | --- | --- |
| Hang wallpaper supplied by customer onto painted walls in good condition small bedroom | 1.5 days | £0 | £300 |
| Strip existing wallpaper, some wall preparation and lining, then hang new wallpaper supplied by customer | 3 days | £25 | £525 |
| As above but for large double bedroom with bay window | 4 days | £30 | £700 |
Things to Consider About Hanging Wallpaper and Decortaing
There are a number of factors which could influence the price you will be quoted for wallpapering. The first and most obvious factor is the size and shape of the room. Bigger rooms and awkward spaces will take longer so will cost more.
But the condition of the walls cost will also have an impact on costs. A wall with lots of cracks and holes which need to be fixed before hanging the wallpaper will obviously need a lot more preparation time so will bump up the cost.
Wallpapering is quite labour intensive and the labour costs will always be substantial, usually costing more than the wallpaper itself. It's important to discuss the preparation work required with your decorator, as you need to check exactly what is included in any quotes.
Removing all your furniture and possessions from a room and putting them back afterwards can take hours, so make sure you know what is included in the price. Most painters & decorators will expect the householder to move all furniture and possessions into the centre of the room giving them easy access to start work.
Wallpapering is not as popular as it used to be, for the last 20 years or so painting walls was more popular in the UK, but recently wallpapering has come back into fashion and there is a vast array of types and styles to choose from.
Wallpapering is now a popular choice in the UK when it comes to freshening up a bedroom, but once wallpapered, to finish the room off properly you will usually need to also paint door & window frames plus skirting boards and ceilings (and the doors themselves if painted).
How to Hang Wallpaper
It can be a false economy to try and wallpaper a room yourself unless you are confident in your decorating skills, wallpaper is expensive to buy and you will use much more of it when getting things wrong and making mistakes!
Patterned wallpaper is particularly difficult to get right and can result in a lot of wastage to get everything lined up. So, if in doubt, get a professional decorator in for a guaranteed professional finish and much less stress, it's worth paying the extra money!
Wallpapering is one of those jobs that people seem to have a certain "knack" for, if you have never done it before, it can look much easier than it actually is and there are plenty of things which can go wrong with the finish, including bumps, wrinkles and mismatched wallpaper patterns! Wallpapering is a skill that really needs some practice, but even then some people struggle to get the hang of it!
If confident you have the skills to do it yourself, start by emptying the bedroom (or at least moving everything into the centre of the room) then stripping off any old wallpaper using a steamer, but be prepared for a lot of condensation.
Then protect the flooring/carpets from wallpaper paste and any painting being done.
You should then start hanging paper at the corner on a wall with no doors or windows unless the wallpaper has a large pattern, then it's a good idea to hang the first length of the bed or another focal point.
Then work away from it in both directions to make the design look symmetrical. But be particularly careful with the very first length of the paper, everything is lined up with this first strip so it's important to get that one perfectly straight!
Make sure you unscrew all wall fixings before you start papering, but leave the wall plugs in place and mark the position of each one by pushing a matchstick into the plug, just leaving it slightly proud.
Then press it onto the matchstick to pierce the paper. After the paper has been smoothed with a wallpaper brush and is quite dry, remove the matchstick and replace the fitting.
Wallpapering Tips
Professionally applied wallpaper can last up to 20 years.
Whether you love it or loathe it, wallpaper is "in" right now and very fashionable.
Wallpaper is a great way to to add some style and flair to your bedroom.
Wallpaper now comes in pre-pasted and self-adhesive varieties.
If walls are damp you should find and resolve the source of the problem before hanging your paper.
Cheap wallpaper is a false economy and it it will usually look cheap on the wall and it won't last as long.
FAQs
How does it take to wallpaper a bedroom?
Usually, this will take 1 to 3 days depending on the condition of the walls, whether they are painted or currently wallpapered, and the size of the bedroom.

Existing wallpaper that needs to be removed can easily take a full day (longer if woodchip type paper), plus preparing the walls will take longer if there is lots of damage to the plaster.
Can't you just wallpaper over the old paper to save time and money?
Most wallpapers nowadays have a vinyl coating or are sheet vinyl to form a vapour barrier. If you try and cover one vapour barrier material with another, this can result in mildew or mould forming between the layers.

In addition, if the existing wallpaper has a very strong colour or pattern, this may show through under the new wallpaper, unless the new wallpaper is very thick. Plus it is much easier to get a professional finish if wallpapering on a smooth and clean surface.
What types of wallpaper are available?
There are many different types of paper, each with their own specific advantages and disadvantages, but the main types include vintage wallpaper, ready-pasted wallpaper, woodchip, lining paper, textured relief wallpaper, coated or Vinyl wallpaper and standard printed paper.
What tools and equipment are required to hang wallpaper?
If hanging traditional wallpaper yourself you will need a pasting table and bucket, a good pair of scissors, the wallpaper itself plus of course the paste, pasting brush and paper hanging brush. If removing old wallpaper then a steam stripper is recommended.
Last updated by MyJobQuote on 12th April 2022.