How Much Does It Cost to Plaster a Room?
Want to find out the cost of plastering a room?
Depending on the size of the plastering job you can expect to pay anywhere in-between £70-£1500.
Looking for a more specific cost?
Check out this complete cost guide which covers everything you need to know about the average cost plastering a room, including plasterer prices and the cost of plasterboard - so you can know exactly how much to budget for!
Need a plasterer quote?
Have a look at our local plasterers and get a quick and easy quote from them!
For more plastering information - Continue reading below!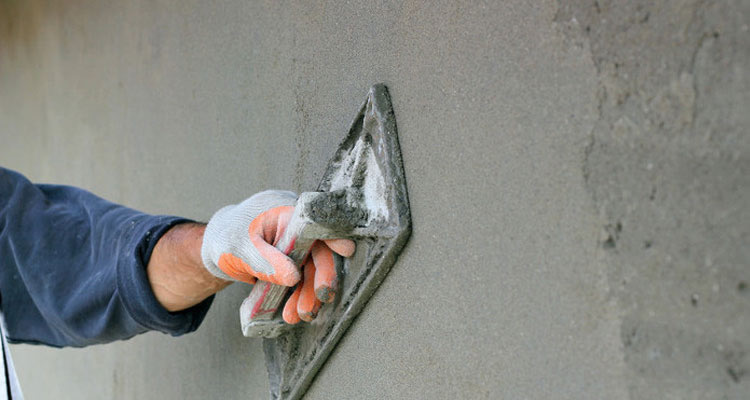 Average Cost of a Plastering a Room:
Depending on the complexity of the job, it usually takes: 1.5 days
£550
How Much Does Plastering a Room Cost?
Is your house interior plaster is looking a bit tired and painting the walls never seems to give a decent finish?
Then it's probably time you had the plaster renewed to provide a clean, smooth base for your decorating efforts!
But how much will it cost?
How much you will pay for plastering will, of course, depend on the amount and difficulty of the plastering to be done.
For instance, a patch repair may only cost around £70 to £130, while an over skim can cost anywhere from £150 to £200.
But what about plastering entire rooms?
The overall plastering cost will also depend on room size, with the cost to plaster a small room ranging from £400 to £700, £800 to £1100 for a medium-sized room and £1200 to £1500 for a large room.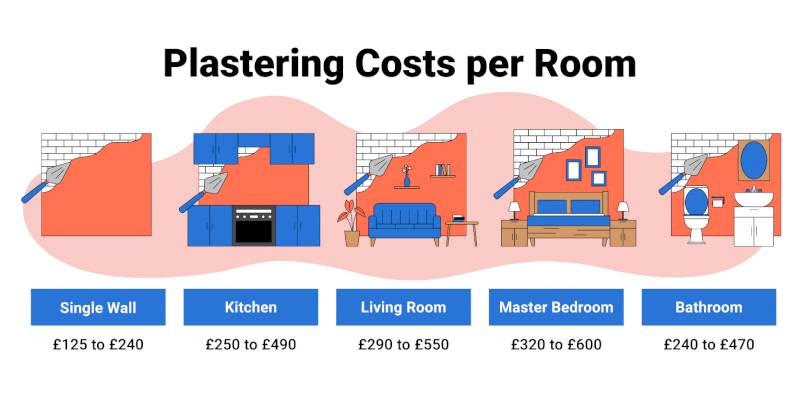 The cost may also depend on the type of plaster you choose, as some homeowners may want to stick to their budget with a low-cost plaster, while others would prefer a long-lasting premium plaster.
Plastering Prices
The below table sets out the different costs for various wall plastering jobs:
| Job Description | Cost |
| --- | --- |
| Small Room | £400-£700 |
| Medium Room | £800-£1100 |
| Large Room | £1200-£1500 |
| Plaster patch repair | £70-£500 |
| Plaster over skim | £150-£800 |
Additional Costs
There are various other jobs you need to consider when hiring a professional to plaster your walls, including:
Painting a Room
After your walls have been plastered by a qualified plasterer, you may choose to have them painted.
This will involve hiring a professional painter who will charge around £400 to paint an entire room with two coats of emulsion.
What does this cost depend on?
This cost may vary depending on the type of paint you choose, as some are much harder to apply than others.
Wallpapering
If you would prefer wallpaper to paint, then you may want to pay an experienced decorator to hang your chosen wallpaper. The typical price for hanging wallpaper on a newly plastered wall is around £300 to £730.
Again, the overall price will depend on the wallpaper you choose, as some wallpaper types are a lot harder to fit.
Labour Costs and Timescales
How much do plasterers charge?
The average plasterer cost is around £6 to £10 per square metre of wall space plus an additional rate of £100 to £150 per day.
These costs will, of course, depend on the how long the will take is usually estimated at around 1 day for a small repair and up to 2 days to plaster a skim a wall.
Some plasterers may also change a daily rate which will vary depending on where you live, as plasterers in London charge around £200 per day, while tradesmen in the surrounding areas set rates at about £140 to £160.
What is Plastering?
Plaster is a type of building material which is applied to interior walls.
What's the purpose of plaster?
The main purpose of plastering internal walls is to cover any rough or uneven areas and prepare it for paint or wallpaper.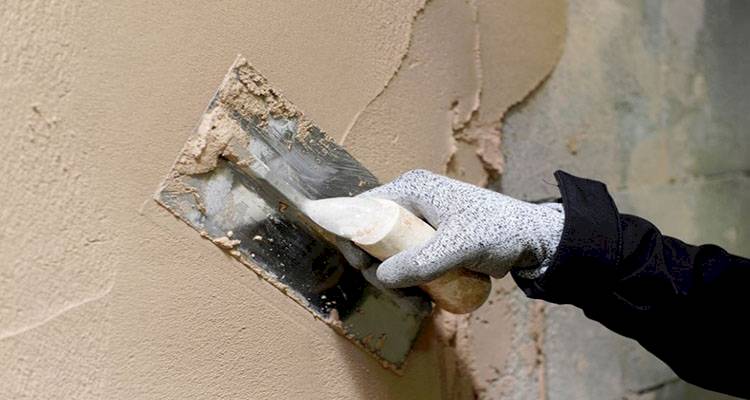 How was plaster invented?
The practice of plastering was first discovered as far back as 7500 BC in Çatalhöyük, which is now modern-day Turkey. Here, they utilised clay marl and mud-brick as a form of plaster.
Later in Jordan, the people mixed lime with crushed unheated limestone to create a plaster.
It is now recognised worldwide as the most commonly used wall preparation material that protects against water damage and damp issues.
Cost Factors of Plastering
To help you get a better idea of plastering prices, take a look at the following cost factors which will allow you to configure a better estimate:
Type of Plaster
One element that may affect the cost of plastering your interior walls is the type of plaster you choose.
Let's have a look at the cost differences...
For instance, undercoat plaster tends to cost around £0.30 to £0.60 per kg, while topcoats are normally priced at £0.25 to £1 per kg.
Size of Area
The majority of plasterers charge around £6 to £10 per square metre, so basically the larger your wall is, the more you will pay.
To work out a more accurate price, you should measure the height and width of your wall and multiply it by the cost.
Number of Walls
Another important factor is how many walls require plastering, as again, the more space that needs work, the more expensive it will be.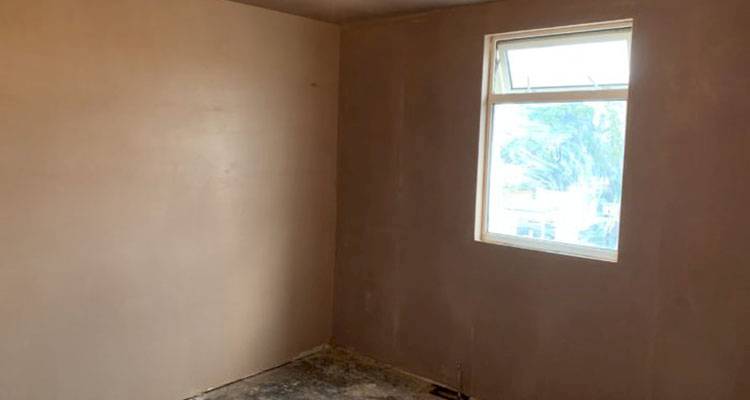 For instance, if you just need one wall plastering, then you should expect to pay around £150 to £300, while an entire room with four walls could range from £190 to £600.
Wall Condition
The condition of your walls will also determine the final price, as walls with significant damage may need to be repaired first before plastering, which will cost more.
However, if your walls are in significantly good condition, then you should expect to pay the minimum price.
Location of Property
Your property's location is also a massive contributing factor as tradesmen will charge different rates depending on how far they have to travel, so if you live in a remote area, you may have to more.
Plasterers in London will also charge a lot more than tradesmen in the surrounding areas.
Ease of Access
When plasterers price up a job they will consider the level of access to the area they are plastering, especially when working on a property with high ceilings as this will make the job more difficult, and they will, therefore, charge more for the inconvenience.
What's Involved in Plastering a Room?
If you have never had your walls plastered before, then the below guide will help you understand how a professional plasterer will complete the job:
Protecting the Room

The first thing that a professional plasterer should do is lay down dust sheets to protect your floor and other furnishings. This will also collect any debris while also preventing it from sticking it to the plaster in order to provide a smooth and clean surface.

Removing Old Plaster

Once the dust sheets are set out, the plasterer will then proceed to remove any old plaster rather than just re-plastering as this will ensure it is longer-lasting. To do this, they may use a drill or a chisel and hammer to prevent any damage to the walls.

Priming the Walls

After all the old plaster is removed along with any dirt and debris, the tradesman will then begin to prime the walls. This will involve diluting and brushing PVA onto to the wall, which will enable your plaster to be applied immediately and also allow it to dry out evenly.

Mixing the Plaster

Most plasterers will mix their plaster on-site. They may choose a traditional plastering technique which involves a smooth wet mix of either gypsum or cement and water which is spread directly onto the wall using a trowel then finished with a thin skin coat of gypsum.

Most homeowners prefer wet plaster as it offers a smooth and durable finish, but you can also consider dry-lining. Dry-lining uses manufactured boards of paper-covered plasterboards which are nailed or screwed in place. It is a lot quicker to put up, doesn't need to dry out, and there is little risk of any cracking.

Applying the Plaster

Modern plaster is typically applied to walls in 2 coats in order to adequately replace the existing plaster. The first coat is to take up any discrepancies in the wall and present a reasonably flat surface for the second coat.

They will usually apply small amounts of plaster using a hawk board, trowel and float which helps to spread out the plaster evenly. The most popular method involves plastering a small amount of wall then moving on until the entire wall is covered.

Skimming and Smoothing

Once the first coat of plaster has been applied, they will then wait around 20 minutes to allow it to dry slightly. After this time, they will use the trowel to even out any bumps while also smoothing out the corners at the top and bottom of the wall.

Scraping the Surface

Some plasterers skip this part; however, it can be beneficial to ensure an entirely smooth surface. Scraping the surface involves the use of a devilling float which is basically a piece of wood with nails which works to get rid of small lumps.

Applying Another Layer

Once you've smoothed out any bumps, you should check that the first layer of plaster is dry before applying another. The second coat uses finish plaster which is slightly thinner than the first layer and when applied by a good plasterer will leave a perfectly flat and smooth wall.

Finishing Up

To finish off the plasterwork, the tradesman will wait around two minutes before spraying the edges with water and running over the surface with a trowel or wet brush. When set, the plaster forms an integral part of the wall and can be covered with paint or wallpaper.
Can I Plaster a Room Myself?
Plastering is one of the few trades where it is almost always better to get a professional to carry out the work for you.
Plastering is also a physically draining and highly skilful trade which is best left to the professionals unless you have some prior plastering experience and are very confident.
In addition...
A plasterer will usually be able to finish the job far quicker than you will and will provide a much better finish. Also, some jobs may require special tools or knowledge that you simply do not have.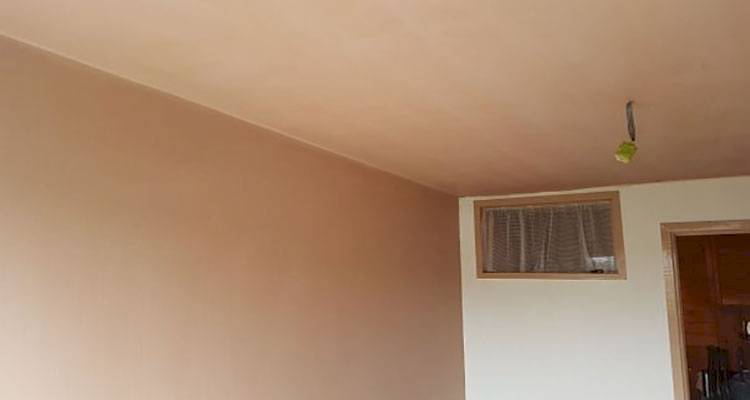 What type of plastering can you try DIY?
You might be tempted to plaster yourself, if you only need to plaster a small wall where aesthetics are not really important, for example to a wall which will be mostly concealed by wardrobes or other furniture.
However, if the wall is visible and requires a smooth and professional finish, then this is normally far beyond the capabilities of most DIY enthusiasts.
Types of Plaster
One of the most important cost factors you need to consider when hiring someone to plaster your wall is the type of plaster you want.
Here is a breakdown of the different types, the costs and pros and cons of each:
Bonding Plaster Costs
Firstly, what is bonding plaster?
Bonding plaster is a type of undercoat plaster which is normally used as the first coat and tends to dry in 1.5 to 2 hours.
One of the key features of bonding plaster is that it has extensive "stickability" which means it does not need to be applied to an absorbent surface to adhere properly and is therefore ideal for rough surfaces.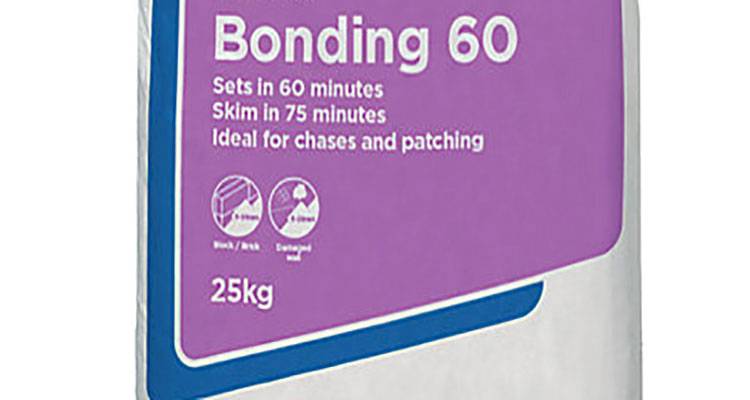 Bonding plaster should not be used as a second layer as it will not provide the finish you want especially if you plan to paint over it as bonding plaster tends to absorb moisture and may crack the paint.
How much is bonding plaster?
The average cost of bonding plaster is around £0.40 to £0.50 per kg.
Browning Plaster Costs
Next is...
Browning plaster - another type of undercoat plaster which is more compatible with absorbent surfaces and dries in 1 to 2 hours.
What does this plaster work well for?
This type of plaster works well on building blocks, common bricks and other absorbent surfaces and can be applied very easily.
Browning is not as resistant as bonding or Hardwall plaster, so it can be susceptible to cracking and other damage.
You should expect to pay around £0.30 to £0.60 per kg for this type of plaster.
Hardwall Plaster Costs
Hardwall plaster is very similar to browning plaster, although it does more robust and long-lasting. The average cost of Hardwall plaster is around £0.40 to £0.50.
What are the benefits of hardwall plaster?
The main benefit of Hardwall plaster is that it is very compatible with masonry materials such as bricks, medium-density and aircrete blocks. It also offers a much higher impact resistance than browning plaster so is definitely the preferred choice.
As it a fast-drying plaster, it's important that the plaster is applied evenly because if not, it could be applied with unnecessary bumps and lumps.
Tough Coat Plaster Costs
This is another undercoat plaster which normally has a depth of around 11mm. You should expect to pay around £0.30 to £0.50 per kg for tough coat plaster.
In comparison to Hardwell plaster, this is an even tougher material which is why many plasterers choose it when plastering masonry surfaces. This also offers high coverage, so only one layer is normally required.
What is this plaster not good for?
This type of plaster is not suitable for freezing or hot temperatures, so if you do plan to use it on your external walls, you should consider extra protection to avoid damage.
Dri-Coat Plaster Costs
This product is a cement-based plaster which is normally used for re-plastering purposes after a damp-proof course installation. This type of plaster normally costs around £0.80 to £1 per kg.
The main advantage of opting for Dri-coat plaster is that it has extensive waterproofing qualities which enable it to provide protection against damp damage.
What else do you need to consider with this plaster?
If using this plaster, you should try to avoid applying it to surfaces with a temperature below 5 °C, as this will reduce the strength of the plasterwork.
Multi-Finish Plaster Costs
Multi-finish plaster is normally used as a topcoat plaster for a wide range of surfaces and is normally used on top of browning or bonding plaster. You can purchase this product for around £0.30 to £0.40 per kg.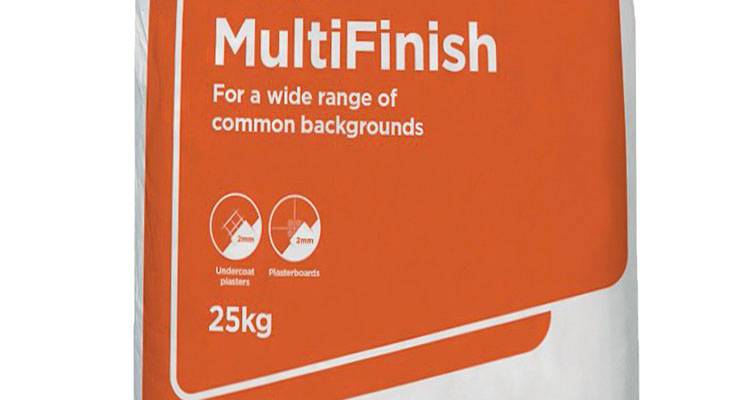 Why do plasters use multi-finish plaster?
Professional plasterers tend to choose multi-finish plaster as a finishing material if they are covering a variety of backing surfaces. It also provides a high-quality and inert surface which is ideal for internal walls.
This type of plaster may take a lot longer to apply as it needs to be polished to ensure the surface is smooth and even, so you need to be careful when applying it as the drying time is quite quick.
Board Finish Plaster Costs
Board finish plaster is a type of skim plaster which requires hand application only. The typical price for Board finish plaster is around £0.25 to £0.30 per kg.
This type of plaster is a high-quality material which is accepted by dry-coat plaster and plasterboard, which both offer a low to medium suction.
You need to be very careful when applying this type of plaster as it tends to dry and go off quickly, so if opting for this plaster, you may be best hiring a professional to apply it properly.
One Coat Plaster Costs
One Coat plaster, also known as patching plaster, is a mixture of binding and multi-finish plaster and is used to fill patches on damaged walls. The average supply cost for One Coat plaster is around £0.60 to £0.90 per kg.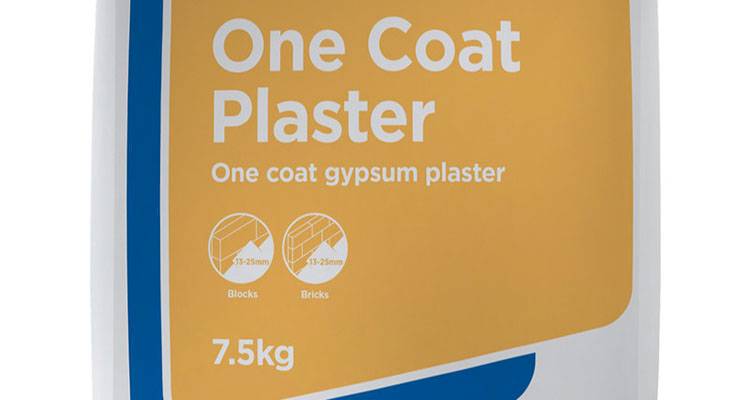 This type of plaster can be applied with a thickness up to 50mm with just one layer. It also works perfectly on a variety of surfaces including brick, concrete, block and plasterboard.
The problem with One Coat Plaster is that it does not provide as good of a finish than two-coat plaster.
However, you can always use another coat, but it may not provide the most aesthetically-pleasing surface.
Plaster Repair and Maintenance Cost
The older your house, the greater the chance that the plaster will need some attention.
How can you tell if plaster is in a bad way?
You can often tell if the plaster is in poor condition by gently knocking the walls with your knuckles, if you get a hollow sound, you may have a case of blown plaster which can become incredibly dry and may start to flake off in big lumps if disturbed.
To prevent this from happening and make sure your plaster is long-lasting, you should conduct the following jobs:
Skimming Costs
If you're planning to paint or install wallpaper and you notice your plaster does not look good, then you may want to consider skimming it.
This involves applying a thin layer of plaster over the existing plaster to hide any imperfections and create a new base.
How much is skimming?
The cost of skimming a room is normally around £150 to £800 depending on the labour rate as well as how many walls need fixing, as this will increase the overall skimming walls cost.
Patch Repair Costs
If you notice any cracks in your plaster, then it may be possible to fix it by performing a blown plaster repair, however, if you have never done this before you are best consulting with a professional.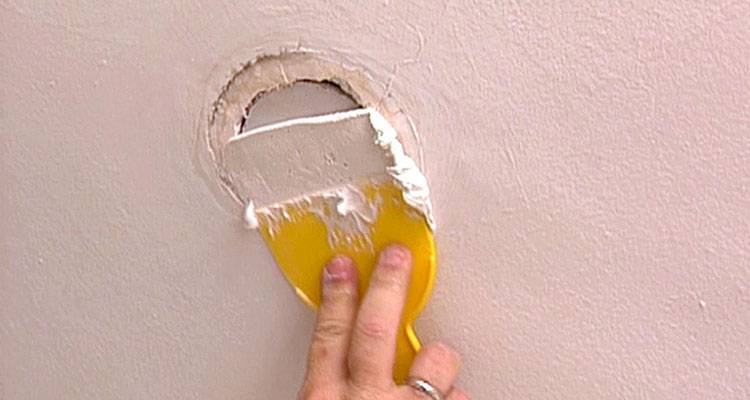 A plasterer will assess whether a repair is sufficient or whether completely new plaster is required for the whole wall. If they decide a crack repair is adequate, they will remove the damaged area and remove any dirt and debris. They will then fill the gap with a mixture of filler powder and water and once its dry they will spray it with water and smooth it out with sandpaper.
The cost of a patch repair is normally around £70 to £530, although this will depend on the extent of the job and how many walls need repairing.
Hiring Someone to Plaster a Room Checklist
Before hiring a plasterer, you should consider the following checklist to ensure you employ the right person for the job:
Check that they have a Level 2 NVQ in Plastering along with 5 years' experience on the job.
See if they are a member of an accredited group such as the British Gypsum Certified Plasterer Scheme.
Ask about their previous experience and request access to reviews or ask for recommendations from friends and family.
Check that they have public and employer's liability insurance
Get at least three quotes from different plasterers to ensure you are getting a good price.
FAQs
How long after plastering can I paint?
As a rule of thumb, you should wait at least a week before painting over new plaster. However, you may be able to paint earlier than this if your plaster has quick-drying qualities. Before painting, you should always check on the manufacturer's instruction or ask a qualified plasterer.
What is plastering sand?
Plastering sand or Leighton sand is a very fine grade of red-coloured sand which is normally used for plastering and rendering both internal and external walls.
How long does plastering take to dry?
On average, plaster takes anywhere from 30 minutes to 2 hours to dry and set, although, if you are applying plaster to plasterboard this can actually take around 2 to 3 days to dry completely. To ensure your walls are fully dry, you should check the manufacturer's instructions on the plaster's packaging as this should give you a drying time guide.
How long does plastering take?
A small patch-up job will take just a couple of hours; a whole wall will take around half a day (likely a bit less than this but your plasterer will need to charge for half a day to cover his time).
Is plastering messy, is there a lot of cleaning up required afterwards?
Unfortunately, yes, plastering is a pretty messy job so best to remove all furniture and other belongings from the room being plastered and cover the area with a dust sheet before starting. It's a good idea to try and isolate the room from the rest of the house by keeping doors closed. Good plasterers will make as little mess as possible, but some mess is unavoidable.
Do plasterers have minimum charges for small jobs?
Most plasterers wouldn't take on a job for less than half a day of labour plus material costs, or for less than £70. This might seem expensive for a small plastering job, but plastering is a difficult technique to master and most amateurs attempting to plaster will not achieve a professionally smooth and flat finish.
How do I find a reputable plasterer?
The best plasterers will come highly recommended, so ask friends, family and neighbours for recommendations. You can, of course, also use the service on this website for free to get plastering quotes and check for positive reviews from previous customers.
What happens if you don't PVA before plastering?
Primer is used as a primer for the surface of the wall, and it also helps bond the plaster to the surface. If you don't use PVA before plastering, the plaster may be uneven or crumbly. It will also be very difficult to apply, and parts may not stick correctly. This can result in bumps or cracking over time.
Sources
https://www.wconline.com/articles/88086-the-history-of-plaster-in-architecture-the-ancient-and-classical-periods
https://www.johnlewisfinance.com/insurance/home-insurance/articles/how-to-skim-plaster-a-wall-for-beginners.html
https://www.realhomes.com/advice/fixing-problems-with-old-plaster
https://www.british-gypsum.com/product-range/plaster-products/british-gypsum-certified-plasterer-scheme
https://www.labc.co.uk/news/wall-repair-basics
https://georgehill-timber.co.uk/blog/different-types-of-sand-explained/

Last updated by MyJobQuote on 9th July 2022.