Basement Conversion Cost
Trying to find out how much a basement conversion costs? In this article we breakdown conversion prices for different sizes and types so that any homeowner can calculate how much the conversion will cost them.
We do this by providing an average cost per square metre, so whether you're converting your basement or cellar, finding out how much it will cost has never been easier!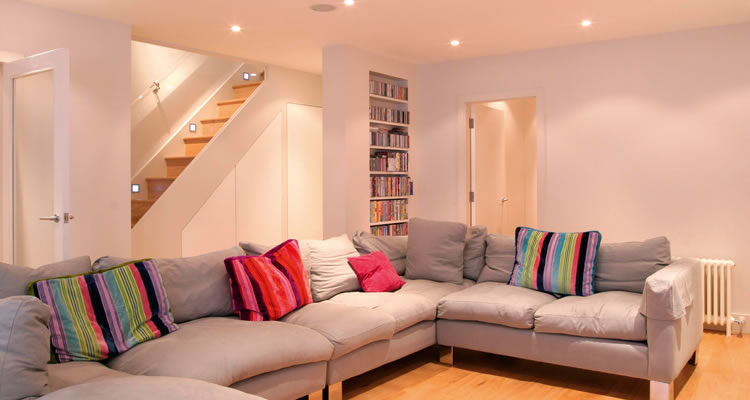 Typical cost of basement conversion
A full conversion including digging out and extending basement would cost around £100000
£100,000
How Much Does a Basement Conversion Cost?
Converting a cellar or basement can provide valuable extra living space without drastically altering the exterior of your home. This type of conversion is expensive, but once you have made good use of all the useful interior space including the loft, if you do not have space around the house to extend further, it's really the only option, other than moving to a larger house!
The one thing that almost everyone wants is more space, and converting the cellar into a basement storey beneath the existing property can be a good option. However, it is so expensive you may not get a full return on your investment, unless you live in London or other areas where property prices and space are extremely expensive.
Basements are also created as part of new build properties, but this article is primarily concerned with renovating an existing basement or cellar to create additional living space, or even creating a new basement in an existing home and potentially extending outside the existing property boundary, into the garden.
Obviously, converting an existing basement into useful living space is much easier and less expensive than creating a new basement from scratch. This is a simpler conversion that can also be tackled by the average DIY enthusiast. However, excavating a new basement is a job that is definitely best left to the professionals!
You can use this website to easily gather quotes by simply describing your job and leaving contact details with one simple online form. Then you can sit back and receive quotes from reputable tradesmen in your area - all for free!
Get started by filling in the easy form then let us get to work finding the perfect tradesman for your basement conversion project. You will receive up to three quotes from our recommended tradesmen then you can choose the right tradesman for the job with help from our member's previous feedback and comments.
Basement Conversion Prices
| Job Description | Duration | Material Cost | Labour Cost |
| --- | --- | --- | --- |
| Retro fit properties without existing basements price per square metre | NA | £1000 | £2000 |
| Basement conversion of an existing cellar but extended in both height and area per metre squared | NA | £1000 | £1500 |
| Basement refurbishment of an existing cellar with additional waterproofing per square metre | NA | £400 | £1000 |
| Creating a lightwell/external access | 2 weeks | £3000 | £4000 |
Things to consider when planning a basement conversion
In some parts of the UK, especially in London and parts of the South East where property values are at a premium and stamp duty is expensive, many are considering basement conversions as a cost effective option.
A basement conversion allows you to create a whole new floor for a variety of uses and the living space is more usable than for example a loft conversion, which can only really be used for additional bedrooms or an extra upstairs bathroom. That being said, extending into the loft will be much cheaper!
Extending underground also brings some additional headaches, namely due to the fact that the new living space will often be under the water table level. So when building a basement is it important to understand that every building is different and as a result, there are a number of options when if comes to waterproofing.
But there are two primary methods that are most often used: membranes and structural waterproofing or tanking. Membranes are the most common and are created using high-density polyethene which is fixed physically to the wall and on which the internal plaster boards can be fixed.
The type of waterproofing membrane that is most suitable for your basement conversion will be determined by the anticipated water flow rate. British Standard 8102 from 1990 requires the use of damp proofing membranes in the UK and there is a wide range of specialist membrane products on the market designed to address a variety of issues. Whichever membrane product is fitted, there is little to no preparation required and they are very quick to install.
Doing it Yourself
If there is an existing basement which is dry and well waterproofed, converting storage space to living space is fairly easy and well within the scope of the average DIY enthusiast.
However, if there is damp, or the basement needs excavating to provide more headroom or needs to be extended – then this is a job best left to the experts! Excavating around the foundations of a property is not a job for an amateur and there will likely need to be some underpinning required for structural safety. Getting this wrong could cause the basement to collapse and even damage the structure of the property!
Basement conversion checklist
A basement conversion is a very specialist job so always employ an experienced architect or a dedicated conversion company
The main problem with any subterranean space is lack of natural light - consider skylights, sun pipes and tunnels
Many Victorian and Edwardian houses already have basements and with sturdy foundations can be ideal for conversion
The proposed new basement may well be below the water table, so check with your architect or builder to find out which waterproofing method is the most appropriate
FAQ's
What can I use my new basement area for?
A basement offers additional family living space which can be used as a playroom, home gym or even swimming pool, sauna, home entertainment room, home office or utility room. You can even use the basement to create a self-contained unit for use as an annexe. However, if you want the basement to become an independent separate dwelling, you will need express consent for this purpose.
Is a Basement conversion a good investment?
Whether the basement cellar conversion is financially viable or not depends on the cost of the conversion relative to the local property values. In high-value areas, it almost always makes sound financial sense to add a lower ground floor, so in central London and other expensive urban centres, the answer is definitely yes! Elsewhere the financial return needs more careful thinking about, a local estate agent should be able to give you a good indication of how much the extra space will be worth.
Do I need planning permission to convert my basement?
Converting an existing cellar or basement beneath a dwelling from a storage area to living space does not generally require planning permission. This will normally be covered under Permitted Development unless in a Conservation Area or Listed building. However, excavating the floor of a cellar to increase ceiling height is treated as an extension and so may well need planning permission.
Will I need to move out while the work is in progress?
If there is access directly onto the garden for the removal of soil and your existing ground floor is standard suspended timber, then you can continue living in your home whilst work is in progress. But if the ground floor is concrete and has to be removed and rebuilt with much of the spoil being carried through the house, you will almost certainly have to move out.
How much will it cost to convert my existing basement or cellar?
This is difficult to answer because there are many factors affecting the probable costs, such as the type of property, approximate size of the basement, what you want to use the space for, what the existing walls and floors are made of, proposed plumbing and electrical work required, current floor to ceiling height, access in and out of the property and whether any existing dampness.
Last updated by MyJobQuote on 26th October 2020.