Cost of Rubber Roof
Find out the cost of installing a rubber roof by reading this complete guide!
This price guide covers all you need, including different types of rubber roofing such as EPDM roofing - their supply costs and the labour fees.
So, find out everything you need to know below!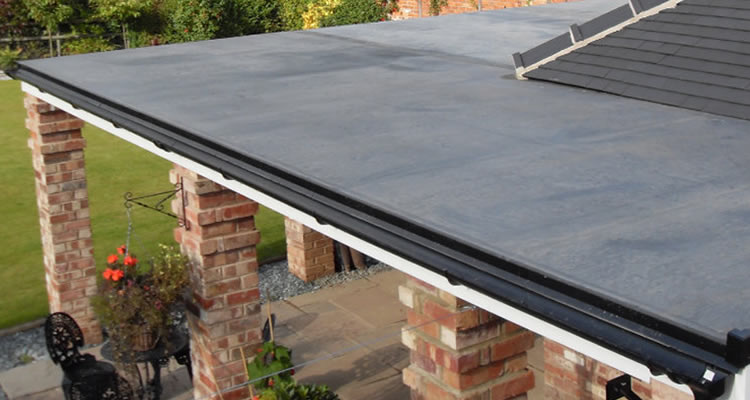 The average cost of a rubber roof is:
This type of job normally takes around 2-3 days to complete
£1000
How Much Does a Rubber Roof Cost?
Rubber or EPDM roofing (Ethylene Propylene Diene Monomer) is a type of single-ply rubber membrane around 50mm thick and is mostly used on flat roofs.
You can buy this roofing material in rolls up to 50 feet wide and it is usually black but can have pigments or dyes added to make it lighter if you need to keep a building cooler. Rubber roofs are very lightweight and easy to install, while being very effective at keeping a roof watertight.
Even better, they have a very long lifespan and don't need much maintenance. Whatever type or shape of roof you have, rubber can be installed easily and if it becomes damaged by punctures or tears, it is also really easy to patch.
This can be done as a DIY project but if you don't have the right skills and experience, you should leave this job to the professionals. To collect quotes from local roofers please use our free service, simply enter brief details about the job and how to get in touch with you, then leave the rest to us!
Rubber Flat Roof Prices
| Job Description | Duration | Material Cost | Labour Cost |
| --- | --- | --- | --- |
| Single Garage Rubber roofing | 1 day | £600 | £200 |
| Double Garage Rubber roofing | 1-2 days | £800 | £300 |
| 2-storey Extension Rubber roofing | 3 days | £1000 | £450 |
Things to Consider with Rubber Roofing
Rubber roofs are not the most aesthetically pleasing choice it has to be said and for EPDM type roofing the manufacturers suggest professional installation only. In addition, though rubber roofs are durable, they can crack or shrink with changes in weather.
Rubber roofs are glued on to the roof decking using roofing adhesive then attached using nails along any loose edges. Often they are coated with gravel to help weigh them down and to look better. Rubber is best suited for flat roofs as it is far more watertight then shingles or felt. 
Rubber is a green choice too as the rubber itself takes less energy to produce than other roofing materials and is usually made from recycled materials. Plus the roof will be 100% recyclable at the end of its life. Rubber is also fire resistant, almost impossible to set on fire, even with lightning!
Doing it Yourself
Some flat roof replacement and repair jobs can be done on a DIY basis, plus there are a number of waterproofing and sealant patching materials which can make temporary repairs, giving you time to gather quotes and save up for more expensive professional repairs!
But if damage to the roof is localised to just a small area, for example, just one a small-sized hole, then it might be possible to complete a long-term repair, rather than replacing the roof.
However, it is usually not cost effective to hire a contractor to carry out flat roof repairs, as it will work out only slightly cheaper than getting a complete new roof. In addition, often making repairs to a flat roof is a waste of money and you can even make things worse if you don't know what you are doing!
You can buy rubber roofing kits specifically designed for DIY installation, but avoid these unless you are 100% sure they will be suitable for your roof and more extensive repairs are not necessary.
Rubber Roofing Key Bullet Points
Rubber roofing is still new in the UK but soon to be very popular!
Rubber roofs are long lasting and very durable.
Rubber roofing can easily be repaired if damaged.
No maintenance is required with rubber roofs.
FAQs
Can flat roofs be repaired instead of replacing them
If your existing flat roof is leaking, then it may be possible to repair it as long as the leak is not too severe. The most common areas for leaks on flat roofs are where the felt joins a wall or overhangs into the gutter. But you can also get leaks caused by falling tiles or other damage. For minor leaks or damage, a patch repair may be possible and will obviously cost considerably less


Is there any maintenance required with rubber roofing?
No specific maintenance is required but a yearly inspection of the roof for damage is recommended.

Can I walk on a rubber roofing?
Yes, the roof can be accessed for periodical maintenance and repairs.
How long do rubber roofs last?
They are very durable indeed and some manufacturers estimate a 60 years or more lifespan!
Are there any special tools required for the installation of rubber roofing?
No, just basic hand tools that most DIY enthusiasts would have to hand, the same tools you would use for any other type of roofing work.
Last updated by MyJobQuote on 9th August 2022.