Replacing an Immersion Heater Cost
Typical cost of an electric water heater replacement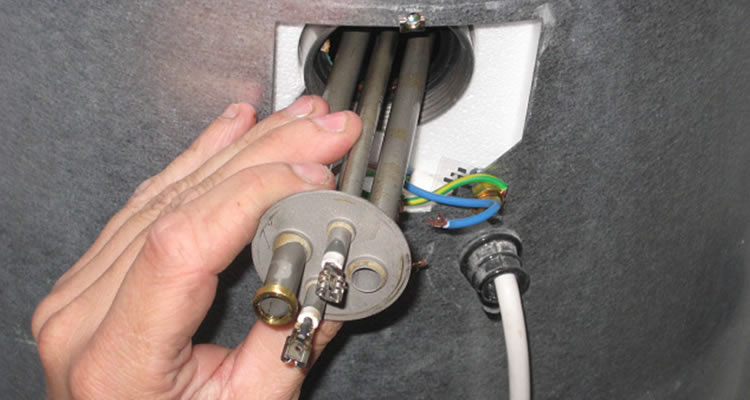 Average cost of replacing an immersion heater is £108
This job takes around 1-2 hours
£108
Although most UK homes only use immersion heaters as a backup source for hot water, they can be incredibly useful during the summer months when the central heating may be switched off but hot water is required. Electric immersion heaters are simply water storage cylinders which are heated by an electric coil and can provide hot water independent of the central heating system. Depending on the size of the water storage cylinder may be up to 3 electric heating elements inside.
These elements can usually be replaced without replacing the storage tank. This can be done by an experienced DIY enthusiast but in many cases, this is a job best left to a professional. The free service on this website allows you to find reputable local tradesmen quickly and easily, even better, it's completely free!
Average cost of replacing an immersion heater
| Job Description | Duration | Material Cost | Labour Cost |
| --- | --- | --- | --- |
| 27 inch copper immersion heater | 1-2 hours | £20 | £90 |
| 27 inch titanium immersion heater | 1-2 hours | £30 | £90 |
| 14 inch copper immersion heater | 1-2 hours | £18 | £90 |
| 11 inch titanium immersion heater | 1-2 hours | £29 | £90 |
Things To Consider When Replacing An Immersion Heater
If hiring a plumber to do this job for you then you should look for proven track records and also ensure that they are registered with a professional trade body and have a checkable work history. It's also a good idea to check that they are fully insured and offer a comprehensive guarantee on their work. This job will typically take 1 to 2 hours depending on the ease of access and whether or not the immersion tank needs to be completely emptied. When it comes to choosing a new electric heating element, make sure that choose a new element of the same size, shape and power rating.
If you have a spanner which will fit the heating element, it is not too difficult to do this job on your own as long as you have easy access to the water cylinder. But you will probably find in most properties the hot water storage tank is hidden away in the most awkward of spaces!
Doing it Yourself
If you decide to replace them yourself then you should know that you will often have to drain the tank before replacing the heating element which will increase the time taken for this job. You may be lucky and find just the top element needs replacing so the tank may not need to be completely emptied, but sod's law dictates it will be the bottom element which is defective!
Do not attempt this job as a DIY project unless you are 100% sure that you have the skill level and confidence required to complete the job safely. Make sure you have all the correct tools required, in particular a special spanner which will likely be required to fit the immersion heater.
Related Articles
Immersion Heater Replacement Checklist
Over time heating elements will simply burnout
Immersion heaters can be changed without changing the water cylinder
Check the circuit breakers before buying a new immersion heater
The water cylinder will need to be at least partially emptied
Hiring a Tradesman Checklist
Always get at least 2 quotes before hiring.
Never pay the full amount upfront.
Get the quote in writing.
For any payment you make, always get a receipt.
On more expensive jobs, ask for references.
Check if the tradesman is a member of any trades associations.
Make sure the tradesman has public liability insurance.
FAQ's
How does an immersion heater work?
It is simply a water tank with an electric heating element inside, essentially the same as an electric kettle but on a larger scale!
How long does it take to change an immersion heater?
It will normally take 1 to 2 hours to do this job but most plumbers will run this up to half a days labour.
Is this a plumbers job or an electricians job?
Good question! Often when the immersion heater burns out your house will be plunged into darkness due to the short-circuit. If you call an electrician he will identify the fault is with the immersion heater and may recommend a plumber!
Is this a DIY job?
It's not that hard to DIY this job but if done incorrectly it could end up costing you more money! So do not attempt it unless you are confident in your skills and experience.
Do you have to change the immersion tank?
No, unless the tank is leaking or badly corroded leading to discoloured water, the usual problems with immersion heaters can be solved by replacing either the heating element or thermostat.
Recent Jobs
My flat is fitted with a gas boiler and a water tank which are used for hot water supply and radiator heating. The boiler functions and the tank fills with hot water which I can release through the hot taps. However, I can't get the radiators to heat up. The electronic controller which is used to ...
Submitted by Basile
To replace combi-gas boiler for electric boiler.
Submitted by Jehangir
To replace a like for like Antec electric boiler for a central heating.
Submitted by David
I had my boiler fitted 12 months ago and it is now due it's yearly service.
Submitted by Shaun
Need a thermostat replaced. The heating is working fine but the thermostat to turn it on is broke.
Submitted by Andrea