Cost to Remove and Replace a Radiator
prices and tips for removing and replacing radiators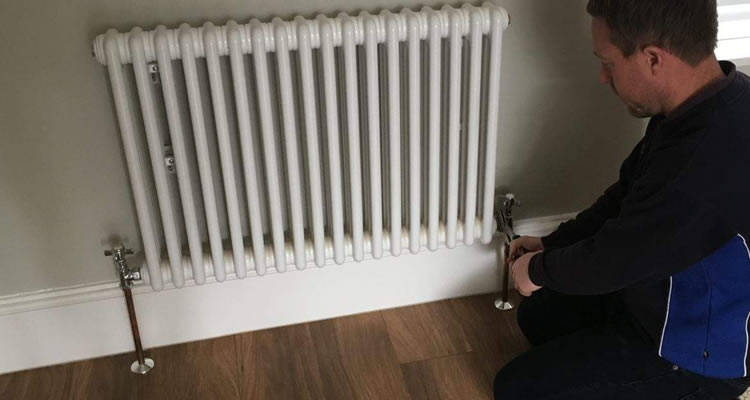 Average Cost of Removing and Refitting a Radiator
This type of job normally takes around 2 hours
£180
Radiators are essential to distribute the heat generated from the boiler around your home. But sometimes they stop working and need to be replaced. Replacing a radiator with a like for like replacement is an easy job for a plumber and relatively straightforward for the DIY enthusiast too. But you may also want to add a thermostatic radiator valve while you are at it. The main thing to remember for an easy replacement, is to buy a new radiator that is the same size and has the same pipe fittings as the one you are taking out. You may also want to consider installing an additional radiator to deliver heat to the room if you find the room is often too cold.
Prices charged for installing an additional radiator by plumbers will vary according to the amount of pipework required and the region where you live in the UK. But replacing a radiator is a fairly routine job for plumbers and should be completed in just a couple of hours or so. Another very common reason for removing and replacing a radiator is when decorating, accessing the wall behind the radiator for tiling, painting or wallpapering is much easier with the radiator removed. Once you have identified you need to replace a radiator, how do you find the best prices? Prices from smaller local tradesmen range from £150 to £200 but you can expect to pay anything from £175 to £300 with a larger company with national coverage.
Using the free service on this website you can receive up to three quotes from trusted tradesmen in your area. You can simply post your job details and contact information, and interested tradesmen will get in touch to submit their quotes for the work. You can then use the information they have provided, as well as other customer reviews on the site, to make your final decision.
Costs of Hiring a Plumber to Remove or Replace Radiators
| Job Description | Duration | Material Cost | Labour Cost |
| --- | --- | --- | --- |
| Double panel standard radiator 1200mm no extra pipework required | 2 hours | £100 | £170 |
| Double panel 1400mm radiator installation | 2 hours | £180 | £220 |
| Double panel 1600mm radiator installation | 2 hours | £190 | £180 |
| Cast Iron radiator no extra pipework required | 3 hours | £330 | £170 |
Things To Consider When Removing Radiators
There are a number of reasons why removing the radiator can make life a lot easier. Decorating is the main reason, but also replacing flooring or skirting boards, flushing the central heating system or even just cleaning behind the radiator. It's not a hard job providing you take a few precautions and there is not a lot of mess either (provided you use a kit to avoid getting stained water all over the flooring). A plumber should be able to provide you with a price over the phone that includes removing and refitting the radiator along with bleeding and checking the system after fitting the radiator back in place.
But be advised that disturbing a radiator will often cause leaks, particularly on older radiators where the pipework may have been sitting undisturbed for many years. Additional work required to investigate and fix leaks will cost extra. In addition, if the radiator you are having removed is really old, it is likely to need replacing in any case. The best time to get a new radiator would be when a plumber is removing the old one anyway as the labour costs will be roughly the same whether you fit a new radiator or simply refit the old one back in place. Replacing the radiator may be slightly more expensive if some minor pipework modifications are needed, but this extra cost will be minimal.
Doing it Yourself
Removing and replacing a radiator to get access for decorating isn't a difficult task, but you will need some tools and materials including adjustable spanners, drain tray, bleed key, allen key, old rag or tissue and Plumber's Tape. Before removing the radiator turn off the heating and isolate the radiator by closing off the valves. Put a tray underneath the valve to catch any water then use an adjustable spanner to loosen the nuts connecting the valve to the radiator. Open the bleed valve to empty the radiator and then lift the radiator from its brackets and tilt it to drain any water remaining.
Nowadays radiators can be very easily drained, without draining down the entire central heating system using simple DIY radiator draining kits. These kits allow you to drain the radiator without getting dirty brown water all over your carpet! While the radiator is removed, clean the threads with wire wool and wind PTFE tape around them to ensure a good seal when refitted. Then hang the radiator and connect the valves allowing water to enter then open the bleed valve so any air can escape, closing the valve as soon as the water starts to appear. Then just keep an eye on the radiator and the connecting pipes for a few days to make sure there are no leaks.
Removing radiators checklist
The older the radiator the more likely it will leak if it is disturbed!
Replacing a radiator is a simple job and is bread and butter work for plumbers
Some plumbers will charge two call-out fees as a minimum charge remove then replace a radiator when decorating
Considering replacing the radiator rather than refitting it if the radiator is old and inefficient
Hiring a Tradesman Checklist
Always get at least 2 quotes before hiring.
Never pay the full amount upfront.
Get the quote in writing.
For any payment you make, always get a receipt.
On more expensive jobs, ask for references.
Check if the tradesman is a member of any trades associations.
Make sure the tradesman has public liability insurance.
FAQ's
Do I need thermostatic radiator control valves on my radiator?
You don't need them, but they are highly recommended as they allow you to set the temperature required for each particular room allowing better control of the heating system and saving you money on heating bills.
Where should I position my radiators?
In modern homes the position of radiators is not that important, however, in older homes you should put radiators in the coldest part of the room, which is normally under a window. Ideally, you should have one radiator for every four metres in a room.
Do cast iron radiators take longer to warm up than standard radiators?
Yes they do, but they also stay warm for longer after the central heating has been turned off. Cast iron radiators are actually becoming more popular amongst heating engineers and architects as they tend to warm the fabric of the building more which helps to reduce damp and condensation.
Why is my radiator hot at the top and cold at the bottom?
This usually means that the radiator is receiving an insufficient flow of water, this is often due to a blockage or pockets of oxygen in the system that need venting. if you know how to bleed the radiators you can try this yourself to clear any air, otherwise you should contact a heating engineer to investigate further.
Recent Jobs
Powerflush 9 radiators in a 3 bedroom house.
Submitted by Stephanie
I want to replace all the radiators in my home. I need 8 new radiators and then fitted.
Submitted by Tina
Radiator in the top room needs total replacement. I have the old radiator which is not attached to pipes and would like this one installed or may possibly get a new one in the main bedroom. Not sure why that one does not work its been bled many times. Dining room radiator came home one evening had a...
Submitted by Angela
Single radiator in a flat is cold.
Submitted by Ketil
One of my radiators is not working but the rest is working fine.
Submitted by Priunka