Solar Panel Installation Costs
Guide to solar panels with advice and typical prices.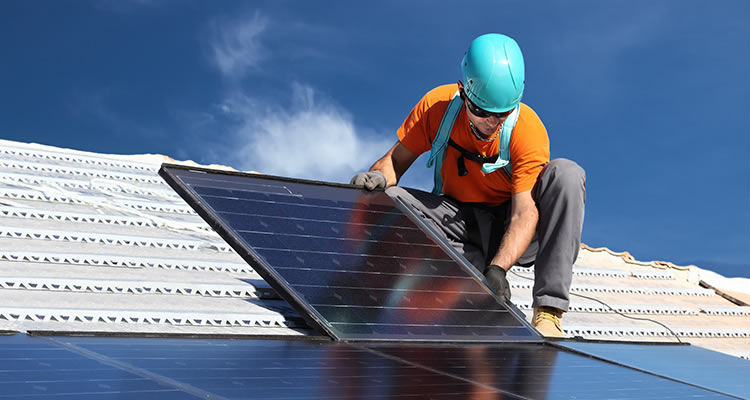 Average cost of the supply and fit of PV solar panels
This job would take on average around 1-2 days
£5000
There are two main types of solar panels, Solar photovoltaic and Solar thermal panels. Solar photovoltaic (aka PV panels) convert the sun's rays into electricity and are probably the most common type of solar panel in the UK, whereas solar thermal panels are made up of tubes that warm water using the sun's rays to reduce the amount of gas or electricity required to heat up the water in the heating system. One thing that puts many people in the UK off fitting solar panels, is the perception of high costs. But, although solar panels are still far from cheap, the cost has fallen dramatically in recent years. When you consider the length of time they last and how much money you can save on energy bills (or even how much income you can make from them), the prices actually start to look quite reasonable. To find a reputable solar panel installer, use the post a job service on this website to have up to 3 local installers get in touch with you to provide advice and quotes. The service is free to use and just takes a few minutes. Simply enter brief contact details plus information on the job you need doing, then sit back and wait for tradesmen to get in touch.
Average costs for solar panel projects
| Job Description | Duration | Material Cost | Labour Cost |
| --- | --- | --- | --- |
| A 4kwh PV system (16 panels) for a typical pitched roof house | 1-2 days | £5500 | £600 |
| A 3kwh PV system (12 panels) for a typical pitched roof house | 1-2 days | £4100 | £500 |
| Cost of a typical solar thermal system supplied and installed | 1-2 days | £2700 | £700 |
| DIY solar thermal kits with all the necessary hardware | 1-2 days | £2000 | £0 |
Things to consider with solar power
The amount of power you use in your home determines the number of solar panels you will need in an array. Photovoltaic solar panel systems are measured according to their peak power rating, which is the maximum amount of power they can convert when running at optimal performance. To work out what size panel you need, you first need to know your annual electricity usage in kW, then add another 10-20% to this figure just in case. You can, of course, sell your surplus electricity to the electricity companies if you generate more than you are using.
Solar panel prices vary depending on the type. Monocrystalline solar panels are the most efficient most expensive but also the most efficient, converting as much as 20% of the sunlight that hits them into electricity. Polycrystalline solar panels are a little cheaper but have a lower efficiency rating of around just 12%. Amorphous solar panels only convert 6% yet they are more expensive to buy as they are not yet manufactured in any great quantity.
The amount of light that falls on a solar panel will depend on your location, the angle the panels are installed at, and of course the climate and season. Plus solar panels are very sensitive to shading from tree branches, chimney or roof vents. They need to be kept clean too as bird droppings and other debris like leaves and moss will greatly reduce their electricity generation.
Doing it Yourself
Installing your own DIY solar panel photovoltaic system can seem like a great way to generate cheap renewable energy and reduce electricity bills. But this is not a simple DIY project and there are risks involved from safety concerns to the possible permanent roof damage! Installing solar panels is not a straightforward process, and without professional installer training, there is much that can go wrong. If you aren't confident in working with specialised equipment, lifting heavy panels and wiring electrical equipment – then a DIY solar panel installation may not be the brightest idea!
The technical side of solar panel installation can be tricky even for those that have general electrical experience as many elements of solar installation differ greatly from traditional electrical jobs so would probably be better left to a professional. In addition, to benefit from the government's Feed-in Tariff scheme, the solar panels need to be installed by someone who is MCS certified. So if you fit the solar panels yourself, you will not get paid for generating renewable energy or benefit from selling any excess energy to your utility company.
DIY solar panel kits can also be a real fire risk if the wrong materials are used or because the installation is not fitted properly. Plus you can damage your roof if the roof is not suitable for solar panel installation (professional installers will ensure your roof is structurally able to hold panels and if not will add strengthening). Solar panels installed by professionals should last for 20 years or more and many will come with a manufacturer's warranty. DIY installations may have a shorter life span and will not be covered by the same warranty. So, whilst DIY solar can sound like a great idea, the risks generally outweigh the benefits. When you add in the fact that the cost of solar panel installation is now the cheapest it has ever been, it makes sense to have it professionally installed.
Solar Power Tips
Solar PV panels harness clean energy from the sun, but the sun doesn't have to be out for solar panels to work
Solar thermal panels absorb heat from the air which in turn heats water
The Government also financially support solar panels installations with the feed-in tariff
Roof mounted solar panels are suitable for most properties in the UK, but the perfect roof would be large and south facing
FAQ's
How much can you save with solar water heating?
Having a solar water heating system will save about a third of your hot water energy costs. So in an average house, according to the Energy Saving Trust, this would reduce water heating bills by between £65 and £125 per year.
Do solar PV panels require any maintenance?
This type of solar panel is usually considered maintenance free for at least 20 years, except for simple cleaning. Though you might need to replace the inverter after 15 years or so. Most installers will guarantee the system for at least 10 years.
How much electricity can I generate using solar panels?
There are a number of factors that will affect the amount of electricity you can generate. The pitch and aspect of your roof, your location (the further North you are the less energy produced), any shade from nearby trees or buildings. On average in the UK, you should be able to produce enough electricity to recover the cost of the installation in less than 20 years.
What is the Feed In Tariff?
The feed-in tariff scheme is the payment you receive based on the amount of electricity you generate. This comes in two parts, the first part is a payment based on the total amount of electricity you produce. Then the second part is a payment based on the amount of electricity you do not use but feed back into the grid. Some installers will offer to install the panels for free then collect the feed-in payments for themselves.
Do I need to inform my existing electricity supplier about a my planned solar power installation?
Most installers will submit a full G59 application and schematic to the Distribution Network Operator (DNO) to get their approval prior to the installation. If this is not done then you can't connect to the grid. This process will usually take 6-8 weeks.
Last updated by MyJobQuote on 7th May 2019.