Cost of Installing French Doors
In the following guide, we'll break down how much it costs to install different types and sizes of French doors. This article will also delve into relevant topics such as how to the benefits of French doors and what steps are involved in the installation process.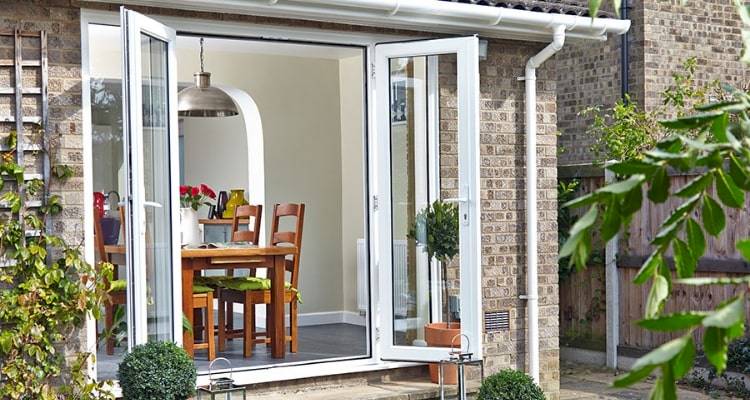 Average Cost to Install French Doors:
Depending on the complexity of the job, it usually takes:  1-2 Days
£1200
How Much Does It Cost to Install French Doors?
It costs about £1765 to £2165 to replace existing French doors. However, if you'd like to turn an existing window into new uPVC French doors, expect a total cost of £2365 to £2665. To create a new opening and install these types of doors would set you back roughly £3100 to £3400.
For stationary French patio doors, they would cost about £1000 to £1700 to fit. Sliding patio French doors would probably cost between £1440 and £1600 to install.
In general, the cost to fit French doors that are made of uPVC will land about £1000 to £1200. Should you wish for them to be triple glazed, expect an installation cost of about £1500 to £1700. If you'd like to have aluminium French doors installed, expect to pay around £1300 to £1500.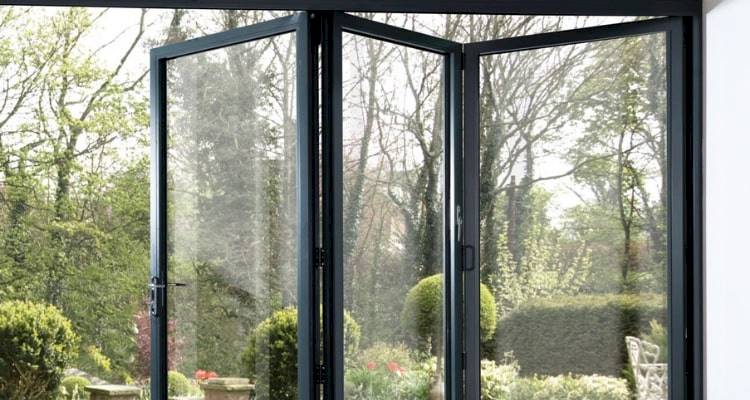 The French door installation costs land about £2100 to £2400 for solid oak laminate French doors and £1350 to £1750 for softwood French doors.
Depending on the material chosen, installing 1200 x 2100 French doors will probably cost between £1000 and £1500. The cost would rise to approximately £1000 to 1600 for 1500 x 2100 French doors or £1100 to £1700 for 1800 x 2100 French doors.
Additional cost factors are the type of door opening, the state of the installation area, ease of access and where your property is located (as door fitters charge different rates across the UK).
French Door Prices
Here are a few a few tables that indicate the prices of French doors by material, size and number of doors:
French Door Installation Prices by Type/Material
| Type/Material | Labour Costs | Supply Costs | Total Cost |
| --- | --- | --- | --- |
| Standard | £400 to £700 | £1300 to £1700 | £1700 to £2400 |
| Sliding | £840 to £900 | £600 to £700 | £1440 to £1600 |
| uPVC | £250 to £350 | £700 to £900 | £950 to £1250 |
| Solid Oak Laminate | £400 to £500 | £1700 to £1900 | £2100 to £2400 |
| Aluminium | £200 to £300 | £1000 to £1100 | £1300 to £1500 |
| Softwood | £250 to £350 | £1000 to £1400 | £1350 to £1750 |
French Door Installation Prices by Size
| Size | Labour Costs | Supply Costs | Total Cost |
| --- | --- | --- | --- |
| 1200 x 2100 | £750 to £1250 | £250 | £1000 to £1500 |
| 1500 x 2100 | £750 to £1350 | £250 | £1000 to £1600 |
| 1800 x 2100 | £800 to £1400 | £300 | £1100 to £1700 |
French Door Installation Prices by Number of Doors
| Number of Doors | Labour Costs | Supply Costs | Total Cost |
| --- | --- | --- | --- |
| 2 Doors | £300 to £600 | £1465 to £1665 | £1765 to £2165 |
| 4 Doors | £300 to £600 | £3230 to £3730 | £3530 to £4330 |
| 6 Doors | £300 to £600 | £4295 to £5895 | £5295 to £6495 |
| 8 Doors | £300 to £600 | £6760 to £8060 | £7060 to £8660 |
Supply Only Costs
Standard French doors generally cost somewhere in the range of £1300 to £1700 to buy. This is the supply cost only, so excluding the installation cost. If you choose to fit the doors yourself, then this section is particularly relevant.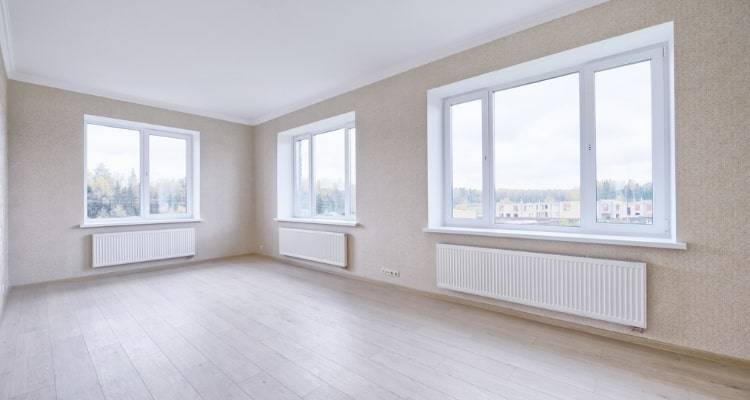 Sliding patio French doors generally cost about £600 to £700. uPVC French doors tend to cost about £700 to £900 or £1250 to £1400 if you'd like them to be triple glazed. To buy solid oak laminate French doors would set you back between £1700 and £1900 in most cases.
The average cost lands around £1000 to £1100 for aluminium French doors and £1000 to £1400 for softwood French doors. As for the door sizes, it costs about £700 to £1300 to buy 1200 x 2100 French doors, £750 to £1350 for 1500 x 2100 French doors and £800 to £1400 for 1800 x 2100 French doors.
Additional Costs
Upon having new French doors added, you may find that it's a good chance to get some other work out of the way. In this section, we'll take a closer look at some relevant additional jobs which you may choose to pay for.
New Front Door
To have your front door replaced will cost about £1000 and take about 2-5 hours. Front doors act as the first sight new visitors get when they arrive at your home. To make the best first impression, you may decide that it's time to get a new front door.
Though a standard front door installation will likely cost between £500 and £2500, to have a custom-made door fitted would cost around £2000 to £4500.
If your door is somewhat discoloured or a bit grimy, then it may only require a makeover. If the door is warped or misshapen, then it is best practice to have it replaced.
The least expensive doors to install are generally uPVC or pine doors with solid, oak, composite, and mahogany tending to have a mid-range installation cost. Custom-made doors are usually the most expensive option.
Triple Glazed Windows
Another job you may wish to have undertaken is to supply and fit triple glazed windows. This can be an expensive job with the cost generally landing between £3000 and £5800. As you may have guessed, triple glazing involves the use of three glass panes within a sealed frame.
The small gaps that exist between the pans are filled with air and gases like Argon. The more layers a window has, the better it is at heat insulation.
Though it is costly, triple glazing has risen in popularity across the UK. Double glazing remains the most common option, but triple glazing is a great way of reducing heat loss and can contribute to keeping your bills down during the winter months.
The benefits of triple glazing though are arguably limited given that they cost anywhere from 33-50% more than double glazed windows. So this is an important point to take on board if you're considering having triple glazed windows installed.
It's essential that these windows are fitted right, and in most cases, a DIY enthusiast will not have the knowledge or skills necessary to perform the work themselves.
For that reason, it's best to hire a professional window fitter. You should source at least three quotes before settling on one particular contractor/company.
Labour Costs and Timescales
In general, the labour cost to have French doors installed will land between £250 and £450 though in some cases, additional work or labour may be required, bringing the total labour cost to about £600 to £800. A second labourer might be needed, for instance, if heavy-lifting is required.
A single tradesperson might charge £150 to £200 per day with two labourers costing £300 to £400 each day. Window fitters generally charge £14 an hour though it will depend on the region.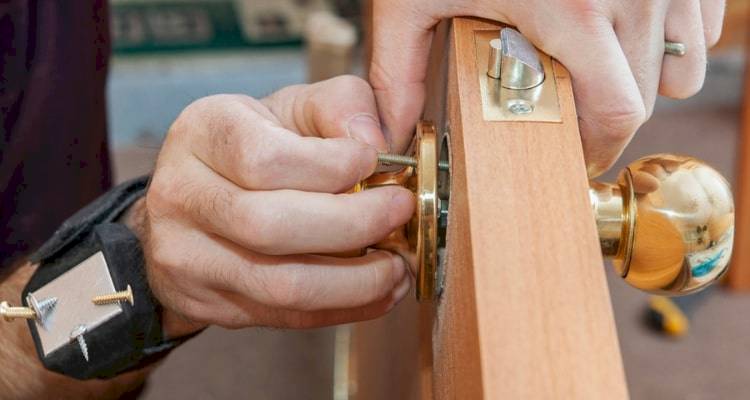 The labour cost will be included in your overall bill alongside the cost of the doors, and if any waste removal expenses are necessitated. It will probably take an hour or less to remove the old window, door, or wall section, and it will take up to one working day or two to fit the new French doors.
In most cases, it will take 2-8 hours in total. The labour costs and timescales may vary depending on the state of the installation area, ease of access and the weather. Adverse weather, for instance, could prolong/postpone the work.
Cost Factors of Installing French Doors
We'll now break down the cost factors for fitting French doors in more detail.
Type of French Doors
One of the key cost factors is the type of French doors you'd like to have installed. As shown in the supply only costs section, sliding patio doors are generally the cheapest, costing about £600 to £700 but standard French doors may cost between £1300 and £1700.
You can expect the cost to land between £1000 and £1500 if you'd prefer to go with sliding French doors.
Size of French Doors
The supply costs section also showed how the size of the doors impacts the price. To recap, it would be as little as £700 for 1200 x 2100 doors but as much as £1400 to have 1800 x 2100 French doors installed.
Number of Doors
Of course, the more doors you'd like to have installed, the higher your supply expenses will be, and thus the more the final bill will be.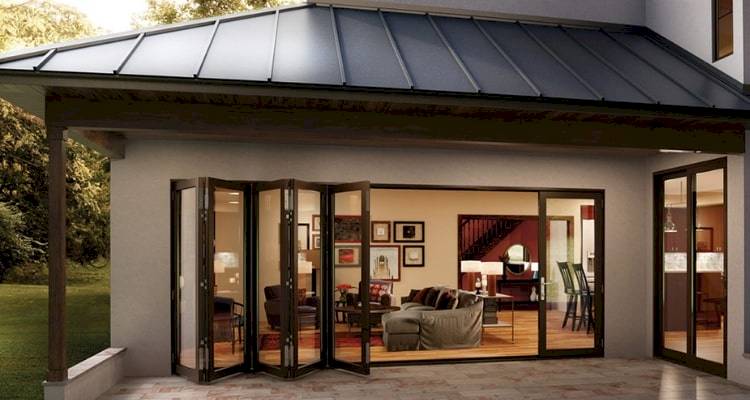 Materials Used
The supply costs are also affected by the material from which the doors are made of. uPVC is the cheapest material with uPVC French doors costing about £700 to £900.
On the other hand, solid oak laminate French doors cost almost £2000 on average. Aluminium and softwood French doors fall in the middle of the price range.
Location of Property
Window fitters charge about £14 an hour. However, their rates vary depending on where you live. In London and the southeast in general, labour rates tend to be higher than the rest of the country. In fact, window fitters in these regions charge about 20% more than in the most rural areas of the UK.
On the contrary, the cost of hiring a window fitter is generally lower in Scotland, the north of England, and Northern Ireland.
Ease of Access
How accessible the area is could also play a role in the total cost of this work. This relates to the fact that the easier it is for a labourer the work, generally the quicker the work will be, and this would mean a lower labour cost.
Though this might not be the case if, for example, a company/contractor charges a set labour rate for a job regardless of how long it takes.
What's Involved in Installing French Doors?
1. Hiring a Contractor and Choosing the Doors
Firstly, you'll need to decide what design, size, and type of French doors you'd like, as well as the materials. By deciding on a budget, you can narrow down your choices and go from there.
You may decide to hire a contractor to supply and fit the doors for you. However, if you decide to source the doors yourself, to start your search, you could try Googling 'buy French doors near me'.
On the other hand, you could just visit the websites of providers you already know and trust. It's also worth checking out reviews for the best French door brands on the market.
Next, you'll need to hire someone to fit the doors, unless you plan on undertaking the work DIY that is. One approach is to ask your friends and family for any good recommendations they may have.
Alternatively, you should find some local companies/contractors and obtain at least three quotes before making a decision. You'll want to find someone experienced and ideally with some positive references relating to their previous work.
The contractor may need to come by and perform some measurements, such as if you wish to replace existing French doors.
2. Remove the Existing Structure
On the day of the installation work, the first practical step will be to remove what is currently present. This might mean removing existing doors, an existing window, or making a new opening by knocking down part of a wall.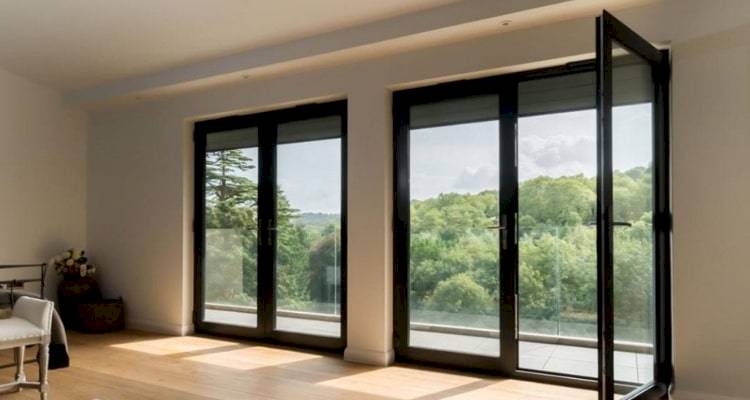 Assuming that, more than likely, existing doors are being removed, this will start with the removal of the hinges. Next, the frame should be removed before the opening is checked to ensure that it is clean and smooth.
If it's not, then some old elements like rotting timber should be replaced.
3. Install the New Doors
Regardless of the type and size of the door and what materials it's made from, each set of doors will come with its own instructions. To prepare for the installation work, the window fitter(s) will use string to ensure that the opening is straight and plumb both in a vertical and horizontal direction.
On each side of the frame, the string should be attached to all corners. A perfect X shape should be achieved with the strings crossing over one other, proving that the opening is just right. Lastly, it's time to ensure that the floor is level. Shims and packers can be used if it's not.
In order to seal rough parts of the opening, outdoor calk or a similar water-resistant sealant must be applied. The opening should be given time to dry before moving onto the next phase of the installation.
Once the opening has dried, the doors should be slid into the bottom threshold, and a rubber mallet may be used to gently tap them into position. If the doors are pre-hung in the frame, then a second set of hands will certainly be needed to put them into place. Shims/packers can be used to make the doors level if needed.
At this point, the installers will test the doors to check that they open and close smoothly. Now, it's time to fix the frame into position. Per the manufacturers' instructions, nails or screws can be employed to achieve this.
The contractors should check the doors again before sealing the frame with an appropriate weather and waterproof sealant. Any waste removal needed can now take place.
Can I Install French Doors?
You should only fit French doors yourself if you have a very clear idea of what the job entails and have previous joinery experience. If you're not particularly familiar with this type of work, then it is best to hire professionals, however. You will need a building regulations compliance certificate.
If you fit them DIY, you should contact your local council in order to arrange for a professional to come by and sign it off. It is best to inform your local council before the work is undertaken.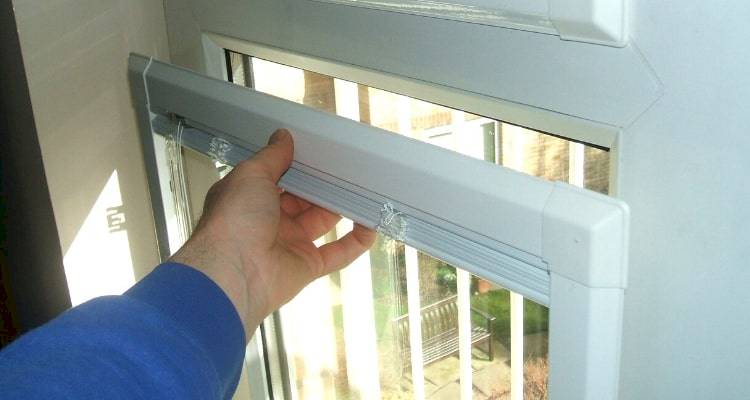 As with any DIY job, there are a range of risks and hazards involved. The most obvious issue is that you could make a mistake. At best, this will prove a waste of time, and you'll need to start from scratch (and at this point you'd probably choose to hire a professional anyway).
At worst, you could damage the doors and possibly beyond repair, which would, of course, be a very expensive error.
When working with sharp and heavy tools and heavy materials, you also risk injury to yourself. If you decide to fit French doors DIY, proceed with caution.
Building Regulations & Planning Permission for a French Door Installation
The building regulations that are applicable to French doors include those covering heat loss, ventilation, and very importantly, fire safety. The installation of French doors must be signed off by a professional. More information on the building regulations is available via the Planning Portal.
The regulations listed here apply to England and Wales, thus the rules for Scotland and Northern Ireland can differ. It may cost between £100 and £500 for building regulation fees.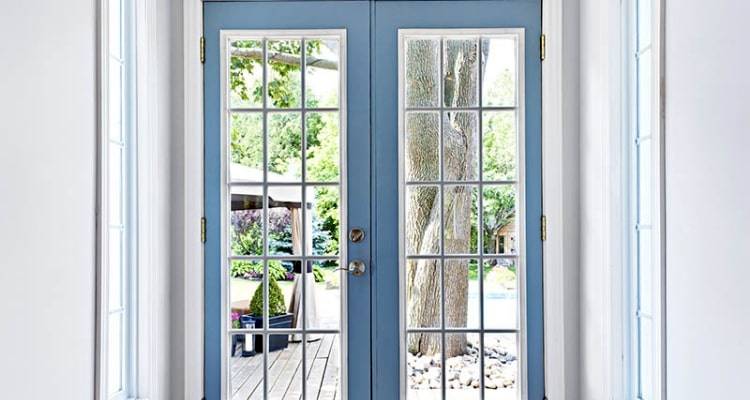 It's very unlikely that planning permission will be required. Unless you live in a listed building or designated area, it's more feasible that planning permisson will be needed. A planning permission application may cost anywhere from £100 to £450. It generally takes about eight weeks to receive a response.
Choosing French Doors
We'll now look more closely at the different types of French doors based on their design/style and the materials used.
Standard French Doors Cost
Regular French doors simply open outwards. In some cases, they can open inwards or even both, but this is not especially common. If they are external French doors as is usually the case, they lead outside and generally into a garden.
Standard French doors will feature large glass panels designed to allow plenty of natural light into the home to brighten it up. This will prove particularly beneficial if the doors lead into your kitchen as it will really add an extra flair to the room and bring it to life. Most standard French doors cost about £1300 to £1700.
Pros
✔ Generally easier to install
✔ Let in lots of light
Cons
✖ May not be considered as stylish
✖ Do not use space as effectively as sliding French doors
✖ More expensive than sliding French doors
Sliding French Doors Cost
A cheaper alternative to standard French doors are those that slide across on tracks. The classic style of these doors is appealing for some homeowners. The main advantage of sliding French doors is that they use up less space since they do not protrude outwards.
Unlike sliding patio doors, in most cases, neither door is fixed. Sliding patio French doors usually cost between £600 and £700.
Pros
✔ Cheap
✔ Uses the space more effectively
Cons
✖ May be more difficult to install
uPVC French Doors Cost
Unplasticised Polyvinyl Chloride or uPVC tends to be the cheapest option when it comes to French doors with an average supply cost of £700 to £900. uPVC French doors are still a great way of insulating your home.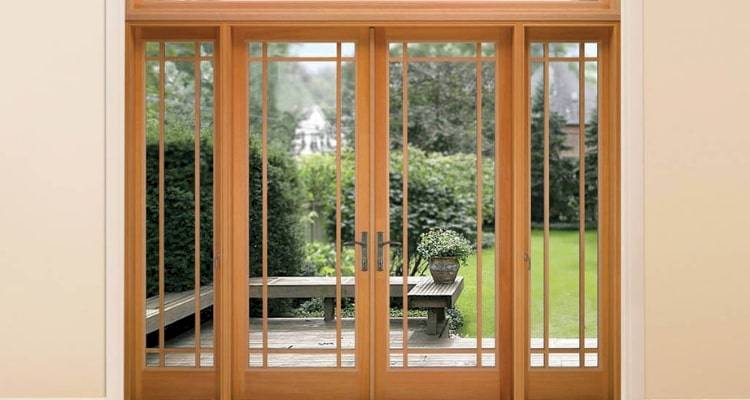 uPVC is a durable and long-lasting material, and if you already have plenty of uPVC windows throughout your home, uPVC French doors would be a good fit. That said, they lack some of the aesthetic qualities that other materials can offer.
Pros
✔ Cheapest material for French doors
✔ Durable
✔ Long-lasting
✔ Fits well with uPVC windows
Cons
✖ Not the most aesthetically pleasing
Solid Oak Laminate French Doors Cost
One material worth considering is solid oak laminate and specifically with clear glazing. This material is more durable and resistant to scratches and moisture than timber. However, any laminate material is still prone to water damage in the long-run and is at risk of losing its shape over time.
Solid oak laminate also lacks the aesthetic quality of real wood. The main drawback of solid oak laminate French doors is that they cost about £1700 to £1900, making them particularly expensive.
Pros
✔ Durable
✔ Resistant to scratches
✔ Resistant to moisture (up to a point)
Cons
✖ Costly
✖ Can misshapen
Aluminium French Doors Cost
A less common but notable choice are aluminium French doors. With an average cost of £1000 to £1100, these doors are actually one of the cheapest options, alongside timber. However, plenty of aluminium doors will be significantly more expensive than the average price range. Among the benefits of these doors are their strength, durability, and stability.
However, aluminium French doors are susceptible to water staining. Since the UK is prone to rain and some areas more so than others, aluminium doors may not be the most suitable option for homeowners here.
Pros
✔ Not overly expensive
✔ Strong
✔ Durable
✔ Stable
Cons
✖ Prone to water staining
✖ Not the most suitable option for UK homeowners
Timber French Doors Cost
Softwood French doors are very common, although hardwood French doors also exist. The key advantage of timber French doors is how they look. They are the most popular choice among homeowners, and most would lay this down to their rustic and traditional appearance.
They can also be painted to match the exterior of your if you'd like. On the other hand, timber is prone to rot and moisture damage. They do require quite a lot of maintenance compared with other materials, and they are not as durable. Most timber doors cost about £1000 to £1400.
Pros
✔ Relatively cheap
✔ Commonplace
✔ Rustic and traditional aesthetic
Cons
✖ At risk of rot and water damage
✖ Not as durable as most
✖ Requires a lot of maintenance
Benefits of French Doors
Let's explore some of the advantages of French doors in general, regardless of the type, size, or material used.
Added Natural Light
Perhaps the best advantage of French doors is the amount of natural light they let into a home. With added natural light inside, such as in a kitchen, it can create the illusion of there being more space.
They also more effectively integrate your home's interior with the patio, deck, or garden or with one room and another in the case of internal French doors.
Functional
These doors can also bring functional benefits as they can open up space between one room and the next. French doors are particularly advantageous when they slide along a track as this helps you make better use of the space.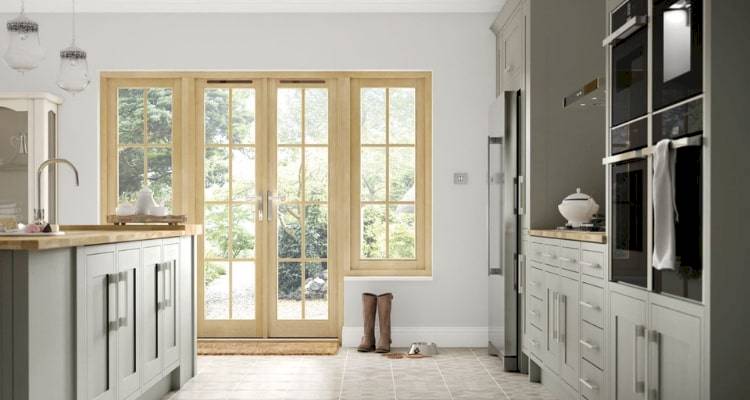 Secure
French door security helps to keep the risk of a break into a minimum. Generally, the higher the quality of the door, the more secure it will be.
Hiring Contractors to Install French Doors Checklist
Here is the checklist you'll need to find the right contractor to fit French doors:
Experience - The most important thing to consider is how experienced the labourer(s) are. After all, if you're choosing not to fit the doors yourself due to a lack of experience, you'll want to hire someone who has a good background in door fitting.
References - You should ask for references when hiring a door fitter. This is to ensure that their previous work was rated well by customers.
Accreditation and Qualifications - You might also want to ask about any accreditation and qualifications that they have. However, a door fitter does not need a qualification to be an experienced and skilled professional. Qualifications are more relevant to contractors like electricians and heat engineers.
FAQs
How secure are French doors?
French doors are generally more than sufficient when it comes to security though it will depend on the quality of the build, glazing, and locks.
Can you adjust French doors?
To adjust a French, you need to turn the corner bearing adjusting screw. In order to do this, you'll need to check the distance between the frame and leaf of the French doors before removing the plastic covering that is on the corner bearings. The exact approach required will vary depending on the design of the doors.
How long do French doors last?
On average, about 30 years.
How to clean French patio doors?
One approach is to use warm and soapy water. Use a damp sponge and run this mixture along the frame. Ensure that you wipe off any leftover moisture. A soft brush can be used to get rid of any particularly dirty parts of the doors.
What are the best French doors in terms of material?
Timber is arguably the best with all things being considered. Though they may not offer the same durability, steps can be taken to maintain them over decades, and it is their rustic, traditional aesthetic that gives them the edge for most buyers.
Sources
https://www.buildingsheriff.com/patio-french-doors.php
https://www.windowsguide.co.uk/doors/french
https://www.french-patiodoors.co.uk/patio-door-prices-guide/
https://uk.talent.com/salary?job=window+fitter+installer
https://www.doorsonlineuk.co.uk/patio-doors/how-to-install-external-french-doors/
https://www.planningportal.co.uk/info/200130/common_projects/14/doors_and_windows/2
https://www.bestlaminate.com/blog/what-are-the-pros-and-cons-of-laminate-flooring/
https://www.vividdoors.co.uk/french-doors-external/wooden-french-doors-vs-upvc-french-doors
https://www.londoneastlocksmith.co.uk/external-wooden-door/

Last updated by MyJobQuote on 20th April 2021.