Cost of Installing a Bathroom Extractor Fan
The average cost of installing a bathroom fan is around £300. The overall installation cost for fitting a bathroom fan can change due to certain factors. Read our helpful cost guide to discover exactly how much it'll cost.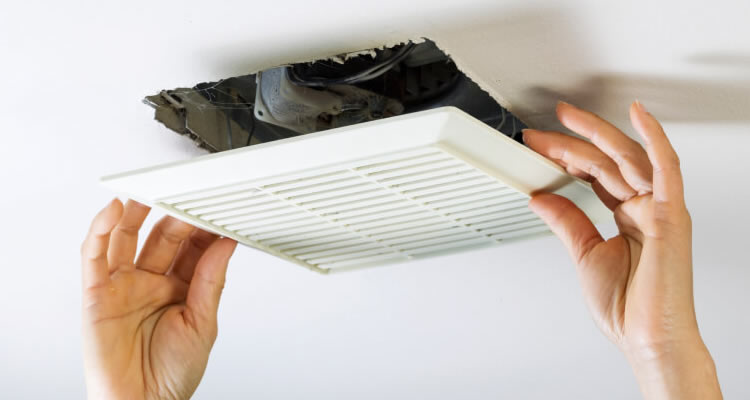 Average Cost of Installing a Bathroom Extractor Fan:
Depending on the complexity of the job, it usually takes: 5 hours
£300
How Much Does Installing a Bathroom Extractor Fan Cost?
Throughout your whole house, the bathroom is typically the most humid room in the house with extra moisture and damp swirling around with showers and baths building up excessive moisture in the air, resulting in condensation on any cold surfaces, leaving the room damp and damaged.
If your bathroom is not ventilated properly, it will never fully dry out and eventually lead to severe damp problems including mould, mildew and rot in the walls and flooring.
By installing an extractor fan, you can get to work on quickly removing excess moisture in the air and vent it outside, mitigating any possible damp related problems.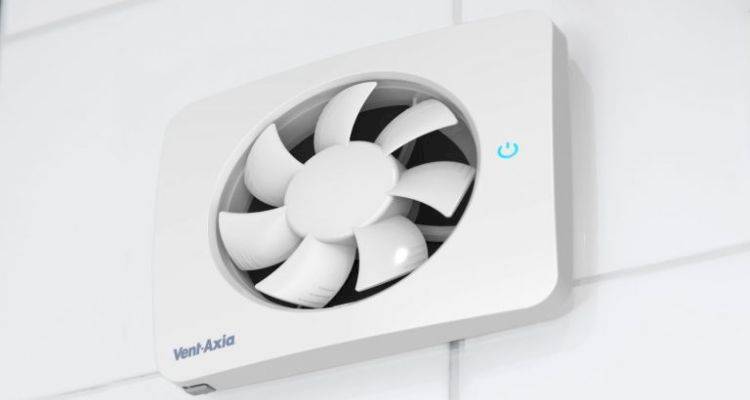 An extractor fan can either be installed in the ceiling with ducting through roof eaves to an external wall vent, in the wall straight through to an external vent or less commonly, in a glass window.
This type of job requires a professional electrician for fitting bathroom extractor fans as any electrical work in bathrooms is considered high risk due to the damp and humidity, but you will likely have to decorate yourself to finish the job.
The average cost of hiring an electrician to install an extractor fan with labour and material costs is typically between £150-£300, depending on the type of fan, ease of access and size.
Bathroom Extractor Fan Prices
Below are some estimated prices for material and labour costs of hiring an electrician to replace or install a bathroom extractor fan.
| Job Description | Duration | Material Cost | Labour Cost |
| --- | --- | --- | --- |
| Replace existing extractor fan like for like with no ducting required materials | 1 hour | £60 | £25 |
| New installation extractor fan with ducting through external wall vent | 6 hours | £80 | £60 |
| New installation extractor fan with ducting through roof eaves to external wall vent | 1 - 2 days | £90 | £200 |
| Install a shower extractor fan with ducting through external wall vent | 6 hours | £60 | £60 |
| Install a window fan with ducting through external wall vent | 1 day | £80 | £150 |
Supply Only Costs
If you're taking on an extractor fan bathroom installation on your own, then you'll only have to factor in supply and material costs. The supply costs of buying a new extractor fan either online or instore can differ depending on the type and quality, starting at £20 and ranging up to £100.
| Supply | Avg. Cost |
| --- | --- |
| Wall fan | £20-£50 |
| Ceiling fan | £30-£55 |
| Window fan | £40-£70 |
| Axial fan | £20-£80 |
| Centrifugal fan | £40-£90 |
| Inline fan | £50-£100 |
Additional Costs
An extractor fan installation could be an addition to a whole new bathroom installation, which altogether can cost anywhere between £5,000-£8,000, depending on size, quality and features, as well as excavation or opening up a bathroom space.
However, your budget may not stretch far enough for a full bathroom job, and there are plenty of other extra jobs you can fit in whilst a contractor has access to your bathroom. Installing an extractor fan can be a messy job, meaning that you may need to re-tile the walls, ceiling or floors, which can cost up to an extra £700 depending on size and material.
Alternatively, you can also freshen up your tiles by re-grouting your bathroom instead, at an additional cost of between £250-£300.
Labour Costs and Timescales
Standard labour costs that an electrician can charge to install an extractor fan is typically £60 per hour, with a simple installation taking between 1-2 hours.
However, labour costs can increase on a larger-scale bathroom, or a brand-new and complex installation, with labour costs hiking up to £300, for a full day of work.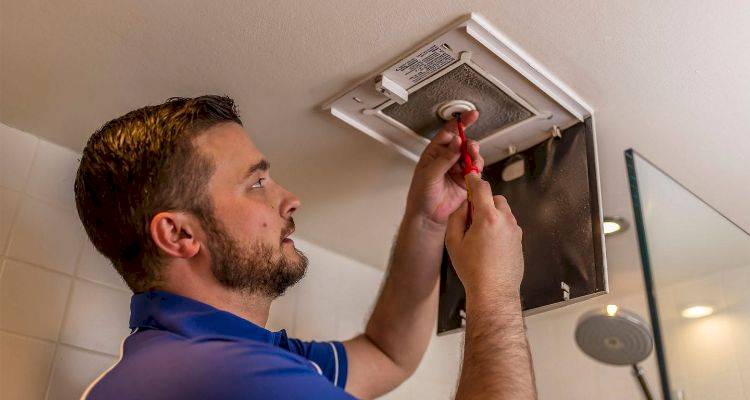 Electricians will typically work alone on this type of job but may need extra assistance on jobs on a bigger scale, as well as industrial installations.
Cost Factors of Installing a Bathroom Extractor Fan
There are lots of different aspects that can affect how much it will cost an electrician to install or replace an extractor fan, ranging from size, location and material. Below are several factors that you will need to take into account when planning and budgeting for this job.
Type of Fan
As to be expected, all fan types will have different price ranges. With standard wall fans being the cheapest, starting from £30, ceiling fans are also cheap at around £40, and window fans ranging between £50-£60.
The quality of each of these will also play a part in the price, with higher quality fans starting at a higher price due to their durability and efficiency, saving you money in the long run on potential repair costs or issues.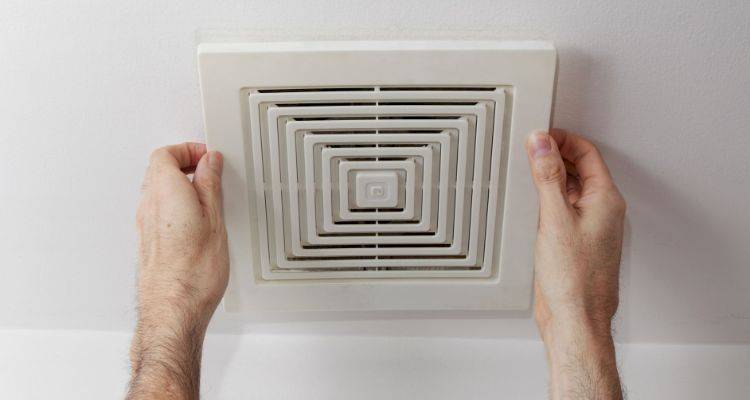 Size of Fan
Large extractor fans use up more power and tend to be louder, using up more energy which makes them more expensive. You can find a standard fan for a small bathroom for between £30-£35, using up less power due to the amount of air it needs to extract.
Ease of Access
If you decide on a ceiling fan or a far-reaching window fan, then an electrician may need to access your loft or exterior via erecting a scaffold to get to the area. This can add more time onto your project, as well as extra money for a scaffold with a standard tower costing £250 and a full day of labour.
Extra Costs
Extra costs with installing an extractor fan include the installation of an on/off switch either with a pull cord, automatic system or turning on with the lights. Other extra jobs include finishing with plastering or painting, and even the replacement of wiring throughout the house.
What's Involved in Installing a Bathroom Extractor Fan?
When discussing with your contractor about the price of the job, it's best to make sure that you have full knowledge of what you're paying for by finding out what's involved in installing a bathroom extractor fan. Below is a general guide of a standard extractor fan installation when done by a professional contractor.
Preparation
Once your electrician has surveyed the job and you've agreed on a quote, they will create space either within your bathroom or the loft, depending on where the extractor is being installed and what type.|
Firstly, they will clear away any insulation and switch off all electrics before marking down the position of the vent attachment on the wall/ceiling, drilling a hole through the marked point, and sawing/cutting around the outline.
Fitting the Vent
Once the correct size hole has been cut, and waste has been removed, the contractor will lay and secure all fittings onto the vent, making sure to attach the duct pipe before drilling the holes into place and attaching wall plugs.
After this, they'll need to secure the vent into place with screwdrivers.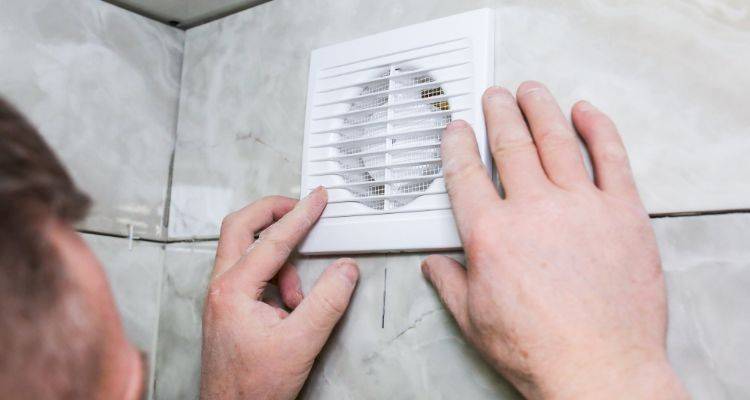 Installing the Fan
After the vent has been fully fixed into place, they will mark out the area where the fan's frame is to be secured before drilling holes on top of the marked spots. Then, the frame will be installed on top of the holes and secured into place, as well as the ducting between the vent and ventilation source.
Secure Electrics
Now that the extractor has been securely attached and all waste has been removed, a qualified electrician will secure all electrical work. Extractor fans can either be controlled via a light connector or switch, depending on which one you choose, the attachment will be installed.
Then, a grill cover will be fitted on the ceiling/wall covering the vent and voila, you now have a fully fitted and working extractor fan in your bathroom.
Can I Install a Bathroom Extractor Fan Myself?
If you only need to replace an extractor fan, swapping like for like where you can simply reuse the existing wiring, ducting and vent. Then this is a straightforward DIY job that only really requires disassembling and removing the old fan then securing the new one in place.
But even with this simple job, do not assume that the existing wiring and ducting is in good shape, you need to check everything carefully and replace it if required.
Also, for an easy job, check that your new fan dimensions are the same and the screws line up with the existing holes. But a full installation is much more involved and will require an electrician as an electrical supply will need to be found and tapped in to, then wiring supplied and run for fan activation.
Plus the wall or ceiling will need to be cut to accommodate the fan and/or the exhaust vent.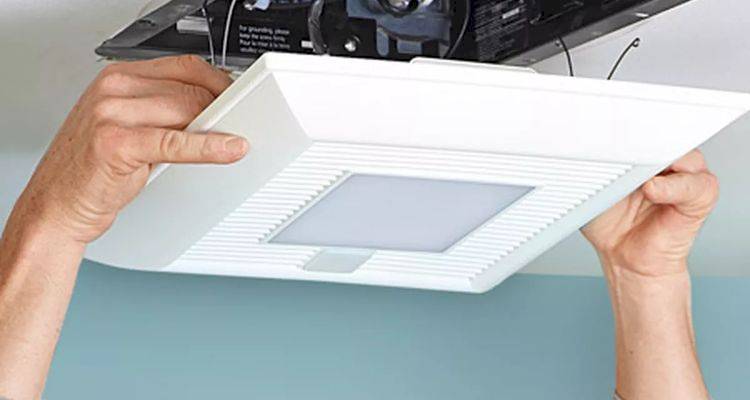 Ducting will have to be cut and fitted into place between the fan and exit point. All the wiring will need to be covered, ensuring you comply with building regulations for electrical installations in bathrooms.
A competent electrician can certify this is the case, but if you carry out the work yourself, you will need to get the work inspected and signed off upon completion.
Building Regulations & Planning Permission for Installing a Bathroom Extractor Fan
Before jumping into any permanent changes to your home's power circuits or lighting layout, be sure to check through the necessary building regulations and planning permission by enquiring with and informing your local authority's Building Control Department.
Most of the time, this will be fine, but they will need to make sure that any work carried out on your circuits or new installations adhere to the latest IEE Wiring Regulations.
When replacing a previous extractor with either a new fan or changing your electrical cables, they will have to be RCD protection fitted to comply with company standards.
All work should either be carried out or checked by a professional electrician throughout the whole process. Your fan choice has an impact on the type of zone installation and IEE Wiring Regulations, so it's essential that you seek professional help for any electric work done on your house to ensure that you stick to the correct procedures, laws and protect you and your family's safety.
Choosing a Bathroom Extractor Fan
Choosing the right bathroom extractor fan may seem like an easy task, but it's important to check out all your potential options before deciding on and buying a specific fan for your bathroom.
Below is a list of pros and cons for each different type of extractor fan that can be purchased, not including an inline extractor fan due to their usage typically associated with a large industrial setting.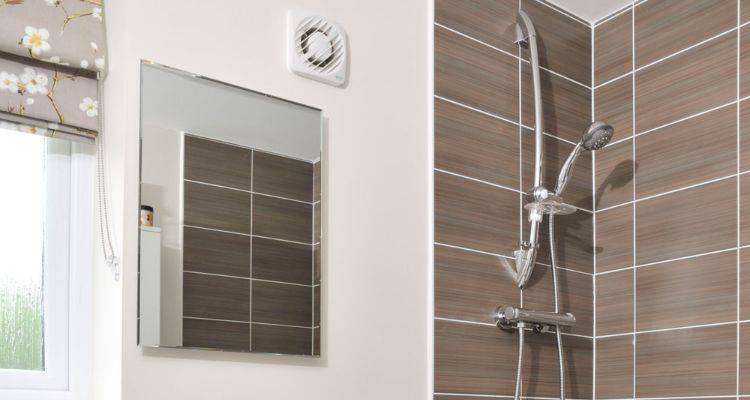 Wall Fan Cost
A wall fan is a popular choice for most bathroom installations, as they are easy to set up and run, as well as cheap in cost. Prices can differ between £20-£60.
Pros
✔ Cost-effective
✔ Easy installation
✔ Easy reach to clean
Cons
✖ May collect dust quicker
✖ Can be noisier
✖ Potential to feel backdraft
Ceiling Fan Cost
A ceiling fan is another popular choice for bathroom fans as it can stay out of the way and circulate the air from the centre of the room and are much better displayed upstairs so the ducting can run up to the loft. Prices can differ between £30-£50.
Pros
✔ Quiet noise
✔ Durable
✔ Can be hidden easier
Cons
✖ Difficult installation
✖ Harder to clean
✖ Not easily reachable
Window Fan Cost
Window fans are typically a lot less common than ceiling and wall fans and are usually installed via a hole that is cut in the middle of a bathroom window. Prices can differ between £40-£80.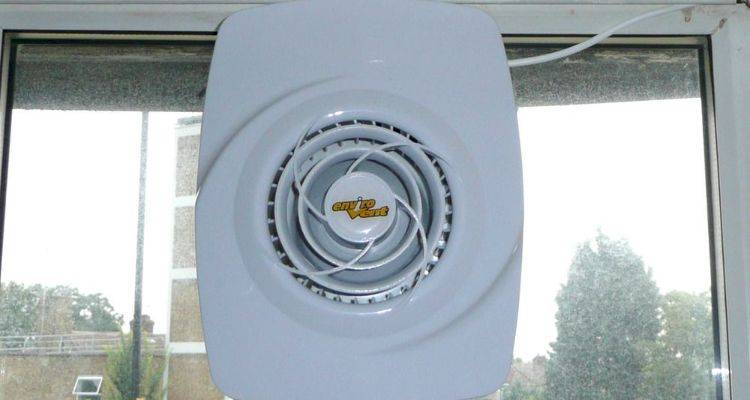 Pros
✔ Effective
✔ Removes heat and steam quicker
✔ Good quality
Cons
✖ Extensive installation process
✖ Can obstruct window views
✖ More expensive
Axial Fan Cost
An axial extractor fan is the most common choice for bathroom fans and is typically attached through an external wall for short airflow, usually seen on walls. Prices can differ between £20-£80.
Pros
✔ Easy to find
✔ Cheaper in costs
✔ High pressure
Cons
✖ More wear & tear
✖ May need repairing often
✖ Shorter airflow rate
Centrifugal Fan Cost
Centrifugal extractor fans are less common as they're used for bathroom's far away from external walls, moving air a further distance to flow outside and typically installed in ceilings. Prices can differ between £40-£100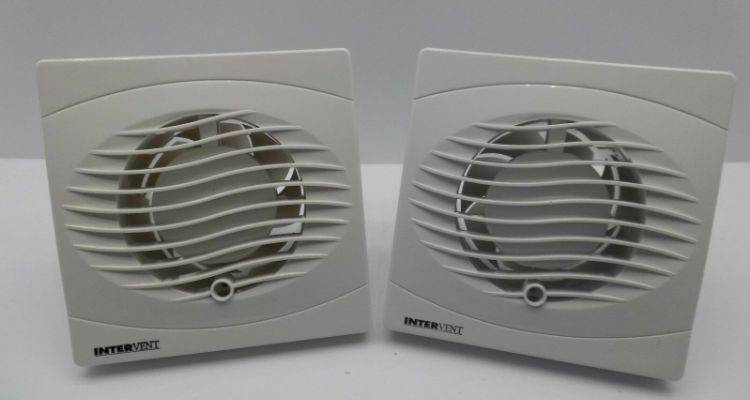 Pros
✔ Powerful extraction rate
✔ Long-distance airflow
✔ Contemporary
Cons
✖ Noisy
✖ Difficult installation
✖ Bulky
✖ Higher energy consumption
Where Can I Install an Extractor Fan?
When installing a new extractor fan, rather than just replacing an existing one, you need to think carefully about how you will position the fan, taking into account that you're going to need to wire the fan into the electrical supply and run ducting through an external wall which may not be the bathroom wall.
For example, if the loft is directly above your bathroom it is simple to go for a ceiling mounted extractor fan and then run the ducting through the loft where it is also usually easy to access the wiring.
But if the bathroom is on the ground floor it may not be so simple; sometimes you might have to lift the existing flooring to tap into the electrical wiring.
There are many different types of extractor to choose from, but the primary considerations are the fan air movement rating, noise levels and switching capabilities.
Fans are rated by their air movement measured in cubic feet per minute (CFM). The higher the air movement rating, the quicker a fan can shift air and remove moisture.
Larger or more humid rooms will need a more powerful extractor fan with a higher CFM rating, but for the average bathroom, 80 CFM is the minimum you should consider.
It's important to know that smaller fans will be slightly noisier if they are running at near-maximum capacity, so if you can't stand the humming noise from fans, then it may be in your best interest to choose a larger fan or a more expensive quiet running model.
For the absolute quietest operation, the fan can actually be installed in the loft with just the ducting vent in the bathroom. You also need to think about the switching for the extractor in terms of how it switches on.
Fans can be wired to switch on and off with the bathroom light, to switch on with lights but switch off on a separate timer, to come on with a humidistat, or simply to be switched on and off via a manual switch (which cannot be in the bathroom).
Benefits of an Extractor Fan
There are many reasons for choosing a high-quality extractor fan and installing one in your home as an essential item for any bathroom. Below are just a few of the wonderful benefits you can get from installing an extractor fan.
Reduces damp
Bathrooms are one of the leading causes of dampness in a house, and extractor fans are an imperative bathroom feature to control humidity in the air.
Steam and humidity is often the reason for mildew or mould and can easily be kept at bay with the installation of a high-quality extractor fan, leaving the air dry and stopping the speed of any mildew/mould spores growth.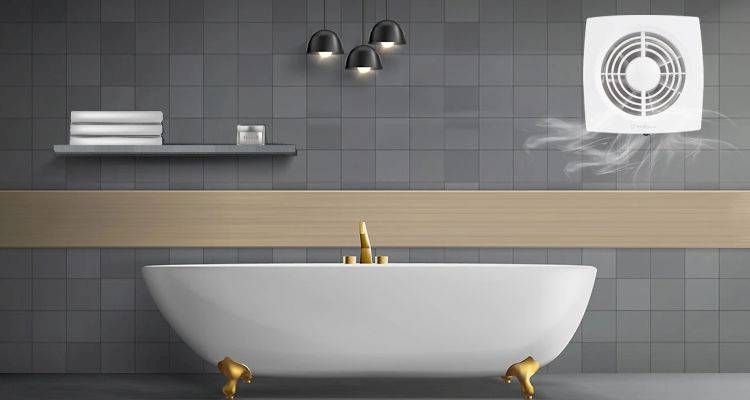 Rids moisture from air
Extractor fans are a great way to enhance air quality within bathrooms or rooms with high humidity and steam, improving the standard of breathing air for a household. This results in better health and reducing bad odours and stuffiness.
Saves money
Your future self will thank you for this! Installing a decent extractor fan in your bathroom will save yourself from any future costs, repair jobs or bathroom issues.
If you continue to disregard high amounts of steam or humidity, your interior will suffer from mould, wall damage, mildew, and breakages.
Cost of Removing a Bathroom Extractor Fan
You may need to remove a bathroom extractor fan for a variety of reasons, including low quality, dust in vents, loud noises, or having an out of date fan. Most people decide to remove or replace an extractor fan when moving into a new house.
As this is an electrical job, it's always best to have this done by a professional, however, if you're a handy DIY expert and have experience with electrics then you may be able to complete this job fairly quickly.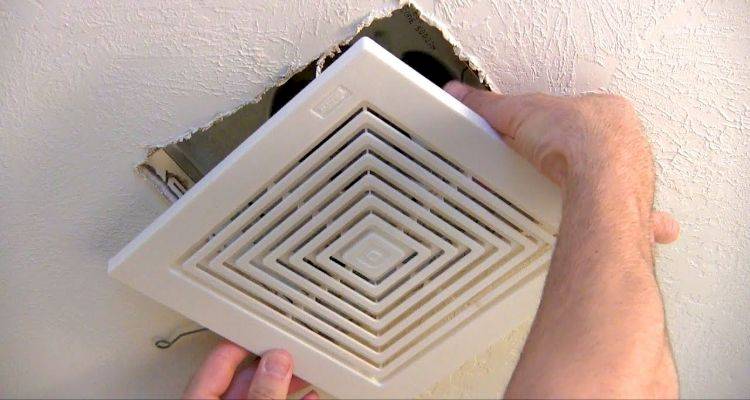 Firstly, you'll have to disconnect the electric isolation switch before removing the grill and fan, then fill in any holes in the wall/ceiling and tile where necessary and check over the venting.
If you're unsure then always ask for help, this job can take between 1-2 hours and cost up to £40 in labour costs, with an added £20 for waste removal depending on if it's involved in the quote or you sort it separately.
Hiring Contractors for Installing a Bathroom Extractor Fan Checklist
If you don't already have a relationship with a local electrician, then you can use our free quote system to have up to three local electricians get in touch with you to provide a written quote and advice.
All you need do is complete one short online form, and then you can sit back and let tradespeople get in touch. Once they have contacted you, then you can also check their profiles online and read reviews from previous customers for additional peace of mind.
Below are some necessary questions that will help with your decision and ensure you pick the right contractor for the job.
Seek out several options from a variety of electricians, checking out a few different quotes before settling on one company/tradesman. Even if you think you have a good deal straight away, you should always weigh up other options.
Double-check that the electrician is authorised to install an extractor fan and holds the correct qualifications such as being a Part P qualified electrician and is a part of a government-approved scheme found on the recommendation of BRAC (the Building Regulations Advisory Committee). It's also worth checking if they're a part of a reputable trade body for peace of mind.
Make sure that the electrician has completed similar jobs to this beforehand. Always ask for references and pictures from their previous clients.
Discuss and sign a written agreement before any work takes place in your home, making sure that you both have a clear outline of the job specification and what services will be included.
Ask to see if your electrician is insured and offers a guarantee for their work.
Last but not least, remember to ask for a receipt or payment confirmation to protect you against possible future disputes.
FAQs
How can you clean an extractor fan?
The best way to clean an extractor fan can easily be done with just soap and water. First, you need to make sure that the fan has been turned off, as well as the power supply before removing the grill front. After this, you can either fill a bowl of warm soapy water and wipe over all the surfaces, or use a multi-use bathroom cleaner.
What size of extractor fan do I need for my bathroom?
The typical size of an extractor fan is usually around 100mm, spanning over the fan, the grill and the ducting. You can find larger fans going up to 500mm, however, these are designed for industrial use and extraction, popular in workshops, warehouses and commercial spaces.
How much is an extractor fan replacement?
Replacing an extractor fan can range in price depending on the size of the bathroom and whether other jobs need to be done. Costs of a standard replacement are usually between £150-£200 and can take 2-4 hours for a quick fix.

In contrast, a brand-new installation is slightly higher at £250-£300, taking around 4-8 hours, both including labour and installation costs.
Do I need planning permission for extractor fan installation?
In most cases, planning permission is not needed for bathroom fan installations and can be fitted by a qualified electrician with no problem.

However, it's always best to check with your building regulations before undergoing any work just to be on the safe side as wiring and ducting may need to be checked. You may need planning permission if you're installing a ceiling extractor fan and are making changes to the interior of the loft.
How much do carpenters charge per hour?
Carpenters earn approximately £12.50 an hour in the UK, but it really depends on the location.
What is the purpose of an extractor fan?
An extractor fan is a fan which can extract the moist air from your bathroom caused by hot baths and showers. Extracting the moist air stops the mirror from steaming up and will prevent any mould or damp problems in your home.
Should I buy a high-quality extractor fan?
This purely depends on personal preference and the limit of your budget, finding the 'best bathroom extractor fan' may not be the right decision for your specific home or decoration.

A higher-quality extractor fan will provide a durable and efficient fan for your bathroom ventilation, helping to avoid any potential problems and has the added bonus of less cleaning, quieter engine and higher power.
Are extractor fans loud when they're turned on?
This ultimately depends on the type of fan you have, as well as the quality and age! No noise from a bathroom fan will ever be incredibly distracting that you can hear it from other rooms in your house, but it can be slightly annoying if you notice it.

Contemporary fans are a lot quieter than older models and can be enough reason for a replacement alone, other reasons include dust/dirt stuck in the fan, or too much moisture caught up.
Sources
https://www.ducting-express.co.uk/blog/difference-between-axial-and-centrifugal-fans/

Last updated by MyJobQuote on 22nd December 2020.