Cost of Installing a Bathroom Extractor Fan
Bathroom extractor fan fitting costs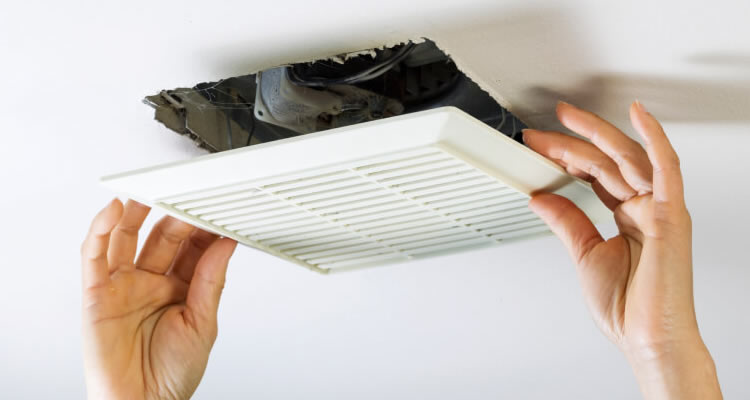 The typical cost for supplying and installing a bathroom extractor fan is
This job normally takes around 5 hours to complete
£300
Your bathroom is probably the most humid room in the house as showers and baths can build up excessive moisture in the air which will quickly condense on any cold surfaces and will leave the room damp. If the room is not well ventilated, it will never dry out properly and eventually will lead to damp problems such as mould, mildew and rot in the walls and flooring. An extractor fan can help to quickly remove excess moisture in the air and vent it outside, mitigating any possible damp related problems.
The extractor fan can be installed in the ceiling with ducting through roof eaves to an external wall vent, or in the wall straight through to external vent, or even in a glass window (though this is much less common nowadays). You will need a professional electrician for fitting a bathroom extractor fan as any electrical work in bathrooms is considered high risk due to the damp and humidity, but you will likely have to decorate yourself to finish the job.
If you don't already have a relationship with a local electrician, then you can use our free quote system to have up to three local electricians get in touch with you to provide a written quote and advice. All you need do is complete one short online form and then you can sit back and let tradesmen get in touch. Once they have contacted you, then you can also check their profiles online and read reviews from previous customers for additional peace of mind.
Costs for extractor fan installation
| Job Description | Duration | Material Cost | Labour Cost |
| --- | --- | --- | --- |
| Replace existing extractor fan like for like with no ducting required materials | 1 hour | £60 | £60 |
| New installation extractor fan with ducting through external wall vent | 6 hours | £80 | £250 |
| New installation extractor fan with ducting through roof eaves to external wall vent | 1 day | £90 | £300 |
Things to consider with extractor fans
When installing a new extractor fan, rather than just replacing an existing one, you need to think carefully about how you will position the fan, taking into account that you're going need to wire the fan into the electrical supply and run ducting through an external wall which may not be the bathroom wall. For example, if the loft is directly above your bathroom it is simple to go for a ceiling mounted extractor fan and then run the ducting through the loft where it is also usually easy to access the wiring. But if the bathroom is on the ground floor it may not be so simple, sometimes you might have to lift the existing flooring to tap into the electrical wiring. There are many different types of extractor to choose from, but the main considerations are the fan air movement rating, noise levels and switching capabilities.
Fans are rated by their air movement measured in cubic feet per minute (CFM). The higher the air movement rating, the quicker a fan can shift air and remove moisture. Larger or more humid rooms will need a more powerful extractor fan with a higher CFM rating, but for the average bathroom 80 CFM is the minimum you should consider. Note that smaller fans will be noisier if they are running at near maximum capacity, so if noise is an issue, go for a larger fan or a more expensive quiet running model.
For the absolute quietest operation, the fan can actually be installed in the loft with just the ducting vent in the bathroom. You also need to think about the switching for the extractor in terms of how does it switch on. Fans can be wired to switch on and off with the bathroom light, to switch on with lights but switch off on a separate timer, to come on with a humidistat, or simply to be switched on and off via a manual switch (which cannot be in the bathroom).
Doing it Yourself
If you only need to replace an extractor fan, swapping like for like where you can simply reuse the existing wiring, ducting and vent. Then this is a straightforward DIY job that only really requires disassembling and removing the old fan then securing the new one in place. But even with this simple job, do not assume that the existing wiring and ducting is in good shape, you need to check everything carefully and replace it if required.
Also, for an easy job, check that your new fan dimensions are the same and the screws line up with the existing holes. But a full installation is much more involved and will require an electrician as an electrical supply will need to be found and tapped in to, then wiring supplied and run for fan activation. Plus the wall or ceiling will need to be cut to accommodate the fan and/or the exhaust vent.
Ducting will have to be cut and fitted into place between the fan and exit point, then all the wiring will need to be covered ensuring you comply with building regulations for electrical installations in bathrooms. A competent electrician can certify this is the case, but if you carry out the work yourself, you will need to get the work inspected and signed off upon completion.
Bathroom extractor fan checklist
The bathroom is the most humid room so needs good ventilation
Extractor fans do a great job of removing excess moisture in the air
Standard extractor fans cost around £50, but silent models are more expensive
Replacing a noisy fan can be cheaper than repairing it!
Hiring a Tradesman Checklist
Always get at least 2 quotes before hiring.
Never pay the full amount upfront.
Get the quote in writing.
For any payment you make, always get a receipt.
On more expensive jobs, ask for references.
Check if the tradesman is a member of any trades associations.
Make sure the tradesman has public liability insurance.
FAQ's
What is an extractor fan?
An extractor fan is a fan which can extract the moist air from your bathroom caused by hot baths and showers. Extracting the moist air stops the mirror from steaming up and will prevent any mould or damp problems in your home.
Do I need an extractor fan in my bathroom?
If your bathroom does not have a window, then yes you need an extractor fan! If your bathroom has a window then it's optional but highly recommended. You should also consider replacing your existing extractor fan if it is old or noisy, modern fans are so much better and quieter.
What size of extractor fan do I need?
The standard size of a bathroom extractor fan is 100mm so a fan this size this will work with most grills and ducting. However, you can also get larger fans at 150mm which are most often used for industrial scale extraction.
How loud are modern extractor fans?
It really depends on the type and cost/quality of the fan, but most popular fans sold in the UK are whisper quiet.
How do I clean a bathroom extractor fan?
It's a fairly simple process, turn off the power supply then detach the grill by removing the screws or clips then simply wipe the surfaces using a soapy cloth or bathroom cleaner. Once clean ensure that the fan blades can move freely without being blocked by dirt or dust, then refit the grill cover.
Recent Jobs
Remove air conditioning unit.
Submitted by Stephen
Hi, looking for someone to install AC in kids attic. It's a portable AC.
Submitted by Sabrina
I'm looking for someone to fix my fridge. The main problem is it's not getting cold otherwise power and fan is absolutely working.
Submitted by Jabed
Install a new extractor fan in the bathroom of a 2nd floor flat. There isn't one in place at the moment so you'd have to drill through the wall and find the circuits etc.
Submitted by Sarah
1. Replacement of existing bathoom extraction fan which is too low powered. 2. Installation of a new electric fan heater in bathroom on a separate wall.
Submitted by Paul