Double Glazing Cost
Want to know how much it costs to have new double glazing installed? In this article we look at the different window prices for varying sizes and types so that any homeowner can calculate how much the average cost of double glazing should be for them.
Right, let's jump right in.
Standard double glazed windows range from:
£100 for a small,
£200 for a medium and
£300 for a large window.
Now of course, this does not include the fitting of the double glazing, but it does allow you to estimate a ball-park cost for materials. So if you have 10 windows (8 large and 2 small), it will cost roughly £2600 to supply them yourself, plus delivery. If you have your double glazing company supply the windows, then expect to pay more.
Fairly straightforward so far, right?
It's important to point out that those prices are for standard uPVC casement windows. For sliding sash windows you'll need to double those figures, and for bow or bay double glazed windows, the price varies greatly depending on the number of panes you have.
But how much does it cost to actually fit the windows?
This is where it gets a little more complicated. Location can play a big part and so can who you choose to carry out the installation.
Double glazing fitters have a bad rep. And for good reason. There's a long history of homeowners being ripped off. This is why we wrote this article, to help prevent any more of that.
So let's get to the figures.
Replacing and fitting a new double glazed unit takes around 45 minutes on average, with most companies able to carry out a whole house installation job in a day, with possibly an additional day required for applying trims and finishing touches.
Obviously, this will depend on the number of tradesmen working on the job.
So, if you're only having one window fitted, then 30 minutes at say £20 per hour is £10 right? It is, but that's not how this works.
Firstly, it will take two fitters half an hour to install the window. Secondly, imagine paying two window fitters a tenner each to fit a window. Imagine their faces! Most tradesmen will normally charge a minimum of half a days pay for any job, so keep this in mind for the smaller ones.
Let's say you're replacing the double glazing in your whole house (12 windows), how much will it cost to fit them?
So it should take roughly 9 hours to install the windows, and maybe another hour or two for the trim and finishing. So we have one and a half days labour at roughly £150 per day, this gives us an installation cost of around £450. That seems reasonable.
Finally, let's not forget your old windows. You'll need a large skip for them. These cost in the region of £150 to £300, and you can usually keep them for a month.
This brings your total cost for the double glazing units, the fitting, and the waste removal, to around £3500.
Remember I said that your location can cause the price to vary? Well, it can. Being closer to London means the average window fitter will charge more per day due to their increased living costs - there's not really much to be done about it.
But you can still be careful with who you hire. There are always going to be companies who have too much work on and will simply quote an extortionate figure because they actually don't need the work. This is why you must get multiple quotes before selecting your double glazing fitters.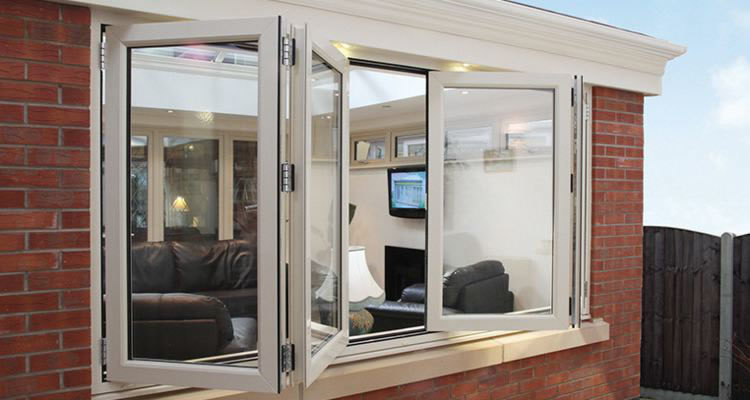 Average cost for double glazing
This job normally takes around 1-3 days to complete
£4500
New windows can liven up the appearance of your home while adding value and appeal to your property. New windows also increase insulation levels, making your home more energy efficient and comfortable, while reducing your bills.
The use of un-plasticized Polyvinyl Chloride (aka uPVC) has grown hugely over the last few decades and uPVC is now one of the most widely chosen materials used by all the biggest double glazing companies in the UK.
Other types of materials are used for double glazing window frames, including aluminium and timber, but uPVC offers better value for money being considerably cheaper.
Another advantage of uPVC is the low maintenance requirement, all you need do is wipe it down with a damp cloth every now and then, that's it! uPVC never rots, flakes or rusts, being one of the most durable of the materials available for window frames.
Insulation is another area where uPVC material beats the more expensive aluminium frames, uPVC is a very good insulator and only timber frames provide slightly better insulation properties (but at a much higher price).
The double-glazing industry has suffered from a pretty bad (mostly well deserved) reputation over the years mainly due to the high-pressure selling techniques employed by many companies.
But in terms of picking a decent installer, the best advice is to make sure they are either FENSA (Fenestration Self-Assessment Scheme) or CERTASS certified.
If the window installer does not come under one of these two bodies, then you should probably look elsewhere. To easily find competent double glazing installers, you can use the free service o this website to enter your details and then have up to three local window companies or joiners get in touch with you to discuss providing a quote and offering advice.
Typical Double Glazing Prices
| Job Description | Duration | Material Cost | Labour Cost |
| --- | --- | --- | --- |
| Flat with uPVC casement 4 windows | 1 day | £1300 | £300 |
| House with 8 uPVC casement windows | 1-2 days | £2500 | £500 |
| House with 10 uPVC casement windows | 1-2 days | £3000 | £600 |
| House with 15 uPVC casement windows | 2-3 days | £4500 | £750 |
Double glazing - Things to consider
The more windows you have, the more replacement uPVC windows will cost. The size of the windows makes a difference to as does the type of opening and style of window, but the number of windows is the main factor in the price.
There are many choices in terms of window and glass type including Plain glass, Leaded glass, Georgian bar glass, Triple Glazing, Double Glazing, Tinted Glass, Casement window, Bay window, Bow window and Sash window.
You could probably even specify bullet-proof glass in your uPVC windows but that is beyond the scope of this article! Colour choice affects the price too, standard white uPVC is by far the cheapest.
Double glazed uPVC windows are highly weather resistant and the materials are environmentally friendly and recyclable. They require very little maintenance, with the exception of cleaning them with a damp cloth every so often, and they remain looking good for many years with only a slight discolouration over time.
Unlike wood, uPVC won't change shape or warp over time and will keep its basic structure until the end of its lifespan (which could be 30 years or more).
But on the downside, some think that uPVC windows look ugly and boring! Another criticism is that uPVC windows are cheap for a reason – they look cheap! Plus, although uPVC can be recycled, it's actually hazardous to the environment when the window frame is initially created and of course, it is made from an unsustainable resource.
DIY Double Glazed Window Installation
To fit replacement double glazing doors and windows in the UK, FENSA registration is required.
However, the basic process of fitting windows is reasonably straightforward for a decent DIY enthusiast. Double-glazing comprises the frame, the sill and the glazing unit. When you order uPVC windows from the manufacturer, they usually arrive separately in parts, with the beads in the frame.
When you remove your old windows it is critical that you do so carefully, as the more of a mess you make of the walls and plaster, the more work you will have later making it good! Be especially careful damp proof courses and ensure that they have not been pulled out with the old window frame.
If they have been moved or damaged accidentally, you need to replace or refit them properly. Then simply fit the new windows in place using bolts and then seal carefully around the edges of the frames.
Double Glazing Checklist
uPVC windows are easy to maintain and clean
Double glazed uPVC windows have a high energy rating to reduce your energy bills
Aluminium windows are stronger but uPVC is not far behind and much cheaper to buy
uPVC windows have a lifespan of around 20 years
FAQ's
Will new windows reduce noise levels from outside?
Yes! Modern uPVC double-glazed windows have much thicker glass units than older double glazing which will cut down the noise inside your home.
Will I need to move out while the windows are being installed?
No, not normally. You shouldn't have to move out of your home when getting new windows. Reputable installers will work with you to minimise inconvenience and will normally complete one room at a time before moving onto the next. So while you may need to move around a bit while works are in progress, you will not have to move out! professional double glazing installation companies will sit down with you beforehand and will discuss the installation with you first so you know the procedure.
How long will it take to install my windows?
The exact time will depend on the number, type and style of the windows. But in most cases, assuming good access and no problems on-site, a typical 3-bed semi-detached house would take around 2-3 days. The company fitting your windows will carry out a full survey before the new windows arrive, so they will know at that point exactly how long the job will take and can let you know in advance. The windows should arrive made to the exact size needed minimising the time on site and inconvenience.
Will I need to re-plaster inside my house?
Maybe! Some minor plaster-work could well be required around the window reveals caused by removing your old windows, although in most cases this should be included in the quote so your installer should carry out this work. Always double check quotations to see who is responsible for that kind of minor repairs.
Do I need planning permission for windows?
Planning permission is not normally required for replacing windows, unless you are in a listed building or conservation area. There are special rules which apply to flats and ex-council homes however. In any case, you should always consult with your local planning authority to be on the safe side.
Last updated by MyJobQuote on 26th October 2020.