Cost To Replace Kitchen Worktops
Need to know the cost of replacement kitchen worktops?
Our guide explains all the costs you can expect to encounter for materials, labour and additional expenses when replacing your kitchen worktop.
Continue reading below to find out more!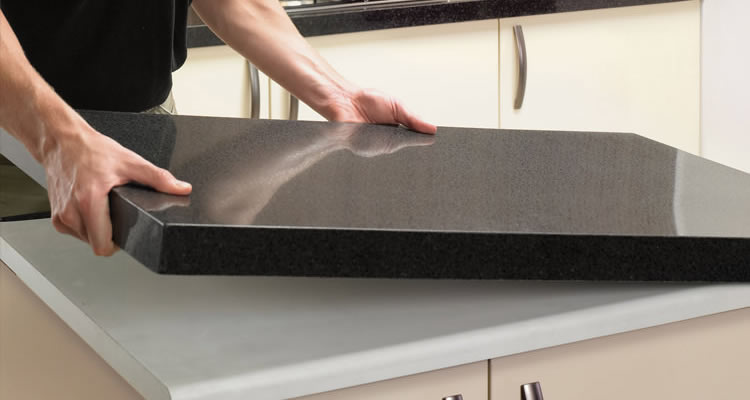 Average Cost to Replace Kitchen Worktops:
Depending on the complexity of the job, it usually takes: 1-1 ½ days
£600
How Much are Kitchen Worktops?
The biggest factor that affects the price of replacing a worktop is the type of material you choose. Most people choose a laminate worktop which costs £200-£800.
By choosing a more expensive material, both the supply and labour costs will increase as the more expensive materials are harder to handle. You could spend up to £4,200 to get the same out of worktop in quartz.
Kitchen Worktop Prices
For easy comparison, the table below outlines the cost to supply and fit 5m of worktop in different materials.
| Material | Average Cost |
| --- | --- |
| Laminate | £200-£800 |
| Quartz | £1260-£4,200 |
| Granite | £1,610-£2,850 |
| Marble | £1,700-£2,550 |
| Solid Surface/ Composite | £1,200-£1,850 |
| Solid Wood | £720-£1,350 |
| Ceramic | £2,150-£3,900 |
| Glass | £1,250-£1,750 |
| Stainless Steel | £700-£1,300 |
Labour Costs and Time Scales
The labour costs will mostly depend on the material that you choose for your worktops. The more expensive worktops will cost more the install and take longer. This is because they are often made from more difficult to handle materials that require specialist fitting skills. In fact, the labour costs will be about the same as the supply cost for the worktop.
The table gives the prices to fit 5m of kitchen worktop with a sink in different materials. It assumes the existing worktop is laminate or something similar.
| Material | Duration | Average Cost |
| --- | --- | --- |
| Laminate | 1 day | £100-£350 |
| Quartz | 1-1 ½ day | £600-£1,500 |
| Granite | 1-1 ½ day | £800-£1,500 |
| Marble | 1-1 ½ day | £800-£1,500 |
| Solid Surface/ Composite | 1 day | £300-£500 |
| Solid Wood | 1-1 ½ day | £360-£600 |
| Ceramic | 1-1 ½ day | £800-£1,500 |
| Glass | 1 day | £500-£700 |
| Stainless Steel | 1 day | £250-£400 |
Supply Costs
Cost by Worktop Material
The material choice will have a big impact on the price of the worktop you buy. For comparison, all of these are for worktops of a thickness of 3.8mm. Where off the shelf worktops are available the 3m length cost has been included as this is the length in which you will buy your worktop.
| Material | Average cost per 3m length | Average Cost per m2 |
| --- | --- | --- |
| Laminate | £50-£225 | £35-£150 |
| Quartz | £330-£1,350 | £220-£900 |
| Granite | £405-£675 | £270-£450 |
| Marble | £450-£525 | £300-£350 |
| Solid Surface/ Composite | £500-£1,450 | £300-£450 |
| Solid Wood | £180-£375 | £120-£250 |
| Ceramic | £600-£1,000 | £450-£800 |
| Glass | £250-£650 | £250-£350 |
| Stainless Steel | £250-£700 | £150-£300 |
Cost by Worktop Thickness
The thickness of the worksurface affect the, look, durability and cost of the work surface. For comparison, these are prices for different thicknesses of a midrange laminate worktop.
| Thickness (cm) | Average Cost per m2 |
| --- | --- |
| 3.8 | £75-£150 |
| 2.8 | £45-£90 |
| 1.2 | £35-£50 |
Additional Costs
There are a few other jobs that you might want to consider when you are replacing the worktops in your kitchen, as well as some costs that might arise depending on the state of your cabinets, once the worktops are removed.
Edging Strips
To give a tidy finish to your worktops, you may need to get some edging tape. This allows you to cover the cut ends of the worktop so that it looks the same as the rest of the worktop. You need this for composite or laminate worktops. It costs between £9-£12 per 3m roll.
New Kitchen Unit Doors
If some of your unit doors are damaged, then this is a good time to replace them. It can be easier to do without the worktop on. Depending on the material chosen this will cost between £200 and £260 per door.
Replacement Kitchen Units
When you remove your old worktop, you might find that the old cabinets are also in need of replacement. If this is the case, you should look into replacing your kitchen units. You don't want to install a new work surface onto cabinets that can't support it. The average cost for this is £4,000.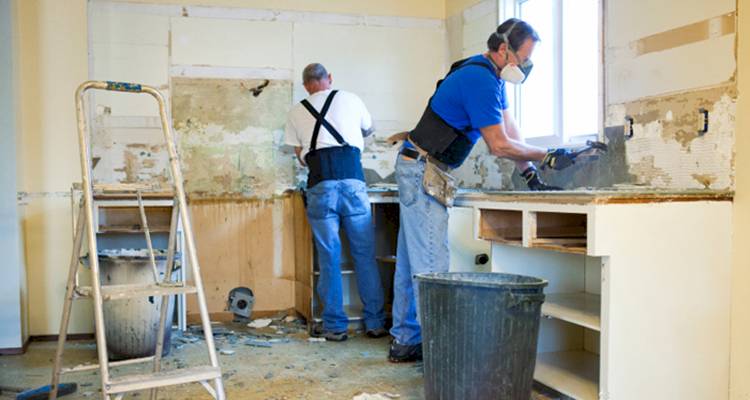 Remodel Your Kitchen
Replacing your kitchen worktops can be a big part of a kitchen remodel, so if you are already doing the worktops you should look at your budget and decide if now is the time to remodel the whole thing. The average cost for this is £5,000.
Replace Kitchen Sink
If you want to replace your sink, then you should consider replacing it at the same time as you replace the kitchen worktops. The space for the sink will be cut out of the worktop, so once this is done, you can't easily change the sink at a later date. The average cost for this is £400.
New Kitchen Flooring
If you are revitalising your kitchen, then addressing the kitchen flooring can be a good way to give your kitchen a fresh new look and updated feel. The cost will depend on which type of flooring you choose. Installing vinyl flooring costs around £300. If you want to tile the floor, it will cost on average £1,200. To lay laminate, flooring will likely cost about £1,000.
New Kitchen Appliances
If you are changing the look of your kitchen by changing the kitchen worktop, then you might want to change some of your kitchen accessories at the same time. It's a chance to make sure that everything has the same look. The appliances in a kitchen can very easily make it look dated. To replace all your appliances with reasonable budget choices will cost around £1,500. If you go for a top of the range choices, it will cost up to £5,000.
Cost Factors of Replacing Kitchen Worktops
There are two main factors that will affect the cost of replacing your kitchen worktops. These are the type of worktop and the size of the worktop.
Type of Worktop
The type of worktop you choose is the biggest factor in determining the cost of the job. Heavier materials bring more labour costs, and some materials have to be custom made, all of this impacts on the price.
Material
The material choice will have the biggest impact. For a cheap worktop, you can choose a laminate worktop. These start at around £35 per m2. More natural materials, like granite and marble, will cost more. These start from £270 -£300 per m2. Heavier materials will also likely incur extra labour costs. As these worksurfaces can get very heavy very quickly, more bodies may be needed to lift them into place. This will increase the cost.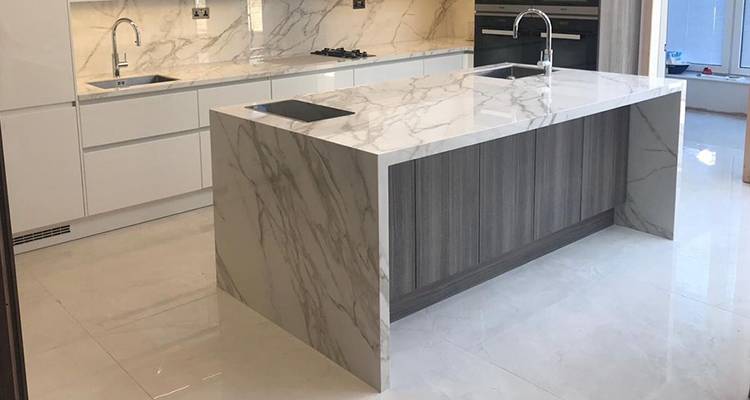 Custom vs Off the Shelf
Most worktops are available in standard sizes and lengths of 3m. For some kitchens, this means you will need to join together a couple of different lengths to get the whole surface.
If you want to avoid joins in the work surface, you can get a custom-made worktop. You can do this for any material, but it will come at a much higher cost.
Worktop Size
When you consider the size of the worktop, you need to think of it in two ways. The surface area and the thickness.
Surface Area
This is quite straightforward. The more area of kitchen work surface you need, the more it will cost.
Thickness
Not all worktops are the same thickness. The standard sizes are 3.8 cm, 2.8cm and 1.2cm. The thicker the worktop, the more durable it will be, but also the more expensive.
What's Involved in Replacing Kitchen Worktops?
The first step is to remove the old kitchen worksurface. This is done by unscrewing the old worktop from the cabinets and then prying it off.
Once the old worksurface is removed, you should check that the cabinets are level.
The new worksurface needs to be cut to size, assuming it is not custom made. You first measure the worktop space and then mark out the length on the back of the new worktop. You then add 10mm extra and cut from the backside of the worktop.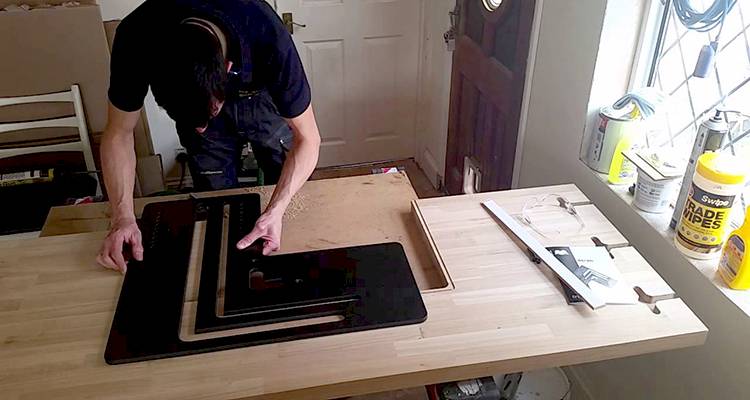 If a sink is going to be paced in the worktop, a hole will be cut for it. You mark out the dimensions of the sink on the countertop and then cut 10mm inside of these dimensions. The raw inside edge is sealed with silicone, and the sink dropped into place.
The worktop is then fitted to the cabinets with screws. Edging strip is used to cover any raw edges so that they look neat. The excess is sanded away.
The final step is to use a sealant to tidy up the edges of the work surface and all around the sink.
What Are the Benefits of a Replacing Kitchen Worktops?
As long as you can prepare your meals you might not think it is worth replacing your kitchen worktops. However, there are several benefits to replacing your old countertops.
Cheap Way to Feel Like A New Kitchen
The worktops in your kitchen are one of the biggest items that influence the look of your kitchen. By changing them to a different colour or material, it can make your whole kitchen feel new. This is a lot cheaper than a whole new kitchen installation cost.
Updates Your Kitchen
Your kitchen is one of the most important rooms in your home. Updating the look of it can make it feel like a more exciting place to be, and it can make it a real feature of your home. Choosing new kitchen worktops can make a dated kitchen and make it look more stylish.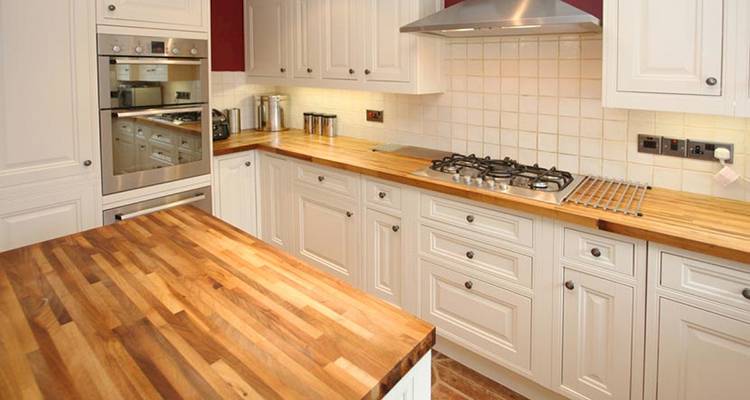 Get a More Hygienic Surface
If your existing worktop is pitted, scratched or burnt, then it will not be possible to keep it clean and free of germ. Any texture to the work surface creates spaces for dirt to collect. Getting a new worktop will make it much easier to keep your kitchen clean and sanitary.
Increase the Value of Your Home
Updating and improving your kitchen worktops is a way to increase the value of your home. No one wants to buy a house and then have to rip out the kitchen. If someone looks and you home and starts thinking about how much it is to fit a kitchen, then you have a problem. New worksurfaces are a cheap and easy way to give an old kitchen new life.
Increased Safety
If your old worksurfaces are warped or unstable, then they will increase the chance of an accident happening. Unstable worksurfaces can lead to serious cuts or burn in a kitchen. Replacing them is an easy way to keep your family safe.
Can I Replace My Own Kitchen Worktop?
Replacing kitchen worktops is a fairly straight forward job to DIY. It is not a job you should do on your own, as the worktops can be quite heavy. The trickiest bit is getting the finish right. Use of sealant and adhesive edging strip can make a big difference to the final look. Most kitchen fitters are experienced at this so will be able to get a good finish easily.
IF you want to do some of the work removing the old counters is quite easy and can save you some time. It doesn't require much skill at all. Doing this could save you the labour costs and the cost for disposal of the old worktops. This would be a saving of £100 - £200.
Signs I Need New Kitchen Worktops
Kitchen worktops do degrade over time. They are the brunt of a lot of daily life. Their lifespan depends a lot on how well they have been cared for. There are some signs to look out for that indicate it is time for new kitchen worktops.
Cracked Worktop
If there are cracks in the surface of your worktop, then it means the seal will be broken. This means water can get in and eventually, the structure of the worktop will begin to degrade. The other problem with cracks is that it is very hard to clean them properly. They become traps for dirt and germs and are quite unhygienic.
Burnt Worktop
Burns in the surface of your worktops look unsightly. They can be hard to remove depending on how deep they go. If the burn goes beyond the top layer of the worktop, then the only option is to replace it.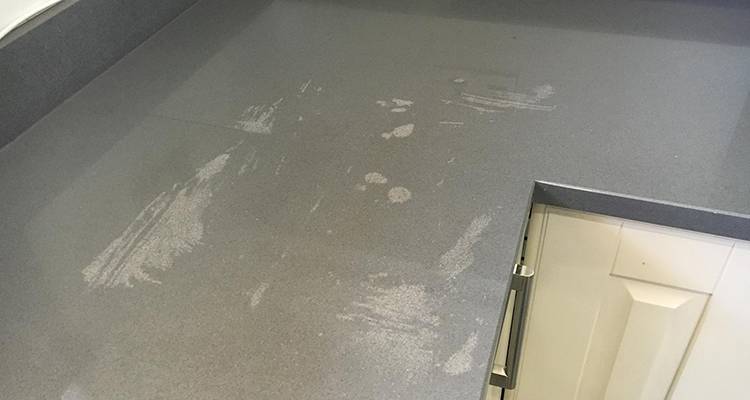 Stained Worktop
When a worktop becomes stained, it is a sign that the top layer is damaged, and that water is being absorbed into the work surface. This means that it will be very hard to keep your worksurface hygienic.
Unstable Worktop
You need to be able to trust your kitchen worktops. If they are unstable, then this creates a risk of injury. You can end up cutting yourself or burning yourself as a result. It is best to replace unstable worktops before an accident can happen.
Warped Worktop
If a kitchen worktop becomes warped, then it cannot be fixed. It means either heat or water has damaged the structure of the worktop. The problem is only likely to get worse over time.
Types of Kitchen Worktop
Laminate Kitchen Worktop Cost
Laminate countertops are the most popular option on the market. They are versatile and come in a wide range of finishes. They can look like natural materials but come at a much lower cost. The average cost is £35-£150 per m2.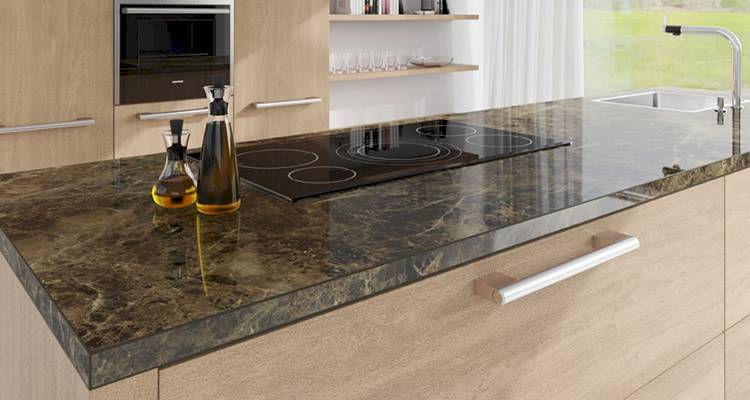 Pros
✔ Cheap worktop
✔ Easy to clean and maintain
✔ Scratch and heat resistant
✔ Can look like more expensive materials
Cons
✖ Can burn under excessive heat
✖ If scratched, they are unhygienic
✖ Can peel if water is left standing on the countertop
✖ Cheaper options are more easily damaged
Quartz Kitchen Worktop Cost
Quartz is a manmade stone. This means it has the durability of natural stone, but also comes in a wider variety of colours and patterns. The average cost is £220-£900 per m2.
Pros
✔ An environmental choice as it's made from recycled waste materials
✔ Resistant to staining and water
✔ Strong and resistant to chipping
Cons
✖ Can be damaged by large changed in temperature
✖ Heavy material so needs professional installation
Granite Kitchen Worktop Cost
Granite look worktops are a very popular choice for kitchen work surfaces. It gives a polished and expensive look. However, most counters that look like granite are not as it can be hard to source. The average cost is £270-£450 per m2.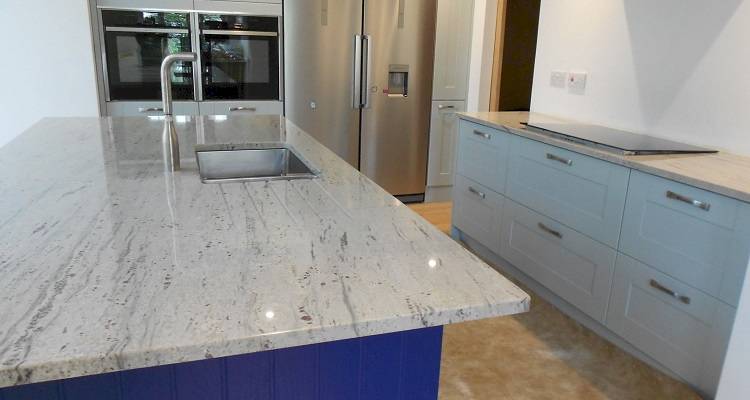 Pros
✔ Durable and hardwearing
✔ Resistant to changes in heat
✔ Hygienic and easy to clean
✔ Add value to your home
Cons
✖ Heavy – need reinforced cabinets
✖ Require sealing every two years
✖ Can't be repaired easily
✖ Limited colour and pattern options as it is a natural material
Marble Kitchen Worktop Cost
Marble is a leading choice in luxury kitchen design. It is distinctive and looks expensive. It is also timeless. The average cost is £300-£350 per m2.
Pros
✔ Luxurious finish
✔ Heat resistant
✔ Long-lasting
Cons
✖ Can stain easily
✖ Scratches easily
Solid Surface/Composite Kitchen Worktop Cost
Solid surface/composite worktops are made by creating a layer of resin over the top of a core material. Wood is often used. This creates a seamless finish and can be made in a range of colours and designs. The average cost is £300-£450 per m2.
Pros
✔ Resistant to heat and scratching
✔ Seamless
✔ Stain-resistant
Cons
✖ Expensive to buy and fit
Solid Wood Kitchen Worktop Cost
Solid wood is a very classic finish in a kitchen. Wood is a good natural alternative to stone, as it is a cheaper option. It does, however, require a lot more maintenance. The average cost is £120-£250 per m2.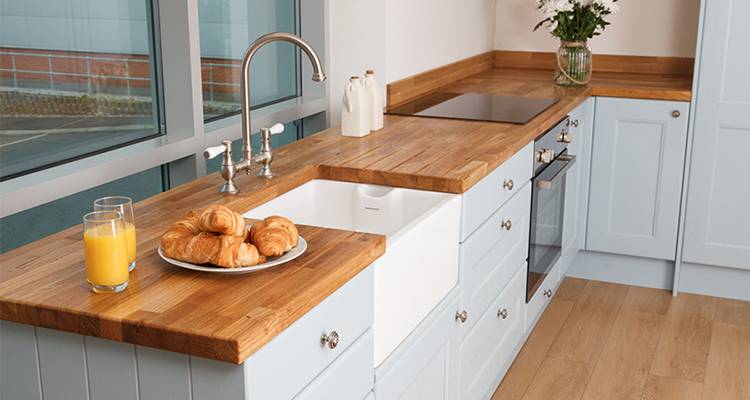 Pros
✔ Looks better as it ages
✔ Cheapest natural material
✔ Hygienic when properly maintained
Cons
✖ Requires maintenance twice a year
✖ Can be stained and burnt
✖ Can be scratched
Ceramic Kitchen Worktop Cost
Ceramic kitchen worktops have a lot of character. Because they are made from a very strong material, you can have much thinner countertops. This gives a more modern look to a kitchen. The average cost is £450-£800 per m2.
Pros
✔ Hygienic and easy to clean
✔ Resistant to heat and water
Cons
✖ The surface is uneven and can be scratched
✖ Can be cracked is heavy items are dropped on them
Glass Kitchen Worktop Cost
Glass kitchen worktops are a very modern design choice. They have a very glossy finish and come in a wide range of colours and designs. The average cost is £250-£350 per m2.
Pros
✔ Easy to clean and hygienic
✔ Resistant to staining
✔ Heat resistant
✔ Many design options
Cons
✖ Needs regular cleaning to avoid fingerprints
✖ Can get scratched
Stainless Steel Kitchen Worktop Cost
Stainless steel is the material of choice for countertops in the industrial sector. For anyone who is looking for an industrial style kitchen in their home, then this is the choice. The average cost is £150-£300 per m2.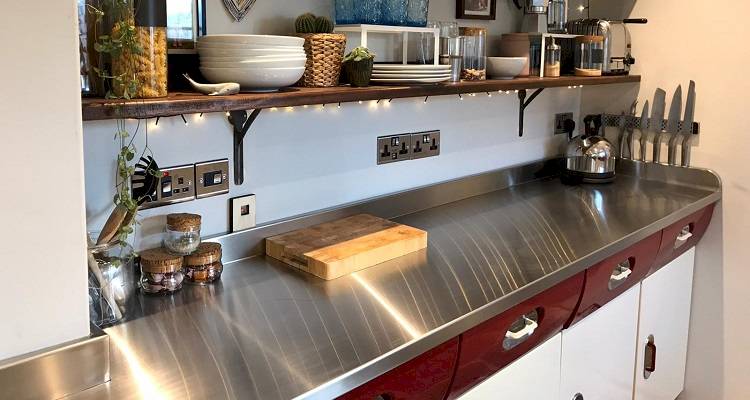 Pros
✔ Strong and durable
✔ Antibacterial
✔ Easy to clean
✔ Waterproof and heat resistant
✔ Lightweight
Cons
✖ Cold
✖ Clinical
Where to Buy Kitchen Worktops
You have a lot of choices in where to buy kitchen worktops. Most DIY stores will carry a range of counters, for example, B&Q, Wickes and even Ikea. You can look for specialist kitchen suppliers like Wren or Howdens.
There are also a lot of online retailers who specialise in kitchen worktops. If you are looking for a natural stone worktop, then you will most likely need to find a specialist granite, marble or quartz retailer. These materials are more specialised and are not carried by standard retailers.
Maintaining Kitchen Worktops
Your countertops see a lot of wear and tear, and they can easily become damaged. If this happens, there are a few things you can do to make them look better without the need for replacement kitchen doors and worktops. For natural materials, you will also need to do some regular maintenance to prevent them from becoming damaged and to increase their lifespan.
How to Apply Fablon to Kitchen Worktops
You can apply a layer of vinyl adhesive as a kitchen worktop cover. This will give your worktops an extra layer of protection or just to change their look. To do this, first clean and dry the countertop.
Then cut the Fablon to size, making sure to leave enough excess to fold over the side.
Remove one corner of the backing paper and peel back the adhesive, so the vinyl sticks down onto the worktop. Use the smoother to press down on the vinyl and remove any air bubbles as you go.
For curved edges, you can use a hairdryer to heat the film as you stick it down. This will help it to mould to the edge and giver a better finish.
How to Get Burn Marks Out of Kitchen Worktops
The procedure will depend on how bad the burn mark is and the type of worktop it is on.
Mild Burn Marks
For a superficial burn mark, you can try using a mildly abrasive cleaner to remove the mark. Things to try including toothpaste and baking soda in water.
Removing Burn Marks from Laminate Worktops
First, clean the area. Then apply a layer of toothpaste and allow it to set. Then scrub the toothpaste off with a scrub brush or toothbrush. Finally, wipe the area with water and a soft cloth. If this doesn't work, then you may need to replace the countertop.
Removing Burn Marks from Wooden Worktops
For wooden worktops, you can sand away the top layer of the worktop until the burn is removed. You should do this with care and make sure to even it out with the surrounding counter. Then apply oil to the sanded area to re-seal the wood.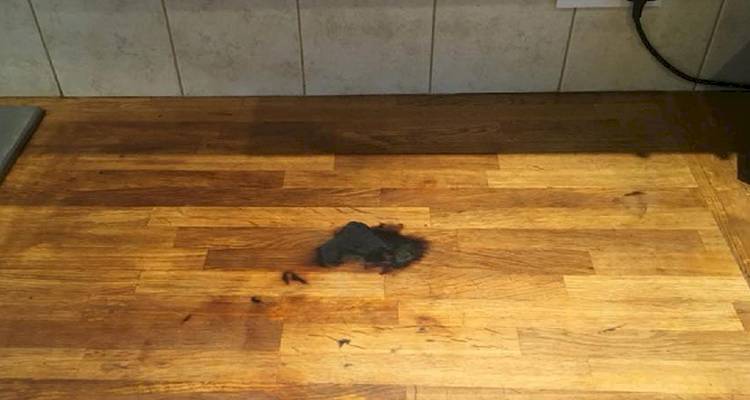 Removing Burn Marks from Solid Surface/Composite Worktops
When you got your kitchen, work surfaces from the retail they may have included a special cleaner for removing burn marks. This is a good thing to try first. You can then use some fine grain sandpaper to gently remove the mark. Be sure to clean and polish the spot afterwards.
How to Oil Wooden Kitchen Worktops
Wooden Worktops should be oiled twice a year or when there are signs that they are no longer water-resistant. You can test this by spraying the countertops with water. If it forms beads, then you are fine. If the water soaks into the counter, you need to oil it.
You should start by sanding the surface of the worktop. Pay particular attention to any areas that have been stained or scorched. You need to remove the old layer of oil or varnish before you apply the new one. You can do this by hand or with an electric sander.
Pour on the linseed or Danish oil. Spread the oil over the work surface, using either a brush or a soft cloth. You are aiming to create a thin and even layer over the worktop. Leave it to dry for a few hours then apply a second coat. After the second coat, you will need to leave it for up to eight hours to fully dry.
It is best to apply a few thin layers, rather than one thick one. You should do the water drop test again to check if you need more layers. Worktop oil costs £15 - £25 per can.
How to Seal Granite and Marble Kitchen Worktops
Granite is a porous material, so it needs to be sealed. This prevents staining and keeps the surface easy to clean. This should be done once every two years, as a minimum. If water makes the surface darken, rather than forming beads on top, then you need to seal your counters.
Some marble countertops need to be sealed. This won't prevent etching from acidic items but will provide some protection from scratches. The test for marble is the same as for granite.
You will need to clean the counter thoroughly. Then apply the sealant; this will either be as a spray or a liquid. Typically, you will need to apply a second layer of sealant around 30 minutes later. After it has been allowed to soak into the countertop wipe off the excess and allow it to dry for 24 hours.
Sealant costs £4-£20.
How to Clean Kitchen Worktops
When it comes to cleaning kitchen worktops, it is more important to know what not to use. Some materials are damaged by abrasive cleaners or sponges. All can be cleaned with warm water and a soft cloth
How to Clean Laminate Kitchen Worktops
Laminate is easy to wipe clean. You should not need to use any heavy-duty cleaners as it is resistant to staining and antimicrobial. If it is scratched, however, it becomes hard to keep clean.
How to Clean Quartz Kitchen Worktops
Quartz worktops are very easy to clean. You need to only warm water and a simple detergent. This is because they are water-resistant to do not stain easily.
How to Clean Granite Kitchen Worktops
Granite worktops are very easy to keep clean. They require only a quick wash with warm water and a basic detergent. You should avoid acidic cleaners as they can damage the surface.
How to Clean Marble Kitchen Worktops
Marble worktops need to be treated with great care. They are very easily damaged by acidic foods or cleaning products. This means you need to take care when cooking and cleaning. Even something like lemon juice can etch the marble. Care should be taken to clean any spills quickly.
To clean the counters, you should use a mild pH-neutral detergent and a soft cloth.
How to Clean Solid Surface/Composite Kitchen Worktops
Solid surface/composite kitchen worktops are easy to maintain. They only require wiping down with a mild detergent and a soft cloth.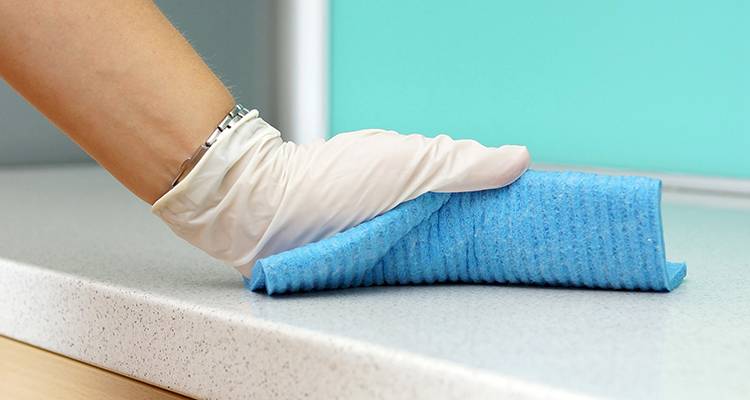 How to Clean Solid Wood Kitchen Worktops
Wooden kitchen worktops can be stained easily. This means you should wipe down any spills as quickly as possible. You should also avoid letting puddles of water stand on the countertops. The counters should be cleaned with sparing amounts of warm water and a soft cloth. Washing up liquid is the best detergent to use. Harsh detergents and cleaning products should be avoided, as should abrasive sponges.
How to Clean Ceramic Kitchen Worktops
You need to take some care when cleaning ceramic worktops. Warm water on a damp cloth is the most effective option. If you need to use a detergent, then you should choose a mild one. Bleach should be avoided at all costs.
The grout between the ceramic needs to be cleaned up quickly. It can easily stain if left dirty.
How to Clean Glass Kitchen Worktops
Glass worktops are very easy to maintain. They can be easily wiped down with a warm wet cloth. They are resistant to most cleaners, so you don't have to worry which you use. However, as they are stain-resistant, a basic detergent will be enough.
They do need to be wiped down regularly to avoid fingerprints being left behind. However, as they are made to size, there are no joins. Combined with their untextured finish, this means there is no place for dirt to accumulate.
How to Clean Stainless Steel Kitchen Worktops
Cleaning stainless steel worktops is easy. You can do a basic clean with a soft cloth and a regular detergent. A stainless-steel cleaner is recommended every now and then. To help your worktop resist fingerprints, you can rub in a small amount of baby oil after each clean.
Removing Kitchen Worktops
Removing old countertops is necessary if you wish to replace the work surface but keep the cabinet frames. The first step is to empty all of the cabinets and remove the drawers. Then locate the screws that attach the worktop to the cabinet and remove them. Smaller worktops will just lift off at this point.
Larger pieces of worktop will be held in place with a bead of silicone adhesive. To remove them you will need to put a paint scraper between the worktop and the top of the cabinet. Then gently use a hammer to tap on the end of the paint scraper. The paint scraper should move forward and break the adhesive. Then use a pry bar to gently lift the worktop away from the cabinet. Work along the length of the countertop doing this until all the adhesive is broken. Then lift the old work surface away.
You should be able to dispose of the old countertop at your local tip. They may be a cost for this, but it will depend on your local council. If the old worktop is in good condition, you might be able to sell it.
Removing your own worktop will save you between £100-£200.
Hiring a Kitchen Worktop Fitter Checklist
It can be daunting to hire a tradesman. Here are a few things to look out for when hiring a kitchen fitter.
The more experience, the better. They should be able to talk to about a wide range of jobs they have done. Their experience will help them to problem solve small issues without your input, and you will end up with a better finish as a result
Look for a fitter who is recommended by their former clients. They should be able to give you details of former clients who are happy to give you a reference.
Some fitter may be approved fitters. When searching 'kitchen worktop fitters near me', MyJobQuote has a range of approved and checked fitter near you available.
There are a few different trade associations that a kitchen fitter might be part of, this is not essential but is a good sign. The relevant associations are the Federation of Master Builder, The Guild of Master Craftsmen and the Kitchen, Bathroom and Bedroom Association (KBSA).
FAQs
What are the best kitchen worktops?
It depends on what you are looking for. Laminate worktops are the most popular as they are reasonably priced and come in a range of finishes. If you need cheap kitchen worktops, this is your best bet. Solid Surface worktops are very durable, long-lasting and low maintenance but are more expensive. Most people think that natural materials look best, but they are higher maintenance.
Do I have to have joins in my worktop?
It depends what material you pick and the size and shape of your countertops. Most countertops are made in standard lengths and thicknesses. If you need a length of more than 3m, then you will most likely need a join. The same is true if your counter goes around a corner.

If you choose a more bespoke material like glass or solid surface/composite, then you will be able to get any shape of the countertop with no joins
How much should the worktop overhang the cabinet doors?
A standard overhang is 20mm. However, you can get smaller or larger overhang depending on your style preferences.
Is fitting worktops a dirty job?
It can be messy to install and fit a worktop. It is not uncommon for a layer of dust to be created during the process. If you can, keep doors to other parts of your home shut to minimise the mess.
What is the best edge to have on a worktop?
This is a matter of preference. If you have small children, you may prefer a more rounded edge to prevent serious injury when they are running around. You may want to consider how the kitchen doors and worktops edges will look together.
Sources
https://diapol.co.uk/blog/how-much-does-a-kitchen-worktop-cost/
https://www.diy.com/departments/kitchen/kitchen-worktops/edging-strips/DIY824275.cat
https://www.worktop-express.co.uk/kitchen-worktops
https://www.ikea.com/gb/en/cat/kitchen-worktops-24264/
https://www.wickes.co.uk/Products/Kitchens/Kitchen-Worktops+Upstands/c/1000918
https://www.homebase.co.uk/our-range/kitchens/worktops
https://www.realhomes.com/buying-guides/best-kitchen-worktops
https://www.idealhome.co.uk/care-and-cleaning/care-wooden-worktop-169977
http://www.howtocleanstuff.net/how-to-remove-burn-marks-from-countertops/

Last updated by MyJobQuote on 17th March 2022.