How Much Does It Cost To Replace Kitchen Worktops
Advice and pricing guides on kitchen worktop replacement.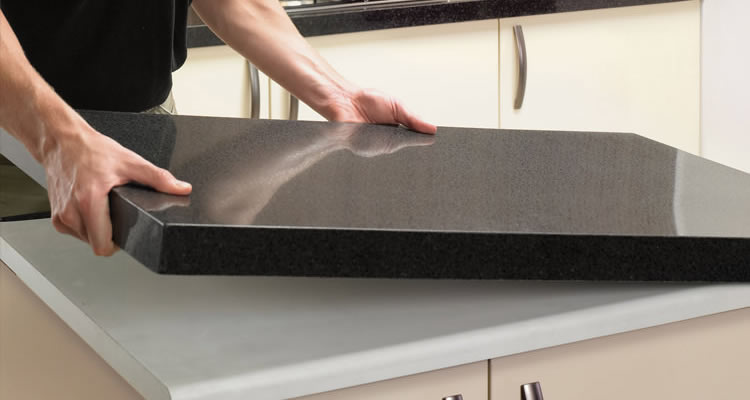 Average kitchen worktop replacement prices
Replacing kitchen worktops normally takes around 1.5 days
£250
Updating your kitchen doesn't have to cost the Earth! Spending thousands of pounds to install a brand new kitchen is not always necessary and there are cheaper ways of updating your kitchen at minimal cost, one of the best ways to do this is to simply replace the kitchen worktops while leaving the rest of the kitchen cabinets undisturbed. This is a quick and relatively simple project, and as long as you don't go crazy when choosing materials, it's a pretty cheap project. It can be done on a DIY basis if you possess the skills, but for most new worktops will mean hiring a local joiner or kitchen fitter. But finding a reliable and trustworthy tradesman is not always easy if you don't have any good personal recommendations to go by, there are cowboys around and you definitely want to avoid them! The free service on MyJobQuote.co.uk is a useful resource as you can post details of the job you need doing online, then just sit back and get up to 3 tradesmen contacting you to offer quotations. Then, before hiring one of them, you can check their reviews online left by other customers just like you!
Average Worktop Costs
| Job Description | Duration | Material Cost | Labour Cost |
| --- | --- | --- | --- |
| Supply and fit budget laminate worktop from B&Q | 1 day | £200 | £150 |
| Supply and fit solid wood worktop | 1.5 days | £375 | £250 |
| Supply and fit granite worktop custom cut | 2 days | £1000 | £350 |
Things to consider when replacing worktops
Many people are surprised to find that location is a major factor in how much it costs to replace kitchen worktops, fitters in London will charge a lot more than those in Scotland or the west of the country. So bear this in mind when comparing prices online. Another caveat about prices you may find online is that it can be very out of date, the actual prices charged by tradesmen vary with the economy. Prices will also be affected by the type of tradesmen or contractor you get in to do the work, a one-man band local tradesman will obviously be a lot cheaper than a national company with lots of employees and a major advertising budget.
The type of material you choose will also impact the price. Laminate worktops are the most common as they are tough, reasonably cheap, and come in lots of different styles and colours. Laminate worktops are also sold in all DIY stores and kitchen retailers at competitive prices. Solid wood worktops are a bit more expensive than laminate worktops, but if you are looking for a "country kitchen" look, then solid wood is a great choice. Solid wood is durable but needs to be sealed and treated regularly to keep it looking good, and softer, cheaper woods can dent easily. But if you're looking for an extremely tough and hard wearing worktop material, then granite is probably the best choice. Granite is a natural material which has a very shiny finish but is difficult to work with so not a good DIY choice. Quartz or Corian worktops look similar to solid granite but cost a lot less.
Doing it Yourself
Worktops can be a relatively easy job to remove and replace, so this is often done DIY to save money. However, getting a neat finish in any mitred corners of a worktop is not always as easy as it looks. Also, if your walls are not straight and square, you could easily end up making a real mess of it! Remember also that if planning a DIY job, you will still need an approved Gas Safe engineer and/or a qualified electrician to disconnect then reconnect your built-in oven/hob.
If you have decided you have the necessary skills and have decided to replace the worktops yourself, then probably the single most important thing you can do is to measure up accurately! If just replacing an old worktop for a new worktop that's the same shape, then you just measure the old worktop and use that as a template, but if you are changing the shape or size of the worktop, you need to measure so that you have an even overhang along the front edge of around 10mm to 20mm, also allow for an overhang of 25mm at either end.
It is highly likely that the wall you are fitting the worktop to will be slightly uneven, so you will have to trim the worktop using a scribing block to fit snugly against the wall with no gaps. You can join lengths of worktop by securing the two worktops together underneath with fixing plates after applying glue to one end (this avoids using a joining strip).
To fix the new worktop to the kitchen cabinets attach from underneath using screws and fixing brackets while applying pressure from above. For solid wood worktops, you can sand smooth the unfinished edges then protect them with oil or varnish. Laminated worktops usually come with their own finishing strips to cover the unfinished edges, simply cut to the right length and glue to the edge of the worktop. If you need to cut a recess for the kitchen sink, you'll have to measure and cut an accurate hole to fit. To make a guide, place the sink upside down where you want it and use a pencil to draw a line tight around the edge. Then measure the lip of the sink and the depth so you can create a recess and fit the sink flush into the worktop. If the sink comes with a seal to go between the sink and the worktop, then take this into account when measuring the depth and simply fit the seal to finish the installation, but if not, just apply some silicone sealant around the edge of the sink recess.
Replacing Worktop Tips
Replacing the work surfaces can have a major impact on the overall feel of the kitchen space without spending a fortune
Kitchen worktops are available in a wide range of materials and colours
You can replace kitchen worktops without damaging the existing kitchen units
Granite worktops are very popular, but you can also choose glass, laminate, stone or solid wood
FAQ's
How long does it take to install new kitchen worktops?
For a standard kitchen with around 3.5 metres of worktop, expect the job to take somewhere between half a day to a full day. But you will be quoted for a full days labour in any case!
Will existing worktops have to be removed?
Normally the fitters will remove and dispose of the old worktops, but make sure this is covered in the quotation. That being said, there are specialised slimline worktop products that they are made to fit over existing worktops so there is no need to remove them.
Will there be any mess after the worktops have been fitted?
Installing and fitting worktops is usually a messy business, no matter how good the tradesmen. However professional fitters will make every effort to minimise mess and will clean up after the installation is complete.
Once new worktops are in place will they plumb in/reconnect my sink/gas hob/cooker?
No, this will have to be carried out by your plumber/electrician for legal and safety reasons. In some cases, the company fitting the worktops may have an arrangement with local plumbers and electricians, but in most cases, you will have to arrange this yourself.
Which is a better material for worktops - granite, quartz or ceramic?
All three materials are good choices for kitchen worktops as they are robust and resistant to scratches, stains and heat damage. All three are probably better choices than worktops made from laminate, wood, stainless steel or glass. Worktops made from granite, quartz or ceramics offer more practicality and the choice really is down to personal preference. Granite is probably best if you prefer a natural material, quartz worktop come in stunning colours and ceramic worktops are very durable.
Last updated by MyJobQuote on 8th September 2017.