Cost of Replacing Kitchen Cupboards
Are you wondering how much it would cost to have your kitchen cupboards replaced? In the following guide, we'll look at the costs based on the number of units, break down the supply costs and labour costs and consider additional topics such as how to replace a kitchen cupboard and the advantages of replacing them.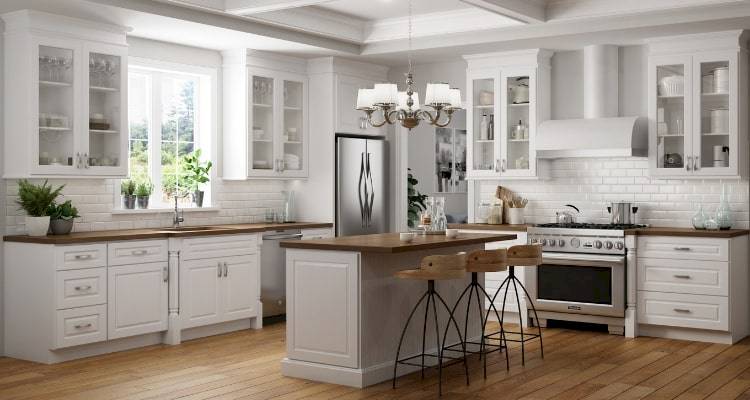 Average Cost to Replace Kitchen Cupboards
Depending on the complexity of the job, it usually takes: 2-3 days
£450
How Much Does It Cost to Replace Kitchen Cupboards?
The cost of replacing kitchen cupboard doors can vary substantially depending on the number you choose to have replaced.
To have a single kitchen cupboard replaced may cost just £90 to £200. Should you wish to have five cupboards replaced, expect to pay around £450 to £1000, and if you'd like to replace ten kitchen cupboards, it would set you back roughly £775 to £1875.
As shown as a rough average, it may cost between £1100 and £3000 if you need to have 15 kitchen cupboards replaced. In the case of having 20 kitchen cupboards replaced, expect a total bill of about £1530 to £3730.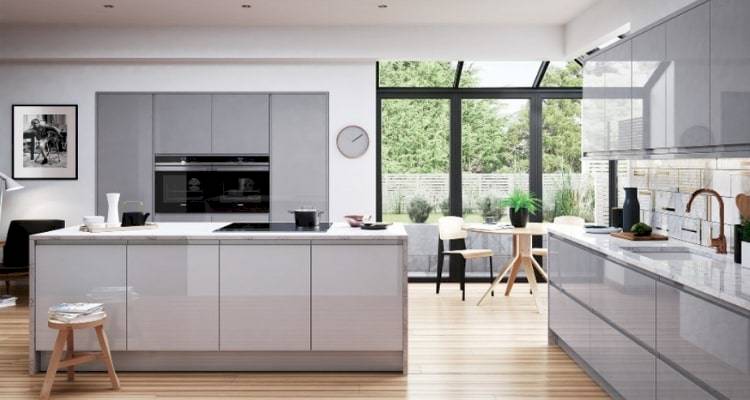 Other cost factors worth considering are the type of kitchen cupboards (i.e. the brand/quality), the size of the cupboards, the number of cupboards, the materials used, and the state of the installation area and ease of access.
The labour cost is also influenced by where you live as kitchen cupboard installers will charge different rates in different parts of the country.
The prices given refer to the cost of replacing entire cupboards which is substantially more than say if you simply need kitchen cupboards doors replacement work.
Kitchen Cupboard Prices
| No. of Cupboards | Labour Cost | Supply Costs | Total Cost |
| --- | --- | --- | --- |
| 1 | £50 | £40 to £150 | £90 to £200 |
| 5 | £250 | £200 to £750 | £450 to £1000 |
| 10 | £375 | £400 to £1500 | £775 to £1875 |
| 15 | £500 | £600 to £2250 | £1100 to £3000 |
| 20 | £730 | £800 to £3000 | £1530 to £3730 |
Supply Only Costs
Let's now take a closer look at just the supply costs. This applies if you are to replacing the cupboards yourself but still need to buy the cabinets. A single cabinet will cost about £40 to £150. However, the price can vary quite a lot.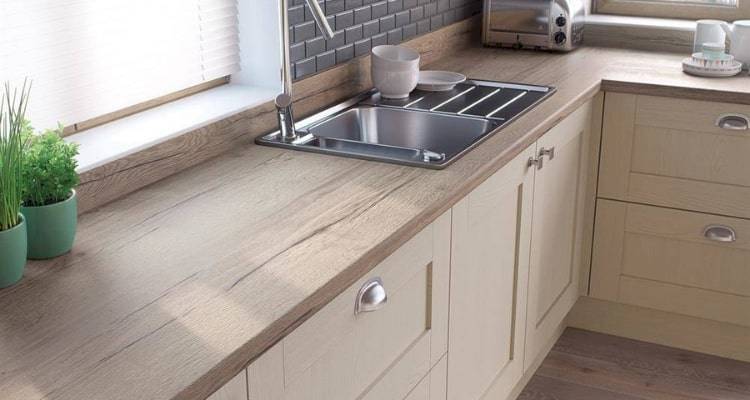 Most regular brand's cupboards cost between £100 and £200. There are plenty of higher-end and more expensive brands which will sell cupboards for several hundred pounds more than this price per unit.
Additional Costs
When having your kitchen cupboards replaced, there are several extra jobs you may wish to have undertaken at the same time. Let's take a look at some common examples.
Replace Kitchen Units
The focal point of a kitchen is often the kitchen units. However, there are many designs and colours available. For that reason, it is worth considering having a professional supply and fit the kitchen units for you.
An individual kitchen unit is not usually too expensive, but given that most kitchens need many, the total cost of replacing kitchen units often ends up around £3000 to £5000.
Most of the work will involve fitting the casings of the units. Most kitchen units have casings that are the same standard sizes. Assembling kitchen units is not a DIY job though fitting the casings certainly could be done by a DIY enthusiast if they have the right skills and experience. In most cases, however, you'll need to hire a kitchen fitter or joiner.
Replace Kitchen Worktops
It tends to cost about £600 to have kitchen countertops replaced. The main factor when it comes to pricing is the material used. Laminate worktops land in the lower end of price ranges. Solid wood is another relatively inexpensive option, but there are more costly materials such as quartz and ceramic.
The price can also vary depending on the thickness of the worktop and where you are located in the UK. The old work surface can be removed by unscrewing it from the cabinets and then prying it out of place.
It's important the cabinets are level before the new work surface should be cut to size unless it's custom made. A hole will need to be cut should a sink be part of the worktop. It is then time to lay the countertop over cabinets with the use of screws.
Raw edges can be covered with the help of edging strips before any excess may be sanded away. Lastly, a sealant should be used to tidy up the edge of the work area and around the sink (if applicable).
Labour Costs and Timescales
On average, a kitchen fitter/joiner charges about £27 per hour. This will be part of the overall cost, and with the job likely taking 2-3 days, you can expect an overall labour cost of about £500 to £730.
However, the labour cost can vary substantially depending on where you are located, and the hourly rate of £27 is a national average.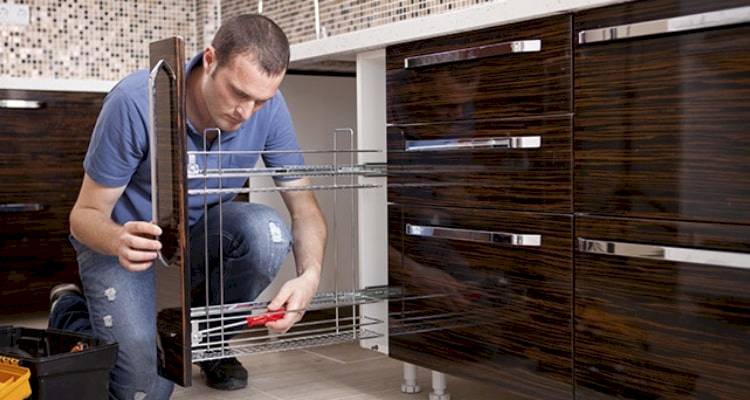 Replacing the old cabinets will be the quickest part of the job. This, along with the setup, will take a few hours but it could take a few days to install the new cabinets. The clean up should take an hour or so, depending on how large the work area is.
The labour cost may also be affected by ease of access, which we will also look at in the next section.
Cost Factors of Replacing Kitchen Cupboards
There are several notable price factors when it comes to having kitchen cupboards replaced. We'll now break down the replacing kitchen cupboards cost factors, in more detail.
Type of Kitchen Cupboards
One of the most important cost factors is the type of cupboard. Common materials are plywood, hardboard, MDF and veneered particle board. The types can also be broken down based on the brand and quality. Some of the best kitchen brands in the UK include Tom Howley, Smallbone of Devizes, Siematic, and Woodstock Kitchens.
Number of Cupboards
Whether it is 6, 10, 15 or more cupboards, the number is another instrumental factor in determining the cost of replacing kitchen cupboards.
Condition of the Cupboards
This can apply to the existing cupboards and those that are being added. As for the former, this is because you may find that you only have to replace X amount of cupboards unless of course, you wish to change the style of the kitchen entirely. You may prefer to have new high-quality cupboards fitted or second-hand units at a lower cost.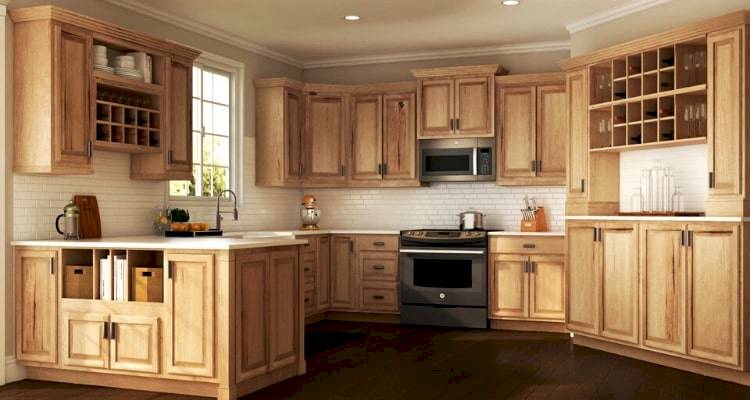 Location of Property
Kitchen fitters and joiners charge different rates in different parts of the UK. For instance, joiners charge about £16 per hour in Belfast, £22 an hour in Blackburn, £23 an hour in North Tyneside, and £24 an hour in Liverpool.
However, the hourly rate for a joiner is £32 in Bury and £37 an hour in London as well as in Windsor & Maidenhead. In general, rates are higher in the southeast of England and lower in the north of England, Scotland, and Northern Ireland.
Ease of Access
How accessible your kitchen is, and the work area is also important to consider. The easier a joiner can work in your kitchen, the quicker and cheaper the job should be.
What's involved in a Kitchen Cupboard Replacement?
1. Hiring a Contractor
Before any work can get underway, you'll need to find an appropriate contractor for the job unless you intend to perform the work as a DIY job. In order to do so, you should ask for several quotes from a range of joiners/companies before selecting one. You should also consider asking those you know if they have any good recommendations. We'll discuss how to find a good contractor in more detail in this article's final section.
Before hiring someone, you'll need to decide whether you are going to supply the cupboards yourself or if you'd like a professional to supply and fit the cupboards for you. If you choose to source the cupboards yourself, it's important that you put sufficient time and focus into finding the right replacement kitchen cupboard doors for you.
2. Replacing the Cupboards
First, the old cupboards will need to be removed one by one. Their positions may act as good markers or at least a guide to marking on the walls where the new cupboards will be placed although it will depend on the new cabinets' dimensions.
Next, the base cabinets should be level and positioned against the wall, measure the gap between the end of the cabinets and the wall and fill it in using a filler strip. Plumbing and electrical cutouts will be needed at this point to ensure a smooth installation.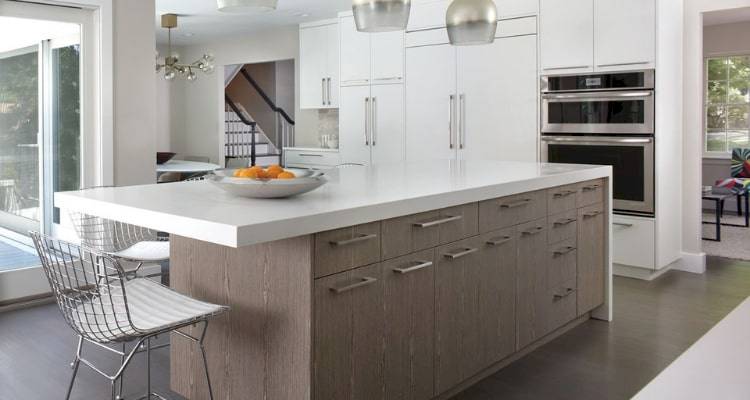 Then, the installer will need to fix the peninsula cabinets before the upper cabinets can be fitted. Lastly, it's time to install the doors and trim. The installation method may vary depending on the type of cupboards being installed.
3. Clean Up
Once everything is fitted, the last part of the process is the cleanup. This will see your or the joiner remove any waste, which may add about £40 to £80 to your expenses, such as if you were to hire a small skip.
Replacing Kitchen Cupboards DIY
If you choose to fit the kitchen cabinets by yourself, it's preferable that you have some previous DIY joinery experience. It's crucial that you know exactly what you're doing. It is extremely rare that this work will need to be signed off by a professional, although if electrics or plumbing is involved, this may be the case.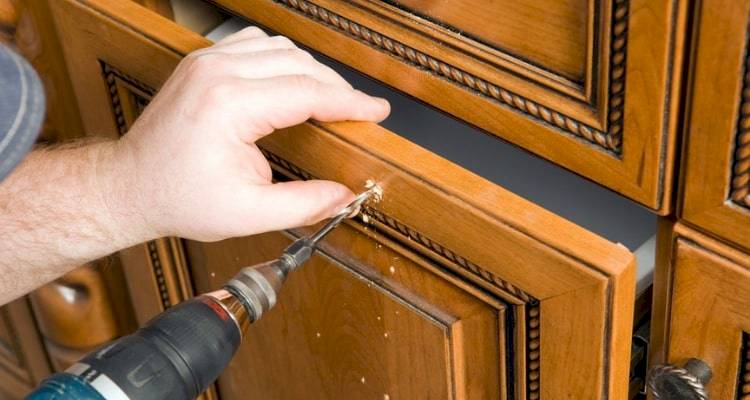 Moving a sink is an example of a scenario where building regulations would apply. Any electrical work would also need to be performed by a professional.
And even if you are simply working near electrics, you should turn off the power for that area of your home to remain on the safe side. Other possible hazards/dangers associated with this work relate to the tools being used and where you may be carrying heavy loads.
As with any DIY work, proceed with caution and take your time. There's always also the risk of performing the work incorrectly so ensure that you follow the manufacturer's guidance to a T.
Building Regulations & Planning Permission for Kitchen Cupboard Replacement
Thankfully, this is the type of work that is very unlikely to require any building regulations or planning permission approval. That is unless of course, it is part of a larger project such as if you are having your entire kitchen replaced/restyled.
For example, where windows are returned, a boiler is relocated, or a sink is being relocated, then you will need building regulations approval. Information related to building regulations for kitchen work may be found on the Planning Portal.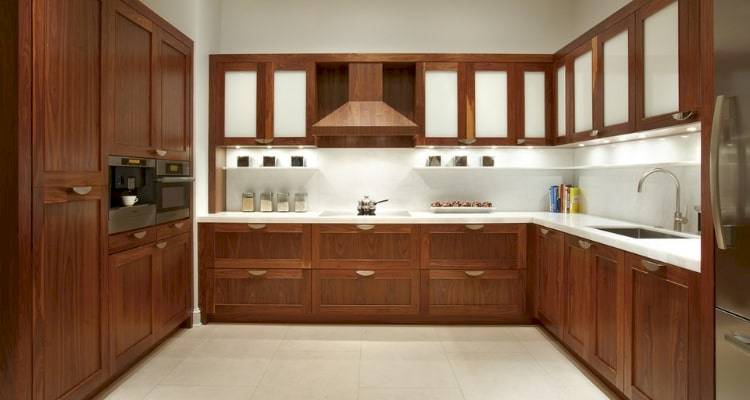 Planning permission rules vary to a certain extent in Scotland and Northern Ireland, in comparison with England and Wales. The same general rule applies to planning permission, so again, unless your kitchen cabinets are being replaced as part of bigger work, then you won't need any official approval.
On average it will take about eight weeks for your planning permission application to receive a response and the fees tend to land between £100 and £450.
Choosing Kitchen Cupboards
Let's now delve further into the various types of kitchen cupboards that are available.
Plywood Kitchen Cupboards Cost
Though perhaps not as popular as MDF cabinets, those made with plywood are inexpensive, very resistant to moisture and offer more stability than the former. Plywood boards are sandwiched together and held in place with an adhesive.
Added protection is achieved with a layer of wood veneer, laminate, or thermofoil coats. Plywood cabinets can be found for inexpensive prices though they cost more along the lines of £200 to £350 in most cases which is more than most MDF cupboards.
Pros
✔ Strong
✔ Moisture-resistant
✔ Stainable
✔ Holds screws firmly in place
Cons
✖ Not as easy to achieve a smooth cut with plywood as it is the case with MDF
✖ Requires a specific finishing (e.g. with iron-on edge banding)
✖ Cutting specific designs into a plywood surface is more challenging than with an MDF cupboard
MDF Kitchen Cupboards Cost
Cupboards made from this material benefit from its affordability, toughness and how easy it is to paint, seal, and install. MDF is made from recycled strands of wood. Many IKEA cabinets are made of MDF and supply these heavy and dense products on mass.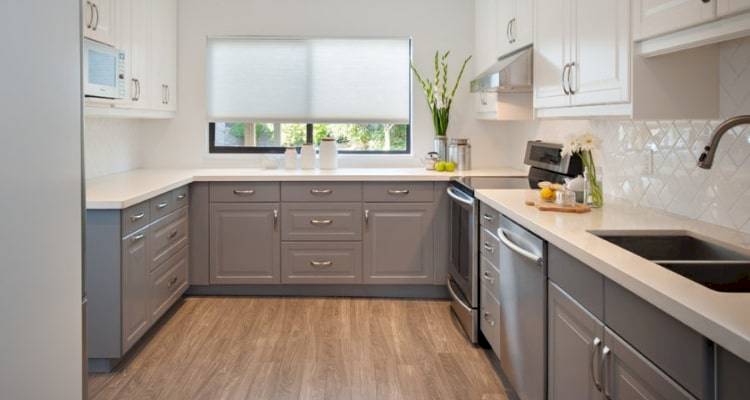 MDF cupboards are also smoother than those made from plywood. On the contrary, MDF cupboards are heavy, susceptible to damage caused by extreme heat and are not able to bear loads that are too great. They tend to cost between £100 and £350.
Pros
✔ Affordable
✔ Tough
✔ Easy to fit
✔ Smoother than plywood
Cons
✖ Heavy
✖ More prone to heat
✖ Not designed to support a lot of weight
Particle Board Kitchen Cupboards Cost
A lesser-known and perhaps the least commonly used type of kitchen cabinet is that made of particle board. This material is made by combining wood particles and chips. An adhesive is used to fuse them together into the panels. This option is not particularly popular, in part because it is not as sturdy as most options.
They are, however, cheap, lightweight and prelaminated. The latter point adds aesthetic value with the use of laminate or veneer to give an era flare to the surface. You may find some budget options made from particle boards. Most cost around £100.
Pros
✔ Inexpensive
✔ Lightweight
✔ Prelaminated
Cons
✖ Not particularly strong
✖ Prone to moisture damage
✖ Does not provide the same level as safety as most materials
Stainless Steel Kitchen Cupboards Cost
Another option worth considering is stainless steel. This option is mostly used in professional kitchens. Some homeowners may see it is a more aesthetically pleasing option, but it lacks the contemporary feel offered by wooden cupboards. In addition, scratches and fingerprints appear more easily on steel surfaces.
With that said, stainless steel cupboards are less prone to moisture damage and offer a lot more strength and durability. There are also some cupboards where most of the cabinets consist of steel, but the drawer fronts are made from timber. Stainless steel cupboards are generally expensive, with the average cost being £500 to £1000 per unit.
Pros
✔ Professional look
✔ Not as susceptible to moisture damage
✔ Strength
✔ Durability
Cons
✖ Lacks the contemporary aesthetic of timber cupboards
✖ More easily scratched
✖ Fingerprints appear more easily
Benefits of Replacing Kitchen Cupboards
There are many reasons why you may want to replace your kitchen cupboards, and though aesthetics are usually the main reason, there are several other advantages worth considering. Let's take a look at a range of benefits of replacing kitchen cabinets, in more detail.
Better Accessibility
Firstly, by choosing to have new kitchen cupboards installed, it gives you the chance to rethink the design and layout of your kitchen or at least install cupboards that will either better make use of the existing space or will simply use up less space (if you believe that you don't need cupboards as large as those already fitted).
More space to work with and walk through in a kitchen makes the room not just more useful, but it can give a kitchen a whole new lease of life.
Improved Home Aesthetic
The most obvious reason to have kitchen cupboards replaced is to change the look of the room. This can be achieved by installing cupboards with a different style, quality or/and brand.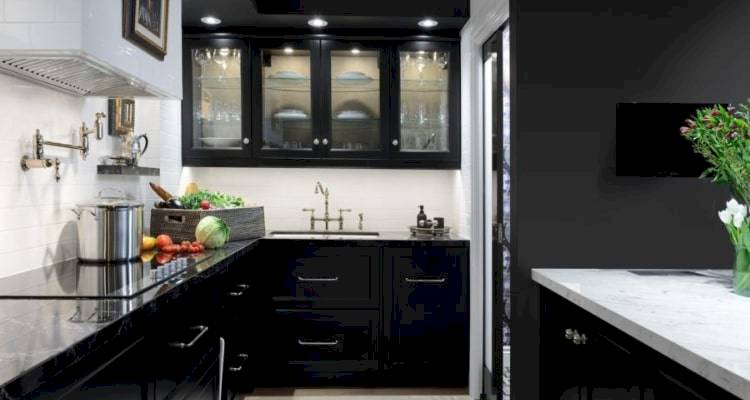 You may also find that some cupboards would suit your kitchen better than others and it may be the case that your current cupboards do not complement the rest of the room's fittings and features as well as another set of cabinets could.
Property Value Increase
Replacing existing cupboards with those of a higher quality can improve the room's aesthetics, which in turn may add value to your property. To what extent this will be the case will depend on how much of an improvement the new cupboards are.
Hiring Contractors to Replace Kitchen Cupboards Checklist
We'll now layout the points you should consider when hiring a kitchen fitter/joiner:
Firstly, ask yourself whether you are hiring a contractor with the right background and knowledge.
When hiring a labourer to replace kitchen cupboards for you, not only should you ask for a quote and whether they have plenty of experience but you should also request some positive references in relation to their previous work. That way, you know that they are familiar with this sort of work and have done it well.
Last but not least, you may also want to determine whether a contractor has accreditations and qualifications. However, this is not always necessary, and a joiner doesn't need to have specific qualifications to be a competent and experienced joiner. This is more relevant if, for instance, you are hiring an electrician or an asbestos specialist where qualifications are required.
FAQs
How do you fit kitchen cupboard hinges?
Though it will vary depending on the product/manufacturer, broadly speaking, you'll first need to drill the hinge hole on the cabinet door.

Then, add the mounting plate. The hinge may be attached to the mounting plate either using a slide-on or clip-on method. Screw the hinge in place and ensure that it is secure.
How do you clean kitchen cupboards?
There are several approaches that can be taken. One popular method involves the use of a solution that is half vinegar and half warm water. Pour this solution into a spray bottle before spraying it onto the cupboards.

Give it 1-2 minutes before wiping the cabinets clean using a soft cloth. If the cupboards are particularly dirty, you can always add a couple of drops of liquid dishwashing detergent to the solution.
How long do kitchen cupboards last?
Good quality cupboards should remain in acceptable condition for about 50 years.
What is the best kitchen cupboard material?
Though it will depend on what qualities, in particular, you are after, plywood is one of the best options available.
How long does it take to fit several kitchen cupboards?
It may take 2-3 days, although smaller jobs are possible in less than one working day.
Sources
https://www.choicecabinet.com/blog/pros-and-cons-of-particle-board-for-kitchen-cabinets/
https://georgehill-timber.co.uk/blog/mdf-vs-plywood-for-projects/
https://www.eurofitdirect.co.uk/pages/hinges-measuring-and-fitting-instructions-for-our-kitchen-hinges

Last updated by MyJobQuote on 20th April 2021.