Cost of Installing a Gas Cooker
Are you thinking of having a gas cooker installed in your home? Whether you plan to purchase one and have a professional fit it for you or you'd like to have someone supply and fit the gas cooker, we'll lay out a range of costs in the following guide.
This article also looks at relevant topics such as the steps involved in fitting a gas cooker and the types of gas cookers, including a list of their pros and cons.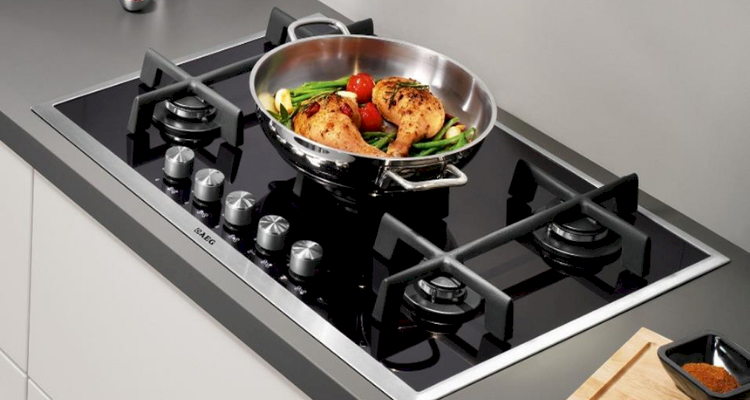 Average Cost to Install a Gas Cooker:
Depending on the complexity of the job, it usually takes:  1-2 hours
£1000
How Much Does It Cost to Fit a Gas Cooker?
The cost of fitting a gas cooker will depend on the size and type being installed. So, for instance, a 60cm gas cooker will cost about £300 to £780 to install. Expect to pay approximately £570 to £1330 for a 90cm gas cooker installation.
It costs roughly £770 to £1730 to install a 100cm gas cooker, and the gas cooker installation price is approximately £1370 to £2330 for a 110cm gas cooker. Depending on the size, installing an LPG gas cooker generally costs anywhere from £470 to £2130. As for natural gas cookers, the installation price generally ranges from £370 to £2530.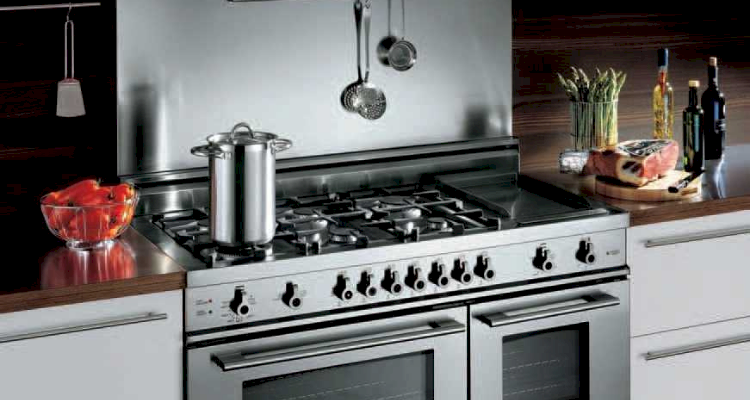 The gas cooker installation cost will also vary depending on the current heating supply (e.g. if the supply needs to be changed), installation area, and ease of access.
Where you live is another notable cost factor as gas installers charge different rates across the UK. The price will also vary whether it is a freestanding gas cooker or an inset gas cooker.
Gas Cooker Installation Prices
| Type/Width of Gas Cooker | Labour Costs | Supply Costs | Total Cost |
| --- | --- | --- | --- |
| Natural Gas Cooker | £70 to £130 | £300 to £2400 | £370 to £2530 |
| LPG Gas Cooker | £70 to £130 | £400 to £2000 | £470 to £2130 |
| 60cm Gas Cooker | £70 to £130 | £230 to £650 | £300 to £780 |
| 90cm Gas Cooker | £70 to £130 | £500 to £1200 | £570 to £1330 |
| 100cm Gas Cooker | £70 to £130 | £700 to £1600 | £770 to £1730 |
| 110cm Gas Cooker | £70 to £130 | £1300 to £2200 | £1370 to £2330 |
Supply Only Costs
We will not take a closer look at the price of buying a gas cooker. This is the cost of purchasing the actual cooker unit, excluding any labour/installation costs. A 60cm gas cooker generally costs about £230 to £650.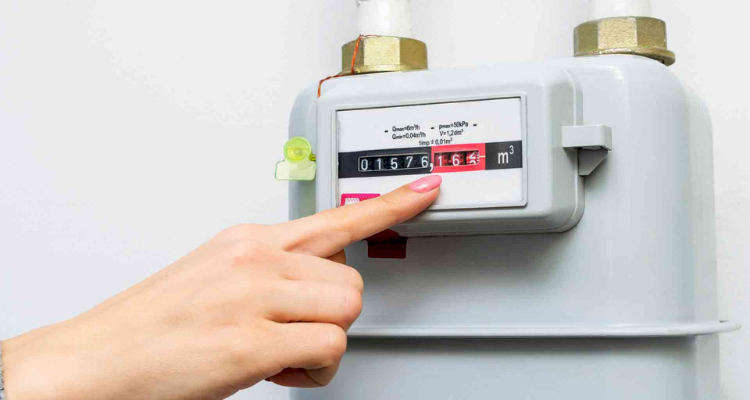 To buy a 90cm gas cooker would cost you approximately £500 to £1200. Expect the price of a 100cm gas cooker to be around £700 to £1600 and a 110cm gas cooker costs about £1300 to £2200.
LPG gas cookers usually cost between £400 and £2000 although it will depend on the width. A similarly wide price range applies to natural gas cookers, with the cost varying between £300 and £2400.
Additional Costs
When having a gas cooker fitted, there are several extra jobs that you might like to have undertaken at the same time. In this section, we'll break down some common examples.
Cost of Running Gas to a Property
The average cost of running a gas supply to a property is £650. In total, this work generally takes somewhere in the range of 8-12 weeks. A simple connection will fall in the lower end of this timescale, but a complex connection that is over 23 metres from the supply could take over two and a half months.
Usually, this type of work is needed if you are switching to gas heating from another energy supply. On the other hand, it may be required for homeowners moving into a new property which lacks a mains connection or in the case of a new property build.
Regardless of the reason, this can be time-consuming and costly work. However, gas heating is often more cost-effective than using electricity. In essence, gas heating can be seen as a positive long-term investment.
You'll need to hire specialists to undertake this job and connect to the gas grid (assuming that you haven't done so already) via a Gas Distribution Network or GDN company. These regional companies manage gas distribution to properties.
You can also hire a smaller company in the form of an Independent Gas Transporter for some aspects of the job. By taking a smart approach to the work in terms of who you hire, you can keep your bills down.
It's also important that you get several quotes before deciding on companies to do the work for you. You cannot connect a gas supply by yourself.
Moving Gas Meters
On average, it will set you back about £1000 to have a gas meter re-positioned. It may cost as little as £550 or as much as £1250 or more, depending on the complexity of the work. You can expect professionals to spend 4-6 weeks on this job.
If significant building work is being undertaken or you are having real difficulties reading your gas meters, you'll need to hire professionals to move them. This work cannot be done DIY. Only trained and experienced professionals may move a meter, whether gas or electric.
If you only need the meters to be moved by less than a metre, your gas supplier will be able to do so. However, if it needs to be moved further than that, you'll have to contact your gas transporter to arrange fresh pipework.
Again, you should secure at least three quotes before deciding on a company.
Labour Costs and Timescales
Most labourers will charge approximately £70 to £130 to install a gas cooker. This is usually a small part of the overall cost. On average, the labour cost will make up somewhere in the range of 6-25% of the total bill.
On average, gas engineers charge about £42 per hour although the rates can vary substantially depending on where you live. The national range is approximately £30 to £100 an hour.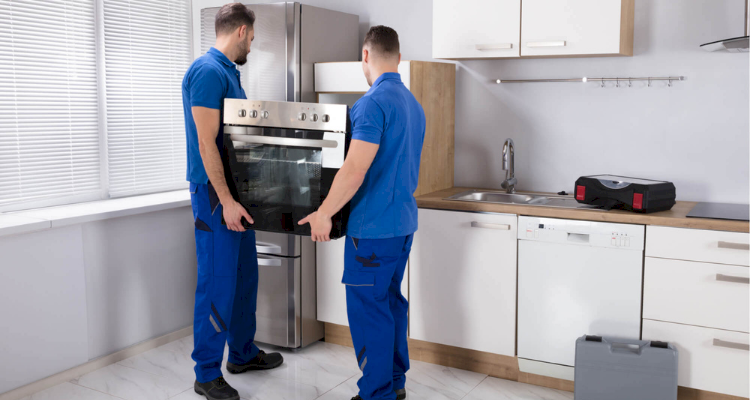 As for the timescales, preparing the work area should only take a few minutes. It should take less than half an hour to remove the existing cooker, and the actual installation will likely last for half an hour to 90 minutes.
The labour cost and timescale will depend on the state of the installation area and ease of access as well as what the current heating supply is. Certain gas cookers may also be more complex to fit than others.
Fitting a Gas Cooker
In this section, we'll discuss the cost factors of this work in more detail.
Type of Gas Cooker
First and foremost, whether you choose a natural gas cooker or LPG gas cooker could prove a notable factor in the overall cost. However, the price range of both mostly overlaps.
To fit the former would cost about £470 to £2130, and the latter begins at a lower price estimate of £370 but ends up at a higher-end price of £2530.
Size of Gas Cooker
The biggest factor would be the size of the gas cooker. For example, you may pay as little as £230 for a 60cm gas cooker but as much as £2200 to buy a 110cm gas cooker.
Quality/Brand of Gas Cooker
Some gas cookers are available for less than £100 while others can cost up to £5000 or more based on quality and brand. Most gas cookers, however, will cost less than £2000.
Current Heating Supply
If your current heating supply is electric, then additional time and work will be needed. As a result, the labour cost would end up higher than it would otherwise.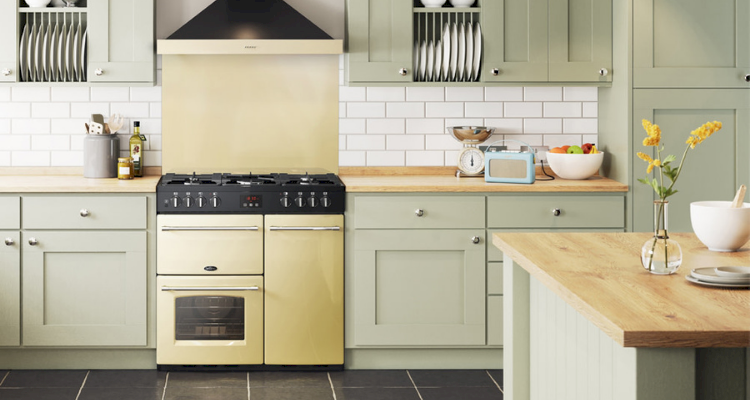 Additional Gas Work
Extra work may be required, such as if you need to have your gas meters moved or a gas supply needs to be hooked up to your property. Additional gas work could set you back several hundred pounds or even more than £1000 depending on the extent and complexity of the work required.
Location of Property
As mentioned, where you live is an important cost factor since heating engineers charge different amounts in different parts of the nation. On the one hand, you'll find relatively low rates in places like East Devon, with an average rate of £33 an hour.
The hourly rate in Sheffield is £35. Mid-range regions include Canterbury where hourly rates land about £43 or Norwich, where the same average labour cost applies. However, in London, contractors usually charge about £56 an hour, and in Gloucester, the average rate is £72 per hour.
Ease of Access
How accessible the work area is could also play a role in determining the cost. The easier it is for the contractor to install the gas cooker, the shorter the work will be, and the lower the labour cost may be.
What's Involved in a Gas Cooker Installation?
1. Purchasing the Gas Cooker
To begin with, you'll need to consider whether you want to buy a gas cooker and have a heating engineer fit it for you or if you want to hire a company to supply and fit the cooker. Either way, it's important that you get the right gas cooker for you.
If making a purchase, you'll need to consider what your budget is, whether you'd prefer an LPG or natural gas cooker and what width the gas cooker should have.
It's worth taking a look at some reviews online and scrolling through the various gas cookers that are provided by a range of suppliers/stores. As a starting point, you could Google 'buy gas cooker near me'.
2. Hiring a Heating Engineer
You'll then need to find an appropriate company to fix the gas cooker into place since this is not a DIY job.
It's important that the person performing the work is a gas safe heating engineer. You should acquire three quotes before deciding on one company in particular.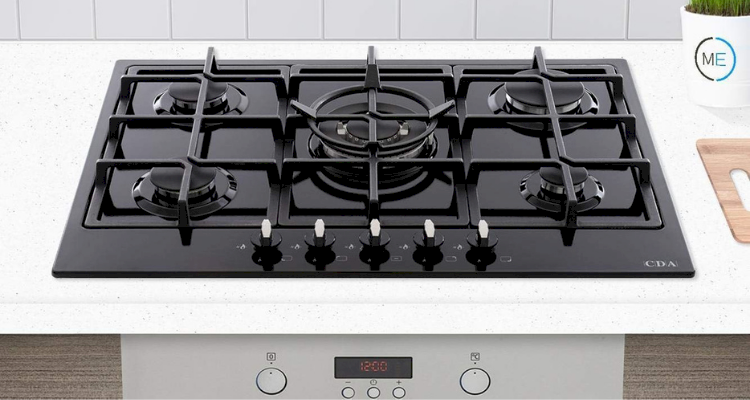 Alternatively, you could ask someone you know if they have any good recommendations. Look for a company that provides labourers with plenty of experience and ideally, some positive references too.
3. Installing the Gas Cooker
The first part of fitting the new gas cooker is to disconnect and remove the existing cooker. If you have a gas cooker, then the labourer will shut off the gas valve, unplug the lines and the cooker.
Teflon tape will then be used to wrap the pipe joint. The tape should be wrapped clockwise. This is in order to keep the risk of a gas leak to a minimum, specifically when the gas cooker is plugged out.
Next, they will take away the connector fitting and wrap the unbeveled end using teflon tape. This side of the connector can then be screwed onto the gas line. It's essential that the removable end fittings are used to avoid a gas leak. After this, the street elbow can be connected into the gas port.
The other end of the connector must be connected into the street elbow. Then the nuts may be tightened onto the end connector fittings.
The professional will then test for leaks before installing the new gas cooker. Assuming no leaks are found, they will fit it in the original nooks. The contractor will then test the settings, fittings, connectors and may perform another check for any leaks.
At this point, they can reconnect the gas valve and plug the lines in before plugging in the gas cooker. They will then check that it's working correctly and safely before cleaning up the area. The method of installation may vary depending on the size, type, and brand of gas cooker.
Can I Install a Gas Cooker?
In most cases, a homeowner will not be able to fit a gas cooker by themselves. You must be competent under the law in order to perform this type of gas work. By the legal definition, most DIY enthusiasts will not be considered skilled or/and knowledgeable enough to fit a gas cooker.
Also, if you do not have a gas safe engineers safety certificate, then it's very unlikely that your home insurance would cover this work.
Even in the rare event where you are allowed to perform this work, you'll need official permission, and a building control officer must sign it off. Further, a professional heating engineer would also need to test your gas cooker after it is installed for safety reasons.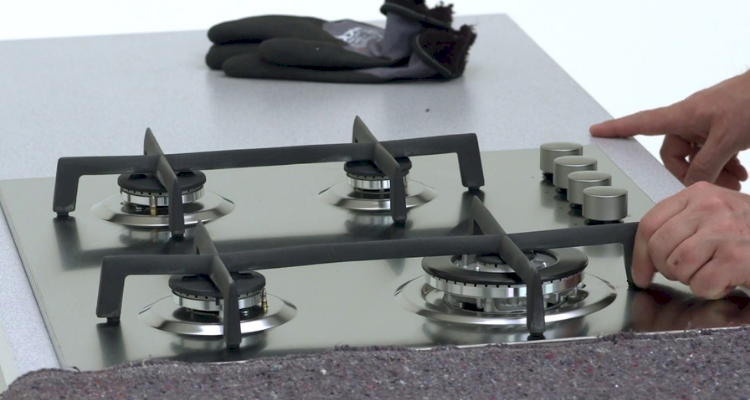 All in all, it's much safer, more straightforward and often legally required that you hire a certified company to install a gas cooker.
There are many risks when dealing with gas. For one, carbon monoxide and other gases could be released during the work or after as a result of a gas leak. Gas leaks, in general, can be very serious and even lethal.
In some cases, they can lead to explosions. Of course, at best, an improperly installed gas cooker may just fail to work, and that will mean time and energy wasted on a DIY job that a professional would perform in two hours or less. Though, it is the safety risks that are most concerning.
Building Regulations & Planning Permission for a Gas Cooker Installation
The building regulations for combustion appliances and fuel storage are covered by Approved Document J. Some of the regulations that apply specifically to gas cookers are related to ventilation and minimum performance designations. You also need to consider the gas cooker installation clearance regulations.
The work may be signed off by an appropriate heating engineer. More information is available on the Planning Portal. Building regulation fees can land anywhere from £100 to £500.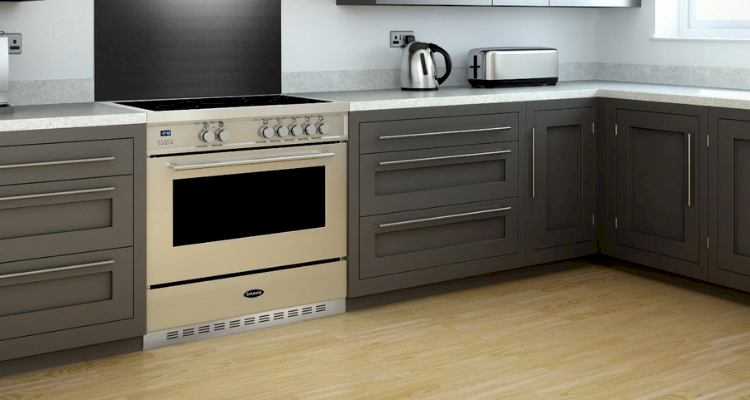 As for planning permission, a gas cooker will generally not require special approval. However, if additional work is taking place, such as the installation of a gas fuel tank, then planning approval may be required. A planning permission application may cost between £100 and £450.
Applications are usually processed, and a response is given after eight weeks. The rules of Planning Portal cover England Wales, therefore regulations may vary in Scotland and Northern Ireland.
Benefits of Fitting a Gas Cooker
We'll now take a closer look at the various advantages of installing a gas cooker.
Cheaper to Run
A gas cooker's main benefit is that the fuel cost is significantly lower than an electric cooker. Electricity costs roughly 16.3p per kWh, which is almost treble the cost of LPG and more than four times dearer than natural gas.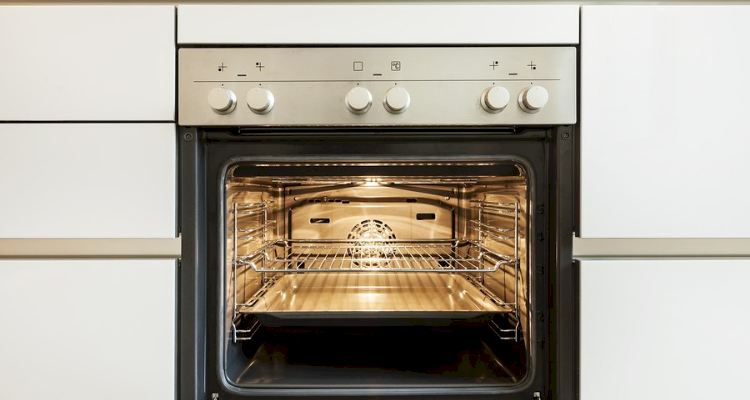 The only viable competition for gas as a cheap fuel is oil with a slightly cheaper average cost of 3.2p per kWh. Of course, oil cookers are not particularly common this day in age and may not be well suited to most modern homes.
Easy to Control
Many homeowners prefer the simplicity and manual nature of gas cookers. Though electric digital cookers have their own advantages, some prefer the ease of control and arguably more intuitive design of gas cookers.
Hiring Contractors to Fit a Gas Cooker Checklist
These are the points you'll have to tick off when sourcing the right person for the job:
Experience - Of course, you'll want to hire a company with a decent history behind them and a good background. That way, you can have confidence that the contractor you hire will be an experienced professional.
References - As well as asking for a quote, you should obtain some positive references when choosing the right company for you.
Accreditation and Qualifications - A competent (by the legal definition) and appropriate professional should be hired. You could also inquire about accreditations and qualifications if you'd like. It's important they are certified as a gas safe heating engineer.
FAQs
How do you disconnect a gas cooker?
This should only be done by a competent person. To disconnect a gas cooker, the oven must be moved away from the wall gradually. This will unveil the brass.

The hose connector should be pushed down and twisted to the left using an unscrewing motion. This is in order to disconnect it from the bayonet fitting.

The safety chain will be present to avoid the oven moving too far from the wall. Anyone removing a gas cooker should be conscious of this. Extra caution must be taken to ensure that there are no leaks.
How do you cup a gas cooker?
Replacing a burner cap should only be performed by a competent person. It will vary depending on the cooker, but in general, the initial steps of cupping a gas cooker involve removing the plug from the main socket, locating the burner control knobs, and removing the control knob from the gas tap.

The latter is achieved by gripping the control knob and pulling it in your direction. Repeat this step for each of the burner control knobs.

Next, remove the dashboard retaining screws before removing the dashboard. Remove the wires and then remove all of the burner cups. Take away each of their bases too before removing the burner cup retaining screws.

Then remove the hob top retaining screws. Lift up and disconnect the hob top. Find the burner cup that you wish to replace.

Release the ignition electrode clip and then the ignition electrode itself from the burner cup. Make a mark on the top of the gas tube that reaches the burner cup. Remove the retaining nut with a spanner. Release the burner cup from the gas tube. Prepare the new burner cup. Add the new cup to the gas tube. Screw the retaining nut into place.

The pencil mark should be central to the burner cup before it can be tightened into position. Refit the ignition electrode and then the ignition electrode clip.

Put the hob top back into place before replacing the hob top retaining screws, burner cup retaining screws, burner base for each burner, burner cap for each burner and the wires for the ignition switch. Put the dashboard and dashboard retaining screws back into place. Tighten the screws. Place the control knobs back onto the gas taps.

After following these steps, you've now replaced the gas burner cup. However, the specific manufacturer instructions should be followed.
How much is an extractor fan replacement?
Replacing an extractor fan can range in price depending on the size of the bathroom and whether other jobs need to be done. Costs of a standard replacement are usually between £150-£200 and can take 2-4 hours for a quick fix.

In contrast, a brand-new installation is slightly higher at £250-£300, taking around 4-8 hours, both including labour and installation costs.
How long do gas cookers last?
On average, 13-15 years.
What type of gas cooker is cheaper to run?
Natural gas is almost half the price of LPG, making natural gas cookers the most affordable to run.
How long does it take to fit a gas cooker?
In most cases, 1-2 hours.
Sources
https://www.gassaferegister.co.uk/help-and-advice/gas-safety-certificates-records/building-regulations-certificate/
https://www.planningportal.co.uk/info/200135/approved_documents/72/part_j_-_combustion_appliances_and_fuel_storage_systems
https://www.logic4training.co.uk/blog/gas-courses/notifications-for-gas-installers/
https://www.maggiesovenservices.co.uk/blog/how-do-you-disconnect-a-gas-cooker-single-handedly/
https://www.yourspares.co.uk/advice/how-to-change-a-gas-burner-cup-on-a-cooker-indesit-k341g.aspx

Last updated by MyJobQuote on 20th April 2021.