Kitchen Unit Replacement Costs
Want to know how much it costs to replace your kitchen units? In this article we breakdown the prices for new kitchen units of different materials and styles for small, medium and large kitchens.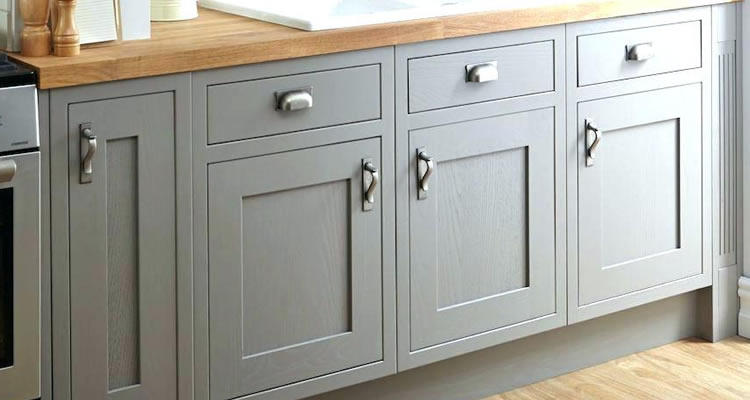 Average cost of this project is around
This project typically takes around five days to complete
£4000
How Much for New Kitchen Units?
Kitchen units are often the focal point of your kitchen but with so many designs to choose from it can be a little overwhelming finding the right units for your kitchen. Kitchen units make up the bulk of the kitchen and although each unit is not particularly expensive, there are so many of them in the average kitchen that the cost, when added up, can be substantial. The doors, drawers, fixings and facings can easily be changed to update the look of a kitchen.
But the bulk of the work and the cost is in the actual casings or carcasses of the kitchen units. Most kitchen units have carcasses or casings which are the same standard sizes.
Building kitchen units is way beyond the scope of the average DIY enthusiast, but fitting the casings can be done as a DIY project by those with some joinery skills and experience. However, the vast majority of those installing new kitchen units will require the services of a local joiner or kitchen fitter. When it comes to prices for fitting kitchen units it is also best to shop around.
The company supplying the actual units may well offer a fitting service, but do not simply accept their price, always get at least three quotations for any major projects. Finding local tradesmen to offer quotations is quick and easy using the free service provided on this website. Simply post the details of the job you need doing along with contact details, then sit back and let up to 3 local contractors get in touch to provide written quotations.
Kitchen Unit Prices
| Job Description | Duration | Material Cost | Labour Cost |
| --- | --- | --- | --- |
| New kitchen units supply an fit casings only small size kitchen | 3 days | £2000 | £1200 |
| New kitchen units supply an fit casings only average size kitchen | 4 days | £2500 | £1500 |
| New kitchen units supply an fit casings only average size kitchen | 5 days | £3000 | £2000 |
Things to consider with kitchen unit casings
When planning a new kitchen, if possible try and keep all the appliances in their original positions if possible. Moving appliances generally means wiring work which requires an electrician and can add up to £1000 to the final cost.
Just getting the casings fitted and using the old worktops can save a fortune, especially if you have marble or granite worktop which can cost upwards of £2500. The more straight-forward a project is, the cheaper it will usually be. For example, standard wall units are not as expensive as special rounded corner cabinets or cabinets with a glass inlay.
You should expect to pay around £4,000 for a range of good quality kitchen units to for an average sized kitchen, but choosing non-standard cabinets to make the best use of every available space can easily double this cost, so be careful when planning to avoid costs spiralling out of control.
Don't forget the flooring when working out the cost of the project, even if you want to keep the existing flooring, the removal of the old units will likely damage the flooring anyway so better to include new flooring into the budget! Luckily there are many fairly cheap flooring options which still look great, such as laminate or vinyl products which are very realistic nowadays and can do a decent job of emulating much more expensive real wood or stone tiles extremely well.
Doing it Yourself
A bit of DIY can often be a good way to save money, but fitting new kitchen units is probably a bit ambitious for most DIY enthusiasts. However, taking out the old kitchen units and removing any waste yourself can not just save you money, you could even potentially make money by selling your old cupboards! But there are areas in which you should not ever try and save money by using your DIY skills: the gas and electrics!
Don't touch gas appliances without a professional and don't remove or replace and hard-wired electrical appliances either. So you can save by removing old units and doing waste disposal yourself, but you will probably still need to pay someone to manufacture the cabinets and install them, plus you will need specialists for any gas or electrical work required.
Kitchen units checklist
Kitchen cabinets make up the bulk of any kitchen overhaul
Removing the old cabinets yourself is a great money saver
Avoid moving appliances when designing new kitchen to save on electrician and gas engineer costs
Always assume new flooring will be required when replacing kitchen cabinets
FAQ's
Why buy new made to measure kitchen units?
The kitchen is often the heart of the home where many of us spend the most quality time with our families, so if there is any room which is really worth spending money on, it's the kitchen! You can design your kitchen around the shape and your requirements so that no area is wasted and create as much storage and worktop space as you need.
Which kitchen unit materials are the most durable?
In reality, the type of material used does not really affect how strong or sturdy the kitchen unit is. Almost all kitchen carcasses are made from chipboard, with various finishes used on top to create the desired look and style. They are all very durable as log as you do not buy very cheap and thin casings.
What's the best thickness for durable kitchen units?
Kitchen units vary in thickness from around 12mm to 18mm thick. You will find that 15mm and 18mm thicknesses are considered good quality for kitchen cupboards, with most expensive kitchen cabinets being the more rigid 18mm option. 15mm thickness is perfectly fine but the extra 3mm will offer a bit of a buffer, ensuring that your kitchen units stay in good shape for years to come no matter what you throw at them.
Will I need new flooring if replacing kitchen cabinets?
Yes probably! It may be possible in some cases to remove old kitchen units without damaging the floor, or at least not damaging the floor visibly. But oftentimes the existing floor will be damaged so always assume you will need to buy new flooring.
Should I fit my new cabinets DIY to save money?
Not unless you are a skilled DIY enthusiast with lots of joinery experience! This should only be carried out by experienced fitters as kitchen units are expensive and even quality units will look awful if not fixed correctly.
Last updated by MyJobQuote on 6th May 2020.