Plastering a Ceiling Cost
Trying to find out how much it costs to plaster and skim a ceiling? In this article we look at the plastering prices for ceilings of different height, size and condition.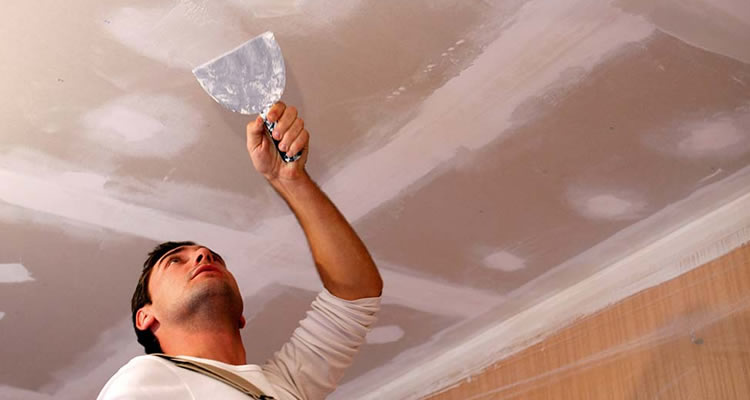 Average cost of plastering a ceiling
This type of job normally takes 1 day to complete
£300
How Much to Plaster a Ceiling?
Obviously, if the plaster on your ceiling is all cracked and falling down on your head, you know it's time to re-plaster, but it doesn't always have to be that obvious! If your ceilings are looking a bit tired and painting never seems to make much difference, then it's probably time to consider having the plaster renewed to provide a fresh and smooth new canvas on which to base your decorating efforts. But don't be tempted to try and do it yourself just because you have seen a plasterer do it and it looked easy - plastering is one of the few trades where it really pays off to get a professional to do the work for you every time!
Getting a perfect finish requires a deep level of knowledge and skill, plus the use of specialised tools and equipment. A DIY job may initially look OK, but it sometimes will take a while for the problems to come to light, of course, other times it will look a complete disaster immediately! In almost all cases DIY plastering attempts result in costs higher than it would have cost to simply hire a plasterer in the first place! But you do need to do your research to find the best plasterer available for the job.
If you use the handy free service on MyJobQuote.co.uk, you can quickly enter your details and have up to three local plasterers getting in touch to provide quotes. you can then check the profiles of these plasterers on the same website to soo how previous customers have rated them for peace of mind before you hire anybody.
Ceiling Plastering Prices
| Job Description | Duration | Material Cost | Labour Cost |
| --- | --- | --- | --- |
| Small bedroom ceiling which has to come down and room has to be cleared then plastered | 1.5 days | £75 | £375 |
| Average living room where plasterboard is being fitted to the underside of the existing ceiling | 1 day | £50 | £250 |
| large room with plasterboard already fitted just needing scrim out and plaster | 0.5 days | £50 | £150 |
Plastering - things to consider
The first thing to consider when thinking about plastering is never to try and do it yourself! It's a highly-skilled trade with its own tools and techniques, some never really get the knack for it no matter how much they practice. So, unless you are a very gifted, you won't be any good at plastering unless you are an experienced plasterer! Poor plasterwork can easily end up costing you a lot more to fix than swallowing your pride and just hiring a professional in the first place. The best plasterers will come highly recommended and will often be fully booked for weeks ahead. So don't delay when it comes to looking for a plasterer as you may have to wait weeks or even months tog et the good ones!
Some plastering companies may give you a rough estimate on the telephone based on your description of the ceiling condition and the size, but it would be unusual for them to give you a fixed quote without seeing the job in person. Good plasterers will want to check out the ceiling before they give you a proper quote. As with hiring any trades, it is always a good idea to get three quotes to compare for any plastering job. You should also ensure that your prospective plasterers have adequate insurance and check with their previous customers for reviews of their work.
Before any work commences, you should be clear about the work that is included in the price along with the likely completion time and when payment will be made. The size and nature of the work will determine whether you need to pay any deposit. For a single ceiling, it is doubtful any plasterer will ask for a deposit, certainly do not pay more than 25% of the total cost upfront. You can withhold the final payment if things aren't done to your satisfaction.
How to Plaster a Ceiling
If you have the skills to get it right, then doing your own skim plastering can save you a fortune. But very few have the skills required to get a professional looking finish, plus when you get it wrong, it can cost even more to put it right (the plasterer will likely have to strip off the mess you have made and start again). If you are a particularly handy person and think you may be able to do it, it may be worth buying a sheet of plasterboard and practising for a few hours just to see if you will be able to do it (a sheet of plasterboard and some top coat plaster will only cost you around £20 so it's a good investment!
The main thing that catches out most DIY enthusiasts is just how quickly skim plaster goes hard, skimming is as much about timing as anything else going for a polished finish too late, or too quickly, can result in a terrible mess. Once skim has gone hard you cannot work with it anymore, the only option is to smooth it is by sanding, which will take forever and is incredibly tiring working with your arms overhead! But it is the mixing of the skim plaster where it all goes wrong for many new to plastering. The plaster has to be mixed to a thick, sloppy consistency with no lumps. Always add dry plaster to water and mix, never add water to the powder.
Plastering Checklist
Professional plasterers are expert tradespeople
Avoid trying to do it yourself unless you have had tons of practice
Even if you are an accomplished DIY enthusiast, a professional will do the job faster and to a higher quality finish
Most plasterers will quote by the number of square metres that will require covering
FAQ's
How can you tell if a wall needs plastering?
Plaster dries like cement to give a solid surface but the top layer is only about 5mm thick. Over time through disturbance, the only thing holding the wall surface together is this very very thin layer of plaster, which is why you eventually start to get cracks. If you knock on the wall and it sounds hollow, you need to replace it. Obviously, if it's falling down on your head that's another good sign it needs to be replaced!
Do I need to remove the carpets before the plaster starts work?
No, the plasterer will use floor coverings to protect the carpets before work commences. Though he will expect you to clear the furniture out of the way unless otherwise agreed.

How should I pay the plasterer?
Never pay tradesmen in full up front! For larger jobs, the plasterer might ask for a small deposit before work begins. But never pay more than 20% upfront and only pay the balance once the job is finished and you've inspected the work and are happy with it. It's a good idea to always ensure payment terms are put down in writing as part of the quote.

How long do I need to wait for plaster to dry out before decorating?
It really depends on the conditions, but normally about 3 days, though it's a good idea to leave it a little longer if possible.
When removing old wallpaper I noticed the walls are cracked and some patches of plaster were coming off, does it need re-plastering?
Not necessarily, it would depend on the level of damage, if just a few small surface patches then they could just be filled with a suitable filler before applying new wallpaper. But to achieve a smooth finish if the walls are just to be painted, then plastering is the best option.
Can I plaster over old Artex?
Yes, but requires more applications of plaster to achieve a smooth finish.
Last updated by MyJobQuote on 1st May 2020.