Cost of Installing a Sun Tunnel
A guide on installing a sun tunnel in your home, including costs of material and labour..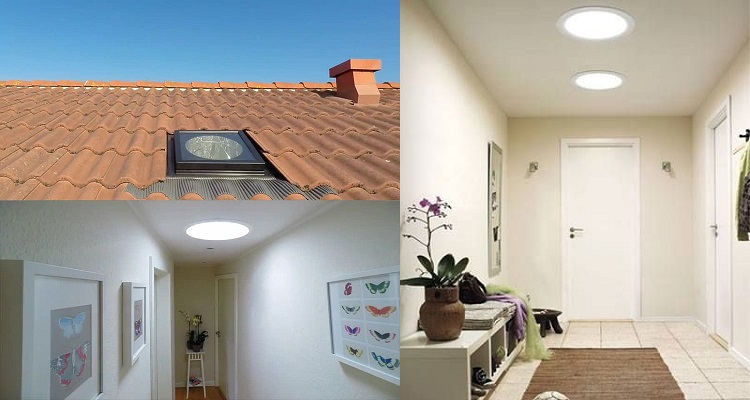 Average Cost of Installing a Sun Tunnel
This job shouldn't take longer than a day
£550
A sun tunnel is an innovative yet cost-effective way of allowing and promoting natural light in your home. Designed especially for those areas of the house that can't reap the benefits of natural sunlight. A sun tunnel works by channelling natural sunlight through a tube from your roof down to your ceiling, using reflective materials, and diffuser at the end to disperse the light covering as much of the room as possible.

Getting enough natural sunlight in your home can be a tricky task, especially for those of us with smaller homes and windows, or live in terraced houses, where opportunities for getting enough sunlight are scarce. Getting enough natural light in your home will bring a host of benefits with it, such as health and well-being. Getting enough natural sunlight throughout the day is important for your health, and a naturally lit home can also lift up your spirits and make it a place you want to spend time in. Natural daylight can make all the difference in darker homes and will add a lot of energy. You will notice the difference between the sun tunnel and your light fixtures or a lamp. Speaking of which, you could see a difference in your energy bills. By installing a sun tunnel, you are less inclined to turn on lights during daytime hours.

Now a sun tunnel may be something you have never thought of before or even heard of, That's why we aim to give you as much information as possible in this guide. Your main concerns are going to be what is right for you and your home, and obviously the costs, including that of the sun tunnel itself and any additional materials, and the cost of hiring a specialist to come and install it.

Cost of Installing a Sun Tunnel
| Job Description | Duration | Material Cost | Labour Cost |
| --- | --- | --- | --- |
| VELUX 10″ Rigid Sun Tunnel Pitched Roof | 1 Day | £220 | £300 |
| VELUX 14″ Rigid Sun Tunnel Flat Roof | 1 Day | £340 | £375 |
| VELUX 14″ Flexible Sun Tunnel Flat Roof | 1 Day | £290 | £325 |
Things to Consider When Installing a Sun Tunnel
A sun tunnel is basically reflective tubing that runs from your roof, down to your ceiling. This reflective tubing channels sunlight, which enters via a panel in your roof, and disperses into your home via a diffuser. This is where the first consideration should come in – which room do you want the sun tunnel directed to? Of course, there is nothing stopping you from getting one for every room, however, if the budget is tight, you don't want to waste the money on a room that already has plenty of natural light. So be sure to study which parts of your home that are definitely not getting as much as light as you would like.
You will also need to be aware that there a few different styles and variations of sun tunnel to choose from. First of all, is the type of tunnel you want, or will need – you have the choice of a rigid or flexible tunnel. A rigid sun tunnel is a straight tube running from the roof straight through the loft and down to the ceiling. Because the light travels in a single motion, you will gain the most light to your room with this option. A flexible tunnel will be used to navigate or angle around objects in your loft space in order to reach the ceiling from the roof. Because of the angling of the tunnel, this reduces the amount of light that enters the room. This is best for shorter distances, so to reduce the number of angles and to keep as much of the natural light as possible.
You may also need to decide on the type of panel for the outer roof you want, you can choose from either a dome panel or flat panel. A dome panel will be much more effective at capturing the light, as light actually refracts once it hits a clear dome, meaning much more natural light will be dispersed into the room. A flat panel is probably a bit more aesthetically pleasing, depending on your tastes, however, a flat surface will reflect the light rather than capturing it. Meaning you won't get the full benefit. The diameter of the tube will also be important for light distribution, consider 10 inches for smaller rooms or hallways and up 14 inches for larger rooms such as a living room or kitchen.
For this job, we would recommend hiring a specialist, more specifically a roofer or someone with the relevant experience in roofing. This isn't a job we would recommend for even experienced DIY enthusiasts. Your hired specialist must be knowledgeable and experienced in fitting fixtures to roofing, especially when sealing up the fixture to ensure there are no signs for potential leakage in the future. Ensure you get the right person for the job at the right cost, enter your details on myjobquote and receive quotes from three tradesmen in your local area.
Can You Install a Sun Tunnel Yourself?
Unfortunately, this job is not something we would recommend taking on yourself as a DIY project. Unless you have the appropriate roofing experience, taking on this job will likely leave you with more costs than you had originally planned. The part of the job that includes removing roof tiling, attaching the panel and sealing it up, is a tricky task even for most experienced roofing experts. As well as the potential damage to the roofing, if the panel is not sealed properly, this will cause leaks and lead to water damage all the way through to your ceiling. Of course, there is also the safety aspect of working on a roof, if you don't have the appropriate equipment and experience then you should not tackle this job. If you aren't comfortable working at heights, then this job definitely isn't for you.
Checklist for Installing a Sun Tunnel
Sun tunnels come in both flexible and rigid tubes - ensure you choose the right one for your home.
A dome panel will capture more light than a flat panel, which can reflect some of the light.
A sun tunnel will reduce the use of electrical lighting, thus reducing energy costs.
Ensure your hired tradesman is has sufficient experience in roofing, especially sealing panels preventing leaks.
FAQ's
What is a sun tunnel and how does it work?
A sun tunnel is basically highly reflective tubing, which starts at the outer roof of your home and finishes at the ceiling. Its purpose is to channel natural sunlight and disperse the light into rooms or areas of your home that are lacking in natural light.
Does a sun tunnel bring enough light into my home?
Yes, sun tunnels are designed to capture and disperse as much natural light as possible int your home. It will depend on the size of the room, in conjunction with the type and size of the sun tunnel you opt for. An appropriate size sun tunnel for a small room will be approximately 10 inches in diameter. However, a flexible tunnel will not bring in as much light as a rigid tunnel. Do a bit of homework to ensure you get the right product.
Whats the difference between a sun tunnel and a skylight?
Sun tunnels and skylights are pretty much designed to do the same thing - introduce natural light into your home. A skylight acts more like an additional window, whilst a sun tunnel would act more like a ceiling light fixture. Sun tunnels can be a bit more affordable and should require less work as it will take up less surface area on your roof than a skylight.
What type of roof do I need for a sun tunnel?
Fortunately, you don't exactly need any type of roof for a sun tunnel. They are designed to fit both flat and pitched roofs.
Last updated by MyJobQuote on 4th October 2019.