Cost to Concrete a Driveway
Prices for concreting a drive.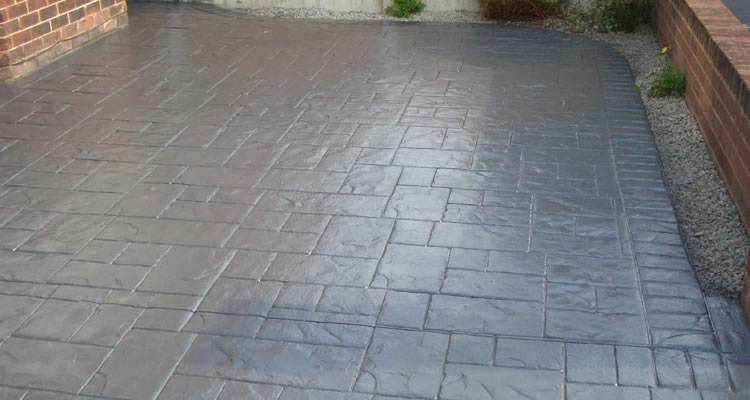 Average cost of installing a concrete driveway is around
This type of job normally takes around 3 days to complete
£1750
The main reason to install a driveway is obviously to get your vehicle off of the road, but a new driveway can also completely transform a property, improving the vital first impressions and even adding value to the home. Private parking is even more beneficial if you live in a busy area and are continually fighting neighbours for parking spots, but driveways are not cheap. The cost of installing a drive varies quite significantly depending on the size of the driveway, the material you choose, the shape of the proposed drive and your location. Concrete driveways are probably the most popular driveway in the UK today because they are available in several styles and look fantastic, while still being one of the cheaper materials for driveway construction.
Concrete driveways do have a reputation for a tendency to crack, but this is usually down to poor installation when they aren't constructed correctly. But a correctly installed concrete driveway is durable and easy to clean. Beware of cold callers who offer rock-bottom prices for concreting your drive, they are well known for doing a really poor job which looks OK just long enough for you to hand over the money, then quickly deteriorates leaving you with a complete mess which will need redoing properly and then end up costing you even more.
You should always do some research on the available contractors to find someone reliable to construct your new driveway. The best way to establish whether a building contractor is reputable or not is by reading online reviews and testimonials. On this website, we offer a free service where you can get up to three quotes from local tradesmen and then check their profiles for ratings and reviews before choosing. All you need to do is enter brief details about the job that you need doing, then add your contact information!
Typical costs for concrete driveways
| Job Description | Duration | Material Cost | Labour Cost |
| --- | --- | --- | --- |
| Concrete driveway 2.5m x 2.5m 1-2 days | 1-2 days | £320 | £280 |
| Concrete driveway 3.5m x 3.5m | 3 days | £750 | £650 |
| Concrete driveway 5m x 5m | 4 days | £1350 | £1100 |
| Concrete driveway 6m x 3.5m | 4-5 days | £2000 | £1500 |
Things to consider with laying concrete driveways
The overall size and shape of the proposed drive and the materials to be used are important aspects which have a huge impact on the cost. The current condition of the ground also plays in part in determining the cost, for example, if you currently have a steep slope which needs to be levelled or an old drive that needs to be removed before excavation. For a small space a straight driveway is the only real option, but for large spaces, a curved driveway will be better suited though obviously more expensive. Colours, borders and patterns in the concrete will also increase the price but will offer a much more interesting driveway.
For houses on very busy streets, circular driveways are great as they avoid problems caused by backing vehicles out onto a busy road and can also accommodate more vehicles, but you will need a large space to the front of the property. Although the initial cost of installing a driveway is quite high, the maintenance is next to nothing and they do last many years. However, the changing cycles of the harsh UK weather will eventually cause damage which usually starts with small cracks or indentations showing up.
Very small cracks do not affect the structure so can be quickly and cheaply repaired or even left until they become more serious. But larger cracks will need patching to avoid major problems. Most homes do not require planning permission for driveways apart from listed buildings. However, there are still some rules you need to adhere to with extensive building regulations in place to ensure you are not making access to the property more difficult and the concrete driveway is sloped with proper drainage to run off into a grassy area.
Doing it Yourself
Laying a concrete drive is a job that experienced DIY enthusiasts can take on themselves, but don't underestimate the sheer amount of hard work that goes into a professional standard concrete driveway! However, there is no reason why you can't achieve a good finish and create a long-lasting driveway as long as you don't skimp with the preparation. Once you have planned and marked out the position of the new drive, the first step is to mix the cement..
If your driveway is very large you will be unable to use the ready-mix concrete as it will take too long and you will not mix the concrete fast enough. You will need to get in touch with a local cement mixer company to come and pump the concrete for you.
Before getting in touch with the concrete company you will need to work out the volume you need. This can be done easily if you use an online concrete calculator. You will need to put in the measurements and the calculator will work out the volume for you. When using one of these calculators I would recommend checking if the calculation includes labour costs. Before the mixer is on site, you need to excavate to a depth of at least 100mm for the proposed concrete and remove all weeds, roots, and plants (treat with weedkiller if necessary).
Dig out any soft spots and fill with compacted sub-base material to create a consistent surface and if an edging is required now is the time to construct it. If you are not planning any brick or decorative edging kerbs, then temporary shuttering can be used. After all the hard work is done, you can now lay the concrete and smooth it out!
Concrete driveway checklist
Laying a concrete driveway can be done as a DIY project
Concrete drives now include a huge array of decorative options
Decorative concrete drives are long-lasting and require little maintenance
Concrete is the material of choice for cost-effective drives and patios
FAQ's
Do we need planning permission for a new concrete driveway?
Regulations in 2008 were introduced to reduce flooding due to the increased area of hard surfacing. If creating a concrete driveway, since concrete is non-porous, any new driveway needs to be designed so that the drainage complies with the building regulations and can cope with heavy rainfall. It is usually quite straightforward to include an appropriate drainage solution so that there is no need to apply for planning permission. But you should always check directly with your local council.
Once the new drive is down how long do I have to stay off it?
The concrete should be set sufficiently by the following morning for you to walk on it. But leave seven days before parking your car on it.

Are concrete drives guaranteed against cracking?
No, you won't find a concrete contractor that will guarantee that the concrete will not crack. Cracking is a normal process during the curing of concrete and a good installation will anticipate this and control it by placing expansion joints in the drive. In any case, cracks rarely affect the structural integrity of the driveway.

Does weather affect the installation?
It can do to a certain degree, concrete cannot be laid while raining, nor can they seal the drive when it's wet. But, bad weather will generally just slow down an installation as contractors work all year round so are well used to British weather!
Are movement joints really necessary?
Yes, movement joints are placed at regular intervals as if a slab is too large it may put under stress and cracks will form as a result. Wherever possible, expansion joints are disguised within the pattern to minimise their appearance and filled with a mastic to prevent weed growth so are barely noticeable. If you really hate the idea of expansion joints, then they can be omitted by using steel reinforced concrete, but this is much more expensive.
Last updated by MyJobQuote on 7th May 2019.