Cost of Hanging a TV
Are you looking for information on the cost of hanging a TV on a wall?
This article will go over everything you need to know about the costs involved with hanging a TV on a wall.
It will also discuss what's involved with hanging a TV on a wall and some things that you should look out for when hiring a contractor to do the job for you.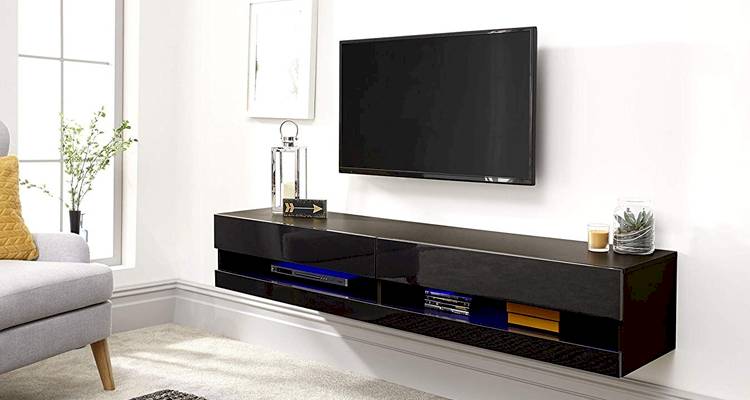 Average Cost of Hanging a TV:
Depending on the complexity of the job, it usually takes: 1-2 hours
£100
How Much Does It Cost to Hang a TV?
So how much does a TV wall hanging cost? The average cost of hanging a TV is around £50-£150. This price range can vary depending on several factors, including the type of installation needed, the material of the wall, and the length of time that the job takes to complete.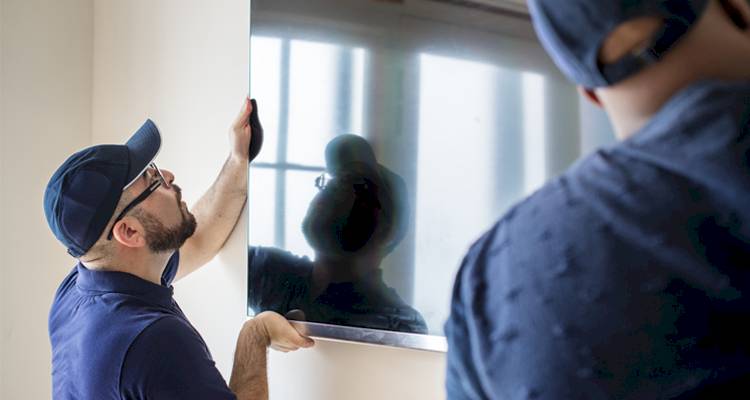 Hanging a TV Prices
Take a look at the table below for some average costs of hanging a TV on a wall:
| Job Description | Average Cost |
| --- | --- |
| Hang a very small TV on a wall (under 31") | £50-£100 |
| Hang a small TV on a wall (32" -41") | £60-£120 |
| Hang a medium TV on a wall (42" -49") | £80-£150 |
| Hang a large TV on a wall (50" -64") | £100-£200 |
| Hang a very large TV on a wall (over 65") | £120-£300 |
Supply Only Costs
The only supplies you will need for this type of work are the TV wall bracket and the TV. A TV wall bracket will usually cost you around £15-£60. The cost will depend on the quality of the bracket, the amount of weight it can hold, and the type of bracket.
When purchasing a TV wall bracket, you need to make sure that it's big enough to hold your TV and that it is strong enough to hold the weight of your TV
When it comes to buying a TV for your wall bracket, the costs can vary quite a lot depending on the size of the TV you want, its quality, and its features. You can expect a TV to cost around £100-£2000 on average. However, some TV's can cost more.
Additional Costs
You may need to think about several additional costs when having your TV mounted to a wall. Below is a list of the additional costs that you may need to consider with this type of work:
TV Aerial Installation
When you get your TV mounted to the wall, you may also be interested in installing a new aerial for your TV. This is a job that is best left to a professional as it involves some specialist knowledge and work on the roof.
The average cost for installing a new TV aerial is around £150-£250. The price will depend on the type of aerial, ease of access, and location within the UK.
Installing a Bathroom TV
If you are planning on mounting a TV on the wall, you may also want to consider installing a bathroom TV.
This is a great added luxury and perfect for those who love spending long, relaxing nights in the bath. The average cost of installing a bathroom TV is anywhere between £500-£6000 depending on the size of the TV and the difficulty of the job.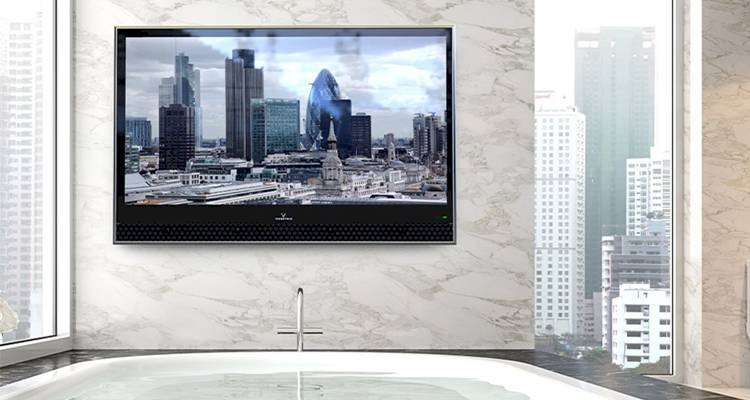 Labour Costs and Timescales
When it comes to hiring a handyperson to install your TV wall bracket for you, you want to choose someone who is competent in hanging the type of wall bracket you want. It is always best to hire someone experienced in the work you need and who can show you evidence of previous work.
A handyperson will usually charge around £20-£30 per hour. However, some will charge an additional base rate. Tradespeople in London will usually charge more per hour, so this is something to keep in mind if you live in that area.
Depending on the size of your tv, the location that you want your wall bracket to be installed, and the difficulty of the job, you can expect a TV wall hanging to take around 1-2 hours. However, some more difficult jobs could take a little bit longer to complete.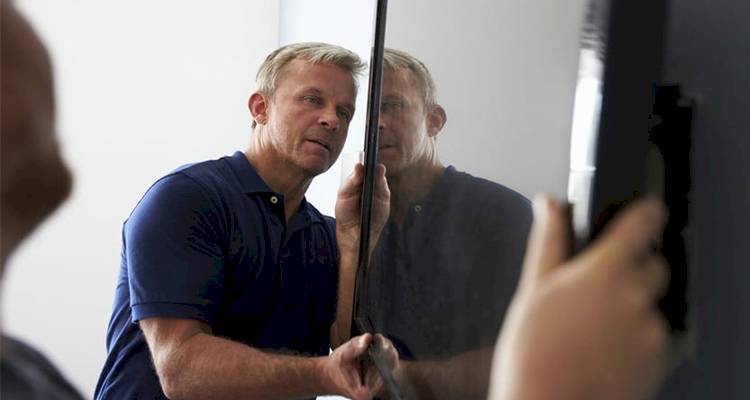 Cost Factors of TV Hanging
Several things can affect the overall cost of mounting your TV to the wall. Below is a list of the main cost affecting factors that you should be aware of:
Type of Bracket
The wall bracket that you choose will affect the overall cost of the job. Most wall brackets are quite reasonably priced. However, some can be quite expensive – especially if your TV is large or heavy in weight. With this in mind, the cost of the bracket can impact the overall cost of the job.
Size of TV
Larger TVs tend to require a larger wall bracket, so this will result in the material costs being higher. A larger TV will also usually take longer to install on the wall due to its size. This means that you are likely to pay more in material and labour costs for a larger TV.
Type of Wall
Some walls are more difficult than others when it comes to installing a TV wall bracket. It's important to avoid areas where there is pipework or electricals, and the wall needs to be solid to hold the weight of the bracket and the TV.
The bracket also needs to be firmly secure to the wall. Some walls can be difficult and may result in the job taking longer, increasing the price you will pay.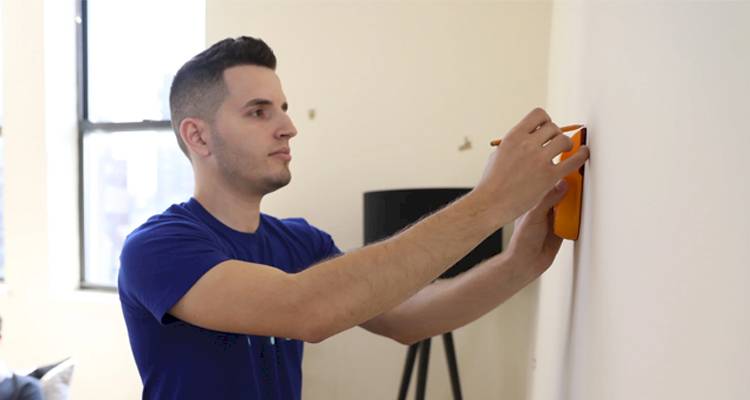 Can I Hang a TV Myself?
It is entirely possible to hang a TV yourself as a simple DIY job. You will need to make sure you have a cable and pipe detector to make sure there is nothing behind the wall that could pose an issue with the installation.
You should also always make sure you follow the instructions given with your TV bracket to install it correctly.
You will also need to have an extra person on hand who can help you lift the TV onto the bracket when the time comes. You don't want to make the mistake of trying to do this on your own and dropping the TV.
Building Regulations & Planning Permission for Hanging a TV
When hanging a TV on a wall, you won't usually need to worry about planning permission or building regulations. However, if you live in a listed building, you will need to check with your local authority before going ahead with the job.
Types of TV Wall Mounts
There are two types of wall mount. The best wall mount for you will depend on which style you would prefer. Below is some information on each of the two types of wall mount:
Fixed Wall Bracket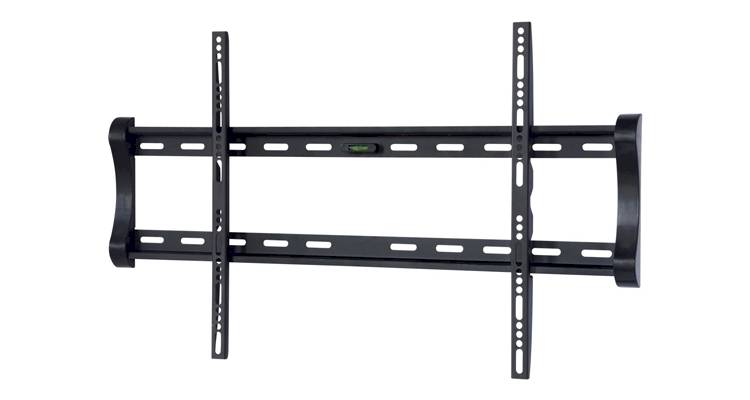 The most common type of wall bracket is one that is flat to the wall. This kind of bracket simply fixes the TV to the wall and does not move at all. A fixed wall bracket is best if you are not interested in moving your TV to different angles and looking to fix your TV flat to the wall without having the TV mount visible.
PROS
✔ The TV wall mount is hidden
✔ Neat installation
✔ Great aesthetic
CONS
✖ The viewing angle is fixed
✖ May receive some glare
Moveable TV Wall Mount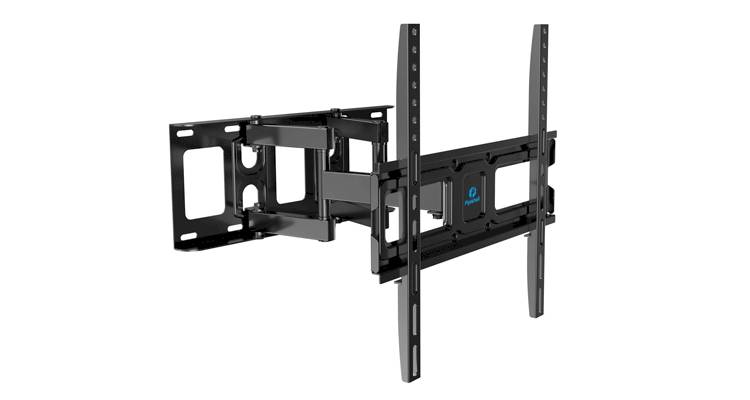 A moveable bracket is similar to a flat bracket, but you can move it to improve the viewing angle. There are three types of moveable bracket, including a swivel bracket which enables you to move the TV from side to side.
Another option is a tilting tv wall mount which allows you to move the viewing angle up and down. You could also opt for a full-motion bracket that will enable you to move your TV in all directions for the perfect viewing experience. If you are looking for a corner TV wall mount, a moveable mount is your best option as the TV can be moved tightly into the corner.
PROS
✔ Alter the viewing angle
✔ Remove glare with different angles
✔ Face different areas of the room
CONS
✖ Bulky
✖ The bracket is visible usually
Hiring Contractors to Hang a TV on the Wall Checklist
You will need to consider a few things before hiring contractors to complete a TV wall mount installation for you. Below is a list of some of the main things that you should consider when looking for the right contractors for the job:
Does the contractor offer any guarantees with their work?
How much is the work to complete? – Ask for a breakdown of costs so you can ensure you are paying a good price for each element of the job.
Is the contractor experienced in installing the type of TV wall mount that you are looking for?
How many years' worth of experience does the contractor have in installing TV wall mounts?
How many contractors will carry out the job?
Will the contractor fix any issues that may arise?
Will the contractor take care of any relevant waste removal?
Do you need to hire any additional contractors for different parts of the work?
Will the contractor follow all of the relevant building regulation guidelines if necessary?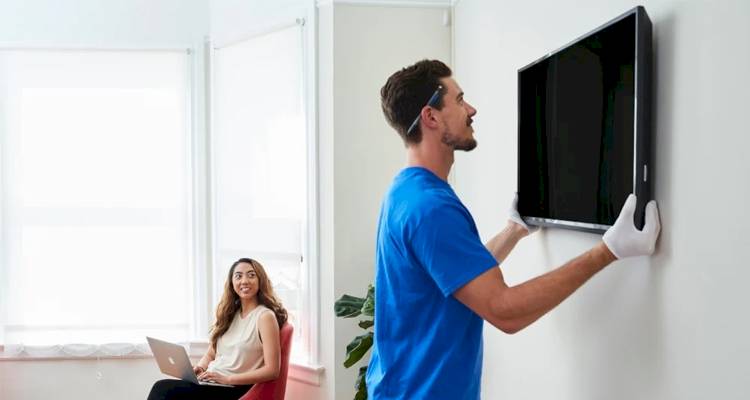 FAQs
How high can you mount a TV on the wall?
The height that you mount your TV to the wall is down to your own personal preference. You need to think about the viewing angle when picking the right height for your wall bracket.

The best way to do this is by sitting down and picturing your TV on the wall. You should try to determine what would be a comfortable viewing angle for you and your family then decide on the best height.
Can you hang a TV on newly plastered walls?
You can hang a TV on a plastered wall; however, you will need to make sure the plaster has thoroughly dried and cured before you do so. It's always best to wait at least a month before hanging a TV wall mount on your newly plastered walls.
Can I hang my TV on any type of wall?
The best type of wall to hang your TV on is a solid wall as this will offer the best support. If you are hanging your TV on an internal wall that isn't solid, you will need to ensure that there are studs behind the wall to support the screws so that your wall can hold the weight of the bracket and your TV.

You can use a stud finder to find out where the studs are located behind the wall, which will determine where to hang your TV. Hanging a TV on a stud wall is not much more difficult than hanging it on a solid wall.
Can I hang my TV above the fire in my home?
While hanging a flat screen TV above the fireplace may seem appealing, you should avoid doing this if you use the fire regularly as the heat can affect the TV. If you don't use the fire often, you can install a TV above it if you wish.

However, the viewing angle above a fireplace is usually quite high, so this may become uncomfortable after a while and could cause some stiff necks over long periods of time.
How can I mount a TV on the wall without the wires showing?
You can hide TV wires within the wall by drilling holes through the wall using a core drill. The wires can be fed through the wall and out at the bottom through another hole. This method is only possible if the wall is hollow and can't be done on solid walls.

If this method is not suitable, you can buy wire-hiding trips that you place on the wall over the wires, ultimately hiding the wires. You can run the wires through one strip, so the only thing visible on the wall is that one strip, giving a nice neat appearance.
Sources
https://www.smartaerials.co.uk/blog/how-much-should-a-tv-wall-mount-installation-cost
https://purdylounge.com/how-to-hang-a-tv-on-plaster-walls
https://www.nicollandstewart.co.uk/wall-mounted-tv/what-tv-wall-mount-is-best
https://alphadogavs.com/blog/item/the-3-most-important-benefits-of-mounting-your-tv
https://www.smartaerials.co.uk/blog/how-high-should-my-tv-be-mounted-on-wall
https://www.cnet.com/how-to/read-this-before-mounting-your-flat-screen

Last updated by MyJobQuote on 23rd February 2022.