Costs of Changing your Bay Window
Pricing and Information on Bay and Bow Windows.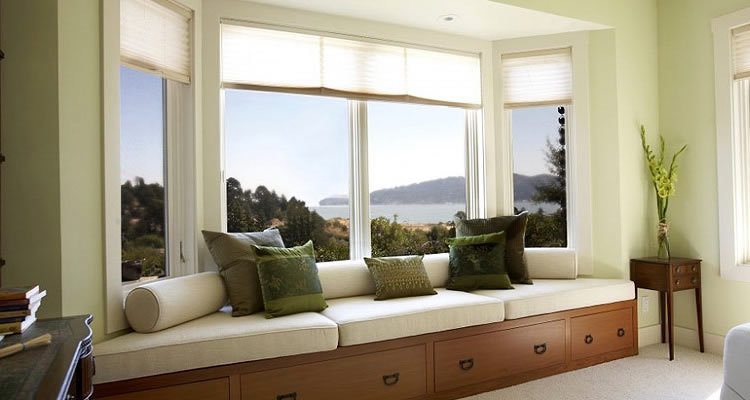 Average Cost of Replacing Bay Windows
This type of job normally takes around 2-3 days to complete
£2000
Table of Contents
Bay window is the name given to any type of window that projects out from the wall to form a bay. A popular feature in Victorian homes, which today can be found on almost any type of home. They are a great feature as they increase the natural light while also making the room larger with better views. If your bay windows are needing replaced, then before you start getting quotes, being better informed will allow you to be more in control with any double glazing salesman. Double glazing costs vary tremendously depending on whether you use a local or national company, the number of windows being replaced, the materials used and the type of glazing.
To find a reputable double glazing company, speaking to friends and family and getting recommendations is ideal, but if you cannot get any recommendations, then using the free service on this website is quick and easy! You can fill in our quick and simple form and submit your job to multiple tradesmen all at once. Finding tradesmen in your local area and receiving quotes with no obligation so you can compare prices and save yourself some money! However you find your double glazing company, always try and choose a company that's been around for 10 years or more and ask to see examples of previous work and talk to other customers about their experiences.
Typical Bay Window Replacement Costs
| Job Description | Duration | Material Cost | Labour Cost |
| --- | --- | --- | --- |
| Small six panel bay window, 4 front and two side, with six opening fanlights uPVC | 2 days | £2000 | £550 |
| Large five windows bay with toughened glass on the bottom panes uPVC | 2-3 days | £2200 | £750 |
| Typical 3 panel bay window white uPVC | 1-2 days | £800 | £420 |
| Typical 3 panel bay window white painted timber | 2 days | £1600 | £575 |
Bay Window Considerations
Planning consent is not normally required to replace windows, however, a new bay window could well be considered an extension so permission may be required. In addition, replacement windows all should have Building Regulations approval unless you're just replacing the glass. So the windows you choose must meet maximum permitted heat loss standards and comply with requirements for ventilation. But if you have the installation carried out by a FENSA registered installer they can certify the installation and provide the necessary compliance certificate with no need to make an application to Building Control.When shopping around for new windows be aware that double glazing salesmen have a terrible reputation, it seems common for them to quote a high price to begin with, and then drop the price over the course of the visit, to try and get you to sign-up and pay a deposit on the spot.
They will often drop the price you're quoted by 75% or more during a high-pressure sales pitch. The most common method they use, is if the first, second or third offer is not accepted, the salesperson will then phone their boss to get an even bigger special discount to get you to buy on the night! Be wary of these tactics and don't be persuaded to sign a contract there and then. Rather, get three quotes and carefully consider them before making an informed decision. Make sure each company gives you prices for exactly the same products and materials, so you can compare the quotes on a like for like basis. If possible, always try and choose a double glazing installer that is a member of a competent person scheme such as Certass or Fensa. Membership of these schemes means that companies can self-certify their work and that the work is covered by an insurance-backed guarantee.
Doing it Yourself
If you want to fit a bay window to an existing window opening, then this is possible as a DIY project, but only if you possess the right skills and experience. You will need to consider if the roof will be pitched or flat and if the masonry below match the rest of the house. This is a big job for a DIY enthusiast however you decide to go about it, the job will entail, as a minimum, removing an existing window and the wall below it (so you can use the existing lintel for support). But if the existing window is too small, you will need to make a wider opening and will have to fit a wider lintel. You will need to check with your local authority regarding planning permission, but at the very least the job will have to be overseen by a surveyor from building control, expect to pay somewhere in the region of £300-£400.
The really crucial part of this job is the measurement of the new windows. Double glazed windows are not cheap and are made to order to the sizes you specify, if you make a mistake, you are stuck with windows that do not fit, so the only options are to do a total bodge job or to order the windows again in the correct size, which will seriously increase the total costs. If you already have bay windows and are just replacing the window frames and glazing units, then this is much easier and well within the scope of most DIY enthusiasts. There is much less chance of measuring problems too, as you can use the existing windows as templates for ordering the new ones (assuming they are a good fit).
Bay Window Checklist
Bay windows look stunning and boost curb appeal
Wooden bay windows will cost twice as much as uPVC
FENSA is the UK government scheme which registers window fitters and checks they are competent
Always ask at least three window companies to measure up and give you a quote for the work
FAQ's
How much do bay windows cost?
The cost of replacing bay windows will obviously depend on the number, size and type of windows you choose. Typical costs will be anything from £400 to £1000 per panel.
What is the difference between a Bay and a Bow window?
Both windows project out from the wall, but bay windows consist of three unit assembly with two windows at angled out from the wall and the centre window(s) is parallel to the wall. Bow windows consist of a multiple of window units assembled in a continuous radius, so are much "rounder" compared to bay windows. Think of a bay window as essentially moving the existing window forward and adding two windows at the side to fill in the gaps!
Can a Bay window be installed where there is currently a single casement window?
It really depends on the size of the single window, smaller windows will not make a good basis for a bay window conversion, but you can, of course, increase the existing window opening to accommodate the new bay window in most cases.
Will I need planning permission to install a bay window?
Unlike replacement windows, a new bay window will be treated as an extension and may require permission. You should always check with your local authority before making any firm plans. Even if you do not need planning, building regulations have applied to all replacement glazing since 2002 and the regulations cover thermal performance, safety, ventilation and means of escape.
Last updated by MyJobQuote on 23rd January 2018.