Karndean Flooring Installation Cost
Trying to find out how much Karndean flooring costs to fit?
You can pay somewhere between £300-£2250 depending on the size of the floor and type of Karndean flooring you choose.
What can this guide offer?
In this cost guide we breakdown the prices of installation and materials so that it's easy for anyone to calculate the cost of fitting Karndean flooring in any room.
Need a quick quote from a Karndean floor fitter?
We've got you covered! Check out our local Karndean floor fitters for a free quote.
Need more information? Have a look below!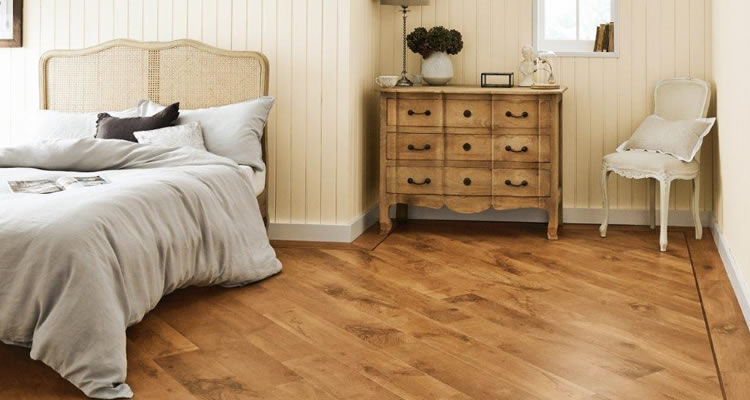 Average Cost to Install Karndean Flooring:
Depending on the complexity of the job, it usually takes: 3 days
£620
How Much Does Installing Karndean Flooring Cost?
Ready for new flooring?
Then you should consider who will be fitting the flooring for you and most importantly, who are you going to purchase the flooring from.
Additionally, you want to consider what type of flooring you are going to go for. If you're considering Karndean flooring, then this guide will give you an idea of your overall costs.
So, what are the average costs of Karndean flooring?
The average cost of installing Karndean flooring is around £20 to £50 per square metre, although this will vary depending on the style you choose.
For instance, a glue-down Karndean parquet flooring installation will range from £300 for a small room up to £1750 for a large room.
While a rigid core Karndean floor should cost around £300 for a 10m2 room and £2250 for a large 25m2 room.
The most expensive option is looselay Karndean which has a starting price of about £450 for a small living room and could cost up to £2250 for a larger space.
What will these costs depend on?
These costs, will, of course, vary depending on the type of room where the floor will be installed as well as the location of your property, as labourers in different areas of the UK tend to charge different rates.
Installing Karndean Flooring Prices
Whether you are tired of carpeting or simply love the look of hardwoods but not the price, then this flooring might be the solution you've been looking for.
Let's take a look at the average Karndean floor price for both supply and installation for different sizes and types of Karndean flooring:
| Type of Karndean Flooring | Small Room (10m2) | Medium-Sized Room (16m2) | Large Room (25m2) |
| --- | --- | --- | --- |
| Glue-down | £300 to £500 | £620 to £1080 | £1000 to £1750 |
| Rigid Core | £300 to £700 | £620 to £1400 | £1000 to £2250 |
| Looselay | £450 to £700 | £860 to £1400 | £1375 to £2250 |
Supply Costs Only
If you wish to purchase and install the flooring, then you should take a look at the following supply costs:
| Type of Karndean Flooring | Small Room (10m2) | Medium-Sized Room (16m2) | Large Room (25m2) |
| --- | --- | --- | --- |
| Glue-down | £200 to £300 | £320 to £480 | £500 to £750 |
| Rigid Core | £200 to £500 | £320 to £800 | £500 to £1250 |
| Looselay | £350 to £500 | £560 to £800 | £875 to £1250 |
Additional Costs
When calculating the vinyl flooring fitting cost, you may also want to consider additional expenses such as:
Underfloor Heating Cost
Before installing your Karndean flooring, you may want to consider having underfloor heating installed.
This will offer an efficient and comfortable way to heat your home.
The cost of underfloor heating installation will vary depending on the type you choose, for instance, a wet system which uses pipes to pump water from the main water supply, usually costs around £1200. While a dry system which uses electricity to heat the floor is generally priced at £800.
Floor Screeding Cost
Screed is a cement-based material which is normally applied to the floor after an underfloor heating installation to enable high-quality heat transfer.
If you're laying vinyl flooring as part of a brand new remodel, then you may need to pay for new floor screeding.
How much does screeding cost?
It usually costs around £300 to £380 to cover an average-sized room.
New Skirting Boards Cost
To enhance the look of your new Karndean floor, you may also want to consider installing new skirting boards, which ranges from £200 to £340 for an average-sized room. You could also pay extra for skirting board heating which is also known as a Thermaskirt.
What is Thermaskirt?
This is similar to underfloor heating, although it is a lot easier to install and tends to cost around £500 to fit in a medium-sized room.
Labour Costs and Timescales
Let's start with labour fees...
The majority of Karndean floor fitters will charge around £100 to £200 per day to lay your new flooring.
What do labour fees depend on?
Their costs will also vary depending on the size of the room, as a 10m2 room would cost around £100 to £200 for a day's work, while a 16m2 room would take around three days to complete with labours costs ranging from £300 to £600.
If the size of your space is up to 25m2, then you should expect to pay around £500 to £1000 for up to five day's work.
The above prices may vary for different locations, for instance, tradespeople in London typically charge up to £220 per day, while labourers in the surrounding areas have a daily rate of around 160 or less.
They may also charge more to remove your old flooring along with any other preparation costs.
What is Karndean Flooring?
Where did Karndean flooring come from, originally?
Karndean was founded in the UK in the 1970s and was then introduced in a select amount of countries including Australia, New Zealand and the USA.
What is it made from?
Karndean is a vinyl-based flooring finish which is typically made from piments, limestone and polyvinyl chloride. It also features five layers including two PVC backing layers, one PVC embossed wear layer, one high-definition layer and a protective polyurethane coating on top.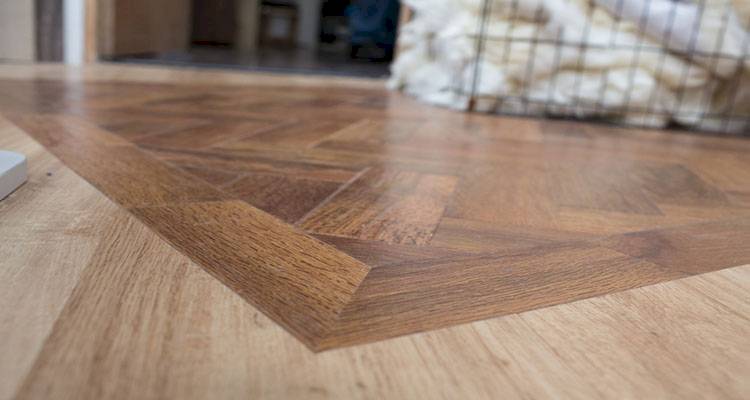 Why has it become popular?
Karndean flooring is popular due to its similar appearance to real hardwood flooring, which not only makes it stand out, but it will also cost you far less than wood flooring materials. It is also a very comfortable option as it is warm underfoot while also being extremely durable and easy to maintain.
Cost Factors of Installing Karndean Flooring
There are various factors you need to consider when calculating the overall cost of a typical Karndean floor installation, including:
Type of Karndean Flooring
The type of Karndean floor you choose is a massive cost factor, as some styles are more expensive than others. If you have a low budget in mind, you may want to opt for glue-down Karndean flooring which on average ranges from £300 to £1750.
Other options include rigid core which is usually priced at £300 to £2250, while the most expensive option is looselay Karndean flooring, which costs around £450 to £2250.
Size of Flooring Space
The size of your room is also an important thing to consider, as the larger your space is, the more expensive your flooring installation will be.
For instance, a 10m2 living room would cost around £300 to £700, £620 to £1400 for a 16m2 space and £1000 to £2250 for a large 25m2 room.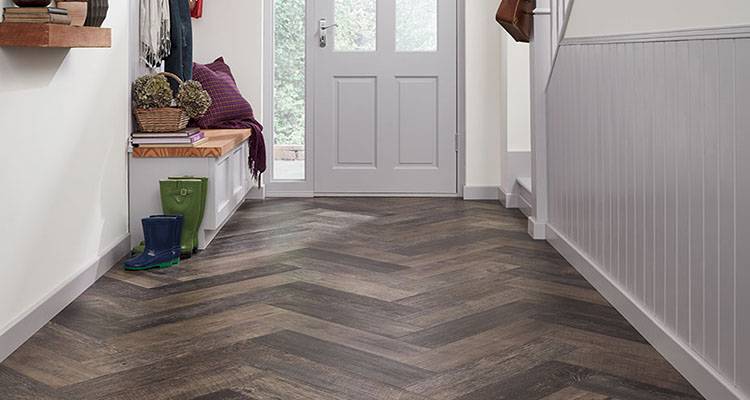 If you would prefer a custom size or styled pieces, you also have to consider this in choosing your flooring. Whether you buy with the supplier or work with a contractor directly, you should consider all options and fits to find the best one for your home.
Waste Removal
If you need your old floor removing before a new Karndean floor can be fitted, you will also have to consider the cost of waste removal. To get rid of the old floor, tradespeople tend to charge around £3 to £5 per square metre,
If you plan to rip out the floor yourself, you may need to hire a waste removal company which generally costs around £70 to £160.
Location of Property
Where your property is located is also important, as this will determine the labour cost. For example, if you live in the middle of the countryside, you may have limited access to floor fitters so you might have to pay more for them to travel.
Labour rates also vary in different areas in the UK, with London carpenters charging up to £220 per day.
Ease of Access
Tradespeople may also charge more if there is limited access to your flooring. For example, if you want a new floor fitted in the attic or the basement, this will require a lot of manual work to move it up and down the stairs, so labourers may charge more for their inconvenience.
What's Involved in Installing Karndean Flooring?
To help you understand the process of hiring a professional floor fitter to install your new Karndean flooring, here is a step by step guide that will offer you some insight on the job itself.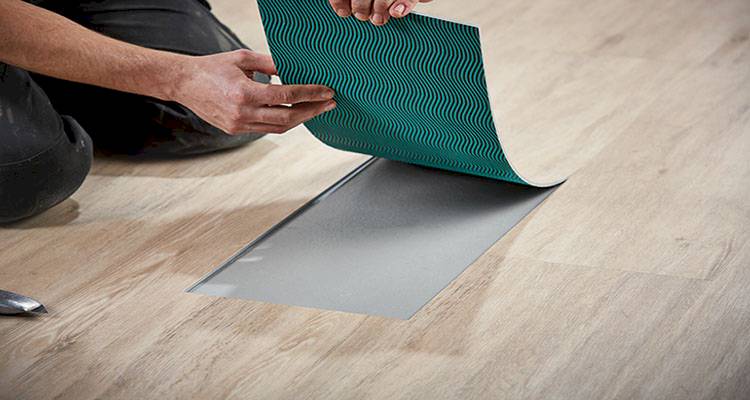 The first step usually involves the measuring process where the fitter will come out to record the dimensions of your floor space to establish how much flooring is required while also providing you with an estimate.
On the day of the job, the fitter will measure the floor space again to ensure that the flooring materials fit correctly. This step may involve some cutting to ensure it is installed correctly.
They will then start to fit the first row while making sure the short edges of the floor are clicked together. Once this is complete, they will then use a knife to cut a straight edge to achieve the 5mm gap between the wall and the end of the row to meet requirements.
Once the first row is secured in place, the tradesman will then start to fit the rest of the rows by clicking the tongue into the groove and making sure they are all aligned.
After a full row is complete, a hand roller or mallet will be used to smooth out any gaps which should avoid lifting.
Once the entire floor is in place and secure, the tradespeople will then remove the spacers and clean the floor with a brush to remove dirt and debris.
Can I Install Karndean Flooring Myself?
Installing the flooring yourself is an option; however, this is normally only performed by experienced DIY enthusiasts who have fitted flooring before.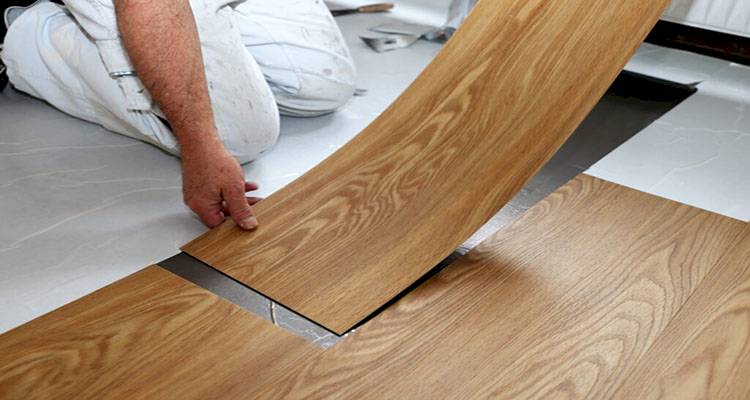 You should also keep in mind it will take more time if you don't know what you are doing. You also need to be careful to avoid damaging the flooring, as you may end up paying more for a new supply.
Choosing Karndean Flooring
There are several types of Karndean flooring, so to help you choose the right one here is a breakdown of glue-down, rigid core and looselay Karndean flooring.
Glue-down Karndean Flooring Costs
Glue-down Karndean flooring is basically vinyl tiles that can be glued into place. This type of flooring typically costs around £20 to £30 per square metre.
The main advantage of glue-down flooring is that the adhesive prevents the tiles from slipping and also offers a long-lasting flooring solution, making it an ideal choice for high-traffic areas.
The problem with this type of floor is that it is more difficult to install so a professional's help will be required. It is also much harder to replace in comparison to other flooring options due to the tiles being glued down with strong adhesive.
Rigid Core Karndean Flooring Costs
Rigid core is a type of floating floor which is installed by simply clicking it into place, as the pieces fit together like a puzzle. This typically costs around £20 to £50 per square metre.
One of the benefits of rigid core flooring is that it is straightforward to install as it does not require adhesive. It can also be installed over existing flooring, so this will save you money on waste removal costs.
A disadvantage of a floating floor is that it is not as durable as glue-down flooring and tends to shift out of place. It also requires a separate underlay as the floor must be level before the rigid core tiles can be installed.
Looselay Karndean Flooring Costs
Looselay Karndean is one of the latest flooring solutions available which does not require adhesive or a click-to-lock system as it is made of materials which improves friction and allows the tiles to stick to the subfloor. You should expect to pay around £35 to £50 per square metre.
Looselay flooring is one of the sturdiest options available as the tiles are thick and heavy, which will help them last up to 15 years. They are also very easy to remove so if you need a repair or want to replace your floor; then this is the best choice.
As this type of flooring is relatively new, there are limited designs to choose from, so you may need be able to get looselay vinyl which matches your interior. It may also be hard to get hold of stock, as there are not many looselay flooring manufacturers.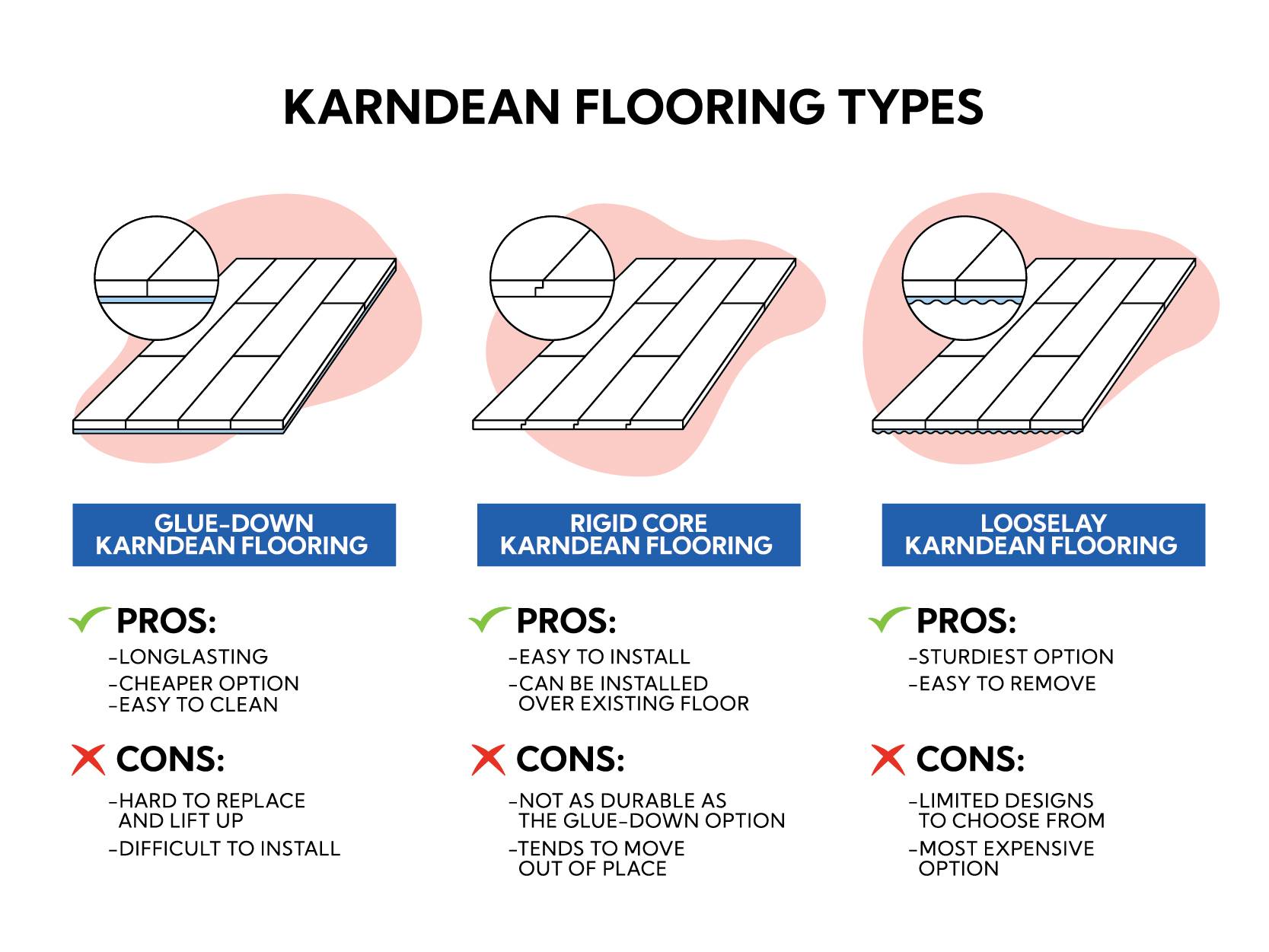 Alternatives to Karndean Flooring
After reading the pros and cons of different Karndean flooring types, you may decide that this flooring solution is not the right one for you. If this is the case, take a look at this guide for alternative flooring options.
Laminate Flooring Costs
Laminate flooring is a synthetic floor solution which is made up of four layers which include high-density wood and photographic applique layers which help to simulate real hardwood flooring. The average cost of laminate flooring is around £10 per square metre.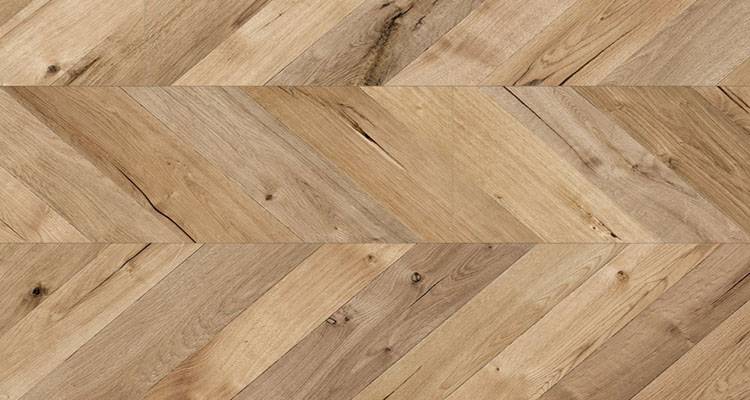 The main benefit of laminate flooring is that it is usually cheap and costs around 50% less than real wood flooring, so if you have a low budget in mind this may be the best option. A laminate floor is also much easier to clean, and it is also resistant to scratches, moisture along with any wear and tear.
In comparison to other flooring options, laminate flooring is not as aesthetically pleasing as natural wood, especially if you choose a lower-quality floor. It is also not easy to repair, as new pieces of laminate may not match the old colour.
Wood Flooring Costs
Wood flooring is made up of natural hardwood including oak, maple and cherry. You should expect to pay around £35 to £46 per square metre.
Hardwood flooring can easily be repaired by sanding over any imperfections, which will help it last for a long time. It is also one of the most attractive flooring solutions due to the natural beauty of the wood.
Many homeowners are put off by hardwood flooring as it is not only expensive, but it is also susceptible to damage such as scratching or moisture damage. Therefore, it may not be the best option for high-traffic areas as it does mark easily.
Tile Flooring Costs
A tile is a manufactured square or rectangular floor material which is usually made up out of clay, ceramic, stone or metal. The average cost of ttile flooring installation ranges from £20 to £40 per square metre.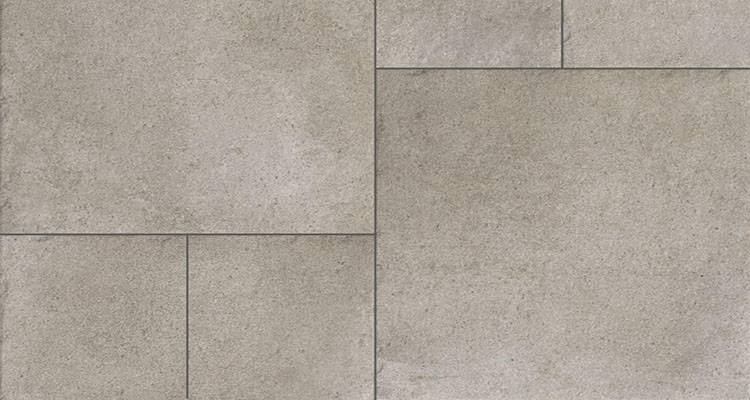 The main benefit of installing tiles in your kitchen or bathroom is that they are effortless to maintain and are also highly water-resistant. Tile floors are also extremely durable as it is made from robust materials which prevent them from cracking.
Tiles can be hard to install, especially in upstairs installations as they usually are very heavy, so you may expect an increase in labour costs. They are also not the most comfortable option as they tend to be cold underfoot.
Carpet Flooring Costs
Carpet is a textile floor which can be made from natural such as wool or synthetic fibres including polyester and nylon. You should expect to pay around £5 to £30 per square metre for a new carpet.
The great thing about carpet is that it is one of the most affordable options which also offers a softer and more versatile floor. Carpet is also very easy to install so you can benefit from low labour costs.
The problem with carpet is that it tends to show wear and tear such as rips or spills, so it may not be the best choice if you have children or pets. It also requires regular carpet cleaning to prevent any unsightly stains.
Removing Karndean Flooring Cost
If you wish to replace your Karndean flooring for an updated option or want to change the floor completely, then you will need to figure out the removal costs. The majority of floor fitters will include the cost of removing the carpet in their estimate, which is normally around £3 to £5 per square metre.
If you plan to remove your floor yourself, then you may want to hire a waste removal company who usually charge around £70 to £160.
Hiring Someone to Install Karndean Flooring Checklist
Before hiring a flooring specialist to install your Karndean flooring, take a look at the following checklist:
Choose a tradesperson or company who specialises in Karndean flooring.
Check their qualifications which could include a Level 1 award in flooring operations or basic construction skills.
Only work with floor fitters who have at least 5 years' experience
Check reviews or ask for photographs of previous jobs.
Make sure they have public liability insurance or employer's liability insurance to protect you and your home should any incidents occur.
FAQs
What is Karndean flooring made of?
Karndean is a type of vinyl floor which is typically made from polyvinyl chloride, pigments and calcium carbonate or limestone. It is also made up four layers which include two PVC backing layers, one clear PVC embossed layer, a HD photographic layer and a top coating made of polyurethane.
Should I choose Karndean?
It is a cheaper solution to hardwoods. At about £20 to £50 per square metre, it is much less expensive, and it's very durable. It also gives you the look and feel of new wood grain flooring at a much lower price.
Can I custom fit it?
Yes, many suppliers make this flooring. So, if you prefer a custom design, fit, or custom panels, you can request this when having your new flooring fitted.
How long will installation take?
This depends on home size, and if you have ordered custom panels. Typically, you should set aside a minimum of 1-7 days for project completion.
Is Karndean flooring scratch proof?
A typical Karndean floor is extremely hard-wearing, so it is fairly resistant to scratches. However, if you do find any scratches on your floor, you can purchase a Karndean care kit or hire a professional to fix the damage.
Sources
https://www.karndean.com/en-gb/commercial-flooring/designflooring-ranges
https://floorcritics.com/glue-down-vs-floating-vinyl-plank/
https://www.bestlaminate.com/blog/pros-cons-loose-lay-vinyl-flooring/
https://freshome.com/flooring/the-pros-and-cons-of-hardwood-vs-laminate-wood-flooring/
https://www.woodfloorwarehouse.co.uk/advice-inspiration/faqs/how-is-laminate-flooring-made
https://heritagecb.com/carpeting-pros-and-cons/

Last updated by MyJobQuote on 9th July 2022.