Floor Screeding Costs
Trying to find out how much it costs to screed a floor?
In this guide, we look at all the floor screed prices for different rooms and sizes (per square metre), as well as different types of screed such as: self leveling screed and liquid screed.
Take a look below!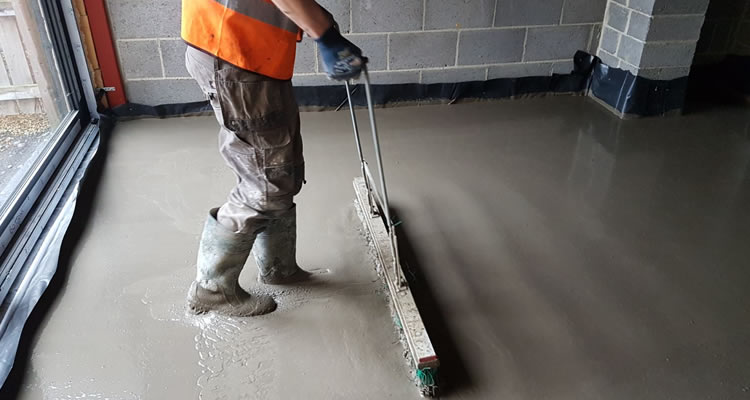 Average Cost of Floor Screeding:
Depending on the complexity of the job, it usually takes: 6 – 7 hours
£250
How Much Does Floor Screeding Cost?
To successfully install a floor screed could cost you between £100 to £400 when all the relevant factors are considered. While the price seems high, once you consider the cost of materials, labour, time, markups, VAT, and so on, it starts to make a little more sense. There are a lot of factors that come together when dealing with floor screed.
One of the most important considerations is the type, and quality of floor screed used. Since floor screeding costs more in terms of the materials, the quality and type go a long way in determining the overall price.
For instance, traditional screed, which is the most common type used in the UK, is a lot cheaper to use and shouldn't cost more than £12 to £15 per m2 on 75mm thickness.
However, if you go for something more exotic, like flowing screed which has increased in popularity in recent times, then you will probably spend a lot more.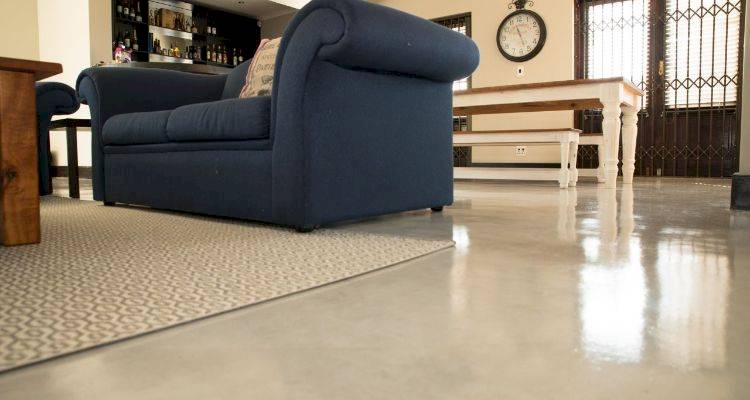 In addition, also consider how much the companies will add to the overall price if you decide to hire professionals. Since a company has to pay for training advertisements, transport, tools, and so on, you can expect there will be some money added to the bill to cover these costs.
On top of that, the travel time of the professionals to your home is likely to also figure in the overall cost as this is added to the work time for the labourers. What this means is that people living in remote areas are likely to pay more.
Speaking of locations, if your area is short of professional screeders, then the available ones are likely to charge more to fit floor screed in your home. Therefore, it is essential to consider all these possibilities before engaging a professional.
Screeding Floor Prices
Below is a table that provides most of the most common prices associated with floor screeding
| Job Description | Material cost | Labour cost | Duration |
| --- | --- | --- | --- |
| Screed floor for averaged sized room | £12-£15 per m2 | £120-£200 per day | 6-7 hours |
| Fast-drying screed floor for averaged sized room | £14-£18 per m2 | £120-£200 per day | 6-7 hours |
| Flowing screed for averaged sized room | £16-£20 per m2 | £150-£220 per day | 6-8 hours |
Supply Costs Only
You might be considering doing the screeding yourself, which is certainly a way to do it on the cheap. That said, you are advised to have some DIY experience before embarking on this particular project.
If you are confident in your DIY skills, then you'll need the right tools and some knowledge of how much the screed will cost. In this section, we'll look at the costs of everything you need minus the labour.
| Tools | Price |
| --- | --- |
| Screed | £12-£15 per m2 |
| Flowing screed | £16-£20 per m2 |
| Fast-drying screed | £14-£18 per m2 |
| Tape measure | £15-£20 |
| Spirit level | £30-£100 |
| Shovel | £20-£30 |
| Wheelbarrow | £50-£100 |
| Straight edge | £20-£100 |
| Trowel | £10-£40 |
| Hand float | £10-£30 |
| Gloves | £3-£10 |
| Knee protection | £6-£15 |
Additional Costs
The floor screed cost isn't all you'll need to worry about when considering the cost of home renovations. Since the act of laying a screed typically precedes installing floors or carpets, these are also costs you might need to consider.
In this section, we'll pay some attention to the other things you'll need to add, remove, and consider, after the laying and levelling the floor screed.
Wood Flooring Cost
Once a floor screed is laid, the next thing to consider is what goes on top. For many individuals, the option is wood floors as these are beautiful, easy to lay, and affordable.
Different types of wood can be used with screed, and some of the most common ones are laminate flooring and Oak. The latter is more expensive than the former and can cost between £1100-£1500 to have installed.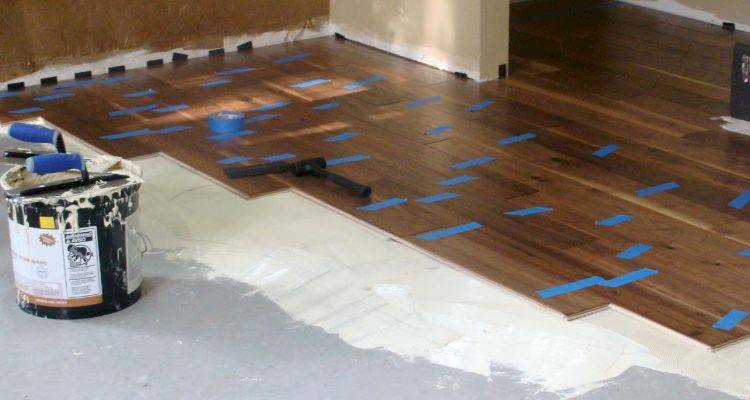 To ensure that the installation process flows seamlessly, it is important to protect the floor from moisture, which could damage it. Therefore, when dealing with wooden flooring, it is absolutely essential to make sure that all tools and materials are dry.
To help with this, a damp proof membrane is of the utmost importance as it keeps moisture levels at a manageable state and prevents it from affecting the newly laid wooden floor.
In addition, there are a couple of options available, depending on the fitting options you spring for. For instance, solid wood floors are easy to nail down, or glue to the screed. Conversely, engineered floors are installed using floats or glue with the screed.
Finally, ensure you add some quality finish to your wood floors once done as this not only improves the aesthetic quality of the floor but also elongates its life and period of usability.
Carpet Fitting Cost
Carpet fitting is an amazing way to add some comfort and style into your home. The price of installing a carpet in a home is difficult to nail down as there are so many variables involved, including the material and quality of the carpet, size of the house, location, and any other incidental cost.
For instance, if before the carpet is laid, it is discovered that the floor is not level, you'll need to fix that. This could mean some money used on screeding before the carpet is laid.
The average cost of installing a carpet is between £3-£40 per m2, although the price may vary as a result of quality and time.
Thankfully, there is so much variety when it comes to carpets that you could easily work on a budget. However, don't be so spendthrift that you end up spending money on a subpar material.
On the other hand, more expensive materials don't also equate to better quality. Therefore, most experts will advise on settling with a mid-range carpet that straddles the fence between cost and quality perfectly.
Also, ensure you keep an eye on the underlay material as an expensive carpet is useless if it is made with poor underlay material.
Once you have decided on the type of carpet you want, the next thing is to purchase the material and prepare the room for the professionals to work in.
This might require that you remove the old carpet to make space for the new one. Also, cleaning up the room and disposing of any waste makes life easier for the labourers, and also saves you extra money.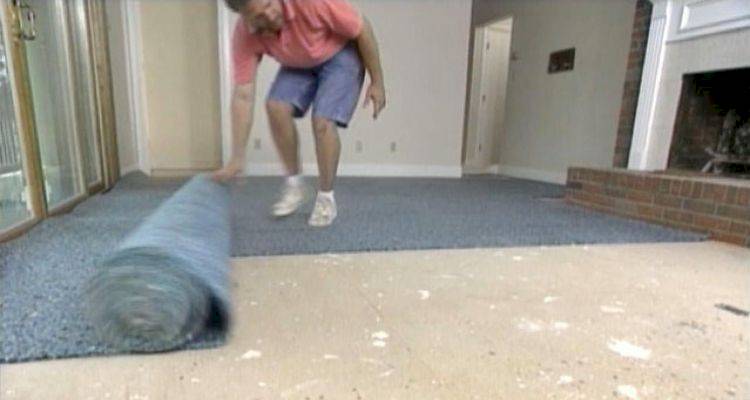 On top of that, you can take the time to inspect the floorboards to see if there is a need to replace any of them.
Floor Tiling Cost
Floor tiles are an excellent way to get your kitchen or bathroom looking smart and lovely. They have a bunch of advantages, including their low maintenance, durability, and aesthetic value.
There are different tiling options, but the most popular one is ceramic, which most people prefer due to its robustness. That said, there are other options, including vinyl and porcelain, which might be more attractive due to their relatively low price.
But how much does floor tiling cost? The averaged sized room should cost between £700-£1000. This is, of course, subject to several factors, including the type of tiles, quality, professional expertise, and so on.
Another critical factor that affects the price is the amount of time it takes. Therefore, a cheaper floor tile will cost less in labour too since it takes a shorter time to install.
Once you have the floor tiles you want to install, finding the right professional is the next important step. Floor tiling is a labour intensive job, so most labourers might charge a pretty penny for the job. Also, since the project is quite technical, doing it yourself is not advisable unless you have a lot of experience.
Finding the right professional for the job isn't as daunting as it may seem, and you are advised to source for a couple of quotes to provide yourself with options. Once done, you can proceed to vet these professionals and whittle your list down to the most qualified and affordable.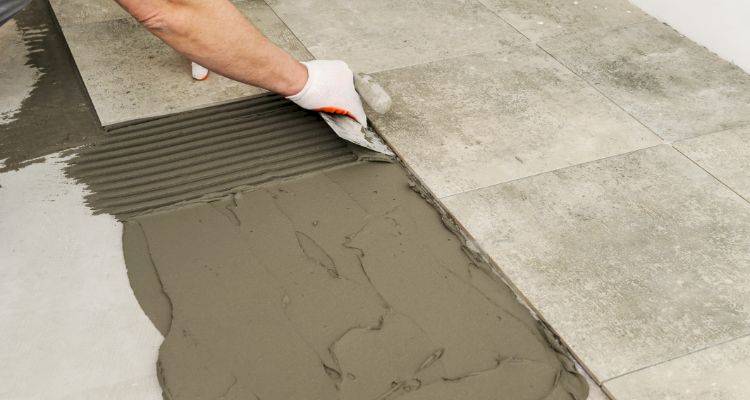 It is not uncommon to find homeowners buy their tiles of choice before calling a professional. While this is a viable option, it might not be the most expedient. Instead, it is recommended that you call a professional to get a quote which could also include the supply of the tiles.
This is very convenient as tradespeople are typically better placed to get tiles at more favourable prices. So, while an installation only project might seem cheaper on the surface, it might turn out to be way more expensive due to the amount spent on materials.
Also, as pointed out earlier, the price of tiling the floor in your home might increase depending on the size of the room, location of the property, and so on. In addition, the price could change if there is work to be done. For instance, if you need to replace oil tiles, then you'll pay for the removal of the old tiles.
In the event, you want to purchase the tiles yourself, make sure to buy extra as accidents may occur, which could lead to a couple of the tiles suffering damage. Buying extra ensures that you aren't left without enough tiles to finish the project. Finally, tiling usually takes about a day or two, so keep that in mind before engaging a professional.
Labour Costs and Timescales
Most contractors will charge you between £10-£12 per m2. Conversely, they could charge about £120-£200 a day.
That said, screeding shouldn't take too long, and the average-sized room will take between 6-7 hours. While these are the general prices and time scales, things could change in several situations.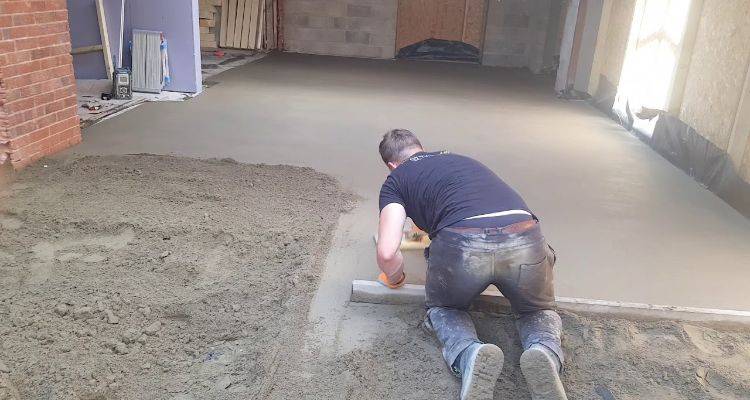 For instance, if the labourer has to remove old tiles, or get rid of some waste that has been left behind, this will increase the amount of time spent on work, which in turn, will increase the overall cost of the operation.
In addition, travel time could be another factor that affects the project, as labourers might find it challenging to reach a remote location. On top of that, the type of screed used not only plays a huge role in the overall cost, but it also determines how long the project would take.
So, if you opt for a quick-drying screed, then the time spent on labour might be a lot shorter than usual, which can go some way in reducing the cost.
Finally, the longest process of screeding is waiting for the mix to cure once installed, which could take several days, but thankfully, this doesn't go into the final cost of the project.
Cost Factors of Floor Screeding
While a screed calculator can be pretty handy in revealing how much you will spend on the screed mix and materials, it doesn't give you the final price.
Rather, the full fee is only revealed after careful consideration of all the factors involved. In this section, we'll pay close attention to the factors that could increase the price of floor screeding, and why.
Method of Floor Screeding
The most common determinant of the screeding cost is the variant used. Typically, there are different types of floor screed with traditional screed being the most popular one in the UK. The floor screed mix is made up of three to five parts sand and one part cement.
Additionally, polypropylene fibres are used to reinforce the mixture and ensure that it is sturdy enough to last for a decent amount of time. On the downside, the drying times for traditional screed varies wildly depending on weather condition and the mixtures used.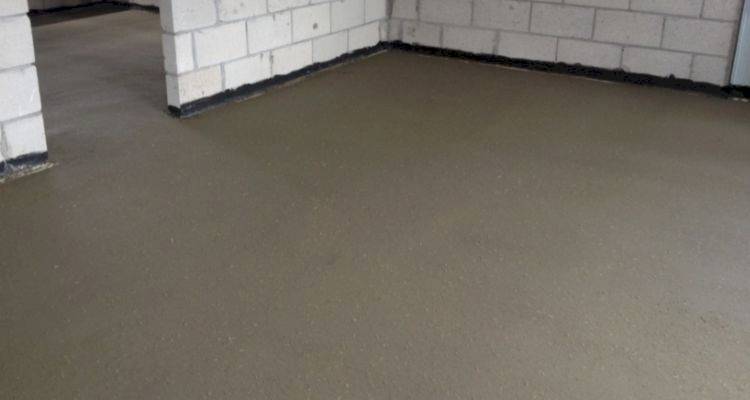 Apart from being the most popular type of screed used, traditional screed is also the most affordable. Therefore, if it is being used, then the price might reduce.
However, the type of screed is not the only consideration when determining the cost of the project as the method used to lay the screed is also important. There are three methods of laying in existence, and they are: fully bonded, partially bonded, and unbonded screeding.
Fully bonded screeds are laid on a scrabbled concrete base and are completely bonded with the help of adhesive. Meanwhile, the partially bonded method is cheaper; however, it comes with a few risks, including breakage, and bonding loss.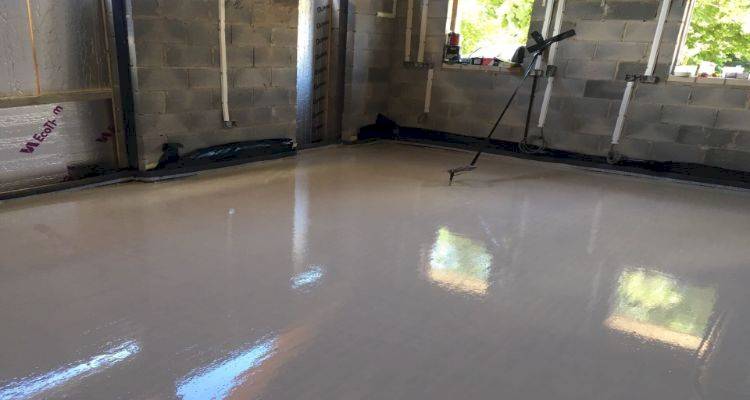 For the unbonded method, this requires the screed to be debonded with the help of damp-proof membrane. It has a couple of advantages, including the fact that no cracks or breaks from the sub-base make their way to the screed. Also, drying times can be eradicated, which could save money. However, this makes for an ultimately inferior floor which could cause problems later.
Location of Property
Since most contractors charge per hour, the commute time to your residence usually adds to the overall price. Therefore, if you live in a remote location that is difficult to reach or is a great distance from the labourer's office, then this could affect the price of the job.
So, the prevailing method is to pick a contractor that is close by and deal with such a person. However, this also has some drawbacks depending on the situation. For instance, if you stay in a location that is remote and doesn't have many professional screeders, then the available ones are likely to charge more.
Ease of Access
This has to do with the ease with which a labourer can get to work once they begin the project. For instance, if there is a need to remove old tiles, or fix floorboards, or clear the workspace, this will be added to the tab and will end up costing you more money.
Thus, it is advisable to clear out the workspace before the labourers arrive. Also, you can remove old tiles and dispose of any debris before work commences as this will end up saving you money.
Size of the Floor Area
While an averaged sized room will cost between £400-£500, larger rooms tend to cost more. This is due to the extra amount of work that the labourers will need to undertake.
Also, larger rooms take a longer period meaning that a contractor that charges per hour is sure to command more money for the time spent. Similarly, if the contractor charges per m2, the cost also increases since there is more ground to cover.
What's Involved in Screeding a Floor?
In this section, we'll be examining how to go about screeding the floor. We'll add easy to follow steps, so you're never left in the dark about anything.
Gathering the Tools
The first task is to gather all the necessary tools. If you are doing it yourself, you'll need to get a tape measure, shovel, wheelbarrow, trowel, and so on. On the other hand, if you opt for a professional, they will bring with them all the necessary materials.
Preparing the Mix
If you have no prior DIY experience, this is most likely going to be the most difficult part. While experienced labourers view the mixing process as a walk in the park, inexperienced homeowners are usually stumped by it. That said, if you are using a traditional screed, the mixture consists of a combination of cement, sand and water.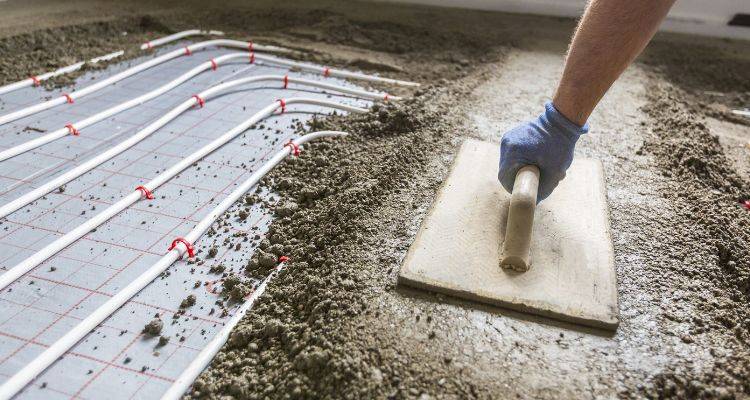 The exact ratio is a little contentious because while some people work with three parts sand and one part cement, some prefer five parts sand and one part cement. Using four parts sand and one part cement seems to be acceptable common ground, but do not be surprised if the professional that comes to embark on the project decides on something else.
Then water is added to the screed mixture. This is a pivotal part of the mixing process as the use of water has to be regulated. So add water in careful measures as it is always better to have to add water than to need to take some away.
Once the mixing is done, the solution can be tested to ensure that the mix is right. Therefore, ensure that no moisture escapes from the mix even when squeezed.
Levelling
For the floor screeding to be successful, the surface must be flat. To achieve this, it is best to work in bits. So, make use of a batten and create levels with ease.
But, if you see a professional creating levels using the mix to create a frame, don't be alarmed, however, don't try it either as it takes a lot of practise and experience.
Spreading
At this point, the mix is dumped on the floor in generous dollops and with the help of a trowel, is moved around. It is advised that you start from the space furthest from the door as that ensures you don't disturb sections already worked on.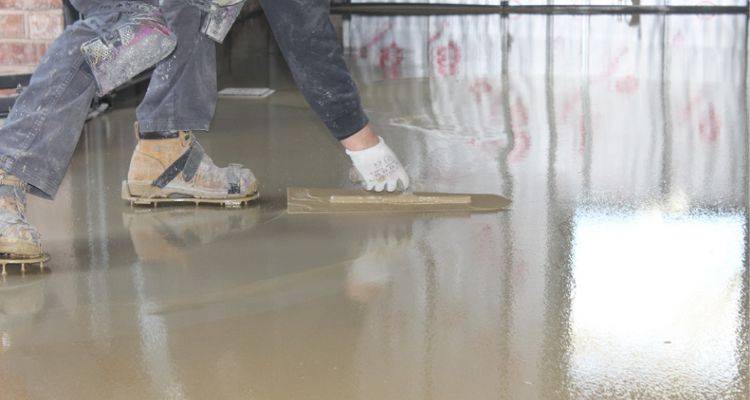 The next thing to do is pick up a straight edge and get to work. The trick is to place the straight edge as far away from you as possible while still holding it, and then draw it back slowly along the top of the battens.
While at it, if there are any dips, you can simply add a bit of the mix over it to compensate. Furthermore, you can run over it with the float to give it the smooth finish desired.
Subsequently, you can cover up the work with a polythene sheet to protect it and deter potential trespassers. In addition to protecting the floor surface, the polythene has the added advantage of helping preserve the mix's moisture.
Drying and Curing
These are very different terms. While the former requires moisture to keep the shape intact and prevent cracking, the latter is the final process that gets rid of all the moisture.
Curing should be carried out first and covering up your work with a polythene sheet is helpful in this respect. Keep the polythene sheet over the area for several days after which it can be taken off, and the process of drying commenced.
Drying can take a while depending on weather conditions and other considerations. Once the screed is fully dry, the job is complete.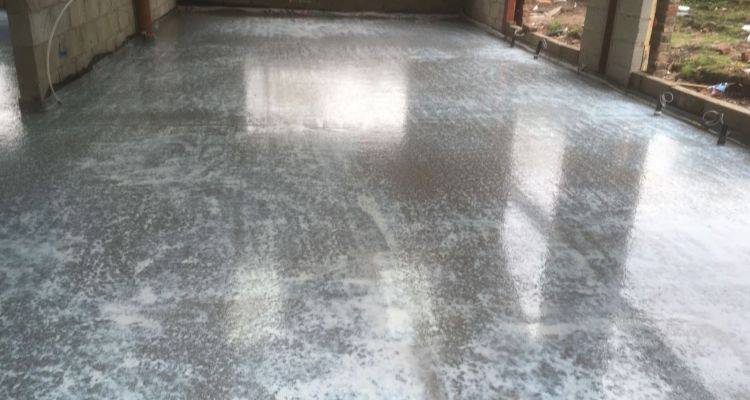 Can I Screed a Floor Myself?
The quick and easy answer is 'yes', and the method of carrying out the job has been highlighted above. However, without the proper experience, it is not advised that you undertake this project. While the job might seem easy on the surface, it is quite tricky. This is especially true of the mixing section, which requires an experienced hand.
Also, misapplying the screed could lead to higher costs in the future. Understandably, the cost to level a concrete floor UK might be deemed expensive by some, but it works out well in the end as your floor will last a lot longer.
Furthermore, the rise of liquid screed has increased the importance of professionals as they are very difficult to work with, even though they are incredibly effective.
Hiring Someone to Screed a Floor Checklist
Understandably, hiring a professional to screed your floor might be worrying as fears over professionalism and experience may linger. However, if you follow the checklist below, there should be no problems.
Accreditations - There are a couple of screeding courses available that a professional can partake in and obtain a certificate, but there is no universal requirement for them to have a qualification. If the professional you have engaged has some accreditations, then this is acceptable. However, if they don't, this doesn't mean they aren't competent.
Experience - While accreditations might not matter as much, experience certainly does. So, ensure that the person you engage has vast experience with construction, bricklaying, and other cement-based jobs. This is because the mixing process of screeding is tricky and having an experienced hand at the helm is very helpful.
Previous Jobs - Most professionals have portfolios that include their previous jobs. You can always have a look at this to ensure that the person hired is of the requisite quality. You can request for previous work done which you can then check to see if it's to your liking.
Customer Ratings - Most online websites that offer screeding services have a user rating system; this is the same with companies that have several independent screeders on their books. This is great news for the consumer as you can easily see the ratings left for the professional by past customers.
Once you follow the checklist above, you should have no problem landing a very decent screeding professional.
FAQs
What is screed?
Unlike concrete, screed is a thin layer of concrete that is poured over the floor to reinforce it and provide a smooth base.
What is the best screed mix ratio?
This is a contentious topic. However, the correct answer is somewhere between three parts sand to one part cement, and five parts sand to one part cement.
How long does drying take?
Drying is the final step of the screeding process, and it is also by far the longest. In some cases, drying can take as long as 50 days, or even longer depending on the weather.
Are curing and drying the same thing?
No. Curing actually makes use of the moisture in the screed and uses it to keep the shape consistent. Conversely, drying doesn't need or make use of moisture.
How long should screed dry before tiling?
Three days is usually the most common recommendation, but this could change depending on weather patterns and concerns.
Sources
https://www.woodandbeyond.com/blog/using-screed-in-wood-flooring-installation
http://www.screeding.org/html/body_traditional_screed.html
https://www.ukscreedsltd.co.uk/how-much-does-it-cost-to-screed-a-floor/
https://www.speed-screed.com/how-much-does-screed-cost/
https://underfloorheatingexpert.com/screeding-a-floor-step-by-step/

Last updated by MyJobQuote on 12th April 2022.