Cost of Tiling a Bathroom
Bathroom Tiling Guide with Average Costs and Tips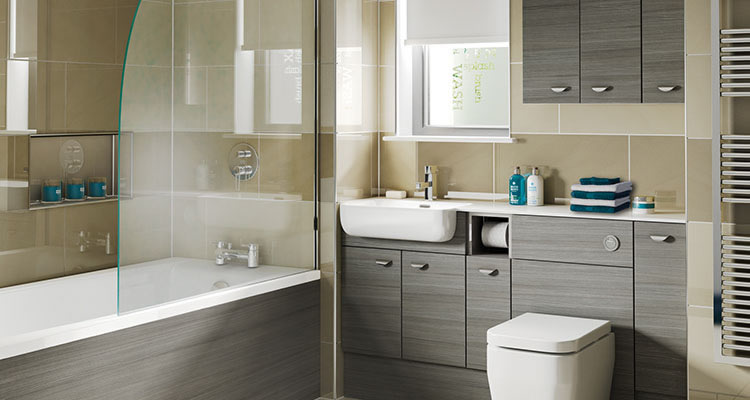 Typical cost of having a bathroom tiled
To tile a complete bathroom floor to ceiling normally takes 2 days
£600
Floor or wall tiles have been the most popular choice in UK bathrooms for a long time for a number of good reasons. One of the massive advantages over alternative floor/wall coverings is the lack of maintenance. Correctly installed tiles need very little looking and any dirt can be simply sponged off. The only real maintenance required is to perhaps apply a sealant every few years. Bathroom tiles are also cost effective and are available in a huge range of style and colour options. In addition, tiles are not too difficult to install, so bathroom tiling is certainly within the scope of a typical DIY enthusiast, though some skill and patience is required, along with a lot of spare time (allow a couple of days full time for just a small bathroom half wall tiled only).
For those that do not have the time nor patience to tile their own bathrooms, a local tradesman will be required. MyJobQuote makes it easy for those looking to compare quotes from local tradesman so they can find the best prices. With just one short form, you can receive up to three quotes from tradesman which are reviewed by real homeowners like yourself!
Simply enter your details with a brief outline of the project, then suitable tradesman will get in contact with a price, timescale and other information about how they intend to do the job. For most jobs, however, you will have to invite the tradesman you feel comfortable with to visit and measure up, so they can provide a firm quotation based on the actual work required.
Example Costs Bathroom Tiling
| Job Description | Duration | Material Cost | Labour Cost |
| --- | --- | --- | --- |
| Tile a bathroom floor to ceiling | 2 men 2 days | £100 | £500 |
| Half tile bathroom with floor to ceiling tiles around bath | 1.5 days | £85 | £350 |
| Tile splash back above a hand basin | 0.5 days | £15 | £85 |
| Cost per square metre labour only for standard size tiles | varies | £0 | £35 |
Things to consider when tiling a bathroom
A bathroom renovation is an exciting project, but before you dive in and start choosing the coolest tiles, there are some less exciting things to think about. first of all, budget. If you haven't already worked out a budget then you should do that before getting attached to any tiles, setting a fixed budget before any home improvement task will help you to make the right decisions. Once you have figured out a budget, you need to decide if you are going to do the tiling yourself, or if you can afford to get someone else to do it for you! If you are not a DIY enthusiast and do not want to do this project yourself, then you need to be aware that the labour costs will be a substantial part of the overall cost. so this will obviously have a large impact on what you will have left of your budget to spend on the tiles, plus associated fixtures and any other extras required.
The walls and wall coverings in bathrooms require more thought than other rooms in the home. The water-resistance of wall coverings in the bathroom needs to be considered and there are a number of different ways to protect the walls from water. Water-resistant plasterboard is becoming more popular rather than regular plasterboard plus there are various paint-on tanking systems for true wet rooms, which can also be used in conventional bathrooms just in the shower area. But the most popular choice for wall coverings in bathrooms by far is ceramic tiles, although glass and other tile options are also used often in cool bathroom designs. Tiles are not as waterproof as the systems used in wet rooms, so the grout has to be maintained over the years to prevent dampness penetrating into the bathroom walls.
You also need to consider whether or not to tile the walls completely or just perhaps the bottom half of the walls, then, of course, there is the question of whether or not to tile the bathroom floor? Whatever you decide, remember that bathrooms are one of the most functional rooms in the home and are in use every day and therefore have to deal with a lot of wear and tear. So, it's extremely important that you find a reputable and professional tradesman to perform the work to a good standard.
Doing it Yourself
Tiling is a skilled job which requires some practice and a great deal of patience, but if you are careful, there's no reason why you can't achieve a great finish. First of all, ensure the surface is clean and completely flat. Remove any crumbling plaster and fill any holes to leave a smooth and flat surface for tiling. Remember that new plaster will need a couple of months to dry out completely before tiling. Most tiles come in packs that cover one square metre so to find how many packs you need, simply measure the height and width of the area then multiply the figures together get the total area in square metres ( but always allow 10% extra for breakages and errors).
It's really important to find the best starting point for your first row of tiles, it's no good simply starting in one corner and working your way across to the other corner, much better to centre your grid on the wall so you end up with cut tiles of equal size at both ends and your tiling is symmetrical. If just part tiling a wall, try and work it so that the top row of horizontal tiles comprises whole tiles as this will look much better when finished. "Measure twice and cut once" is a good proverb to keep in mind when tiling, it can be a painfully slow process, but you cannot speed up the process and get a professional finish.
Related Articles
Bathroom Tiling Tips and Hints
If you are working with a small bathroom, don't use large tiles as these will make the bathroom look even smaller
Floor to ceiling tiles look amazing, but are always going to be expensive
Panels are becoming more popular in bathrooms but conventional tiles will last longer
If buying the tiles yourself always buy tiles with matching batch numbers
Hiring a Tradesman Checklist
Always get at least 2 quotes before hiring.
Never pay the full amount upfront.
Get the quote in writing.
For any payment you make, always get a receipt.
On more expensive jobs, ask for references.
Check if the tradesman is a member of any trades associations.
Make sure the tradesman has public liability insurance.
FAQ's
What types of tiles are there to choose from?
The most common tile types include ceramic, quarry, terracotta, porcelain and natural stone tiles. Each has their advantages and disadvantages, but porcelain and natural stone tiles tend to be the hardest wearing and the most expensive. Ceramic floor tiles are generally more suited to commercial and industrial floors and are available in a non-slip variety. Quarry tiles are really popular as a traditional UK product for hundreds of years and available in a range of colours including terracotta.
Can you tile over old tiles, or do they need to be removed first?
You can fix new tiles over existing tiling as long as the old tiles are still firmly bonded to the wall, obviously, if the existing tiling is cracking and sagging the extra weight of new tiles will cause problems pretty quickly! But if old tiles are still sound then simply clean and degrease the tiles, then rough the surface of the tile using sandpaper to ensure best results with the new adhesive, once you cleaned the dust off the tile then use PVA for a strong bond with the existing tiles.
Can you install bathroom tiles without using grout in-between?
Some people get fed up with the cleaning and maintenance required in terms of cleaning the grout and replacing it over time, so it can seem like a great idea to simply fit the new tiles together and miss out the grouting. However, even though the grout does not add to the stability of the tiles, you still need to grout them as tiles are not consistently sized with perfect edges, so grout is needed to ensure that nothing can get between the tiles. In addition, there will always be movement.
Recent Jobs
Kitchen tiles to be removed and new ones to put on.
Submitted by Yvette
3 bathroom suites full tile. All materials already bought. Looking for a start asap. Have been let down by a tiler. Reason for urgency. Thank you.
Submitted by Paul
I am looking to have one wall tiled in large brick looking tiles 60 x 30cm. The wall is 6m x 2.8m but the bottom 90cm is covered in kitchen cupboards and there is a door in the middle of the wall. I have all the materials and adhesives.
Submitted by Jamie
Tiling backsplash in the kitchen.
Submitted by Yarragonda
I have had a new shower valve fitted and it has left a hole and will need 4 tiles removed and new ones fitted.
Submitted by Ray