Cost Of Installing Fire Alarms
To get a fire alarm installed will usually cost around £100, but there are many cost factors that can change the overall cost. This detailed guide will show you what you need to consider when installing a fire alarm.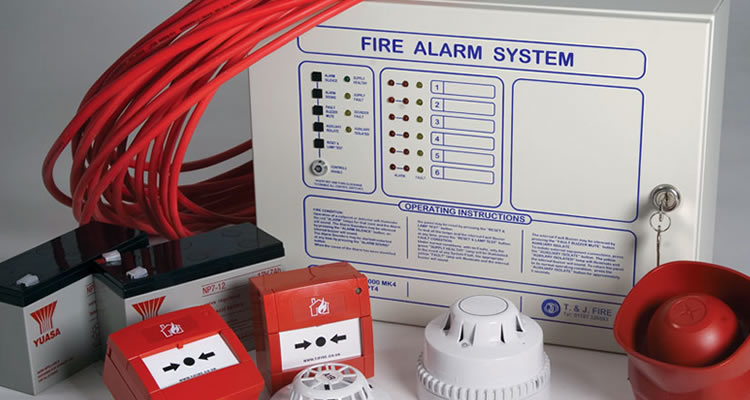 Average Cost of Installing Fire Alarm:
Depending on the complexity of the job, it usually takes: 1 -2 hours
£100
How Much Does Installing a Fire Alarm Cost?
The cost of installing a fire alarm is not that high. It mostly depends on the type of alarm and how many you need.
If you are just installing an extra battery-powered alarm, you can buy one for £10 - £15. They are easy to install. If you need to pay for installation, the cost will be £40 - £75.
Mains powered alarms will cost you more as they need to be installed by an electrician. The average cost is £75 - £125. This cost is per alarm.
If you want a smart-enabled fire alarm, then this will cost you more. For a battery-powered alarm, you can expect to pay £80 - £100 with installation. For a mains powered smart alarm, the cost will be in the range £105 - £250.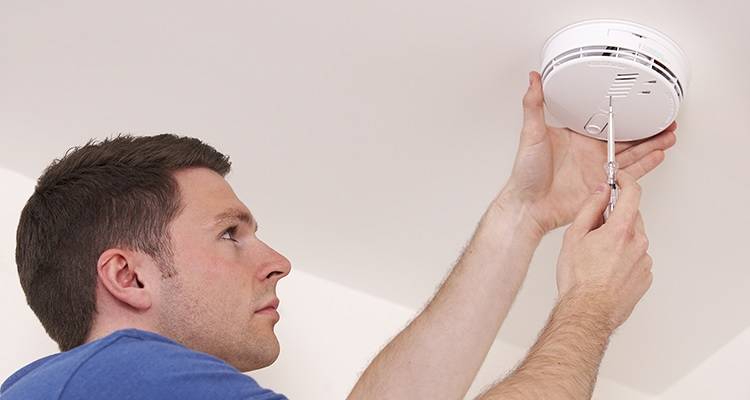 Installing Fire Alarm Prices
The price to install your fire alarms will depend on the type you choose as well as how many there are. The biggest difference comes from the way they are powered.
Battery Powered
| Type of Alarm | Cost per alarm |
| --- | --- |
| Ionisation | £45 - £75 |
| Optical | £40 – £70 |
| Heat | £45 - £75 |
| Smart | £80 - £200 |
| Linked | £45 - £75 |
Mains Powered
| Type of Alarm | Cost per alarm |
| --- | --- |
| Ionisation | £70 - £125 |
| Optical | £65 - £120 |
| Heat | £70 - £125 |
| Smart | £105 - £250 |
| Linked | £70 - £125 |
Supply Only Costs
Buying a fire alarm is usually pretty cheap. Unless it is a more technical smart alarm, they are generally pretty cheap.
| Type of Alarm | Cost |
| --- | --- |
| Mains Powered | £10 - £20 |
| Battery Powered | £10 - £15 |
| Ionisation | £15 - £25 |
| Optical | £10 - £20 |
| Heat | £15 - £25 |
| Smart | £50 - £150 |
| Linked | £15 - £25 |
Additional Costs
If you are getting a mains powered system, then there are other jobs you might want or need to get done while you have an electrician in your home.
Getting An Electrical Safety Certificate
If you plan to rent your property or just have concerns about the wiring, it can be a good idea to get an electrical safety certificate. It's a good job to combine with fitting a fire alarm as most electricians will be able to do both jobs for you. The average cost of getting a certificate is £120.
Rewire Your Home
If your home is older and hasn't been modernised recently, then it is possible that while fitting a fire alarm you electrician may discover that there are problems with the wiring of your home.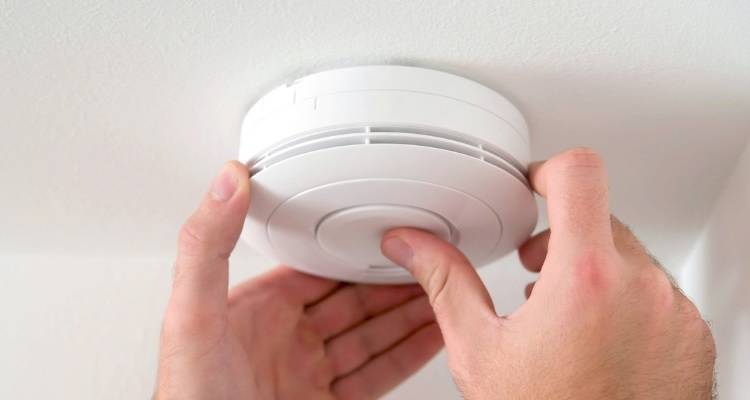 If this is the case, you may need to get your home rewired. Otherwise, you may not be covered by your insurance. This can be a costly job if needed and can be as around £4,000.
Fitting a Security System
While you are thinking about your fire alarms, you may also want to think about your home's security system. It might be time for an upgrade or simply time to install one.
The cost of a new security system for supply and fitting is around £500. However, the size of your home is a big factor in the final cost.
Labour Costs and Timescales
You can probably fit a battery-powered alarm yourself. However, if you don't feel confident in doing so, you can hire any tradesperson who is willing to do the job for you. They will probably charge you for no more than an hour of your time.
So, the cost will vary depending on where you are and the tradesperson you choose. A price of £30 - £50 would be reasonable. The job should take no more than ½ an hour.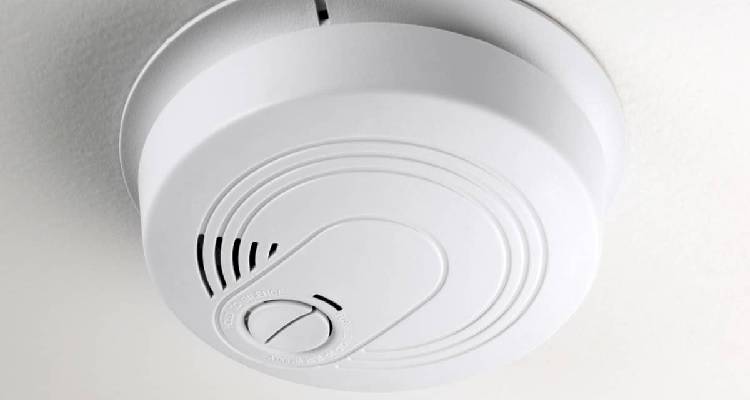 Fitting a mains-powered alarm will require an electrician. Most will charge per alarm that needs to be fitted. Prices fall into the range £55 - £100 per alarm.
You should expect the work to take a minimum of 1-2 hours with an extra 30 mins for each alarm after the first one.
Cost Factors of Installing a Fire Alarm
When calculating the price for fitting fire alarms in your home, there are a few factors to consider.
Type of Fire Alarm
The type of fire alarm will affect the cost per unit. Assuming that they are mains powered alarms, then the type will make no difference to the installation cost.
If you have battery-powered alarms, you will most likely be able to fit them your self
Location of property
The location of your property will affect the cost of installation. Tradespeople's rates are different in different cities. London usually has the highest rates and prices generally drop as you travel north.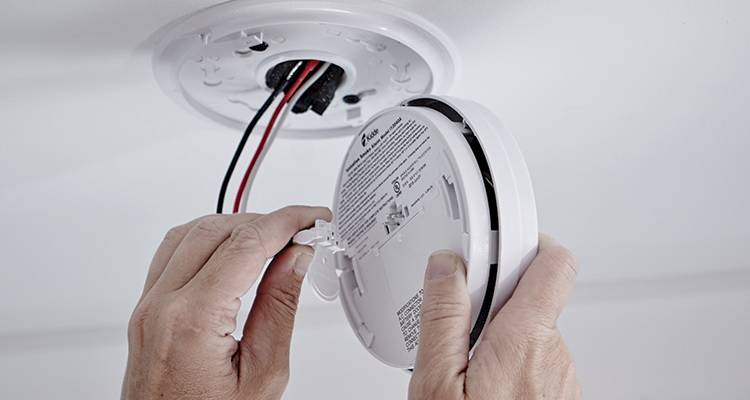 Ease of Access
If it is especially difficult to access your consumer box or to run the wires, this may add to the cost. If you can't run the wires above the ceiling, then you may need to pay extra to have the wires boxed in or just tacked into position along the ceiling.
Number of Fire Alarms
The more alarms you have, the higher the supply costs will be. Most electricians will quote you an installation cost per alarm, so, the more alarms, the higher the fitting cost.
What's Involved in Installing a Fire Alarm?
There is a big difference between installing a battery-powered alarm and a mains powered alarm. Fitting a mains-powered alarm is a job that should only be done by a licensed electrician.
Installing A Battery Powered Alarm
Installing a battery-powered alarm is a simple process. All you need to do is decide where to place it. It should be away from any light fittings and bathroom doors.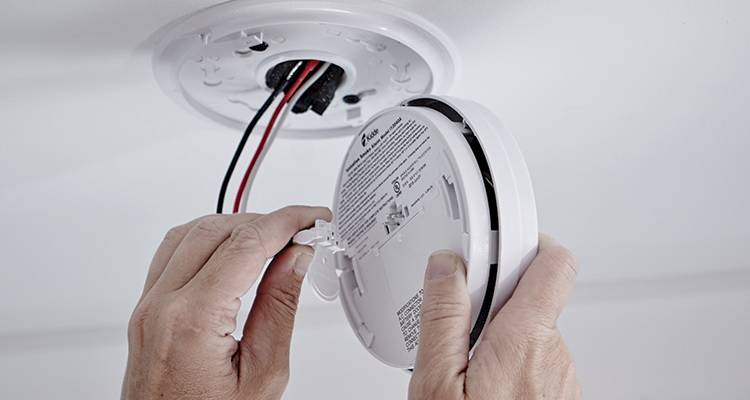 You remove the cover and use screws to fix the base of the alarm to the ceiling. Then all that's left is to pop in the batteries and replace the cover.
Installing A Mains Powered Alarm
The first step will be to make sure there is a dedicated slot on your consumer unit to run your fire alarms off. It will usually be a 6 Amp circuit breaker. With the power off the wires are first run to the consumer unit.
Depending on the location of the alarms and the consumer unit, the smoke alarm wire may be run above the ceiling, or it may have to be boxed in.
Next, the wire from the consumer unit is connected to the smoke alarm. If your alarms will be linked, then a second wire is connected at the same time, which will go to the next alarm in the chain.
The smoke alarm is fixed to the ceiling with screws and the connections checked. Finally, the cover is put back on.
Can I Install a Fire Alarm Myself?
It all depends on the type of fire alarm you have chosen to go for. If you are just installing battery-powered smoke alarms, then it is a quick and simple job. You just need to screw the alarms into place.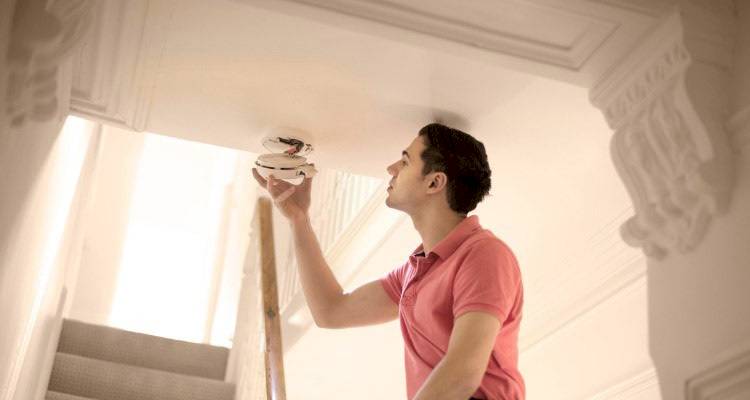 If you are replacing mains powered smoke alarms with a similar system, then it is often a simple job. However, you should only take it on if you have experience working with electrics.
If you are installing a new, mains powered fire alarm, then you should leave it to a professional. This type of installation involves working with your mains electrical system and can be dangerous if not completed correctly.
Choosing a Fire Alarm
When choosing the type of fire alarm you want, you need to think about how it will be powered, and which features you want it to have. To have a comprehensive alarm system, you may need more than one type of alarm.
Power Source
The way your alarms are powered is a big decision. It affects the upfront cost and ongoing maintenance.
Mains Fire Alarm Cost
Mains powered alarms are wired directly into your electrical system. They do not need any maintenance, but they must be fitted by an electrician. The average cost for mains powered alarms is £15.
Pros
✔ Peace of mind that it is always working
✔ No maintenance
Cons
More expensive installation
Battery Fire Alarm Cost
Battery-operated alarms can be powered by standard batteries or ten-year battery, although these cost a lot more. The average cost of a battery-powered alarm is £10.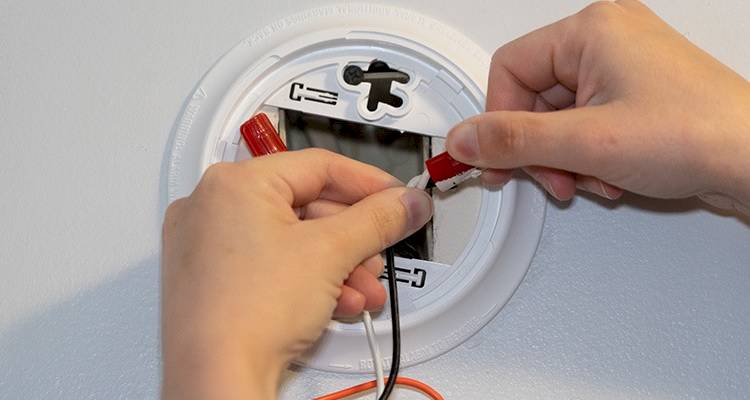 Pros
✔ Easy to install
✔ Cheaper to install
Cons
Batteries need to be replaced
Alarm should be tested every week
Features
Another considering in the type of alarm that you choose is how it works and the features it may have. Some alarms may have more than one of these features, while others only offer a single feature.
Ionisation Fire Alarm Cost
In an ionisation alarm, the air inside the alarm is ionised. This allows a current to flow. When smoke gets inside the alarm, it breaks the circuit and sets the alarms off. The average cost for this type of alarm is £20.
Pros
✔ Work well in dusty areas
✔ Not affected by cigarette smoke
Cons
✖ Can give false alarms if placed too near the kitchen
Optical Fire Alarm Cost
Optical alarms contain a light sensor and a red LED. Every few seconds, the light sensor checks how much light it can detect from the LED. The smoke from large fires scatters the light and sets the alarm off. The average cost for an optical alarm is £15.
Pros
✔ Work well in kitchens and hallways
✔ Do not trigger from cooking
Cons
✖ Don't work well in dusty places
✖ Bathroom steam can set them off
Smart Fire Alarm Cost
Smart alarms not only sound an alarm when they detect a fire, but they also send an alert to your phone. Depending on the type you choose, this may be via a message, or by making your phone make an alarm sound. The average cost of a smart alarm is £100.
Pros
✔ Can alert you to a fire no matter where you are
✔ Makes it more likely you will hear the alarm
Cons
✖ You get what you pay for – some are better than others
Heat Fire Alarm Cost
Heat alarms are triggered when the air temperature gets higher. This means they are not prone to false alarms when you burn the toast. The average cost for a heat alarm is £20.
Pros
✔ No false alarms
✔ Can be placed directly in the kitchen or a garage
Cons
✖ Don't go off until a fire is established – can be a later alert to a problem
Linked Fire Alarm Cost
Linked alarms can be joined with or without wires. When any of the alarms in the system detects a problem, all of the linked alarms will go off. This is a good option for larger homes or homes with soundproofed rooms. The average cost of linked alarms is £20.
Pros
✔ The whole building is alerted if there is a problem
Cons
✖ Wireless ones can be a little unreliable
Building Regulation for Fire Alarms
Building regulations now specify that all alarms smoke/heat/fire in a home should be mains powered.
This means that if you are having any other work done on your home that will be subject to building regulations, then you will be required to also fit a mains powered alarm if you do not have one.
If you want to have battery-powered alarms in addition to a mains powered alarm that is absolutely fine. As long as there is one mains powered alarm in your home, you can do whatever else you want.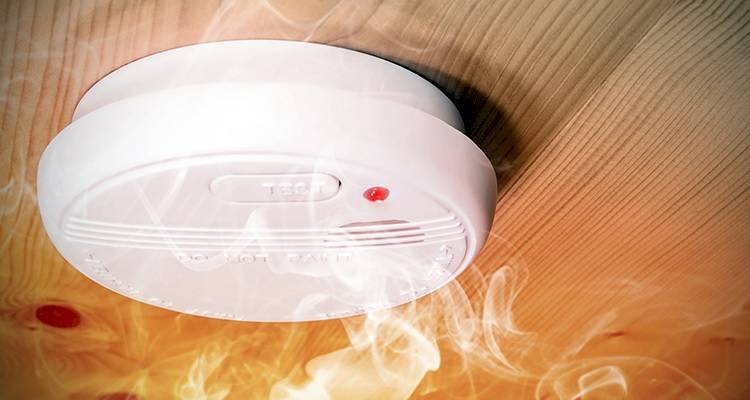 Since work on the electrics in your home should be carried out by a Part P registered electrician, this will also affect the installation of your alarms.
Building regulations also cover the placement of the alarms. They must be at least one alarm placed in each circulating space. This means that you should have one alarm within each hallway of your home.
That is the minimum requirement, but it may be necessary to have more alarms to make sure you are fully covered and protected. If you are unsure, you can ask for advice from your local fire station.
Cost of Removing a Fire Alarm
If you are changing to a completely new system, then you may want to remove the old one. The cost will depend on the type of alarm system you need to remove.
If the old alarms are battery-powered, then it is very easy to remove them. All you need to do is unscrew them from the ceiling. Then patch the holes. If you are concerned about your budget, then this is a very simple job to DIY, and pretty much anyone should be able to do it.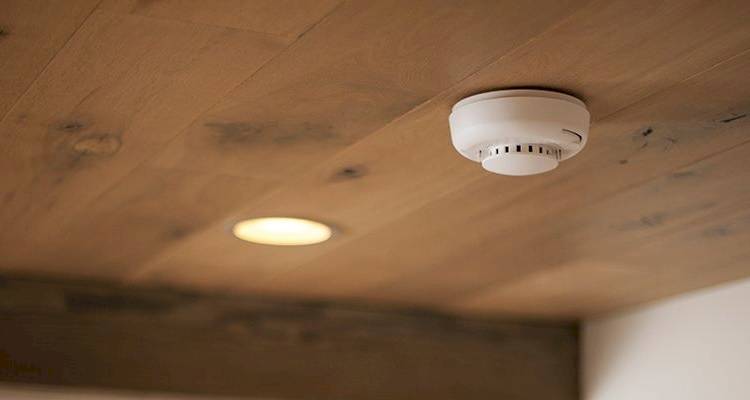 If the old system was mains wired, then you will be best off getting an electrician in to sort it out. The cost will depend on the amount of time they need to complete the work. Electricians usually charge £50 - £120 per hour, depending on where you are in the country. The more alarms there are to remove, the more it will cost.
There is no cost for disposing of old smoke alarms you can just take them to your local recycling centre or tip. They can be put in the specialist electronics disposal section where they will be disposed of properly.
Hiring Someone to Install a Fire Alarm Checklist
When you are looking for someone to install a fire alarm system in your home, you have two options. You can either use a specialist fire safety company or use an electrician.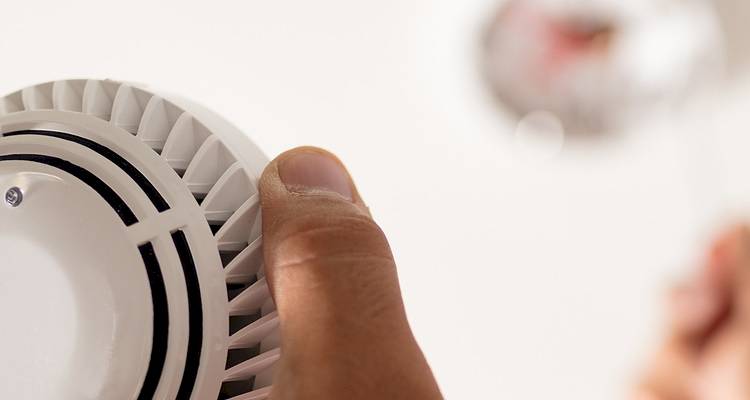 You might choose a specialist fire safety company if you home has a complicated or unusual layout, and you are looking for a comprehensive fire safety risk assessment and plan.
Whichever type of specialist you choose to go for there are a few things to look out for.
Experience – Make sure you choose someone who has experience with the type of alarm you need.
Part P registered – This means that they can self-certify any work they do on your electrics as being safe in regard to building regulations.
Reviews – Always check the online reviews of any tradesperson you are considering. It is a good way to get an idea of any potential problems that might arise.
FAQs
How often do you need to replace a fire alarm?
It depends on the type of alarm system you have. However, any smoke detectors that are part of a fire alarm should be replaced every ten years. After this time, they become less sensitive and may miss the early signs of a fire.
Can I get a free fire alarm?
Many local fire stations offer 'Safe and Well' visits. In these visits, they will assess the fire safety of your home. If you need alarms, they may fit some basic ones for you then and there. This is a good option for anyone who is struggling to pay for an alarm.

There can be a long wait for a visit. So, if you can afford one yourself, it is a good idea to arrange for your own fire alarm.
What is the difference between a smoke alarm and a fire alarm?
A smoke alarm just responds to a large amount of smoke or particulates in the air. A fire alarm usually has more than one type of sensor; they often also have heat detectors that can detect if the temperature in your home is abnormally high.

A fire alarm may also describe a system of connected devices in your home, rather than a single smoke alarm.
Do read any information carefully as sometimes the terms smoke alarm and fire alarm are used interchangeably.
What is the cost of installing smoke alarms – UK?
The cost will depend on the type of smoke alarms you choose. Basic battery-powered alarms average at about £12. If you want the alarms connected it will be nearer £150 for two.

For wired smoke alarms, you can expect to pay around £90, per alarm point. For the wired options, this extra cost includes the cost of installation.
What is the average fire alarm cost – UK?
The average cost depends a lot on the type of system you are fitting. The cheap option is to opt for battery-powered alarms; The average price is £15.

Wired fire alarms price per point is on average £100. The average cost for app-enabled fire alarms is nearer £200. For these mains powered options the cost of installation is included.
Sources
https://www.westyorksfire.gov.uk/news/faq/how-can-i-arrange-a-home-fire-safety-check-and-have-a-free-smoke-alarm-fitted/
https://www.fireangel.co.uk/blog/your-smoke-alarm-needs-replacing-every-10-years-have-you-checked-the-date
https://www.gov.uk/government/publications/fire-safety-approved-document-b

Last updated by MyJobQuote on 17th March 2021.